Masoom Minawala & Her Saree Looks Are a Break From Basics & How
Masoom Minawala's unique & creative saree lookbook is an inspiration that tells us how to flaunt those saree looks all day every day. Read to know!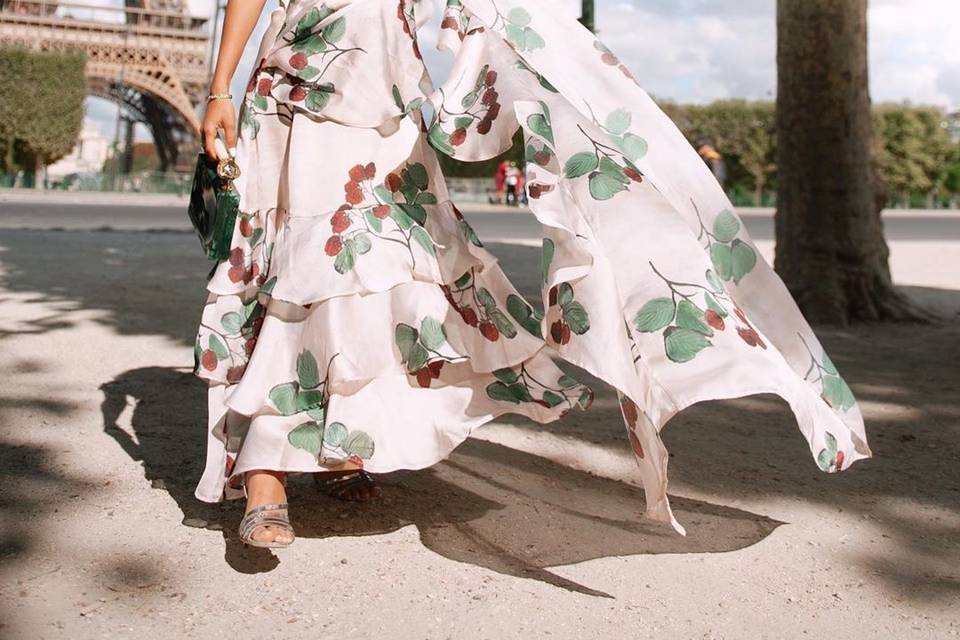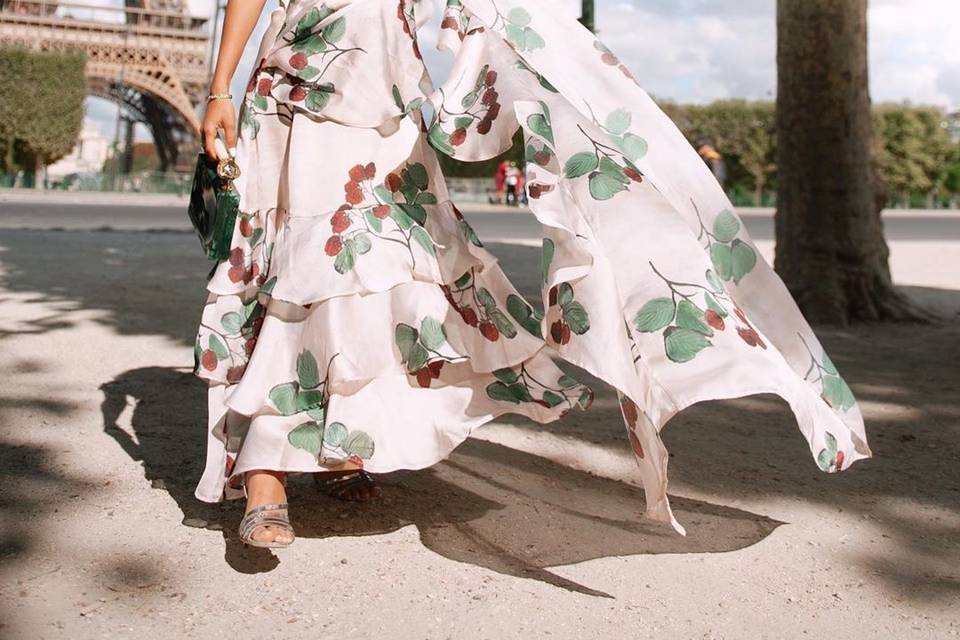 Masoom Minawala Mehta, is a name that is recognised by one and all who are present on the social media platforms and you will be thrilled to know that she has not only given the world gorgeous fashion inspirations but has also made it available to buy online on her online platform - Style Fiesta. Being the CEO of a portal that provides fashion advisory as well as products, her fashion statements have always been a benchmark for many. Personally curating the styles that she flaunts and giving us some major goals, Masoom Minawala has made it clear that sarees are never going to get out of fashion.
With the tint of contemporary to the good old saree and adding to the class and elegance of the traditional 9 yards that hold our culture so dearly, here are some of Masoom Minawala's iconic looks that will inspire you to wear sarees not only on weddings but on many more events.
Just Headed for a Meeting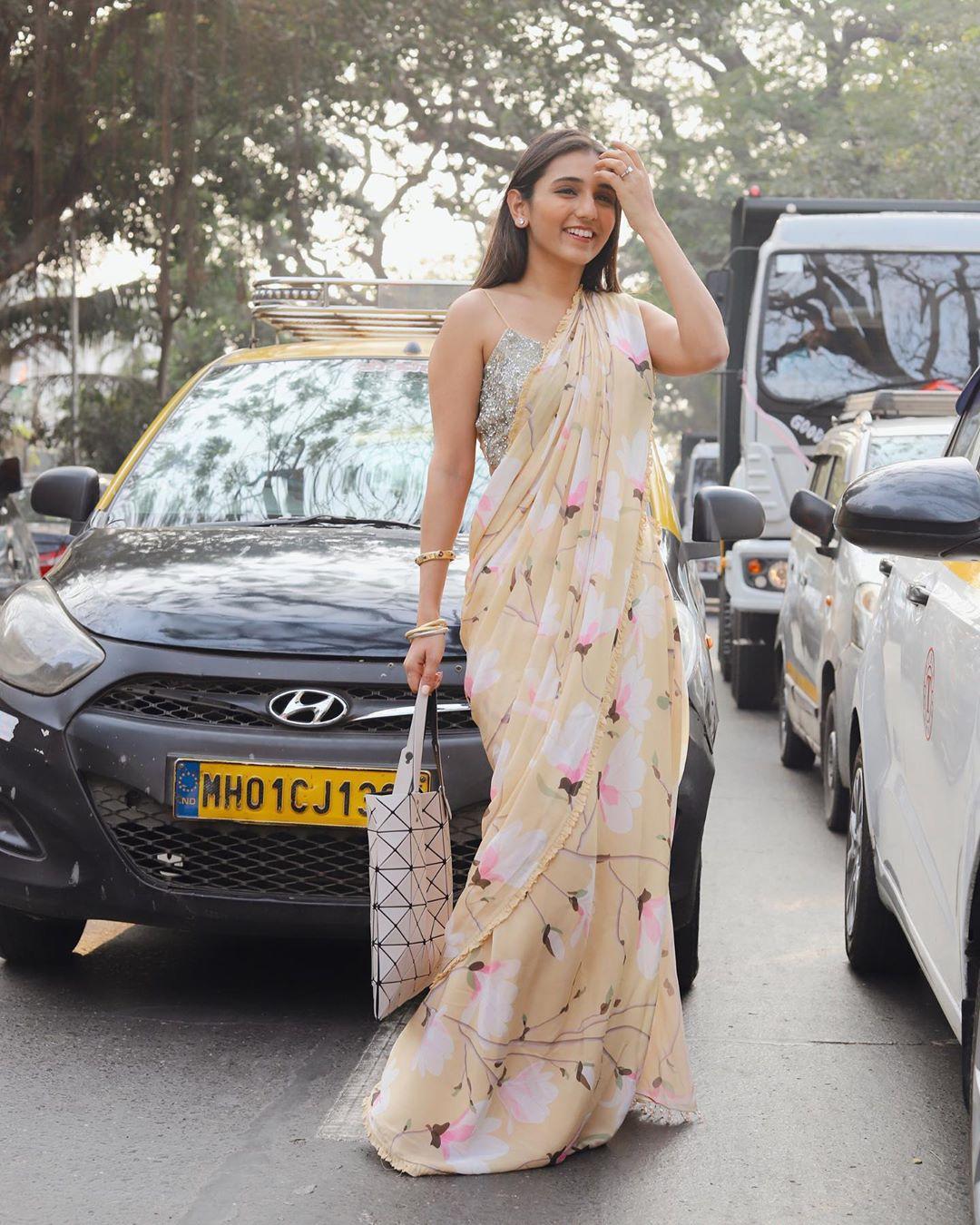 This summery drape is from the homegrown label by Pritika Vora and this is how Masoom Minawala quite casually sported this saree look to a day of meetings in Bombay. Worn with a noodle strap sequin blouse while keeping the accessories light and simple, who knew business meetings could look so beautiful!
On the Streets of Paris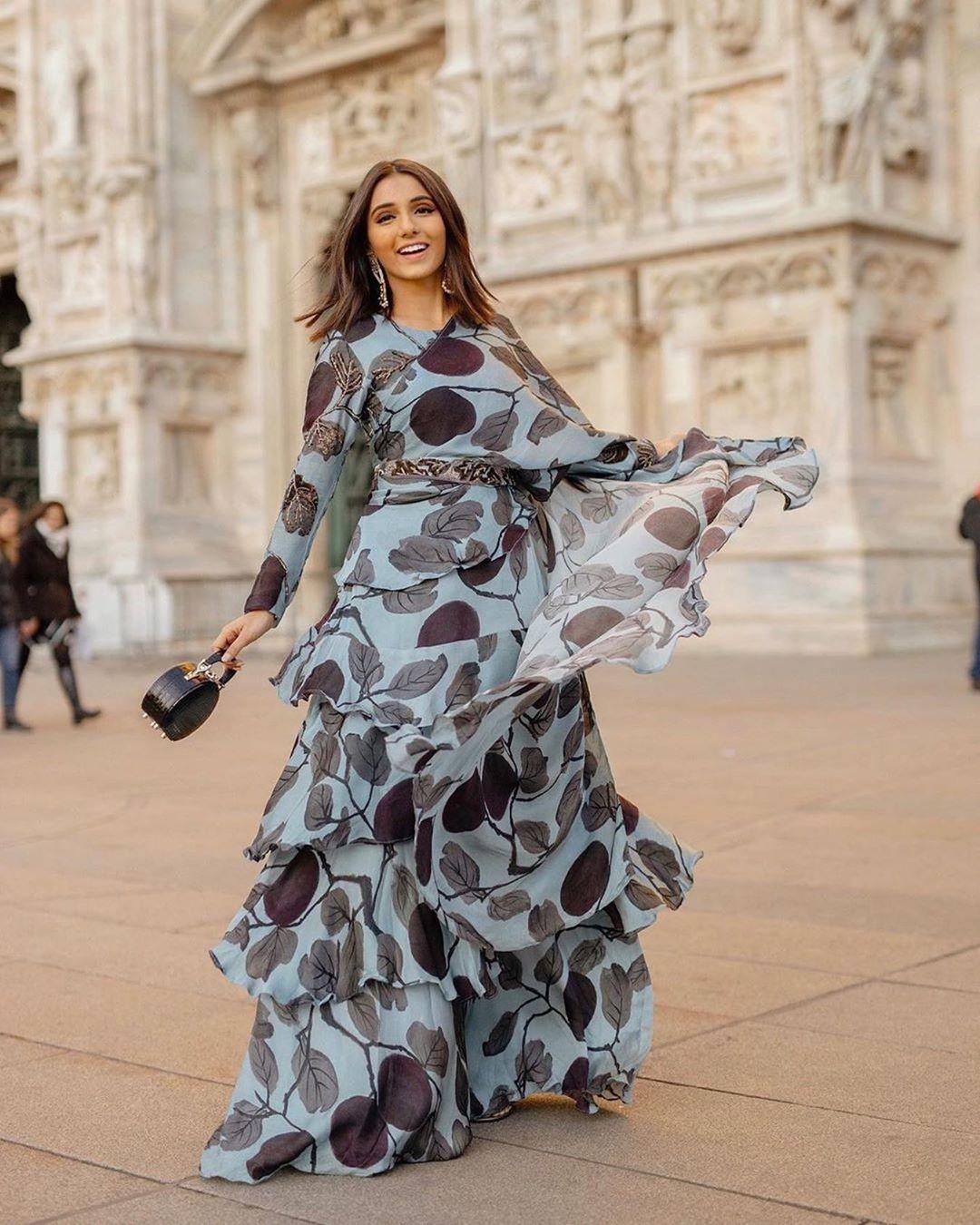 With a hawk-eye on who-wore-what during the Paris Fashion Week, here she is on the streets of Paris twirling in a printed saree by Prints by Radhika. Whoever said only heavy sarees are beautiful has got it all wrong because this "Fallin for You" printed saree keeps it light and ever stylish.
Saree on Jumpsuit, what!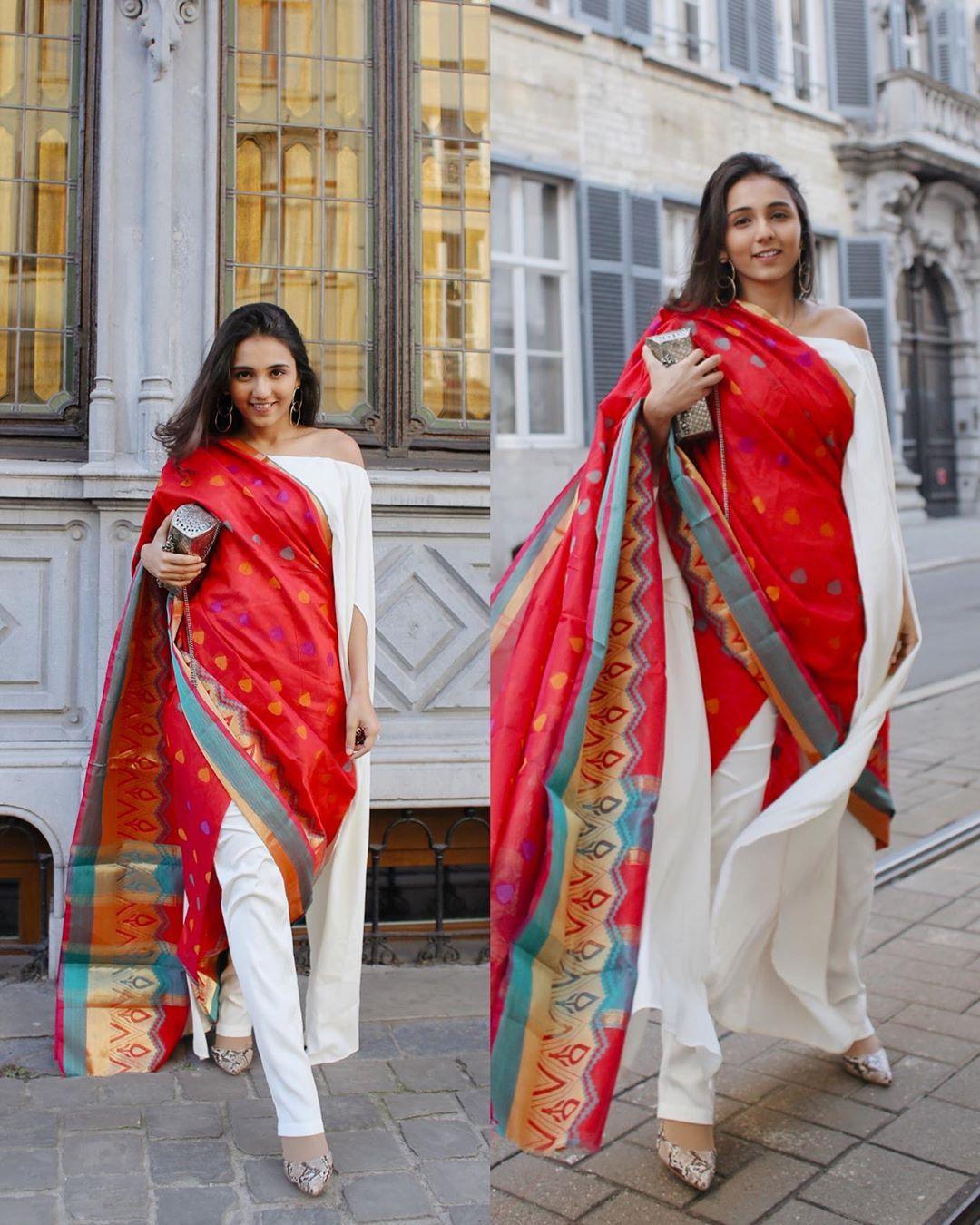 With the vouch to promote the homegrown brands and make them available for the world to behold and flaunt, Masoom Minawala has picked this traditional silk saree from the Garden Vareli Silk. She has worn a half-saree over a plain white jumpsuit with long flared off-shoulder sleeves. The red silk saree is a burst of colours that makes this look so captivating. Let the silk do the talking!
Friend's Engagement Saree, say no more!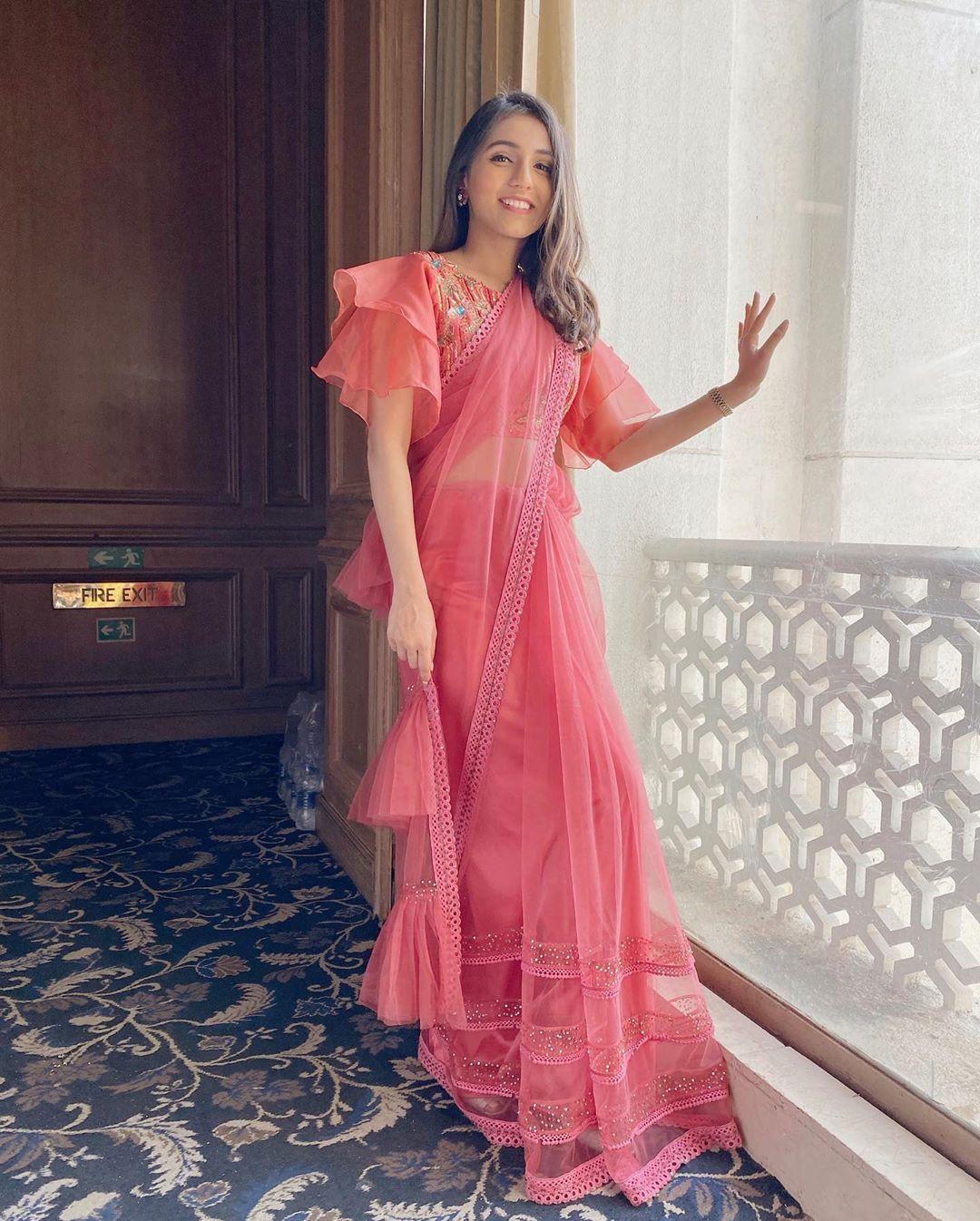 This ruffled saree in net, that she picked for her friend's engagement, is everything easy breezy and a perfect pick for the summer weddings. With the lace hems and the subtle glitter, this is a dainty piece. Complementing the simple saree design by Priyanshu Bajaj, her blouse shows off intricate embroidery and the ruffled sleeves only complete the ensemble perfectly.
All That Glitters, is GOLD!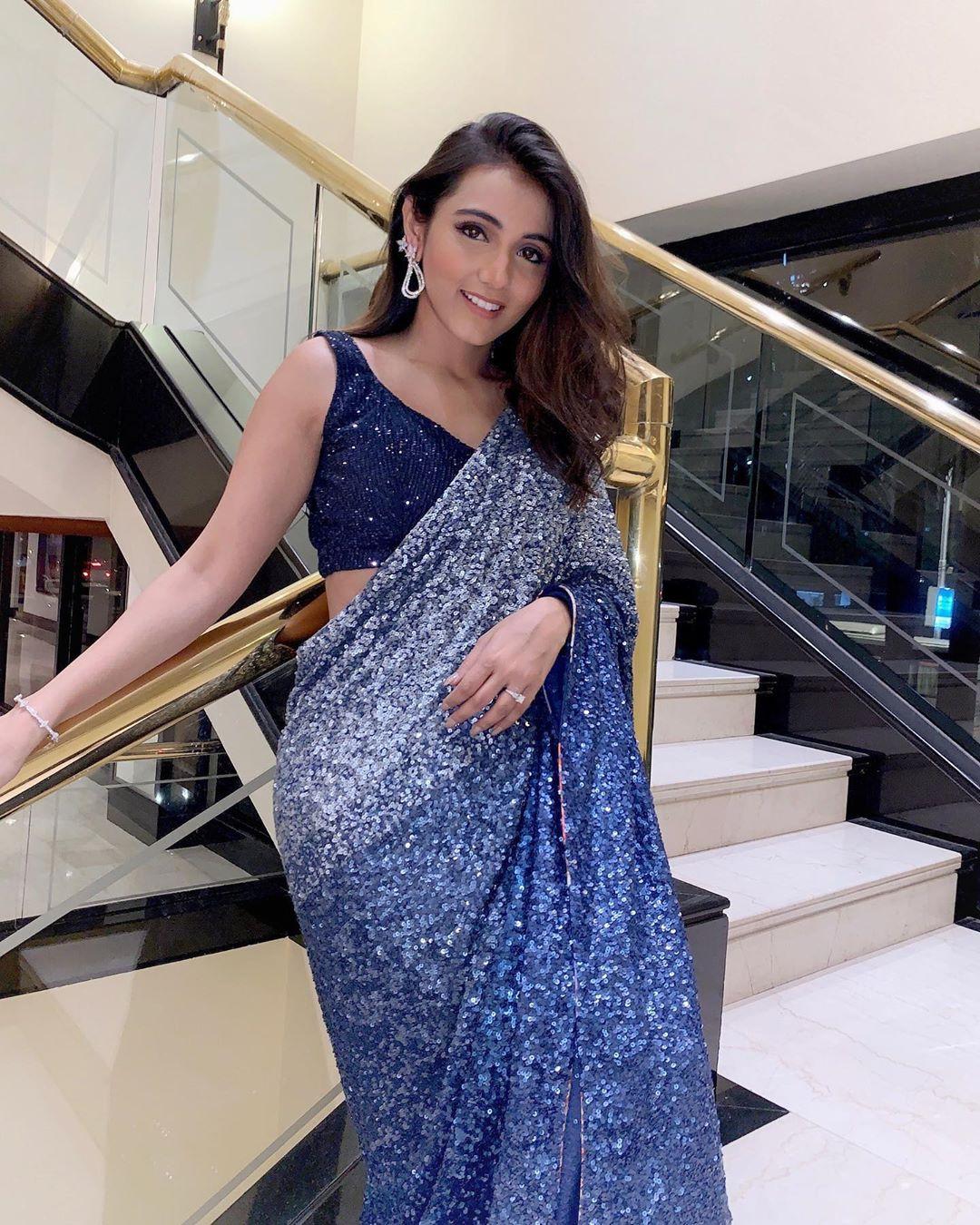 This young and vibrant CEO is bringing sexy back with her drapes. These elegant 9 yards is a pick from the ace designer Siddhartha Tytler's label and with the glamorous comeback that the sequin sarees have made this year with the celebrities flaunting the glitz and glam, this blue ensemble is oh-so-gorgeous for a nighttime celebration at a wedding! Paired with simple diamond earrings from Lion Jewellers, this look is just right for a Cocktail night!
White & Golden Beaut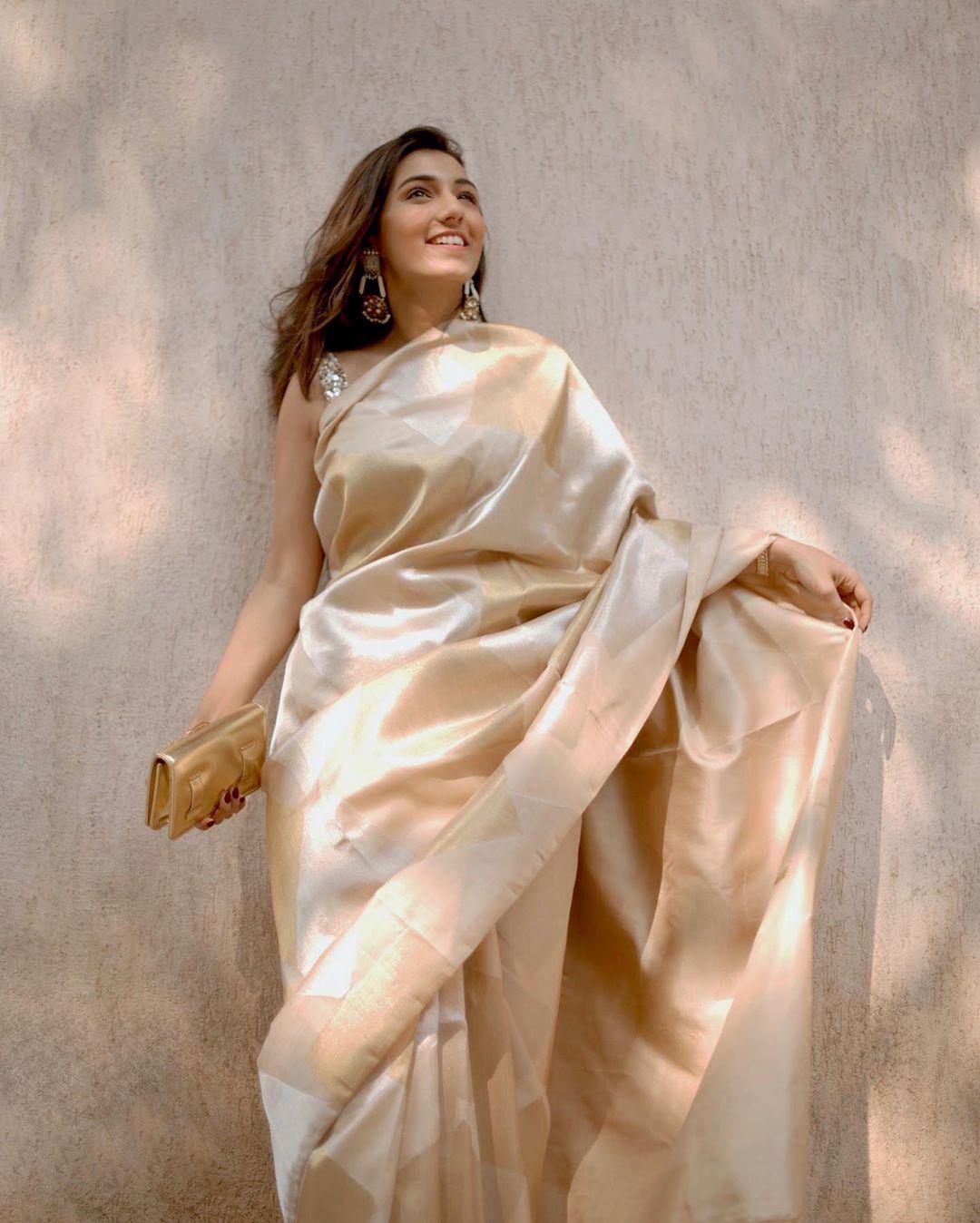 Perfect for a day wedding or maybe just for a stroll around the city, this off-white and golden saree leaves us in awe of it. Promoting Indian brands again, here she is seen flaunting a beautiful pick from Sagar Sarees. The subtle lustre of the fabric can be paired with a plain blouse for the day and a sequin one for the night. The serenity of this piece is worth praises!
Glitz & Glam in Delhi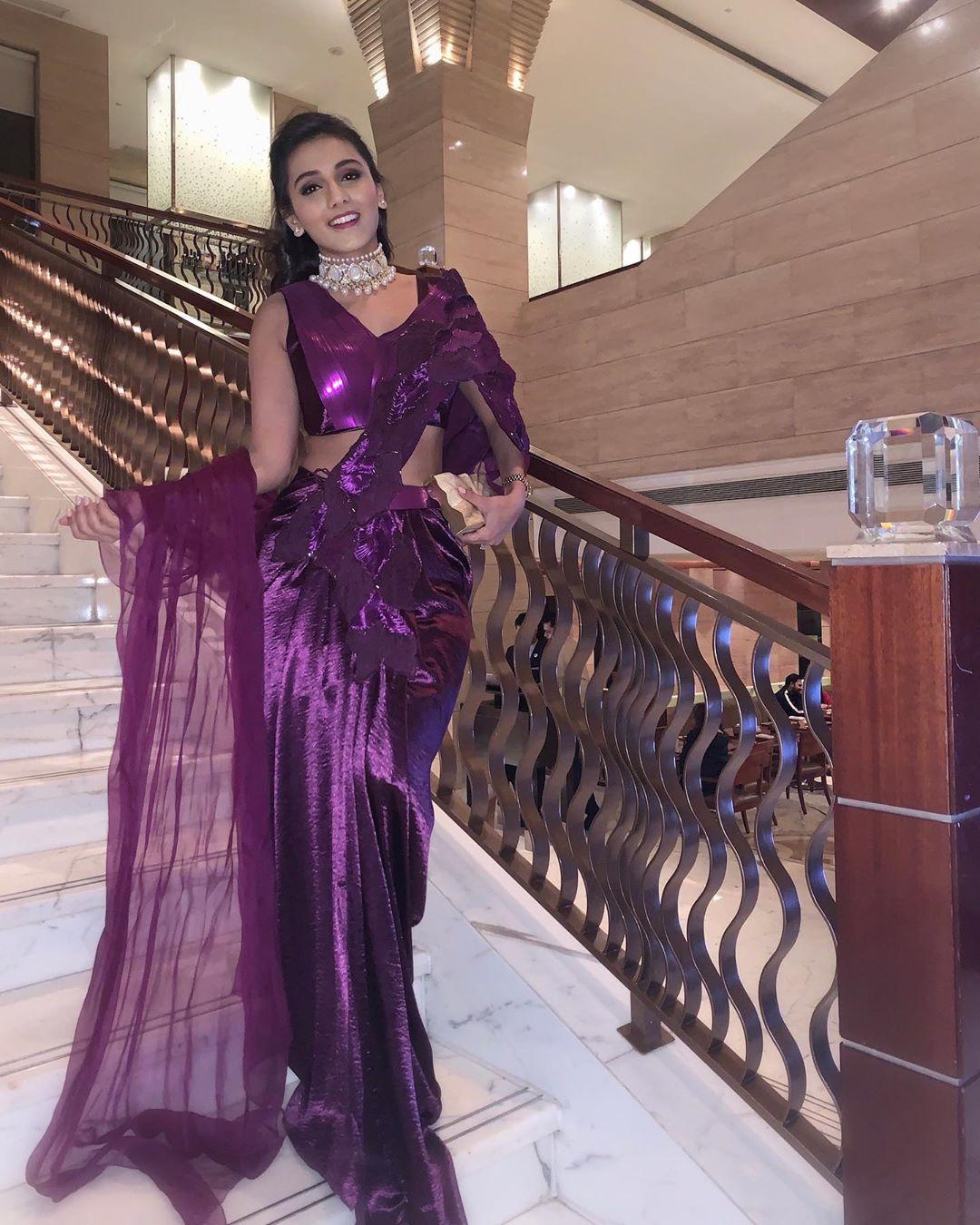 For a wedding in Delhi, Masoom Minawala picked the Delhi based ace designer - Amit Aggarwal. Upholding the signature style of Amit Aggarwal and pairing it up with the Mother of Pearls choker set by 7th Avenue Jewellery, she looks bewitching and we are in love with this look! This ensemble is a real inspiration for the Reception party or the Cocktail night!
Belted Saree for Days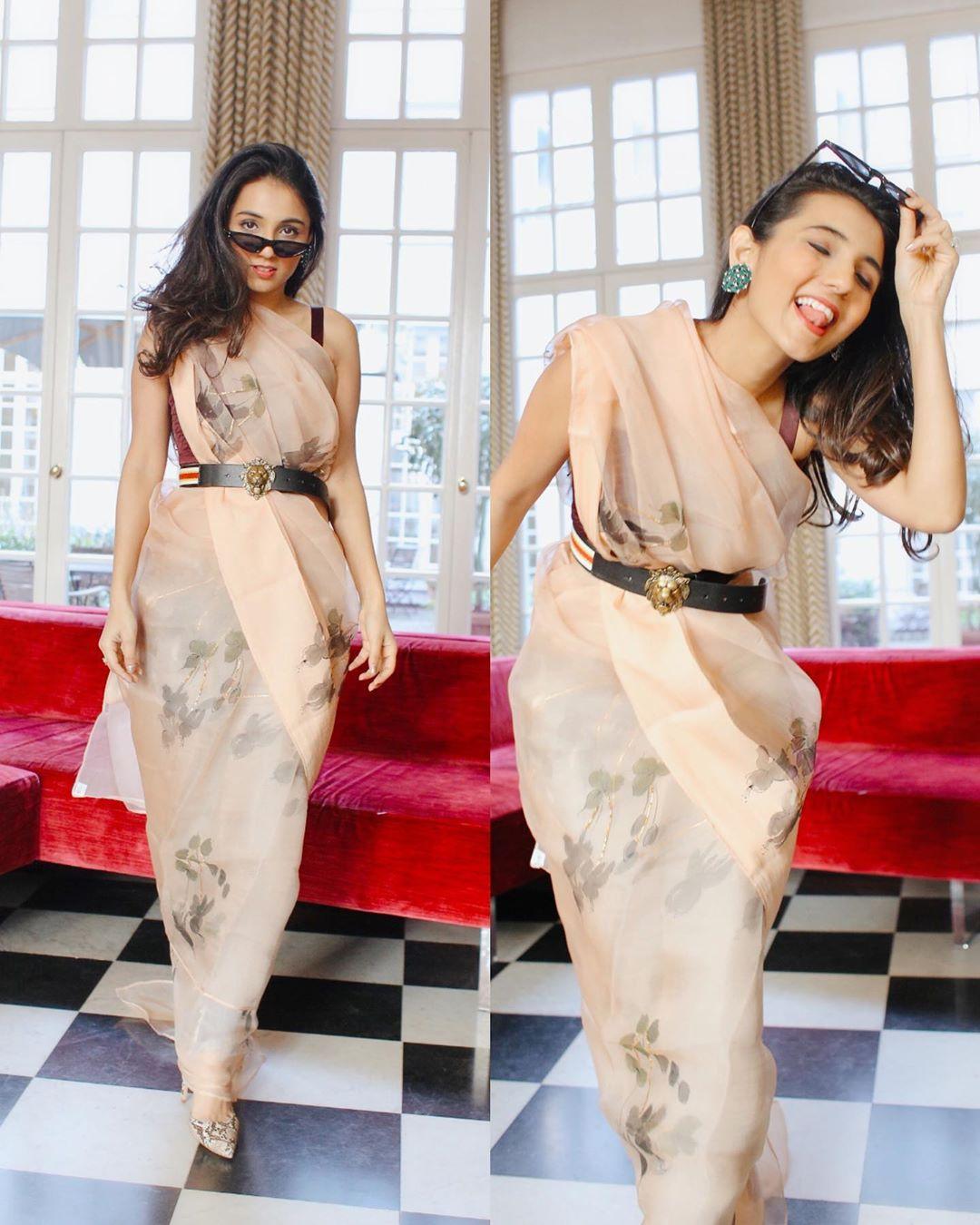 For any fabric that is a little hard to manage because you're not a pro at this whole draping a saree concept, there's always a belt! For this organza saree in peach, the belt defines the look all the more beautifully. This is also a great way to be sustainable and reuse your saree or even your mother's drapes, by giving it that modern twist. Adding more structure to the fabric so the silhouette looks absolutely pretty, this is a great piece picked for brunches and day weddings. Did the bridesmaids take a note yet?
One from the pages of Bridal Asia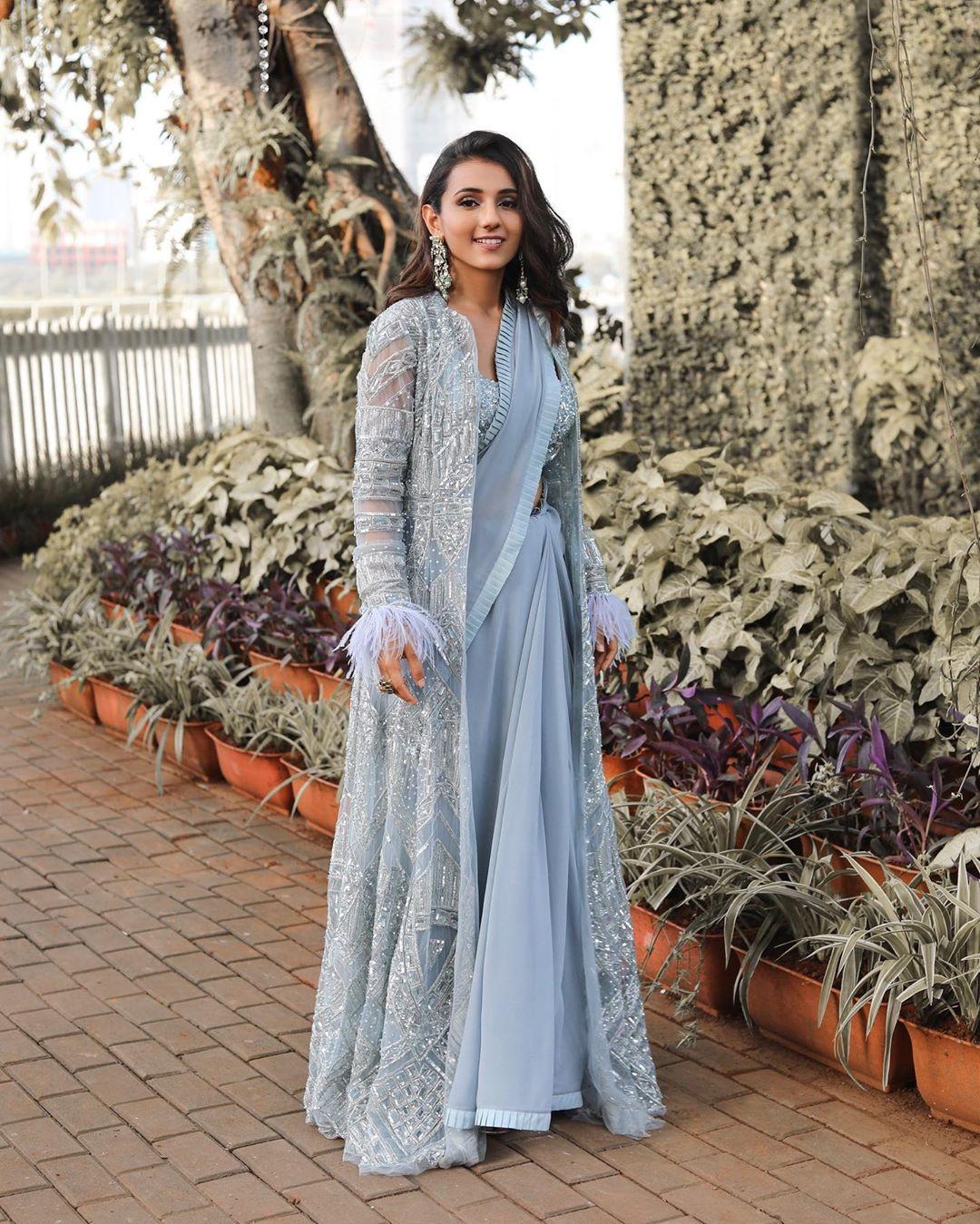 This grey saree is a simple organza drape designed by Avvantikaa S. Parwani. Bringing contemporary into conventional, the label does their best at providing the brides with handcrafted beauties that are crafted especially for the new age brides. The pleated hem of satin and the net cape with intricate embroidery makes this look an ever-gorgeous one. Perfect even for the brides on their Reception, this look is bound to stand out!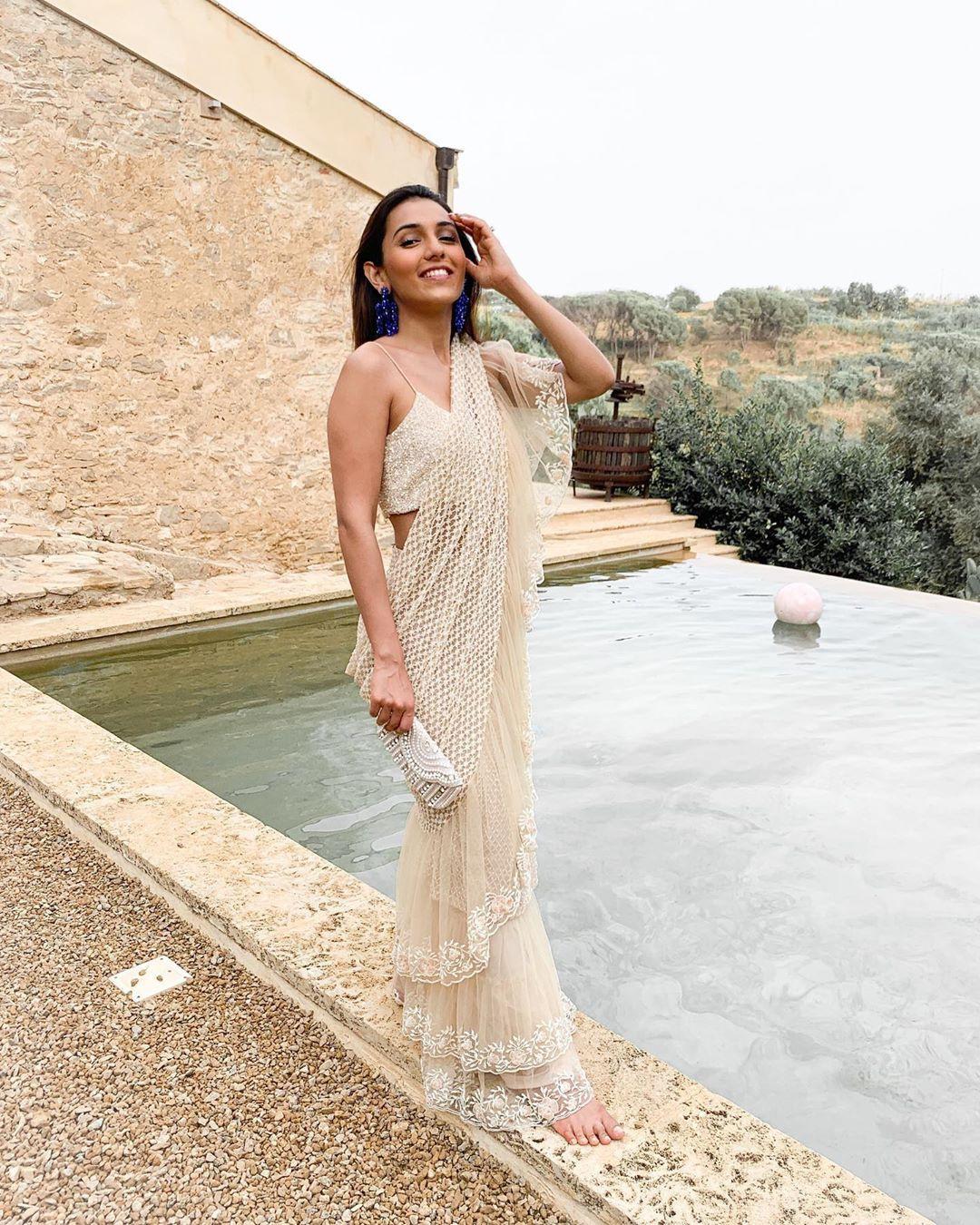 Picked from the Dirty Pour SS19 Collection by Esha Sethi Thirani, this three-tiered beaded saree is a dreamy look that Masoom Minawala flaunted in the streets of Sicily. Paired with a sequin blouse and earrings that added the bright pop of colours in blue, this look is a definite inspiration for the destination wedding lookbook.
Her Saree, Her Way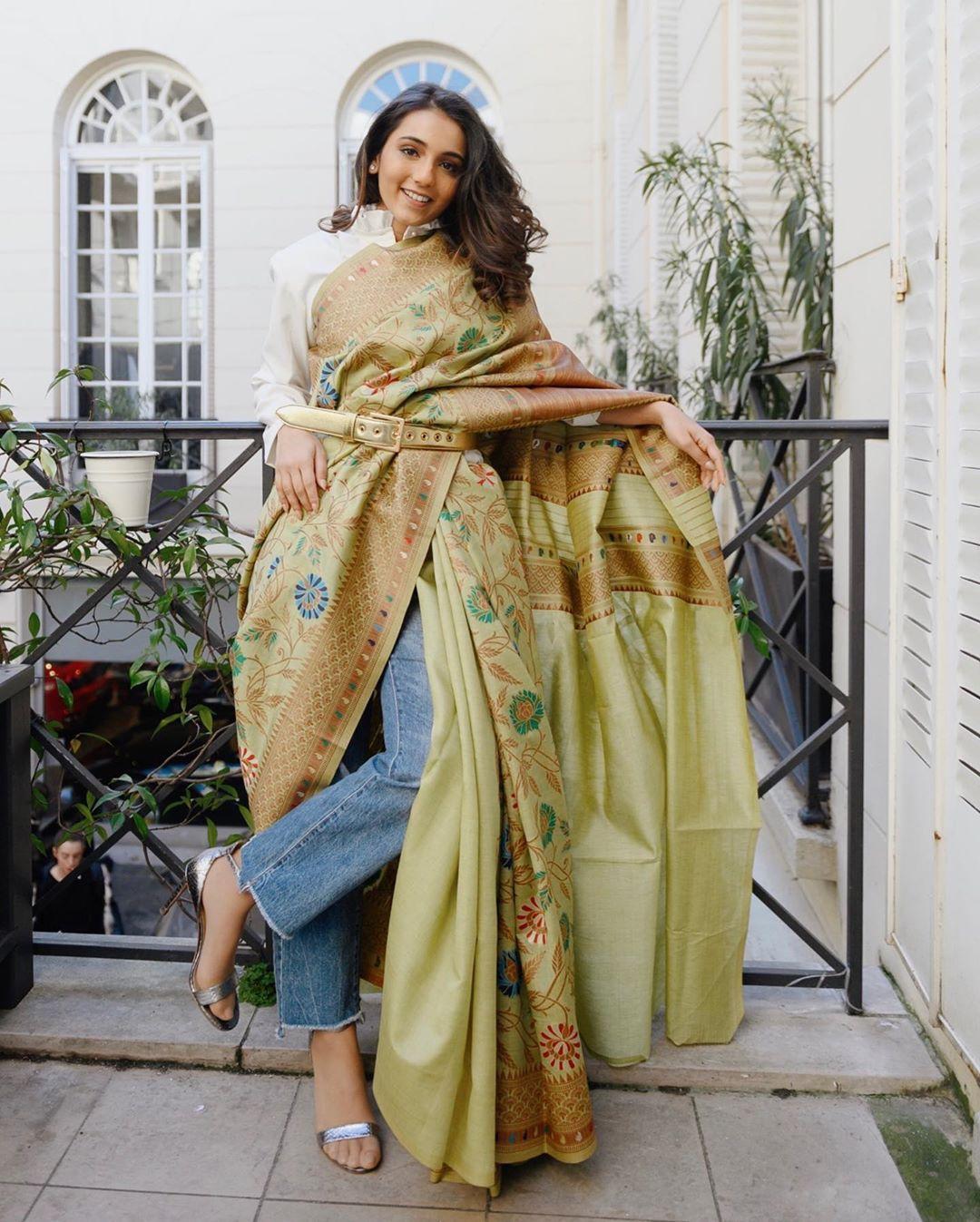 This beautiful sage green saree from Julahaa Sarees is a piece that has been given the contemporary twist by pre-pleating it and tucking it inside the denim. Wear your saree your way or maybe your denim your way? To complete this look, the golden belt is the cherry on top and it gives more structure to the drapes. Who knew that the all-day everyday casual white top and blue jeans could look so graceful and edgy!
Pre-stitched Saree & Pretty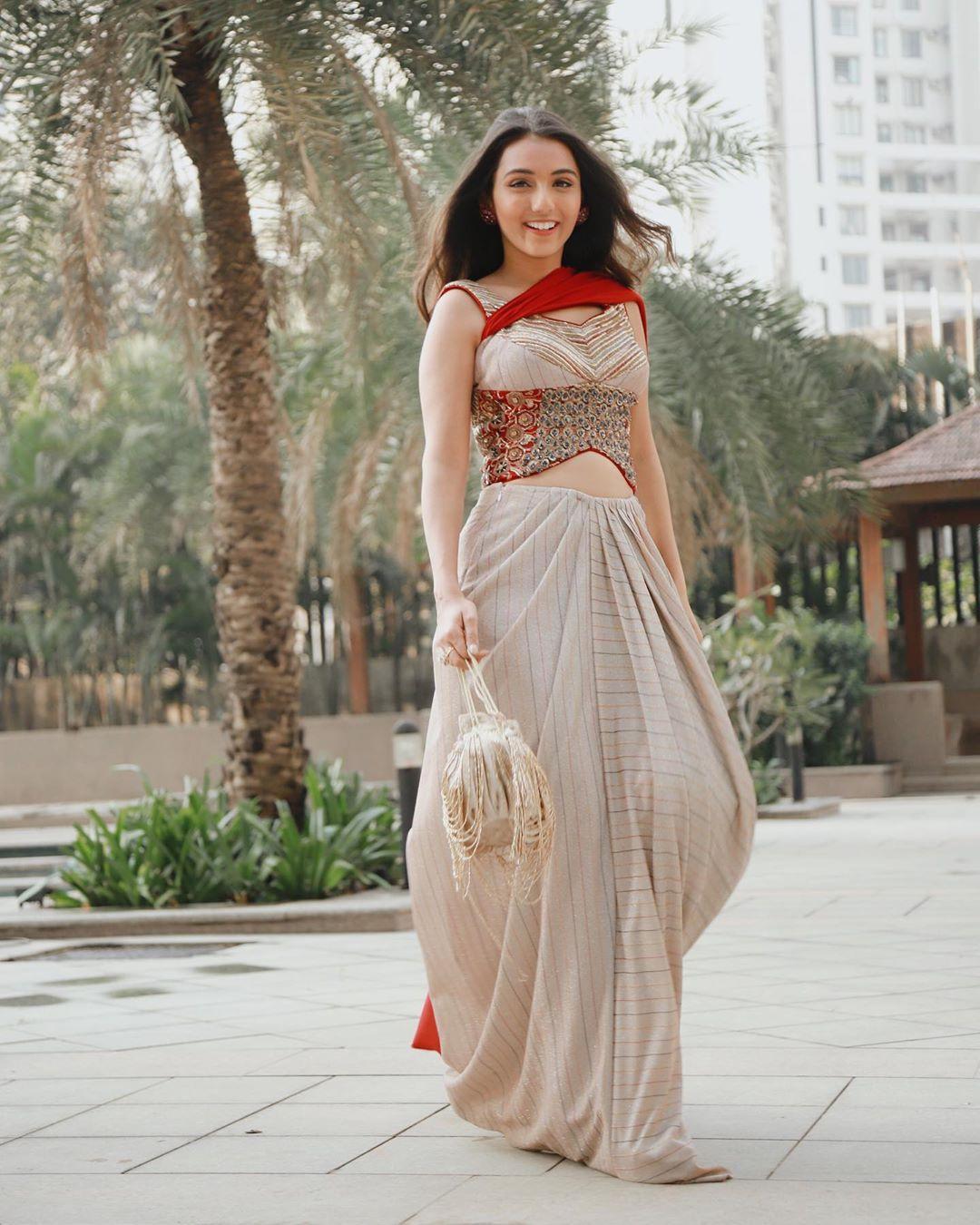 RENAISSANCE is a collection that was launched keeping in mind QBik's revival of their signature style. The brand is known for its lush, luxuriant fabrics in deep moody, rich hues. With the structured silhouette and the Avante Garde designs, Masoom Minawala looks elegant as ever. This pick is a perfect inspiration to keep it subtle yet edgy, especially for the bridesmaids to turn some heads. This pre-stitched saree is an awe-inspiring design!
BFF's Reception-Ready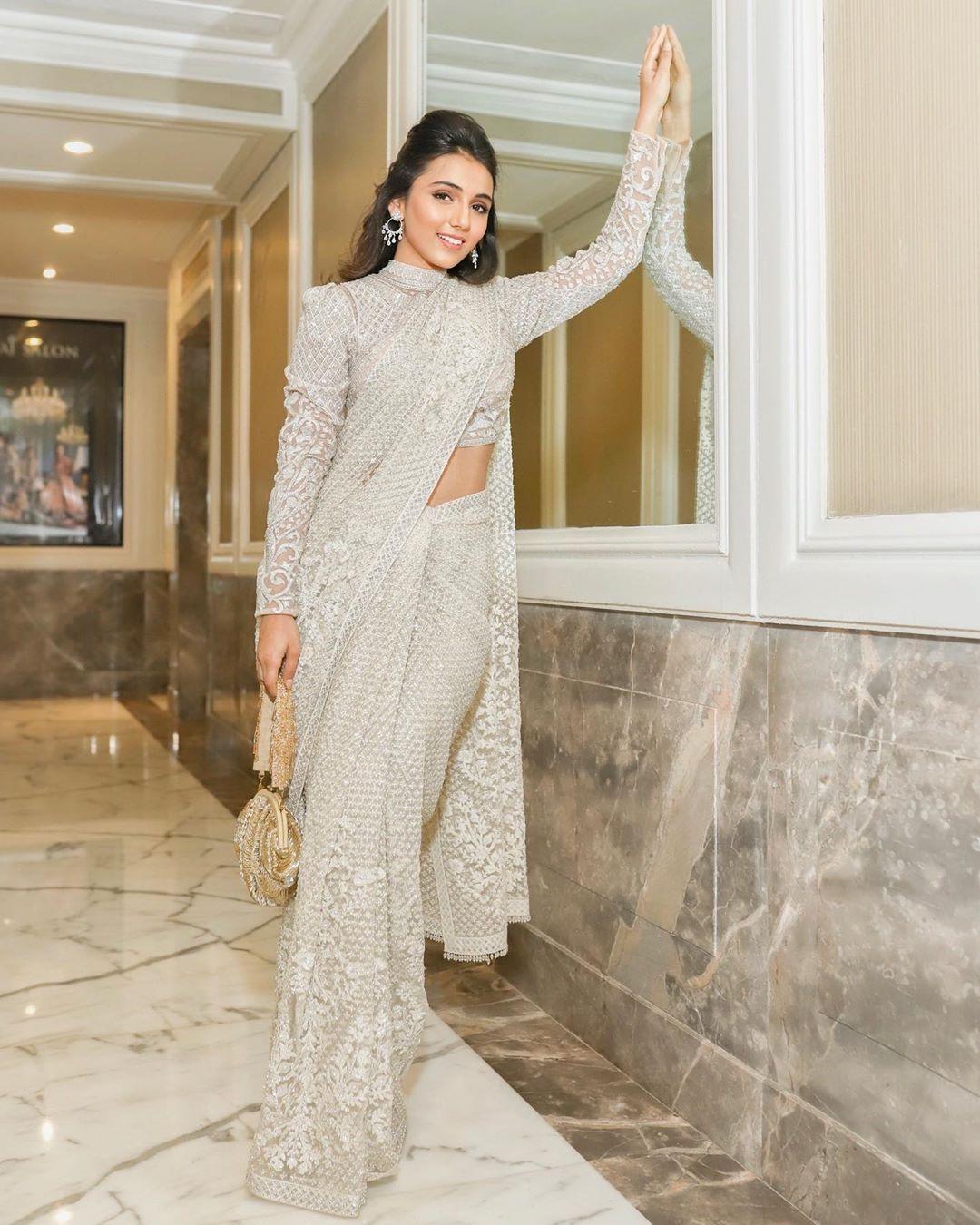 Keeping in mind that the reception and the engagement ceremonies or even the cocktail parties are all formal or semi-formal occasions and meeting the outfit requirements, Masoom Minawala chose this absolutely sophisticated look from the house of Falguni Shane Peacock for her best friend's reception. This intricately embroidered heavy saree is a classy pick and the full-sleeve mock-neck blouse adds more to its grace.
One from the Masaba X Rhea Collection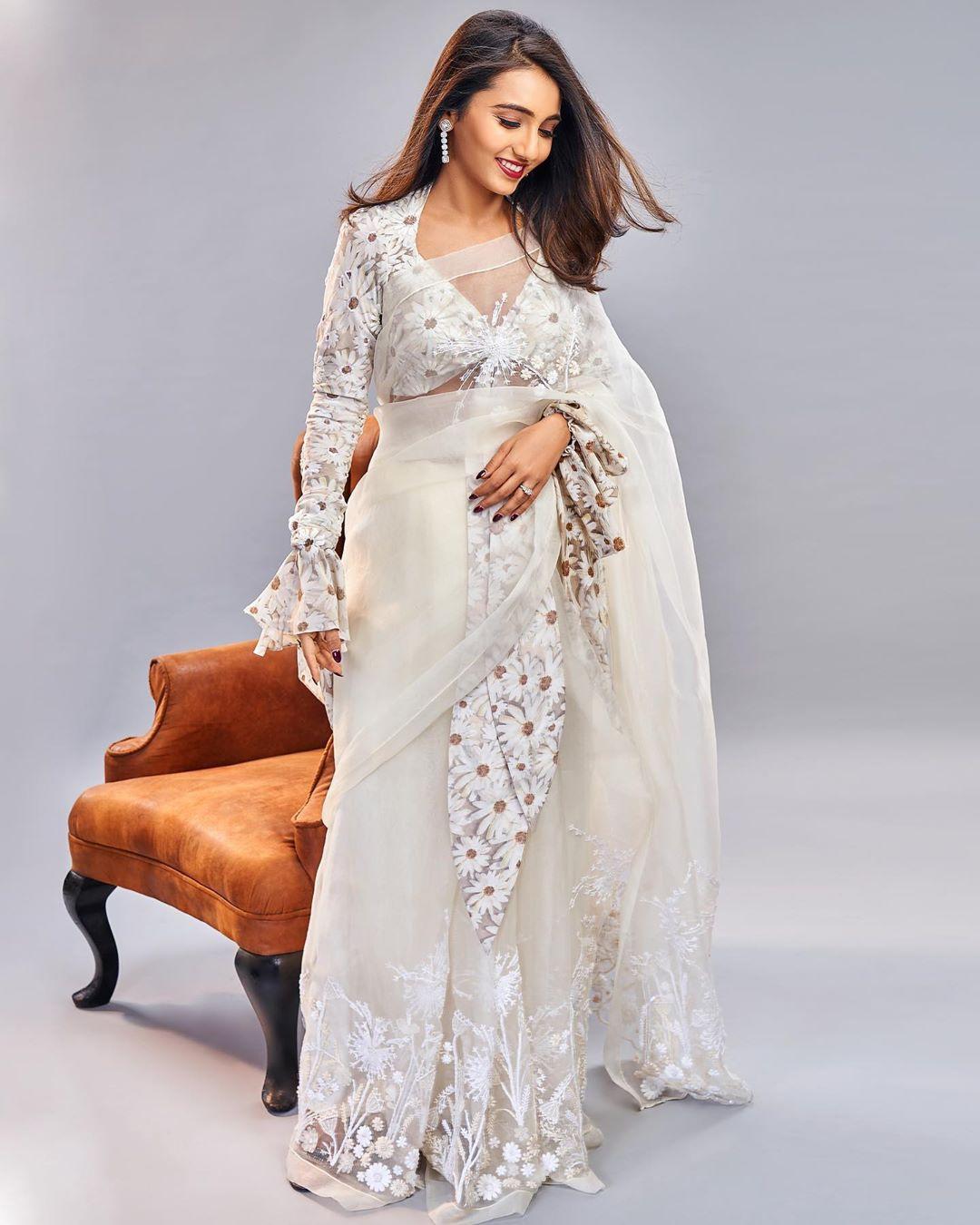 What happens when the country's top designer for couture wear and an iconic celebrity stylist come together? A flawless collection that celebrates women and beauty! Masaba Gupta and Rhea Kapoor have come together to create a collection that is loud and ladylike, and this off-white saree is that perfect concoction of their unique and signature styles. Perfect for a Summer wedding, this ensemble with a blouse in the silhouettes of the 90's designs is a showstopper.
Haute Couture Saree Goals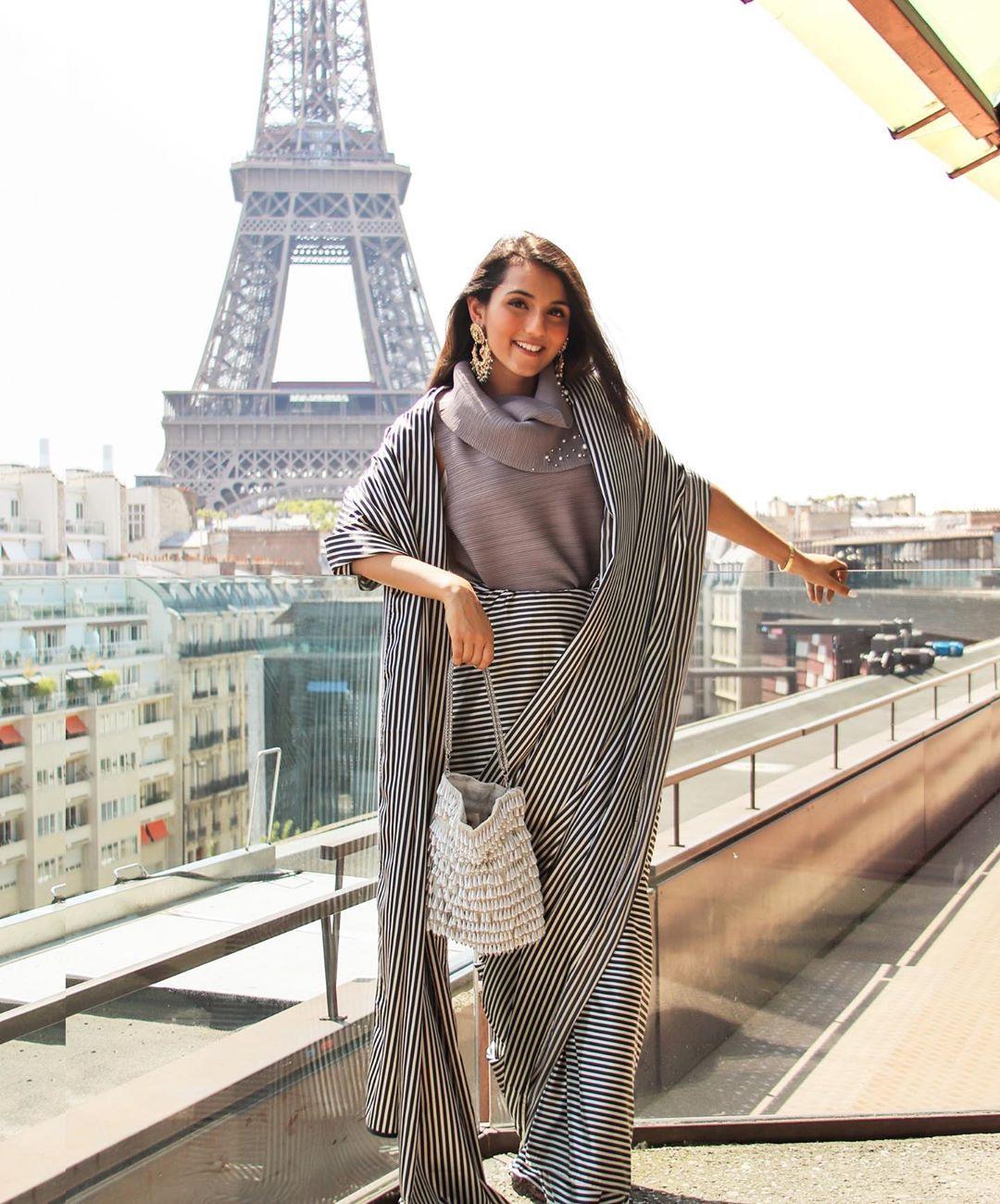 Paris Fashion Week and saree is a never-ending romance to the ace influencer, so the ever-gorgeous Masoom Minawala was seen flaunting this drape with pinstripes in monochrome in Paris for the Haute Couture. Taking the pallu differently and giving us yet another unique way to drape the elegant 9 yards of rich cultural heritage, this look is one in a million for sure!
Whoever thought saree was just meant for traditional functions only, needs to see the way Masoom Minawala and a lot of other social media influencers are carrying the saree draped in a hundred different ways for a hundred different occasions. Here are 15 ways to flaunt a saree from the lookbook of Masoom Minawala and her fantastic Instagram feed that are sure to inspire a lot of you to start wearing a saree maybe even for a date or a brunch!
From the formal elegance of heavy sarees to the casual affairs of the simple organza drapes on the streets of Paris, Masoom Minawala has shown us how the saree can never go out of style.
While upholding the age-old traditions and cultural richness that the saree is associated with and at the same time supporting the homegrown brands and labels, Masoom Minawala's saree looks are truly an inspiration for the millennials!
Wear your saree your way for the weddings this season and if you're planning to flaunt a saree for your casual movie eve or a lunch date find your options with the designers onboard!
Note: All images have been sourced from Masoom Minawala's Instagram account.