8 Chic Pre-stitched Saree Images for the Bride & Her Squad
Love to drape a saree but always find it difficult to drape and handle? Here's your solution! Check out these stunning pre-stitched saree images for some inspiration.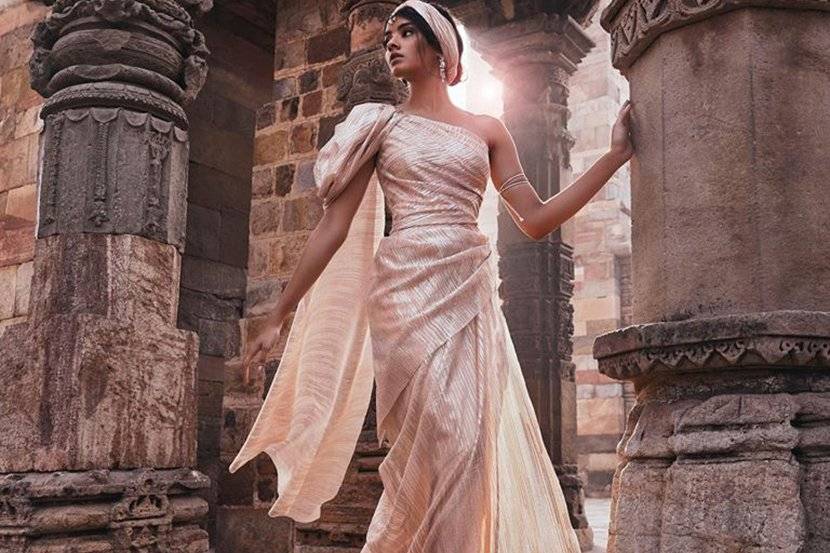 A saree is an Indian attire that is always in fashion. From different traditional saree looks to contemporary fusion draping styles- brides and her bridesmaids love to sport the 9 yards on special occasions. The only hitch that comes in the way is the effort of draping! Even after watching saree draping videos on Youtube, the perfect drape requires skill and time. And that's where most millennial women step back. However, thanks to the constant innovations by our Indian designers, you don't really need to sweat the whole draping hoohaa! Answer to your saree woes is, Pre-stitched saree! Take a look at some gorgeous images and learn about some new trends that would definitely make your life easier!
Red pre-stitched satin saree with slit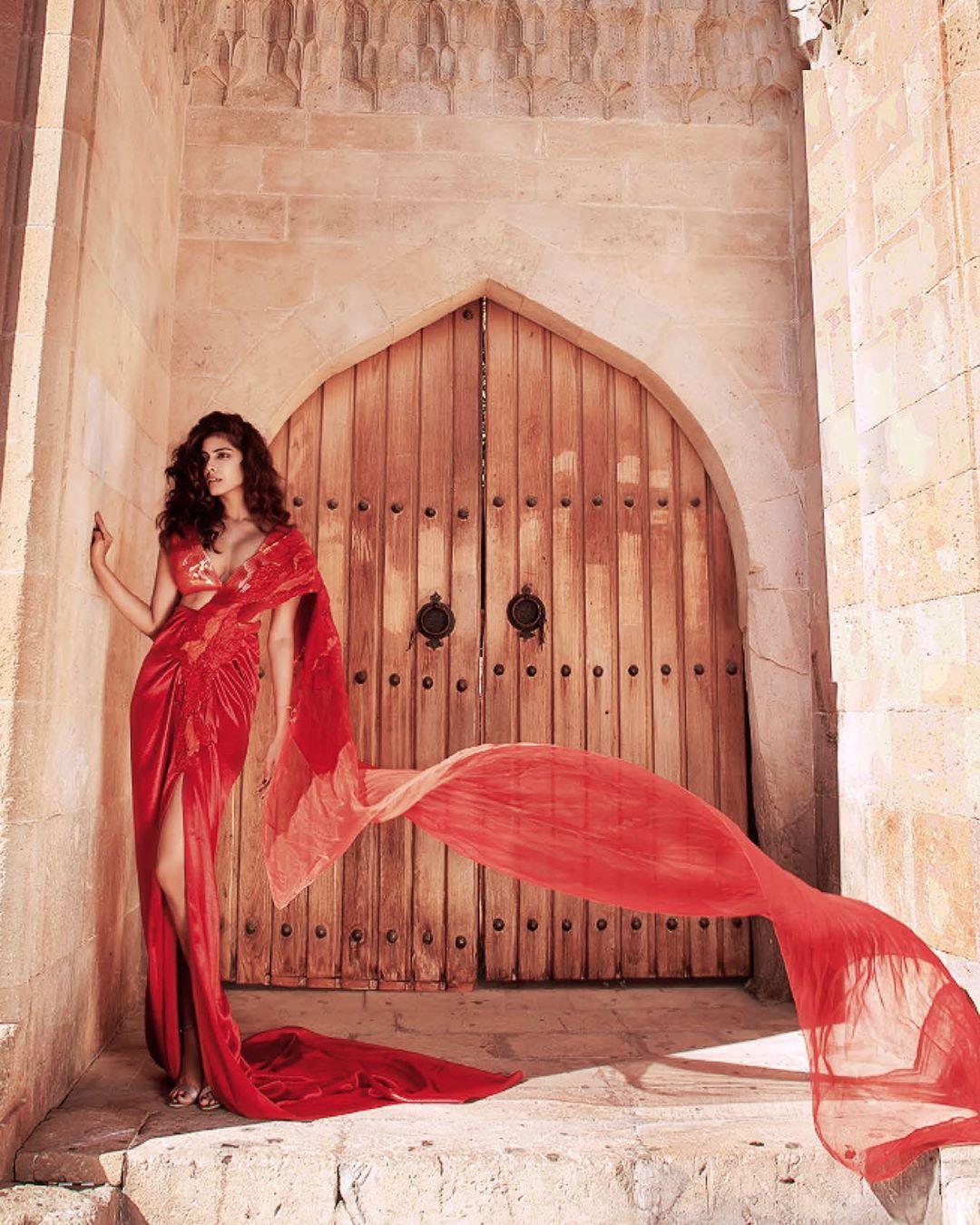 Image Courtesy: Amit Aggarwal
A satin pre-stitched saree in blood red, with a thigh-high slit at the front and a long trail at the back- now that's what we call a winner outfit for your friend's Cocktail party! This uber sensuous and classy saree is for women who are looking for an outfit that exudes attitude!
Fashion tip: Wear golden stilettos, golden statement earrings and a bracelet. Don a messy open hairstyle.
Indigo pre-stitched satin & net saree
Image Courtesy: Amit Agarwal
Combine satin with net and you get this fabulous pre-stitched design for saree. The large ruffles and plaits in this indigo saree give this whole dress a larger than life outlook. Go with a high front slit to enhance the drama. If you're looking for a gown style saree draping, this would be your ideal outfit.
Fashion tip: Sport a pearl choker necklace with bright blue stones; keep your makeup minimalist with dramatic red lips; pull your open hair back with a neat gelled front.
Peach chiffon saree with ruffles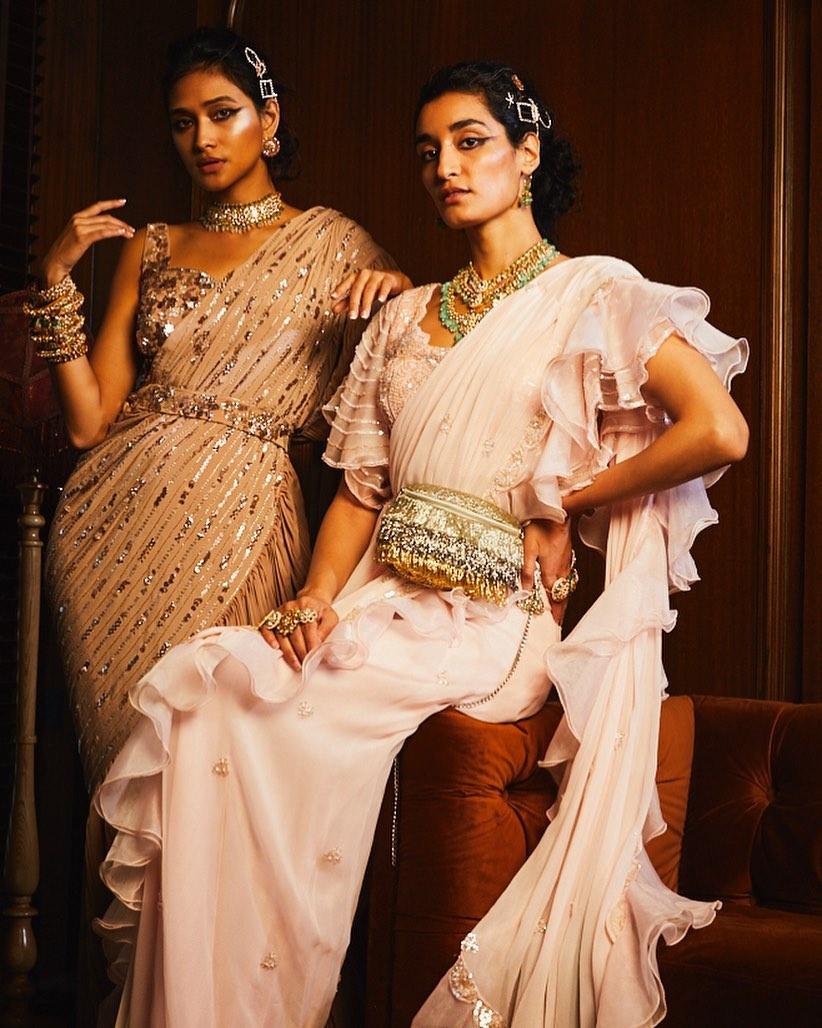 Image Courtesy: Ayushi Bhasin
Are you a fan of over-dramatic effects? Then you must definitely go with ruffles. The more the merrier! This pre-stitched chiffon saree in soft peach with large OTT ruffles below the waistline and all along the pallu, makes this dress the perfect outfit for your retro-theme Sangeet performance. Keep your blouse sleeves ruffly too to match your saree.
Fashion tip: Carry a shimmery golden clutch to add some zing to the outfit; Wear golden Kundan necklace with stones and matching rings; nude makeup with dramatic winged eyes.
Wine georgette pre-stitched printed saree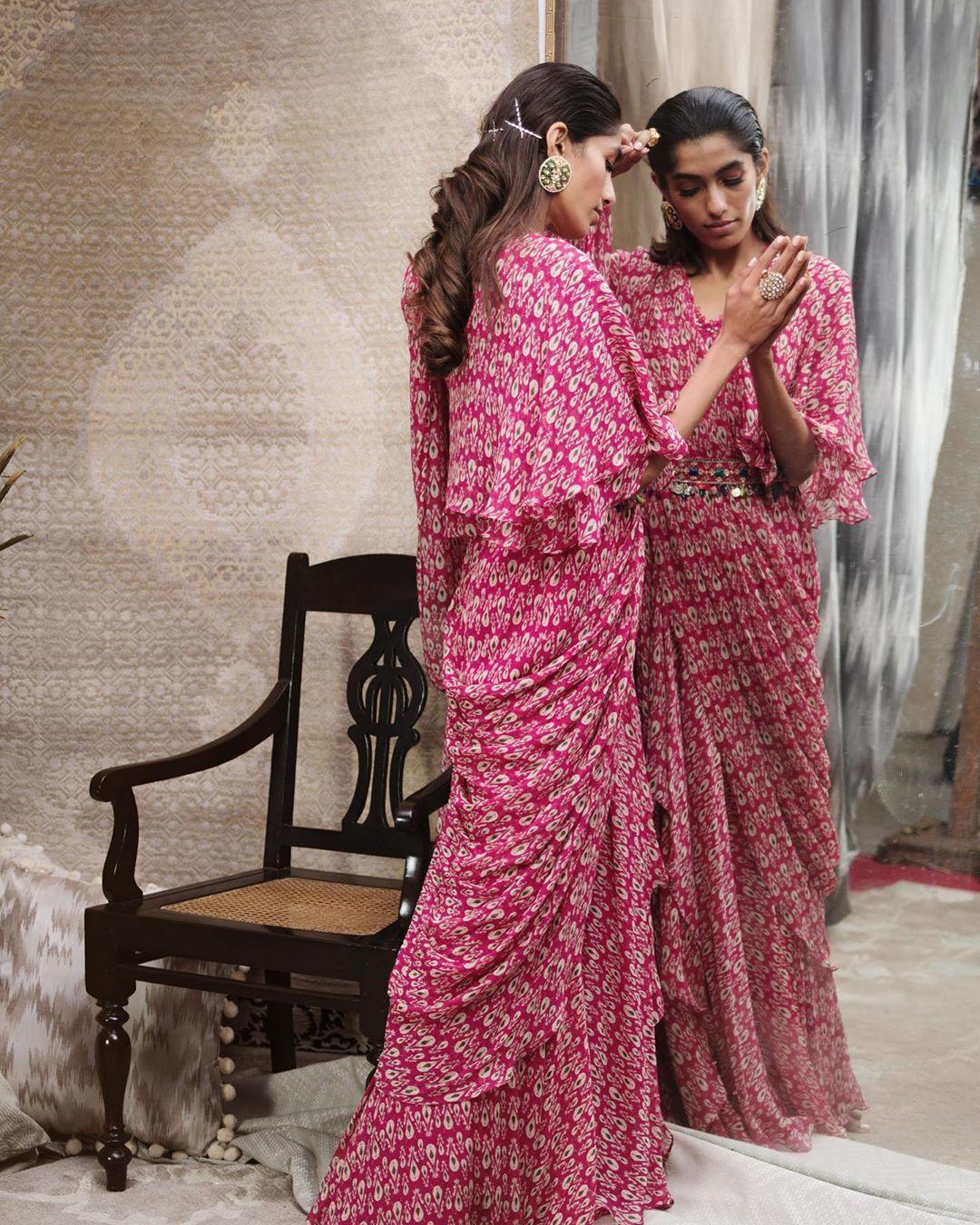 Image Courtesy: Ridhi Mehra
Looking for something fun & cheerful for your best friend's Mehndi ceremony? Try this printed pre-stitched saree in georgette to add some sultry vibes to the function. Choose an elegant wine or mauve as the base colour with white prints all over it. You can pair up your saree with a white top or shirt to add some quirk factor.
Fashion tip: Sport a chic Kamarbandh or a saree belt, golden cluster or stud earrings with hair chain and a large ring; leave your hair open pinned up on one side.
Fuchsia chiffon pre-stitched saree gown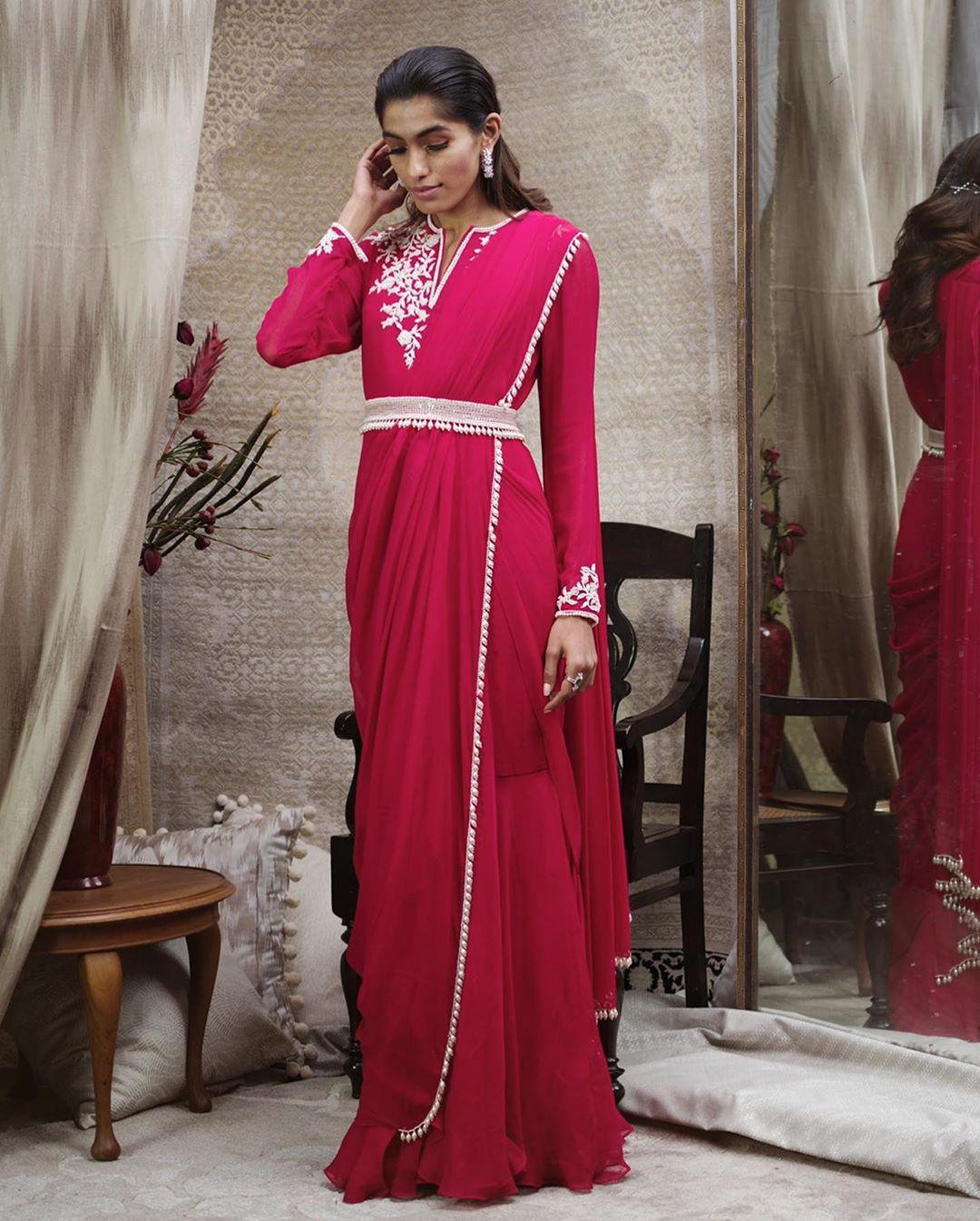 Image Courtesy: Ridhi Mehra
A fuchsia or a rani pink pre-stitched saree is just a must add to your wardrobe if you're looking for pre-wedding outfits. A saree gown in chiffon with a body-hugging fabric is the ultimate answer to your "how to look slim in saree" concern. The free-falling georgette with white embroidery work on the pallu screams grace and elegance.
Fashion tip: Go with a full sleeve blouse with embroidery on the hem; wear studded silver earrings and rings; sport an open straight hairstyle.
A-line pre-stitched peach crepe saree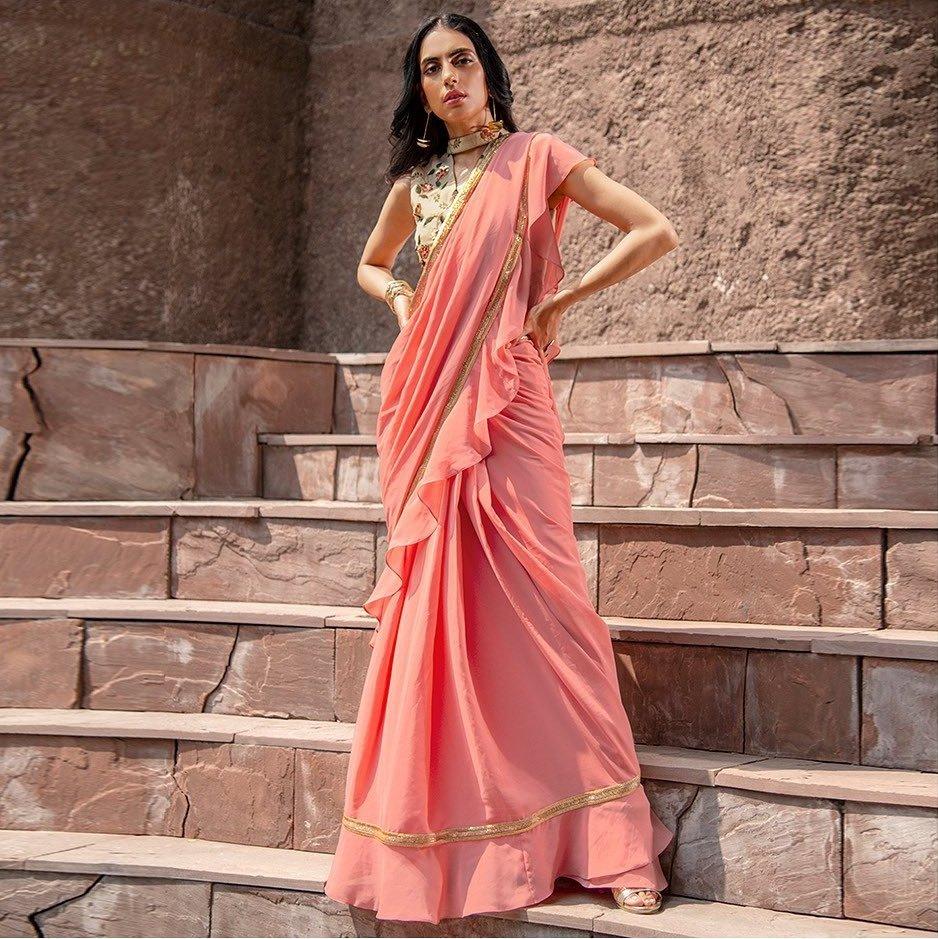 Image Courtesy: Indya
An A-line pre-stitched saree in a skirt shape would be ideal if you're going for an Indo-western look. Even as an independent saree, this kind of outfit works great as it hardly looks like a pre-stitched one. Add a few ruffles on the pallu and pair it up with a cream-based floral printed blouse.
Fashion tip: Go with messy open hairstyle; wear golden earrings and bangles and carry a matte golden clutch.
Ivory pre-stitched sequin saree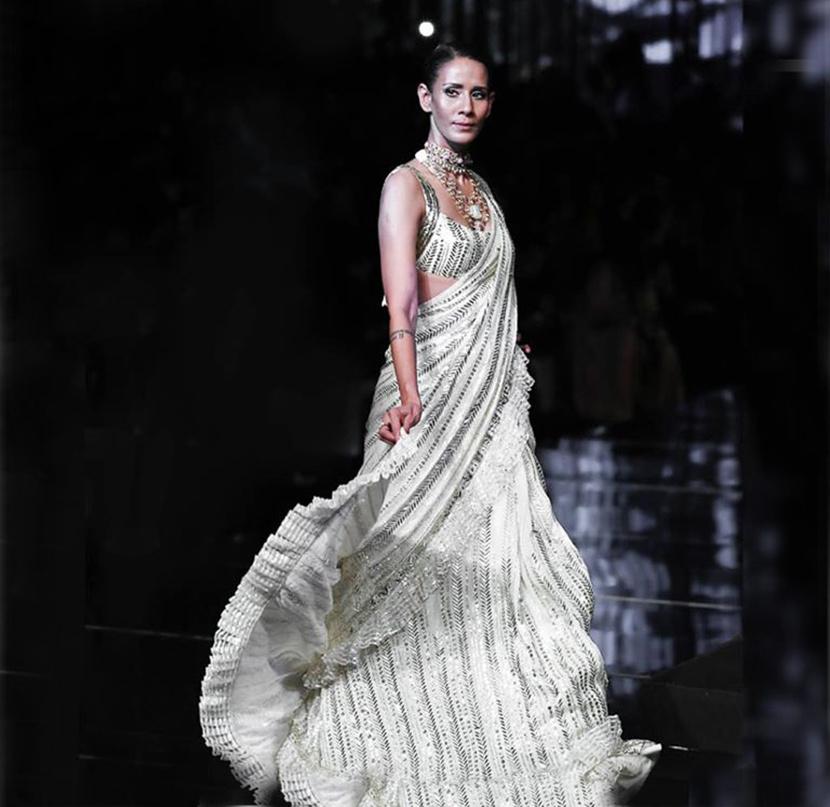 Image Courtesy: Manish Malhotra
If you've been swooning over all those celebrities' sequin saree images, it's your time to own one! Try an ivory colour pre-stitched saree in sequin to make a grand entry! The ruffled pallu edges and the super lustrous sequin blouse instantly heightens the glam factor of this saree.
Fashion tip: Wear diamond choker necklace and earrings; Keep soft curls or cascading hair or make a high bun.
Gold crepe saree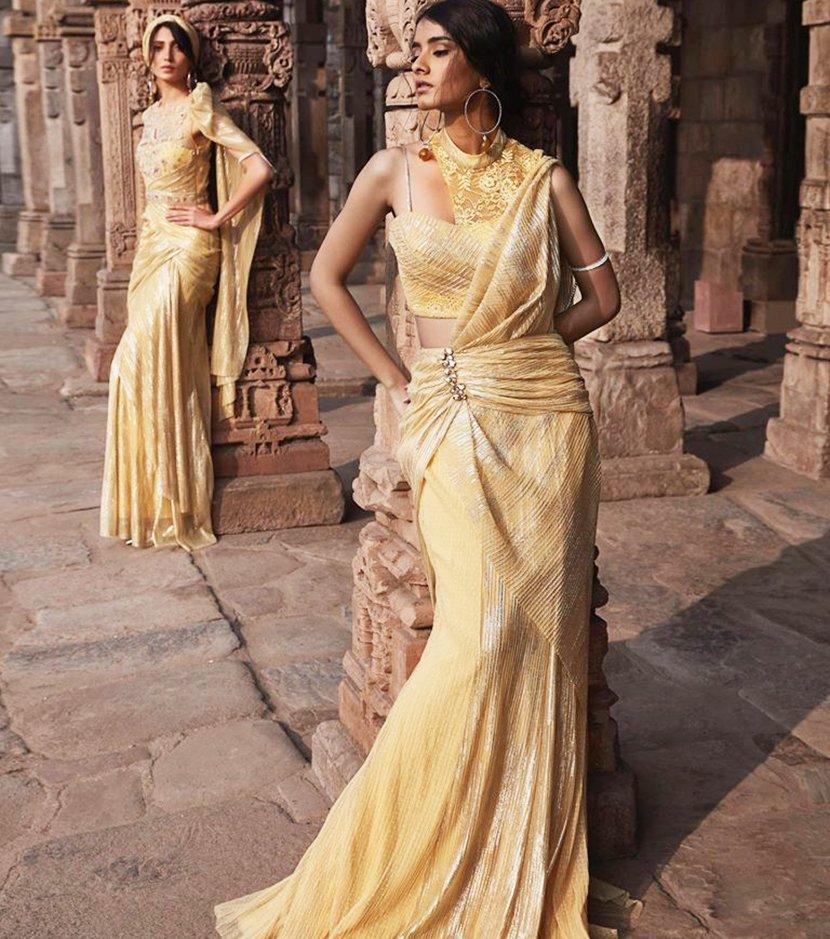 Check out this Tarun Tahiliani's creation from his spectacular drape series in the Spring collection 2020! The soft flattering fabric of crepe and the grandeur of gold together make this pre-stitched saree a show-stopper! Wear it with a matching spaghetti strap or a one-shoulder blouse.
Fashion tip: Large golden hoop earrings and a golden saree belt; try a messy bun hairstyle; keep your makeup minimalist.
Once you're open to the idea, the options to fashion a pre-stitched saree are endless. From a gown saree to lehenga, skirt, dhoti saree or jumpsuit saree, you will be surprised at the fashion possibilities. Don't be afraid to experiment and keep an open mind about trying new styling techniques. Look for contemporary junk jewellery designs to go with your saree or maybe you can mix and match your ornaments too. Choose your colour and fabric wisely that would accentuate your positives and flatter your body.
Looking for exquisite jewellery? Check out some stunning oxidised jewellery to go with your saree!