Add A Saree Belt To Your Outfit And Watch Heads Turn
The saree belt is an essential element for your wedding outfit - find out its different styles and how to pick the right one for your bridal ensemble.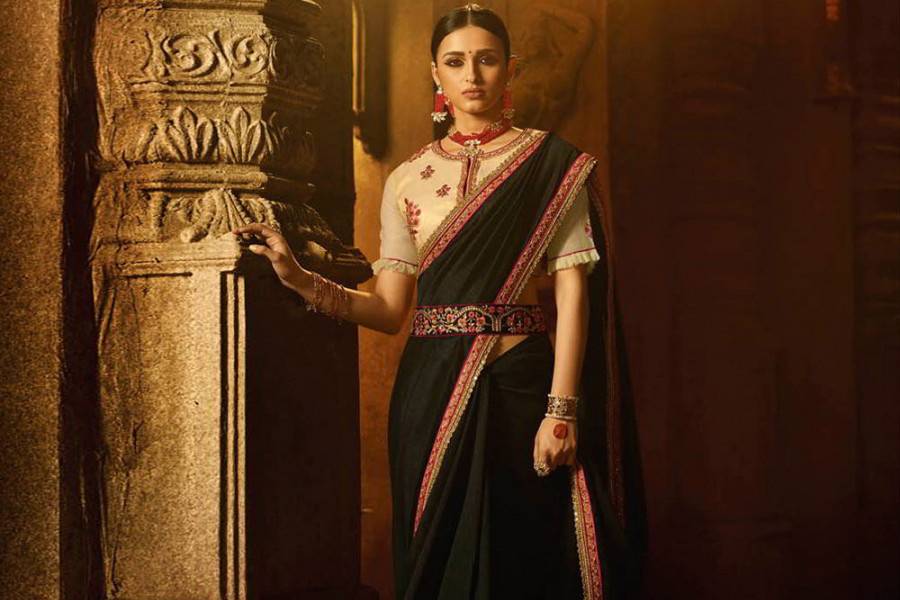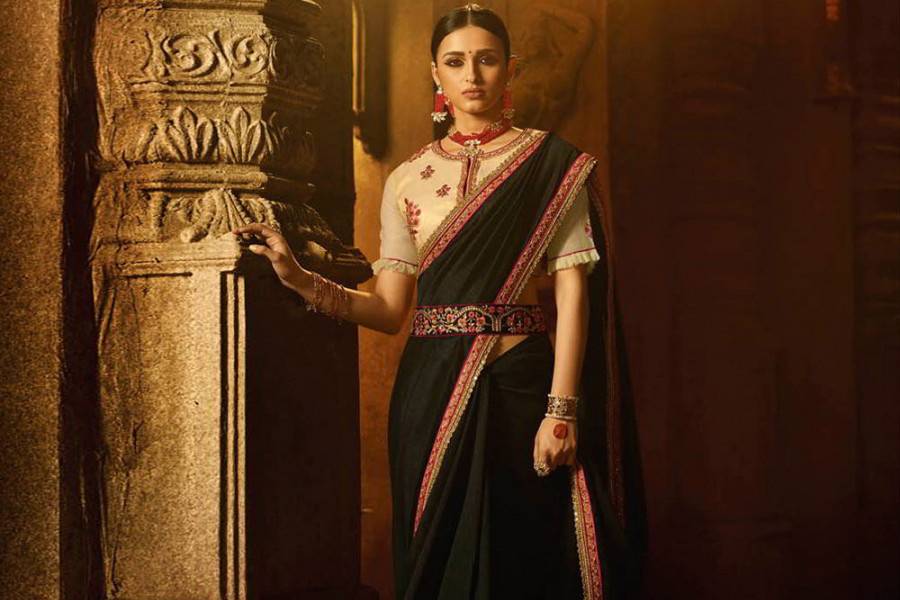 Image Courtesy: Pinterest
Your wedding day is going to be one of the most important days of your life. So, it's only fair that as the bride-to-be you plan out every detail beforehand. While your bridal jewellery might be sorted, there's another element that has hit the trend list recently - the saree belt! Be it traditional ones, classic ones or minimal ones, these days you'll find a saree belt that goes with every kind of saree and mood! Don't believe us? Check out this list of 10 diverse saree belts:
1. Saree belt with gold coins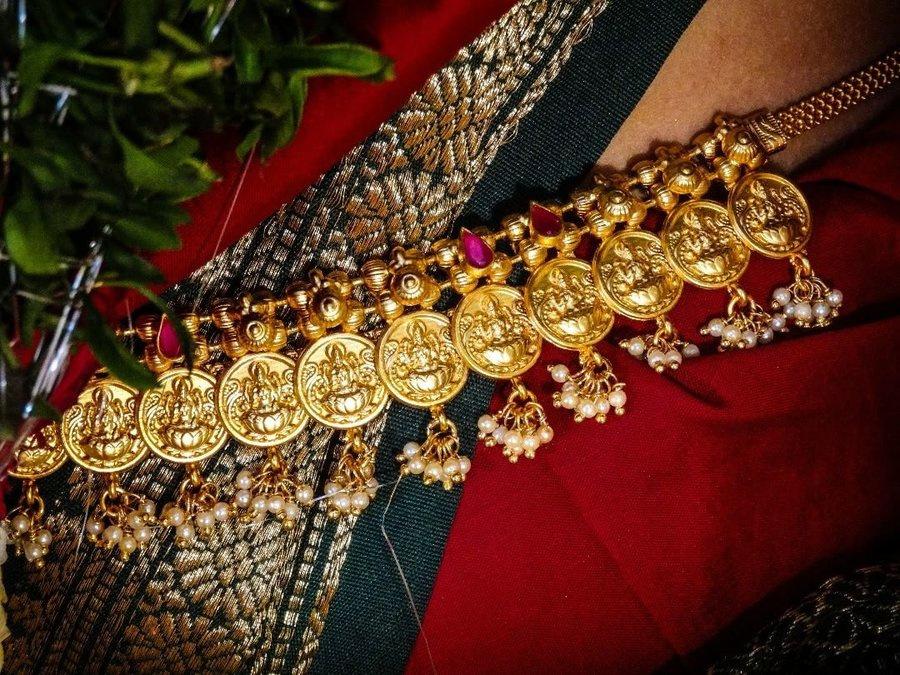 Image Courtesy: Captured Perspectives
Gold for weddings can never go out of style - this particular gold saree belt with motifs on the gold coins and embellished Ghungroos completes your outfit for the D-DAY. Plus, the gold coin element brings out the traditional aspect really well too. This stunning saree belt might just turn out to be a lifelong prized possession.
2. Quirky flower jewellery saree belt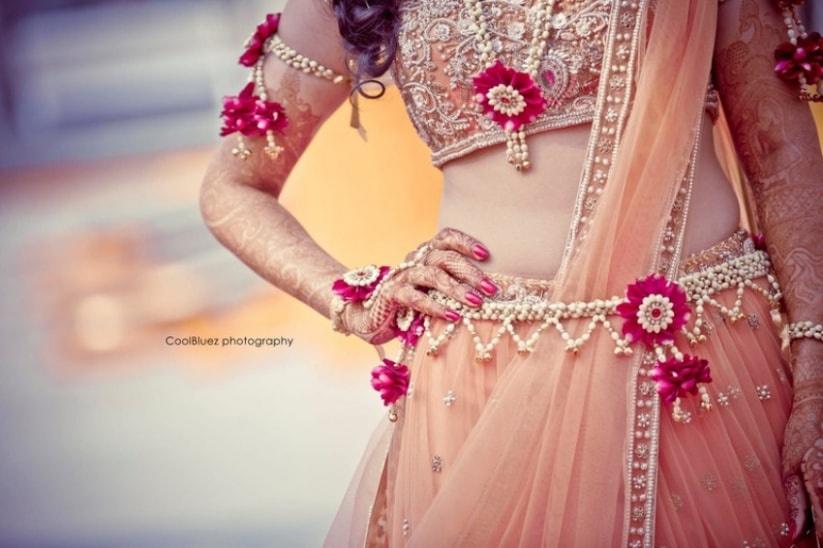 Flower jewellery is hot and trending this wedding season. So why not add them to your saree belt to create a classic look? The base chain can be made of pearl or beads while you add flower jewellery in the centre and the sides. Make sure that the saree belt matches with the rest of your flower jewellery to get the fairytale wedding look!
3. South Indian saree belt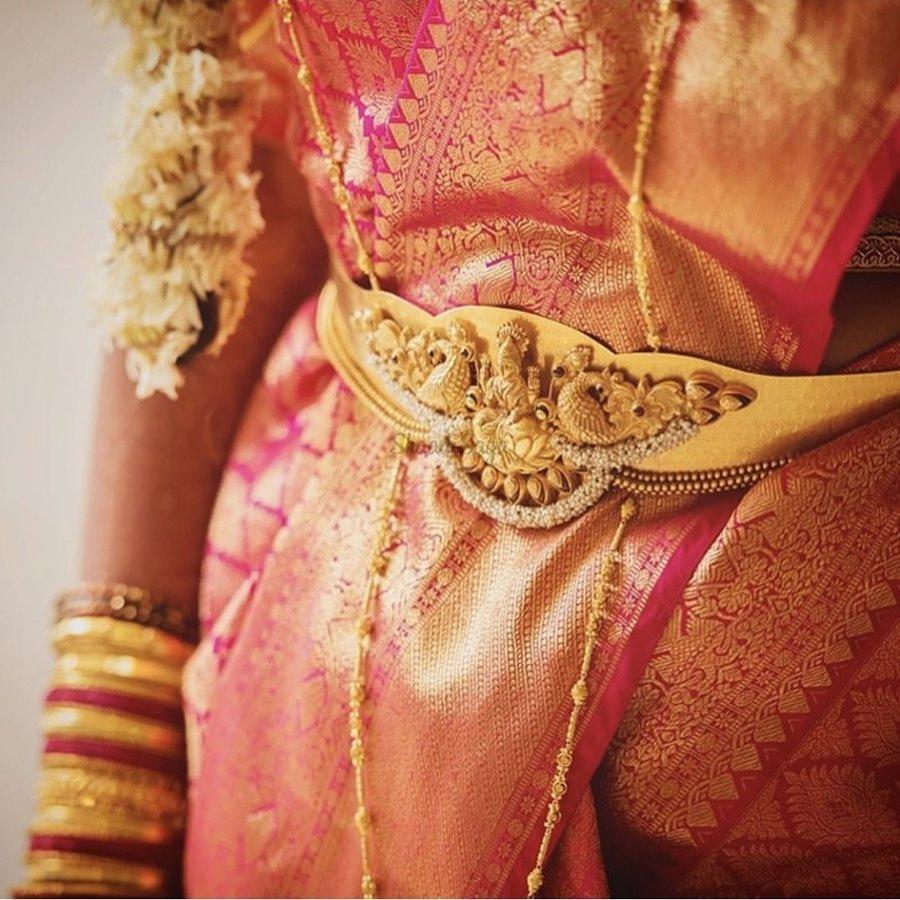 For the brides who love going all out when it comes to traditional outfits for your wedding, the South Indian saree belt is your perfect match. The gold band at the bottom is quite elaborate and its shape is customised to fit the motif. You can definitely choose a motif that you like or comes from your traditions to go with it. To make it all the more regal you can border it with zari and gold beads!
4. Saree belt with motifs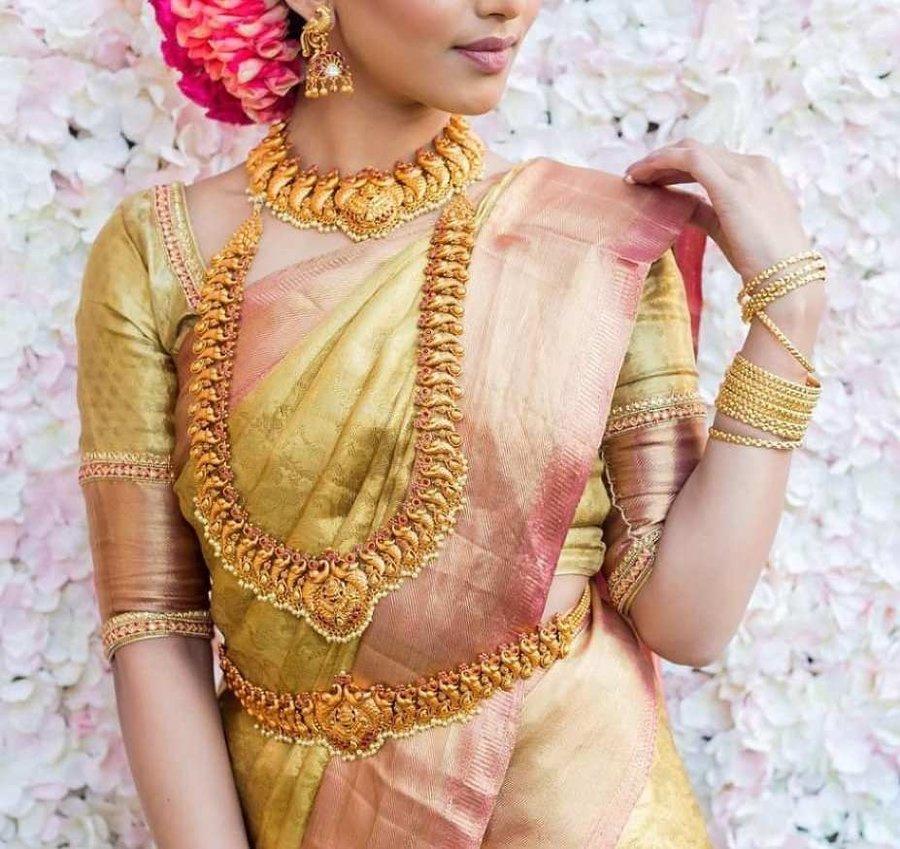 Image courtesy: Eternal Memories
This belt is truly unique and exquisite like no other. A little on the traditional side, there are motifs embedded onto it. What sets it apart from traditional saree belts is that, instead of having an elaborate gold belt as the base, it is cut out in the shape of the motifs giving it a sleek look! It's tailed by strings of gold beads to make it easier to tie at the back.
5. Simple yet classy gold band saree belt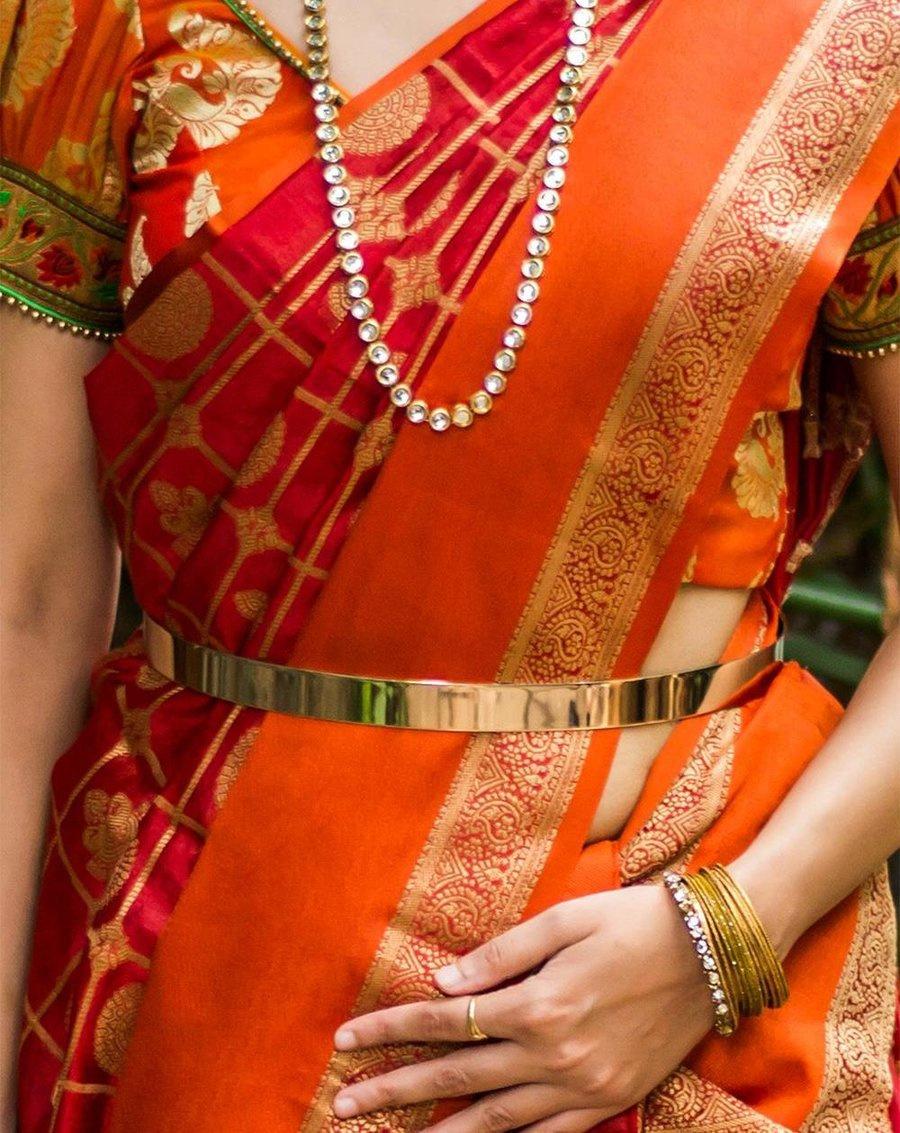 Image courtesy: Pinterest
Minimal and light weight jewellery is in vogue and when it comes to us we're always going to give you an option that's minimal yet stunning. If you don't want to go down the traditional or intricate path, then this gold band saree belt is the one for you. You can easily pair it with simple black and silver sarees as well to wear it on your Cocktail or Sangeet!
6. Chain-shaped gold saree belt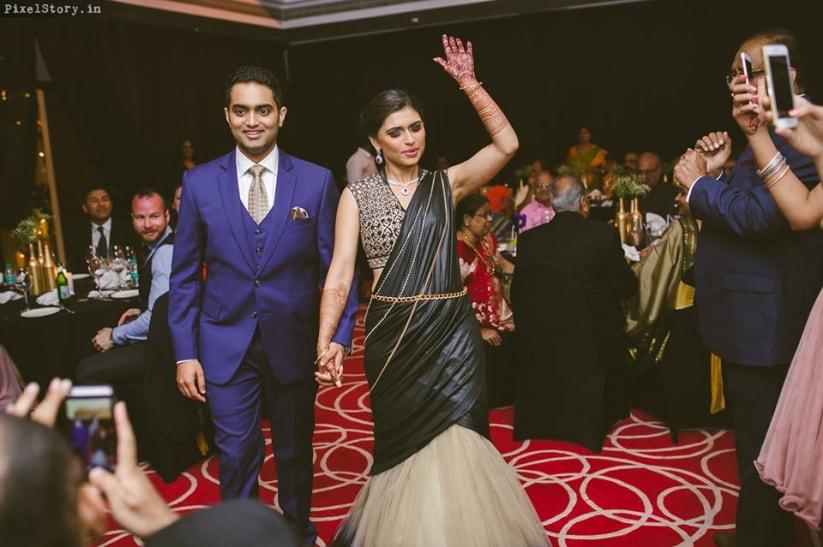 Looking to add some pizzazz to your wedding outfit? Then the chain-shaped gold saree belt is a must-have! in your D-DAY collection. The gold adds the glamour and the chain-shaped elements bring in the modernity and elegance.
This goes very well with pure traditional sarees for weddings or even contemporary ones that you might wear for your Cocktail or Sangeet. If you go ahead with this saree belt, then make sure you pick a simple gold band bracelet to go with it as well.
7. Temple jewellery style saree belt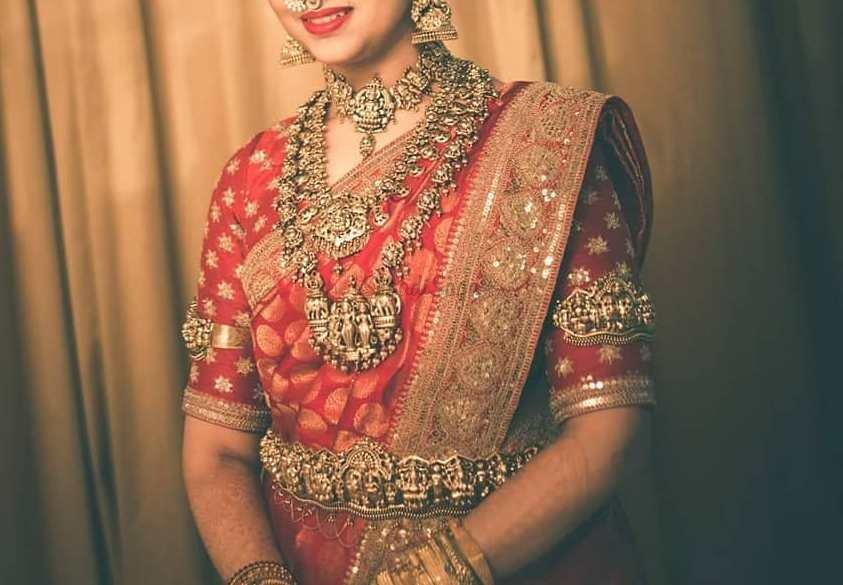 The temple jewellery style saree belt is the right match only if the rest of your jewellery is temple jewellery too. These ones usually come in a set and look royal, to say the least. Pair this up with a zari bordered saree and get ready to look gorgeous! You can also have a belt with chains and ghungroos hanging from the bottom, just like in the picture.
8. Elegant leaf motif saree belt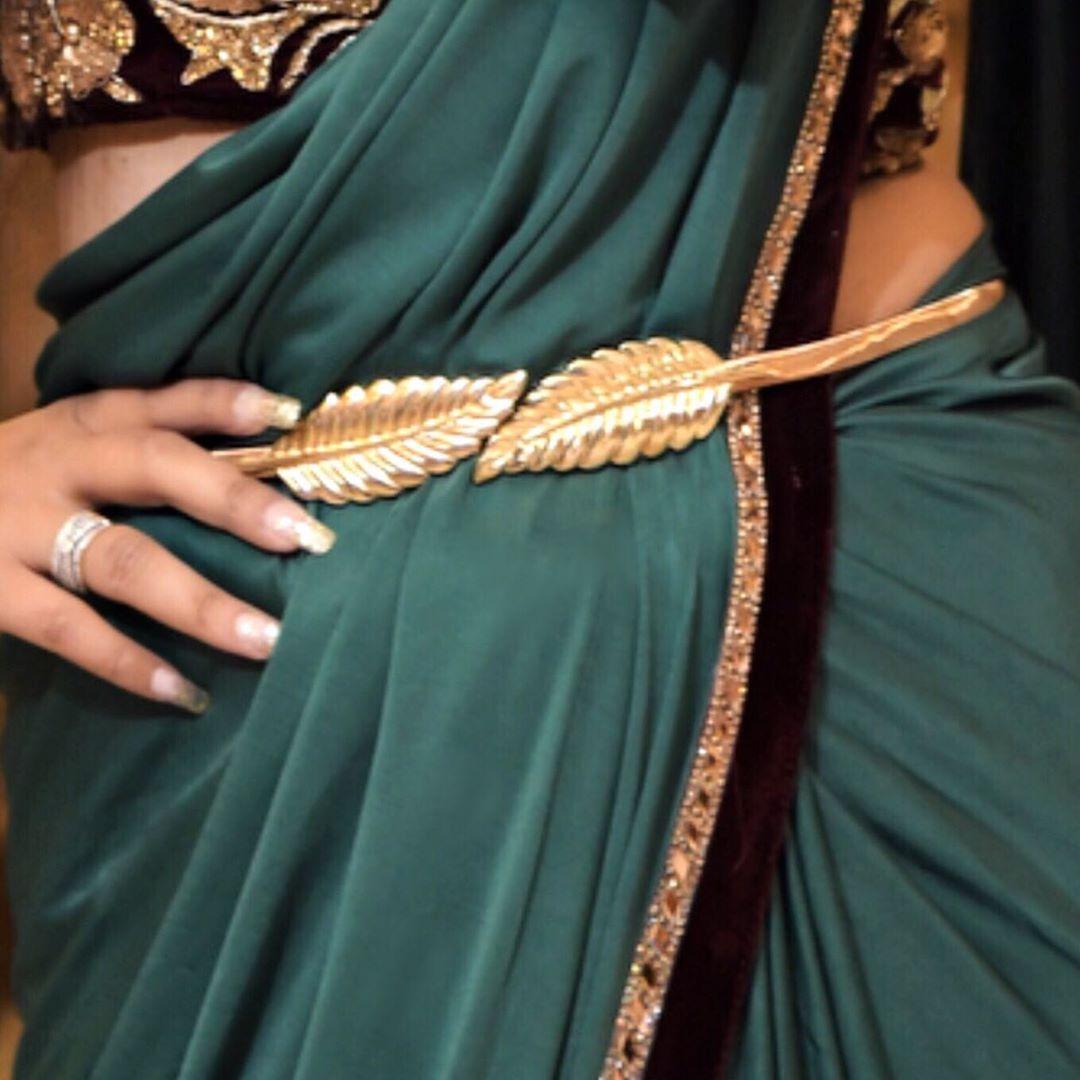 Image courtesy: Twanchyshaw
The leaf pattern is so coveted that you're sure to fall in love with this one. The two leaves at the end make it look elegant and contemporary while the thin gold belt makes it look exquisite - the perfect mix we'd say. Instead of leaves you can also go with minimal flower patterns or get it customised according to your preferences.
9. Saree belt with peacock motifs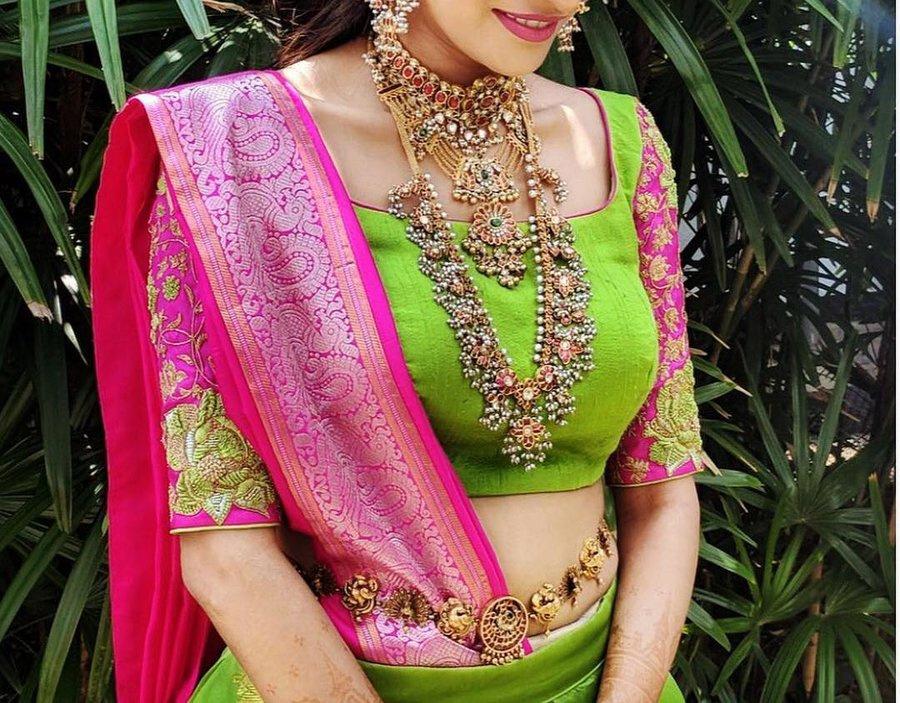 Peacock motifs are a typical wedding element known to bring good luck and prosperity. You must have usually seen it incorporated in mehndi patterns but now you can take it a step further and include it in your saree belt as well. With a circular patterned peacock motif in the centre to steal the show and adjoining peacock motifs in different patterns as the chain, this looks great if you wear a blouse that exposes your midriff!
10. Stunning Kundan saree belt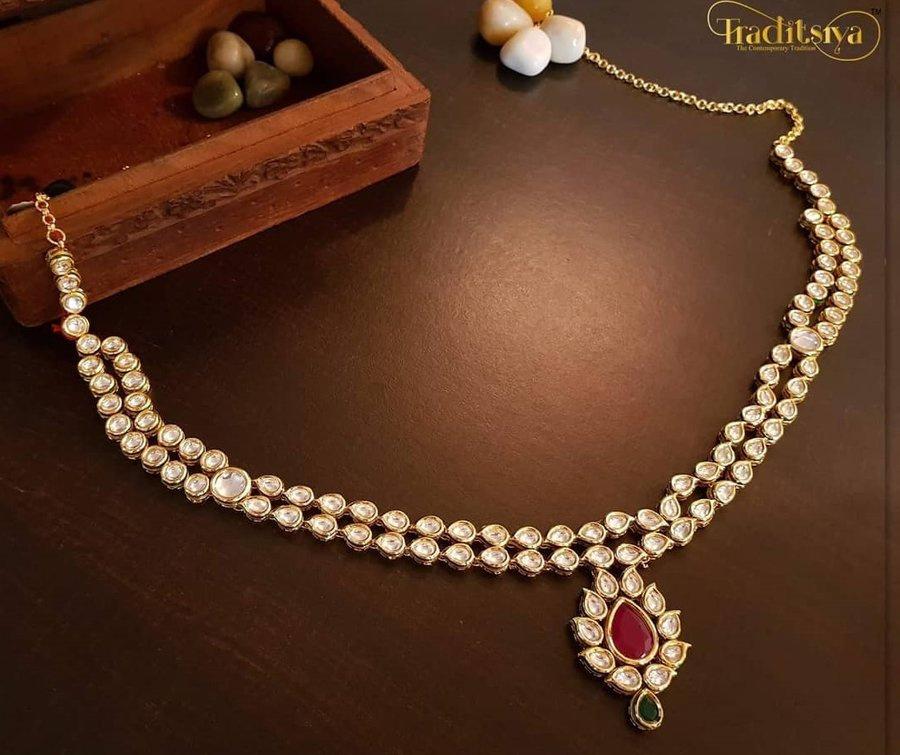 Image courtesy: Traditsiya
Although Kundan jewellery sets, has been around for ages, it's only recently that it has started gaining popularity. If on any of your wedding ceremonies, you're planning to wear Kundan jewellery, then a Kundan saree belt will complement your overall look very well!
A saree belt accentuates your body shape and gives a crisp touch to your outfit. Moreover, it's a style statement we don't want you to miss out on. Before you pick a saree belt, make sure you already have your wedding saree in place and have decided whether you want to go ahead with a traditional looking one or a modern one.
Which saree belt did you love the most? Tell us in the comments below!
Written by Rohini Roy