4 Saree Draping Video Guide For All The Newlywed Brides
Are you looking for a cotton saree draping video or a chiffon one or a silk one? Well, we have all these videos linked below showing different styles. Do check them out!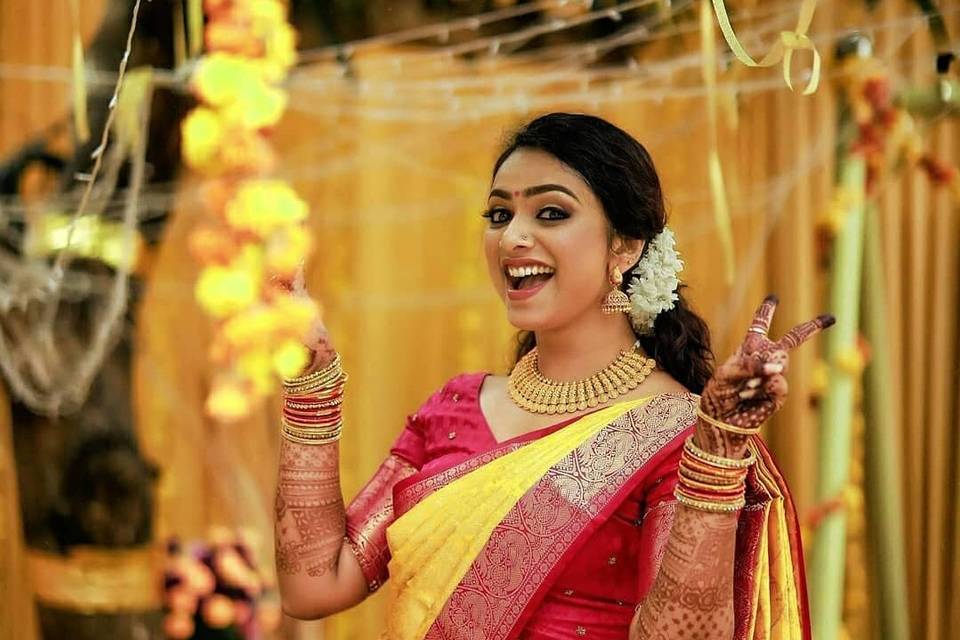 Draping a saree for the first time can be tricky. Plus there are so many ways in which you can drape a saree, it can be confusing. There is a different style of draping a saree in almost every Indian culture and that's why you need some help in the form of the right saree draping video.
Apart from the 2 basic Pallu styles - open Pallu and a pleated Pallu, you have Gujarati, Maharashtrian, Bengali and many other ways to drape a saree. While draping, remember that, different fabrics need to be tackled differently. If you are looking for a saree draping tutorial that will let you in on all the small tricks of draping a saree perfectly, here are 8 videos that you can watch and learn the trade.
How To Drape A Cotton Saree
The first saree draping video in this article is a step by step guide to draping a cotton saree perfectly with a pleated Pallu. The video focuses on draping the saree in a way that is most flattering for your figure. You will get to know about small tricks to make sure your saree hugs your figure nicely and flaunts your best assets. A cotton saree is not easy to handle but it is not that tough. If you practice draping a cotton saree 3-4 times, you will surely get the hang of it.
Drape A Silk Saree With Open Pallu
This saree draping video will guide you on how to drape a silk saree as well as a saree with an open Pallu, which is a classic Pallu style that every woman loves.
A silk saree is stiff and you need to need many safety pins to be at hand while draping it. If you have a slender figure, a silk saree with an open Pallu is perfect for a big wedding ceremony. Even a bride can wear it for her reception.
Silk Sarees With Pleated Pallu
A silk saree also looks gorgeous with a pleated Pallu, which is also a classic. If you are looking for a more defined look, you should go for a pleated Pallu. This also goes for women who have a curvaceous figure.
You can pick any type of silk saree like a Kanjeevaram saree or a Banarasi silk saree. The draping style is the same for you. Check out this saree draping video and tell us how it goes!
Make Way For Chiffon Sarees
Chiffon is a very flowy fabric just like any other synthetic fabric. As it is very smooth, you will see that is will keep sliding off your body. However, when you are done draping it, you will love the end result just like us. In this video, you will learn how to drape a chiffon saree with a floating Pallu. A floating Pallu is just another name for an open Pallu. You will learn new tips on how to choose the length of the Pallu and hide your midriff if you want.
Drape A Saree Like A Lehenga
If you are looking for a saree drape video that will teach you a new and fun way of wearing a saree, this is it. Wouldn't it be fun to use your saree and make it into a lehenga? This is what this youtube tutorial is here for. You need two different sarees that will compliment each other. Take an example from this video; it has two silk sarees in blue and pink colours that look from the same collection. You can also take a plain saree for the skirt and a printed saree for the Pallu. This can also be done with a saree and a long dupatta.
The next 3 videos have draping styles for 3 different traditional Pallus. Every culture has its own style and we have chosen these 3 for today. We hope you like them.
Saree With A Gujarati Pallu
The first regional saree draping video is of Gujarat. The women wear their saree Pallu in front from one shoulder to another for Gujarati sarees. Watch the video for the full tutorial.
Bengali Saree Draping Tutorial
The next saree draping video is on how to drape a saree in Bengali style. You need a red Banarasi saree or a red and white silk saree for the authentic Bengali look.
Marathi Style Saree Draping Tutorial
To follow this saree draping video, you need a Nauvari saree, which is the traditional saree of Maharashtra. The most beautiful colours in Nauvari saree are green, yellow, blue and pink. We hope this video shows you exactly how to drape a Nauvari saree.
We hope you enjoyed this article on saree draping video. If you want us to add more videos like this, drop a comment in the comments section below!
Make sure you pair the right jewellery with each saree to complete the look! Check out these bridal jewellery stores near you!