10 Pictures That Prove Saree With Crop Top is an Undying Trend
Are you a bride who loves to stand out from the crowd? Need an outfit that will let you make that statement? What better way to do that than a saree with crop top?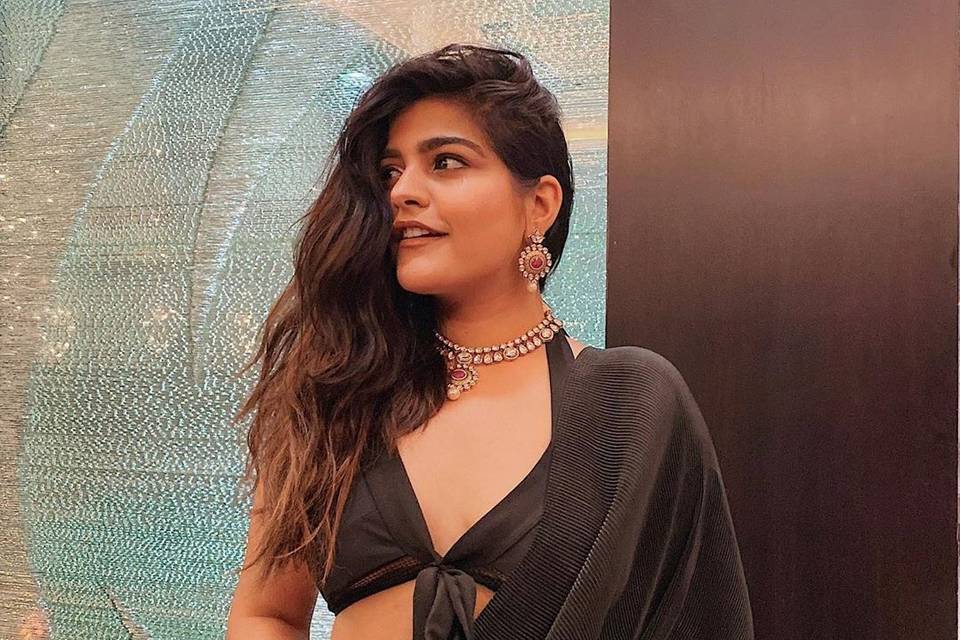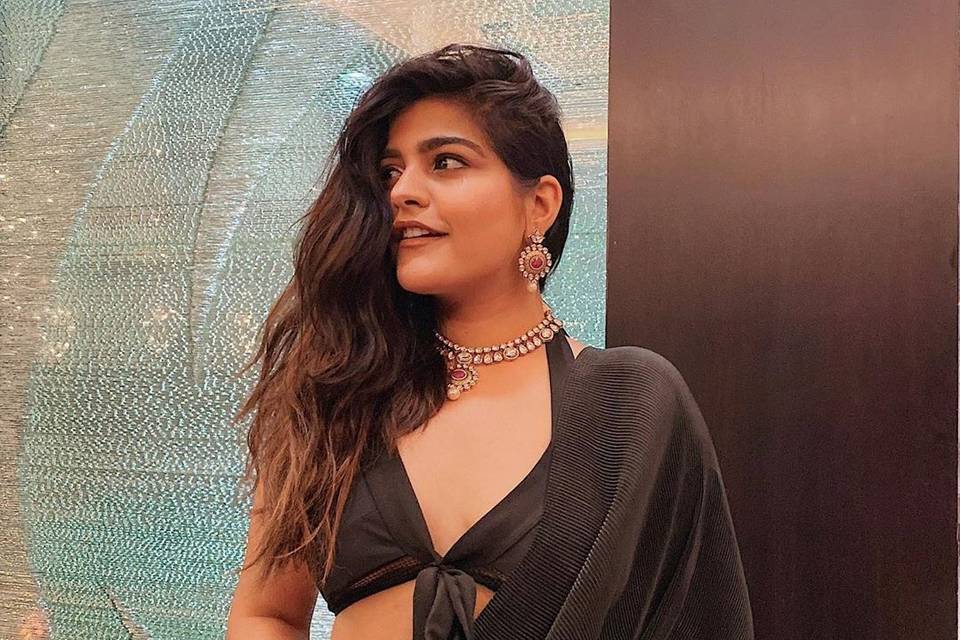 Image Courtesy: That Boho Girl
It should come as no surprise that your wedding attire usually requires a lot of thought, preparation, and attention to detail. After all, whether you are the bride or the guest, you want to stand out from the crowd at all costs! A great way to do so is by blending Indian and western garments to create an edgy indo-western attire.
The saree with crop top combination is one that has been dominating the runways for quite some time, which means that you've definitely got to give it a go!
Here are 10 ways you can wear a saree with crop top!
With a frilled noodle-strap crop top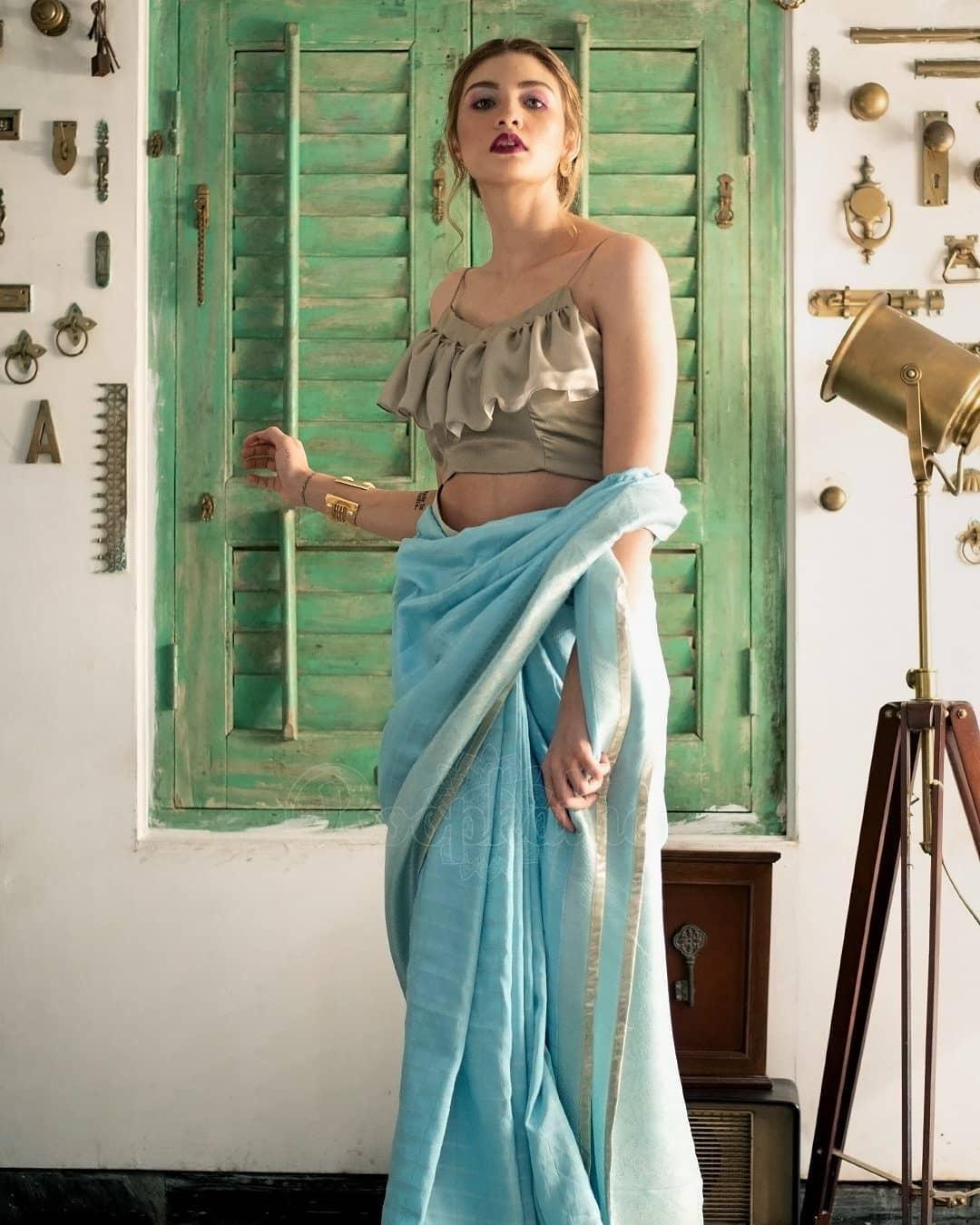 Image Courtesy: Roopkatha
This sky blue saree with a pale olive green crop is definitely a great look to go for. The entire saree with crop top ensemble in cool colours gives this look a very composed and calm vibe. Such an outfit would be great for pre-wedding photoshoots or smaller functions like Roka ceremony.
Sheer embroidered crop top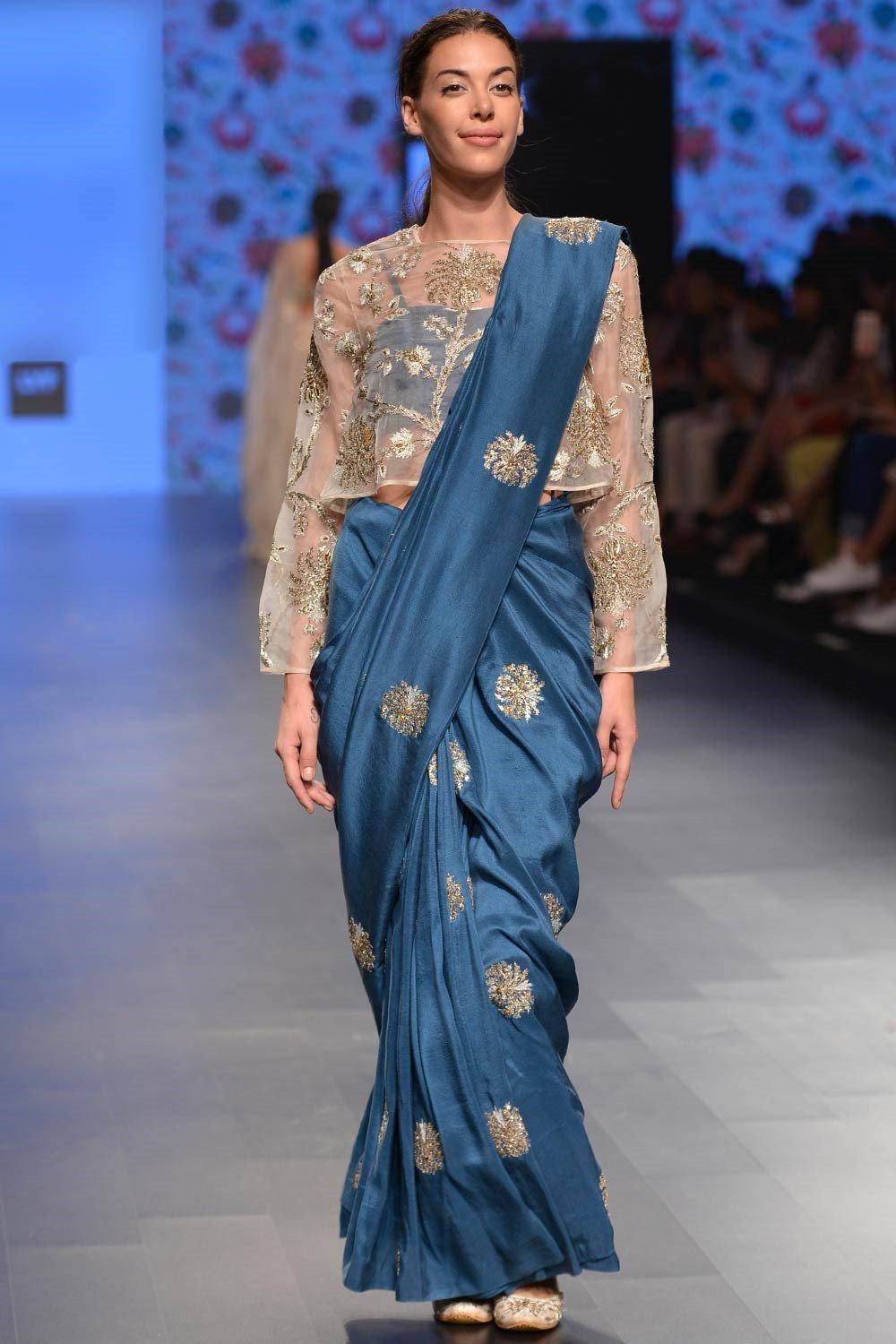 Image Courtesy: Payal Singhal
This teal blue saree with a sheer crop top will leave everyone swooning over your look for sure. We just love how the this sheer embroidered crop top gives this saree a total modern makeover. It has the right amount of bling that will go a long way. Keep your accessories minimal yet striking!
Baby pink crop top with ruffled sleeves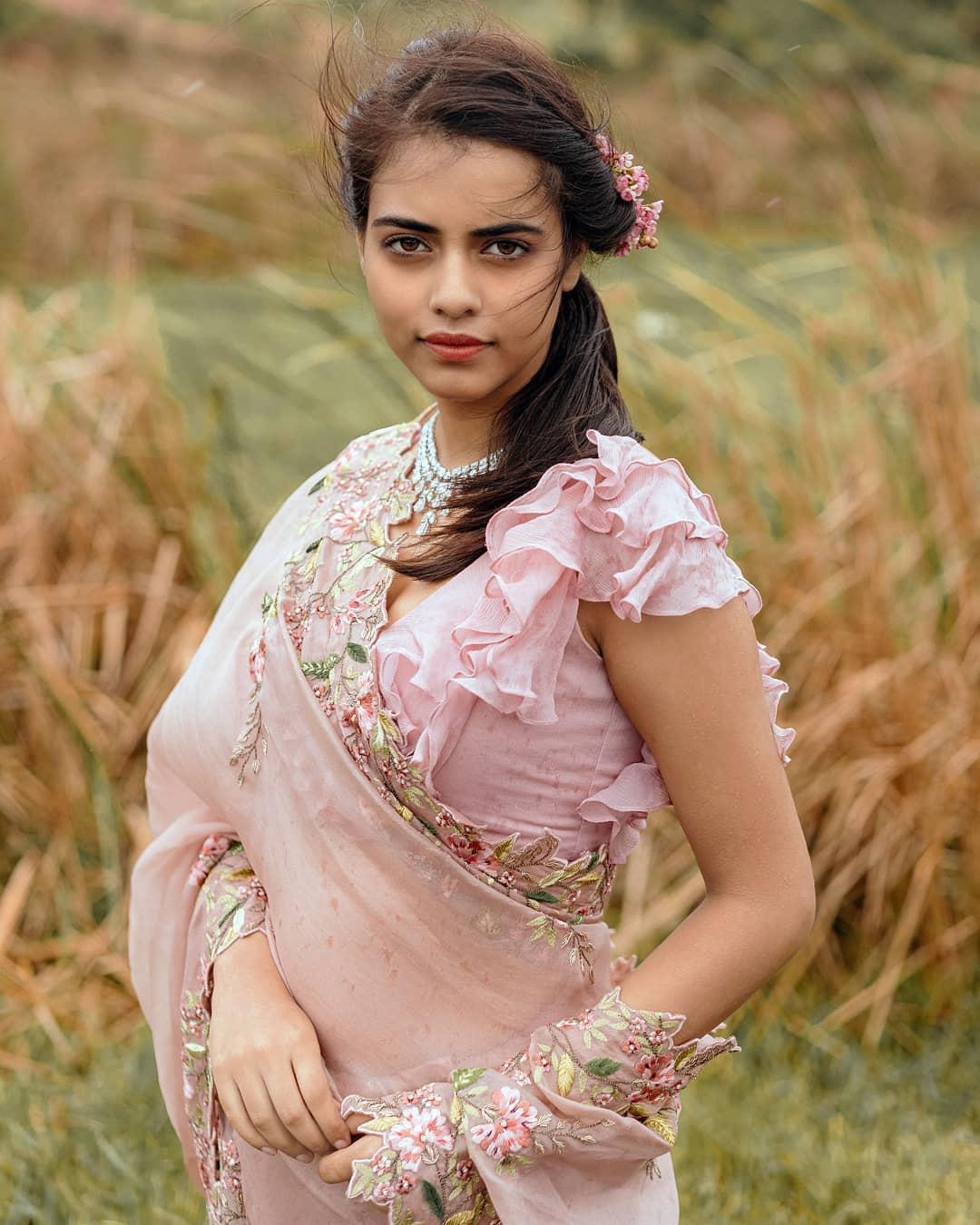 This periwinkle, thread embroidered saree is beautifully enhanced with this baby pink, frilled crop top. The two go so well with each other that it almost seems like it was a match made in heaven. Adorn your hair with some pretty flowers that go with your outfit and you have a boho-chic look. And you can pair the crop top with formal trousers or even shorts for after party.
Heavily tasselled white crop top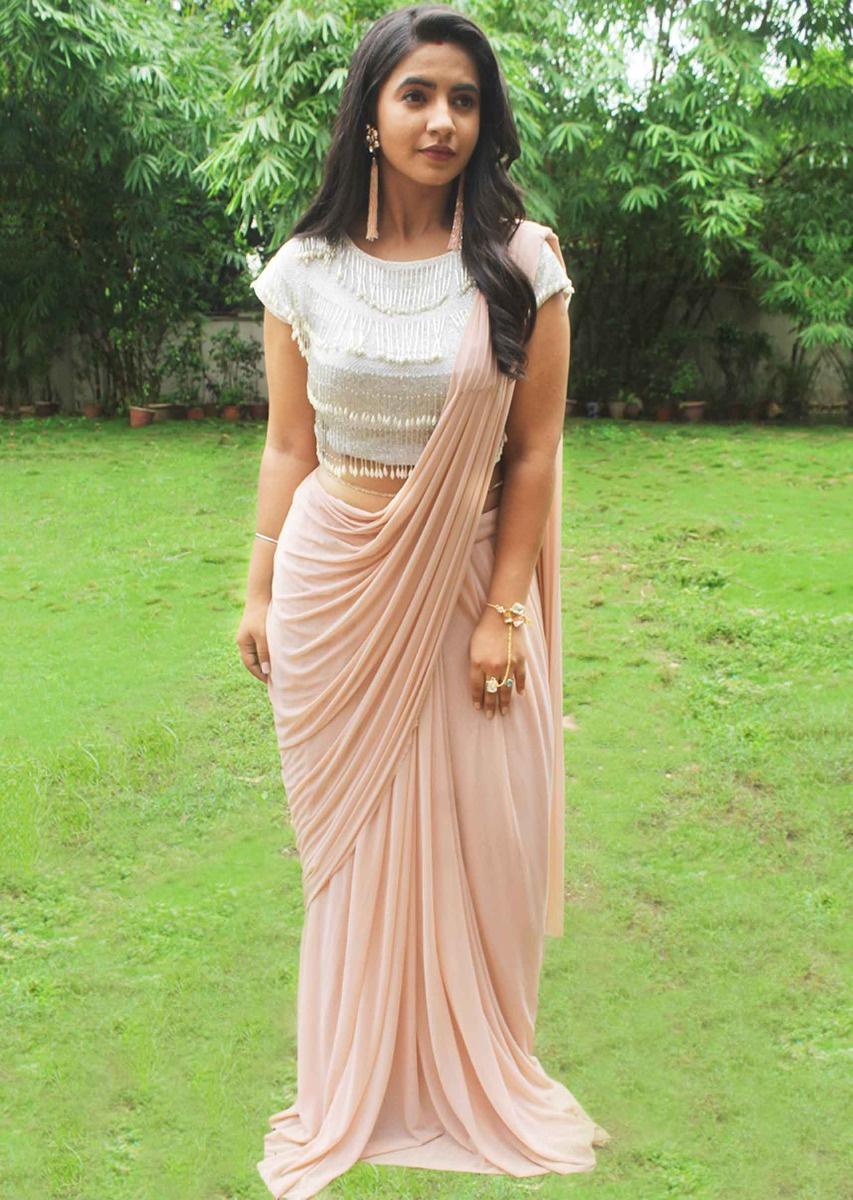 Look exquisite in the saree with crop top combination by pairing your saree with a crop top like this one. It comes in an antique white shade with tassels all over. A heavy blouse goes well with a plain saree, so choose a saree pattern wisely.
Layered crop top with a printed saree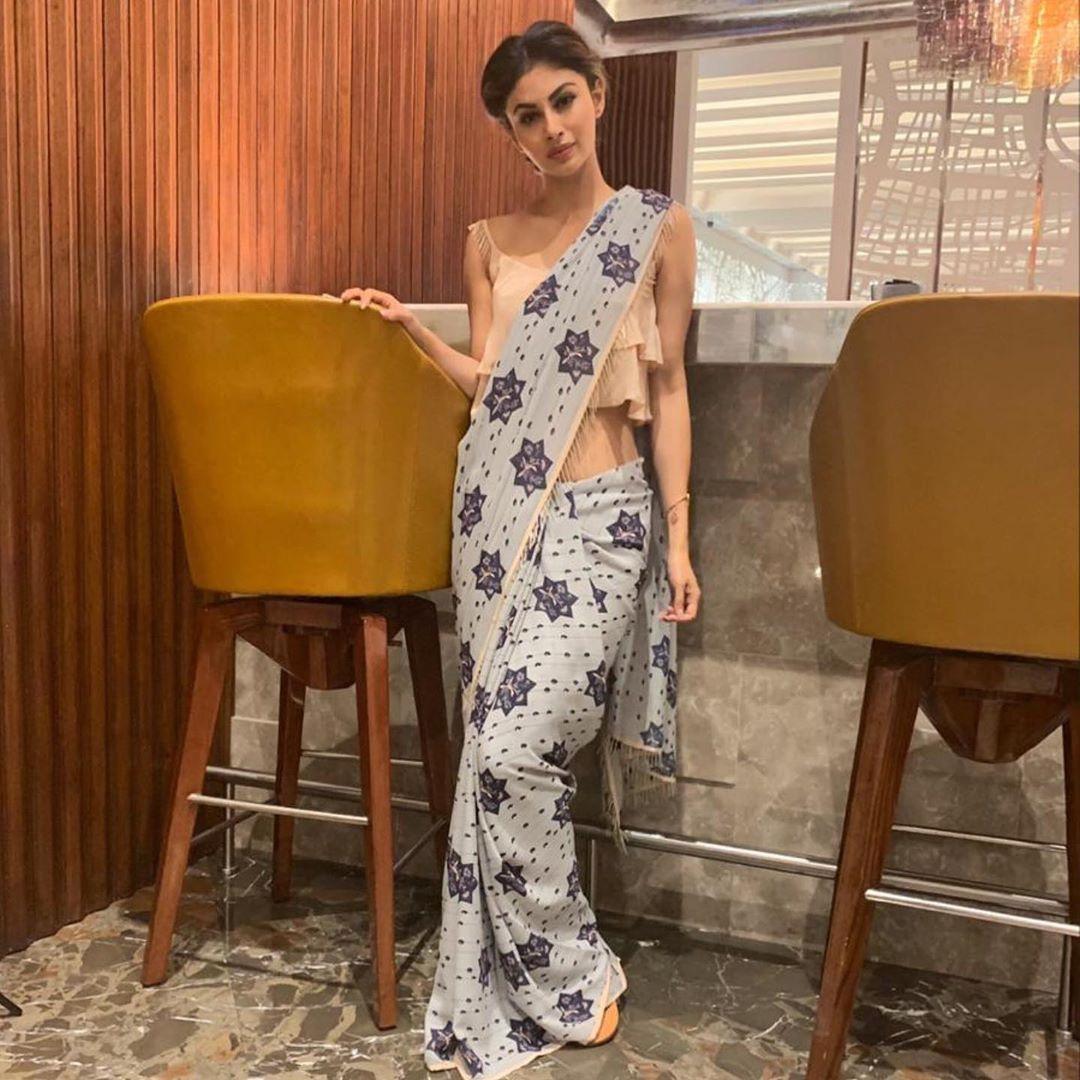 Image Courtesy: Payal Singhal
For our next saree with crop top combination, let's take a look at this beige crop top with frills at the bottom, paired with this basic pale blue printed saree. Even though this colour-combination may sound bizarre but subtle tones always work wonderfully as a combination. This pairing shows the beauty in simplicity.
Abstract print crop top with net saree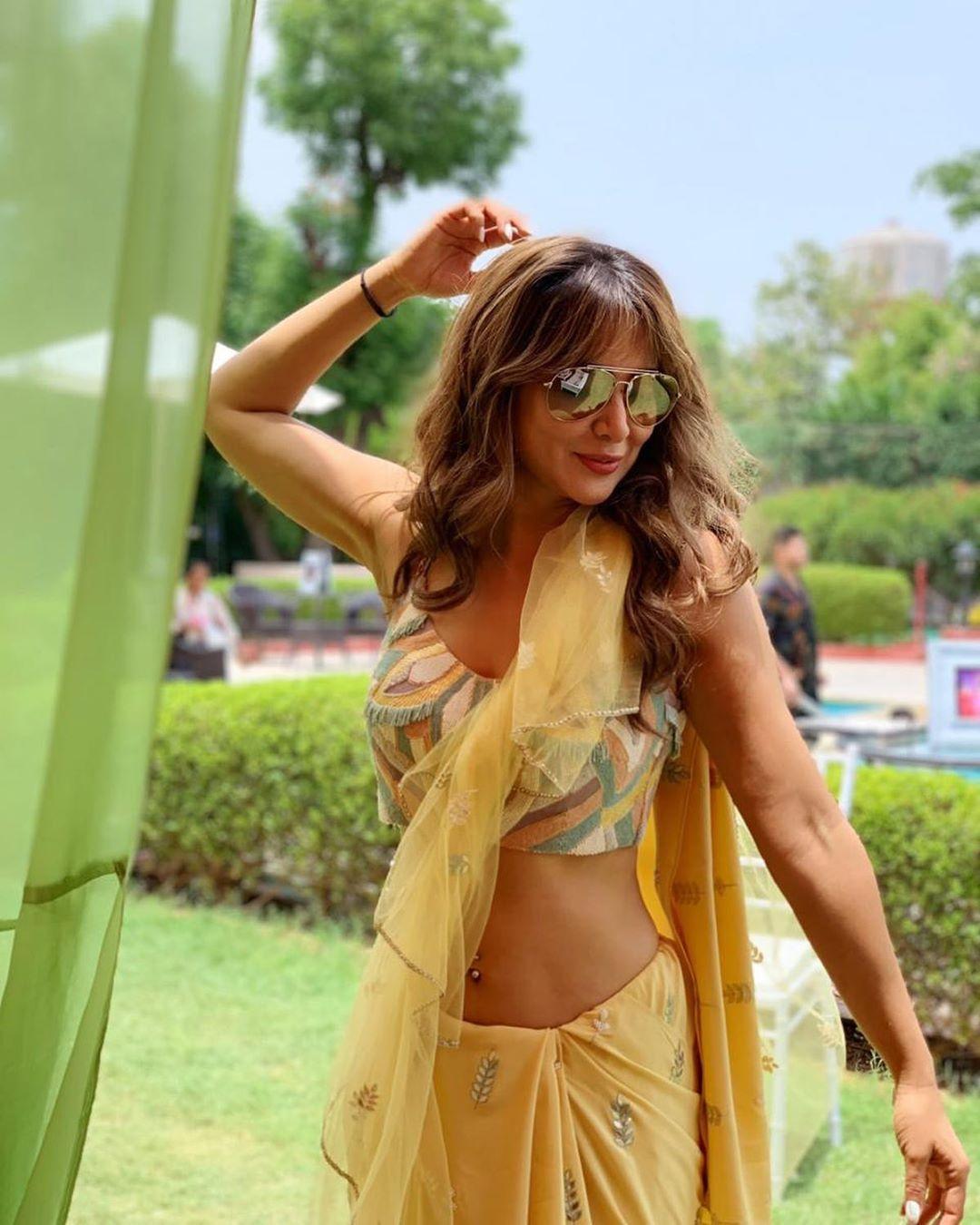 Image Courtesy: Payal Singhal
Nothing says 'party' like a good funky coloured crop top. And even when you pair it with a saree, that vibe doesn't change. Accessorise this saree with crop top with some desi sunglasses.
Powder pink crop top with linen saree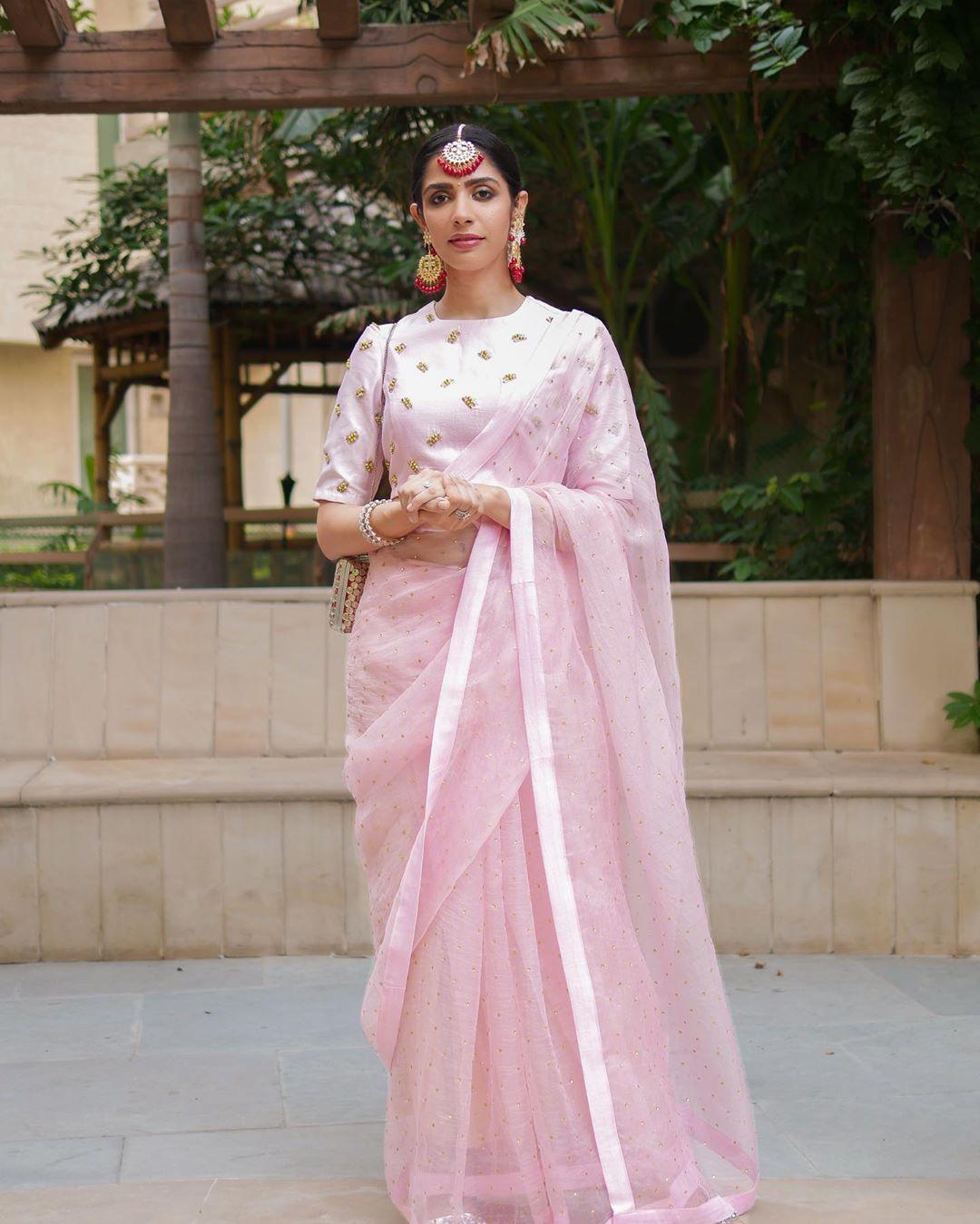 Image Courtesy: Prerna Chhabra
This powder pink linen saree with crop top comes across as the epitome of grace and sophistication. This delicately embellished powder pink crop compliments the saree beautifully. Now when it comes to jewellery or accessorising, for a saree with crop top like this one, you can use bold ornaments.
Lightly embroidered crop top with floral saree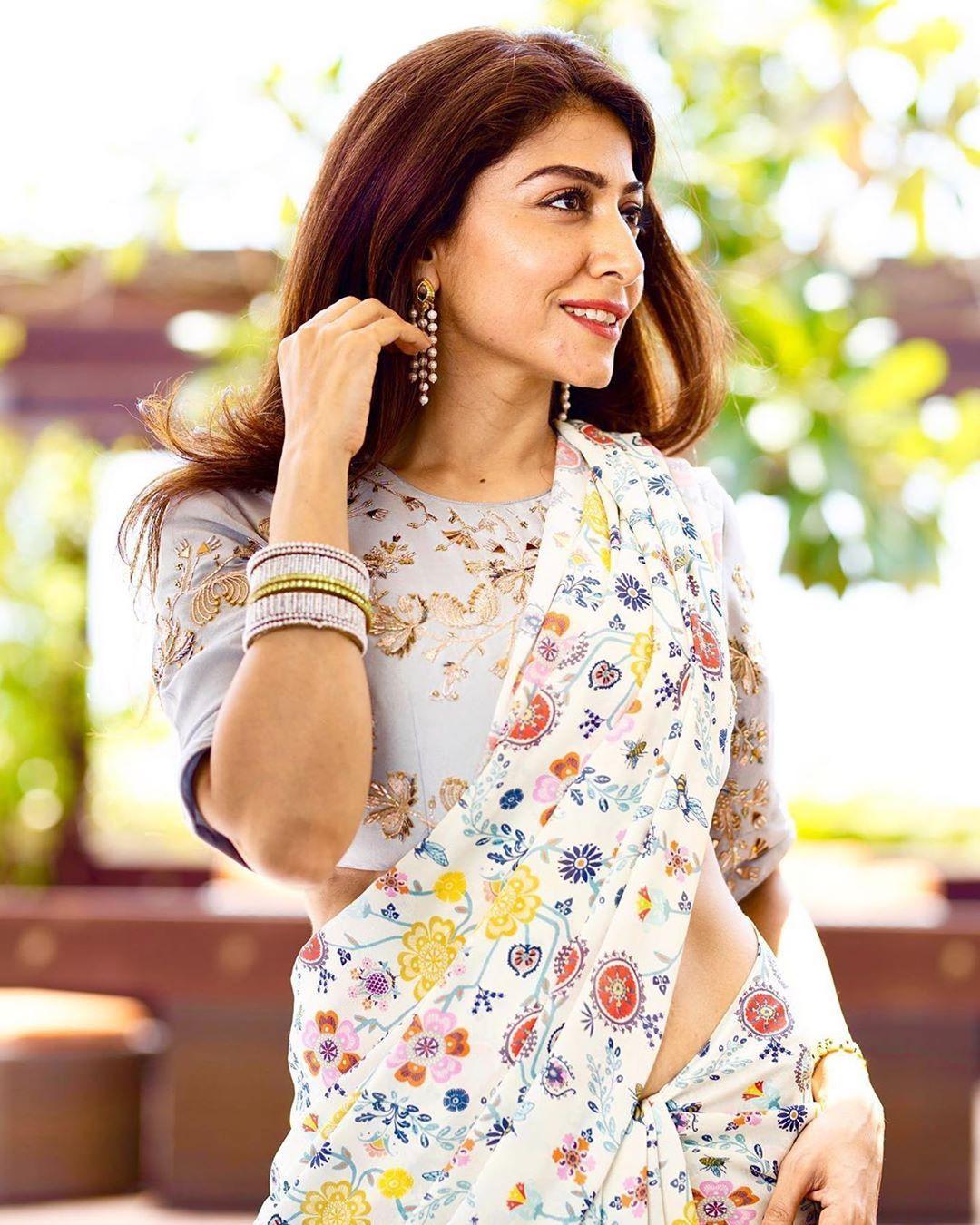 Image Courtesy: Payal Singhal
The safest bet when it comes to wearing any outfit is to wear florals, and this holds true for sarees with crop tops too. Here, the fabric for the saree and crop top has flowers. While the saree has a print, the crop top has thread work. This is also a great outfit to wear as you can use pearls to accessorise.
Statement pant saree with an halter-neck blouse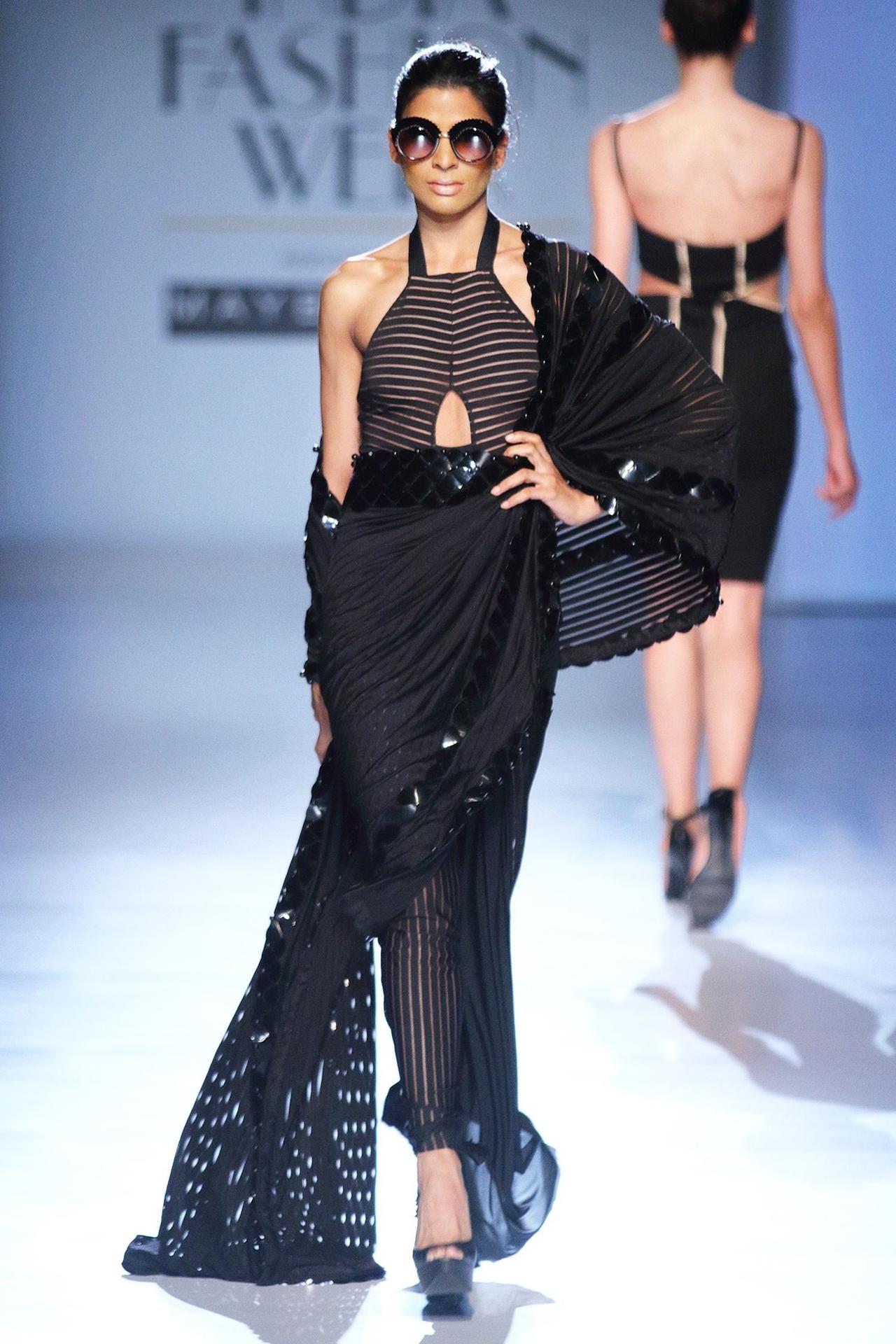 Image Courtesy: Shivan & Narresh
Black is an ever-lasting colour and it is sure to up your glam quotient like no other hue on the colour palette. This centre cut-out halter neck top paired with a pant saree can never let you down on the gloomy days when you can't decide what to wear for a semi-formal wedding ceremony.
Metallic-toned crop top with a striped saree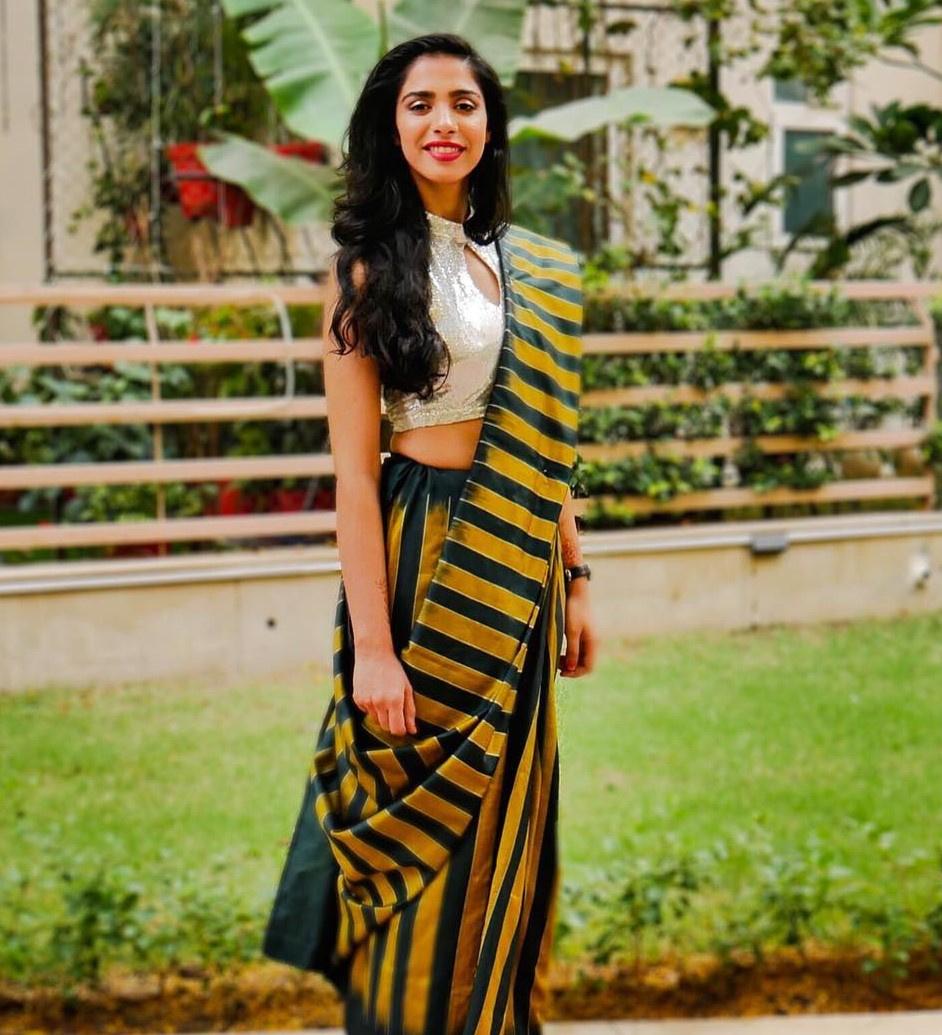 Image Courtesy: Prerna Chhabra
This saree with the crop is a must-have because it can make even the simplest saree look glamorous, like the one in the image. The high collar is just icing on the cake as it beautifully elongates the neck and accentuates the features of the face.
All you need to do is use your imagination while pairing together different elements of your ensemble to create the perfect saree with crop top. Try to imagine what you will look like when you wear the outfit and if that image makes you happy then go for it! These were our 10 favourites, did you find yours?
Check out these stores that offer stunning bridal outfits for all occasions!