Learn How to Rock Your Royal Pearls of Hyderabad at Your Wedding like a Star
She believed beauty is an illusion, her self-belief too high overshadowing her doubts with all the flashy gems, she would always choose a pearl in a million.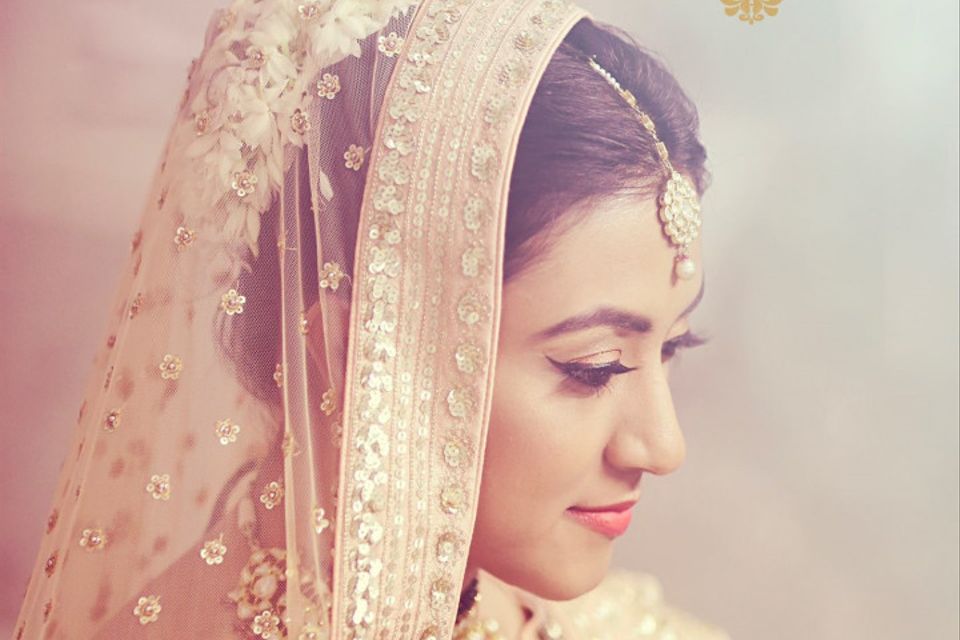 Hyderabad and pearls have a long-standing romantic relationship ever since the Nizams introduced the exotic jewellery collection of pearls during their rule. Connoisseurs of fine art, culture and craftsmanship, the Nizams embraced a rich, ostentatious and plush culture by gifting the city some of its exquisite flavours of the authentic biryani followed by a rich Nizam culture exhibited through the glorious collection of unique artefacts across the world. One such formidable curated piece of art was pearls, the unique compilation of Hyderabadi pearl set comprising of earrings, necklace, bangles and ring.
Thanks to the modern trends taking over jewellery designers by surprise, you can expect a whole lot of jazzy and elegant pearl Haath Phool, Maang Tikka, Passa, layered choker necklaces, Chandbalis etc. However, the traditional form of "Satlada", a seven-stringed necklace embellished with pearls and "Paanchlada", a five-layered necklace stringed with pearls and American diamonds, semi-precious stones, emeralds, and onyx etc. They are considered to be the hot picks amongst the brides, with great lustre and polished rich look, they are referred to as the Nizam Bridal Jewellery.
Pearls come in a variety of colours and textures, in a small town located outside the city of Hyderabad, Chandapet known as a hotbed for pearl excavation. Families are engaged in the drilling of delicate pearls, bleaching them and finally boiling for four days. Pearls are graded according to their colour and lustre; white pearls are the most popular and classic choice of every woman. However, dusty rose, grey and black pearls are considered to be rare and invaluable.
Let's explore some of the gorgeous modern brides and bridesmaids wearing pearls on the D-Day and rocking like a true fashionista.
1. Classic Pearl Set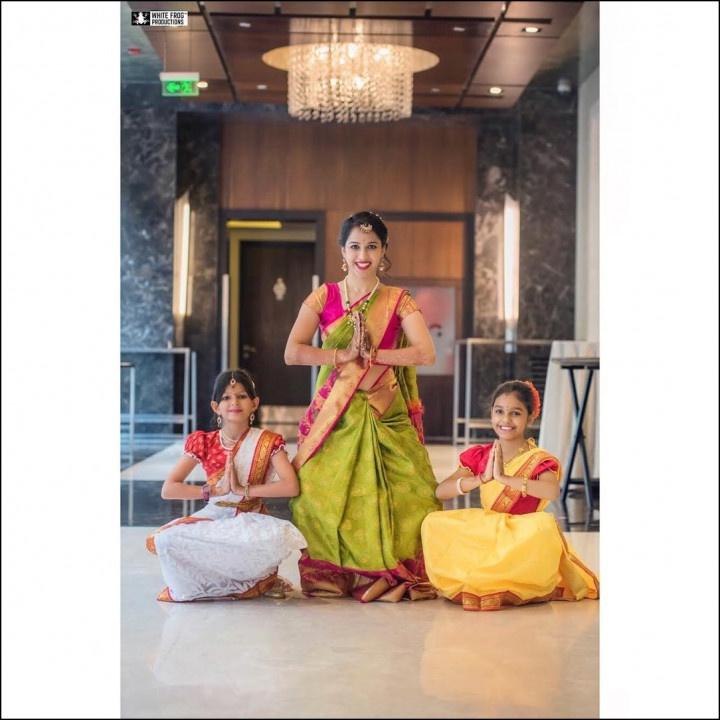 One of the most sought-after choices of Indian brides is to pick up a classic pearl set featuring white pearls remains a classic choice. The most popular yet easily accessible Hyderabadi pearl set is available all over India and resonates effortless elegance with high functionality. You can always style a classic Hyderabadi pearl set vis a vis a trendy semi-precious stone or diamond set which might go out of vogue in future. Invest in a classic pearl set with white, rose gold, or jade pearls and flaunt them with an authentic silk saree on your engagement ceremony.
2. Contemporary Pearl Set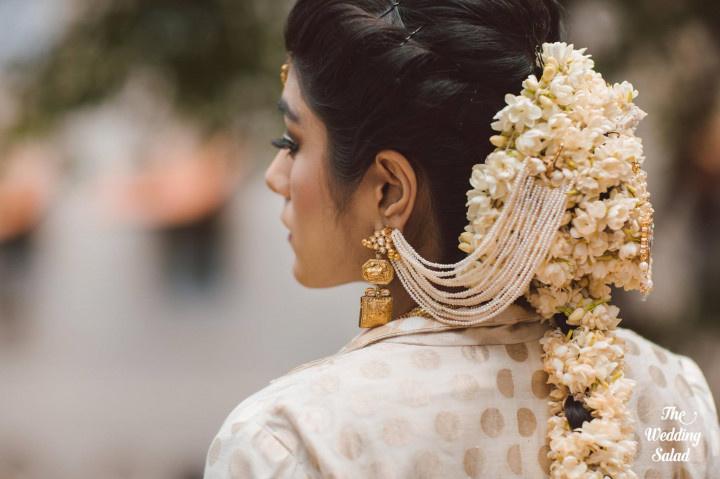 Like we mentioned earlier, modern-day brides are expanding their horizon and experimenting across jewellery designs quite a bit now. Passas, Maang Tikkas and choker pearl sets have had their moment quite recently ever since Bollywood celebrities popularised the trend. Following suit are the Kashmiri style chandelier earrings with strings attached to hair to create a striking statement. And who doesn't want to steal some attention on their D-Day? Invest in everlasting elegance of pearls to make your special day worthwhile.
3. Pearl Jewellery with Gold Set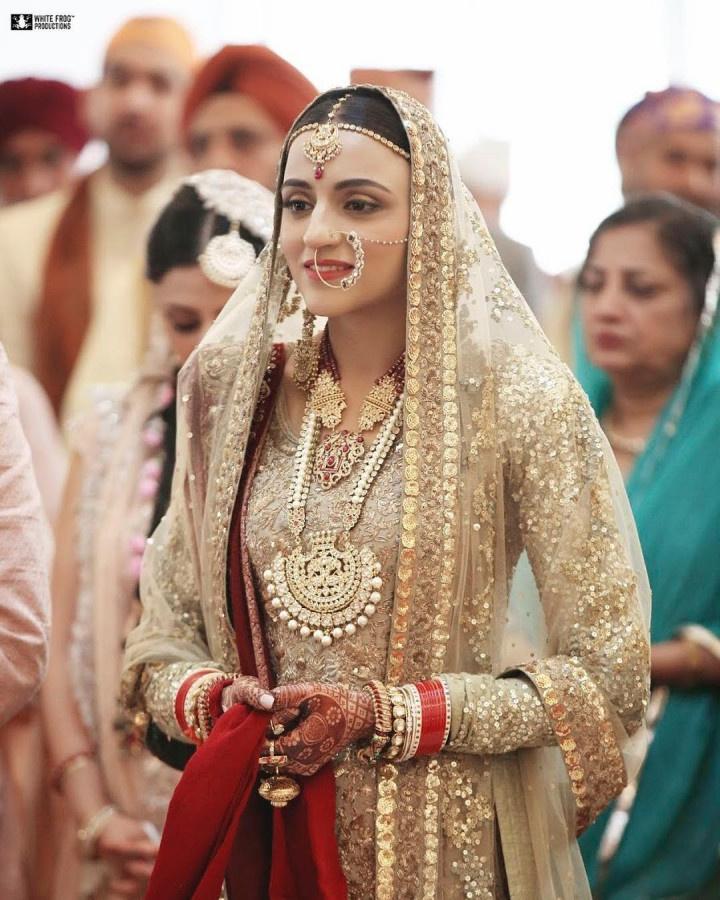 Ooze gorgeousness on your wedding day as you doll up pretty adorning exquisite pearl and gold jewellery set. Finely detailed, intricately handcrafted, this jewellery set will complement your royal and plush self. Opt for long layered pearl with gold necklaces to create a stunning semblance.
4. Pearl Jewellery with Diamond Set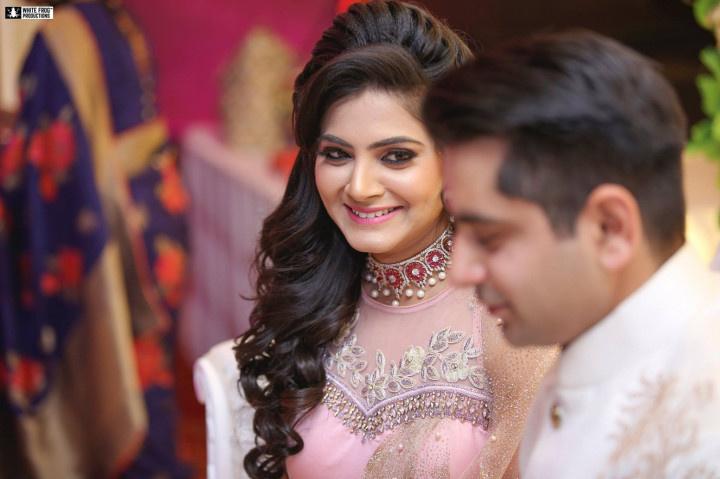 As they say, diamonds are every girl's best friend and pearls are every woman's best companion. How can you not fall in love with this undeniably exotic combination? Scintillating diamonds embellished with elegant pearls will emanate endearing vibes thereby accentuating your beauty. You can adorn this priceless jewellery set on your reception or cocktail party with a gown or Indo-fusion ensemble.
5. Pearl Jewellery with Meenakari Set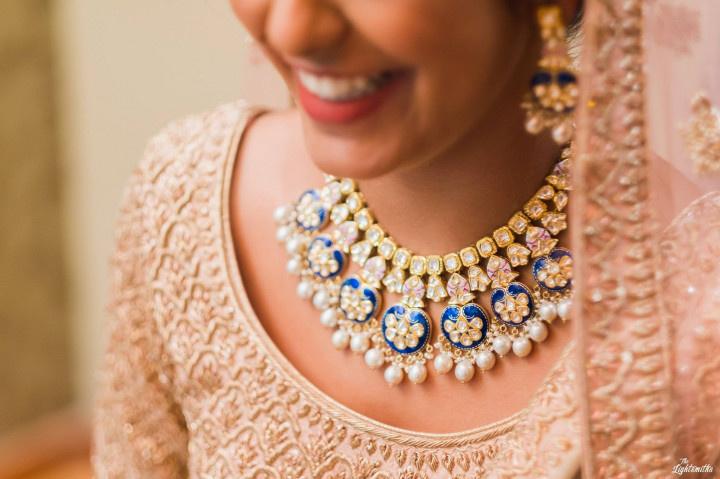 The moment we laid our eyes at this artistic Hyderabadi pearl and meenakari set, we were lovestruck. Insta-worthy and feminine, this ecstatic jewellery set will create an outburst of colour and lend a subtle diva look. Opt this for your wedding or mehndi function and since colour-blocking is a thing, don't overthink, just stay peppy!
6. Pearl Jewellery with Semi-Precious Stones Set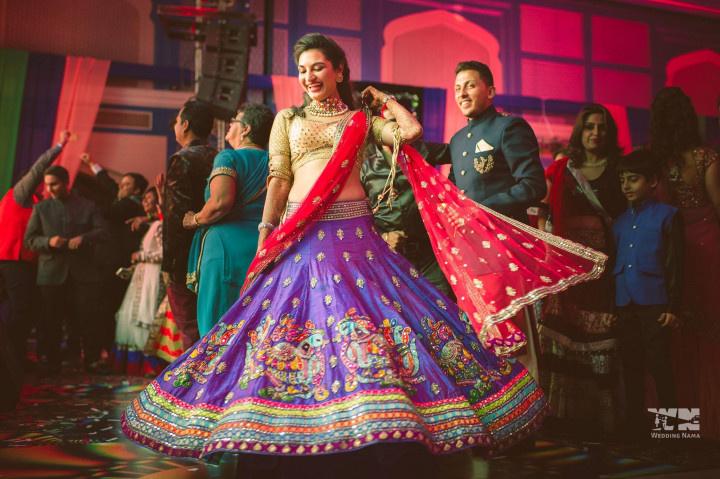 WeddingNama- Hyderabadi Pearl Set- Pearl with Semi Precious Stone Set White Frog- Hyderabadi Pearl Set- Pearl with Semi Precious Stone Set Twirl beautifully in a custom Hyderabadi pearl set embedded on semi-precious stone jewellery to create a fun mix and evolve your jewellery sense. Mix and match to bring forth your funky fashion taste. Pearls with emeralds, rubies, onyx and rose quartz are often spotted on brides and this trend is not going anywhere anytime soon.
7. Layered Pearl Set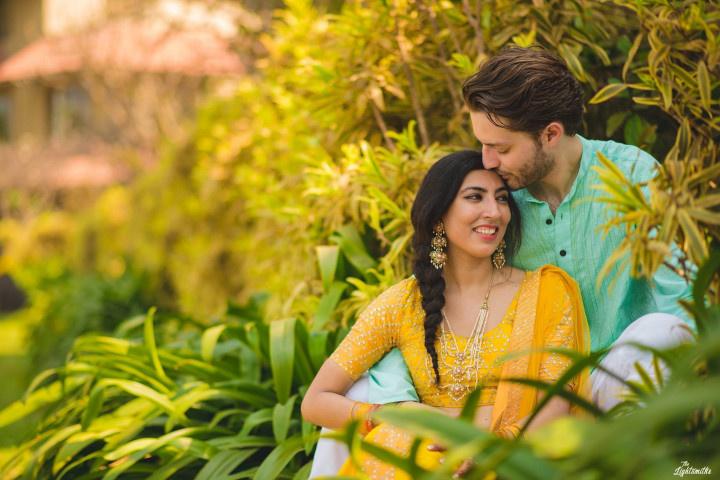 Immaculately detailed and traditional Nizam Bridal Jewellery, layered pearl sets come is a variety of styles polished with gold for a rich and luxe look. Hyderabadi pearl sets like satlada, paanchlada are the most coveted forms of jewellery for the Indian brides. Apt for weddings, brides can style them with any couture and add their effortless grace.
Why Pearls are the Safest Investment for Brides?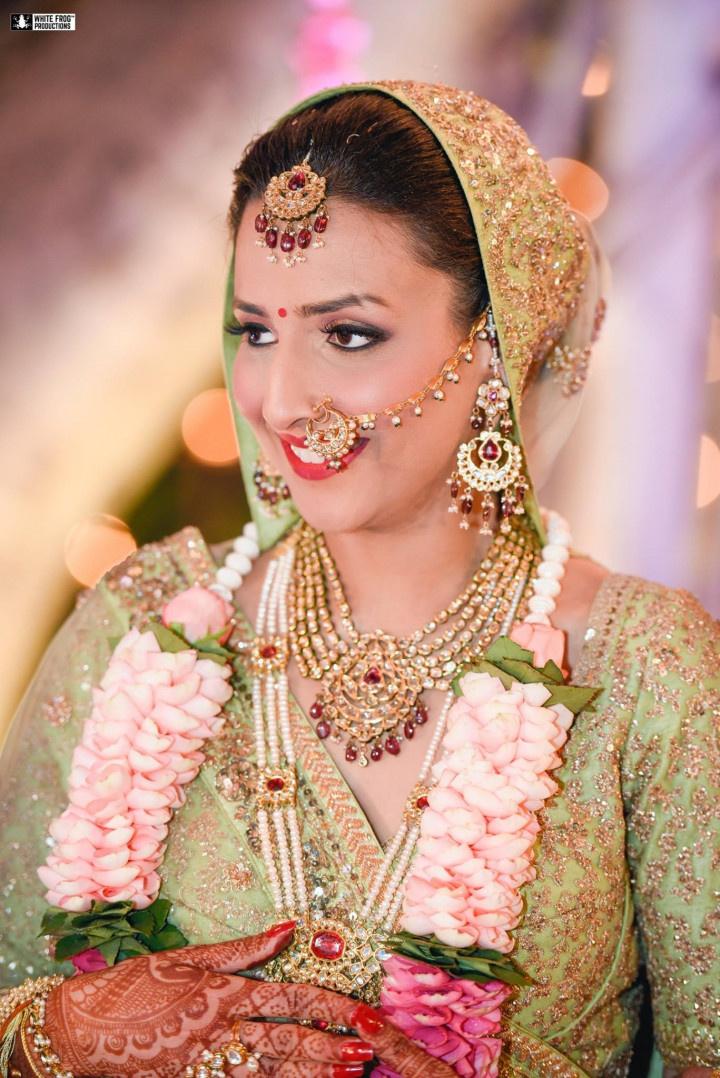 Unlike other gemstones, pearls endow an exquisite significance and remarkable versatility. Symbolic of sophistication, purity and sheer romance, pearls will add a cherry on the cake as you doll up to be a beautiful bride. Available in different forms and sizes, they can be styled differently as we mentioned earlier, with diamonds, semi-precious stones, gold, meenakari etc., you may opt for different looks while experimenting with the classic pearl jewellery. Hyderabadi pearl sets will distinguish you as a bride from a coterie of fancy faces and the everlasting jewellery set will always ring a reminder bell of the special day when you tied the knot with your significant other. Because they won't be stacked in a corner of your vanity box, you will always cherish the simplicity and beauty of your pearl jewellery set. Do not shop for bridal jewellery in haste, map your wedding theme, bridal outfit and bear your personal fashion sense in mind too. If you're having a traditional wedding, go for a Hyderabadi pearl set with gold accents or Nizam Bridal Jewellery like Satlada, Paanchlada will also work wonders. If you're getting married in a modern setting, contemporary pearl jewellery set will come handy and a zillion more options of pairing pearl jewellery with semi-precious stones, meenakari artwork, Kundan stones, etc, will be more relevant.
How to Style your Pearls Perfectly?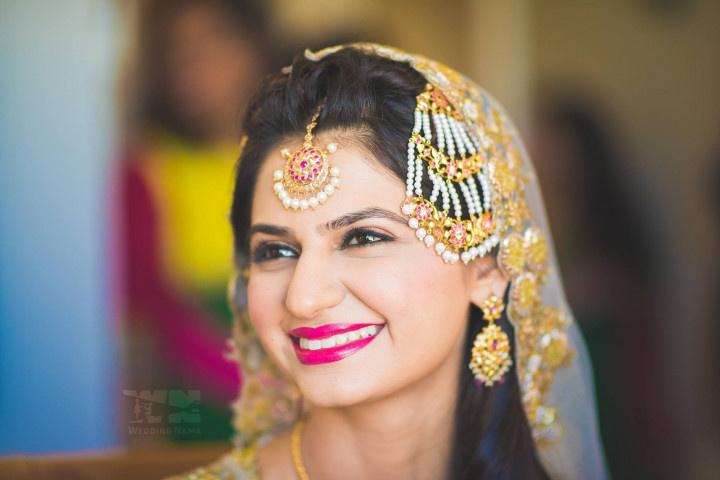 Long after your wedding blues are done and dusted, style and layer your pretty pearls with that perfect dress lying in your closet. It can be a casual everyday sari for work, or salwar kameez, regular formal blouse or even a long gown, name it and pair it. Pearls are indistinctive and versatile for a reason, they complement most of the dresses and elevate a ladylike semblance instantly. Beat your Monday blues at work with a statement classic Hyderabadi pearl necklace or just attend a formal event in your pearl drop earrings. You may also design a custom bracelet matching your necklace and earrings for an everyday accessory. Festivities, family gatherings and gala soirees are yet another events where your pearl jewellery set will be stealing the spotlight. Pearl jewellery must be worn elegantly and carried flamboyantly because it's designed for a lady, not a girl.
When adorning the elegant pearls, make sure your makeup is on-fleek. Sport an all natural look with nude lips and kohl-rimmed eyes or bold ravishing look with ruby woo lips, blazing eyes and contoured face or go up a notch with rosy lips, blushed cheeks and mascara-laden eyes. Accessorise your pearl drop earrings with dramatic oversised sunglasses to create a debonair finish or for a suave look, you may go with signature Lennon sunglasses. A designer clutch or handbag will further accentuate the beauty of your pearl bracelet. Embrace your collared shirts, tailored blazers, scoop neck tops/dresses/blouses to pop up the look of a pearl statement necklace.
What is your go-to pearl jewellery? Are you going to recommend the famous pearls of Hyderabad to your bride-to-be friend or sister? We are hooked with the gorgeous classic pearl jewellery sets and pearl jewellery with a gold set, enchanting and effortless, you just can't get a better deal if you want to invest in long-term jewellery options.
So, tell us what did you like the most and how would you like to style pearl jewellery this wedding season? We would like to hear from you.