7 Stunning Pearl Choker Necklace Designs for the Bride & Her Gang
Are large glittering necklaces your kind of jewellery? Check out these fantastic pearl choker necklace designs to flaunt on your friend's wedding occasions.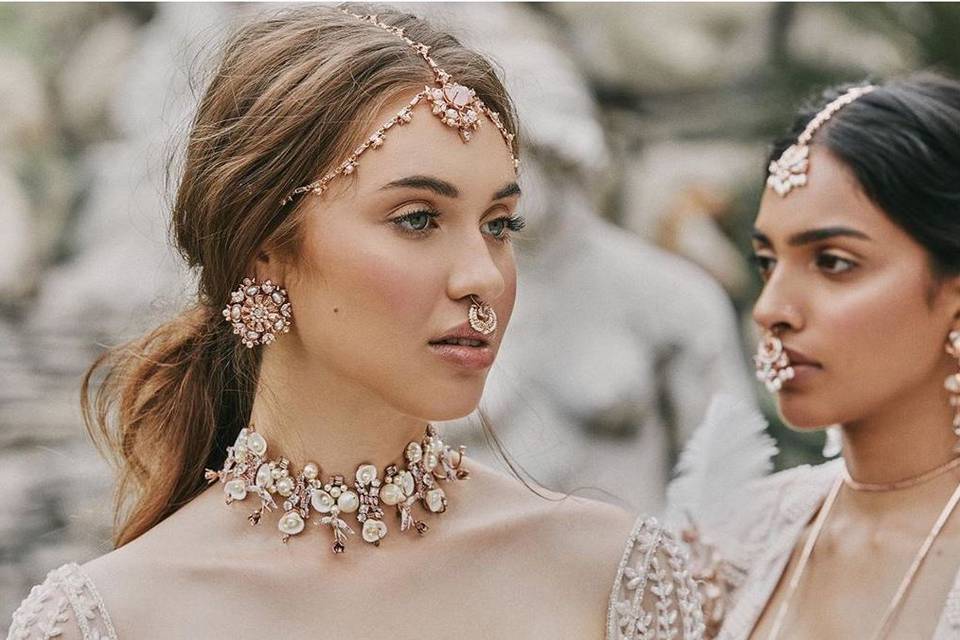 Some like gold necklaces, some like silver and some brides go weak in her knees by the mere sight of pearls! Every girl has her own kind of jewellery that defines her. Pearl necklaces have a distinct personality that screams grace! If you too are a 'pearl girl', then you must pay attention! Single strand, multiple layers, broad or sleek...we have an extensive list of Pearl choker necklace designs for you to choose from!
Take a look at these stunning images and decide for yourself. There are pearls for everyone- from the bride to her bridesmaids to the mother of the bride! Read on and enhance your pearl collection!
Tiny pearl beads and precious stone choker

Image Courtesy: Raniwala
If you want to add a bit of a hue to your pearl choker necklace, here's an idea! Try this gorgeous piece designed by Raniwala on your special occasion. The combination of tinny pearl beads with precious stones in different shades of green is sure to simply takes your breath away. The golden base of the choker necklace brings out the vibrancy of the stones even more.
Ideal occasion: Engagement, Reception or Sangeet night.
Pearl and diamond necklace

This pearl choker necklace is made with the magnificent combo of pearls and diamonds. The diamonds give the sparkle that this jewellery exudes and the pearls take care of the overall grace of the choker necklace. For an extra dose of spunk, an emerald stone in the centre of necklace gives this necklace a nice depth. Now that's the kind of pearl & diamond necklace that you'd love to flaunt on your wedding occasions!
Ideal occasion: Wedding or Reception night.
Multiple pearl strands with large pendant

Image Courtesy: Sabyasachi
This is one of the traditional pearl choker necklace designs that are almost universally loved by women across ages. Whether you're the bride, bridesmaid or mother of a bride, this particular design can never go wrong. The multiple pearl strands covering your neck and the bold dazzling pendant in between already calls for special attention. You can go for a large stone with tiny Polki beads around it and two more smaller pendants on each side of your neck. Wear a low cut blouse with plunging neckline to show your necklace off!
Ideal occasion: Cocktail party, Engagement or Reception night.
Pearl & Polki necklace

Image Courtesy: Tjori
If you like Polki stones as well as pearls almost equally, this is the right choice for you. This pearl choker necklace is two-part jewellery. The front pendant is created with bold Polki stones giving it a royal look. Rest of the necklace is made with pearl strand that wraps around your neck. The stunning combination only makes this necklace an exhibit of grandeur and panache. If you're having a royal theme wedding, this is the kind of necklace design you'd want to go with!
Ideal occasion: Engagement, Wedding, Sangeet.
Layered necklace with large pearls

Bold, simple and elegant! This three-layered pearl choker necklace would be an excellent choice for every woman who loves a piece of traditional pearl jewellery. The big-sized pearls are the highlight of this necklace with no other distractions! This type of jewellery could also be a great gift for your mother or future mom-in-law on birthdays or anniversaries as a beautiful surprise!
Ideal occasion: Engagement, Wedding or Reception.
Layered necklace with side pendant

This pearl choker necklace is for those who are looking for little off-beat design options! Sure, a layered pearl choker looks elegant, but how about adding a polki pendant on one side instead of the centre? Well, that would definitely be the head-turning point! You can sport it with traditional wear as well as Indo-western outfits.
Ideal occasion: Engagement, Sangeet, Cocktail party or Reception.
Pearl & gold necklace

Image Courtesy: Zariin
Love gold, pearls...or both? If you can't decide between you two favourites, we say why compromise? Have both! This spectacular pearl choker necklace is the answer to your dilemma on whether to opt for a gold necklace or a pearl one. The solid gold base with clustered tiny pearl beads hanging throughout the rim gives this piece of jewellery a very rich and elegant vibe. You can sport this with a Kanjeevaram silk saree or drape any heavy traditional saree or a silk salwar kameez to complete your look.
Ideal occasion: Engagement, Wedding, Sangeet or Reception.
Pearl necklace with clustered diamonds

This pearl choker necklace is for women who believe in making a statement without saying much. The single strand pearl necklace showcases class and poise. The tiny diamond clusters in between the big pearls add just the right amount of glitz. This is not just wedding jewellery, this defines you!
Ideal occasion: Engagement, Cocktail, Mehndi, Sangeet or Reception.
Now you must have already picked your favourite kind of pearl choker necklace, right? If you're still confused, the best way to decide is to try them on. After all, the fun at your wedding shopping is all about trying out different outfits, jewellery and shoes, isn't it?
One thing you must make sure while wearing a choker necklace is, there has to be enough space in your neck. Longer your neck is, broader can be the choker. Don't overcrowd your neck with all kinds of neckpieces. If you're selecting a broad choker, avoid wearing any more necklaces. Sleeker choker necklaces can be paired with long chains or necklaces.
If you haven't done your jewellery shopping yet, take a look at our wedding jewellers list for great deals!