Glam Up! Mother Of The Bride Makeup Details To Upgrade Your Look
In the mad rush of the day, don't forget that your mother of the bride makeup has to be on-point too. If you are the bride's mother, take a quick scroll.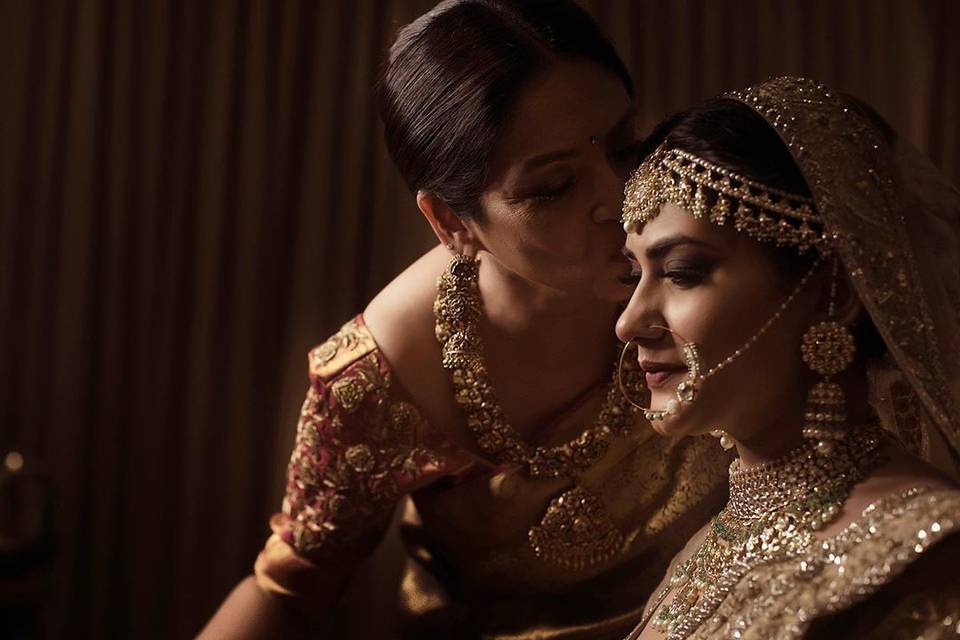 During a wedding, it's not just the brides who have to be the trendsetters! Being the bride's mother, you must be as decked up as the bride. To out-shine everyone in the family pictures, make sure you have the right kind of makeup on.
As expected, mothers tend to shed a few tears during Bidai, so you definitely should not be compromising with low-quality mother of the bride makeup because then, you'll have black streaks running down your face!
Before you sit down with a bridal makeup artist, try and understand the kind of outcomes you are expecting. Whether matte or a dewy finish, decide what your type is and then, glow in the right shades of the foundation with your flawless skin! Wear the perfect makeup and throw your hair back in a bun with some fresh Gajras (we recommend this Indian hairstyles with Gajras refresher).
The following mother of the bride makeup ideas should help you kill it on D-day.
1. Subtle Glam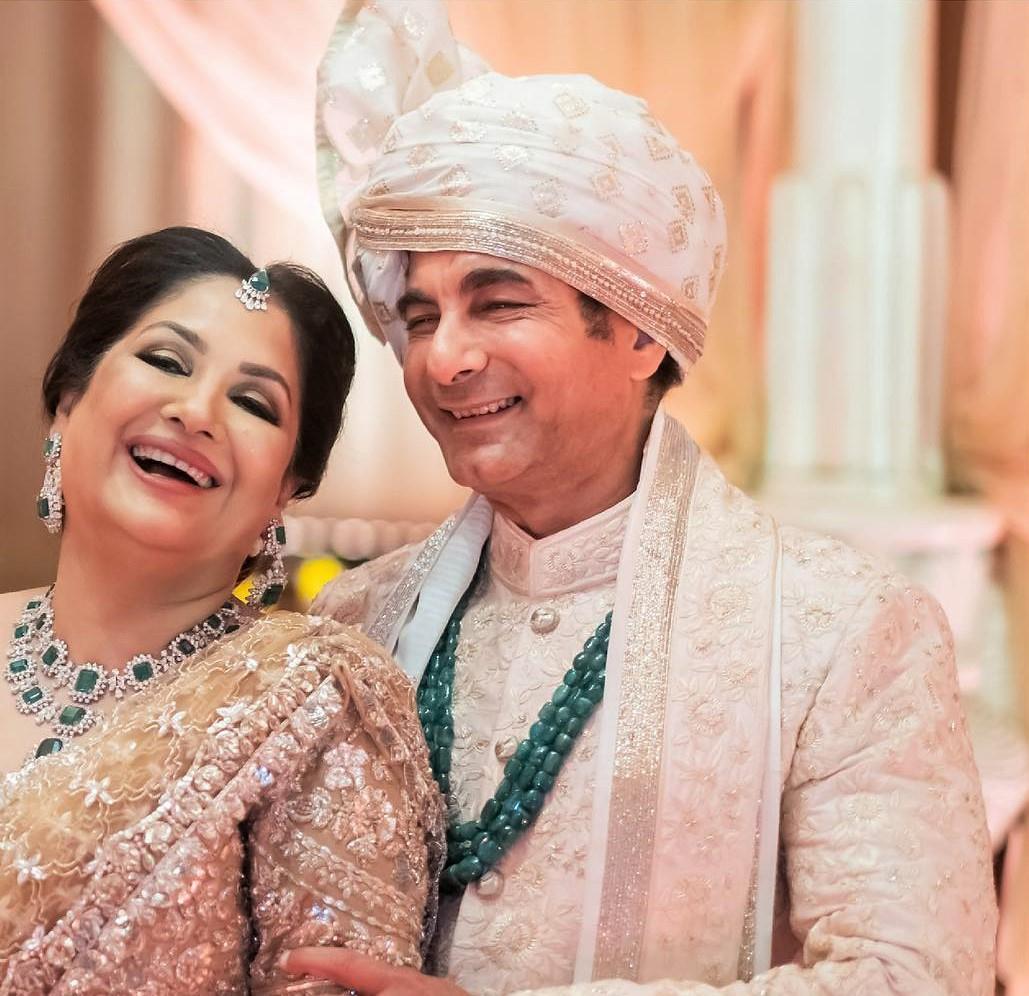 Isn't this mother looking classy? This look is surely going to inspire you to reach for your daughter's wedding album again and again, just so you know that your makeup look was not something you dreamt up! This mother of the bride makeup has a contemporary touch to it. She chooses to pull-off a subtle makeup look for the big day. With inner eyes brightened with golden shimmer and smoked out ends, the eyes look breathtaking.
With a light hand, add a little contour. To add a sheer and a dewy finish, mix the Mac strobe Cream to the foundation and you will have a flawless base. Love how the mother wore a diamond jewellery piece that absolutely complements the makeup.
Pro Tip: If you have oily skin, carry blotting papers or keep dabbing with tissues so that the natural oil keeps getting soaked up. You will thank us for this mother of the bride makeup tip later.
2. Hooded eyes? Have a look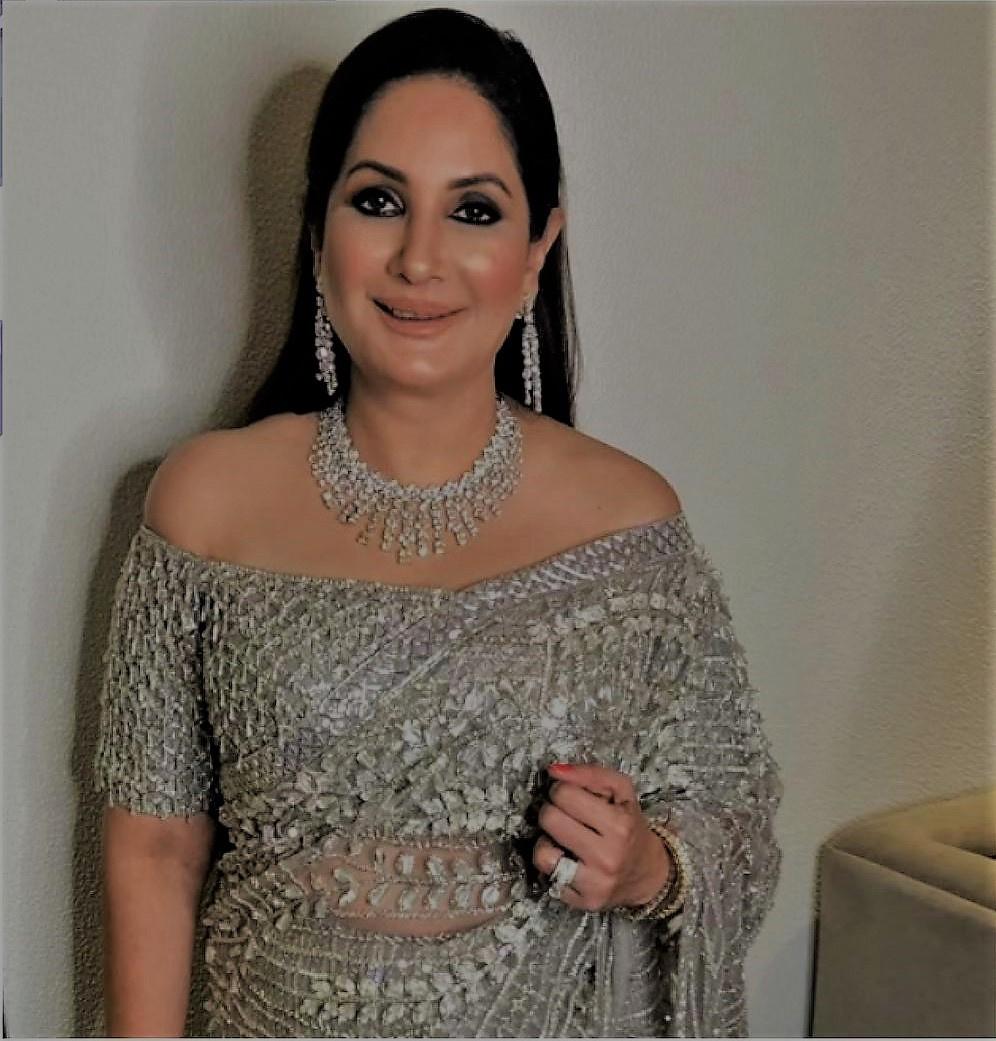 If you have hooded eyes and feel you are running low on eye makeup options, here is a makeup trick for you. Take a thin layer of eyeliner across the eyelids and the trick is to wear a dark Kohl, Kajal. The thick layer of Kajal on the lower waterline is going to look phenomenal.
Go for HD makeup which, in comparison with normal makeup, looks far better. Another thing you can do is to smudge out the Kajal as it is going to make you look younger than ever! This mother of the bride makeup will surely look exquisite.
3. Blush up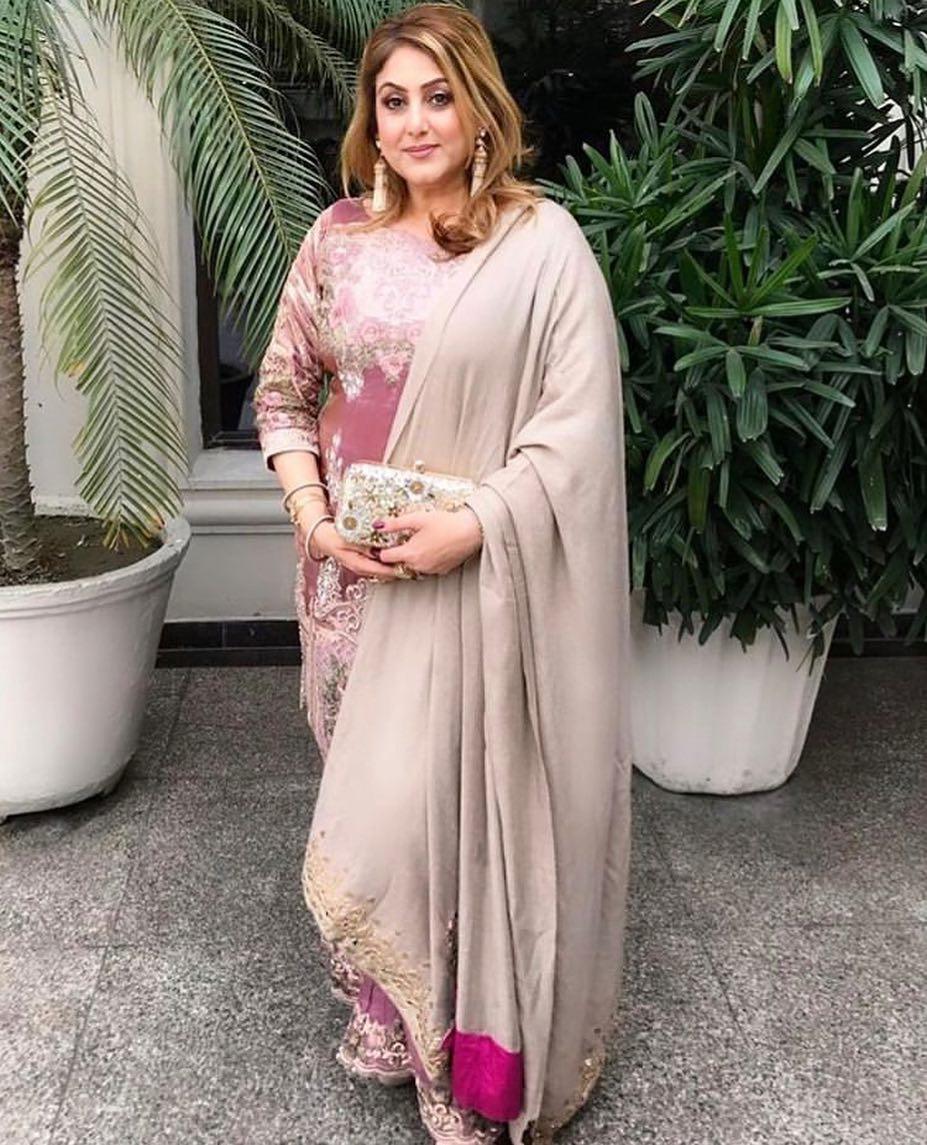 A blush is a game changer when it comes to the completed look. If you have flat features and feel under-confident about your face cuts, a heavy blush on the apple of your cheeks would definitely add dimension to your face. If you're feeling a little experimental, get your hair coloured for the big day!
This is going to set a contrast between the two and add dimension to the final mother of the bride makeup look. You may not always want to wear a Rani pink blush so try experimenting with hues of orange and baby pinks. Anastasia Beverly Hills has some great shades of highly pigmented blushes.
Pro tip: Carry a multi-purpose product like The Benetint from Benefit Cosmetics. It acts as a lip and cheek tint both.
4. Hallow eyes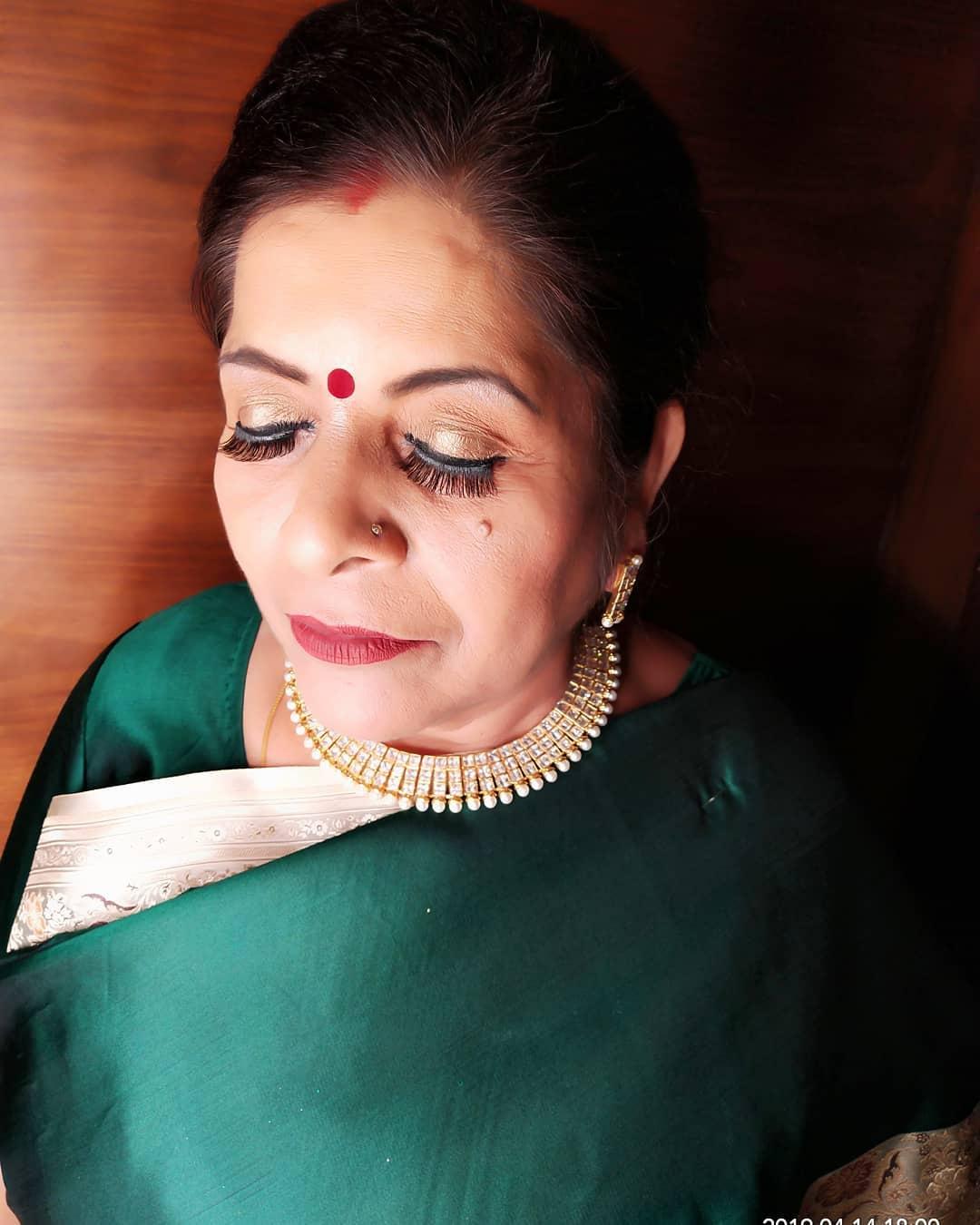 Image courtesy: Meenakshi Sharma MUA
Working on mature skin can be challenging for the mother of the bride makeup look. The priority must be to hide those fine-lines. For that, you may go for Airbrush makeup technique rather than the usual traditional makeup. Being the mother of the bride, you have to run errands so you definitely cannot walk around with cake-face. Airbrush makeup is comparatively lighter and better.
For the eyes, get hallow eyes done. This style of eye makeup has a pinch of glitter on the centre of the eyelid. Try the new Nude Eye shadow Palette from Huda beauty. Their glitter pigments are just too flawless for that crease!
Let's look at the picture and take a moment to appreciate how gorgeous the mother of the bride looks!
5. Bold Foxy Lips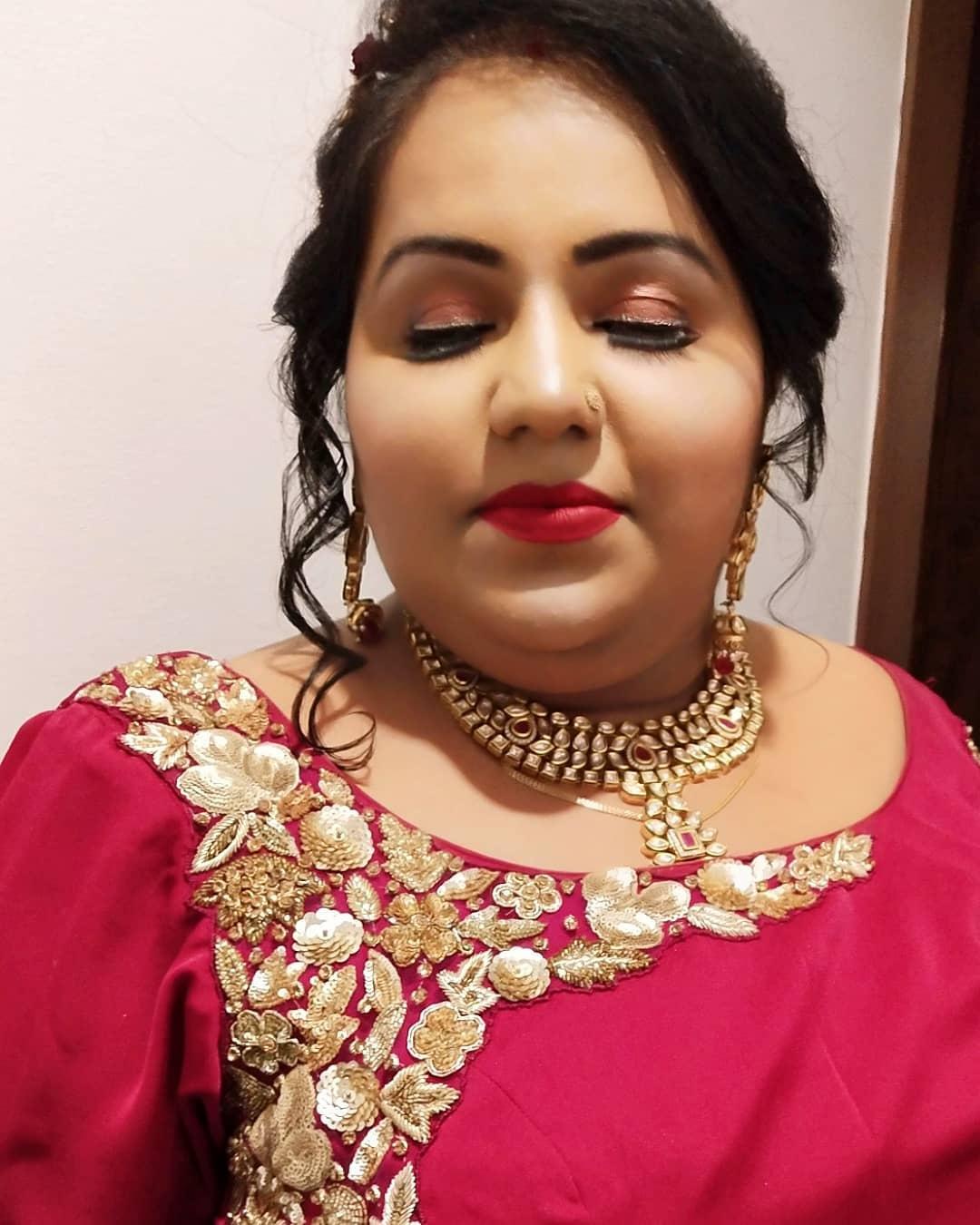 Image courtesy: Meenakshi Sharma MUA
A dark and bold lip colour on the day of your daughter's wedding will turn heads. If you plan to keep the eyes light, go for a bold lip colour. Bare eyes are going to look dull and so, to add a little hue, don't forget to wear a single stroke of glitter eyeliner. It will look phenomenal!
When you pick up the lip colour, ensure it doesn't wash out your skin tone. Lancôme, a higher end brand, recently launched their shake-shake matte finish lipsticks that have some amazing shades of lip colours. Talking about the drugstore brands, you can opt for Wet & Wild's MegaLast Liquid Lipstick in the shade Rebel Rose for your mother of the bride makeup look.
Makeup Tip: You keep either the lips heavy or the eyes!
Do not go overboard with layers of makeup. Also, do not forget to prep your skin before wearing any makeup. Less amounts of makeup would not make you look bad but too much of it can cake-up on the face. It's time to rack your brains with your makeup artist and conceptualise your dreamy look.
Get in touch with these expert makeup artists near you!