With changing trends, fashion-conscious women have come up with different ways to adorn their hairstyles. But one thing that never goes out of style is beautiful and fragrant Gajras. In fact, even the simplest of hairstyles look even better once you add some gajra to it. If you are looking for some ideas to include gajra in your hairdo for the next wedding, these gorgeous Indian hairstyles will get you sorted.
1. Work it in - Gajra with a Poola Jada
The rounds of Jasmine flowers that one expects from Indian hairstyles with Gajra flowers, reach another level when a Poola Jada comes into the picture. There are multiple rows for the base of the braid (the Pella Jada aspect) and then ornaments which sheath the braid (the length of the Poola Jada). We love how this bride managed to capture the ornament just right with the aid of flowers.
2. Change of flowers - a pink Gajra
Who says the Gajra should be about tiny mogra flowers or jasmine blooms alone? With brides-to-be choosing to go oh-so-individual with their choices in Indian hairstyles, these can be any blooms that catch your fancy. We love how this bride chose to do it with a set of carnations in two distinct, pink shades. The duo contrasts spectacularly with her traditional Kanjivaram red saree.
3. The half and half Gajra sets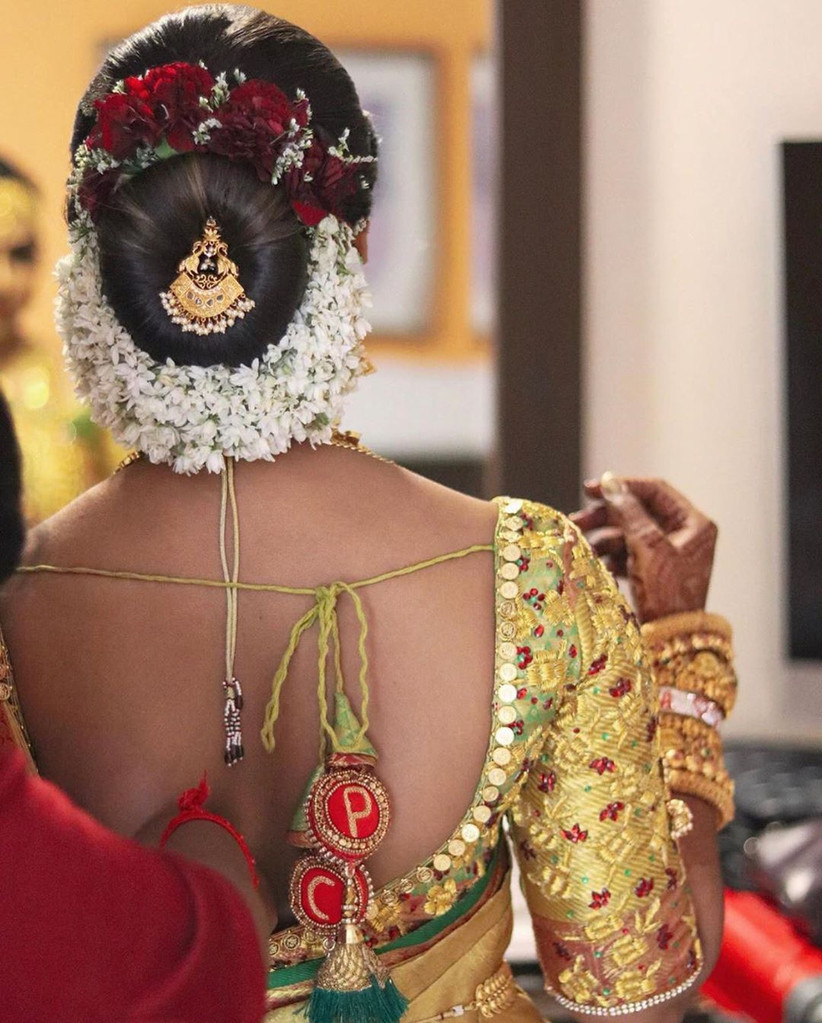 Image courtesy: Shades by Sha
Going conventional with a spherical bun as your choice in Indian hairstyles? Then quirk it up like this South Indian bride did, by adding two distinct forms of the Gajra - one with rose blooms while the other is the cheerful set of tiny, white buds.
4. Bun it, simply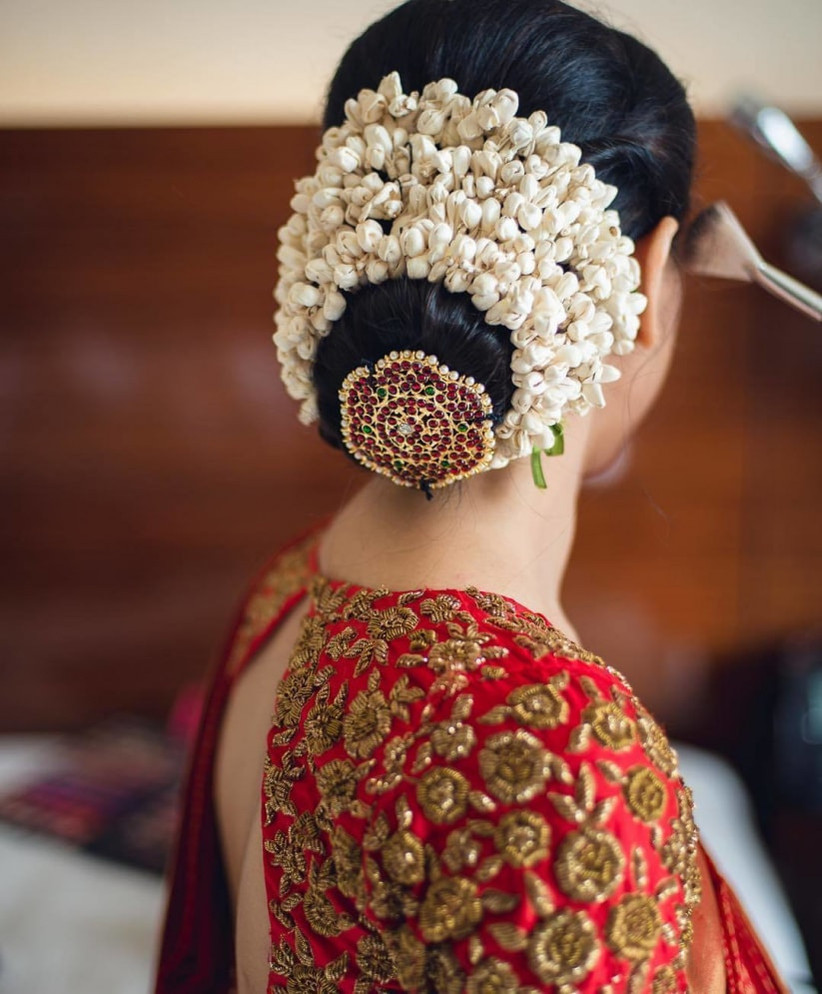 Image Courtesy: Shot Stories by Varun Suresh
Wearing a gajra around a simple bun can never go out of style. No matter what you wear, a saree, a suit, or a lehenga, it's always a hit and looks absolutely gorgeous. To give your hair some depth, consider creating layers in your front hair. If messy is your style, leave some strands open from the front.
5. Set over a classic braid
A braid is one of the most common Indian hairstyles that most women opt for, especially the ones who hail from South India. If you are planning to go with this hairdo, accessorise it with layers and layers of gajra to make heads turn at the next event. Just make sure to go bold with it and add some metal hair accessories if required.
6. On the side - Gajra over a low bun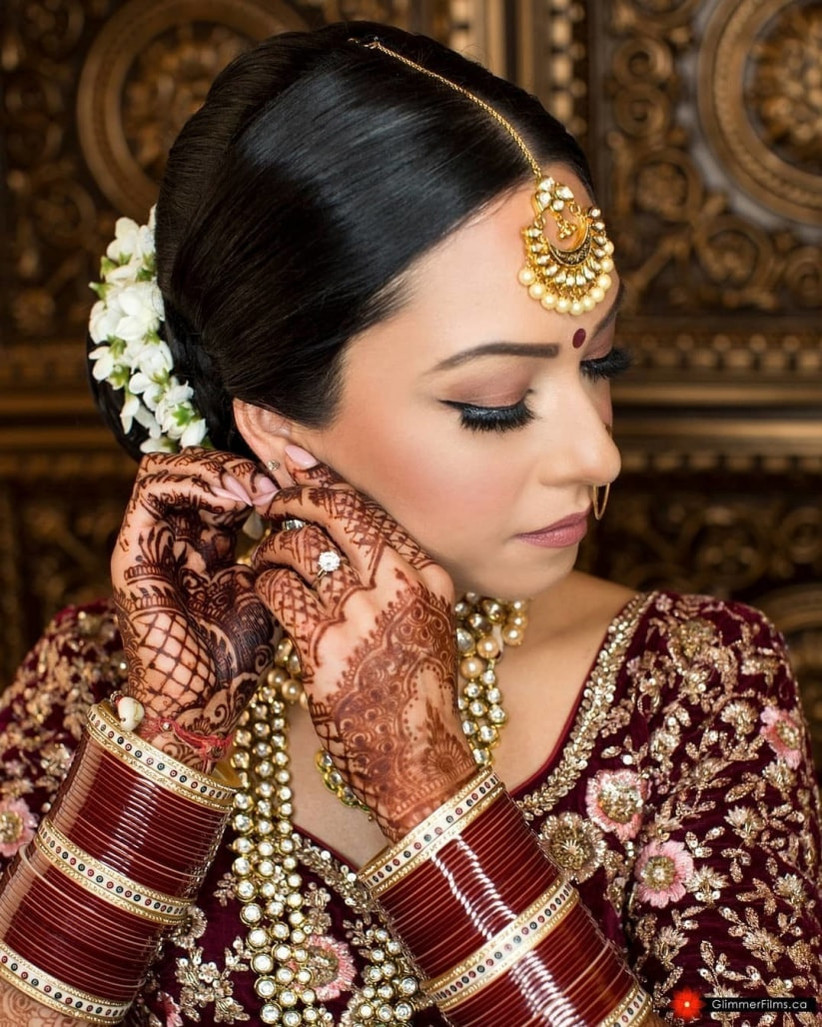 Image Courtesy: Glimmer Films
If you want to make a bun with a twist, go for a cute, side-parted low bun. Pin up a small gajra just to add a hint of it. Take out a few hair strands if you want to create a slightly messy look. Not only will this hairstyle look neat and subtle, but we can also almost guarantee that loads of compliments will be coming your way!
7. Deck the hair with a Gajra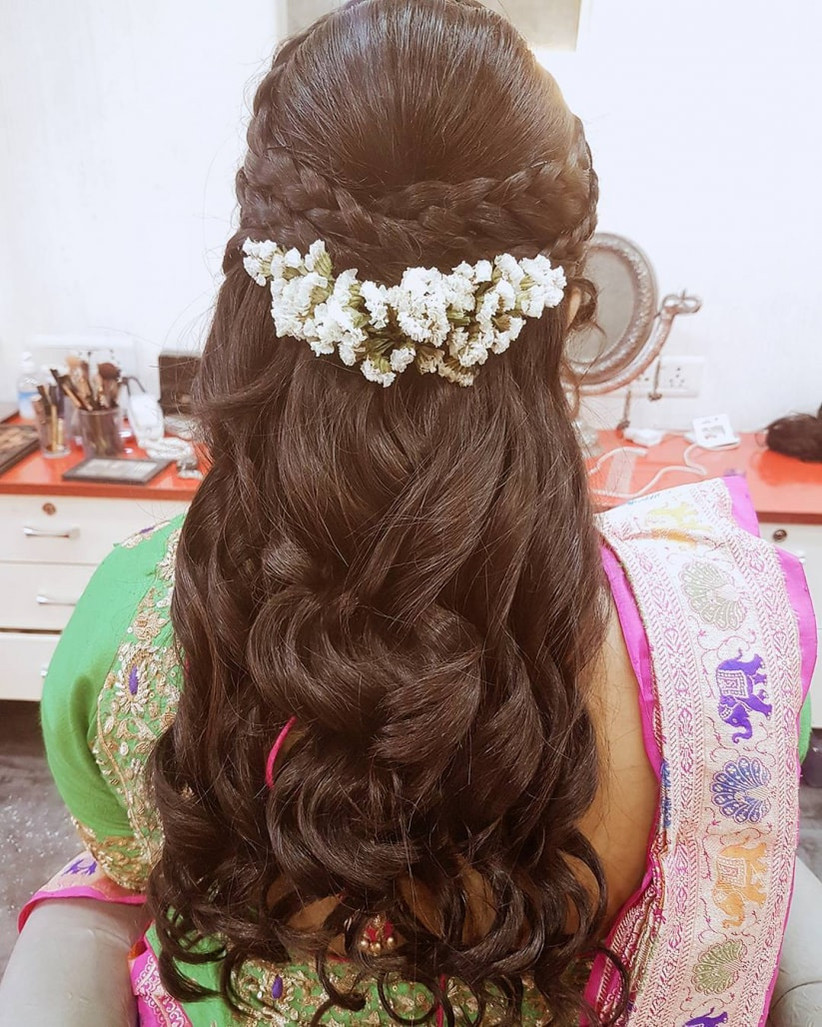 If you want to leave your hair open, you can don a gajra on one side. You can either make a half updo or pin your hair the way you want to. Finally, tuck the gajra in it with an invisible bobby pin. Leave your hair at the back or on any one side. Simple and beautiful, isn't it?
8. A half-moon Gajra bun
This is one of the cutest Indian hairstyles that goes well with traditional and semi-traditional outfits. Simply tie your hair in a bun and put only half gajra below or over the bun. Accessories like Bindi and Chand Bali earrings make a half moon bun look all the more elegant.
9. Back to school? Mid-parting and the Gajra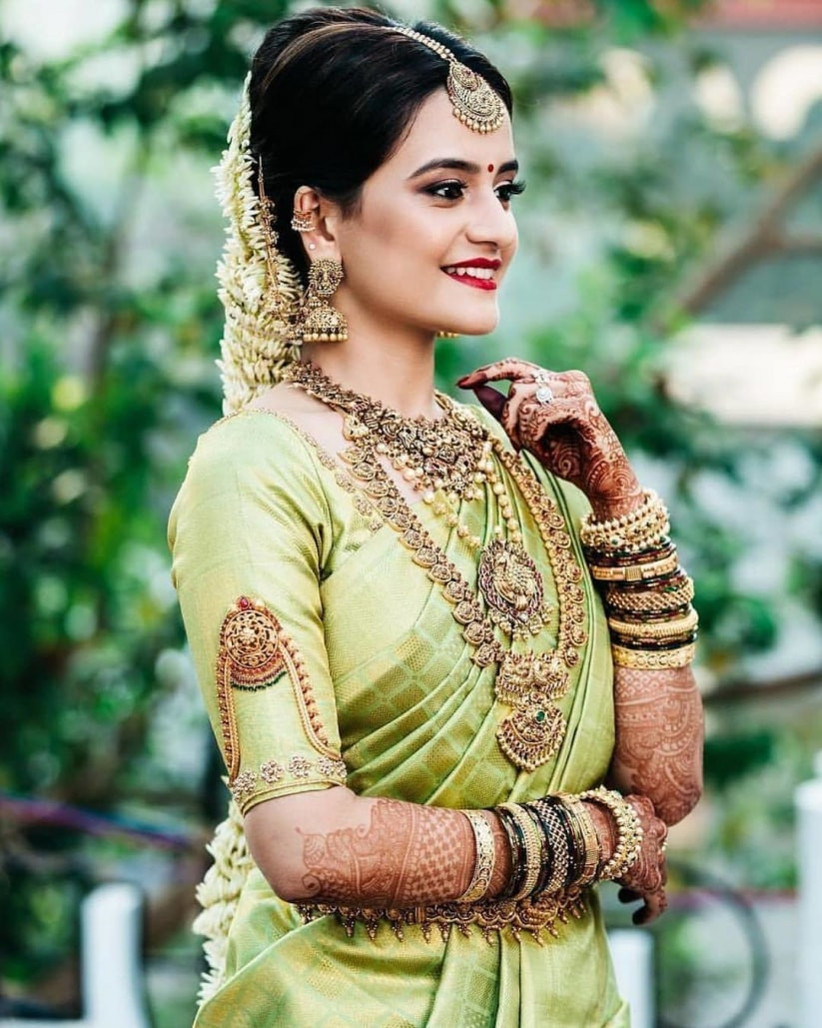 Image Courtesy: Pritham Denzil Dsouza
This type of hairstyle is most suitable for daytime weddings as it gives you a very relaxed feel. A classic long middle parted braid with a heavy bunch of gajra flicked on both sides can be easily done at home. Complete the look with a small Maang Tikka.
10. Entwined with a Gajra
Looking for a hairstyle with a contemporary touch? Go for any kind of braid and twine the gajra around it. For a twist, try French or a rope braid. This hairstyle will good with chiffon or georgette sarees for pre-wedding festivities.
11. Spaced out Gajra flowers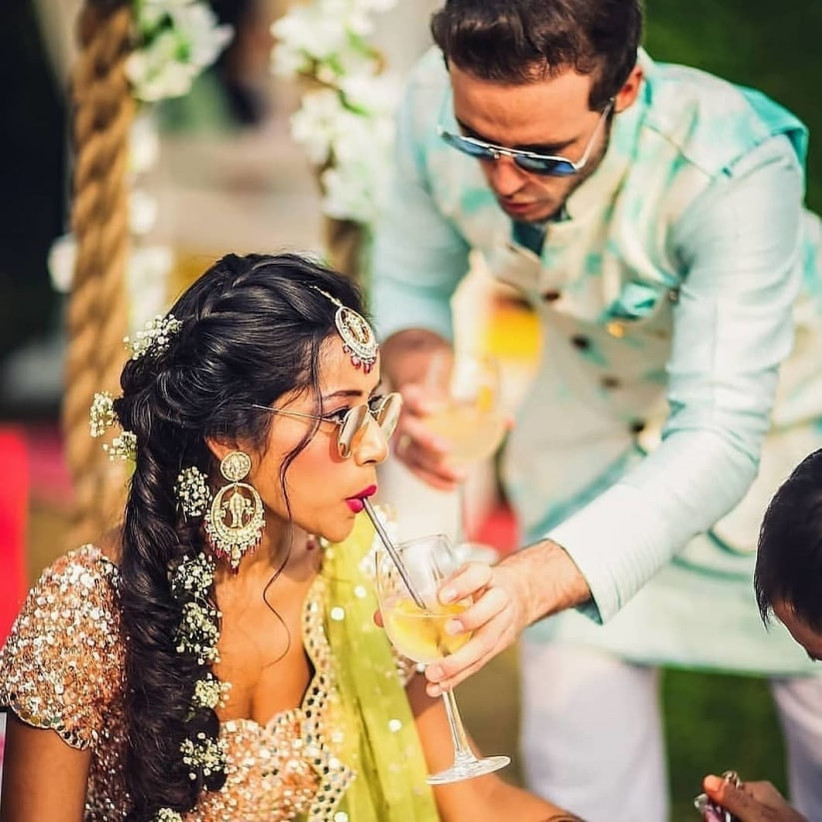 Image Courtesy: The Styles by Sha
Who says that Indian hairstyles look good only with gajra strings? For a modern twist, make a braid, bun, or any other hairstyle and put gajra flowers strategically across the hairdo.
Additional Tips to Flaunt Indian Hairstyles With Gajra
If you have short hair, then consider adding extensions for a thicker bun or a longer braid.
Make sure to use hairspray after completing your hairstyle but before adding gajra to the look.
Secure gajra with lots of bobby pins and keep them handy at the ceremony.
Keep the gajra in the refrigerator or water before it's time to use or else it will look dry and dull on your hair.
For day time or summer weddings, go for gajra only look with minimal hair accessories for a relaxed and fresh feel.
To add a little colour, include flowers with gajra that complements with your outfit. Alternatively, set a contrast by including flowers in different colours.
We can't agree enough that gajras have the power to add a magical touch to your overall look. No matter which hairstyle you choose, they make you look and feel pretty.
Which Indian hairstyle with gajra are you planning to flaunt this season? Or do you have any other inspiring ideas to share? Let us know through comments.