Airbrush Makeup: The Raging Bridal Makeup Technique You Need To Know About
Need the perfect bridal look? It's time you check out everything about the airbrush makeup technique for your big day. From how much it costs to how long it lasts - this is your ultimate guide.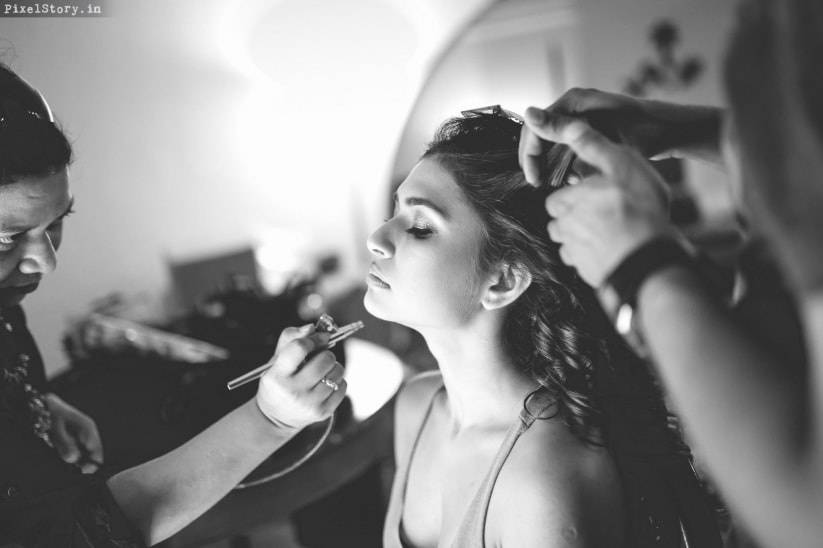 For the bride-to-be, one of the most important things is the bridal makeup that she chooses for her big day. There are many bridal makeup concepts in the market and you need to find the one that suits you best, fits into your bridal budget and is on point for your lehenga makeup balance. Going for an all natural look or perhaps a full-blown HD makeup, there are so many types of makeups you can get for your big day. Here, we explore the recent emergence of airbrush makeup, what it's all about and why everyone seems to be talking about it and recommending it.
What Is Airbrush Makeup?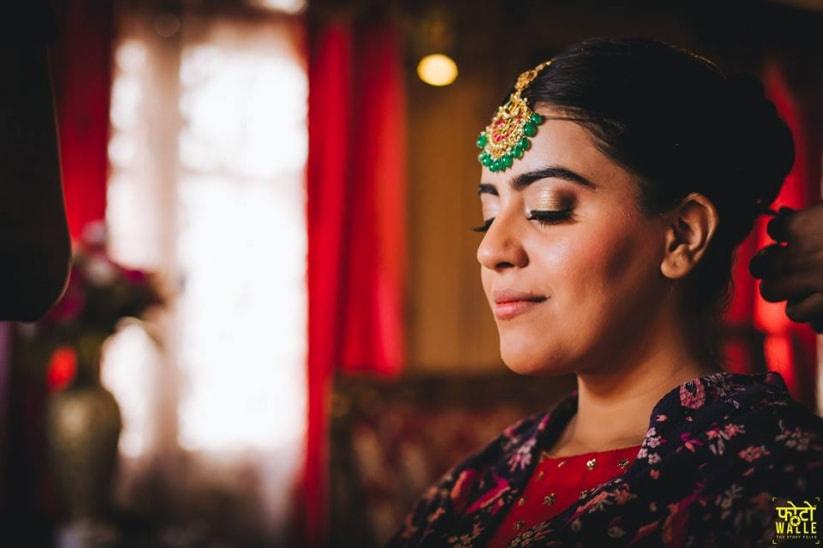 Airbrush makeup is one beauty trend that's gloriously popular amongst brides. If you want to have an immaculate makeup look that'll put even photoshopped pictures to shame, THIS technique is what you should go for. Airbrush makeup is a technique of applying spray mist products to the skin using an air gun instead of the traditional brushes or sponges. It covers up your pores and breakouts to make you look flawless in pictures. It helps you achieve a blended and long-lasting look with sheer and natural coverage. It doesn't look cakey and rather, enhances your facial features.
How Does Airbrush Makeup Work?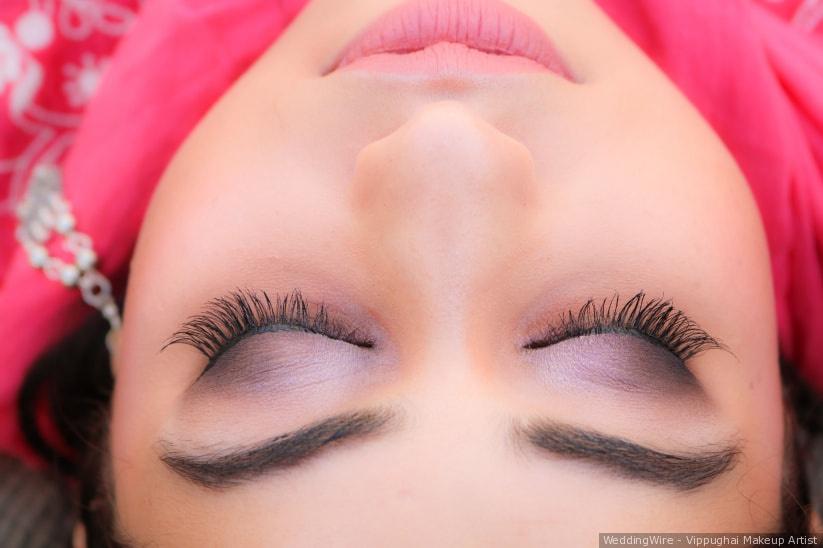 To put it in simple words, airbrush is a blending tool to give you an even skin tone without any blemishes. This is how it works. The setup of an airbrush includes a stainless steel air gun and a tiny hollow tube that attaches to the air compressor. The liquid makeup is applied using the airbrush gun, through a needle-size opening. When the airbrush gun trigger is pressed, it releases the makeup product into a small chamber. This releases it onto your skin. It comes out as a mist and quickly dries off as well. You should go for a makeup trial before you decide to choose airbrush makeup for your big day.
Airbrush Makeup Advantages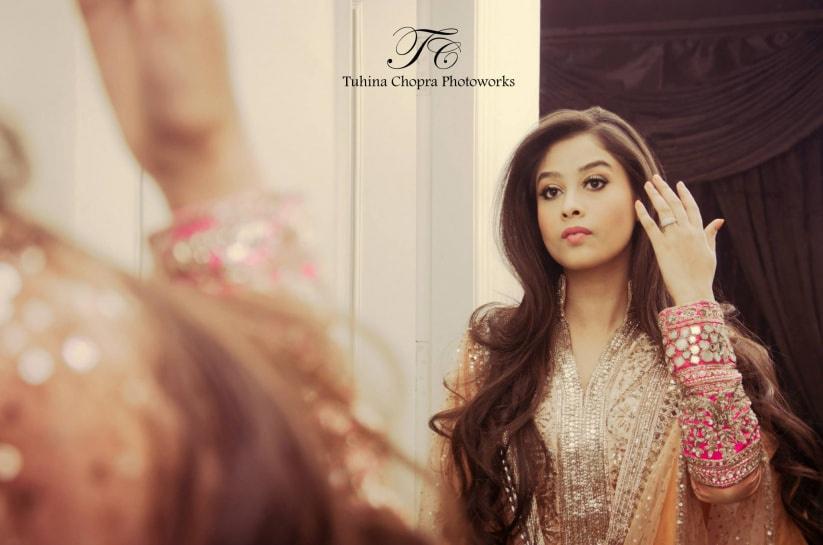 If you want to go beyond the basics and try airbrush makeup for your wedding, you definitely need to know its advantages. To make the right choice, we have listed down detailed pros of why you should switch to airbrush makeup.
1. It stays all day long
The airbrush makeup products are mostly silicone-based. They last longer and are much more water resistant than any other regular makeup products. The bride on her wedding has to inevitably sit for hours during the ceremonies without any touch-ups and hence, airbrush is the ideal makeup choice.
2. Minimal makeup
With the airbrush makeup technique, the makeup artists are able to give the brides more coverage by using fewer products. Airbrushing is a spray technique application process, which only uses a minimal amount of makeup and because the makeup is light, it doesn't make you feel tired or heavy.
3. Flawless finish and super-blended look
By using an airbrush, you allow the makeup products to be evenly applied on your face, creating an impeccably smooth and flawless finish. Your skin looks super-blended, which by the way, is perfect for the countless pictures that you would pose for, all night long.
4. Easy to layer & apply
You can apply airbrush makeup products in superfine layers. These layers then dry super quickly to add more layers of coverage. With this, you can practically hide all your breakouts, scars, pimples or marks.
5. Skin-colour matching
Airbrush makeup products offer a wide range of colours. Each kit has different shades of multiple skin tone to suit your skin. This makes airbrush makeup an ideal makeup technique for women of all skin types, colours and ages. To perfectly match your skin colour, you can even blend two or more colours to achieve that perfect look. This makeup will naturally match your complexion without making you look 'extra'.
HD Makeup vs Airbrush Makeup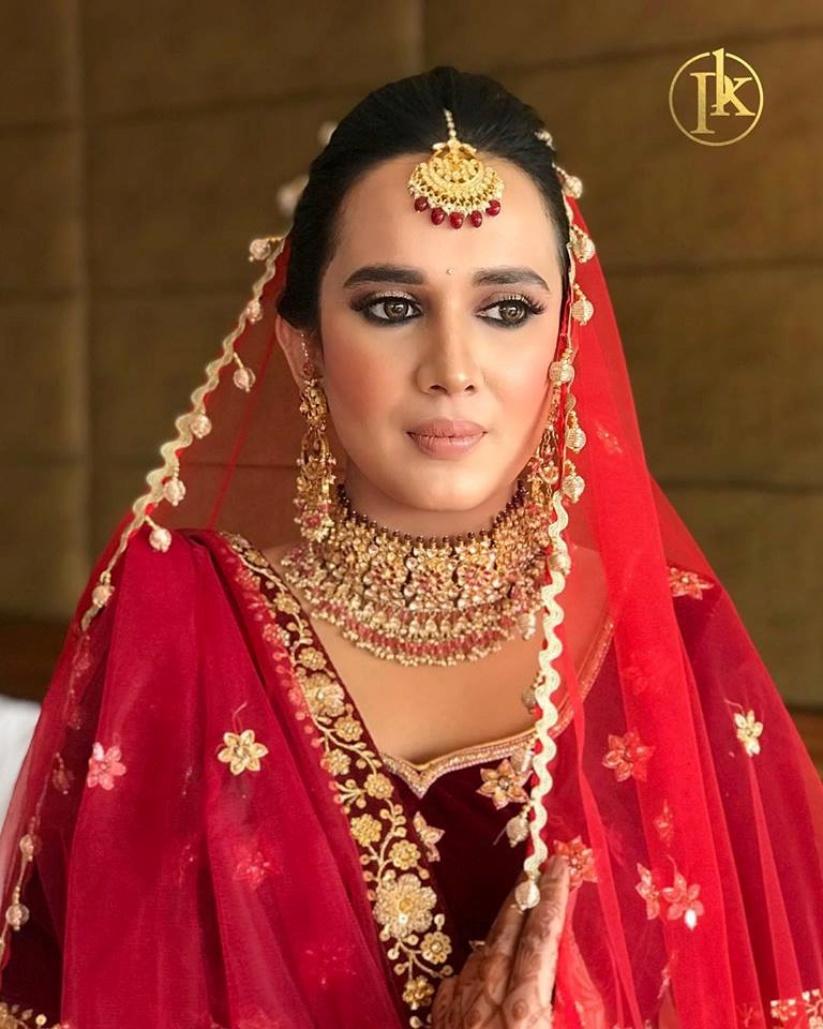 We all know that the top two forms of bridal makeup are HD makeup and Airbrush makeup. When we decided to decode both these makeup looks, here's what we found:
6. The Application technique
While airbrush makeup is based on using spray mist or liquid products, HD makeup is a powder-based makeup technique. For airbrush makeup, you require an air gun for application whereas, for HD makeup, you need beauty blenders, regular brushes and sponges.
7. Lasting ability
In comparison to HD makeup, airbrush makeup definitely lasts longer. Keeping in my mind that the bride has to sit for long hours during her Pheras, exposed to mandap Hawan Kund, it's important that she chooses a makeup technique that doesn't wear off quickly. Airbrush makeup products are water-resistant than any other form of makeup and hence, they don't melt off as quickly as HD makeup products or regular makeup products. Airbrush makeup can last long because it has the ability to withstand sweat, tears, rain, and other moisture and we are all aware how much we tend to shed a tear or perhaps more at the time of Vidaai.
8. Overall look
Airbrush makeup application tends to give you a dewy as well as a natural look. Whereas, HD makeup has a more mattifying effect on your skin. This is why it makes you look more natural and radiant in pictures. Since the makeup is breathable it matches with your undertone and you look as if you woke up like this. And, isn't that the greatest benefit? Absolutely!
9. Initial Cost
The costs for airbrush makeup and HD makeup are pretty much the same when it comes to professional makeup artists, which is around Rs. 30,000 - 40,000 on an average. Whereas, if you get it done from a makeup salon, the prices vary according to your needs. They have different pre-bridal packages which also include beauty treatments.
10.
Hygienic Application
Perhaps, the best thing about this makeup technique is how hygienic it is in its application. At no point do you use your hands to apply the cosmetics to your skin! You make use of a stylus to apply the products to your skin. The benefit of doing so is that you do not transfer any dirt to your face which is one of the most prominent causes of acne and breakout. Isn't that what everyone needs? an acne free, crystal clear skin!
The Bride Who Chose Airbrush Makeup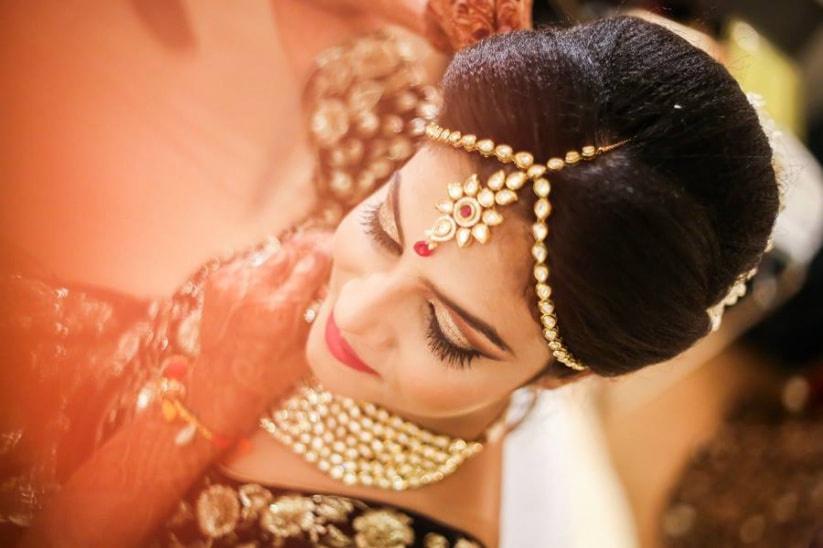 Image courtesy - Malvika Kumar
We spoke to Dr Malvika Kumar, a WeddingWire bride who got married this year and went for airbrush makeup for her big day. "When I got married, I had a lot of friends who had been recent brides and helped me with my research. When I started doing my research and asked around, most of them recommended airbrush makeup. I was a bit sceptical because I was wary of a 'machine' on my face. To my surprise, when I looked at myself in the mirror after it was all done, I was wowed. My skin looked natural and I don't think I've ever looked this beautiful in my life before. The makeup lasted till my Bidaai so yeah, I was definitely in love with this makeup technique."
Are you all set to book your bridal makeup artist now? We know we are!