This Bridal Makeup Package Will Prove To Be Your BFF On Your D-day
Overwhelmed by countless bridal makeup package options and don't know where to start? Here's a guide to help you through the process and get clarity on the topic.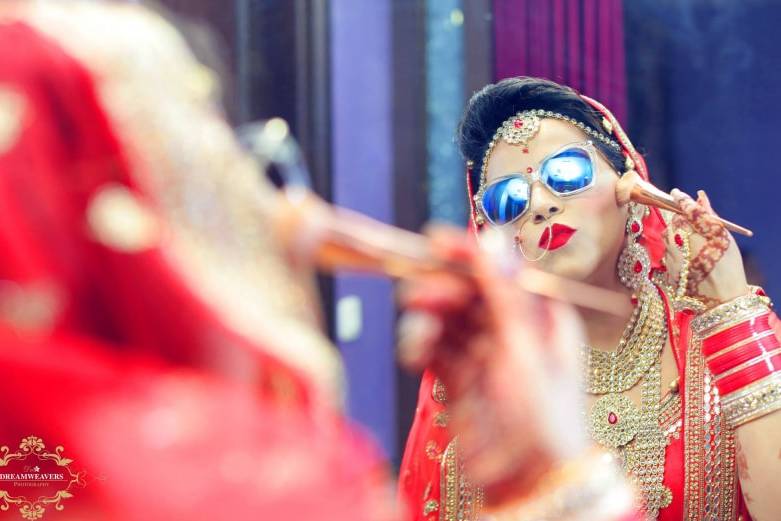 Browsing through several articles on skin care and bridal makeup package ideas before your wedding day can be both insightful and scary. In a deluge of options, you may not be clear on how they prep your skin, or turn you into an ethereal beauty for your D-Day.
Here is an explainer on bridal makeup packages, offered by bridal makeup artists across the board, which can solve these doubts for you. These bridal makeup package ideas are some of the most trusted ones, which a lot of real brides have been following to add grace to their bridal look by bringing forth their inner and natural bridal glow.
From body polishing to going for a spa session right before your big day - being relaxed and pampering your body is an essential step that will lead to your perfect and much deserved bridal glow. So, have a look at these following bridal makeup package ideas and see which one resonates with your liking and choice the most.
Beauty Treatments vs Makeup packages
Every makeup professional will vouch for a disciplined skincare routine for flawless results with makeup. Prepping and priming your skin beforehand - through exfoliation, body polishing, deep cleansing and moisturisation help and these can be speeded along with specific beauty treatments. You can also personalise a beauty regime as per your skin needs - for extra-sensitive skin, long hours in the sun et al.
A bridal makeup, on the other hand, is a top-up, so that you can look your flawless best. It is to enhance your best features and conceal your flaws. And you should ideally opt for one based on your decisions for your skin needs. For example: Are you only opting for a makeup package for the big day and would prefer to handle skincare on your own? Then choose your bridal makeup on your current skincare issues, the kind of results you aim to achieve and the setting for your wedding day (a daytime/nighttime event and the season it would take place in).
You need to be first clear on what you would like to opt for - a skincare routine or beauty package (yourself or through a listed beauty salon) that has an overall impact on your look, or just a makeup artist for the big day. That's the difference here.
Bridal Makeup Package Basics:
As we shared earlier, your choice in makeup packages depends on the kind of results you're looking for. The good news is that there are many kinds of makeup looks for every bride. And even these can be customised as per your own choices. For instance, a summer bride may wish to opt for a fresh, lighter makeup look and neutral colours during the day.
Another bride may want to go for highlighted cheeks and make heads turn with her glamorous avatar and an airbrushed look at her evening reception. A lot depends on your personal choices, your bridal lehenga as well as your overall wedding theme, and a million other thing. This is why you need to pick out your bridal look well in advance to be able to navigate through all these options.
Here are the common bridal makeup packages that would come your way. So, give these a thorough read and find the bridal makeup package that caters to your bridal makeup needs in an adept manner, whilst not burning a hole in your pocket!
1. Airbrush Makeup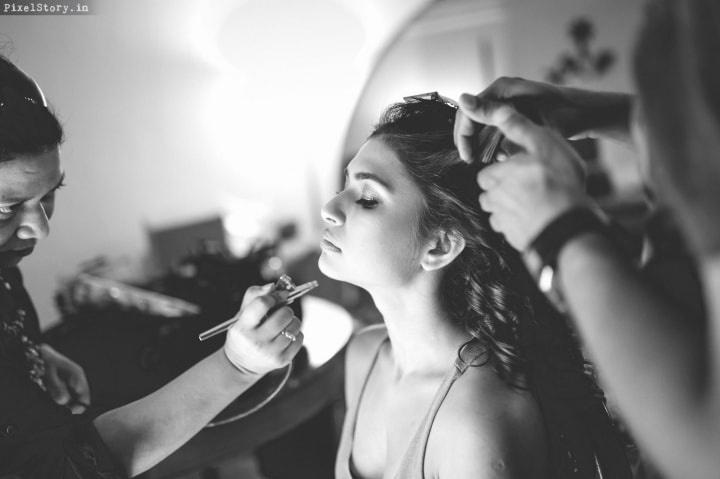 This form of bridal makeup differs from the rest because of the method of application, which is the air gun machine. A quick contender for bridal makeup, airbrush makeup leaves the bride with a non-transferable, matte finish and an even layer of makeup.
This can be full coverage or light based on your preference and is ideal for red-carpet events. If this is the bridal makeup package that you were longing for since long, then go ahead and hit a salon that offers it to you at feasible rates! You will surely glow like a princess when you go out with this look.
Suitable for - Oily skin, outdoors
Cons - It can run off in streaks, owing to sweat or tears, so you need to keep cool through your event.
Price tag: Expensive, (owing to finesse required) in comparison with other makeup packages.
2. HD Makeup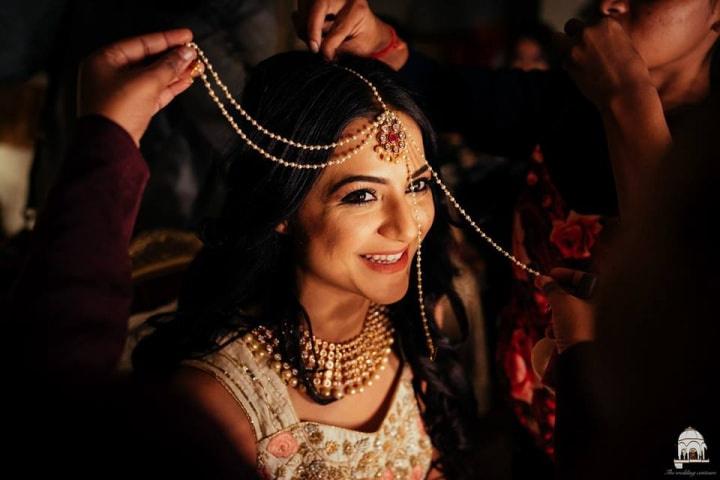 Named for the expert coverage that it can give to a bride's imperfections (acne, breakouts, dark circles, blemishes and visible pores etc) against the detail which can be captured by an HD camera, this is the next bridal makeup on our list.
In fact, HD makeup products are created with light-scattering ingredients, to ensure an even look that looks great in photos and videos. If HD bridal makeup package was on your to-do-list then find a makeup artist who specialises in this type of makeup and hires her for your wedding day.
Suitable - All skin types
Cons - It is not as resilient as Airbrush makeup and won't stay that long.
3. Mineral Makeup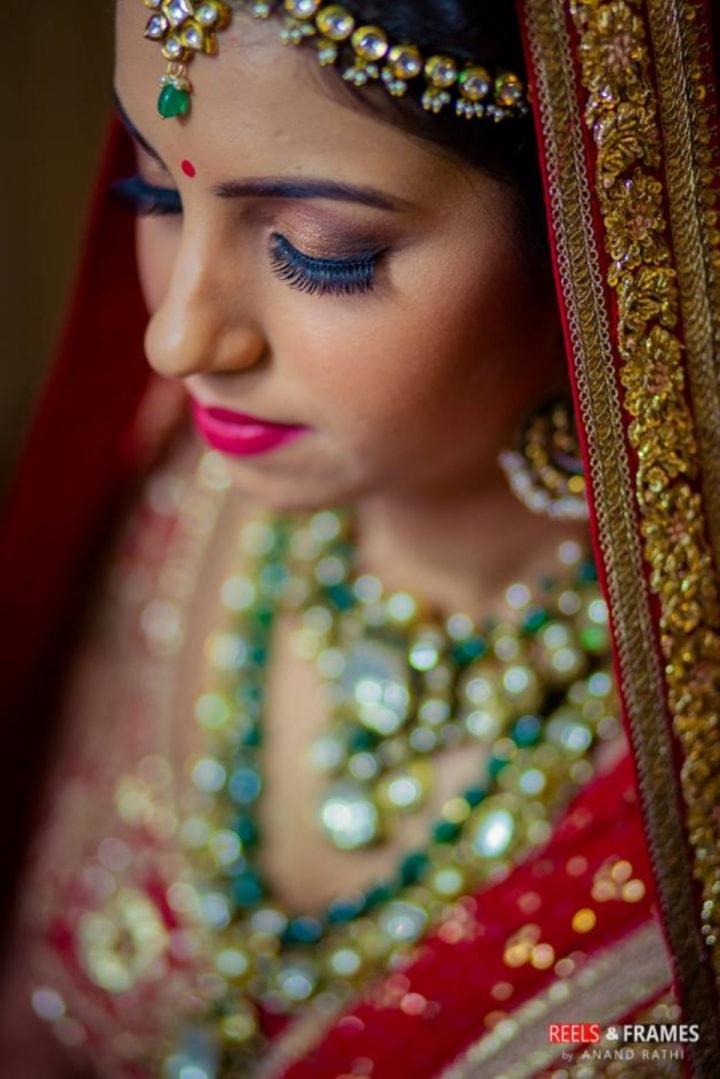 While most makeup formulations contain minerals in varying levels, these formulations are compressed, fine powders - often without wax or oil additives. Termed as organic and natural, this form of bridal makeup is advised for women with sensitive skin. Mineral makeup is highly pigmented and can be built up from a sheer to complete coverage. Depending on what you want your final look to be like, you can have a word with your makeup artist in advance.
Suitable for - Low-key events
Cons - The overall look tends to be brighter and does not photograph well
4. Regular Makeup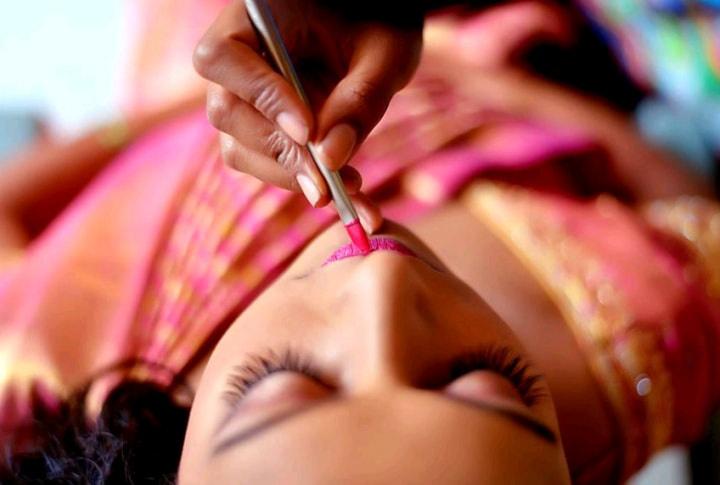 This is the traditional form of makeup and comes in various forms such as cream, powder, liquid and more. It is versatile in nature and can be applied using fingers, brushes, beauty blenders and makeup sponges. It can be used to conceal imperfections, create a contouring effect or a dewy/matte finish and can be used for light to full coverage.
Suitable for - All skin types (dependant on the formulations used)
Cons - Impact depends on the skill and technical prowess of your makeup artist.
5. Bobbi Brown/MAC/Kryolan: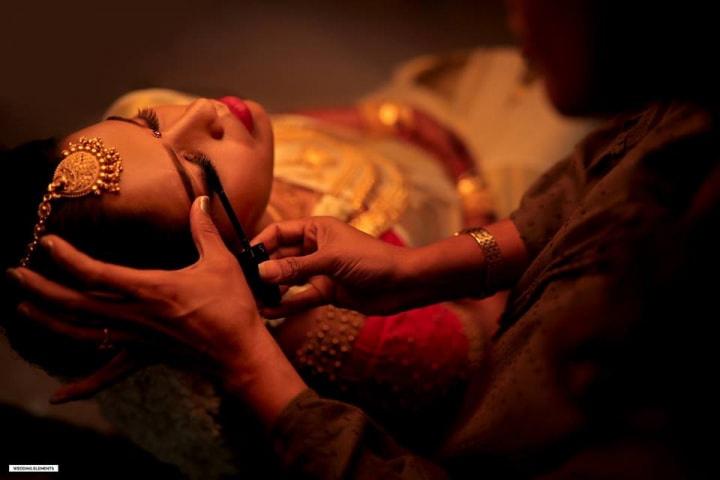 These are different brands of makeup and more a matter of choice for the makeup artist and seasoned/knowledgeable customers. If that's not you, don't be cowed by the names. Instead, ask questions about the application techniques used. It's true that a premium brand would inflate your makeup budget, but your look would depend on the application technique and the finesse of your makeup artist.
The products should also be chosen according to your skin type (dry, oily, combination skin). It's also useful to experiment with bridal makeup at home on your own and see what works really well for you. Knowing your preferences will help you choose your bridal makeup package and select makeup styles/techniques accordingly.
Remember to -
Keep your skin type in mind while choosing makeup products and a bridal makeup package
Consider the type of outfit and accessories you're wearing while finalising each makeup look. Find your comfort zone and something that complements your personality. Choose something that works really well for your budget. If this is is an issue, you can go for a more affordable bridal makeup package for the major wedding ceremonies, events and parties while doing your own makeup for more informal pre-wedding get-togethers. Take care of your skin - eat healthy food, maintain a good skincare regime and drink lots of water. Opt for trial sessions, so that there are no last-minute beauty disasters. Trial sessions are an absolute must if you wish to get an idea of how the makeup artist does bridal makeup. Do you like her style or not. These are important things that will make or break your bridal look Communicate clearly with your makeup artist - on your skin type, the kind of look you want, what products would they recommend, your own style choices
How To Find The Right Makeup Artist
Doing your research, looking at different bridal makeup artists for your budget, referring to fashion magazines and going for a consultation with several professionals will be incredibly useful in helping you zero down on the perfect fit.
Here's how you can put a method to this madness:
Be clear on the kind of overall look you want - bridal hairstyle, makeup, bridal accessories and bridalwear. Research on the kinds of makeup which can help achieve this look. From dewy-eyed makeup to a shimmery blend of eye palette, you must know which you would like to have for your wedding reception since the options are in abundance Shortlist against your
Visit artists, ask questions, opt for trial sessions Lock on your makeup artist, confirm their availability and book in advance Before you make a booking for your bridal makeup package, ensure that you discuss with the artist about the skin type that you have so that she fixes a bridal makeup package that is best suited to your skin type and tone Before you finalise anything in terms of your bridal makeup package, set your budget straight. Different makeup artists charge a different amount of money for their various bridal makeup package. Shortlist a pool of artists and hairstyles as per your budget and then fix for yourself a bridal makeup package
We hope this helps you plan better as you browse through options, schedule your trial sessions with makeup artists and balance relaxing beauty sessions with a dreamy bridal makeup package before your wedding.
Leave your comments and tips on these packages and help a bride-to-be. And let us know in case you'd like a little more help or advice on a certain beauty look or bridal makeup advice.