A List of Open-air Venues in Delhi for Hosting Day Weddings
If a day wedding is on the books for you & you want a venue that fits right, we have curated a list of open-air venues in Delhi for day weddings for inspiration.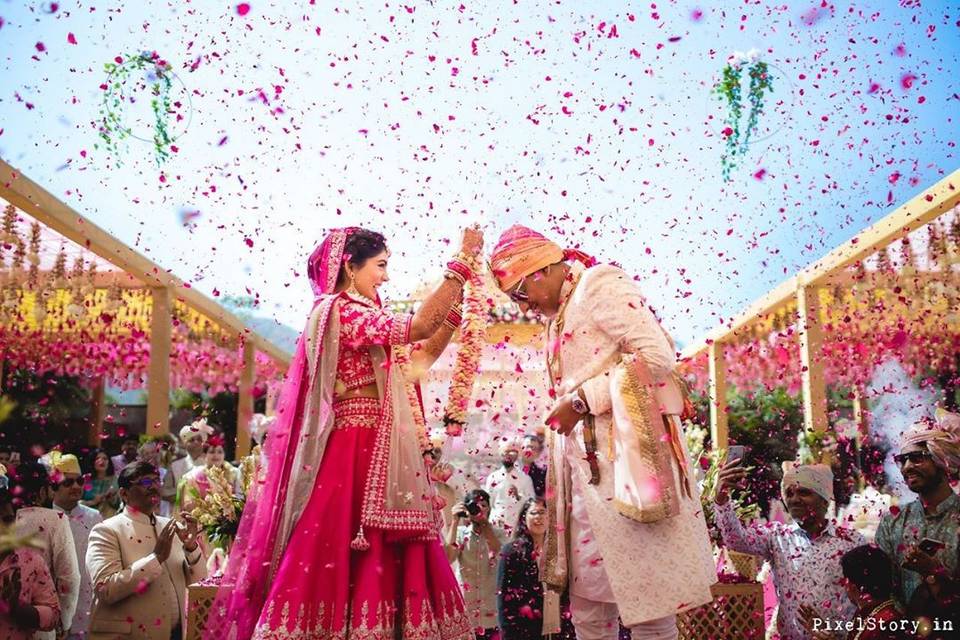 Alfresco wedding celebrations have an undeniable charm of its own. Millennial couples have come a long way from times when the bride and groom took their phere in a designated indoor setting that was traditionally accepted. The millennial brides and grooms have their creative juices flowing when it comes to planning the perfect wedding. From picking the unconventional multi-coloured lehenga cholis or pastel lehenga designs for the bridal outfit to picking out of the box venues, they have done it all. Not only have weddings evolved per time, but also the types of wedding venues where the couples host their weddings have seen new horizons.
One such trending idea when it comes to venues is the open-air venue. With more and more to-be-weds opting for day weddings for the coming wedding seasons, open-air venues are picking pace. The natural light, the breathtaking landscapes to choose for a backdrop and fresh air to make everything even more beautiful is what makes open-air venues a hit.
Take your wedding celebrations outdoors and deck up the lawns with traditional cabanas and floral canopies for your big day.
We have curated the perfect list including some of the best options for you to pick the right open-air venues in Delhi for day weddings.
The Taj Mahal Hotel, Delhi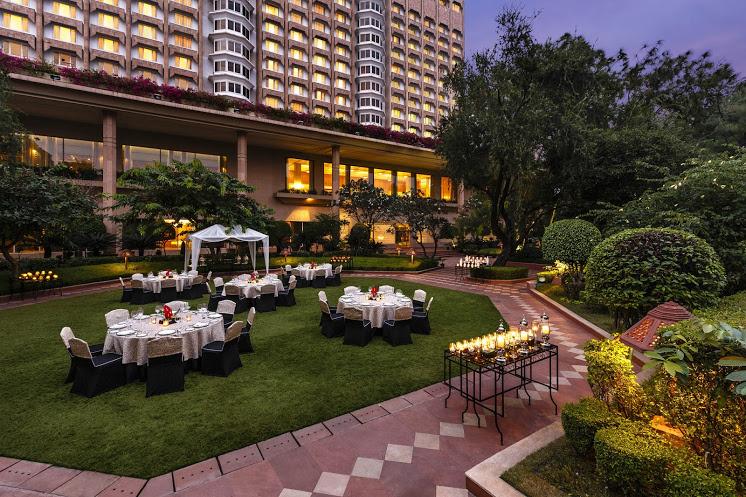 The Taj Mahal Hotel is one venue that is always associated with absolute class and luxury. Keeping a grand wedding ceremony in mind, the various outdoor spaces available at this venue serves just the right purpose of hosting a day wedding with grandeur. With an experience of 37 years in hospitality, this iconic venue has been the centre of elegance for your celebrations.
The fusion of architectural excellence with quintessential services, The Taj Mahal Hotel in Delhi has a poolside lawn and a breathtaking terrace garden to make for the perfect picturesque backdrop for your day weddings.
Guest Capacity: 400-600 (outdoor only)
The Venetian - Polo Farm by Gautam Tents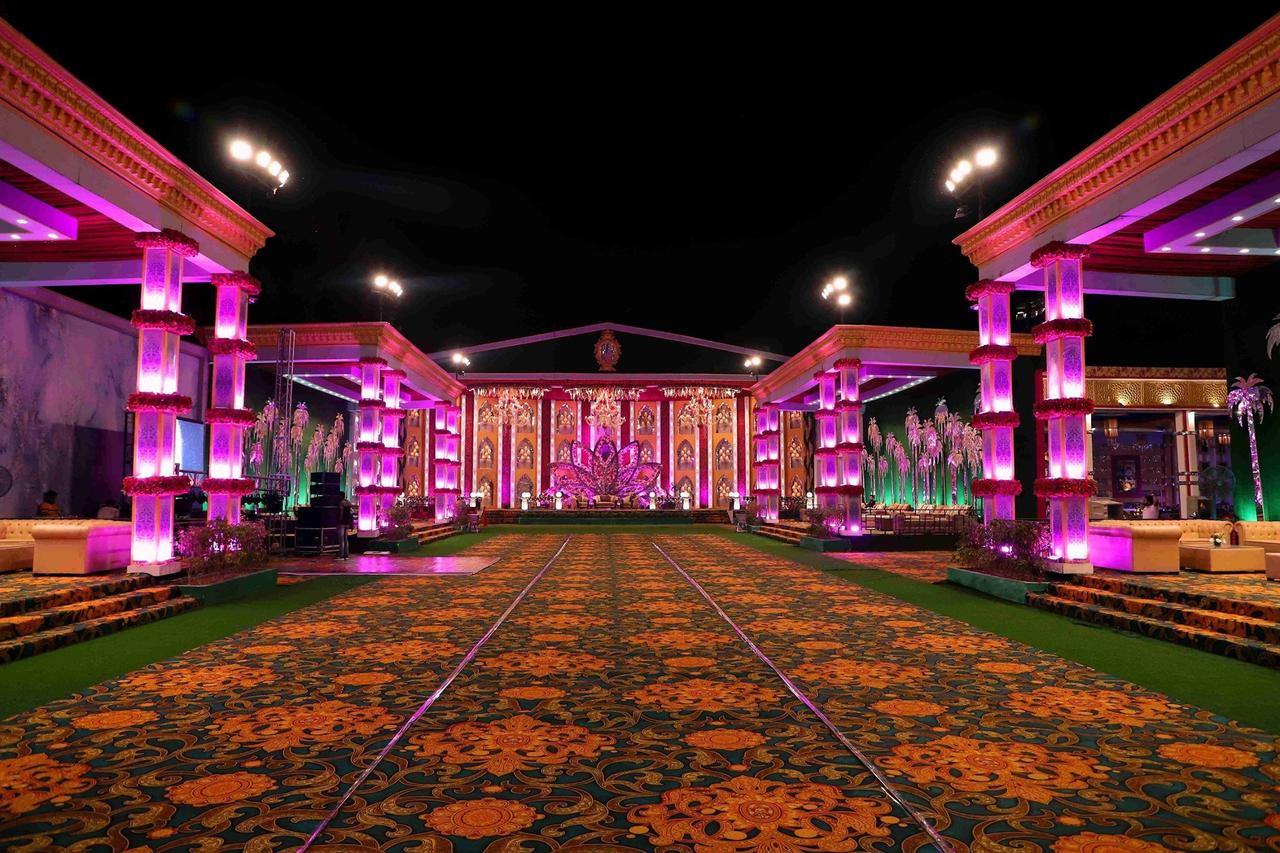 Located in Delhi, The Venetian - Polo Farm by Gautam Tents is a colossal venue spread over more than 40,000 square feet. The widespread carpet of lush green grass is just perfect for hosting a day wedding in this venue. The well-maintained facilities with a number of impressive services make it a convenient pick to host your weddings. The venue offers you the choice to pick your choice of vendors to assist you for the big day.
It is located away from the hustle-bustle of the city streets and makes for one of the best peaceful open-air venues to host your day wedding. They also offer their indoor event spaces along with the breathtaking outdoors.
Guest Capacity: 200-3000
Calista Resort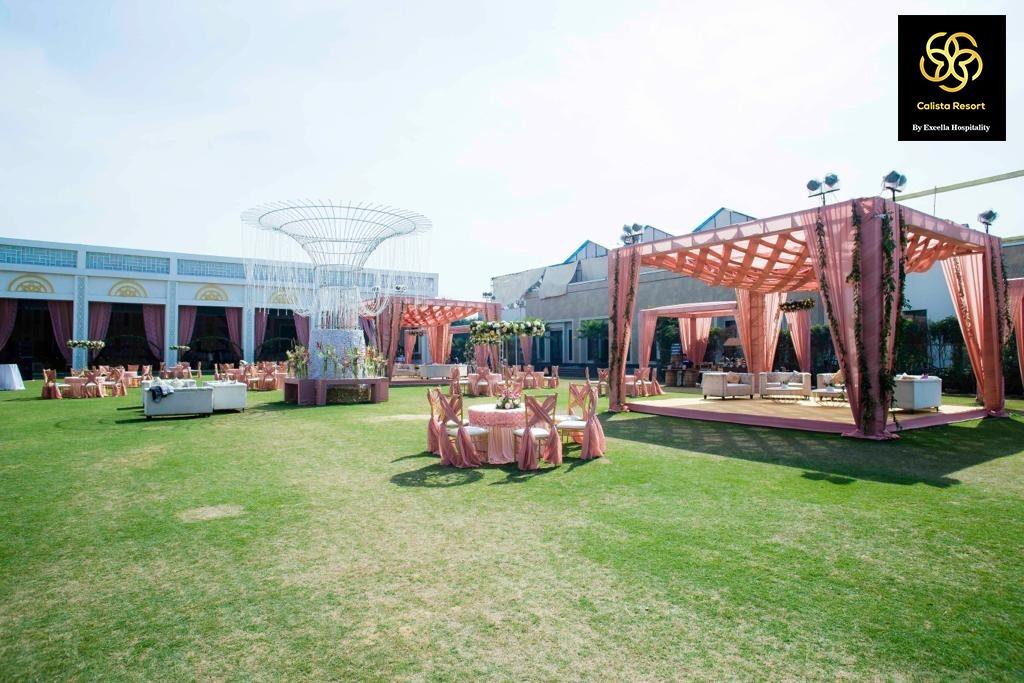 Located in the South of Delhi, Callista Resort is a mindblowing combination of elegant architecture and professional excellence. The outdoor event space offered by Callista Resort offers a manicured lawn space that is just right for you to host a day wedding. Since fall is on its way and the weather tends to get breezy and comforting in Delhi, this venue will be just right for you to host your Autumn wedding.
The open-air event area will be a delight for your guests as they get to walk around and enjoy the event. The alternative seating options make it less crowded.
Guest Capacity: 100-4000
Tivoli Veda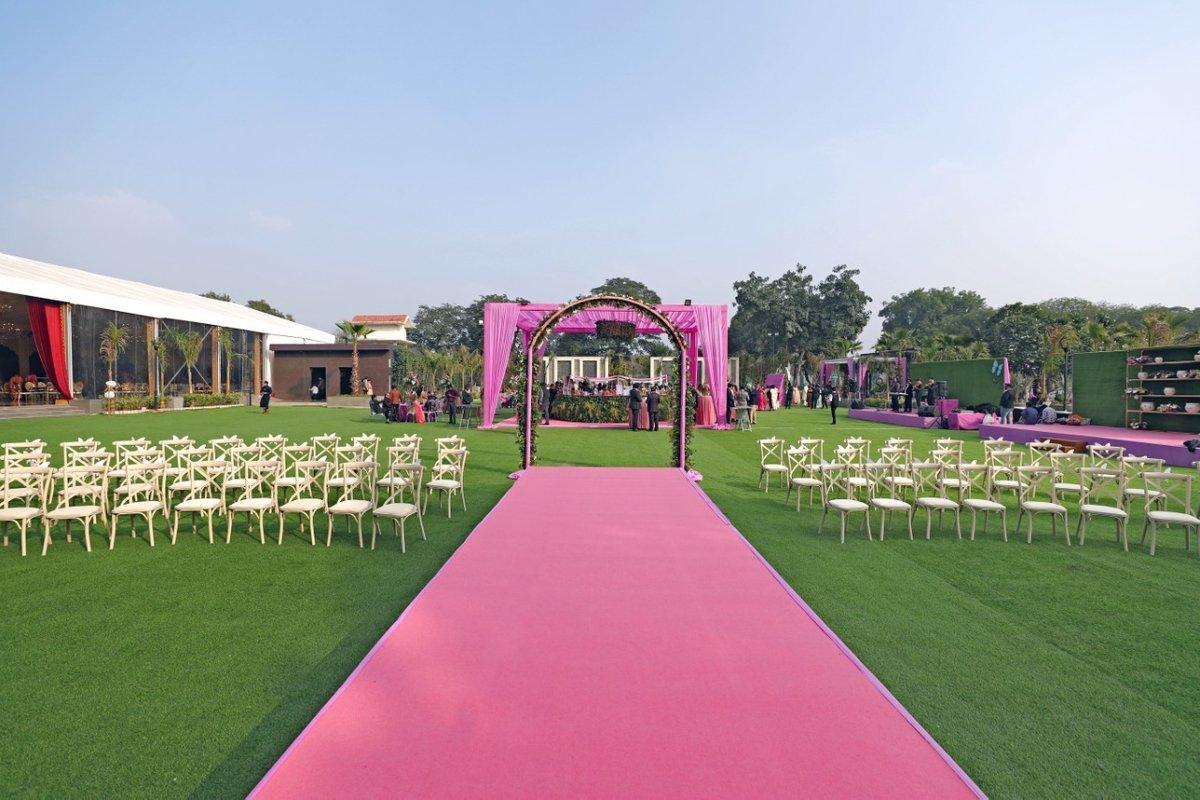 Surrounded by mesmerising greenery, Tivoli Veda is a wedding venue available in South Delhi. The attractive lawns available as outdoor spaces is a beautiful open-air event space to host day weddings. The attractive location of the venue, being very near to the heart of the city, makes it easily accessible. The natural ambience of the outdoor space is made even more attractive with their trained service staff who help you host the wedding of your dreams with ease.
A day wedding in these lush green outdoors is a great way of escaping the concrete city without having to go too far for a destination. The swimming pool present at the venue makes it all the more photogenic for your big day.
Guest Capacity: 300-2000
The Claridges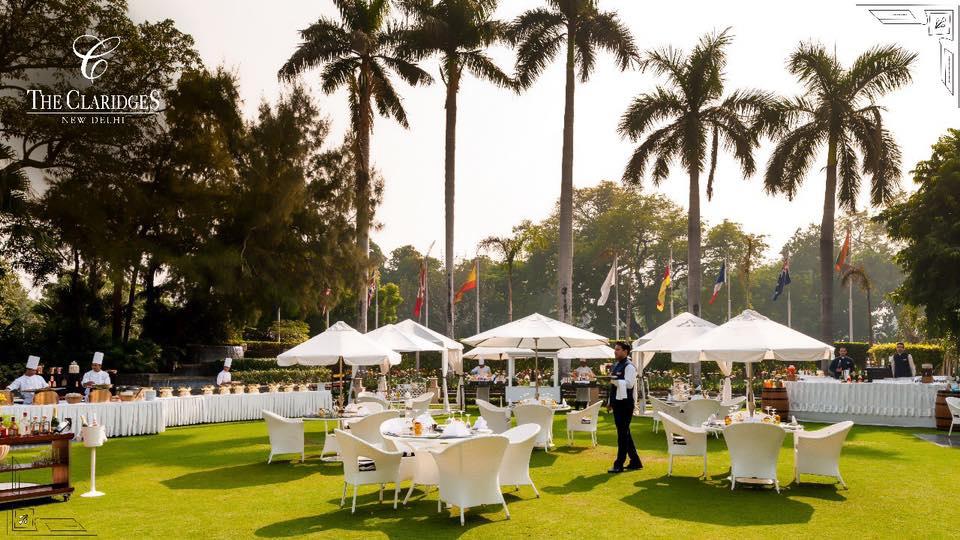 Located in the heart of Delhi, The Claridges is an enthralling venue that was built in 1952. The sophisticated elegance along with the contemporary luxuries make this the perfect open-air venue for a day wedding in Delhi. The serenity infused with their excellent services is a catch if you are planning on hosting your wedding ceremonies flawlessly.
The venue allows you to experiment with the decor of your choice to make it your dream wedding venue while giving you a praiseworthy ambience. The coconut and palm trees along with the well-maintained hedges make the venue's appearance all the more beautiful. The venue provides contemporary style lounge areas and fancy indoor spaces too.
Guest Capacity: 40-350
Zorba Entertainment, Sultanpur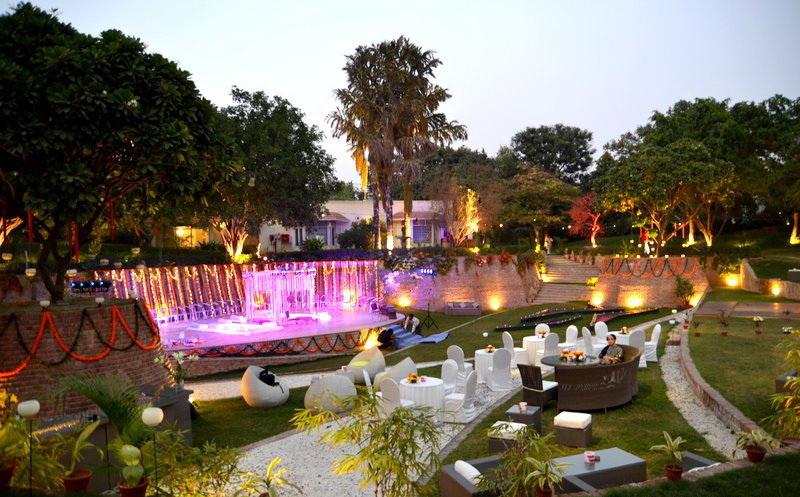 Based in South Delhi, Zorba Entertainment is a picture-perfect open-air venue in Delhi for day weddings. To add to the breathtaking ambience of your big day, they offer a widespread lawn and an amphitheatre-like setting. The venue is perfect to host your wedding as well as your pre-wedding ceremonies in full fervour. You can also have a musical performance at the venue with the perfect amphitheatre.
The lush green ambience at the venue is topped by artistic landscaping and some amazing poolside. The natural light will make sure that your day wedding is an unforgettable frame to cherish.
Guest Capacity: 400-1000
Day weddings are sure to be in demand for the next wedding season given that there were a lot of weddings that had to be postponed due to the pandemic red flags. There are also many great reasons to consider a day wedding. They are a great opportunity to experiment with decor and break away from the conventional norms of an evening wedding. With a huge variety of wedding themes that can be experimented with, day weddings sure need perfect venues to make it possible.
While you enjoy the comfort of day weddings, make sure to get your bridesmaids together to capture some impeccable photos from the wedding. You can experiment with foliage decor, dreamcatcher decorations and even the good old floral decors at your open-air venue in Delhi for day weddings.
Get in touch with the photographers on board to capture your memories from your dream-come-true wedding celebrations. There are a lot of options to pick your wedding venue from, listed with us. Let us know in the comments below which is your perfect open-air venue in Delhi for day weddings.
Find Top Wedding Resorts & Destination Weddings in Delhi NCR:
Retreat Motel & Resort l Maya Mahal Resort Delhi l City Park Resort l Southgate Resorts & Hotels l Lake View Huts Resorts l The Executive Club Resort l Golden Galaxy Hotel & Resorts l Sunbird Tourist Resort