Bridesmaids Photoshoot Ideas to Make It Even More Fun & Memorable
Memories from the wedding are made unforgettable with wedding photos. Here are some fun bridesmaids photoshoot ideas to make the wedding album even better!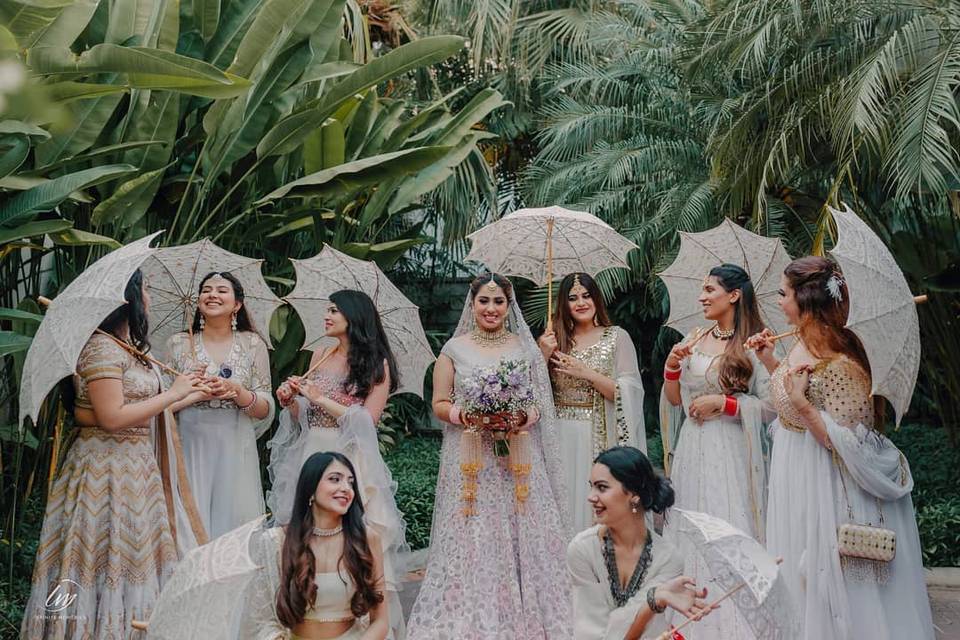 The bridesmaids are probably the only ones more excited about your wedding than you are. The bridesmaids' duties list is a long one. From breaking out in squeals of excitement when you said "YES" to holding your shopping bags and even dealing with your cold feet phases to get you ready for the big day, they do it all with full support.
From your colourful outfits to the gorgeous decor, the wedding is all about making memories that will last a lifetime of happiness every time you reminisce them. The photographs are the easiest way to trigger a "remember when..." story from your wedding ceremonies years later too. And the bridesmaids deserve a special place in your wedding album with their love for you accompanied by beauty and quirk of course!
Here are some pretty yet quirky bridesmaids photoshoot ideas to help you make your wedding album an unforgettable treasure to hold on to forever. Bridesmaids in the house, say cheese!
The Happy Bridesmaids Pose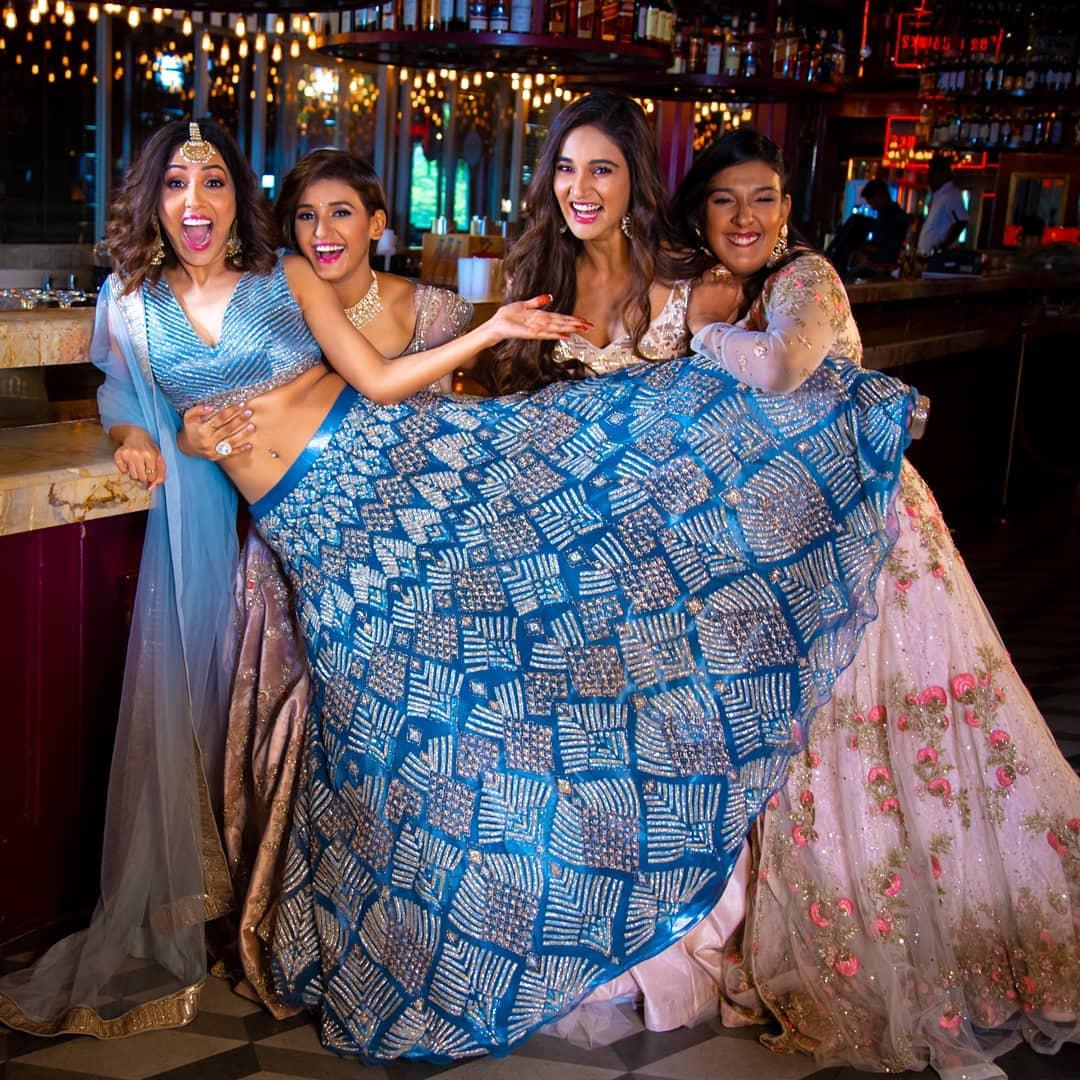 You know it that they cannot wait for the moment when they can fix your lehenga and dab your lipstick right before you walk down the aisle. The excitement that your bridesmaids hold in their hearts needs to be captured right. Maybe let the photographer ask how happy they are for your big day and he can click the first most instant reaction on their faces! You will cherish their happy hearts forever through this happy bridesmaids photoshoot.
Pop The Champagne Bridesmaids' Pose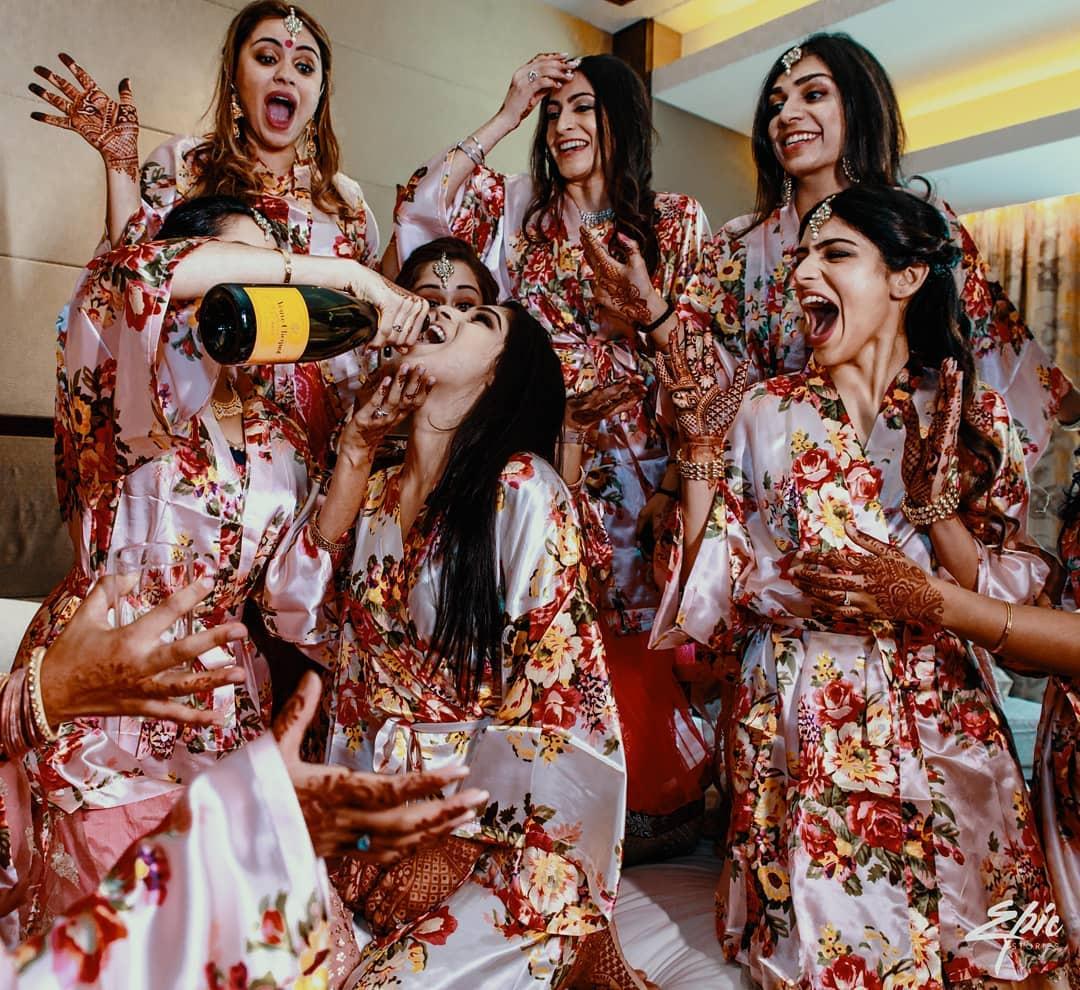 Image Courtesy: Epic Stories
A millennial wedding is almost incomplete without a bachelorette with your squad. Get the babes together and don't forget to wear co-ordinated dresses to make it all the more fun because there is no squad cooler than the #teambride. Pop the bottle of champagne and capture these bachelorette moments with your bridesmaids. What happens in a bachelorette stays in a bachelorette, and of course, stays in your wedding album to add to the fun!
Pretty Bridesmaids Pose On A Boat
There is nothing more aesthetic than you and your bridesmaids posing in a boat and this picture by Infinite Memories has stolen our hearts. The serenity of the blues of the sky and the turquoise water with a minimalistic wooden boat and a Japanese pink umbrella adding that subtle pop of colour is everything perfect that a frame can hold. If you are going to have a Butta wedding entrance, this boat pose with your beloved ladies is a must!
Quirky Bridesmaids Photoshoot in The Car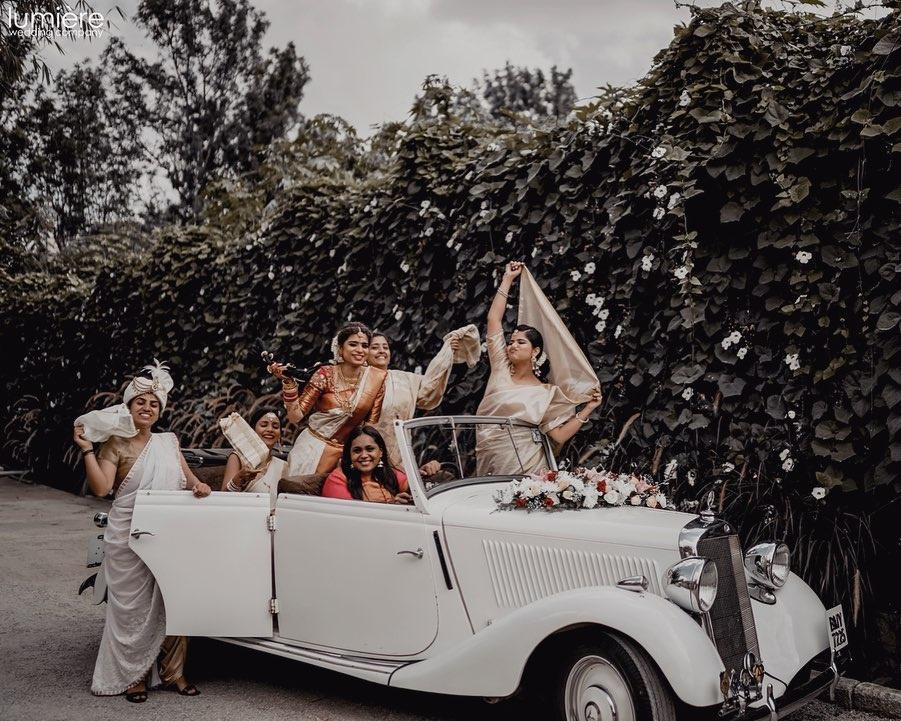 Let the quirk flow. Hijack the car that says "Just Married" and is carrying the bride and her groom to their new beginnings as Mr & Mrs! You heard us right, hop into the car before the groom gets to and let the photographer capture your uncensored selves with the bride before she takes off with him. The fun in the frame cannot be contained even if you revisit the photographs years later!
Cheers To New Beginnings Pose for Bridesmaids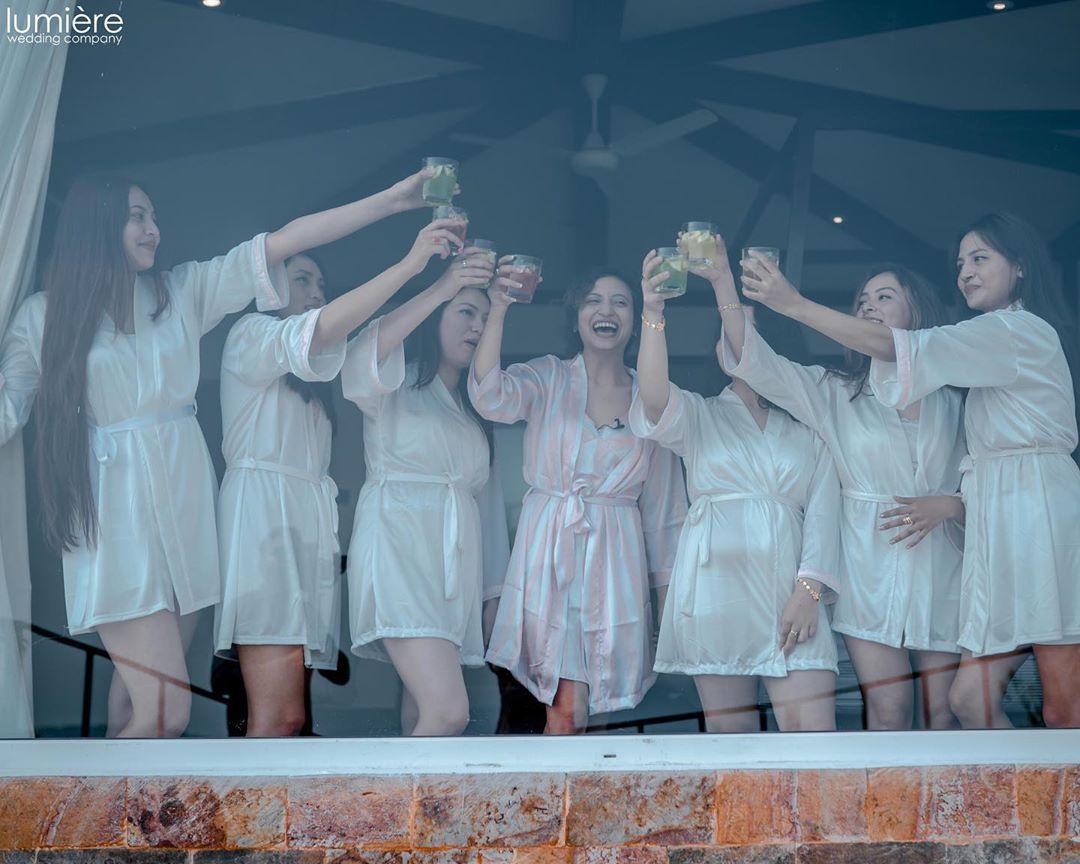 Since the wedding marks the start of a new life with the Mr.Perfect, get together with your bridesmaids and raise your glasses to toast this new beginning. Satin robes and customised shirts for bridesmaids is a trend for the bachelorette party and it is the best time for the bridesmaids' photoshoot where they can coordinate the poses with their attires too. Be it a glass of Bloody Mary, Sangria or some LIIT, cheers!
The Aww-dorable Bridesmaids Photoshoot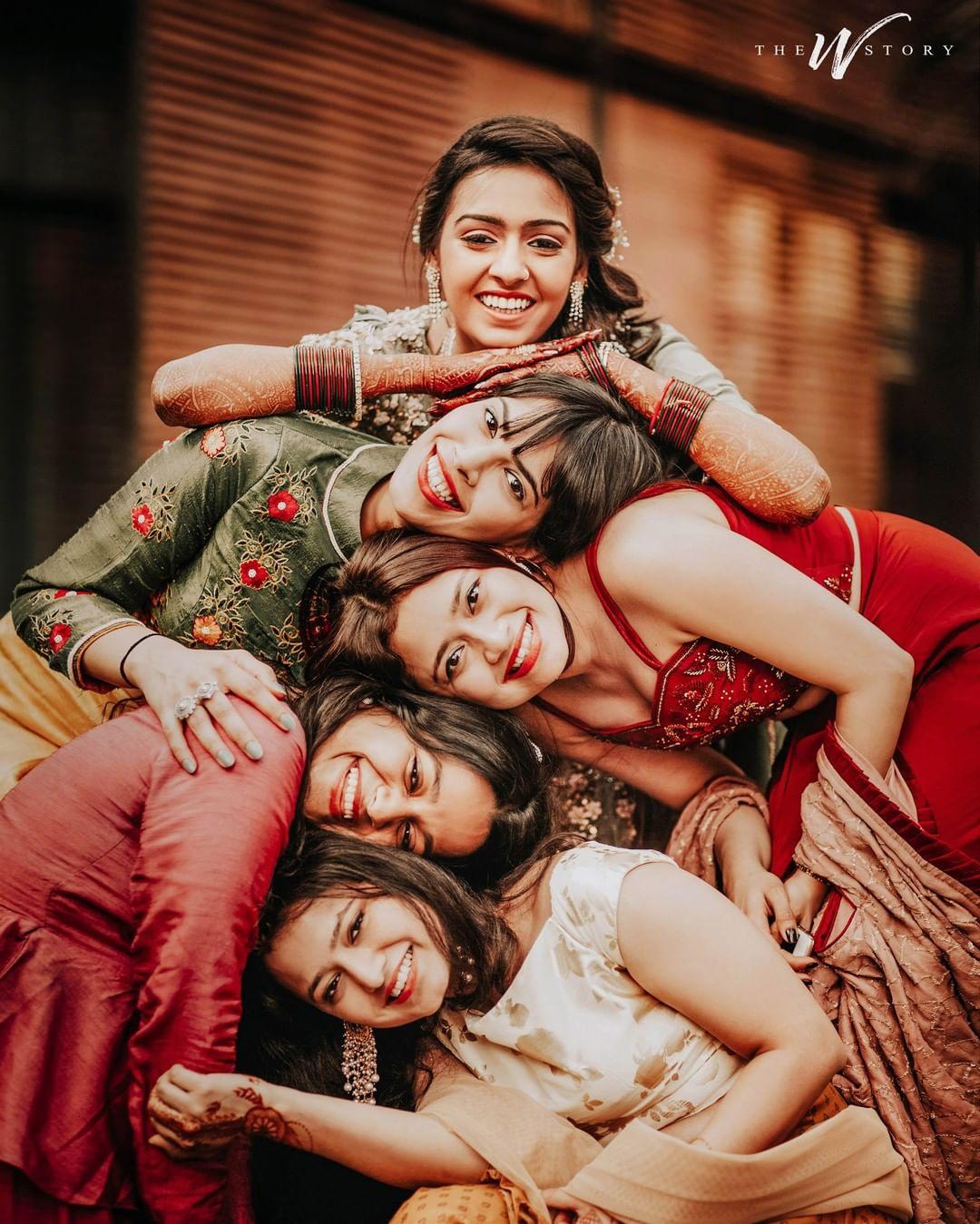 Image Courtesy: The W Story
Your bridesmaids are nothing less than your sisters and sometimes they are literally your own sisters and cousins too. There is a special bond that the bride shares with her bridesmaids and the bridesmaids are a constant place of refuge for the bride when she gets her cold feet or maybe messes up her nail paint right before walking down the aisle. The bridesmaids' photoshoot must have a picture of you depicting this reliable relationship and love you carry in each others hearts. This frame is a mandatory one and we cannot stop aww-ing!
Bridesmaids Blow A Kiss Photoshoot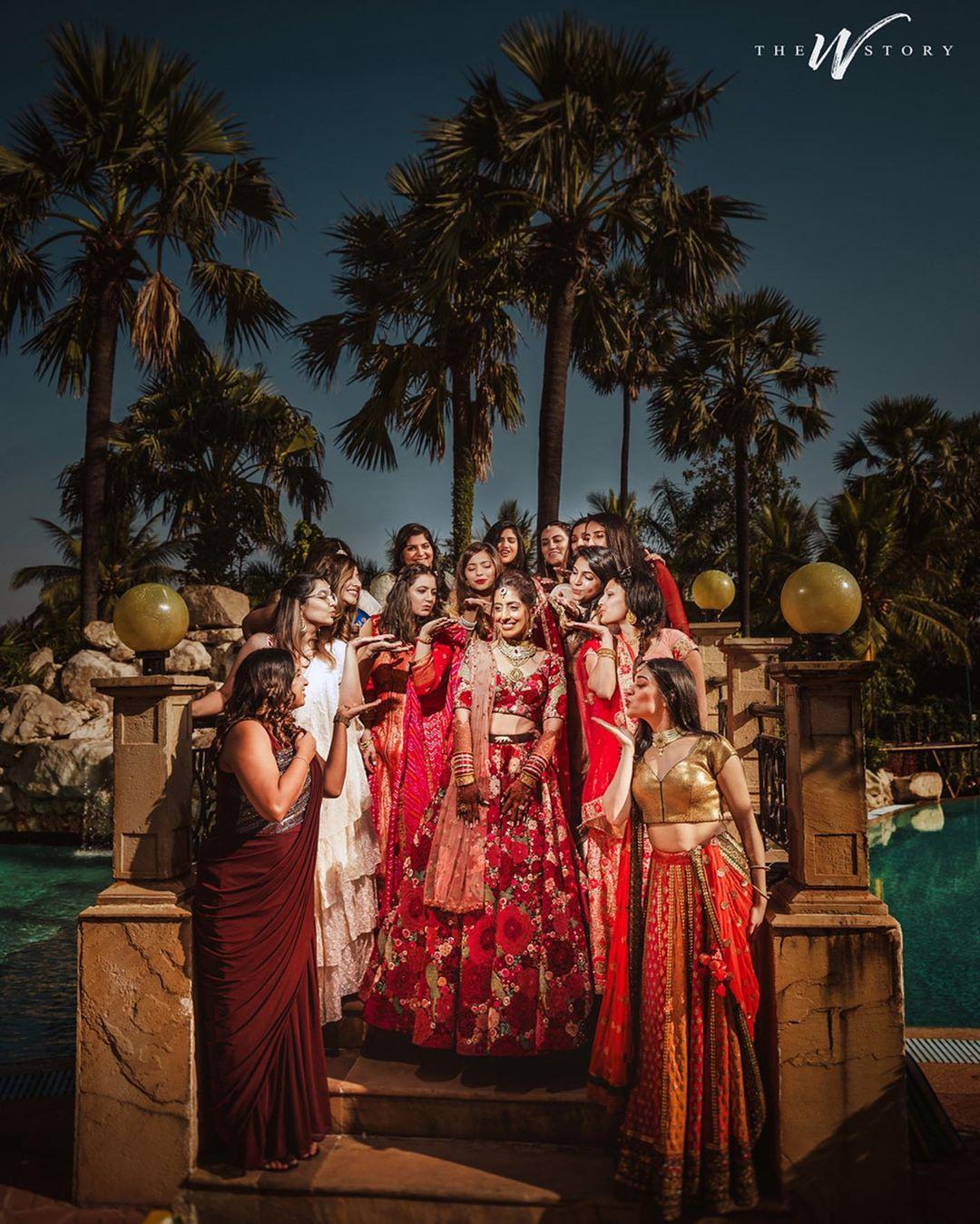 Image Courtesy: The W Story
To be pampered is one of the bride's fundamental rights and to pamper them is the bridesmaids' duty. While she is all decked up to take her phere and she is looking drop-dead gorgeous in her wedding lehenga, the bridesmaids should pose with a flying kiss to express how much they are thrilled to have their bride walk down the aisle looking as breathlessly beautiful as ever. If the grooms' reactions are a must-have photo, so is this!
The Enthu Cutlets Pose for Bridesmaids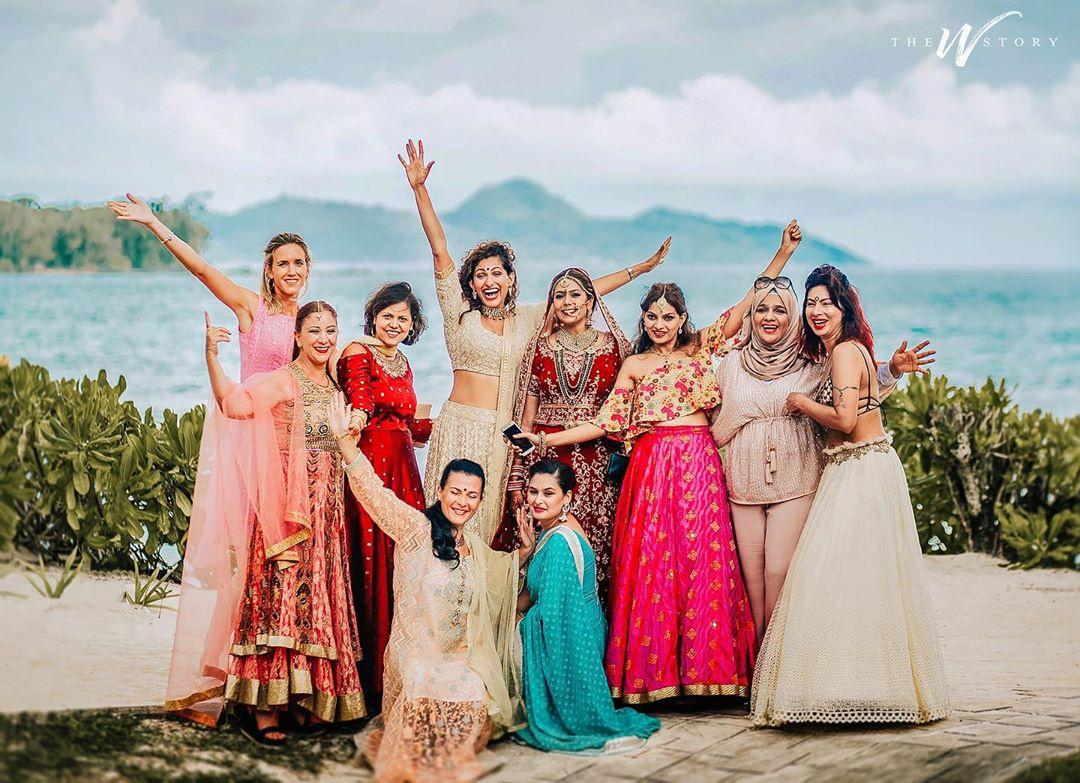 Image Courtesy: The W Story
That one last push! There is a lot that goes inside the minds of the brides right before she walks under her Phoolon ki chaadar. It could be fear, cold feet, nervousness, excitement and so much more than mere words cannot explain. What the bride needs the most is her bridesmaids by her side as enthusiastic as ever pumping her up with good vibes and a lot of laughter so that she gets to beat her nervousness. The bridesmaids' photoshoot should capture the bridesmaids at their best being enthu cutlets for the lady of the hour!
You can enjoy a lot of stories that being with "remember when she..." over tea or maybe over some Saturday night drinks with the ladies who stood by you as you took your vows. They made your wedding frames pretty and made sure you looked your best with those unadulterated jokes and them holding your glass of cocktail during the Mehndi Ceremony as you spend hours getting your mehndi done.
These bridesmaids poses will make your wedding album even more amazing and you will carry the craziness from this day in your hearts forever with the photographs of bridesmaids photoshoot. Get in touch with the best photographers in your city to make sure its captured right for the album!