The Handiest Bridesmaids' Duties Checklist Every Bff & Sister Needs
Hola Bridesmaids, your internet skimming for the ultimate list of "Bridesmaids duties list" comes to end. Check it out!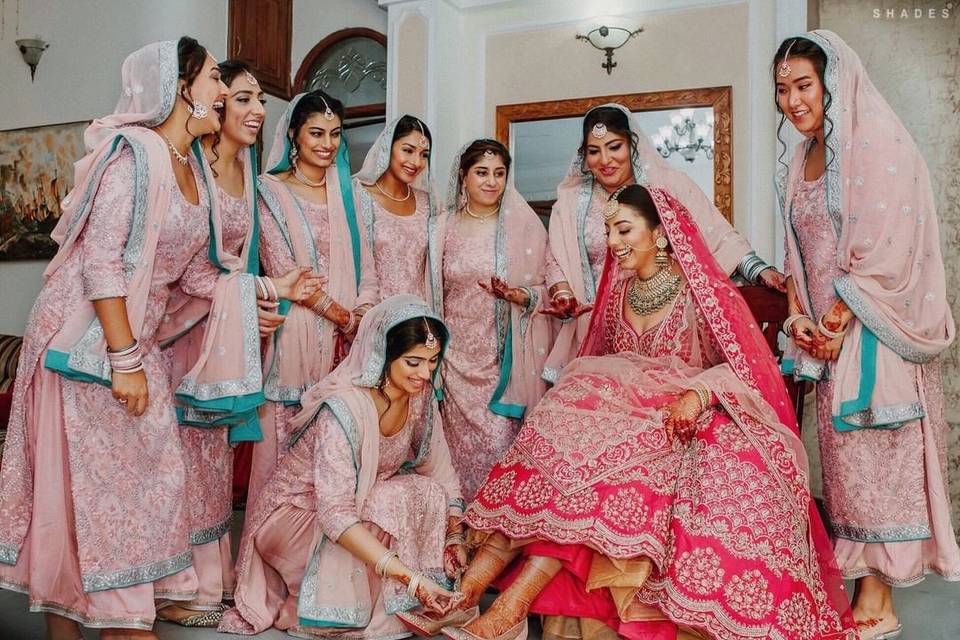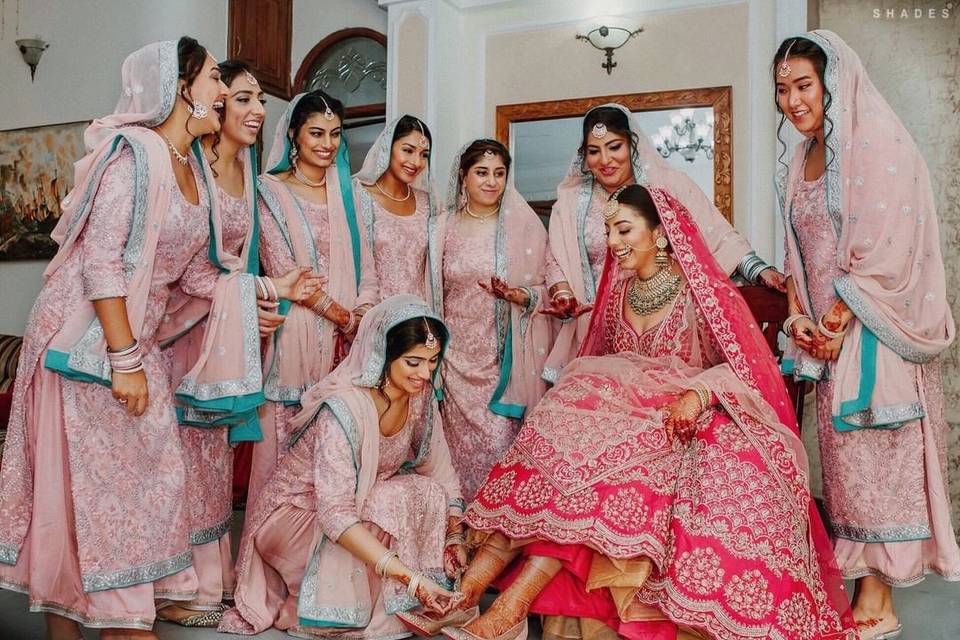 Image Courtesy: Shades Photography
If you just signed up to become a bridesmaid, you're in for an adventurous and toilsome ride. As exciting and honourable being a bridesmaid is, the title comes with heaps of responsibilities and expectations.
It is safe to say that the bridesmaids save the (wedding) day when it comes to running last-minute errands or warming up the bride's cold feet. But the duties of a bridesmaid are far beyond what meets the eye.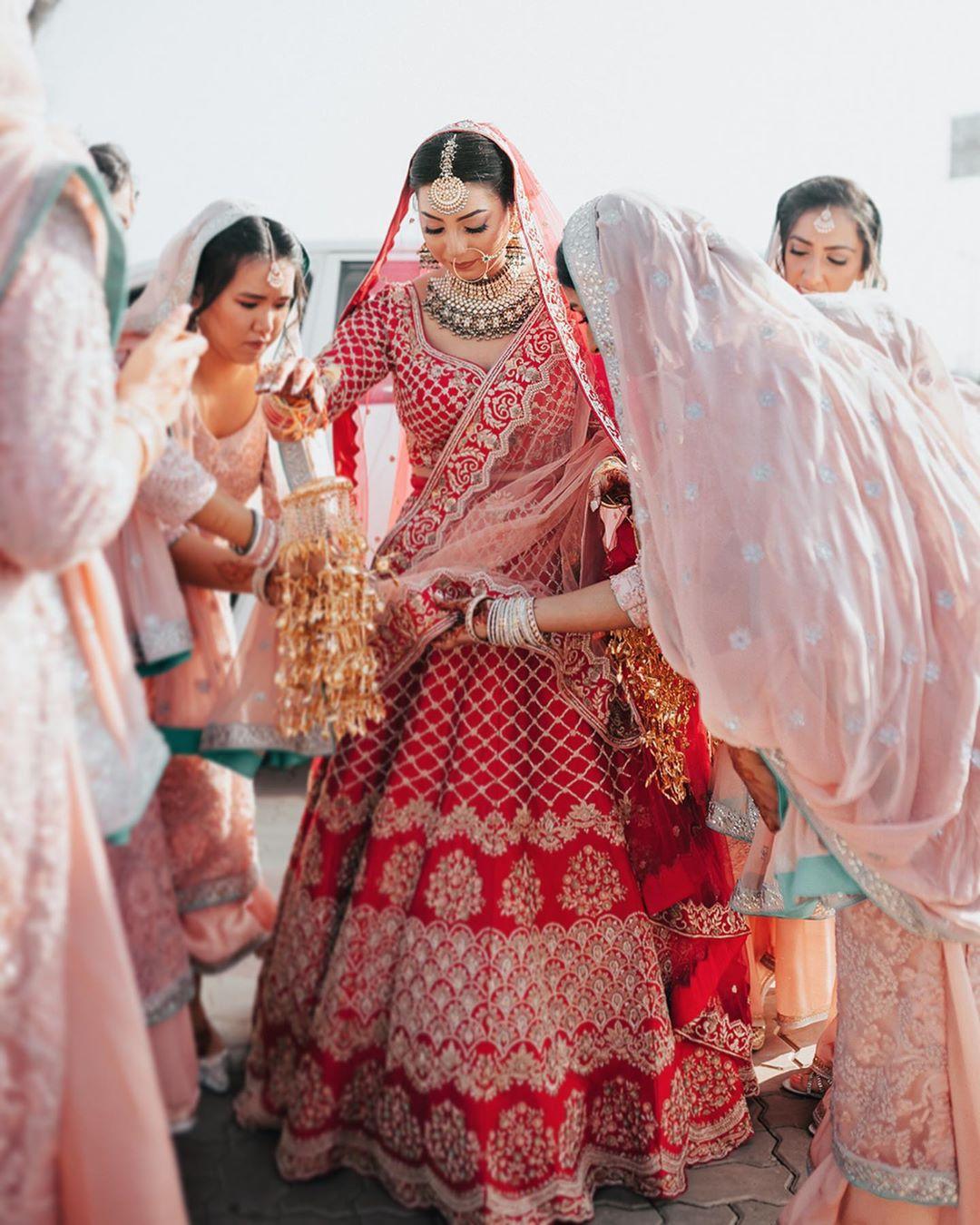 Image Courtesy: Shades Photography
Just so you're not left high and dry holding the title of a bridesmaid, we're here to save the day for you. This is the most exhaustive list of bridesmaids duties you'll ever get your hands on and take our word for it, we've got you covered!
Bridesmaids Duties List BEFORE the Wedding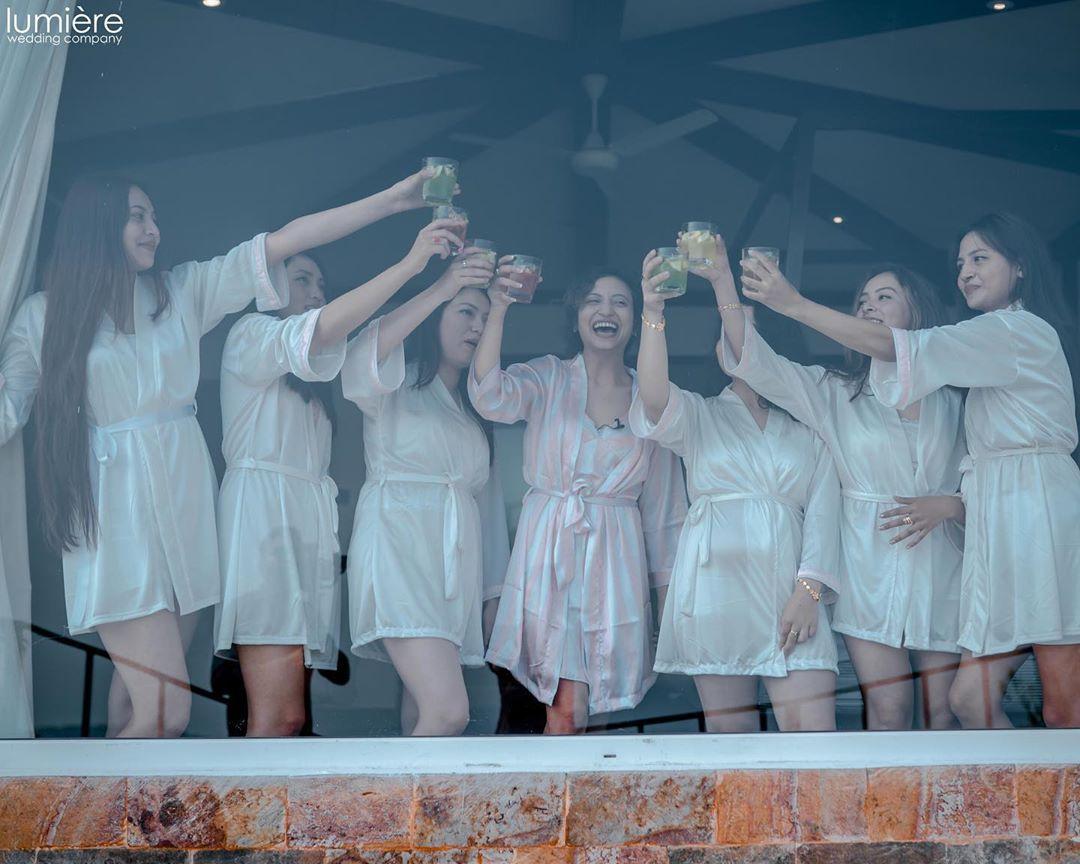 This goes without saying - Plan a Hen's/Bachelorette party. You cannot begin the wedding festivities for the bride without one.
Help the bride build her wedding Pinterest board. The bride is definitely going bonkers looking for inspiration left, right and centre, and trust us, she needs a hand.
Become the bride's on-call or on-text wedding planner (not literally). Be open to suggestions and guidance to help her sail this phase without sinking. However, the bombardment of free-flowing ideas can be hazardous.
Help her find the best wedding vendors available in her budget. Finding vendors can easily take a toll on anyone, even though it's pretty simple with WeddingWire's vendor's list at your rescue, it'll be nice if you could assist her in seeking out some options.
Be super available for her. This is like the most important duty of being a bridesmaid. When a bride is sinking in pre-wedding thoughts, she is far from controlling her emotions. Offer support and physical help if need be.
Be her ultimate wedding shopping partner. You're the bridesmaids because you understand the bride's preferences and your opinion matters. Accompany her and help her say yes to the dress, jewellery and so much more.
Have a copy of the wedding checklist with you. Even though you might not be needing it right away, it will help you coordinate better with the bride.
Bridesmaid Duties List WEEK BEFORE the Wedding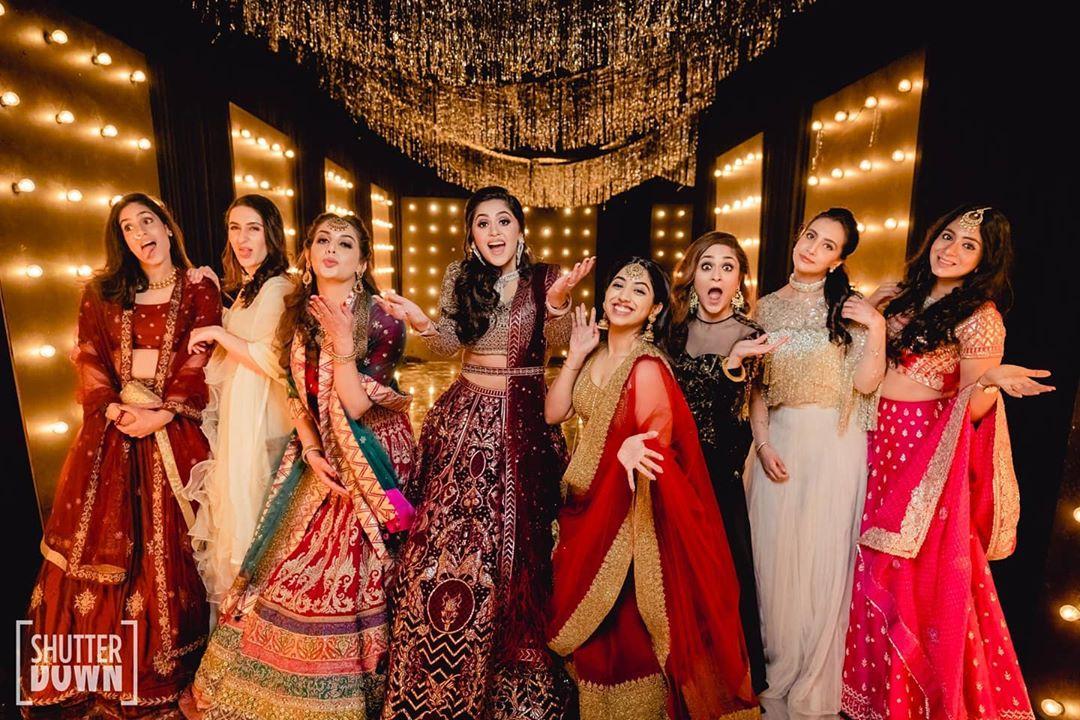 Try to take some time off work to help the bride out in case she needs you.
Accompany the bride to her final dress fittings, salon trips or nail art sessions.
Ensure all rehearsals for dance performances are through and the songs list is prepared to avoid any last-minute hassle.
This week is going to be super-hectic. Make sure you're prepared well for your own looks. Keep your outfits, jewellery and other valuables in one place, so you're not running after for your things when it's time to be there for the bride.
Offer the bride help to pack her trousseau and luggage.
Shake that worry off her shoulders. Her feet are in an ice-block, maybe, help diffuse those pre-wedding jitters.
Make sure you're on tips with the wedding events and their timelines.
Tick things off the wedding checklist. She has probably lost track of tasks by now. Help do the ones still pending.
Bridesmaids Duties List NIGHT BEFORE the Wedding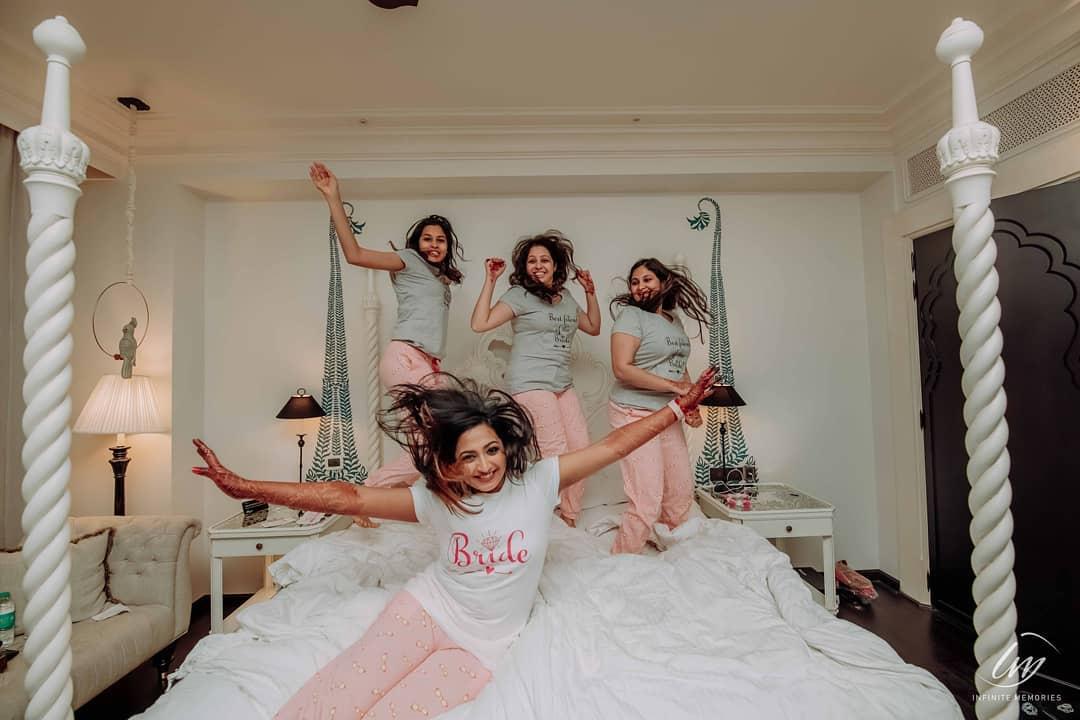 Ensure that the bride ate well and is taking enough sleep. You don't want her to have panda eyes on the day of the wedding.
Prepare an on-the-day emergency kit for the bride. Put in all essentials like safety pins, hairpins, tampons, tissues and so on.
Keep the wedding spirits high. The night of the wedding can be emotional.
Comfort the mother of the bride. Offer her your help and ensure she knows you're readily available for her too during the wedding day.
Bridesmaids Duties List ON THE DAY of the Wedding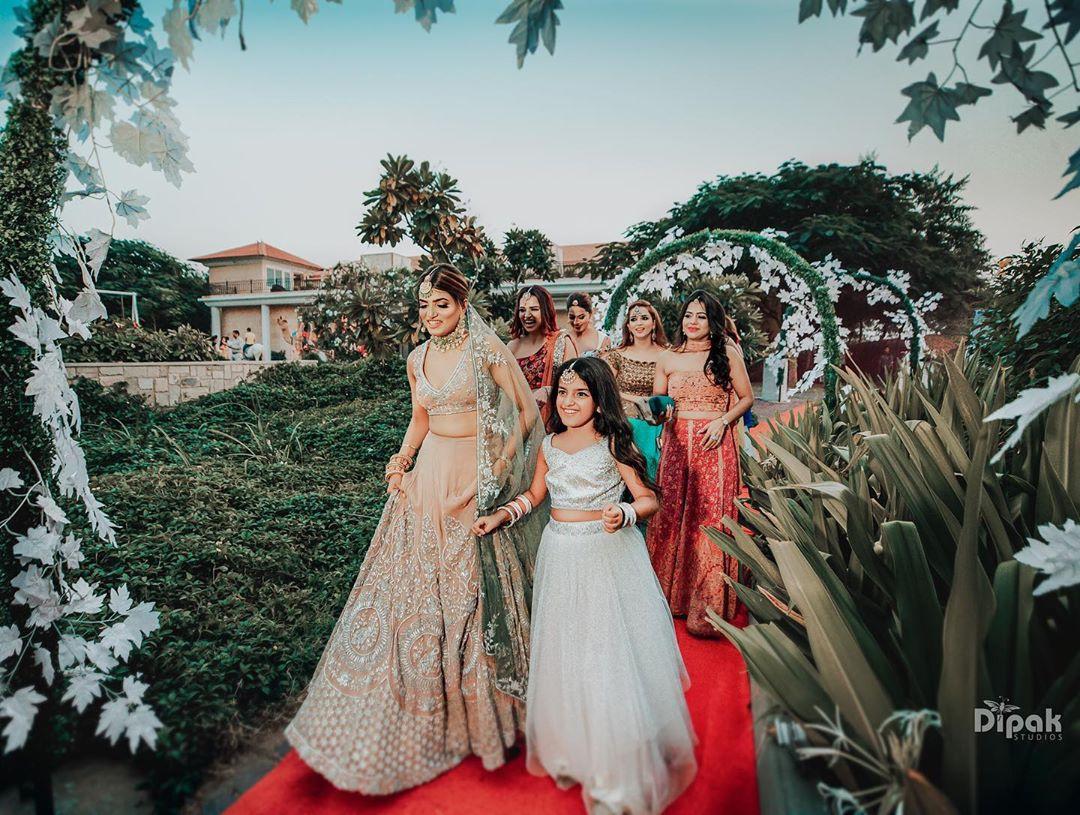 Coordinate with the wedding vendors and ensure they're all reaching the venue on time.
Introduce yourself to the vendors as a point of contact on behalf of the bride.
Click loads of BTS of her getting ready–Impromptu, funny and just candids.
Be on her beck and call throughout the ceremony.
Assist her to the loo visits. Not the most glamorous thing to do, but she'll appreciate it.
Gather all friends and family members for group photos. This is quite a task, but pull it off!
Be her on-ground stylist. Fix her outfits, makeup or jewellery if need be.
At last, don't forget to give a toast!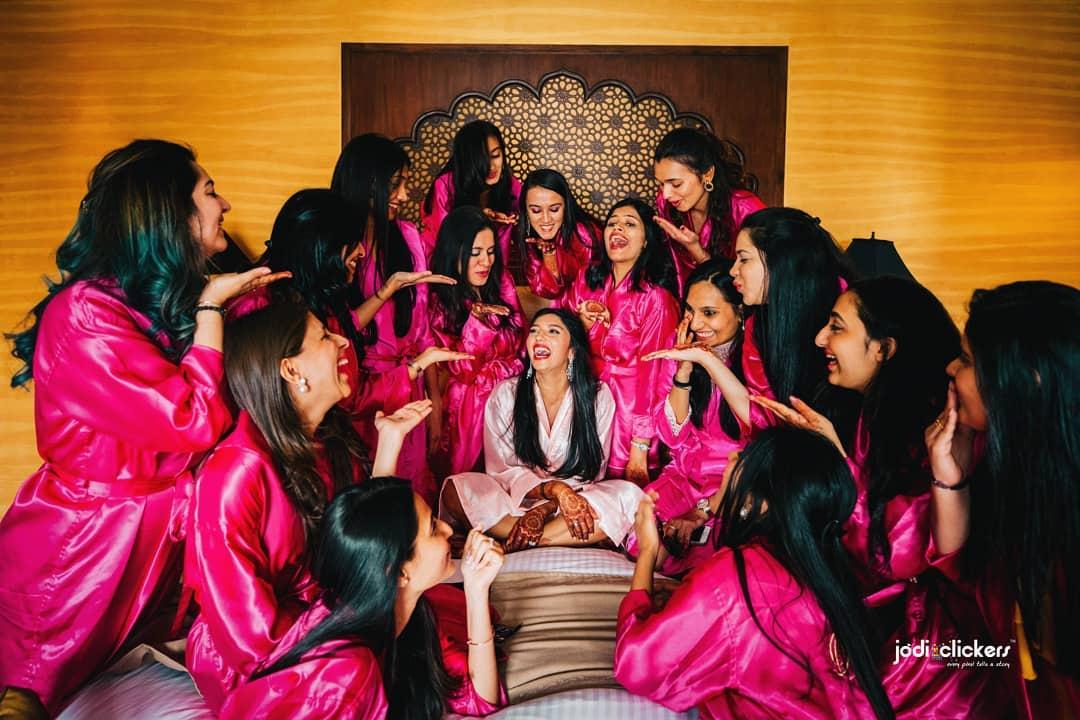 So bridesmaids, get to work because that's quite a list. But don't forget to let loose and shake a leg when the job's done. You'll make an amazing bridesmaid!
Are we missing out on something? We hope not! But if we are, let us know in the comments below!