Nail Art Videos To Help You Flaunt That Ring In Style
When it comes to engagement photos, a beautiful manicure is a must-have. We've rounded up some nail art videos to help you get those wedding-worthy nails.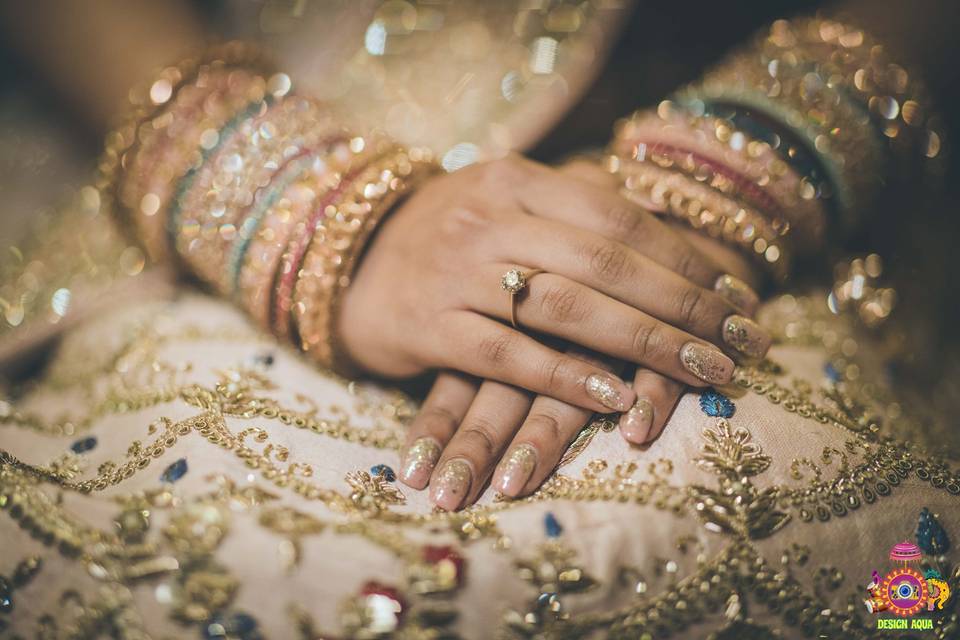 Whether your significant other just popped the question or you're just a few weeks from the big day, a flawless manicure is a must-have at all times. All eyes will be on you and the rock on your finger so you don't want to have a broken fingernail or bad cuticles. So before you change your relationship status to 'Engaged', get your fingers ready with a stylish manicure to go with your bling.
From pastel designs for the spring bride to darker tones for a winter wedding, there's a nail art design to suit every type of bride and they're all beautiful in their own right. To make finding the right nail design pattern a little bit easier, we bring you some of the best nail art videos. Read on to make your cuticles fancy like you!
1. Floral nails
Florals are the main theme of spring brides and as we see beautiful flowers on dresses and tabletops, there's no exception when it comes to bridal nail art. Upgrade your manicure with pretty blooms and buds to add a feminine touch. When styling your nails with pretty florals, it is important to use a white or pastel coloured base to accentuate the colours of the patterns.
These nail art videos use a white polish as the base and have intricate peach flowers artistically etched on each nail. The best way to get draw the fine lines of the flowers is with a paintbrush that has a small head. Look into different colour palettes to get an idea of the design aesthetic of your nails- too many colours can make your pattern look crowded. DIY nail art videos like this one can spark some inspiration for the big day.
2. Glitter nails
With a stunning dress on hold and the up-do finalised, a pretty manicure can add that extra bling to your bridal look. When it comes to nails all that glitters is not gold but it can also be silver, pink or purple. Glitter-clad nails are a great way to enhance that big rock on your finger with some pizzazz.
These glitter gradient nails and one of the easiest nail pattern styles to imitate and nail art videos like the one above walk you through each step. For the base nail colour, choose a shade that matches your attire for the wedding.
If you are wearing a white dress, pastel hues can complement your nails. All you need to do to get this quad chromatic sparkling finish is to apply a layer of glitter at the tip of your nails and use a toothpick to disperse the glitter. Watch nail art videos like this one to help guide you through the process. There's no doubt you'll have some swoon-worthy nails for your big day!
3. Ombre nails
Some brides like to go OTT with their wedding manicures and trends like metallic foil, quartz and stone patterns are taking the bridal world by storm. But other brides prefer to make a statement with something more subtle and demure when it comes to their nail art designs and this is totally fine because you don't always have to do the most to get those perfect matrimonial nails. If you want your manicure to look Au Naturale, an Ombre style allows you to have some fun without going too overboard.
These nail art videos give you a step by step process on how to get the perfect Ombre look- the trick is to master the sponge technique. Once you coat your nails with the colour of your choice, pick three more shades in the same spectrum as the base shade. Then in an alternating pattern, paint the sponge and dab it across the nail to create this iridescent effect.
For an added touch of glamour, you can also paint some patterns or add rhinestones on your nails. Watch nail art videos like this one to perfect this style for your big day.
4. Stencil nails
Your wedding style is all about reflecting your unique personality through your style and if intricate patterns are your style aesthetic, then the wedding day should be no different. The sky is the limit when it comes to getting creative with your designs and many brides are opting for stencils to create a look that's graphic and sparkly. The best part about this design is that it involves the use of a stencil to create your design so they are incredibly easy to imitate without the help of a professional manicurist.
These nail art videos give you the low-down on this modish nail art. Attention to detail is key to mastering this nail art. Once you finish coating your nails with a base colour, carefully peel off the stencil and place it on your nail. Then use a brush with a small head to fill in the spaces on the stencil. You can also use different colours to create that gradient effect. There's no doubt that with the help of these nail art videos, your manicure will enhance the bling on your finger!
5. Rhinestone nails
Many brides opt for a French manicure for their big day for its neutral tones and chic look. But the classic nail design has evolved since then as brides have added a fresh new aesthetic to their manicure. One style that rises above the rest is an intricately designed rhinestone pattern that's easy to replicate and can add some major bling to your nails. These nail art videos show you exactly how to get these nails.
The first step is to apply a base coat of a pastel-hued nail polish that helps accentuate the shine of the rhinestones. Next, you need to use some glue to adhere the rhinestones to your nails. This is where you can get creative with your patterns, for a minimalist bride a simple row of rhinestone across the nail is perfect but if you are a more OTT bride, use your rhinestones to form some unique motifs. Check out nail art videos like this one for more ideas on how you can replicate this design for your big day!
6. Marble nails
Many brides are often faced with a long list to tackle for the big day that the wedding manicure is almost an afterthought. But your matrimonial manicure is a great way to infuse your personal style into your nail art design. A brush of pastel-coloured polish is perfect for a minimal look but for the edgier brides, a modern-day wedding ceremony calls for a more contemporary manicure.
The Marble manicure in nail art videos like the one above has an abstract vibe that makes it stand out from the crowd. Moreover, this design is totally fun to do. As with any other nail design, you need to paint your nails with a base coat. Once this is done, take a bowl of water and add drops of different nail polish colours. Swirl the colours with a toothpick, then carefully dip your nail into the water and lift it once all the colours adhere to your finger.
To get the excess colour off your finger, stick some tape on either side of your nail. This one of the trickier nail art designs so it's okay if you don't get it right the first time. Useful nail art videos like this one tell you everything you need to know about creating marble nails.
7. French manicure
One of the most classic nail art designs is the timeless French manicure but with the different styles that have emerged since then, many brides don't consider this their go-to manicure any longer. But just like fashion, this manicure has evolved since its inception to incorporate different colours and motifs in their designs. So as far as we're concerned, French tips are still trendier than ever before.
One way to revamp this the standard white tip is to use colours like gold and white as seen in these nail art videos. Not only is this unique but it also complements your wedding ring beautifully. Edgier brides can opt for metallic foil tips that are trendy and unique. If you're all about matching your jewellery to your outfit, your French manicure doesn't need to be an exception- paint your French tips with a colour of your choice.
These unique variations of the French manicure can elevate your bridal look without straying too far from the classic style. Check out some DIY French manicure nail art videos for more tips.
8. Striped nails
With a gorgeous new engagement ring on your finger, it's time to get a saloon-worthy manicure to show off that bauble in those engagement images. If you want a nail art design that's straightforward without too much going on your fingernail, a striped nail pattern can do wonders for your bridal bling. This style is easy to do and can give your nail a 3-D effect while playing with different shades.
All you need to do is tape strips of paper to your nails and paint on them. This way the polish is applied outside the paper, creating the perfect striped nail art. You can check out striped manicure nail art videos like the one above to get recreate this design.
We love a good manicure and as the bride-to-be, there's no doubt that your fingers will be on full display leading up to the wedding. So a picture-worthy manicure is a must-have as you show off the stunning bauble on your finger. The evolution of nail art designs is substantial as brides use it as a medium to infuse their personal style. So whether you're a minimalist at heart or favour a bold look, we hope these nail art videos help you get an impeccably polished manicure.
Love these nail art videos? Let us know if you have any more design ideas in the comments below!