Stylish Floral Print Lehenga Look-book for the Contemporary Bride!
Lift up wedding glam with these floral print lehenga designs that will make you look stunning! Check out these unique bridal wear to rock every wedding event.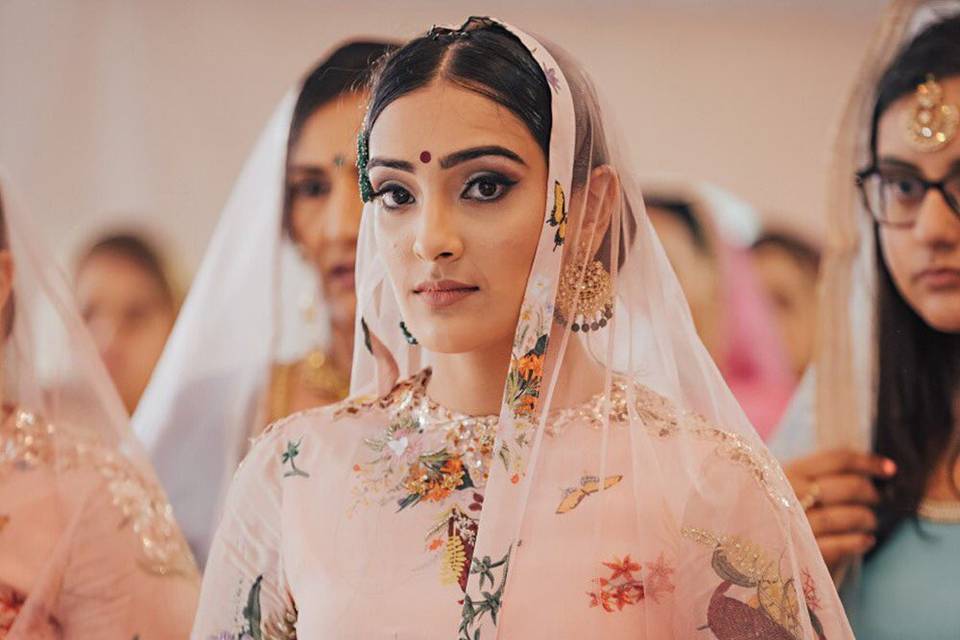 The bridal wear industry is absolutely thriving with new ideas, stylish outfits and fresh collections and is constantly brewing up stellar designs made to steal our hearts. The bride-to-be has a vast array of options to pick from, which is why hunting for the perfect bridal wear can become an overwhelming task at times. Let's get you feeling awestruck with these spectacular floral print lehenga designs!
Be ready to set the stage alight in some smoking looks made to embody pure royalty. We bring you the best floral lehenga stylebook to gear you up with the latest ultra-posh lehenga ideas that are fresh off the runway. If you are going for a statement look, then here are the best floral lehenga styles deserve a spot on your vision board.
Elite in White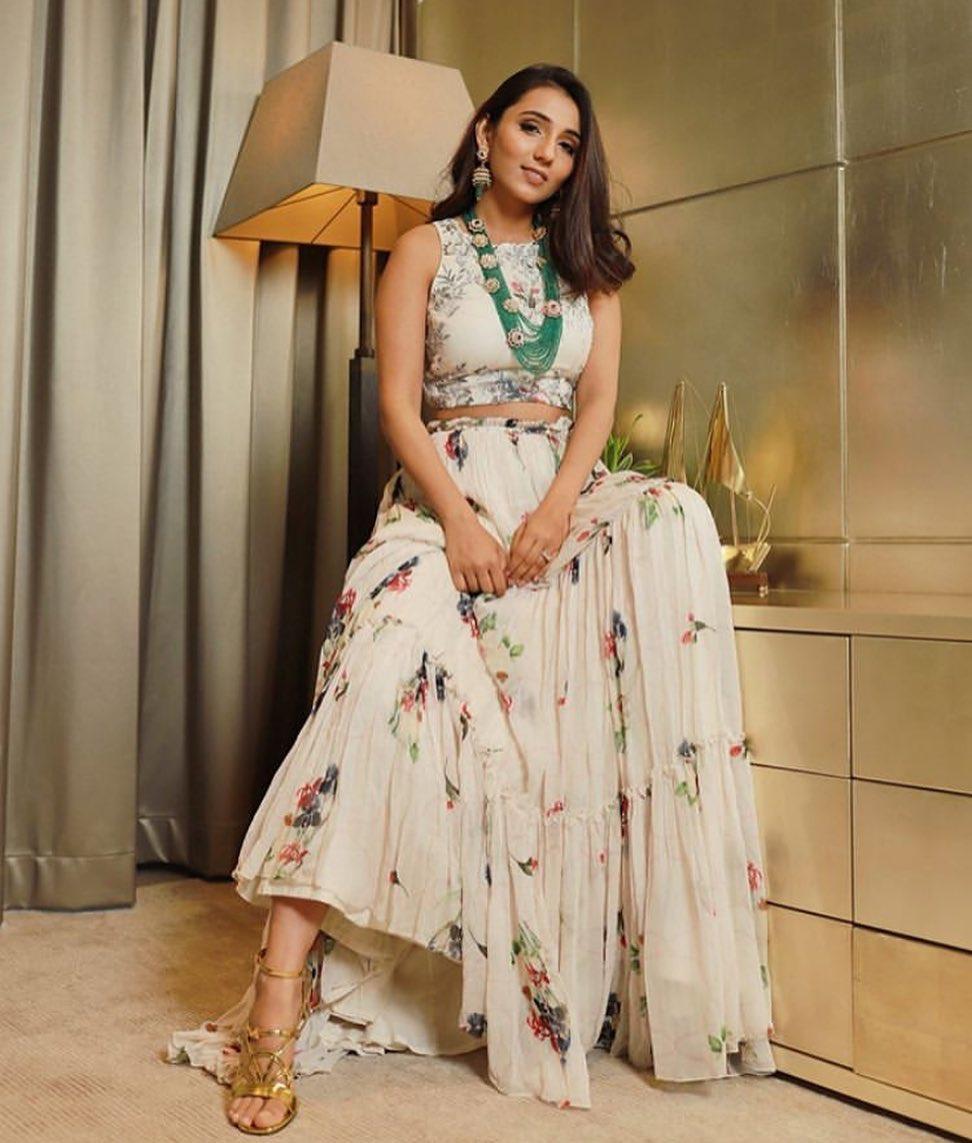 Here we have a white flowy floral print lehenga that falls gracefully to the floor. The lehenga can be worn with or without a dupatta and will definitely let you take the centre stage at events like your Reception party or your Mehndi night festivities.
As the floral lehenga has mild patterns that run through the light fabric you can go for chunky accessories to bring out the colours and make the overall look feel fresh and fun. Don't hesitate to add a touch of glitter to your makeup along with bold lip colours to bring together the entire look effortlessly.
Sheer is in Style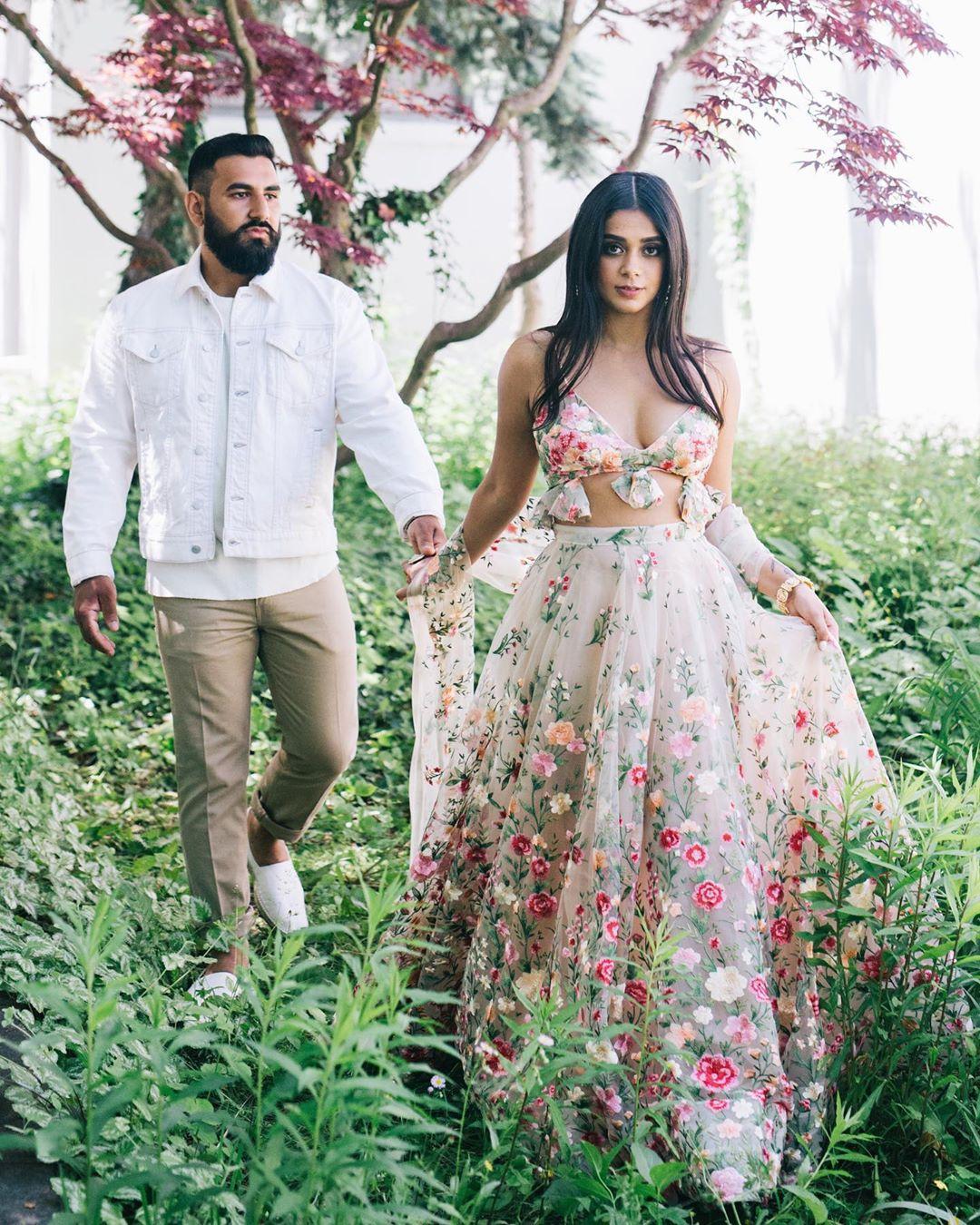 Image Courtesy: Manik Jassal
Get your hands on this show-stopping floral lehenga that will get you red carpet ready with its unbeatable detailing and ultra-modern feel. The bikini style blouse with chunky tassels paired with a princess style puffy skirt will give you a jaw-dropping look.
You can keep the styling simple and opt for minimal jewellery while going for a rich smoky eye shadow look to finish the look.
Subtle regal look with soft shades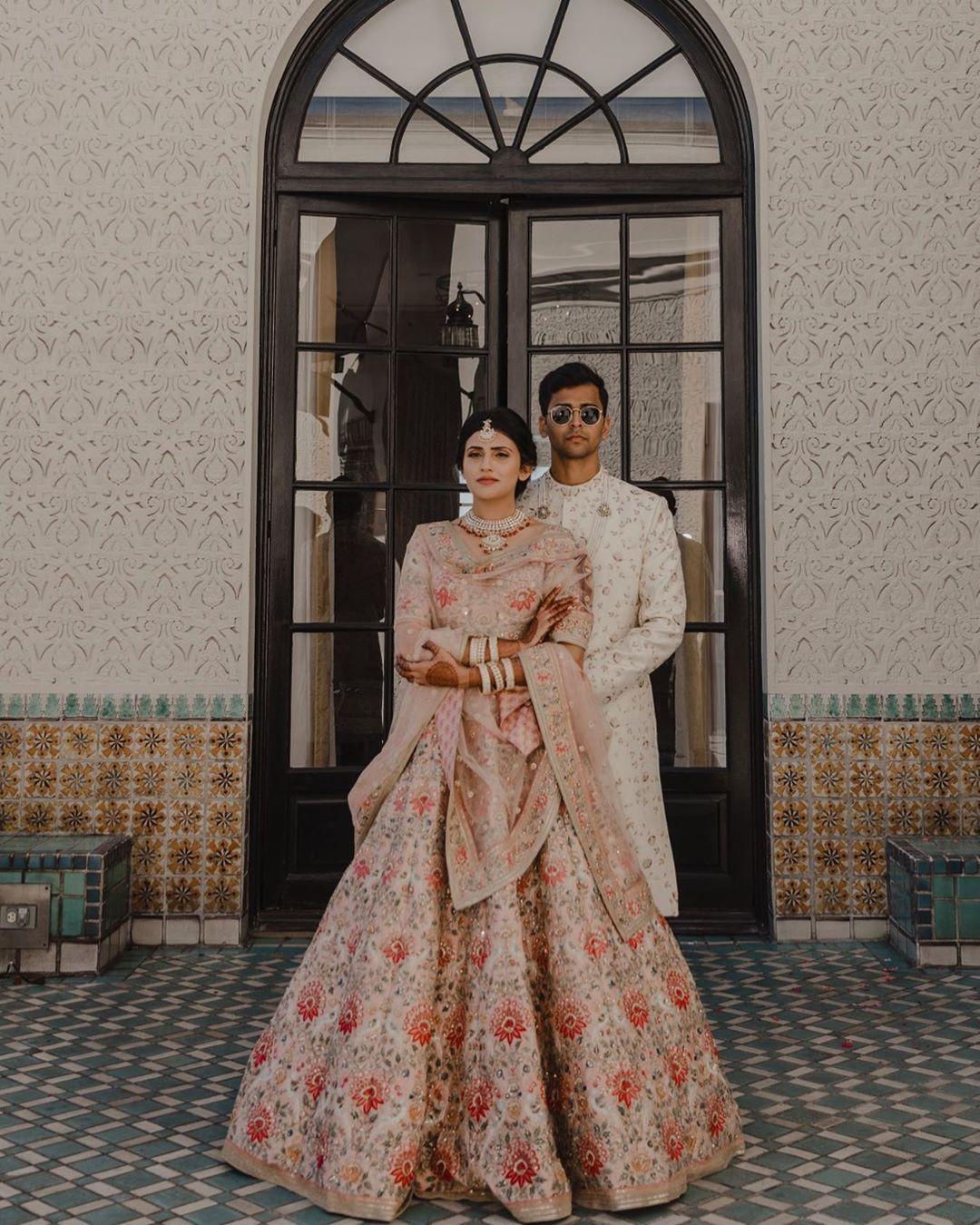 Image Courtesy: Mili Ghosh
The cream coloured floral print lehenga exudes royal vibes with its heavy embroidery work on top of printed floral patterns. This look can be pulled off by pairing it with a matching choker necklace and chunky bangles.
Big, Bold and Beautiful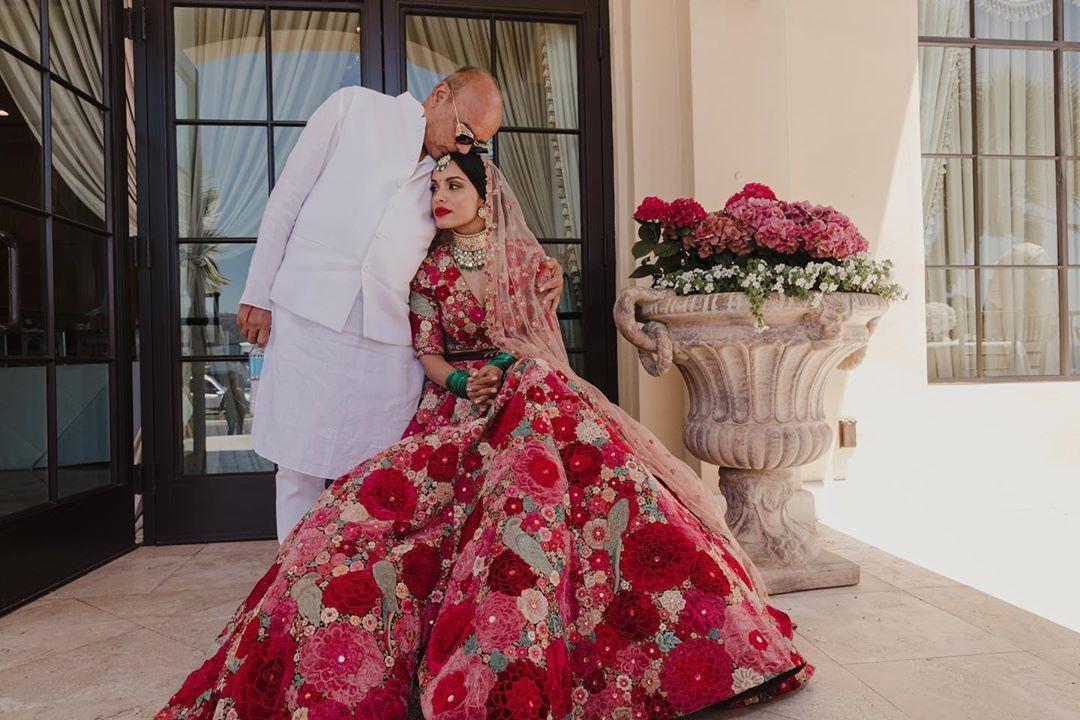 Image Courtesy: Mili Ghosh
Go all-out with this eye-catching floral lehenga that's going to get you all the attention you deserve on your special day. In this Sabyasachi lehenga, we have a striking mix of various shades of red that offer a modern twist on the bridal wear ensemble! Since the print itself is so bold, pair muted accessories so that you don't look OTT!
Vivid Graphic Print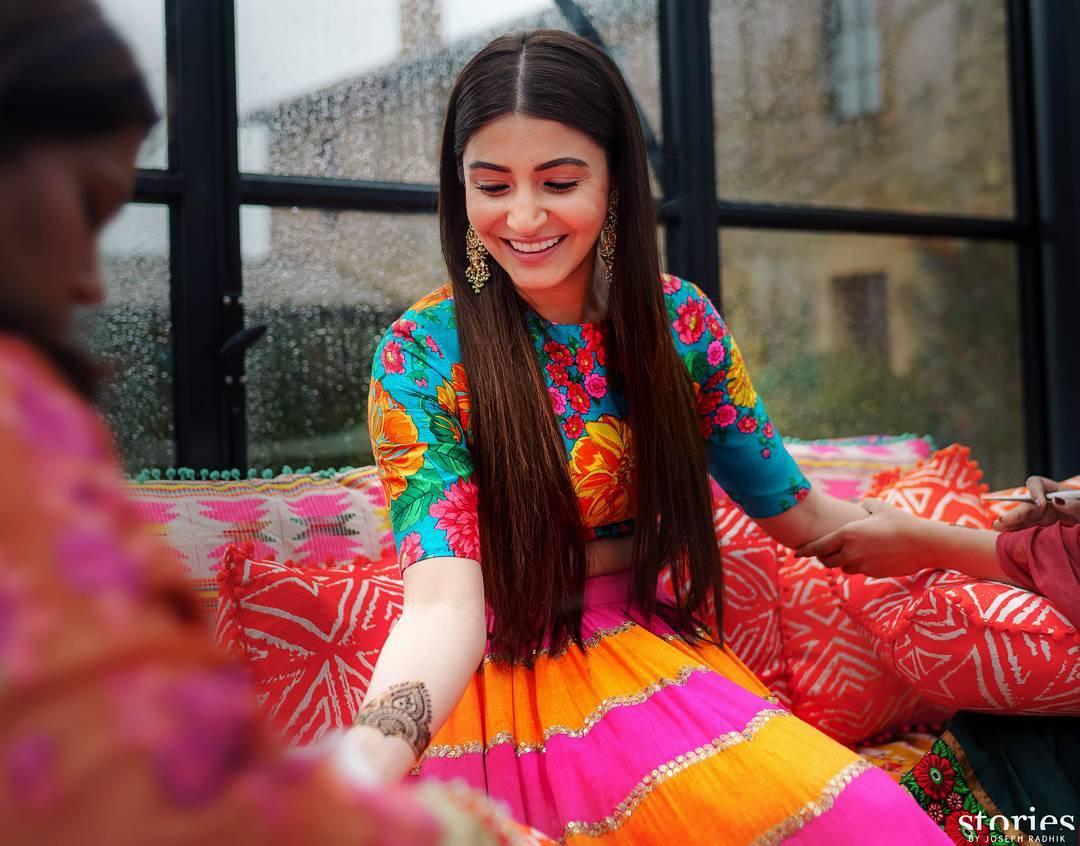 Image Courtesy: Stories by Joseph Radhik
Go for a vivid graphic print while picking your floral print lehenga, like Anushka Sharma did for her Mehndi. If you fancy bright coloured outfits, then this one would be a truly exceptional choice. Such lehengas are pretty easy to style as you can opt for oxidised earrings to match the sequins that run along the fabric.
Heavy patterns on ivory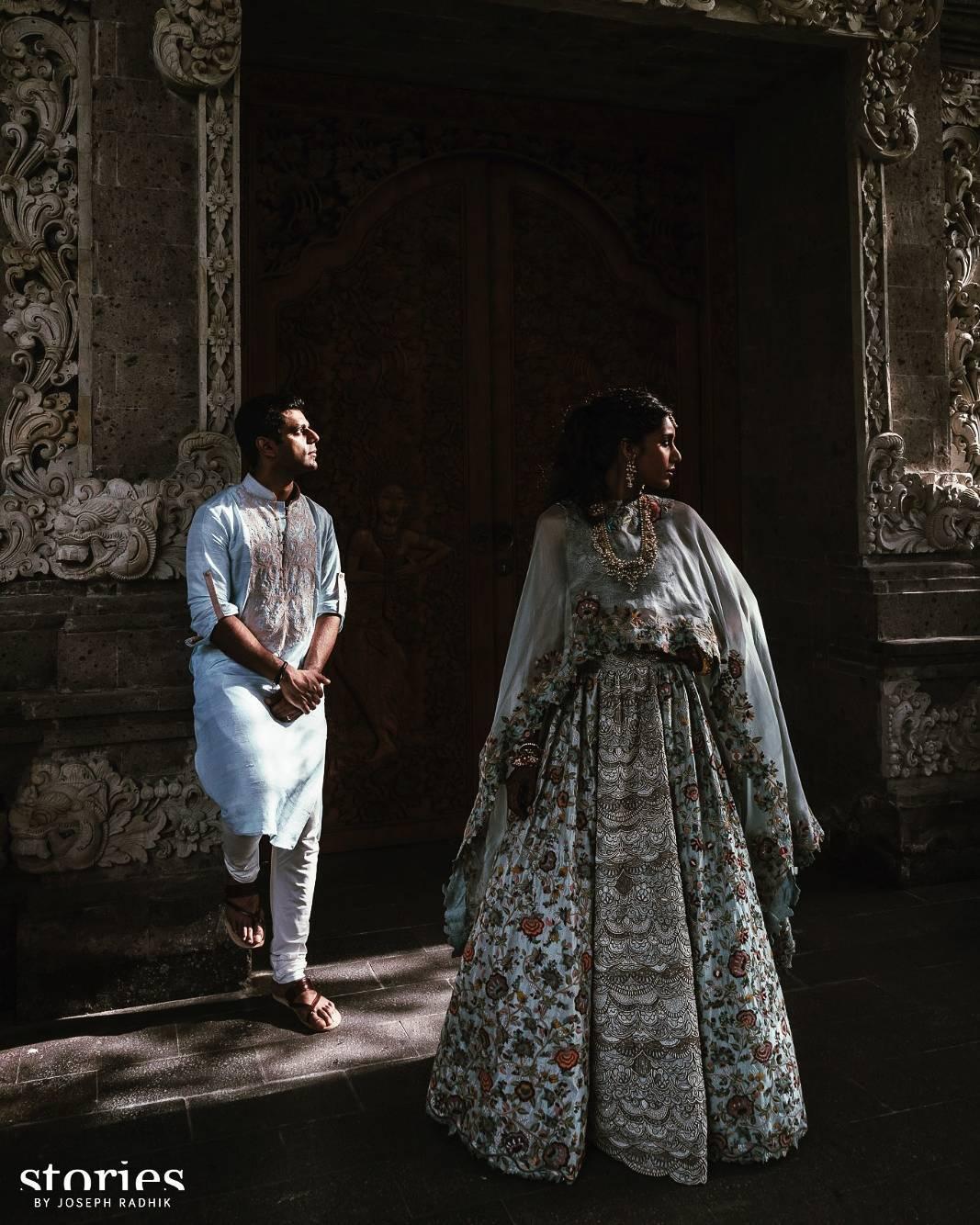 Image Courtesy: Stories by Joseph Radhik
This elegant floral print lehenga is something that will take your bridal look to a whole new level with its heavy detailing and masterfully crafted floral pattern. A colour blocking effect is achieved with the embroidery running down the mid-section of the lehenga, which makes this a very modern ensemble.
Colour-Blocking Contrast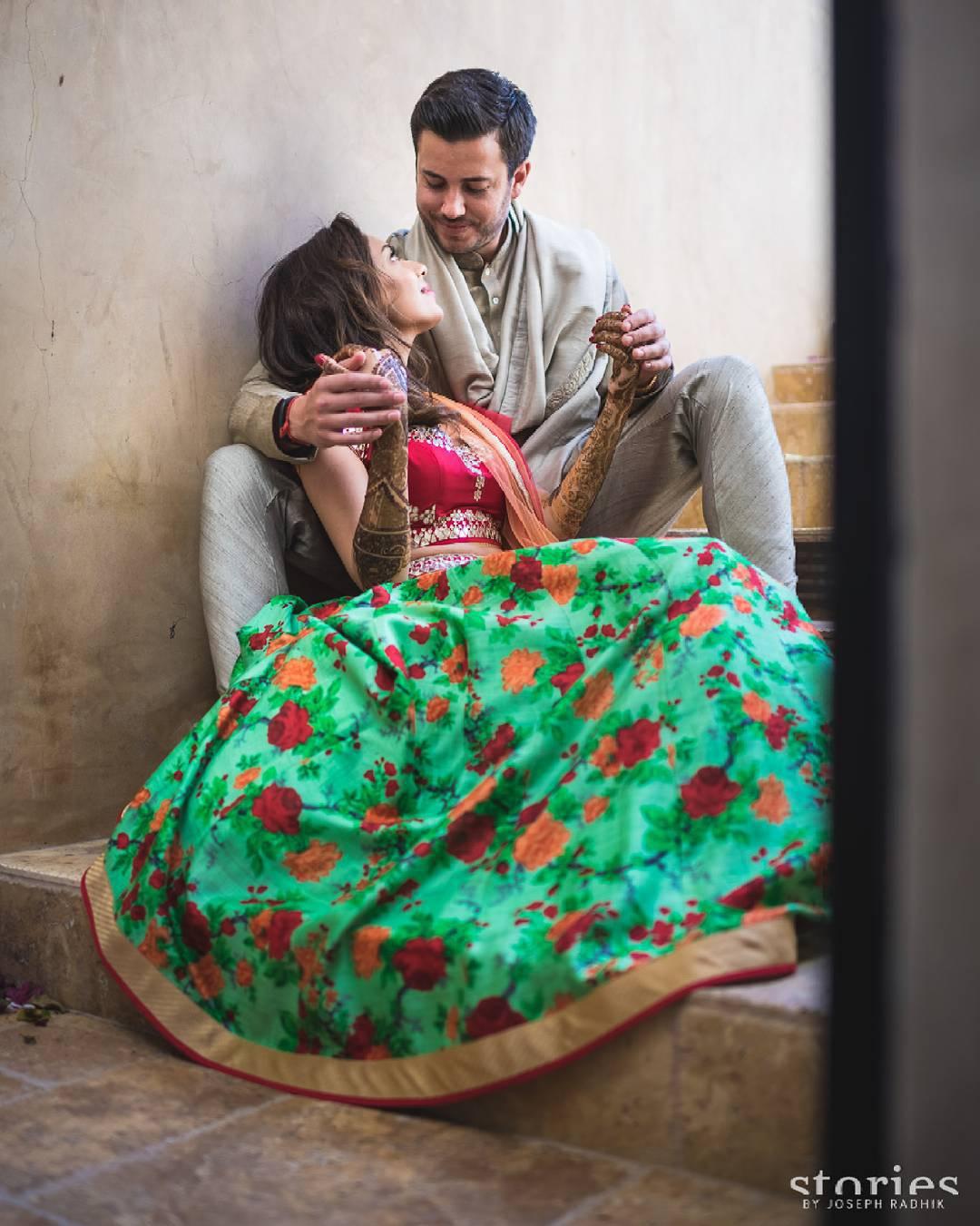 Image Courtesy: Stories by Joseph Radhik
Love a good contrast? We've got your back with this superb combination of teal green and bright pink in this floral print lehenga. The outfit can be worn to your Reception or Engagement party and will definitely give you a killer look. Try out a bold cat-eye and bright pink lips to go with the ensemble. This would also be a great choice for bridesmaids, just saying!
Pastel Palette Love
Image Courtesy: The House on The Clouds
Rock a soft and feminine look in this classic pastel pink floral print lehenga. This outfit gives you a sophisticated yet playful vibe. It even offers a modern twist with the gold belt that cinches the waist beautifully. With this contemporary take on ethnic wear, you will have an unmatchable bridal look for sure. Bring out the metallic hues outlining your outfit with a soft metallic eye-shadow and bold pink lip shade.
Traditional Red Lehenga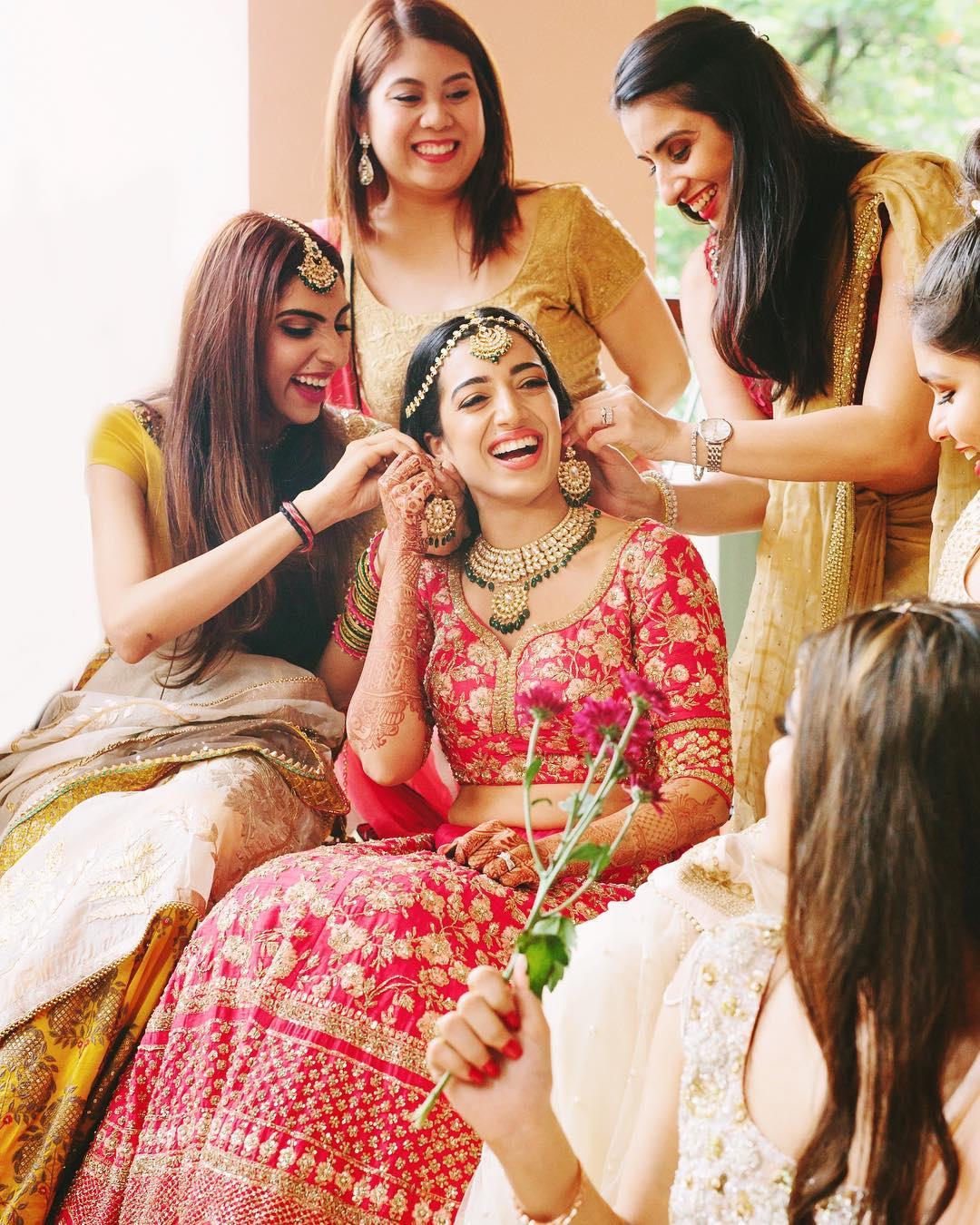 Image Courtesy: The House on The Clouds
Surely almost every bride would fancy a deep red lehenga for the wedding ceremony and we've got that covered with this effortlessly styled iconic red and gold floral print lehenga. This blouse gives you a lovely heart-shaped neckline so you can go heavy on the accessories with a classic glittery gold bridal jewellery set.
Glamour to the nines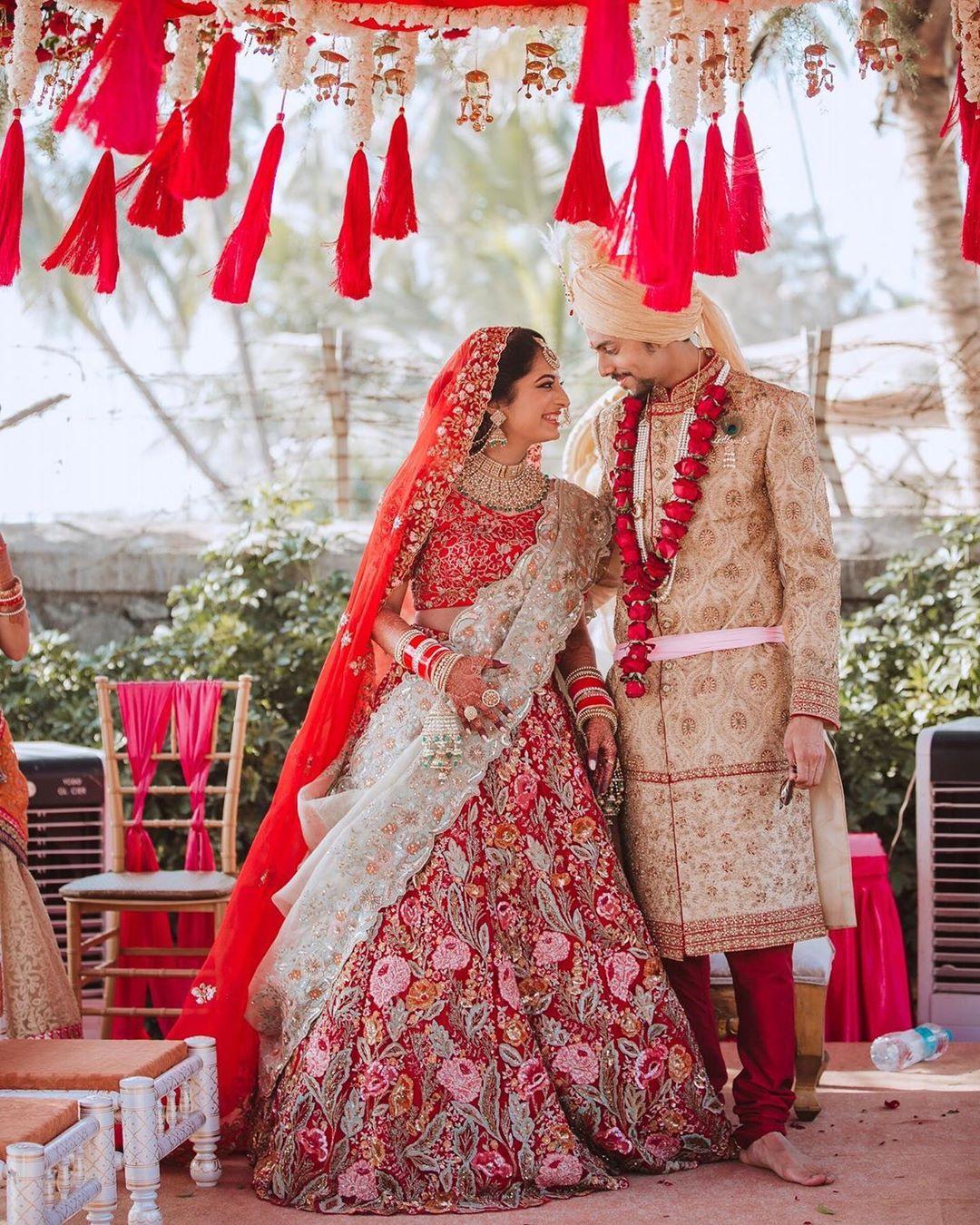 Image Courtesy: The Wedding Story Official
Dazzle your guests with this outrageously stunning wedding lehenga! The heavy lehenga is perfect for the final marital ceremonies and is a look garment you can style in any way you like. Definitely pair a choker with this look for a regal vibe!
Flowers are symbols of strength, purity and selflessness, and are a huge part of the décor during festivities and celebrations. Why not include this timeless element in your wedding attire by choosing floral lehenga outfits to celebrate your wedding in the best way possible? Let's kick off this new chapter in your life with a blossoming start!
Check out these bridal lehenga stores near you for the perfect outfit!