9 Kite Decoration Ideas to Add Colour To Your Mehndi Function
Looking for quirky and creative décor ideas for your wedding events? We've got some kite decoration ideas that can make any event bright and colourful. Take a look.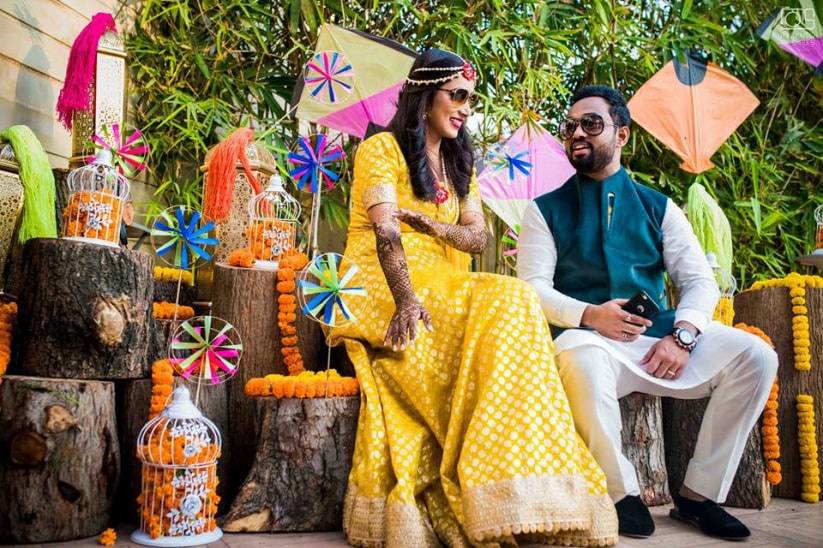 Kite decoration ideas are trending, and how! Who knew that something as simple as a kite could top the world of wedding décor and be considered such an aesthetic element to add to wedding functions. Kite decoration ideas are simple décor ideas that show how you can easily brighten up any space or any corner of your wedding venue with the use of colourful kites. These kites could be the usual paper kites, or even made with strings of thread or wool. Kite decoration ideas usually work best for day-time wedding functions, like Haldi or Mehendi, but with the right lighting, you can totally make this work for evening functions too.
Why kite decoration ideas, you ask? Let's start with the most important factor here, the budget. Weddings are expensive and wedding décor can take a huge chunk of your wedding budget. Quirky ideas that cost less but look nothing less than fantastic are thus a great way to make your wedding venue look beautiful without burning a hole in the pocket. Also, kite decoration ideas are easy to work with because it's very easy to source all the material you require, and it can even work as a DIY project. Lastly, kites represent freedom, the idea of soaring to new heights and a carefree vibe- doesn't that beautifully match the idea of love and marriage?
Kite Decoration Ideas to Inspire your Wedding Décor:
1. The Entry Gate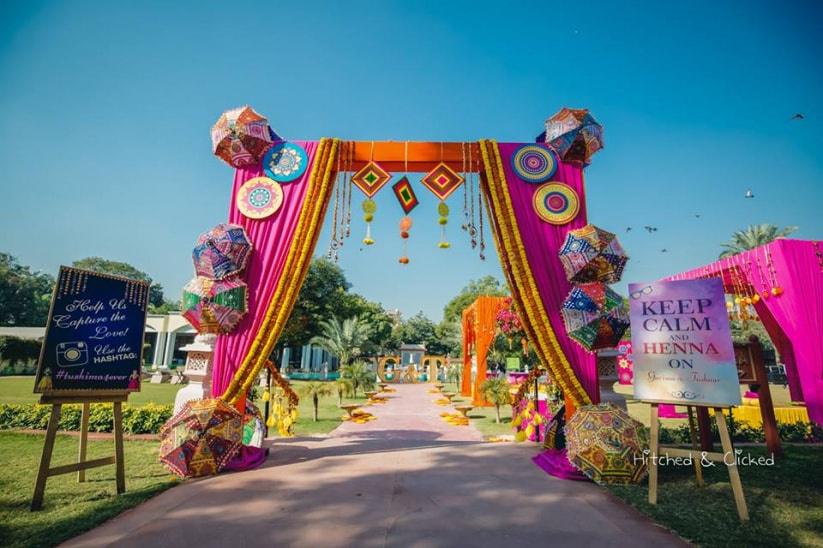 Let's start right at the entry. Decorating the entry gate with dangling kites is a great idea as it adds a riot of colour and sets the mood right. You can add other décor elements to the entry or just use different colourful kites; some dangling and some pinned to the fabric forming the entry. Use kites that have a long colourful tail as danglers to add a cascading look.
2. Ceiling Décor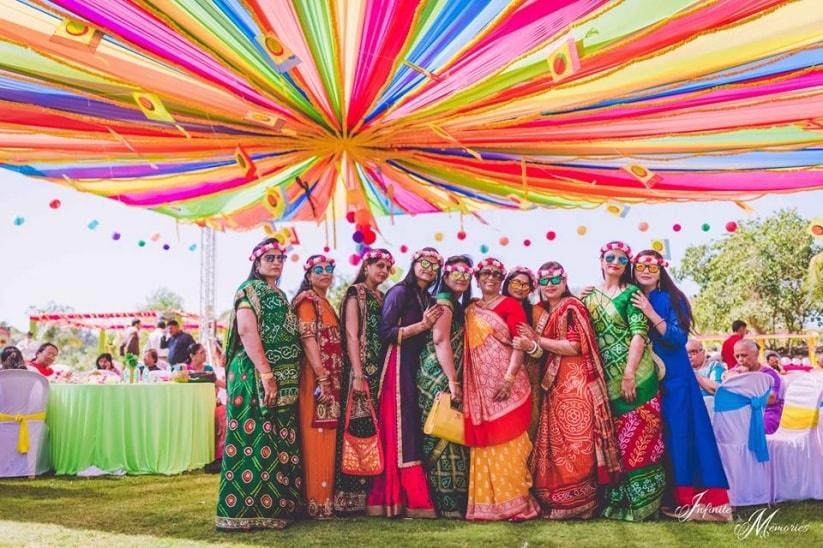 If you are building a fabric ceiling, a tent or have a covered space, you could hang kites from the ceiling for beautiful ceiling décor. These kites will move freely with the wind and create a riot of colours all over the wedding venue. You can use different coloured kites for a plain ceiling or multicoloured ones to match the décor.
3. Photobooth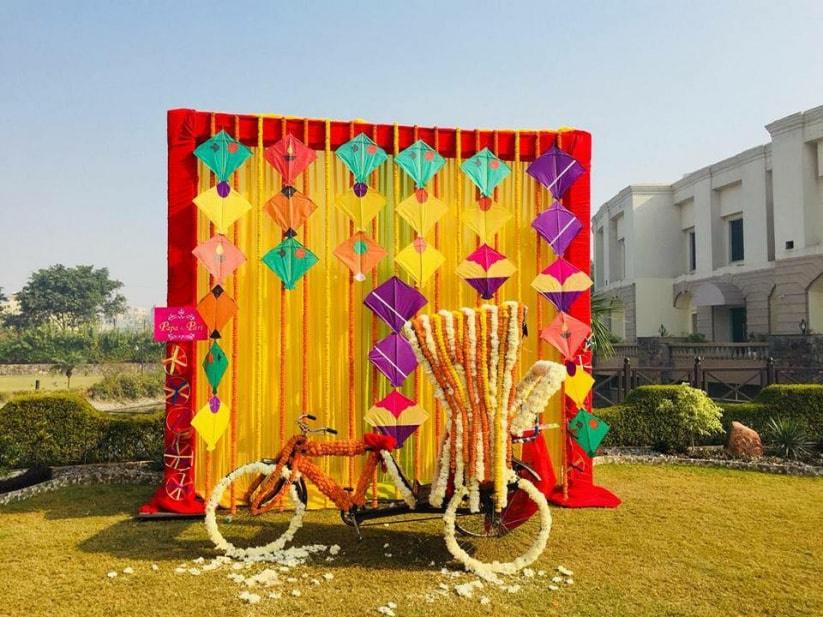 Image Courtesy: Darsh Weddings
Creating a photobooth has become a popular wedding décor trend and adding a curtain of colourful kites as the backdrop could be just the cherry on top! This will not just result in beautiful couple and group pictures but also work as a stunning corner at your wedding function. You could add a table with more props and even the very popular, flower decorated Rickshaw for a totally quirky feel. It's a great place to take some cool wedding selfies too!
4. Table Décor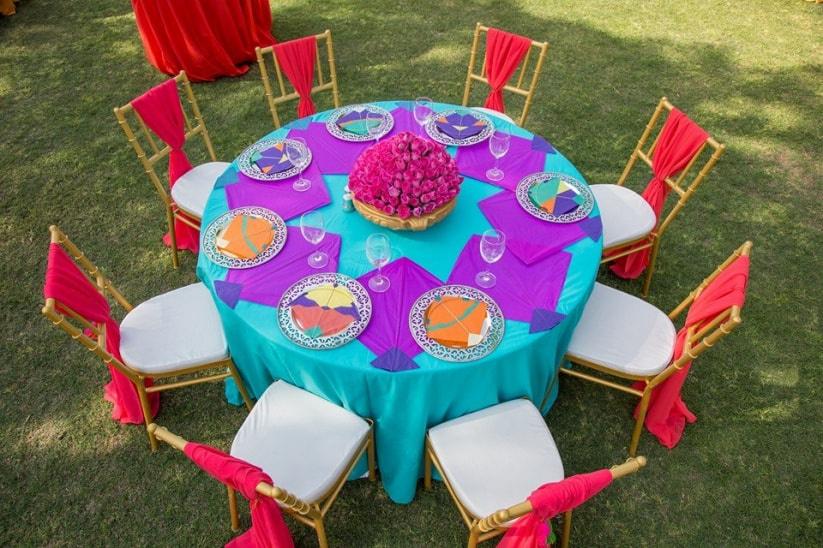 If you were wondering how you could add a little colour to your tables, kites the way! Using kites as table mats not just looks great but also adds a pop of colour to the tables and you can do away with boring placemats. It's easy, economical and an excellent table décor idea.
5. Stage Backdrop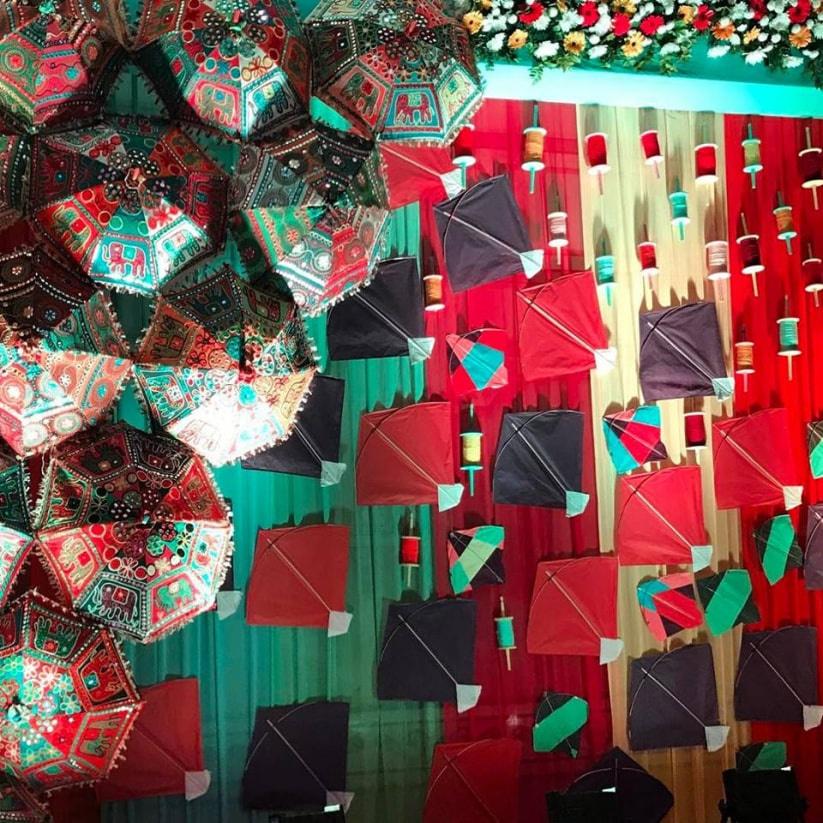 The stage backdrop décor must be planned very carefully. After all, most of the couple pictures will be taken right there. Using kites, along with other décor elements that complement one another could be your perfect pick. You can choose two to three different colours to create a wall of kites that enhances your attire and also adds a beautiful backdrop for your pictures.
6. The Archway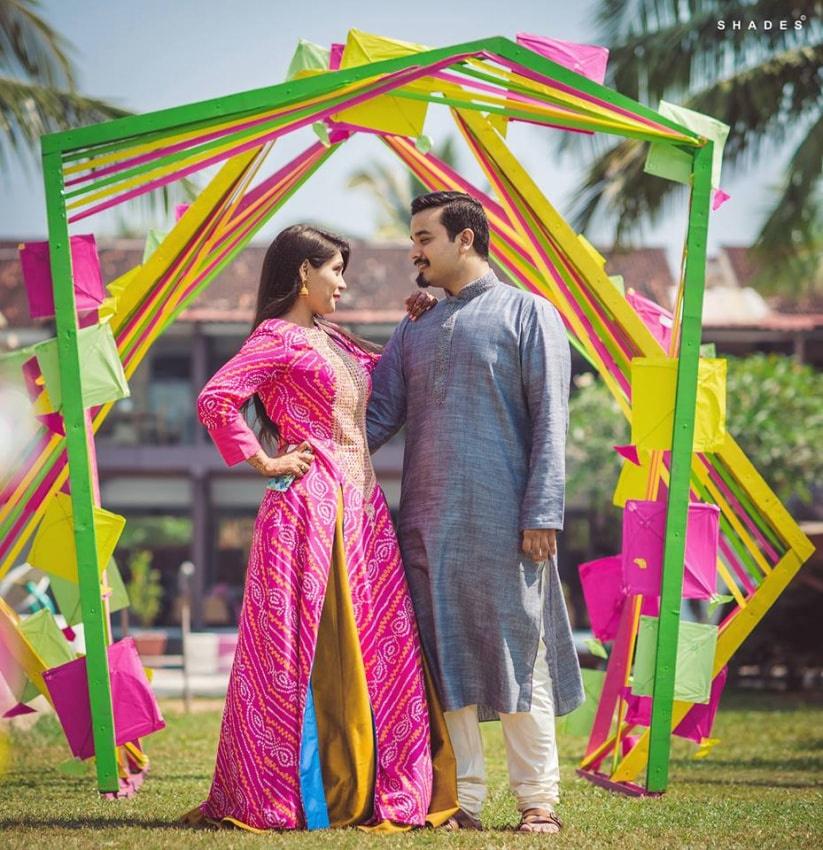 A beautiful archway can be the spotlight of your wedding. Creating an archway with colourful fabric or Dupattas and adding kites to it is a great way to make the décor and the couple stand out.
It creates a fantastic frame around the couple and the kites will add the perfect amount of quirk and creativity.
7. Dressing Up Plain Corners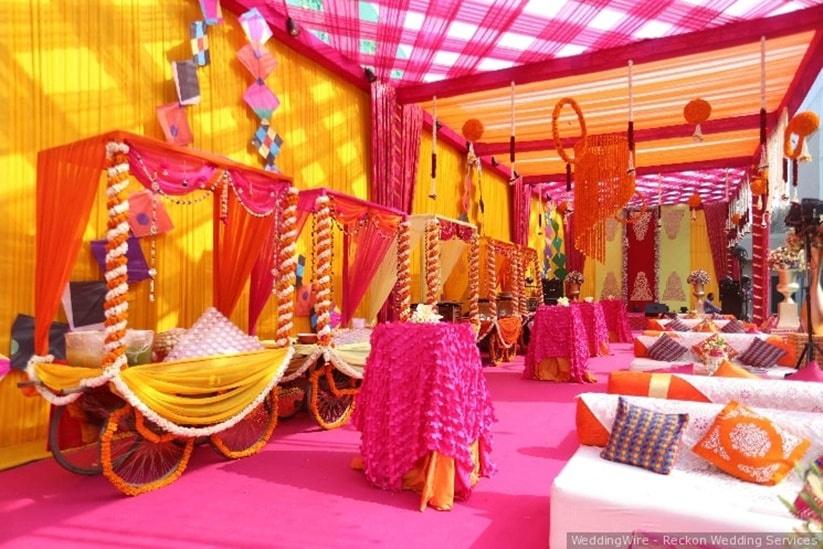 Most wedding decorators come with a huge choice of fabric options that can be used as tablecloths, tents and all kinds of furnishings. Unfortunately, most of these options are plain and lack personality. You can give personality to any corner with kite decoration ideas. Just string some kites together and pin it to the plain fabric to break the monotony and make it stand out.
You could do this for plain fabric walls, ceilings, the back of chairs, the poles covered in fabric or any corner that you feel needs a little more décor details.
8. Strings and Streamers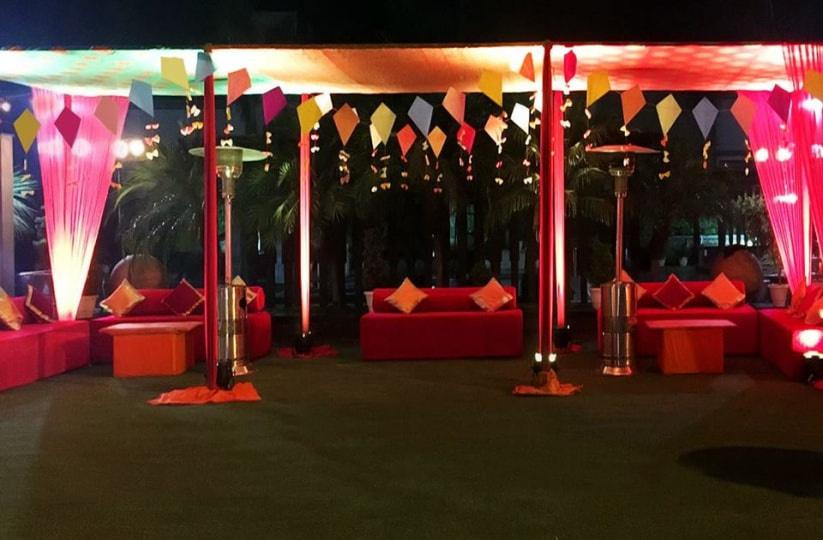 Just string together some colourful kites and hang them around as streamers and you've got yourself a beautiful décor that stands out and makes a statement. You can use different colours, sizes, shapes and prints to add a dramatic look or just plain simple kites that add character to the whole venue. This is perfect for seating areas, walkways and around the eating area.
9. Stalls and Carts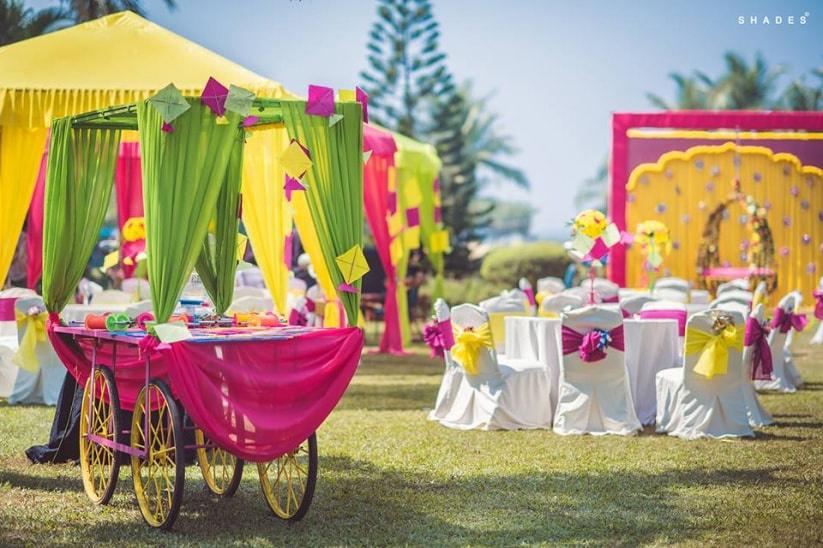 Adding stalls and carts in different corners is not new, but how you make these stand out makes all the difference. A stall with bangles and gifts at a Mehndi function, a cart with Mithai Dabbas for the guests, a Nariyal Pani Thela or the Gol Gappa stall; every stall and cart can easily be decorated with kites. You can use small kites made with craft paper to add colour and characteristics to these corners.
How budget-friendly are these kite decoration ideas?
The short answer to that would be - very budget-friendly. Kites are inexpensive unless you are getting a custom Swarovski studded kite! Paper kites cost no more than ten bucks each and even lesser if you buy them in bulk. You can also find miniature kites at craft Melas at very affordable prices. If you plan to DIY your wedding décor, all you need is some craft paper, that is again very pocket-friendly, and make your own kites.
The idea behind kite decoration ideas is not to make an elaborate or 'rich' look but to add an element of creativity, fun and lots of colour. It's the perfect décor element for almost any space and corner at your wedding functions. It is the simple design and décor elements that stand out the most, and this is a great example of that.
Every wedding has that one unique thing that people remember for a long time, including these kite decoration ideas, could be that thing for your wedding. Get crafty and put on your creativity hat to think of different ways you can use these kite decoration ideas. You can also always find a wedding decorator who will understand your vision and help you achieve the look you want.
Do you have some more kite decoration ideas to share with us?