5 Outdoor Wedding Decoration Ideas That Are Drop Dead Gorgeous and a Must for Your Wedding Decor
Too many outdoor wedding decoration ideas but still not able to find the ones that you like? Here's the perfect list that's sure to sweep you off your feet.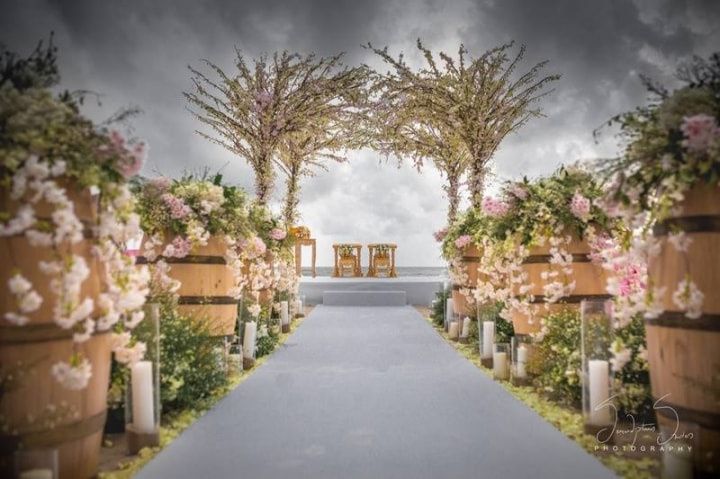 Do you dream of an elegant outdoor wedding that makes you feel like you're in a movie, complete with flowers, candles and bells? Such outdoor wedding decoration ideas can leave anyone lost for words. Many people are unaware of how simple and budget-friendly it can be to achieve that look. Here is a list of suggestions to help you narrow down the potential outdoor wedding decoration ideas that are a hot favourite of couples and wedding planners and wedding decorators and their likes. Some of these outdoor wedding decoration ideas are quite creative and yet simple to execute, so it is a win-win situation for your
1. Themed decorations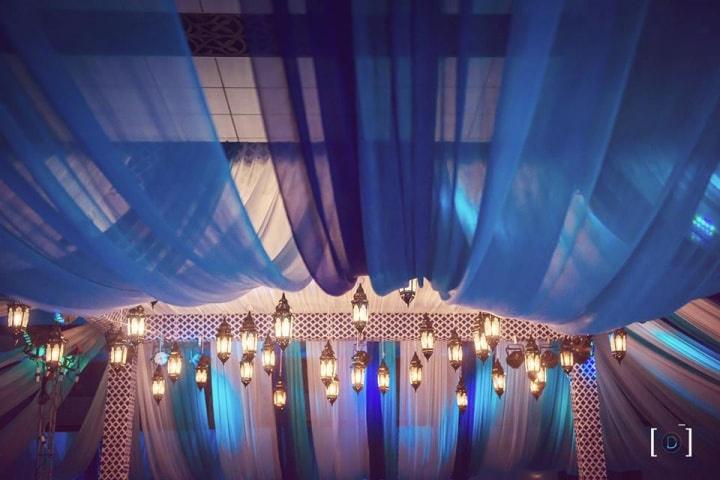 Themed outdoor wedding decoration ideas are very popular and easy to put together. If you like a Moroccan theme, you can add lamps with shades of blue and green. Lamps with stained glass in different colours give the feeling of walking through a lamp market in Istanbul. The lamps and soft lights will make your wedding especially romantic. also, these elements you will be easily able to find in the local streets of Delhi and at a cheaper rate as well. So, bookmark this outdoor wedding decoration idea and start hunting for lamps and lanterns right away! A lit up venue is a dream come true for every couple and when mixed with a little rustic tone - this outdoor wedding decoration will add the right amount of spunk to your wedding decor.
2. Rustic furniture with bright colours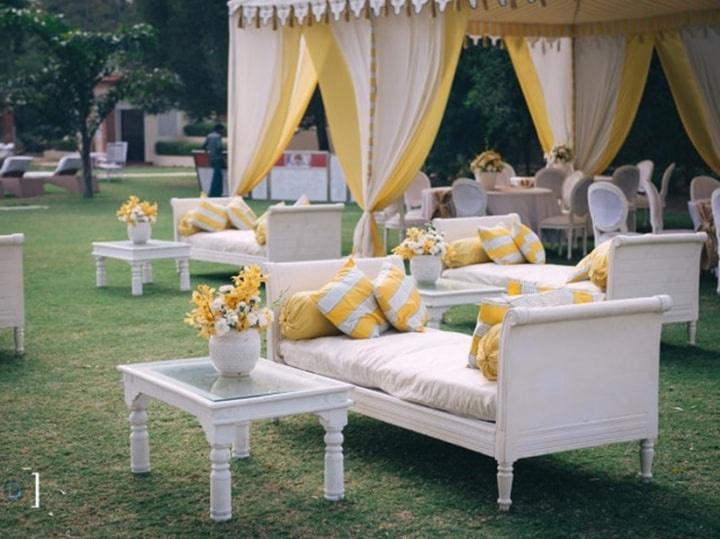 Another great instance among outdoor wedding decoration ideas is using rustic furniture with bright cushions and pillows. You can add similar coloured flowers on the table tops to give it a little more romantic lift. Large sofas and comfy bright chairs make the whole event warm and homely and will put the guests into a light fun mood instantly. Rustic furniture is an apt way of making your wedding decor seem more vintage and luxe.
3. Fairytale decorations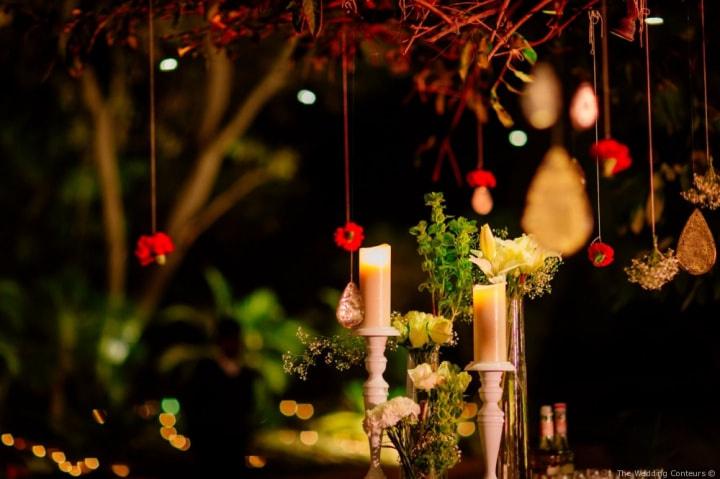 Every bride dreams of a fairytale wedding so, here's the perfect way to create one. When you think of a fairytale wedding you think of flowers floating and candles on a beautiful candle stand. Put these in your outdoor wedding decoration ideas, with flowers in red and white, some suspended from the trees around and some in beautiful glass vases will look beautiful. The candles can be put on vintage white candle stands. Walking through the flowers and candles is sure to make your day extra special. This is one of those stellar outdoor wedding decoration ideas that will give your wedding decor a very English charm. It is a dream come true for every couple to have the most romantic love life and a wedding set up too, right? So, this is how you can have one for yourself by letting your decor speak for your scintilating romance.
4. Jute encrusted vases with flowers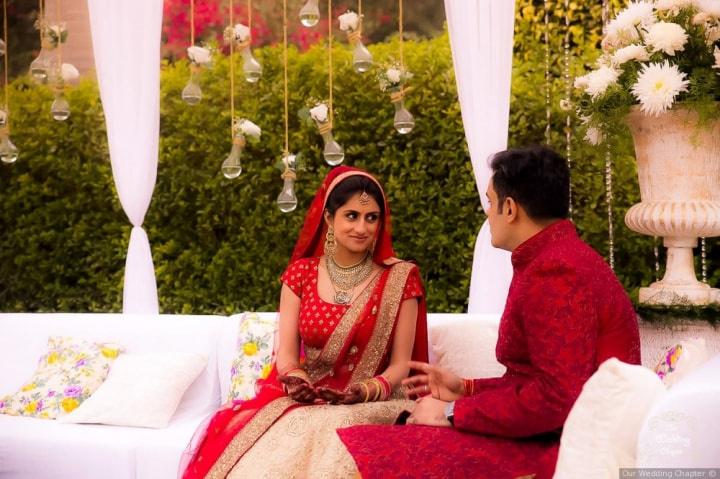 Jute and floral decorations in the background here are the rage these days. The combination of the two makes for a series of perfect outdoor wedding decoration ideas. You can put this look together quite easily with jute ropes twined around transparent glass vase and suspended from the canopy created for the wedding. You can fill the vases with flowers that match the colour of your wedding accompanied by small white flowers or green ferns. This can give it either a pop of colour or keep it simple and classic. This decoration option is very versatile since it can be suspended along trees or kept simply at the entrance if you like. Also, to use hanging elements and suspending them from the ceiling is a raging trend that most wedding decorators and wedding planners choose to go for when it comes down to decorating a venue for any wedding related function. The best thing about opting for suspended decor idea is that the possibilities are literally endless. From flowers to streamers to lights to bottles you can choose one and all for your hanging decor element.
5. Forest Feels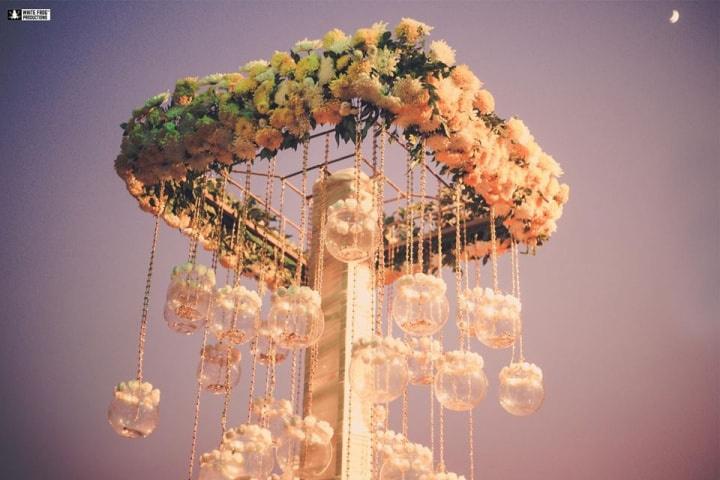 If you're the kind of couple who likes to be around nature then this is the perfect outdoor wedding decoration for you. A floral decor such as this is bound to stun your guests and leave them spellbound. You can put it together using different kinds of ferns, palms and succulents so that there is a variation in the colours of green, add small flowers here and there for colour. To keep it tasteful you can vary the quantity of the decorations and keep it more elaborate at the entrance and a little subtle by the food. This way the decorations will not be overwhelming and just enough for your perfect day.
These stunning outdoor wedding decoration ideas and details are sure to make your wedding stand out and it will surely be memorable for all your guests. Keep the decorations simple and elegant so that it is to your taste. Since this is your big day the look and feel of the wedding is very important and we hope that these ideas have brought you a step closer to making your choices. Now that you have a rundown of the various outdoor wedding decoration ideas that millennial couples can't seem to get enough of, start thinking of unique ways of adding glory to your own wedding venue. So, take inspiration from these decor ideas and follow them to the 'T' if you want your wedding to be a trendsetter this wedding season in terms of decor.
Do tell us in the comments which one of these outdoor wedding decoration ideas pleased you the most!