10 Green Colour Combination Photos for Wedding Decor That Are Beautiful, Mesmerising and Totally Eye Catchy
Wish you had a pool of green colour combination photos to help you design your own wedding and related ceremonies? Look no more and start bookmarking these images for some quick inspiration and an awe-inspiring feast for your eyes.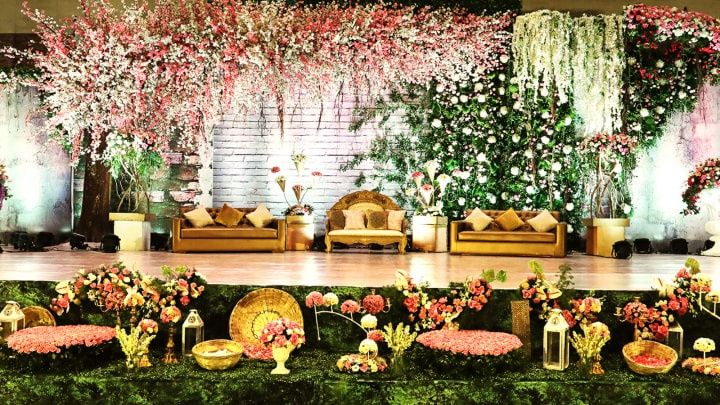 Need a colour combination for your wedding and related ceremonies? Well, turns out green colour combination is a hot favourite of couples these days. From mint green to olive green to dark and light hues of green colour combination, everything is possible in the millennials world. If you want your wedding to be anything like the flora and fauna of the countryside then this listicle of various green colour combination photos will give you the right dose of inspiration.
10 Green Colour Combination Photos That Are Awe-Worthy
These 10 green colour combination photos will be the right amount of inspiration you need to get the wedding of your dreams. Read on and start taking notes now!
1. Green Colour Combination with a Tinch of White

Green in itself looks great but by adding another colour and using it as a combination will take your wedding decoration to the next level. If you want your wedding reception to look anything like this then all you need to do is ask your wedding planner and wedding decorator is design a wooden canopy and emboss it with leaves. Once done, place a crystal chandelier underneath the canopy. For finish touches curate white floral assortments and place them around the pillar of each of the canopies. And, voila you have for yourself a green colour combination decor with a dash of pearly white.
2. Green Colour Combination Decor with White Flowers and Drapes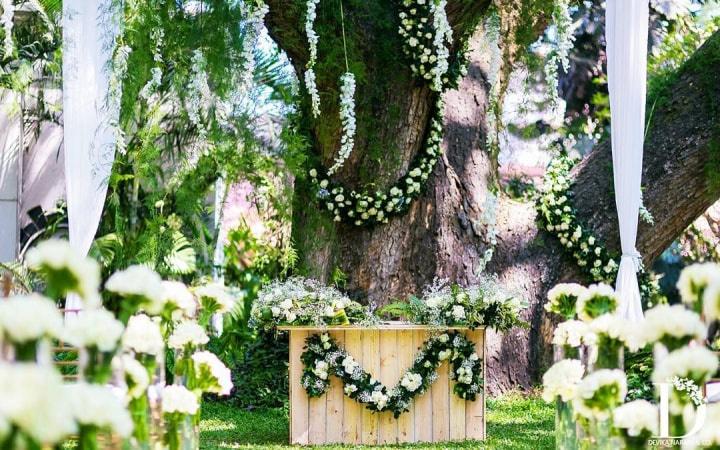 YAS! Boho-chic wedding decor is absolute bliss and very in these days. If you want your engagement party to look anything like this then it is very much possible and won't necessarily burn a hole in your pocket as well. All you need to curate a setup such as this are a few wooden boards and tables, some floral and leaves wreaths to be suspended from the ceiling and across the table and trees and some fresh flowers to be put into clear and crystal vases. First and foremost start by suspending white drapes from the ceiling to the ground and clip than at the end to give that effect. Have your wedding florist create some floral wreaths and strings and use them to amp up the wooden furniture. Lastly, place crystal vases all across your venue with a white flower in each of them and you're done!
3. Green Colour Combination for Table Setting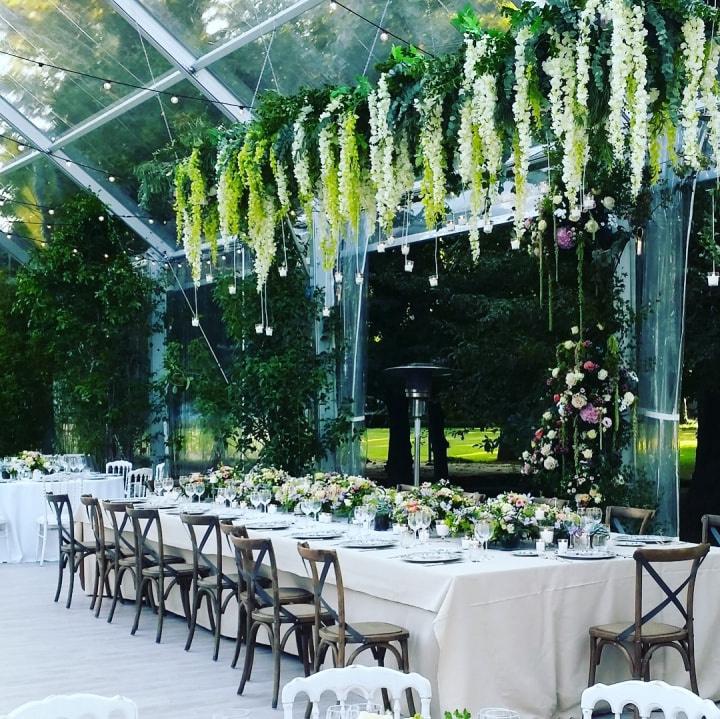 Remember Alice in Wonderland? And, the famous breakfast table with a lavish food spread? Well, if that's the inspiration you seek then we will help you plan your wedding feast the right way. Surf the market for some vintage looking furniture, the more antique the better! Do the same for cutlery, try to find cutlery that follows a green colour combination to keep everything cohesive. Next, in line are the flowers, for this, you dont need long-stemmed flowers. Instead, go for small posies. Use tea lights and suspend them from the ceiling and use floral and leafy strings and have them suspended from the ceiling. A combination of mint green and pearly white and you're done.
4. Green Colour Combination with a Bolt of Colours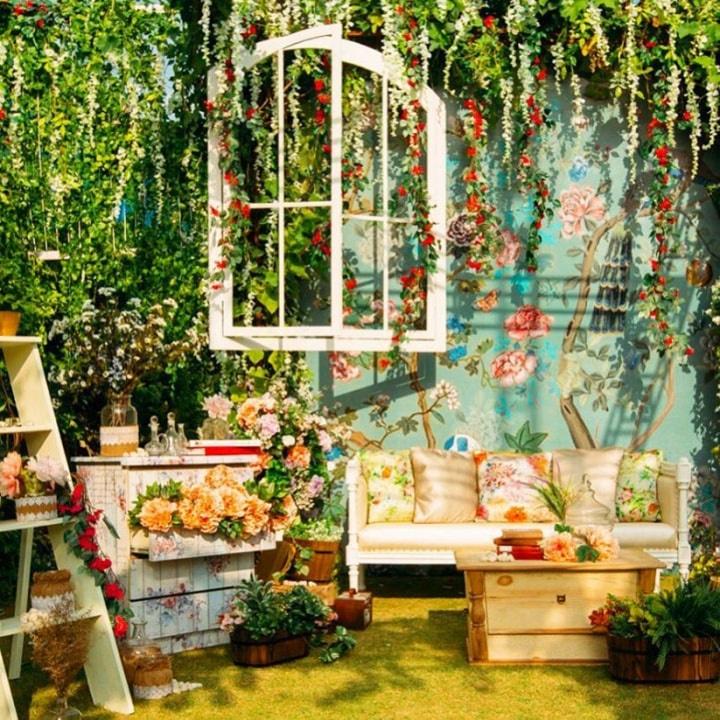 Are you obsessed with florals? So are we! Besides, who wouldn't want to have such a chic looking corner at their wedding, one that is perfect for a photoshoot. If you are getting married in Spring, then there is no better way than this to give your celebrations the flowery feels. This green colour combination for a wedding is a quick fix of flowers and pastel shades which is perfect for a day time function.
5. Green Colour Combination with a Myriad of Colours and Patterns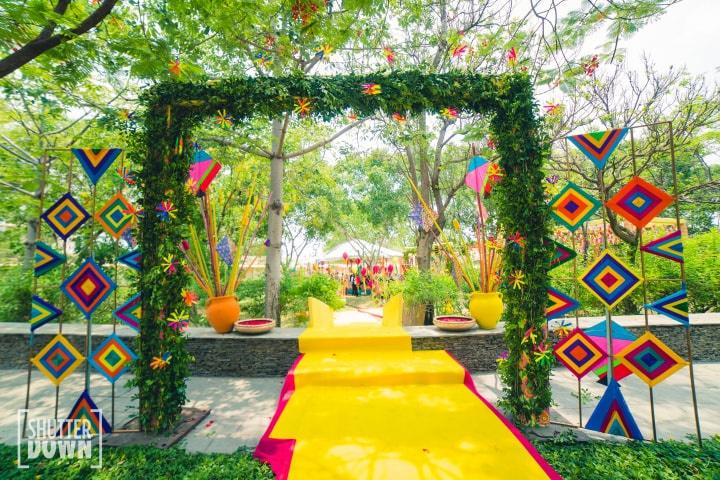 Plumes of colour with a background of green colour combination = a perfect fix for a Mehndi function. Easy to appropriate; all you need are some kites, colourful carpets, colourful pinwheels with some big colourful pots and you're set!
6. Green Colour Combination Drapes with Floral and Green Chandelier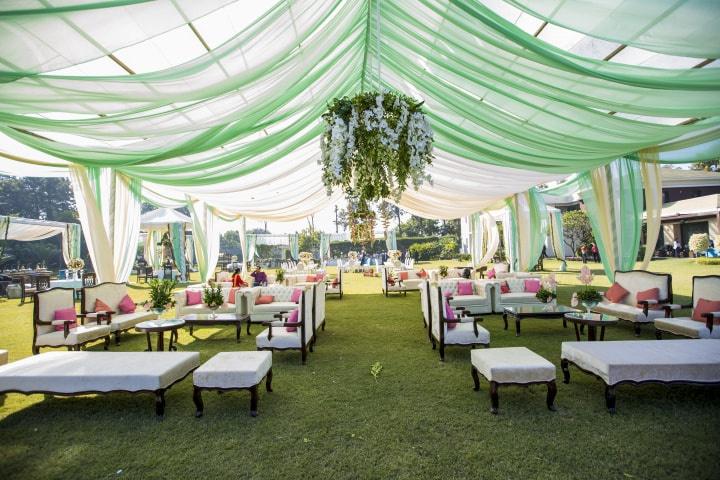 Create a canopy using green drapes and suspend the loose ends on the sides. For the added pop of perfection, design a floral and green chandelier and you will have for yourself the wedding venue decor of your dreams.
7. Green Colour combination With Origami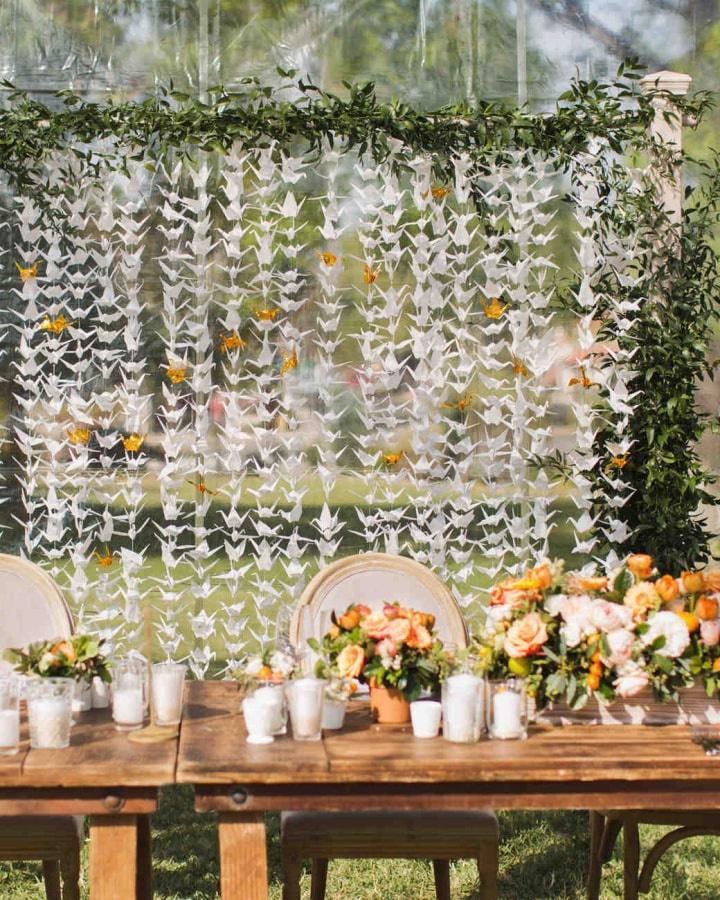 Remember school days and origami classes? Put that talent to use and create some DIY origami shapes. Use a string to suspend them form a wall and you have a DIY photobooth ready!
8. Green Colour Combination Walls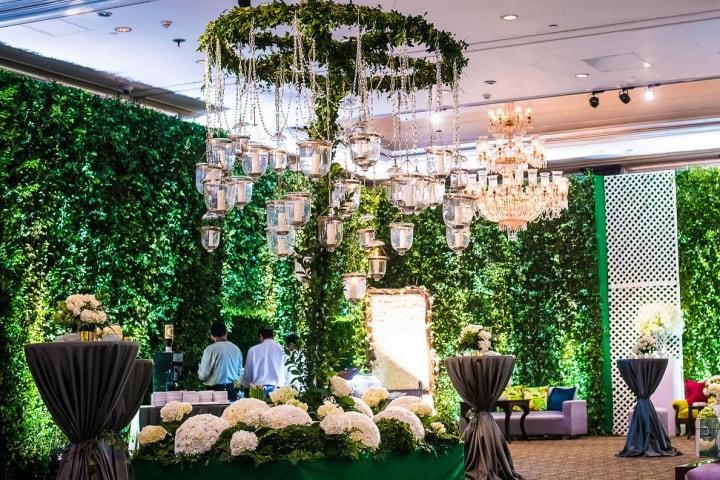 Why use flowers when merely leaves can make your venue look this spectacular? Have your decorator place plants all through your venue. It will look somewhat like a canopy on your walls. You can use this as a background for your candid photoshoot. In the centre, you can create a makeshift pond and put some big flowers to add the pop of wow factor.
9. Green Colour Combination with Mirrors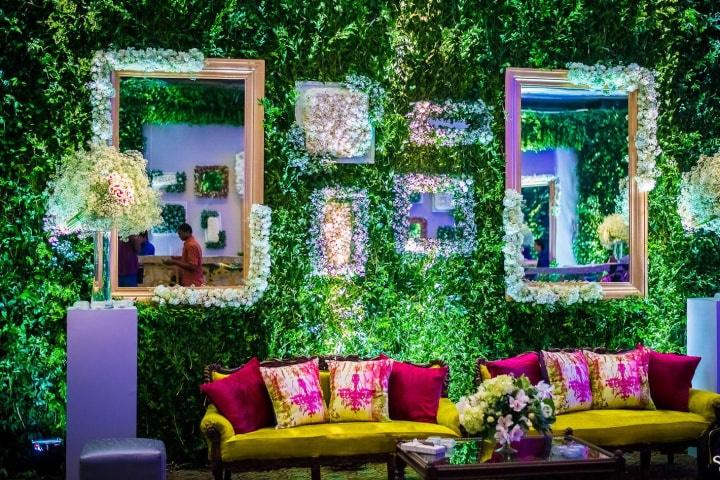 With a decor inspo such this, you no longer need to go to the washroom to see how you look! Cool right? Also, these mirrors look spectacular with floral boundaries. A perfect coffee and photobooth corner for your wedding guests to sit back and relax in.
10. Green Colour Combination That Hails From The Heavens Above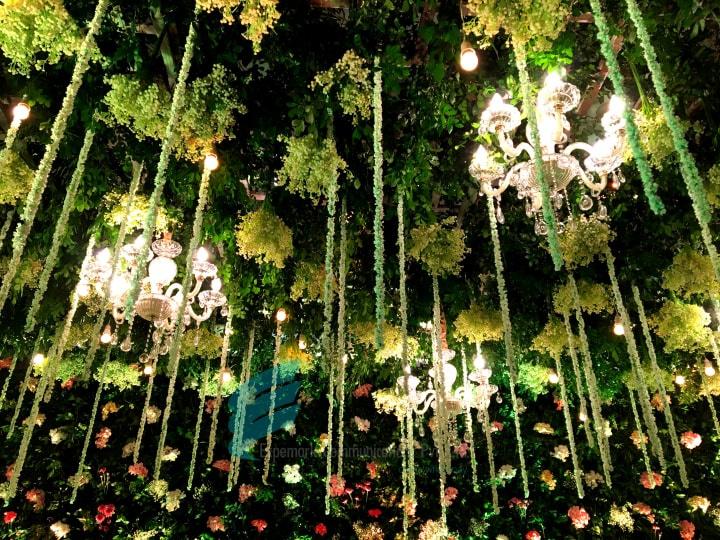 Who could have thought that a basic green colour combination with a pinch of pinks and yellow can look this splendid? But, it sure can and you can have the very same at your Sangeet function. All your decorator needs to do is suspend strings of flowers in different colour tones; from deep tones to light tones, it will add that 3D effect. A few chandeliers right in the centre of these floral assortments and your venue will light up to glory.
These 10 green colour combination photographs are the best of the lot and we couldn't help ourselves from gawking at them for long hours. If you want your functions to look anything like this, then now is the time you make that call to your wedding decorator and wedding planners.
Which of these 10 green colour combination photos did you love most? Tell us through the comments!