Sometimes, you need to spell it out - let your wedding guests know the mood for your special day, how much you value them and (in a positive way) how you expect them to behave at the occasion. And one way to do so, in a creative, tongue-in-cheek way, would be to put in on a wedding poster.
Say it a with wedding poster:
A wedding poster is an innovative way to customise your wedding dècor. You may choose the font, the theme and the medium according to your wedding theme and put wedding quotes that reflect your personality. It's fun too and lets you interact with your guests through a message at every corner of the wedding venue.
Here we have gathered some cool and creative ways to incorporate a wedding poster in your décor that go beyond the cliché quotes.
1. Focal attention
Getting your pre-wedding shoot images up across the venue is a tried and tested route. However, ever thought of converting it into a CD cover or box cover with favours inside? Try this approach by first coming up with a film-like wedding poster idea and then plastering it across your venue. You can have it on standees near the wedding gate, around the ceremony area and even on your giveaways.
All of this will help your friends and loved ones take a piece of your cherished memories into their lives.
2. Add to your wedding invitation cards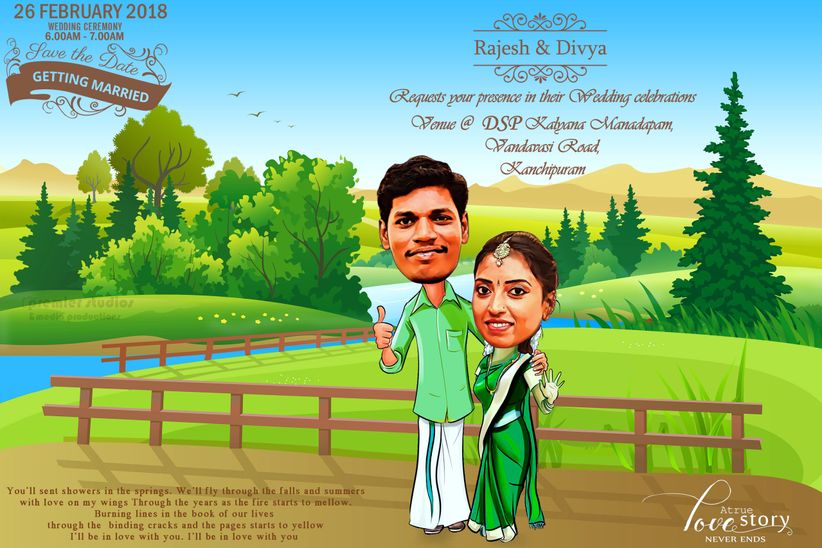 Personalised wedding invitation cards have been around for the longest. Now, customise them with your visage and convert them into wedding poster ideas worth remembering. Ask your designer to add a brilliant landscape behind the two of you alongside relevant information. You may also use this flash animation in different forms as a wedding teaser.
Then, add references of these comical versions of you around your wedding venue.
3. Out-of-the-box Ideas
Posters don't just belong on a paper or canvas hung on a wall. Think beyond the ordinary and include a wedding poster that is completely outside-the-box. For example - This thought that could be NSFW!
4. Cutlery Quotes
We bet your guests would not have seen this one before! Share your 'I Dos' with your loved ones and get them engraved on each cutlery set. Take it up a notch and even get the wedding date stamped and make everyone a part of your memory.
5. Quirky quotes
Adios romance, here comes the cool new quirk. While romantic quotes on a wedding poster are a classic option, It is time to head for some rather quirky quotes that are relatable. Along with some upbeat music they help to create a fulfilled atmosphere for the function and raises the Masti quotient.
6. Marriage Tips
Are you the one planning the wedding for your BFF or mate? Why not take wedding tips from the members of the family who have relished their Shaadi Ka Laddoo? And later get these tips converted into a wedding poster that you can be scattered all over the venue! How is that for a personal touch?
7. Photobooth Quotes
A photo booth is the new favourite zone for any wedding function and it seems like they are here to stay. An interesting way to include a wedding poster in as a photobooth prop is to get a customised quote printed out on a placard. This will add a special meaning to it and the memory of the day will live with the photos.
8. Just Married
You just got married and it's time to tell 'em all! An elegant 'Just Married' wedding poster with a vintage floral design. Take it up a notch and hire a vintage car and stick the wedding poster on the back to give a western kick to your Desi Doli. If that's not how you roll, you can get a 'Just Married' wedding poster custom made for your wedding reception as use that as a backdrop for your post-wedding photo shoot.
9. Bar Quotes
Well, if it's not the photobooth, then it will be the bar where you will find all the backbenchers and party peeps. A great way to add 'Raunak' to the 'Mahaul' is to add fun and interesting quotes to amp up the décor of the Bar area. You know it will start a lot of stories to be told for years to come.
10. String Wall Display
Craft a DIY wall display with strings and mini chalkboards. Give it a rustic chic look by using twine and complete it by attaching the chalkboard with bold coloured clips. You can either write a separate quote or hashtag on each board or better yet, ask the guests to write some on it for the couple-to-be.
Wedding Poster Ideas for Different Functions
Different function, a different theme and different wedding poster. Each function of the wedding has its own tone of activities and celebration. Make it more colourful by adding a few wedding posters and relatable quotes.
1. A wedding poster for Mehndi
The colours, the music, the Masti, a Mehndi function is the most vibrant of all the wedding ceremonies. Select a wedding poster that blends with the enthusiastic vibe of the day.
2. A wedding poster for Cocktail
Well, the name of this function says it all. A bit of booze, a bit of dance and a whole night of memories to build. For a cocktail function, select a quote that reflects the true essence of the night. Tickle the funny bone to ease the air!
3. Posters for your Wedding Day
The day that all have been waiting for, especially the couple-to-be. Make it even more special by selecting quotes for the wedding poster that reflect their love, relation and life together as partners.
This is the time to be cheesy romantic with just a dash of wit.
4. Wedding poster ideas for Engagement
Ever thine, ever mine, ever ours – promising each other love, laughter and support for years to come and exchange gifts as a symbol. Bring out some hopeful quotes for the engagement day wedding poster to embark the beginning of the couple's new journey.
A wedding poster is a perfect accessory to add to a wedding décor for the modern day couple. They can be completely customised to reflect the essence of their relationship and their individual personalities, adding a personal touch to the event.
Which wedding poster inspired you the most? Let us know in the comments below!