Common Wedding Decor Mistakes We Tend to Make & How to Avoid Them
Don't ignore the obvious errors. Plan ahead to make sure your wedding day decor matches what you had saved on your Pinterest board.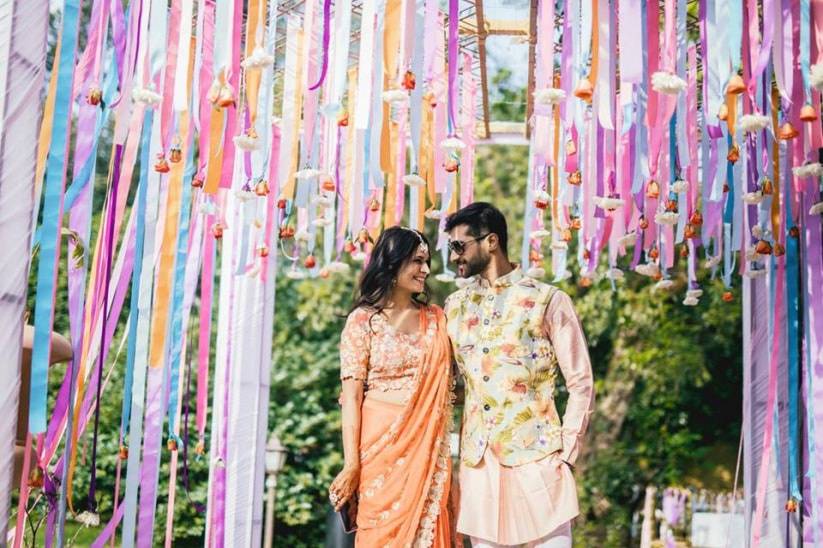 Planning a big fat Indian wedding comes with its own fair share of hiccups. The most prominent one, which many couples have faced, regretted and warned others about is their wedding decor. It's one of the small, yet crucial details that we may tend to ignore when focusing on our own needs or the larger wedding planning aspects. Imagine that on your D-Day, right before your bridal entry, when all eyes are set on you. And you realise that your beautiful Bridal Lehenga is exactly the same colour as the 'carefully' picked out sofa-for-two on the wedding stage. That's just the opposite of standing out!
You get the picture right? From the colours to the theme, flowers to the lighting and the drapes - even the smallest wedding decor mistake can cost you a lot more than just money.
What's included in Wedding Decor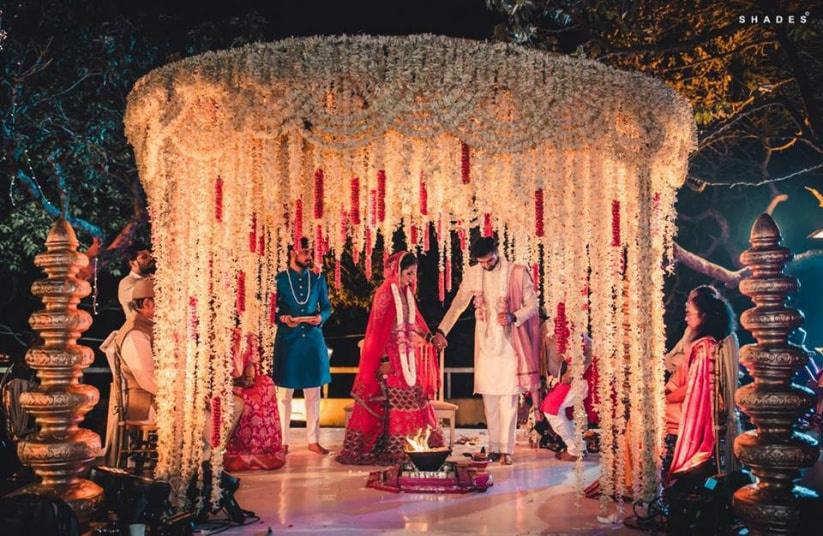 To begin with, here is everything you should give a mind to, under the broad umbrella of wedding decor:
Furniture and Seating Arrangement
Personalised Signs, Welcome Signs, Displays
Ceremony Arch or Mandap
Wedding Stage – Setting, Backdrop, Seating
Table Arrangements - Cutlery, Centerpieces, Signs and Covers
Entryway - Arch or Canopy
Jaimala Stage
Guest Books and Wedding Favour Tables
Candles or Diyas
Dance Floor and Wedding DJ setup
Extra Tables and Chairs, if required
Carpets
Food presentation
cutlery presentation
Placement of dinner tables
Canopies
Suspended decor items
Drapes
The Doli
Phoolon Ki Chaadar
Wedding Car
Wedding Gifts
Simply put, everything except the guests and the food is a part of the wedding decor. So, it's easy to make mistakes because there are just so many things you need to plan. Working with a professional wedding decorator, a little scrutiny and visualisation can help you in avoiding these wedding decor mistakes. And that's what will make your wedding, the grand and picturesque fairytale that you've always dreamed of.
These are the broader scheme of things that all couples tend to focus on when planning for their wedding! So, narrow these down as per the level of priority and then convey the same message to your wedding planner and wedding decorator so that they can set the plan in motion.
Wedding Decor - Fixing the Responsibility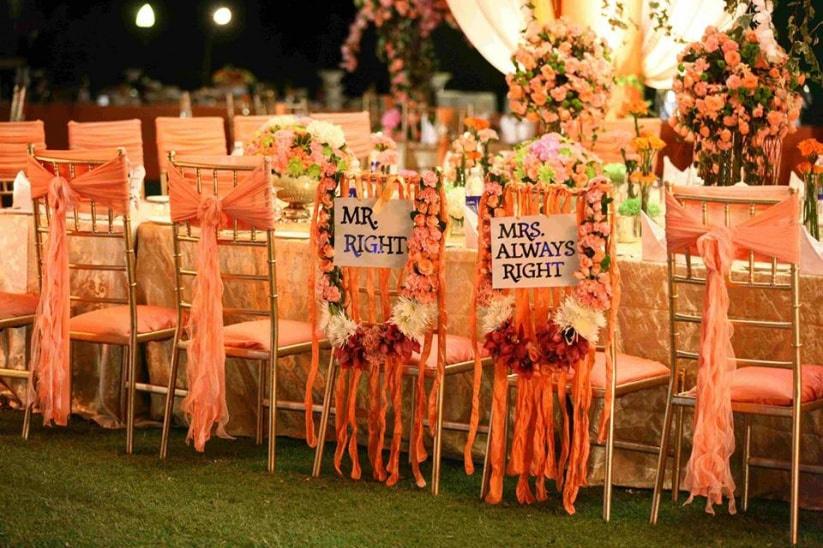 Who's ultimately responsible for the wedding decor? The dreamer. You.
While it's important that you delegate the planning duties, always check the final details yourself. After all, no one except you and your partner knows what your idea of the perfect wedding looks like.
You begin by picking a reliable and well-reputed professional for your wedding decoration. Do your research online, ask people around and browse through different options before you finalise on the decorator. You can also meet several decorators and ask them a duly-prepared list of questions to understand how they align with your specific needs. You need to make a broad framework of all the wedding ceremonies along with the general wedding theme and colour you have in mind before you start interviewing and meeting wedding decorators.
Once the decorator is finalised, ask them for mock samples (live or pictures) of what you have visualised.
Common Wedding Decor Mistakes & How to Avoid Them?
Here are some of the common wedding decor mistakes that you may face. Keep a tab on these and try your level best to avoid them to minimise the damage!
1. Colour Theme of The Wedding Venue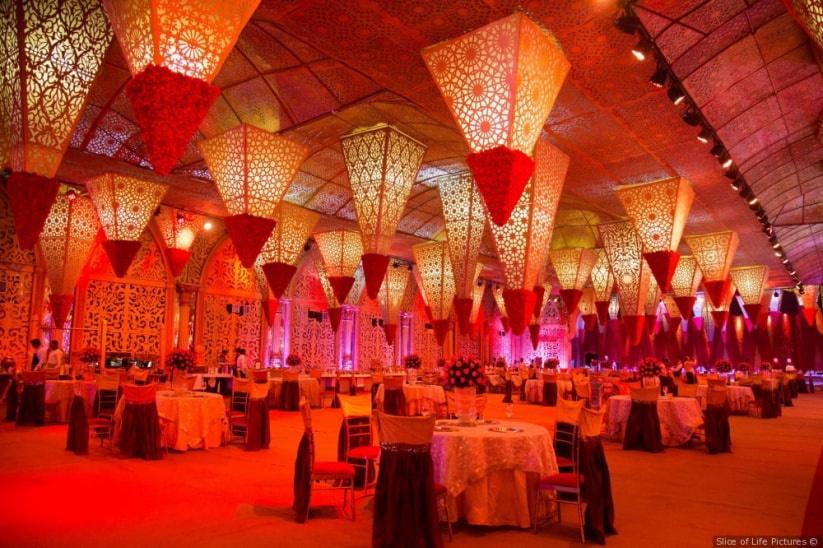 This is by far, the most common mistake. The wedding decor colour theme can end up merging with your bridal outfit, clashing with it or you can also have the elements horribly set against each other. You need to make sure that you and your other decor details are highlighted against the overall colour palette rather than being missed or worse completely clash.
How to avoid a clash in theme colours:
Know your colours (for the theme, the decor and your outfit). Make sure your wedding attire is a different colour; a colour that compliments the wedding decor colour palette. Use colour combinations that enhance one another rather than to make it a mix of mismatched shades and hues. Extend this eye to include the right colour for the flowers, drapes, furniture and all, against the backdrop. Besides, there are end number of colour combinations available in the industry right now which a lot of couples seem to have taken the inspiration from. From blue colour combination to a soulful mix of red and gree to multiple colour combinations marking differents et ups if the same function, there is a lot you can do in terms of wedding decor.
2. Wedding Budget - Allocate Budget Before You Do Anything Else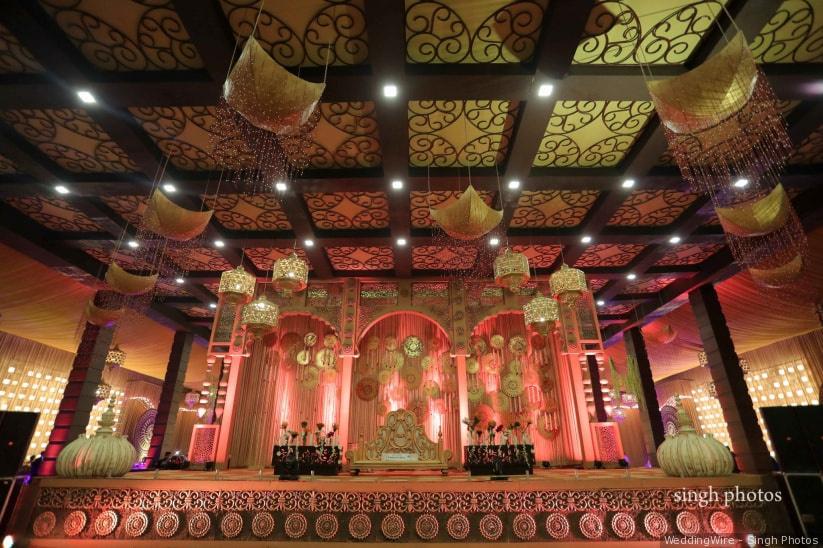 While it may be tempting to pick the best of every option available, it is more important to ensure that you don't spend beyond the set wedding decor budget. Many couples end up spending way more than the set wedding budget, leading to debts and regrets later.
How to avoid overextending the wedding budget:
Be clear about your wedding budget to the decorator at the very beginning and confirm the final decor plans only after making an estimate for everything you have selected. Any additions or changes to the decor must be first calculated on paper to ensure that they fit well within the budget. Fixating on a budget and trying your mighty best to stay within the set amount is very important - even though a wedding is one of the most looked into time in a person's life, but one should always make provisions for a safe and secure future as well- so keep some for your future and don't spend it all over wedding decor.
Stick to the budget and try your level best to not go overboard as wedding has a lot of other hidden costs as well - so it is always better to hold on to some extra cash just in case!
3. Decor Area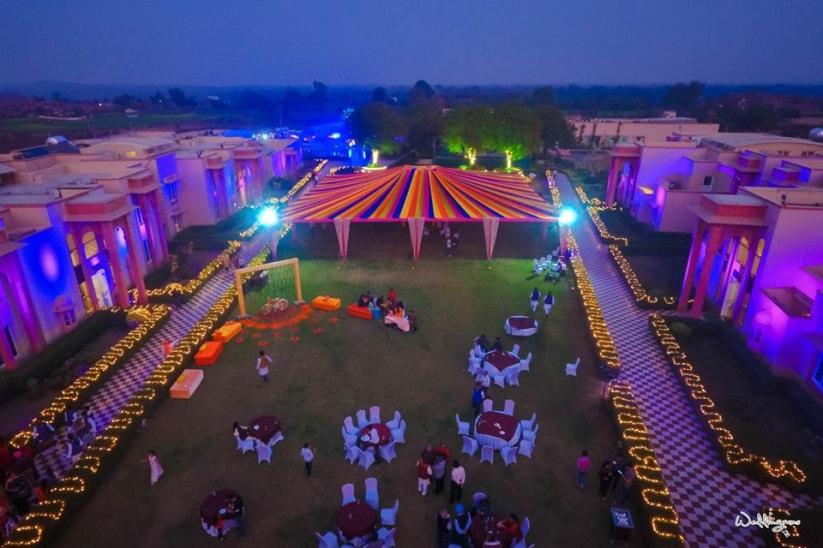 A large space with a tiny guest list or vice versa will make even the best of wedding decor a complete failure. Another common wedding decor mistake is not evaluating the total space you have in comparison with the number of guests invited. You don't want the venue to look empty or overcrowded. Align the furniture and seating arrangements to the number of guests too.
How To avoid mistakes over the event area:
First, calculate the approximate number of wedding guests and then choose your space accordingly. Make sure you have enough seating and table arrangements for the guest list.
4. Space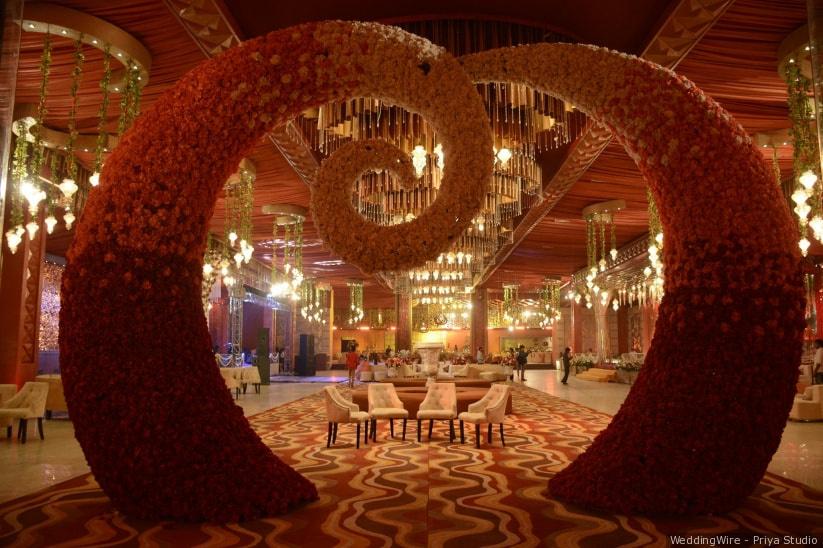 Many wedding venues are not very flexible to big changes in terms of wedding decor, a calculation that most couples figure out too late. For example, if the wedding venue has a large pillar right in the centre, you need to consider how it can be incorporated into the decor rather than letting it be an eyesore amidst the lovely decorations.
How to avoid errors over utilising the space:
Carefully scout the wedding venue and be mindful of potential, permanent eyesores. Then plan your decor to include the best utilisation for such spaces. Observe from floor to roof and everything in between.
5. Lighting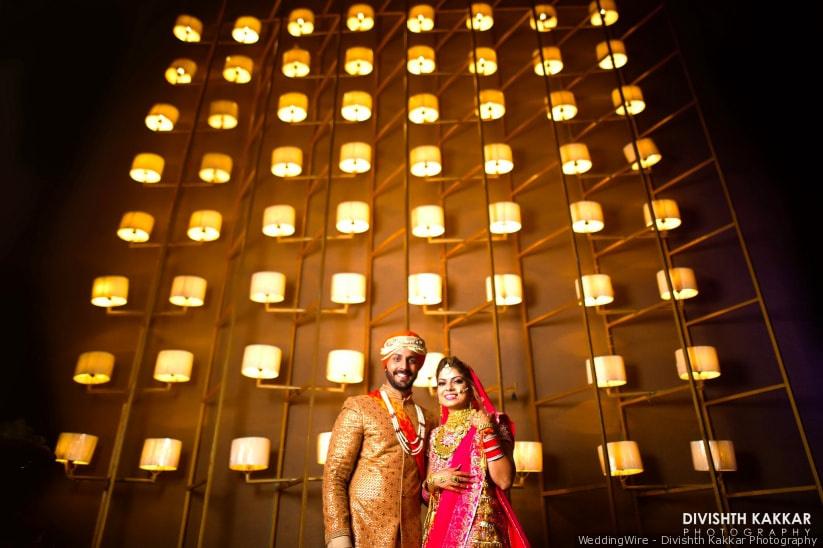 The right lighting makes all the difference! What kind of lighting you use, where and how you use it greatly impacts the overall wedding decor. Many people tend to ignore certain corners leaving them dark or plain or sometimes use harsh lighting that can cast ugly shadows.
How to avoid mistakes in lighting:
Use a variety of lighting options like lights, candles, diyas, lamps and lanterns to add character to different corners. Ask your wedding decorator to list out the different options and the technical aspects of lighting for different areas.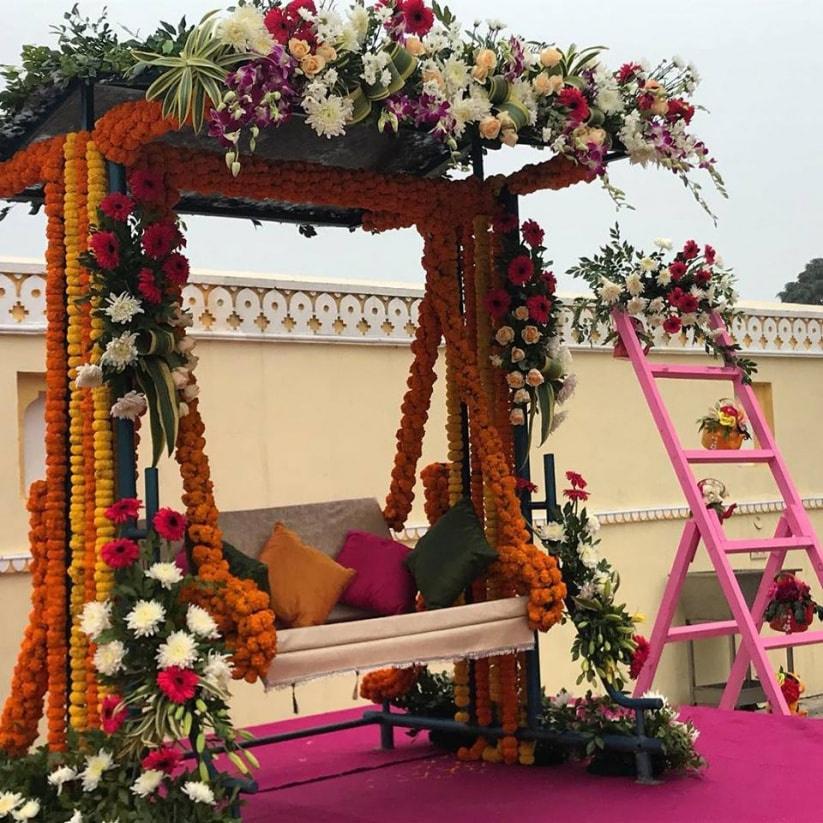 Apart from these broader aspects where wedding decor mistakes are made, there are some smaller but significant ones too, including:
Non-availability of the chosen flowers
Windy weather or rains to dampen the effect
Improper use of the structure/trees or different corners
Ignoring the colour of walls/ flooring
Poor wedding planning to match the time, theme or even season of the wedding
Also, always ensure you have multiple venues in the same place - one indoor and other outdoors, just in case it rains on your parade - you should be prepared for the worst
The results from these can range from last-minute slip-ups to a catastrophe!
Have you seen or experienced other wedding decor mistakes? Share your wisdom in the comments and help the future Mr. & Mrs. plan their perfect wedding.