Sudden Rains on Your Wedding Day? Planning Cues to Manage It Like a Pro
An unexpected downpour shouldn't dampen your wedding plans and festivities. Here are a few tips that'll help you figure out the next steps and prepare for the unprecedented situation in the best way possible!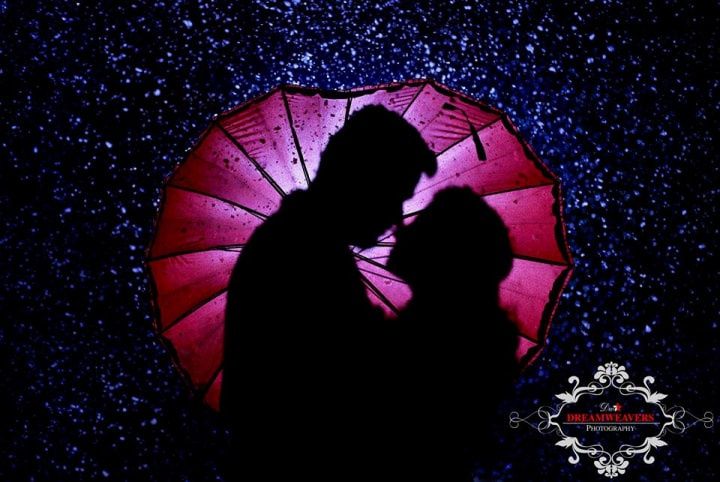 You've got your wedding plan meticulously laid out, down to the last detail. Everyone's excited - your wedding entourage has arrived, the parties have begun and the stage is set. And then, unexpectedly, you're forced to deal with sudden rains on your wedding day! What do you do? It's easy to panic in such a situation, especially if you're lined up for an outdoor wedding, or have some portions of it laid out under the open (and now pouring) skies! Here's a helpful list of ideas that'll help you stay calm and figure out a way to make things work!
1. Remember to Remain Calm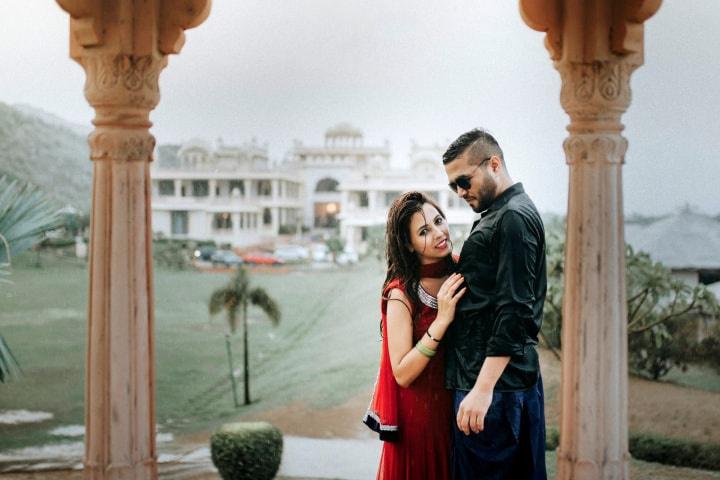 Your first instinct may be to panic and worry about your plans and all the details involved in them. What about outdoor events - the wedding finery, the reception stage, all the wedding arrangements? Take a deep breath.
Sit down with your fiance(e), your close friends and your family and go through all your options. Simply being together with the people you love and tackling the situation with them will make things a lot easier. Stressing about it on your own and imagining what-if scenarios as you fret over your wedding plans, is a recipe for disaster.
Grab a few cups of tea, huddle and jot down notes and suggestions from everyone. There is a way out and you'll only be to focus if you stay in the moment and allow yourself to be calm. It's just a temporary setback and rains on your wedding day can be handled with a few tweaks.
2. Think of the Changes You Must Implement
This is crucial if you had planned an outdoor wedding ceremony. The first thing to do is to think about an indoor wedding plus reception and get in touch with your wedding planners or the staff at your chosen venue.
Think about the changes required to the following:
A. Venue Changes
i) Seating Arrangements
ii) Overall Ceremonies
iii) Guest logistics - How to Ensure no one is drenched, refreshments required, moving the food areas etc.
iv) Baraat - It's probably best to cut this short and dance where there's shelter for the guests (many will be concerned about their outfits and makeup getting ruined in the rain).
In case it's not possible to change the setup, ask whether the staff can set up wide tents meant for a crowd at the last-minute to provide protection against the rain. Transparent tents look especially beautiful in such a setting!
It's ideal to move the main ceremony and the pheras indoors especially if it looks like it's going to rain throughout.
B. Catering Changes
If you have a different caterer than your venue, you need to talk to them about their own placement and logistics (If it's part of your venue deal, then the conversation would be covered above). The caterer would need to move to a different location away nearby, away from the downpour to ensure that the food stays in the best condition. You may also have to update the menu to ensure that it's more suitable for the weather (hot dessert such as gulab jamuns over ice-cream, for instance).
C. Photographer Changes
Your photographers will also have to change their plans and even equipment while shooting the wedding ceremony. Talk to them about the placement of permanent/ semi-permanent structures like photobooths and other installations for the wedding and whether you would need to cover or move them accordingly.
Remember to discuss all the possibilities and alternative options with your wedding planners and the staff at the location. They will definitely have solutions to offer and some kind of Plan B that you can follow for your wedding.
3. For the Bride
Get in touch with your makeup artist and discuss what will work for this scenario. Regular touch-ups, hairspray and waterproof makeup are great ways to combat the weather. It'll still be important to stay under an umbrella and avoid the downpour until the ceremony and major parties are over. You'll want to ensure your wedding lehenga and gowns stay dry. Most importantly, remember to relax and enjoy your big day and trust your tribe to take care of you!
4. For the Groom
The groom needs to be under an umbrella as well in order to protect him from getting drenched. If his entrance was supposed to be a grand one with a big entourage coupled with an elephant or a horse, it's best to forgo that and make it swift and move it to a safe zone away from the rain.
It's important to make the most of the situation and turn it around in the best way possible! For instance, the groom can dance and enter the wedding hall instead with a Bollywood wedding song playing in the background. His friends and family members can follow him in one by one, making it an entertaining and memorable moment.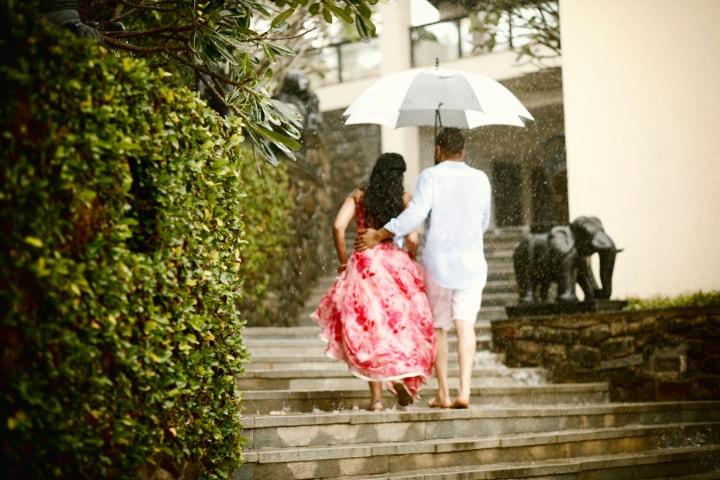 How to Use the Rain to Your Advantage
Rains on your wedding day don't have to spell disaster for the party at all! There's so much to do!
Organise an impromptu rain dance party with all your guests and let your hair down. You'll also end up getting incredible and unique photos that are interesting and striking to look at. What's more, you'll have a great wedding story for the future and will look back at it all fondly.
Gauge the situation and plan accordingly. For instance, your floral arrangements for the wedding will remain fresh thanks to the weather and you'll also be able to provide soothing hot beverages such as cups of hot chocolate to your guests. Get creative, use fun props and lots of colour and seize the day!
Rains on your wedding day can leave everyone - from your fiance to your parents to your wedding planners confused and worried. The key is to not let it get to you and use your creativity to plan around it.
Most places have a backup plan for such a situation and will be more than happy to accommodate your requests and provide alternative solutions. Indoor weddings can be a lot of fun too and make the festivities more intimate.
Did it happen to you? Have you ever dealt with such a situation or know someone who has? Do drop in with your suggestions in the comments below.