Roses for Weddings Can Be Used in the Most Creative & Fragrant Ways
Weddings & their colourful ceremonies are signified by the presence of flowers. Check out some creative ways to use roses for weddings while adding a dash of fragrance!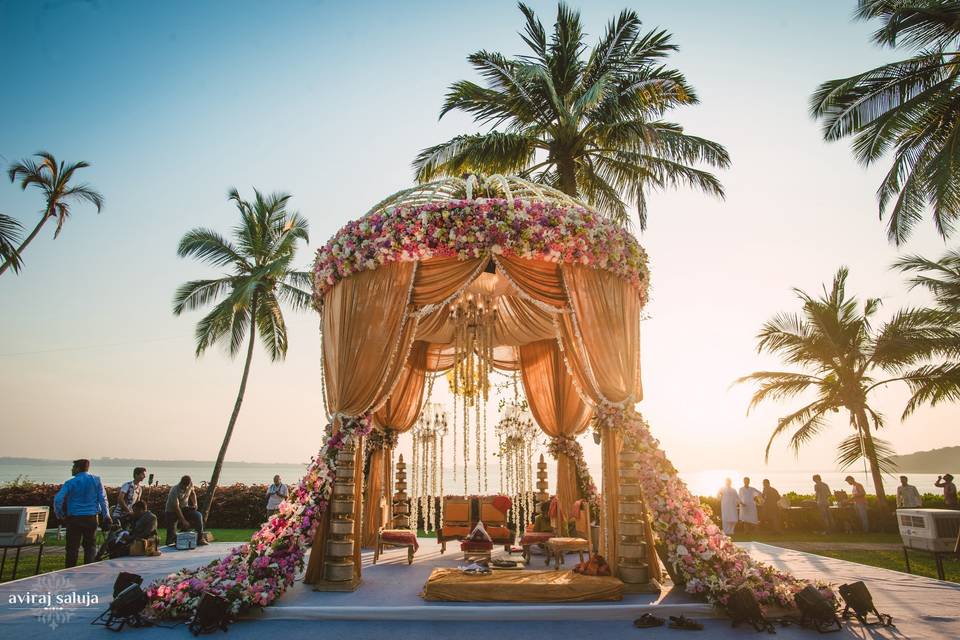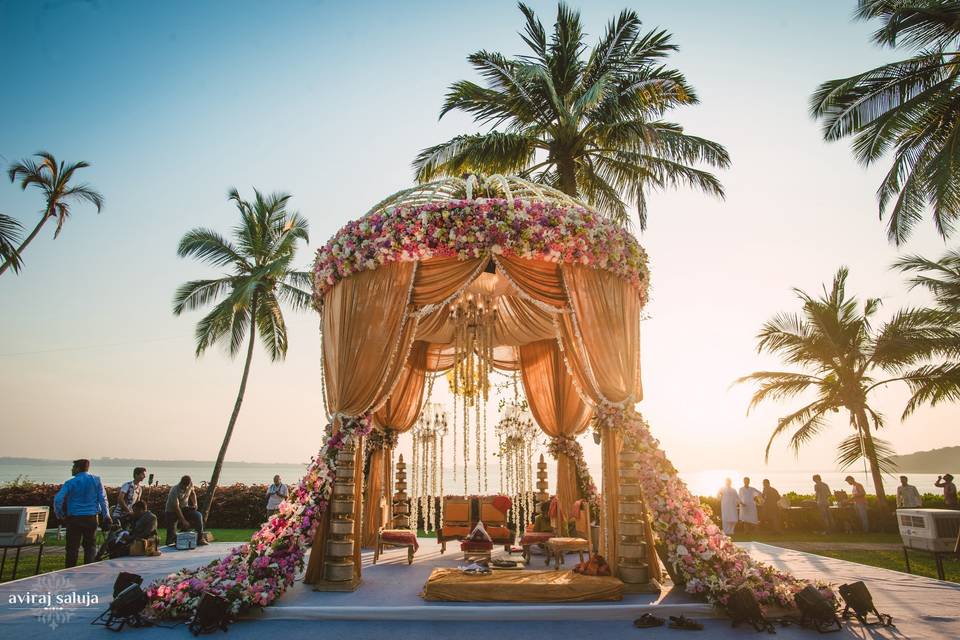 Image Courtesy: Aviraj Saluja
From a Roka ceremony to welcoming the bride to her new family, every wedding occasion is celebrated with flowers. And among many other flowers, roses are the ones that have become quite inevitable on any happy occasion! Decorating a wedding mandap, creative trousseau packing, Jaimala or even decking up gorgeous invitation boxes, the possibilities of incorporating roses for weddings are endless.
All you got to do is think creative! You can also mix them up with other flowers for variations! So here are some interesting ways where you can use roses on different wedding events. Read on, take notes and try them out!
Red & white Jaimala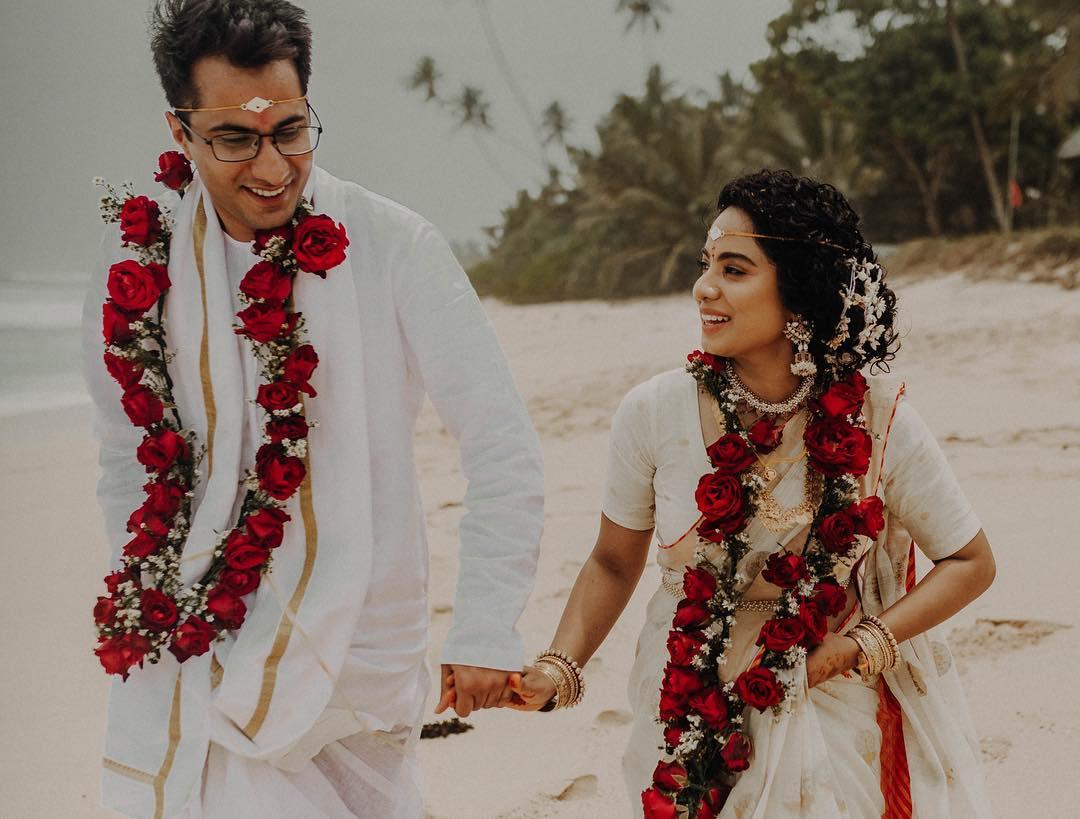 It all started with the #Virushka wedding that broke the internet in December 2017. The trend of using roses for weddings including the rose jaimalas spiked up after the famous celebrity wedding that year. The soft colours of the roses and the subtlety in the whole wedding outlook worked like a magic inspiring many couples. You could also go for rose petal garlands instead of whole roses or mixing up the two using different shades.
Rose-made engagement tray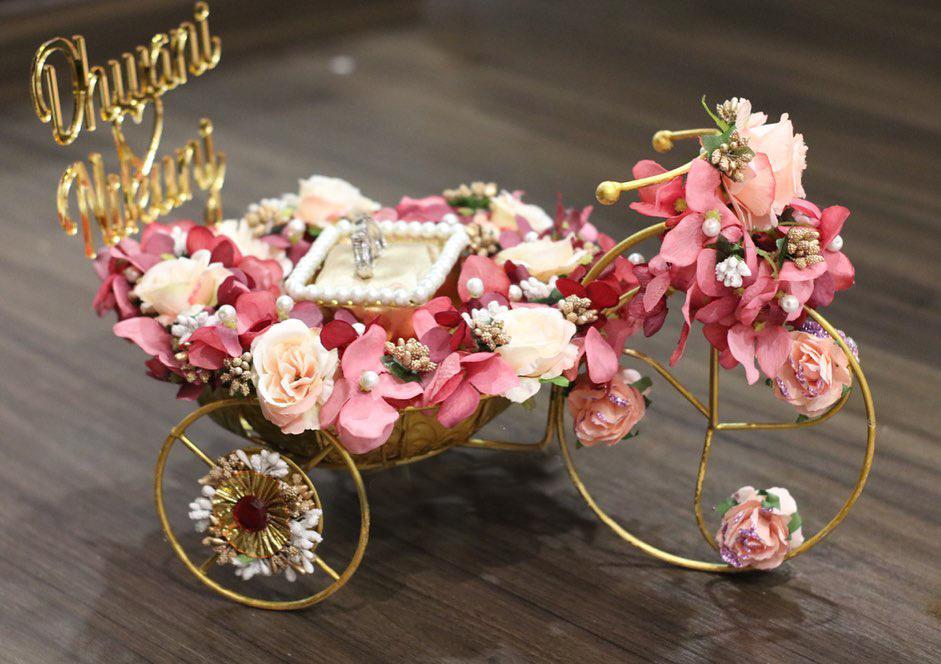 When it comes to wedding planners and decorators using their creativity, the sky is their limit! Here's an adorable way to incorporate roses for weddings-decking up the engagement tray! Like in this one, trousseau packing expert DIY with Krittika has used a small metallic rickshaw covered with roses and placed the engagement ring at the centre. Now that's a totally cute way to use roses, isn't it?
Roses for wall decor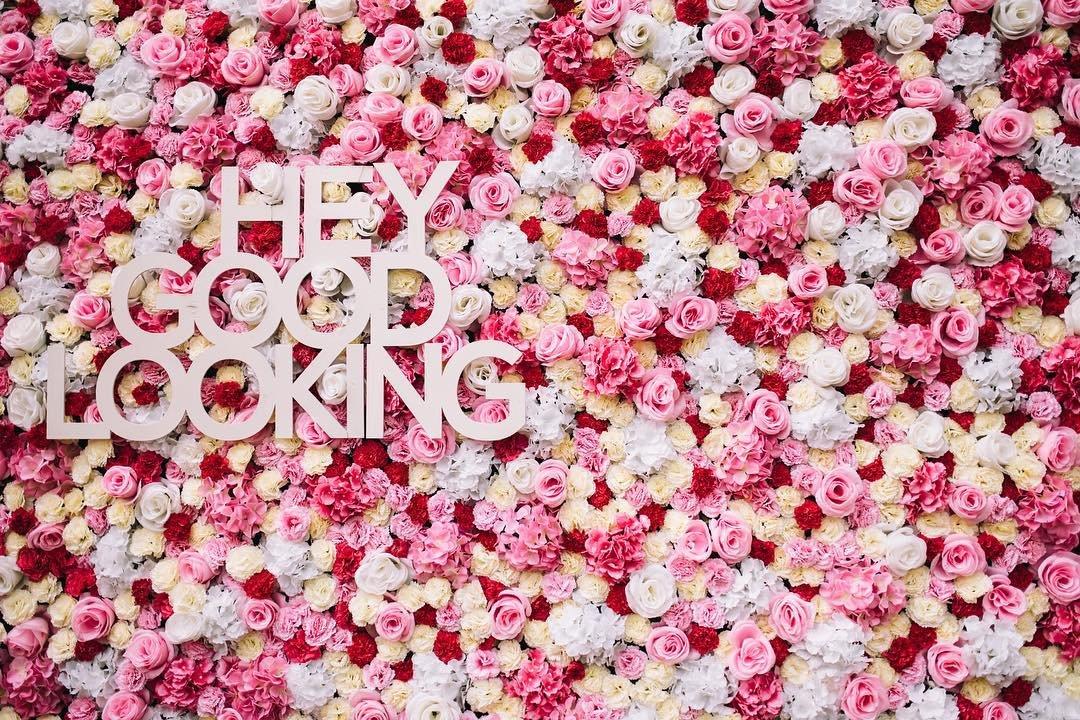 Another wedding decoration trend that has become quite a rage is a stage wall decor. So using roses for weddings these days almost naturally involve decking up the stage wall with gorgeous roses. Decorating the wall with colourful roses accompanied with hanging candles or chandeliers glams up your whole wedding venue. This idea also works if you want a floral photo booth with this backdrop.
Red roses for mandap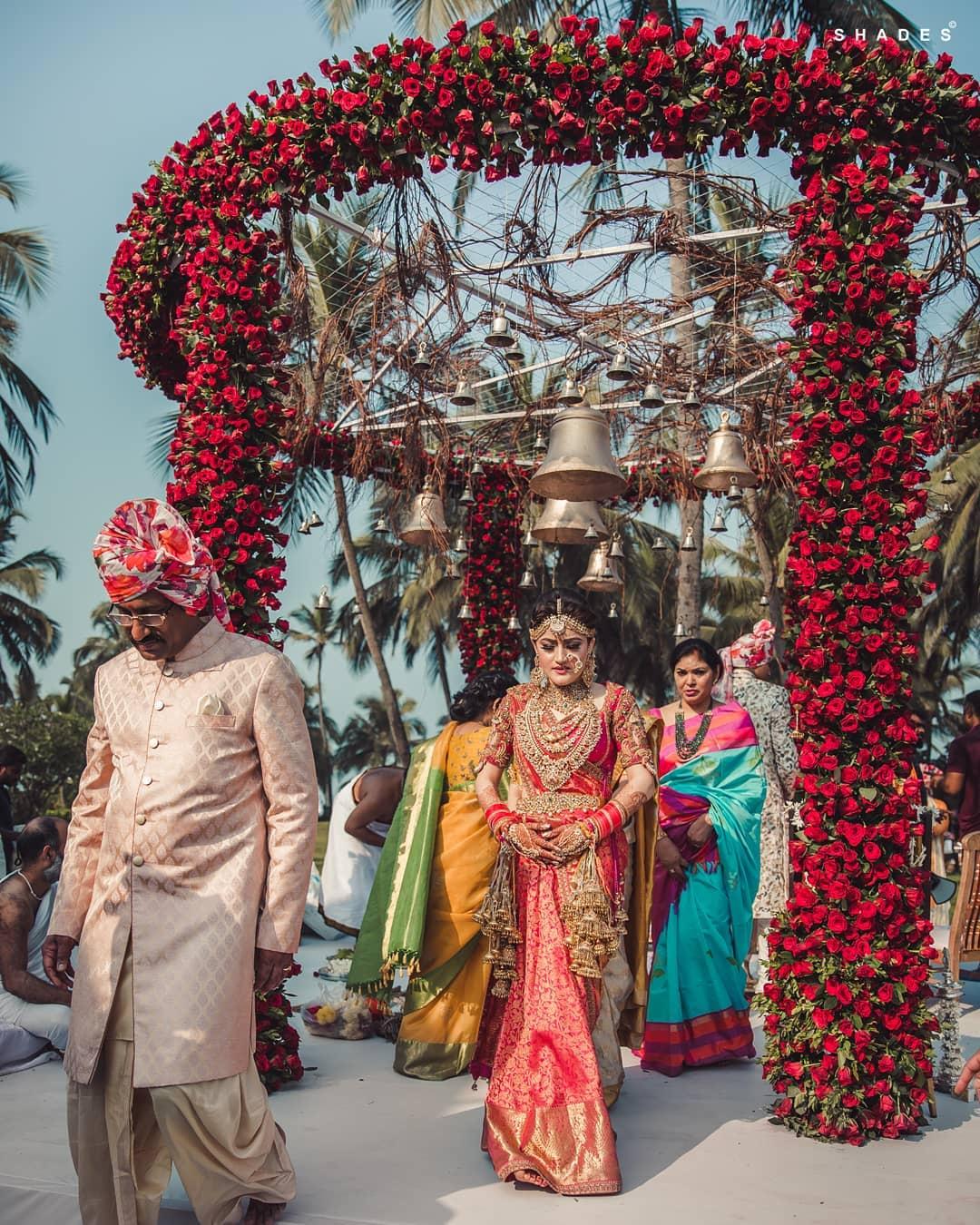 Image Courtesy: Shades photography by Ashwin M.
If you're planning a destination wedding at a lavish resort, here's a neat idea of using roses for weddings! Decorate your mandap entirely with roses. Use rose streamers, rose chandeliers and arches covered with rose. Pick a colour theme and arrange your decoration accordingly. If your wedding mandap is of the conventional red theme, go for red roses balanced with the greens of the leaves. Make your wedding decor look like a dream!
Entrance decor in Pastels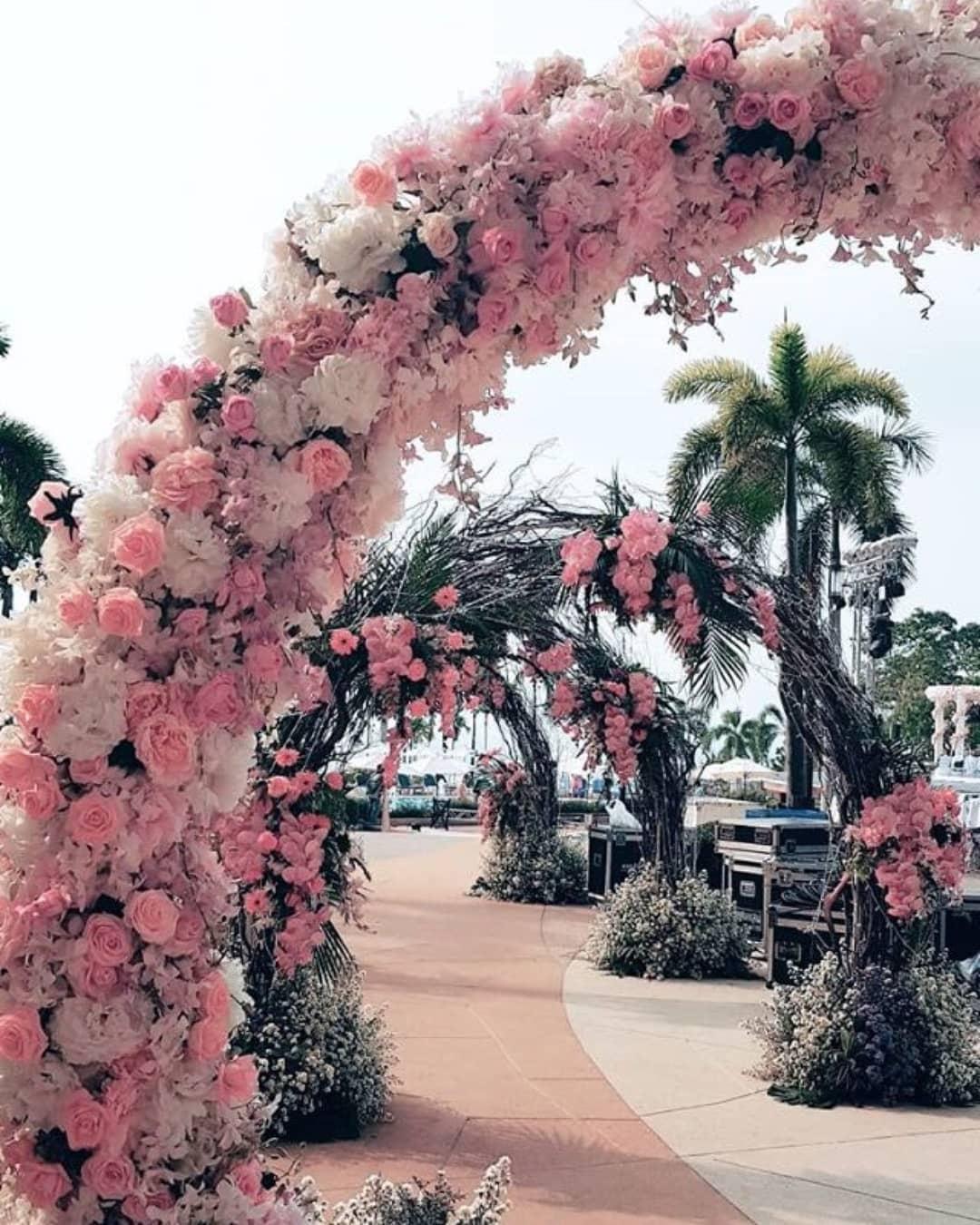 When it comes to decorating the venue, even the smallest corners of it is considered and the entrance is one of the main concerns of decoration. How aesthetic and beautiful will the entrance have to be to give that first impression of absolute wow to the guests is something that can be solved with roses for weddings. Keep some arched structures using twigs and branches to keep the rustic feel and use pastel-coloured roses to make it absolutely photogenic.
White & purple roses for table decor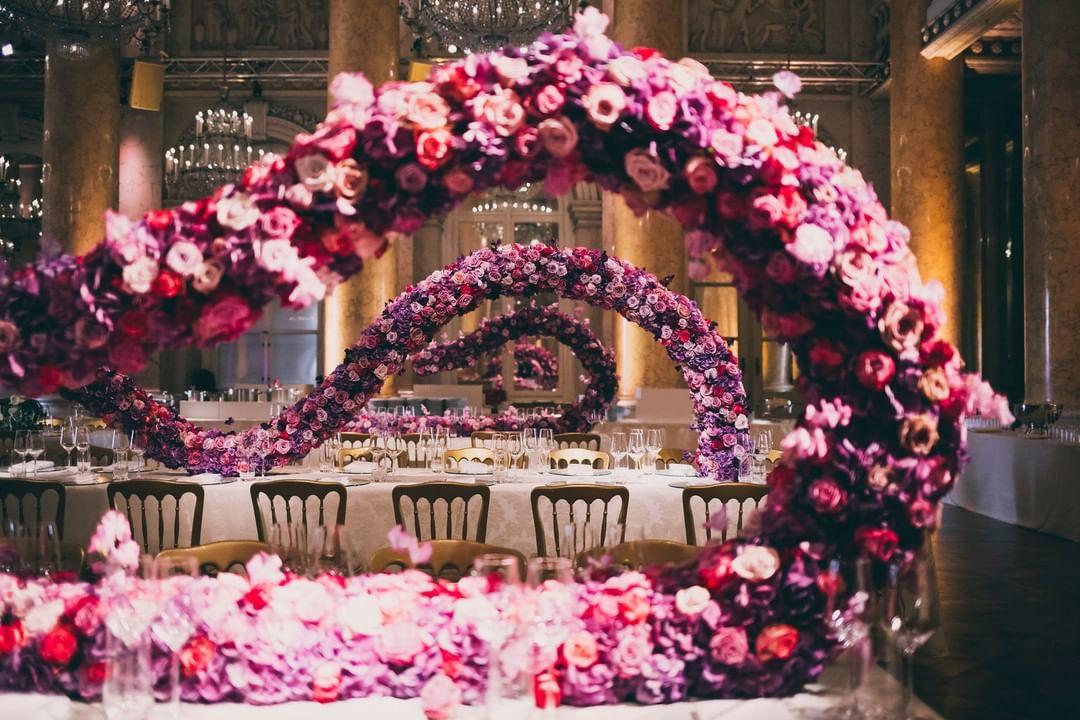 One of the elegant areas where you can use roses for weddings is the table decor. Setting up dinner tables with innovative and graceful styles is a decor trend every couple these days love going for. Colour coordinate the roses with the table covers and runners. Add some beautiful candle-stands. Accessorise the rose vases with pearls and glitters. Let your guests enjoy your wedding meal in style!
Table Decor with Red Roses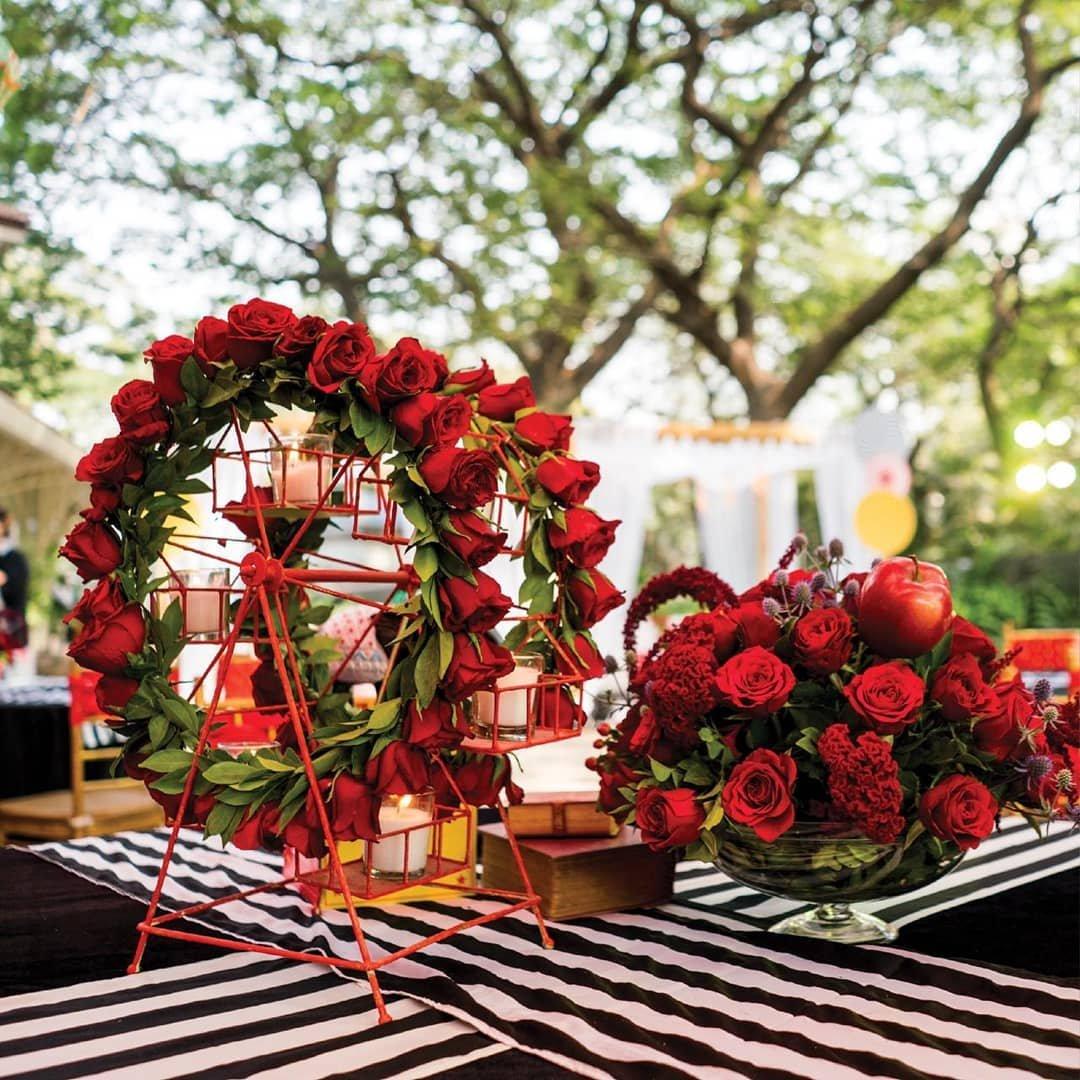 Apart from the floral and non-floral centrepieces that decorate the banquet area during the dinner, there are smaller floral arrangements that are used to deck up the food tables and make the food spread look all the more aesthetically appealing and gorgeous. Red roses on small fairy's wheels with candles placed alternatively and a flower bowl of red roses would be a perfect pick. When it comes to roses for weddings, the decor is always a priority.
White Roses for Hair Bun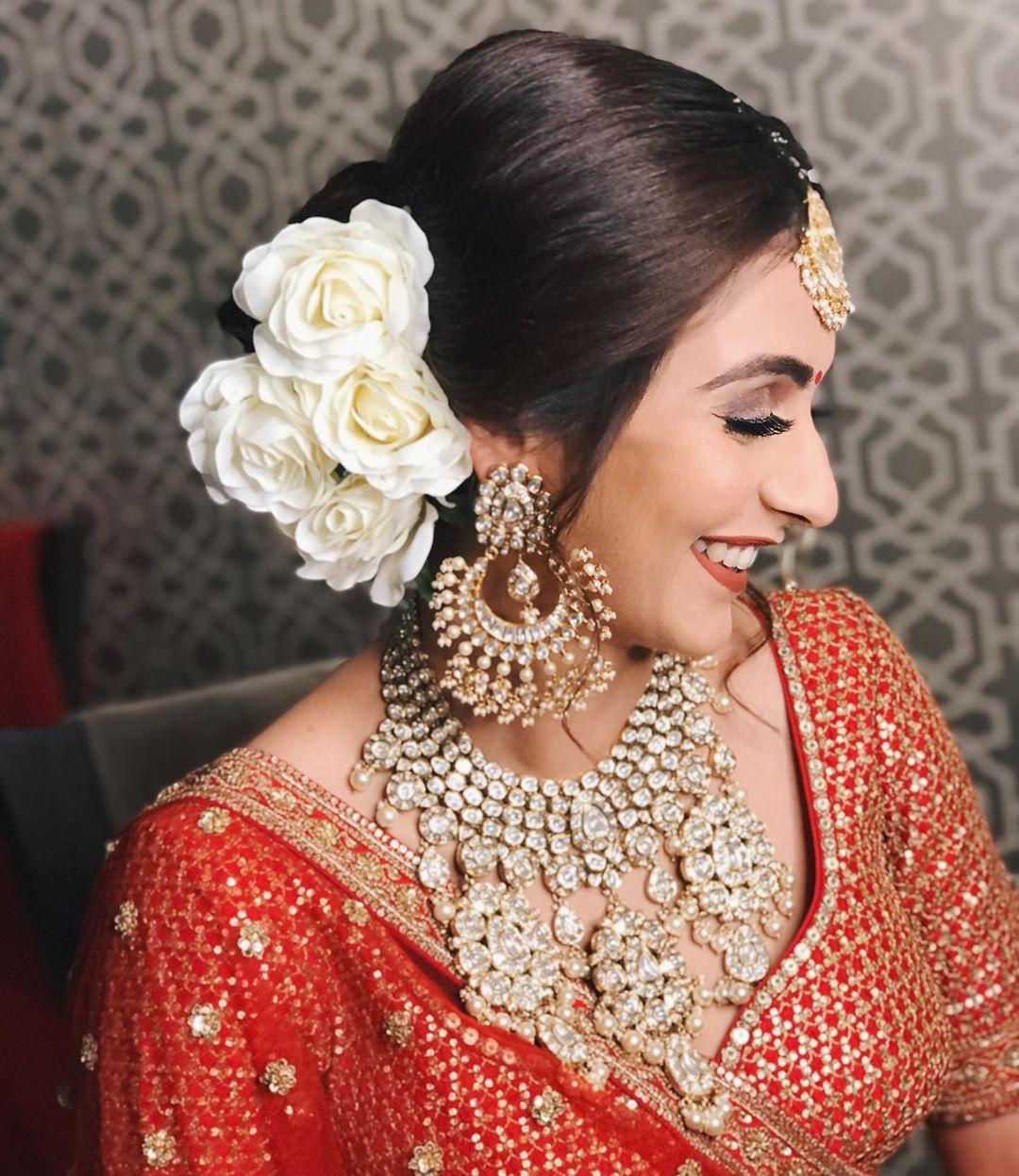 When we're talking about roses for weddings, we just have to mention the stellar bun hairstyles of the bride! Using red roses for a bridal hairdo is almost an essential hair styling element! Especially if you're going for traditional hairstyles, dolling up your bun with white rose bands with tiny pearls and beads in between them just completes your whole dulhan look! You could mix up your red roses with little white flowers too to enhance your Gajra hairstyle even more.
Floral Jewellery of Roses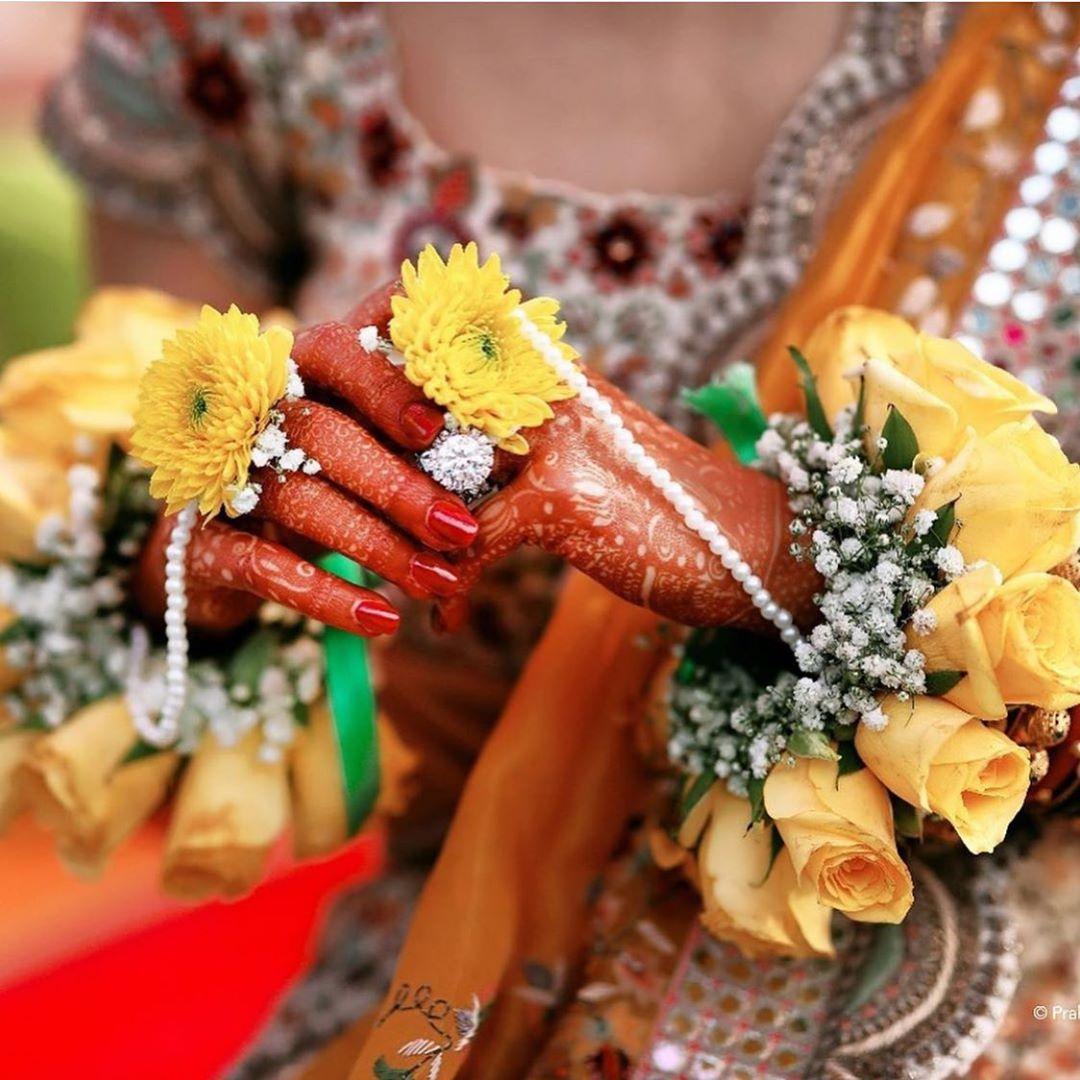 Image Courtesy: The Cage Story
Floral jewellery for the Mehndi ceremony or the Haldi is a big hit among the brides and their bridesmaids. Brands like Flosaira have gone the extra mile to create haathphools using a wide variety of flowers from mainstream red roses to baby's breathe and so much more. The floral Maang Tikka and even the tiaras have been such a rage for the ceremonies. Yellow roses are a good pick for the floral jewellery that will be in sync with the colours of the celebration too.
Now you've got a fair idea on where all to incorporate roses for weddings. In case you're planning to have an eco-friendly wedding without using any real flowers, you can also try artificial roses for decoration. The use of roses and other flower arrangements in a wedding plays a massive role in the whole decoration scenario. You must understand the colour schemes and combinations to achieve the perfect decor for each of your wedding events. Speak to your wedding florist or planner and ask about the various options. Make your wedding look like a fairytale with flowers, petals and leaves!
Are you yet to book a wedding planner for your wedding? Take a look at our vendors' list and get great packages!