Rose Petal Garland Inspiration to Add a Romantic Touch to Your Jaimala
Begin the celebration of your big day with a dash of romantic roses. Click on to see inspiring rose petal garland for wedding day celebrations.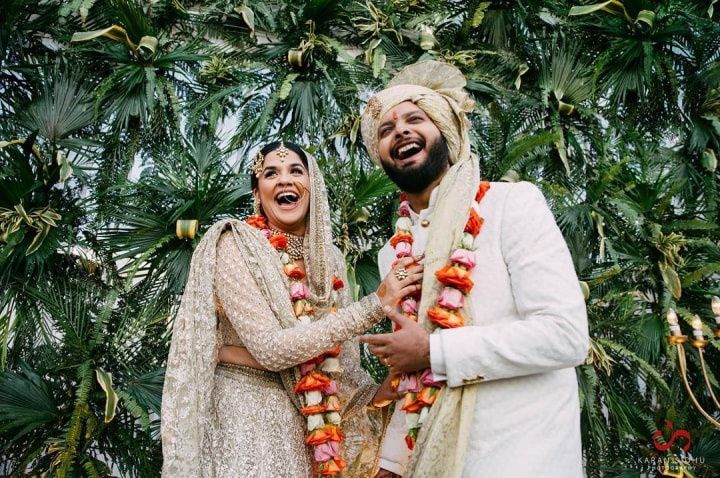 Jaimala is an essential ceremony in many different cultures across our nation. They mark the beginning of the wedding day ceremonies and celebrations. And what better way to start the festivities with a bang than with pretty and romantic roses setting the tone for the love in the air on the biggest celebration of your life. We have curated some unique and awe-inspiring rose petal garland for wedding so that you can add the extra sprinkle of charm to your big day.
1. Faux Bud Bunch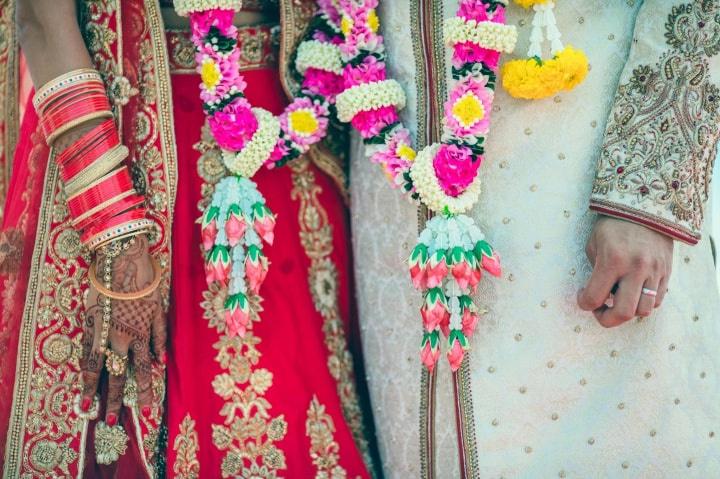 A splash of gorgeously vivid hues across the garland creating a perfectly painted picture against the contrasting hues of the bridal outfit is a treat to the eyes. Ans adding a cherry on top is a delicate ring dangling down the centre holding a bunch of faux roses. This rose petal garland for wedding ceremony is one that will make a statement and be a prominent part of your outfit.
2. Happy Yellow Sunshine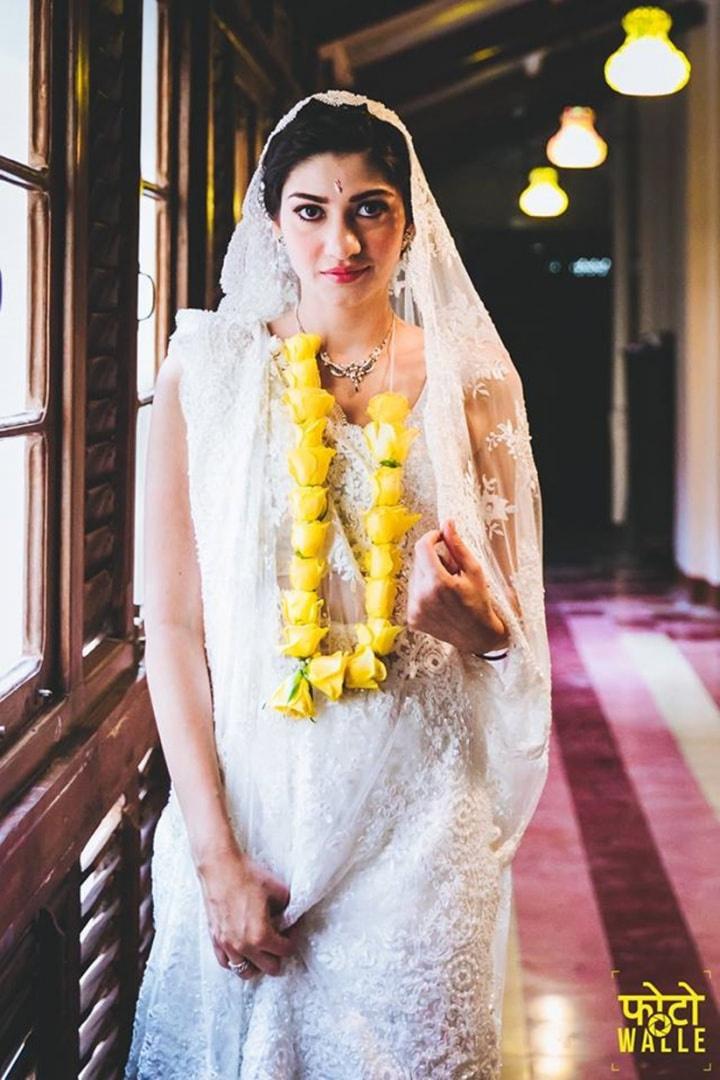 Happy hues of the colour yellow have been a part of Indian cultures and traditions since as long as we all can remember. The auspicious touch that comes with it has a subtle and serene charm to it that is completely appropriate with the occasion in hand. Carrying this tradition into the world of modern trends is this yellow rose petal garland for wedding. Worn on a light-hued bridal attire, it carries out the message to everyone who lays their eyes on you (so, literally everyone!)
3. A Hint of Rose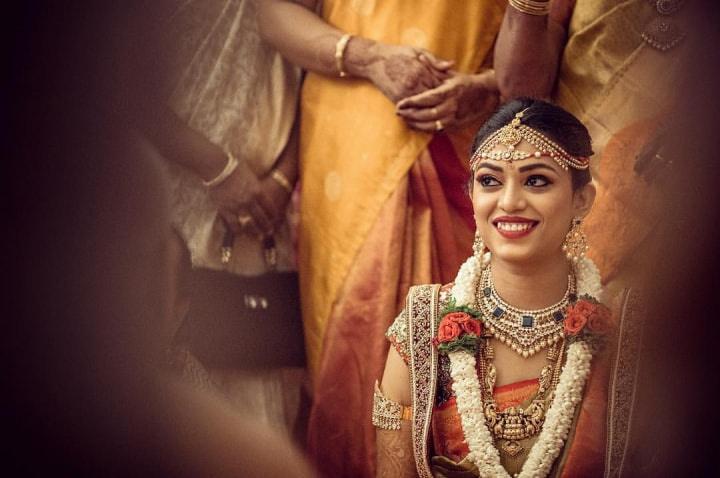 For the traditional bride embracing her cultures at their best, this rose petal garland for wedding adds a dash of a trend to her Jaimala. stunning white petal flowers going along the length of the garland with a hint of dainty orangish-red roses give a charming appeal and make a truly one of a kind rose petal garland for wedding. Its beauty truly stands out when adorned with a traditional red and gold Saree.
4. Vibrant Elegance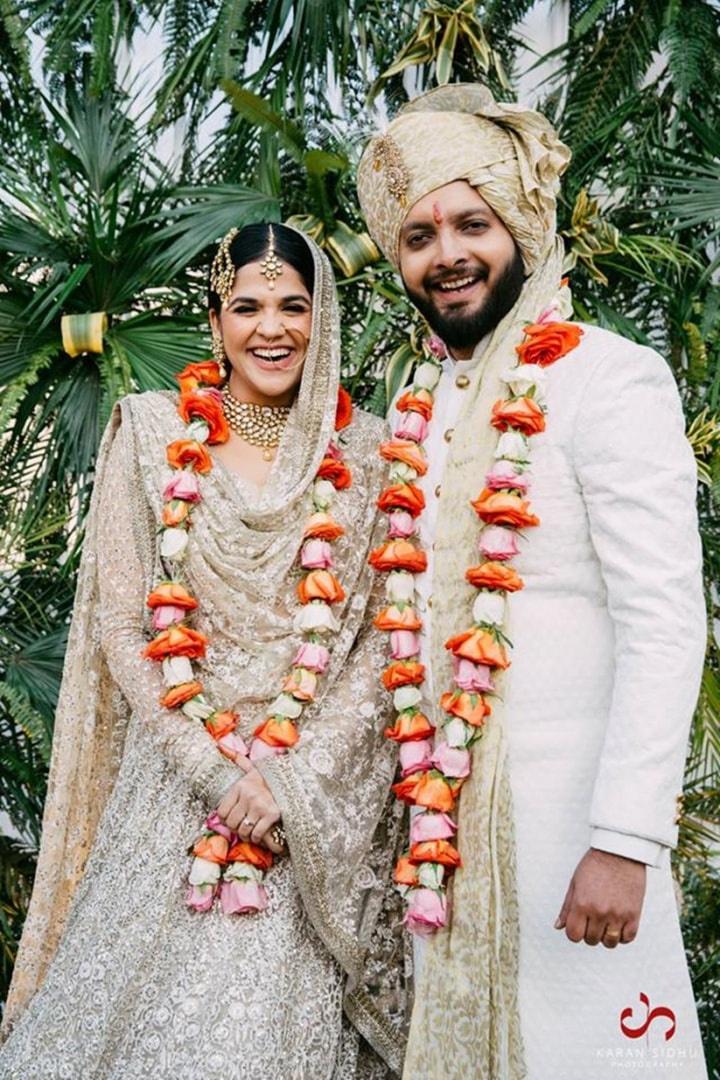 Now, isn't this a sight that pleases the eyes and makes the soul happy. This bride and groom choose muted shades of dull gold and beige for their big day ensemble and paired that with a mix of pink, white and vibrant orange rose petal garland for their wedding. And we have to say they nailed their look giving a Pinterest inspired feel. Pin this rose petal garland for wedding at the top of your list and be inspired to create a colour combination of roses that works well with the shades of your bridal outfit creating contrasts or a theme.
5. Floral Medley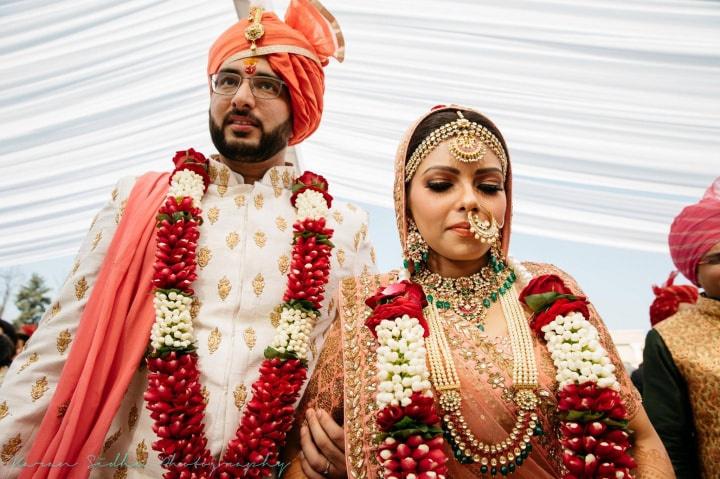 A rose petal garland for wedding does not have to have only roses in it. You can get creative with it by creating a beautiful medley of flowers with different colours, textures and of course, fragrances to compliment your bridal attire. A touch of green, a splash of red and the serene white together make a classic combination that will do justice to any look that you want to create.
6. A traditional Touch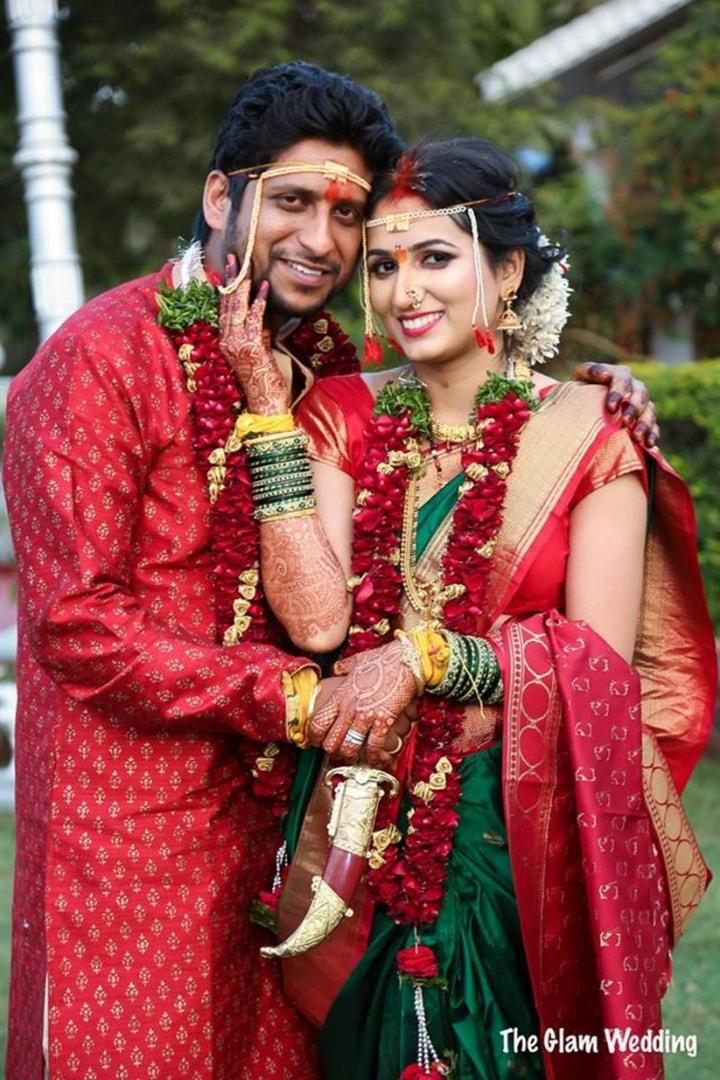 A dash of tradition is all a millennial bride needs to add the finishing touches to her bridal look. Adorn a classic green and red silk saree for the big day bring to out the divinity of a bride and complete the look by choosing red rose petal garland for wedding that matches well with your Saree creating a red theme for the auspicious occasion. These happy hues of culture and traditions will be worth remembering and recreating.
7. Pastel and Pearls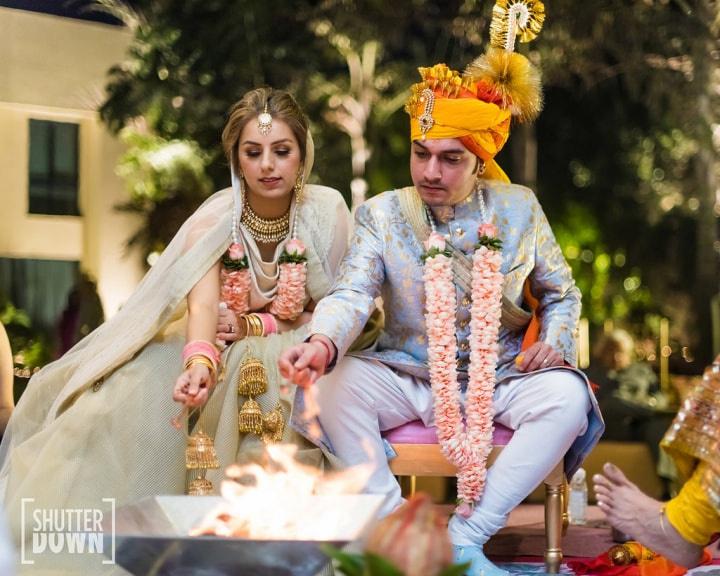 Oh, the serenity of pastels! There is something serene, calm and heavenly about pastel hues that one can't help but fall in love with them. Choosing a pastel theme for your wedding is a subtle but versatile choice. See how different hues, when used in pastel shades, blend together flawlessly creating a picture perfect scene. Blue for the groom, green for the bride and lovely peach for the rose petal garland for wedding that they chose to work together effortlessly.
8. Bejewelled Faux Roses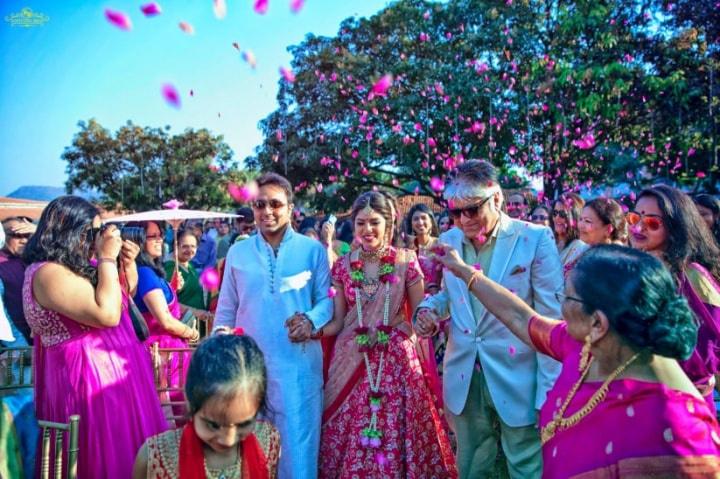 What is a wedding without bling? Our eyes caught the sight of this stunning rose petal garland for wedding that is made out of faux flowers. The star of the show here is the gorgeous strands of pearls embellishing the garland and the roses are used for a splash of colour to highlight the look. This bride has chosen the shades of roses to match her bridal attire and looks fabulous. If too matchy-matchy isn't your game then you can opt for contrasting shades of roses and pearls to create a rose petal garland for wedding that reflects your style and personality.
Jaimala becomes a part of your wedding ensemble one the ceremonies begin. So, keep your outfit in mind when you are selecting the style and colours for your rose petal garland for wedding. While real roses have elegance, charm and fragrance to them that no faux can match, faux roses on the other hand and easier to embellish and manage during the ceremonies that follow Jaimala. In the end, it is all about what pleases your will and meets the desire to achieve the flawless bridal look that you have always dreamt of.
Which one of these rose petal garland for wedding ceremony do you like the most? Let us know in the comments below!