5 Floral Wedding Arrangements That Make a Décor Statement
Floral wedding arrangements breathe freshness, beauty and elegance. The key is to know what kind of arrangements work best for your wedding. Here are 5 floral arrangement ideas that make a statement and work beautifully with all kinds of wedding them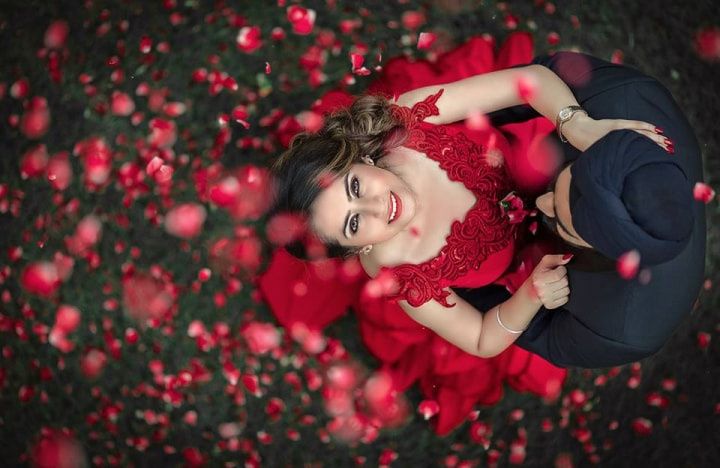 Wedding arrangements are incomplete unless you have thought of the perfect floral arrangements. No wedding décor is truly complete without flowers- no matter how many or how little. Floral wedding arrangements add beauty, a breath of freshness, natural charm, and colour. But the big question is- where and how do you place them to make a statement?
Making wedding arrangements is no easy task! There is so much to be thought about, planned, sourced, and executed. Floral wedding arrangements require all of that and more! Firstly, you need to make sure you are working with a professional florist who will give you on-time delivery of quality flowers. You then need professional wedding decorators who can use these flowers and turn them into something magical that adds a beautiful décor style to the wedding. There's a lot you can do when it comes to floral wedding arrangements; from a single rose stem as a table centrepiece to creating ceilings and walls with flowers. If you are looking for floral wedding arrangements that make a statement and look elegant, no matter what the décor style is, here are 5 inspirations to get you started:
1. Centrepieces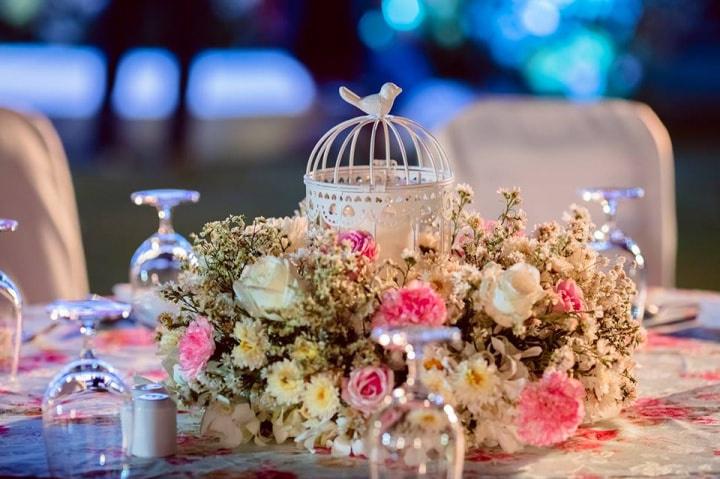 What's a wedding without good food? A great way to make the memory of your wedding even more delicious is adding beautiful floral wedding arrangements as stunning table centrepieces. For small tables that seat 2-4 people, you can add small floral centrepieces with candles or a long vase with a large round floral arrangement. For large round tables that seat 8-10 people, opt for a similar long vase and round floral arrangements and add a significant element like small bird cages with fairy lights at the base. For long tables, create a long floral wedding arrangement running along the length of the table. You can add multiple décor elements here like candles, lights, golden painted pineapples and cupids- something stunning and striking.
2. Waterfalls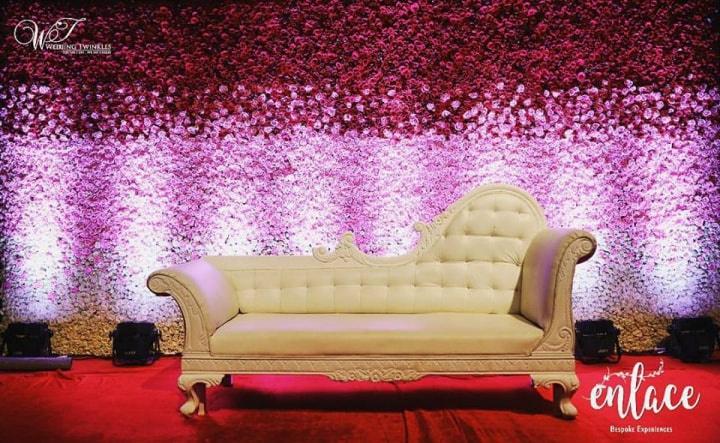 Yes, you read that right! Floral waterfalls make a statement that is hard-to-miss and definitely one of the most stunning floral wedding arrangements. You can create a cascading waterfall floral backdrop for the couple on the stage, a stand-alone one for your photobooth or one at the entrance to your wedding venue. This can be further enhanced with the perfect lighting, metallic coloured streamers, an Ombre effect with the same flowers in different hues or with names of the couple with bold flowers woven within the waterfall arrangement.
3. Canopy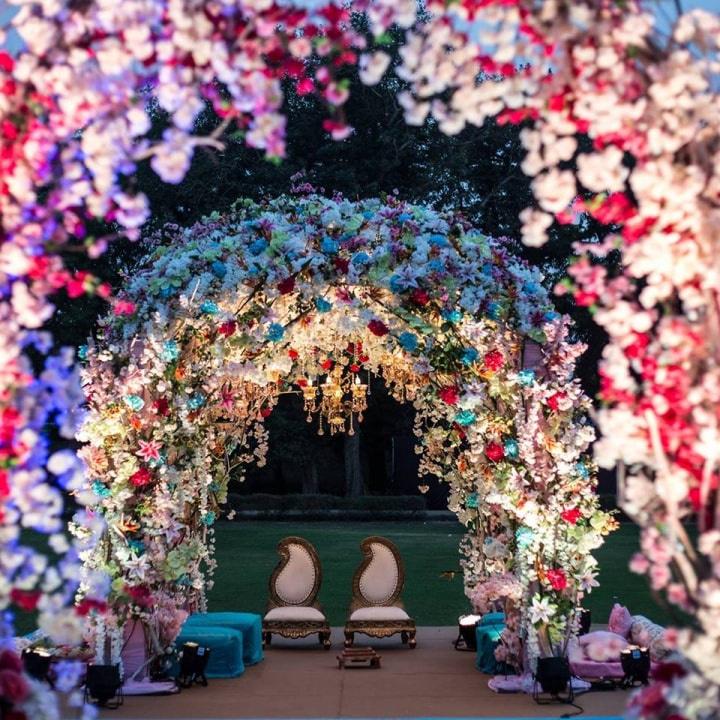 A canopy of flowers is a great way to greet your wedding guests, at the entry or lead them to the Mandap. Creating a canopy of flowers also beautifully marks the path to the wedding, without having to use not-so-pretty fabrics and poles. Use a variety of flowers in different colours, matching your wedding theme or stick to the traditional marigold flowers. You can further use Kalire, kites, fairy lights, bangles or origami craftwork as hangings for a high canopy or on the sides for a lower one. Enhance the path with Diyas or candles on the ground.
4. Chandeliers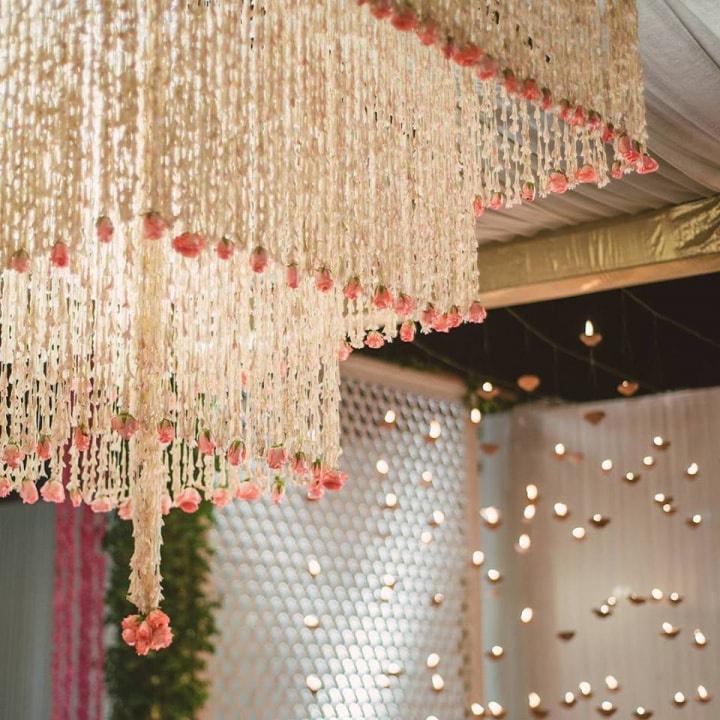 Floral chandeliers are the best way to dress up your wedding venue from top to bottom. Be it a white Jasmine chandelier with rose accents over the sacred mandap area, a colourful one with fairy lights wrapped around over the dance stage or multiple floral chandeliers scattered around the seating area- they are always a sight. These floral wedding arrangements work well for both day and night time weddings, and are a great way give the décor a complete top-to-bottom look. You can add multiple décor elements to it like metallic hangings, bulbs and other baubles.
5. Flowery Mandap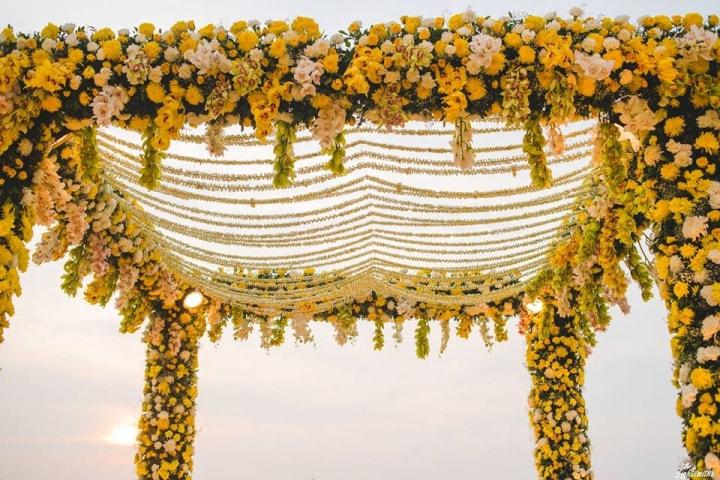 Floral wedding arrangements for the Mandap need to be extra-special. The flower arrangement around the Mandap needs to enhance the area, without coming in the way of the ceremonies. There will be people sitting and standing around the Mandap so you want to make sure the flowers create that space. Keep the ceiling part open and create a floral frame around it. If you have a high ceiling area, you can create a floral chandelier. Create an entwined floral arrangement, wrapped around the Mandap poles and fabric. Add large flower arrangements on the top and bottom of the poles to highlight the Mandap area. You can further use different kinds of hangings, around the four sides.
These 5 floral wedding arrangements are not just beautiful but also easily customizable. You can add your own décor elements to these floral arrangements and own the look. These beautifully enhance the wedding venue and are hard to miss.
Do you have more ideas for unique floral wedding arrangements? Share with us.