Gold Couple Rings For Engagement For The Perfect Match
Tired of seeing platinum couple bands? Want something more flattering and traditional? These gold couple rings for engagement will make for special moments!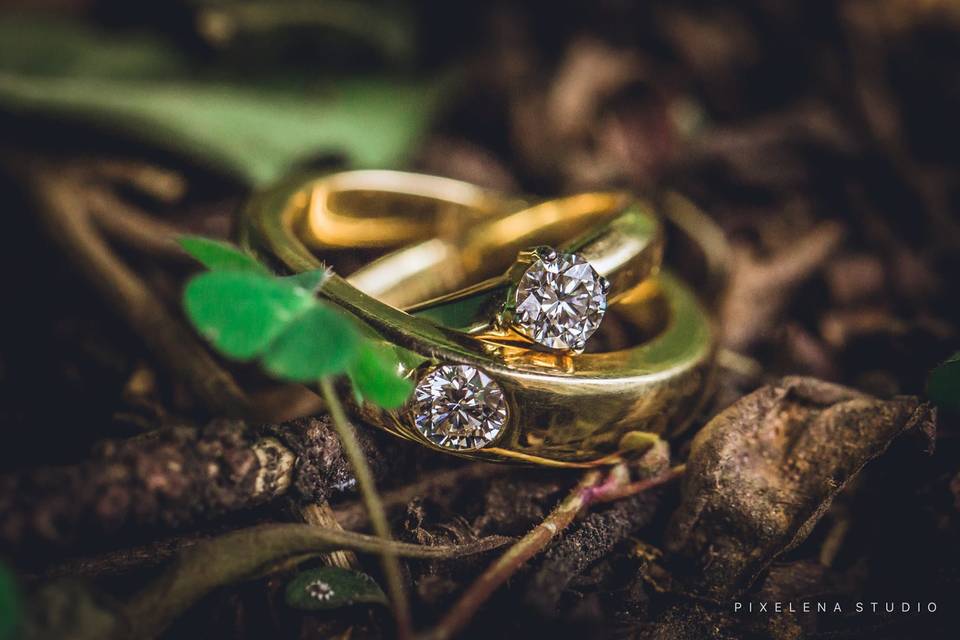 Soon after the arrangements for the wedding have initiated, the first big step in terms of purchases is buying the perfect rings for engagement. And there are so many routes you can take with these eternity bands, but our personal favourite has to be gold couple rings for engagement. Gold through the ages across states comes to symbolise royalty and is the traditional choice.
Now coupled with modern designs and delicate diamonds, it is the perfect choice for the modern couple looking for something unique. Despite gold being the traditional choice for brides and grooms, platinum has lately taken over the rings department with a strong lead but somehow hasn't undermined the majesty of gold rings.
One important aspect why we would suggest gold couple rings for engagement over platinum bands is because gold tends to suit warm tones which categorise most Indian complexions. To break it down further, the basic rule is cool skin tones are flatted by white metals including platinum and silver while warm skin tones are accentuated by yellow including rose gold, gold, brass and even copper. While if you have a neutral skin tone, all metals and colours will flatter you.
The Dual Metal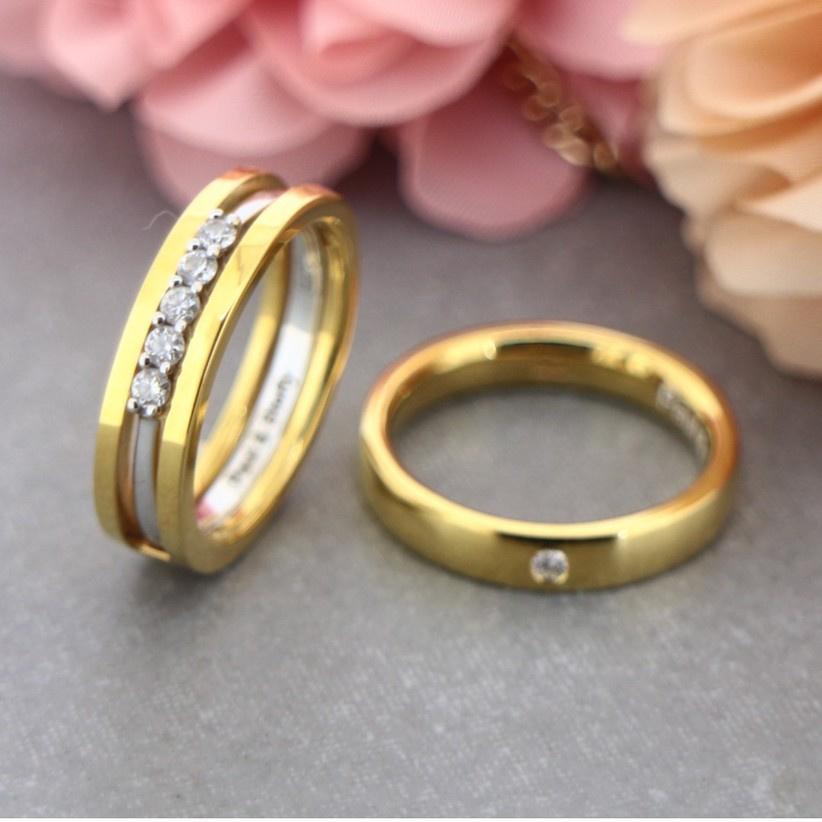 Image Courtesy: Carousell
Confused between gold and platinum? This dual-toned gold couple ring is the answer for your dilemma! You can always have the best of both worlds with moderns designs like this that makes the best of it all.
The diamond, gold and platinum come together seamlessly to create these stylish and modern gold couple rings for engagement. Both the groom's and bride's ring are different from one another but essentially have the same theme running along with the band and diamond at the centre of it all.
The Unique Design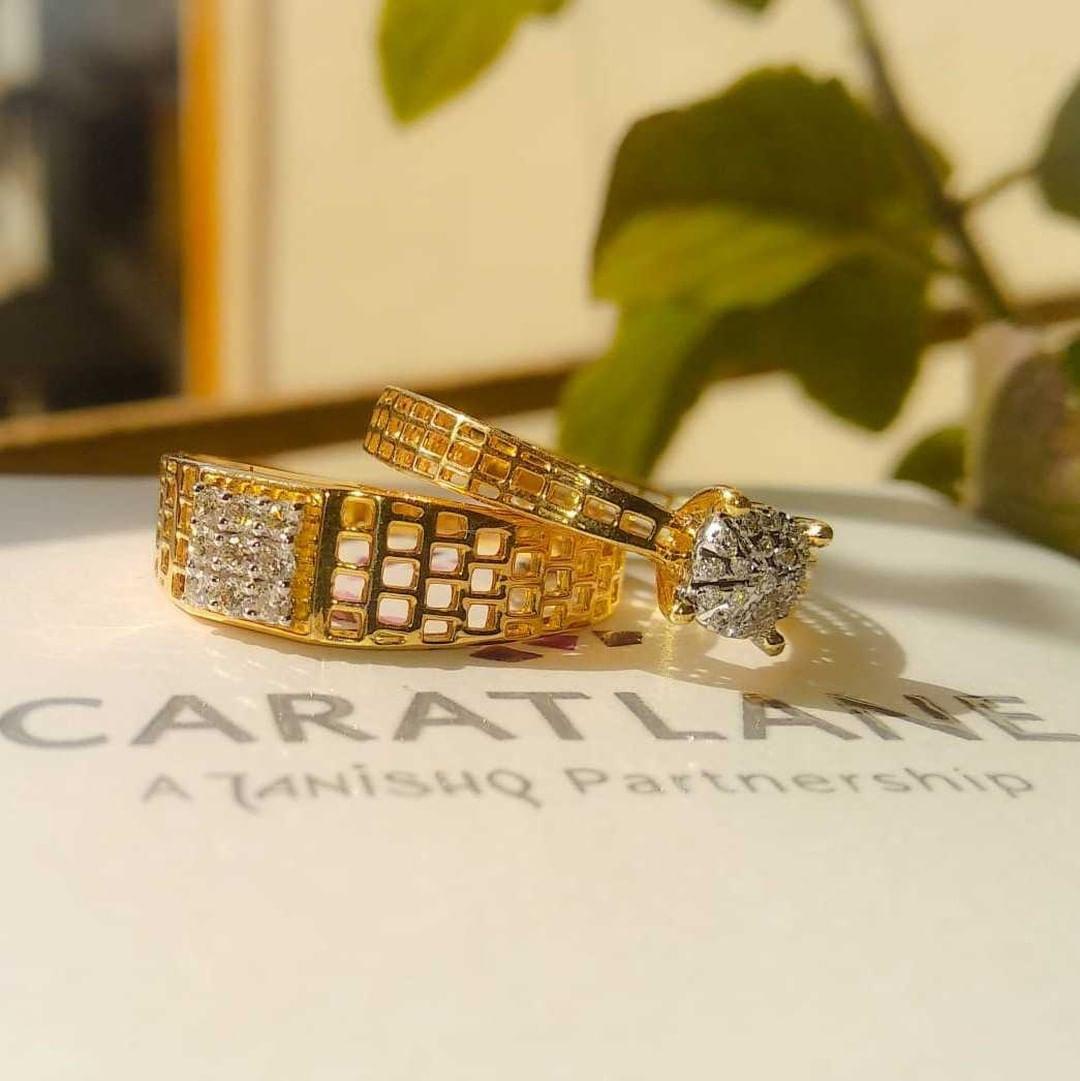 The grill and diamond design running along with this gold couple rings for engagement is something so different from most wedding bands we have seen that we love it more for that! Even though both the rings are so similar in their grill pattern theme, the rings separately also do stand out for their feature. We especially love how the bride's ring has one a chunky diamond while the groom's has a cluster of diamonds.
For The Bold Couple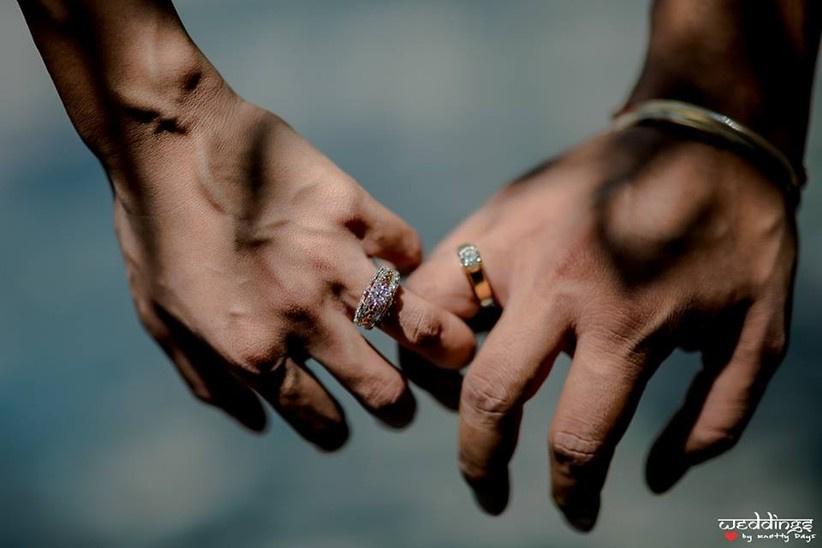 Don't want gold couple rings for engagement which don't have a merging design rather have their own individual identity? This set is the one for you! Both the bride's and groom's ring are bold in their own way championing diamonds especially the bride's ring.
While one ring is a simple gold band with a chunky diamond in the middle the other ring too has chunks of diamonds among a big one with yellow stones as well to compliment the gold. Unlike the conventional designs, this one is quite bold and trendy!
A Modern Trend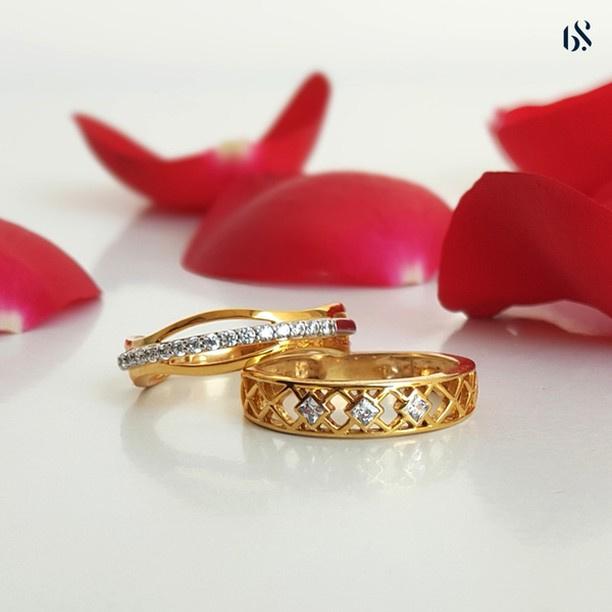 Image Courtesy: Blue Stone
Of all of these gold couple rings for engagement, this one is the most modern and elaborate design which will seamlessly blend into your day to day life while still making quite an impression.
Both the gold rings feature diamonds and geometric patterns making it so appealing. We especially love the dainty design for the bride which has a line of diamonds instead of just one while the grooms has three diamonds placed between the pattern.
The simple one!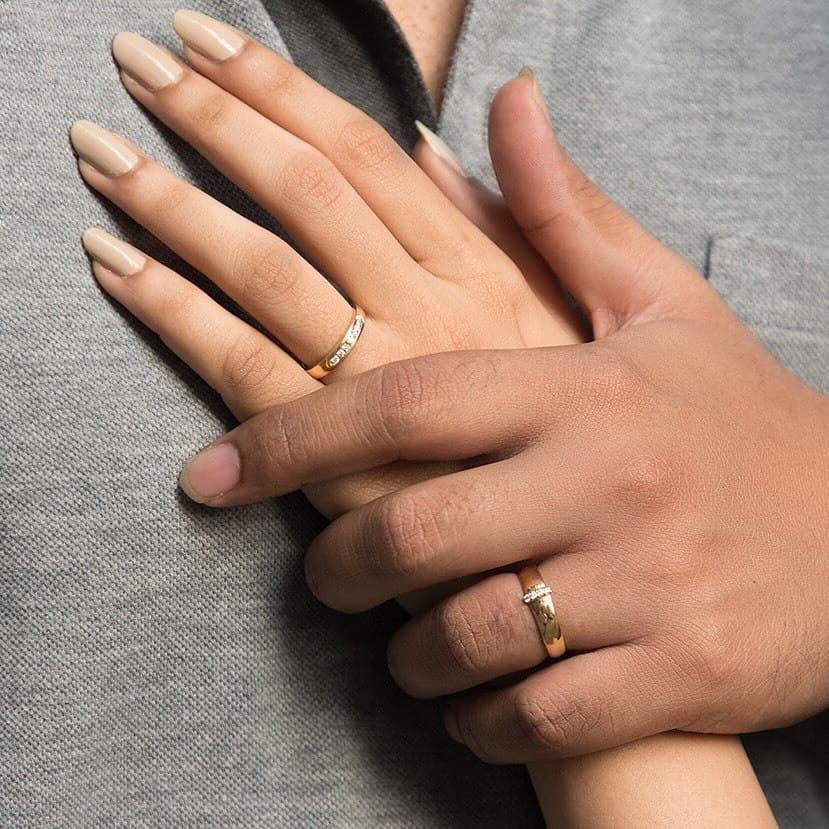 A sucker for plain gold rings? Then these bands are quite the choice for you! We love how both the rings are all about the classic gold bands but have diamonds running along with it one horizontally the other vertically almost poetic about complimenting and completing the designs together. Such rings can also be stacked with other rings including an eternity band for the bride on other occasions to bling it up!
Also, can we take a moment to appreciate how the neatly manicured nails add to the appeal of the picture so much? Always remember to find the right nail art or nail polish to accentuate your engagement shoot.
It is perfectly okay to have smoothly planned the elaborate ceremony but getting stumped on choosing the perfect rings for engagement. After all this is a piece of jewellery you will wear for the rest of your life. So be sure to try out different styles, save designs you like and most importantly bookmark this page for future reference. You don't always have to choose premade sets of rings for engagement and can always get rings customised as per your own personal taste by including elements you like and also personalising it! We love when couples add a personal touch to these rings making them even more special than the design itself.
Which of these gold couple rings for engagement did you love the most? Do drop a comment to let us know!