A Bunch of Classy Platinum Rings for Couples to Steal the Show
Hunting for platinum rings for couples is a laborious task, isn't it? Here are some of the dream couple rings selected exclusively for you.
All of us are well aware of this mad craze for platinum when it comes to buying the engagement rings! So, here are some really cool pieces of platinum rings for couples to give a little direction to your search for the ultimate couple rings.
Here are some of the most stylish yet sophisticated platinum rings for couples which are minimal when it comes to design yet look a bomb for the lovely couple.
These designs have been particularly chosen while keeping in mind the casual look and comfort for daily wear (you literally have to wear it for decades to come, isn't it?). So, what are we waiting for? Let's begin!
Pro-tip
Before we dive straight into our exclusive list of platinum rings for couples, We would like to drop this little reminder to be kept in mind before going for the ultimate shopping. When we talk of platinum rings for couples, we must understand that both the rings have something in common.
If one of the rings is a plain love band, the other must not be a drastically diamond-studded one. Say, for example, one of the two engagement rings has a solitaire in a smooth band of platinum, the other one must not be a band with some design engraved on the sides or with a coloured precious stone instead of a diamond (or diamonds).
Both the platinum rings for couples must complement each other as if made for each other (just like the couple).
A Little Sparkle for All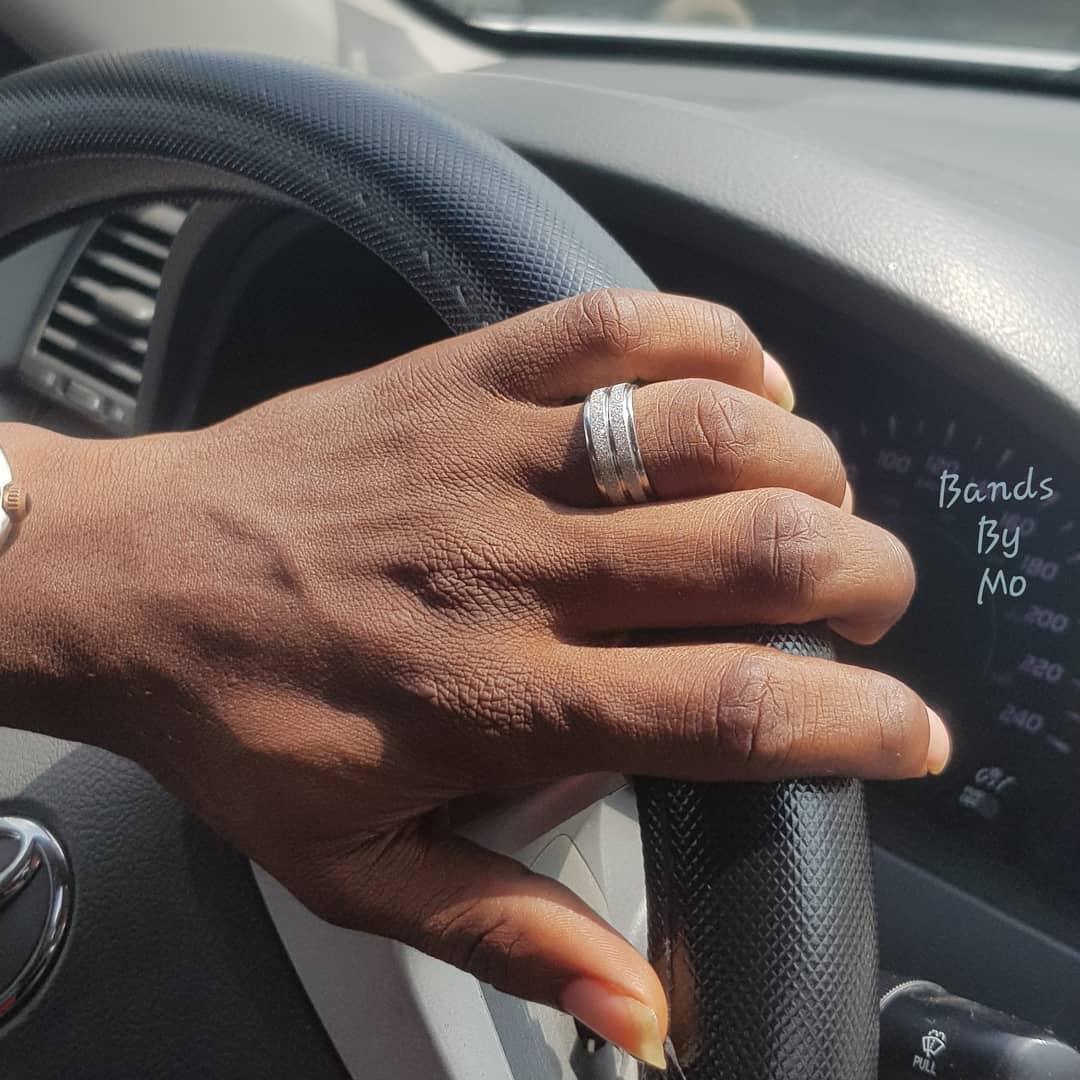 Image Courtesy: Bands by MO
This is a beautiful piece of love band which has all the rights to be the opening design for our list of platinum rings for couples. It comes with an advantage that the same piece of the ring in different sizes (obviously) can be chosen for both the bride and the groom.
By the virtue of being an equally classy and graceful platinum ring studded with diamond, this design becomes one of the most obvious and convenient choices for the lovely couple. Another advantage of choosing a ring without diamonds is that it becomes extremely easy to carry.
What makes this pair different?
The best part about such uniquely crafted love bands is that they play with the texture of the ring. A thin line of sparkling effect in the centre or a pair of it makes it a very different piece of jewellery to be exchanged on your wedding (or engagement ceremony).
Indian women often struggle with diamond-studded rings ruining the threads of their suit embroideries or stretching their sarees which won't be a thing to worry with this. Despite the tiny bit of sparkle, the ring set looks absolutely classy and absolutely worth being the holder of innumerable wedding memories and a promise for life.
Love Band with a Tiny Diamond at Heart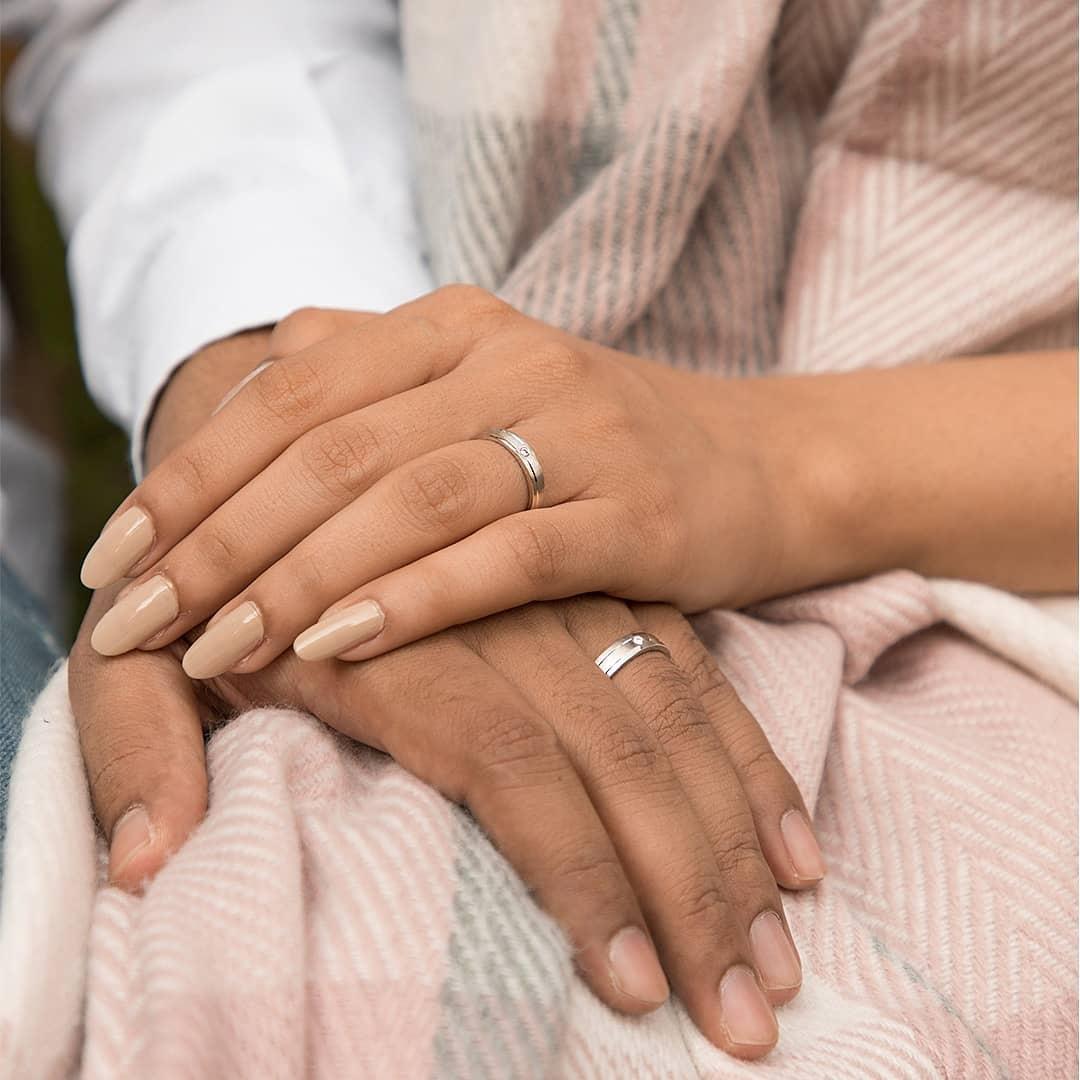 Image Courtesy: Caratlane
Another very sophisticated addition to our list of platinum rings for couples is this gorgeous platinum pair which looks absolutely stunning on the hands of the models.
Coming to the specifications of the ring design, the rings being love bands are exactly the same in design with two polished lines covering the edges of the rings with a tiny single diamond at heart. It can be seen that the thickness of the love bands has been altered considering the male and female hands.
We can totally imagine you both flaunting your bands in your engagement pictures and trust me, both of you look absolutely stunning!
Such platinum designs are best for which couples?
Being an adorable beauty and a piece of art in itself, this pair of platinum rings for couples comes under the minimal masterpieces for which the newlyweds today are going gaga over! Such fabulous pieces in their simplicity are ideal for couples who are a part of the corporate world.
All of us remember the basic grooming class at the induction ceremony of our first company, don't we? Such sophisticated teeny weeny rings brimming with class is a way preferable choice over a heavily sparkling rock moving about the office.
Platinum for All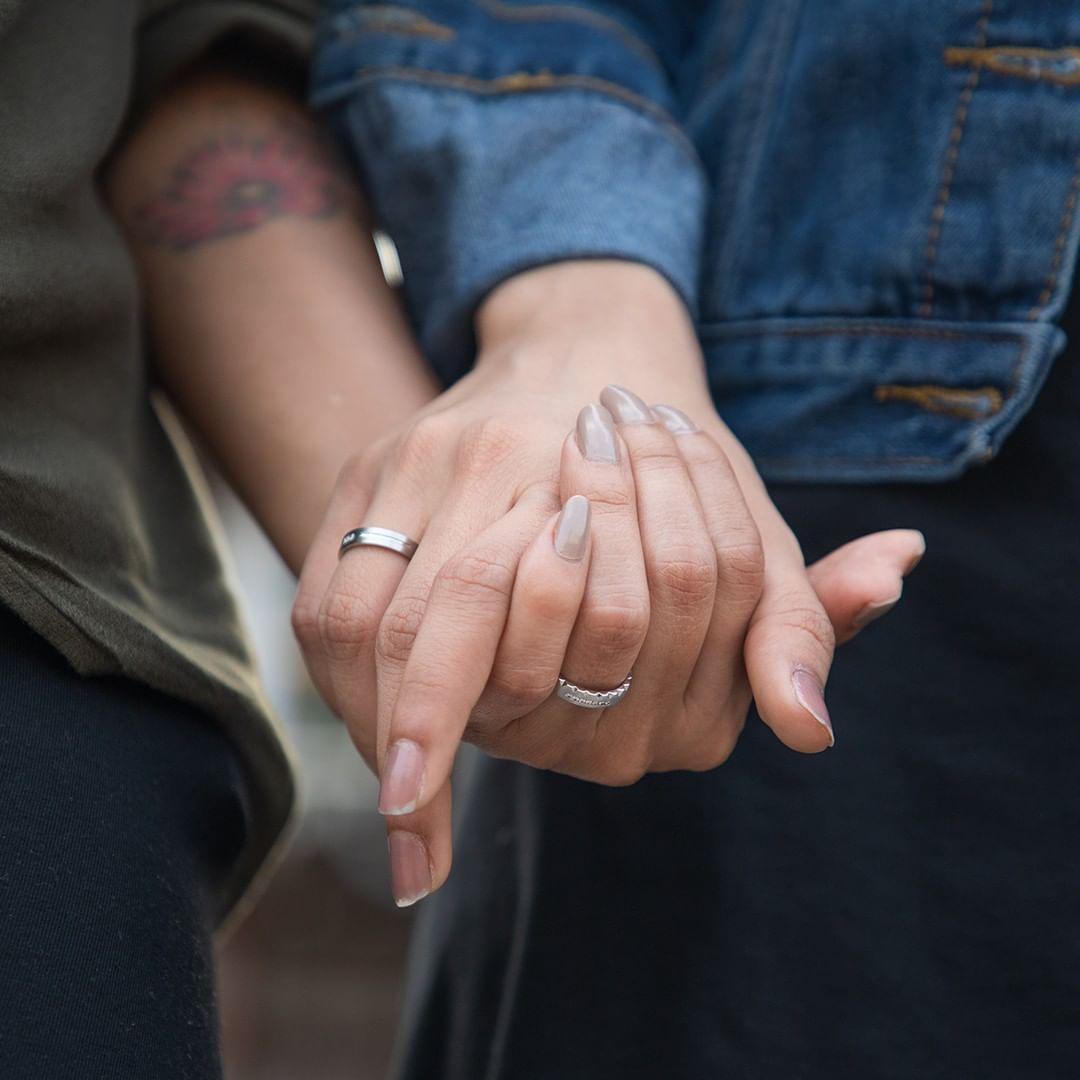 Image Courtesy: Caratlane
Before indulging in the design and specifications of this beautiful pair under platinum rings for couples, we must stop for a while and adore the beauty of it. This pair is a perfect demonstration of how to choose rings which despite being so different considering the genders continue to be a complementing pair.
The platinum beauty for the male has a polished line right in the middle with a string of tiny diamonds right in the centre. The female ring, on the other hand, has an engraved design which can be seen by the rough edges of the rings with slightly bigger diamonds covering the entire finger on the upper side.
Both the rings look lovely together, don't they?
What is special about choosing such designs of platinum rings for couples?
To answer this question, frankly, no design can be more or less special when it comes to choosing the engagement or wedding rings. The only key to choosing the right ring is that it must speak to both of you on a divine level.
The moment you see it, you would know it that it is the one for you just like you knew it when you met your partner. Coming back to the ring, if simplicity is something that binds both of you together, if showing off your status is not your thing then this will be a special choice for you to go with.
The Ideal Round Edged Challa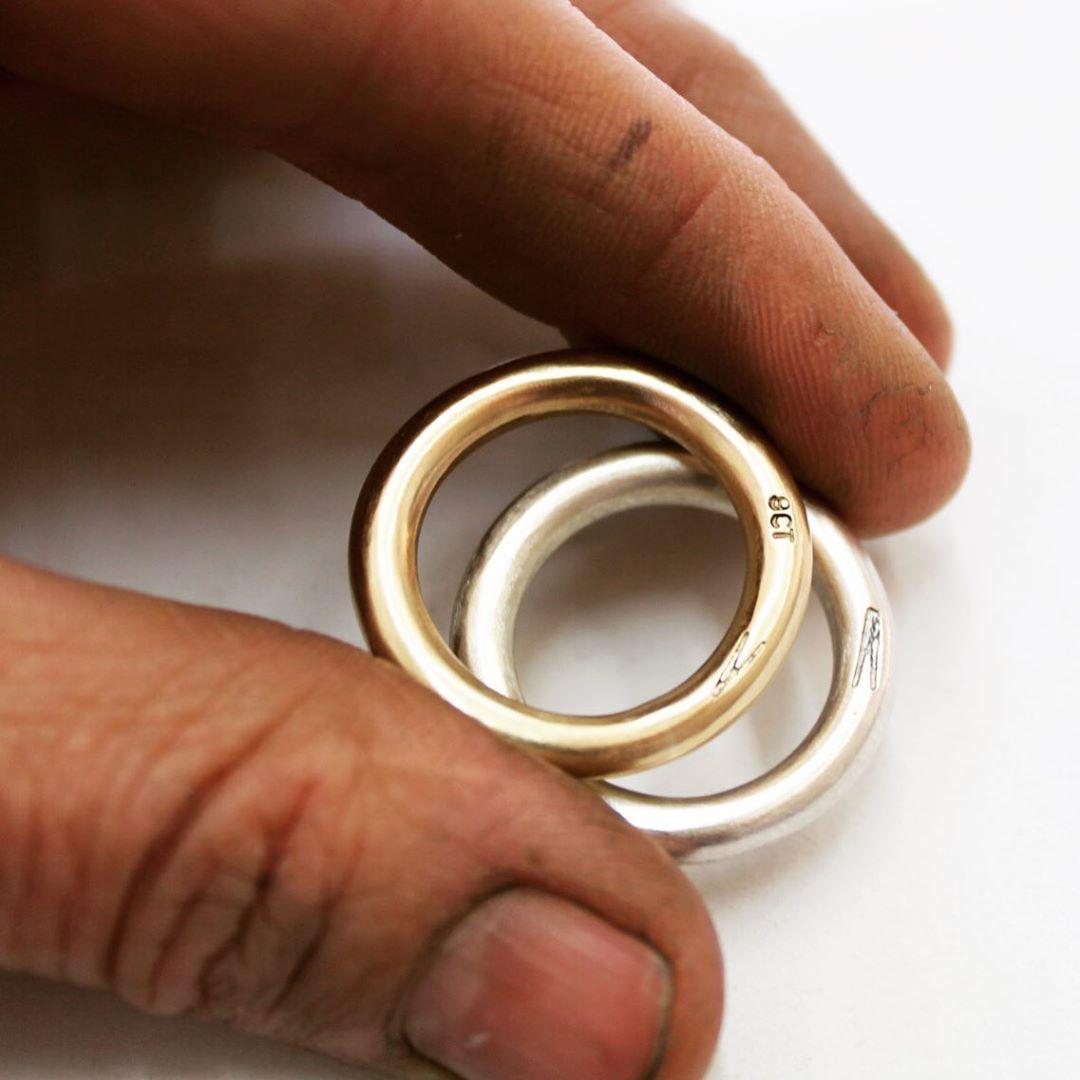 Image Courtesy: RedPeg Eco Studio
This wonderful option under the platinum rings for couples is a great upgrade to your regular love bands. These platinum rings for couples have a distinct rawness to themselves which makes them distinct. If you are a couple sure of their individual personalities then this is a fantastic choice to go for.
You can always get such designs made in platinum versions (this is in 18-carat gold version). It has a hippie touch to itself and this ring style is simple, different and has a raw vibe to itself.
You will definitely be setting benchmarks and smashing conventions if you go for a design like this.
What makes this pair of platinum rings for couples so unique?
The most wonderful part which adds to the advantages of this fantastic style of love bands is the quirk quotient that it comes with. Despite being fairly the simplest of all the platinum rings listed here, this style is utterly unique and full of quirk.
If you are a couple who believes in all things cool and different even for their wedding then this is exactly the design to go for. This design looks great with the bride wearing sneakers with a modern wedding outfit or the bridegroom adorning a Ranveer Singh style of outfit.
If you pick these platinum rings for couples from the rest, you will be choosing a fantastic statement ring for the rest of your life (or marriage).
For the Couple with the Classic Taste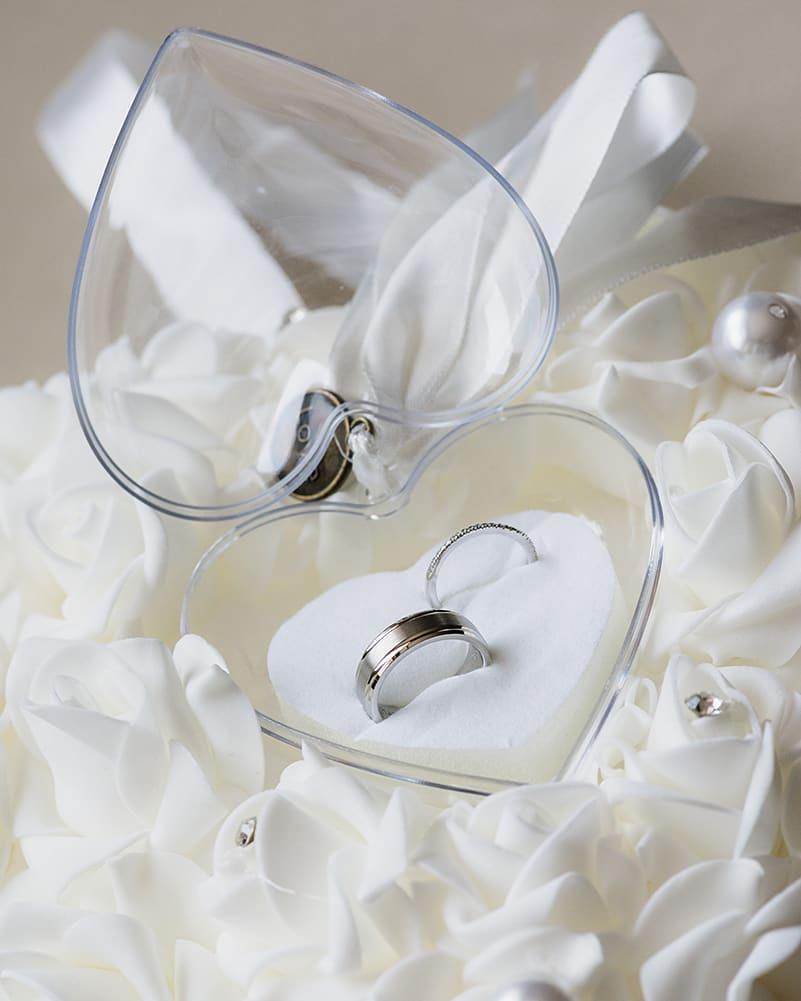 Ah! What an aesthetically pleasing pair of platinum rings for couples is this beauty. We would not be exaggerating if we say that this is one of the most sophisticated and classiest pair of platinum rings listed in our exclusive collection.
Discussing the sleek design, the one for the bride is delicate with tiny diamonds neatly arranged in a string following the finger line. It will definitely look like a dream on your beautiful hand, don't you agree? The one for the groom, on the other hand, is totally plain which will look fantastic as well.
The pair together will enhance the look of your hands together giving major couple goals.
These pair of rings are best for which couples?
This pair is definitely a great choice for the couple looking for a minimalist version of the platinum rings for couples. Such sleek variants look very elegant on both. The added advantage that comes handy with these beauties is that it will easily blend with both Indian and western looks.
Considering our corporate life and inter-cultural clothing and lifestyle, these designs of rings become an ideal choice. Whether it is a casual gathering or an evening function, such engagement rings will continue to add grace to every kind of look alike. Excited much?
The Strong Solitaire Game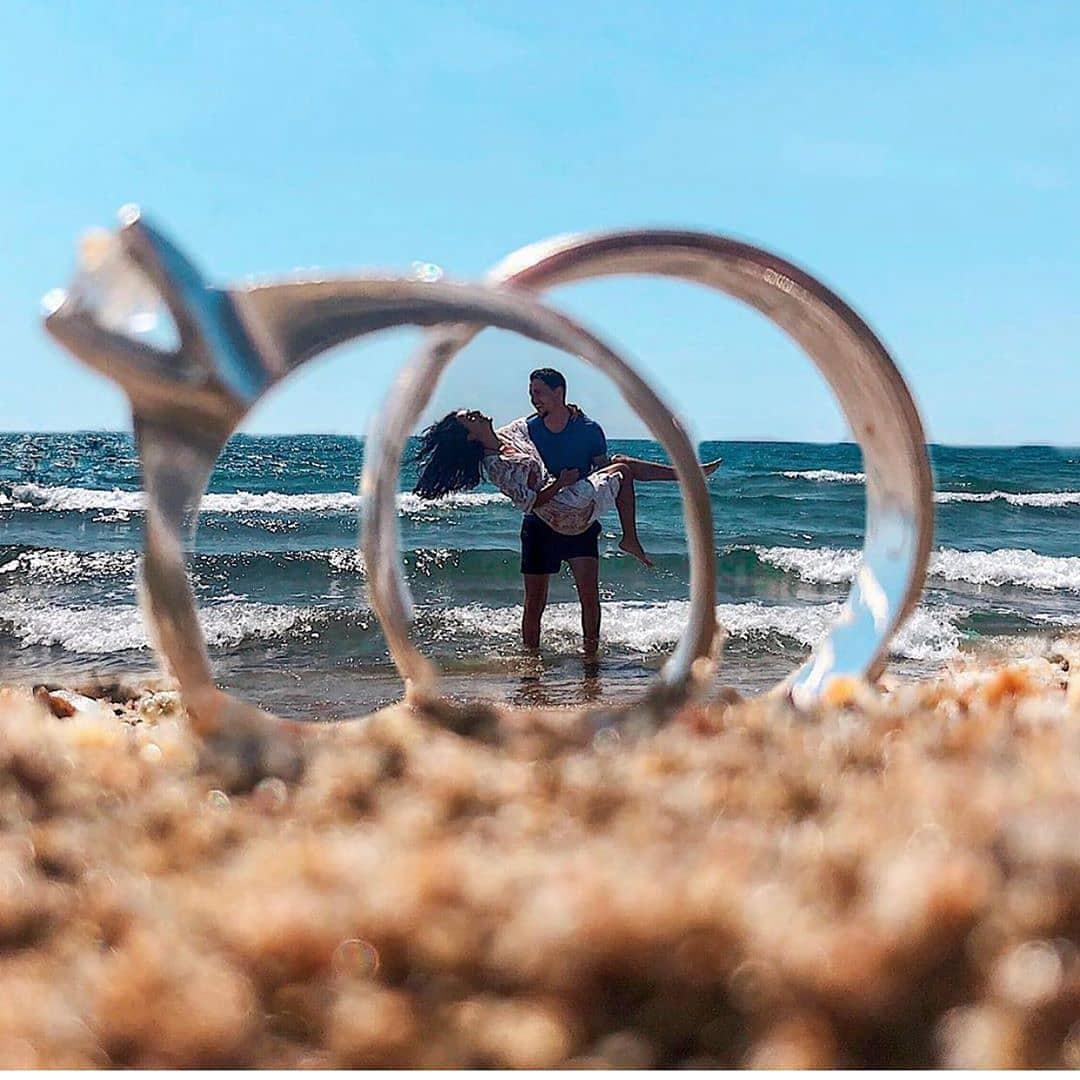 Image Courtesy: FashionExe
Before we move on to any further details, the beauty of this picture and the skill of the anonymous photographer must not go unnoticed. We deliberately kept this most popular variant of platinum rings for couples for the last as you must have already seen quite a lot of these in other lists (yes we read your mind).
Choose a rock for your wedding considering your pocket, taste and surroundings. As mentioned before, choose your wedding ring on the basis of your tastes, preferences and personality. A rich solitaire is always a fantastic choice, it can never go wrong.
What makes this pair of rings a classic choice?
Solitaires have always been a rich choice of jewellery when it comes to engagement rings, especially for females. Solitaires are genuinely the most loved ring choices which are loved by all women alike.
Whether you can afford a high-quality diamond or you want it in Gerkin, anything and everything can be customised just as you like. Platinum, gold, white gold or even silver, solitaires are a classic choice for not just females but even males, it is all about the craft and choice.
With all these fabulous platinum rings for couples listed right here, your desperate search for engagement rings finally comes to an end. Even if it isn't the end for you (which is totally okay), your search will at least get a more concentrated direction.
Whether you are looking for minimal designs in platinum, with tiny diamond strings or big rocks, with Gerkins or without any embellishment, with texture or a smooth finish, you have everything right here to choose from. Love bands are definitely an evergreen choice the versatility of which can not be matched.
With these alternates and variations in mind, you can always experiment with the classic love bands as well. Isn't that wonderful?
How can we customise our engagement rings?
Depending upon the taste, the male can choose from the diamond placing, whether in a string, placed inside the ring or lurking a little outside. The same goes for women. However, you must consider the comfort and convenience of the ring as we said before, get the ring through a test and check if it gets entangled with your linens or embroideries or not.
You can either choose a pre-made design or get one made customised for yourself. We would end by saying that go with what your heart says and not with what others might want you to choose. All set for the ultimate memory investment? Let's do it!
We will be delighted to listen to your crazy stories about choosing the perfect rings, in the comments below.