Thigh-high Slit Lehenga Designs to Steal the Show
For all the millennial brides who want to flaunt some unconventional trend of thigh-high slit lehenga, here are a bunch of inspirations to elevate the dreamy D-day look!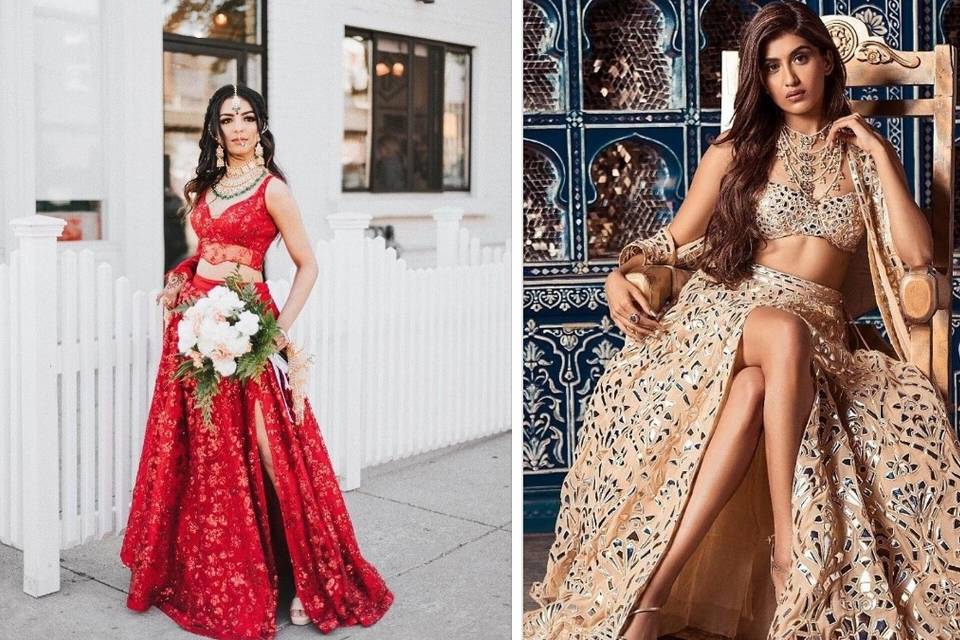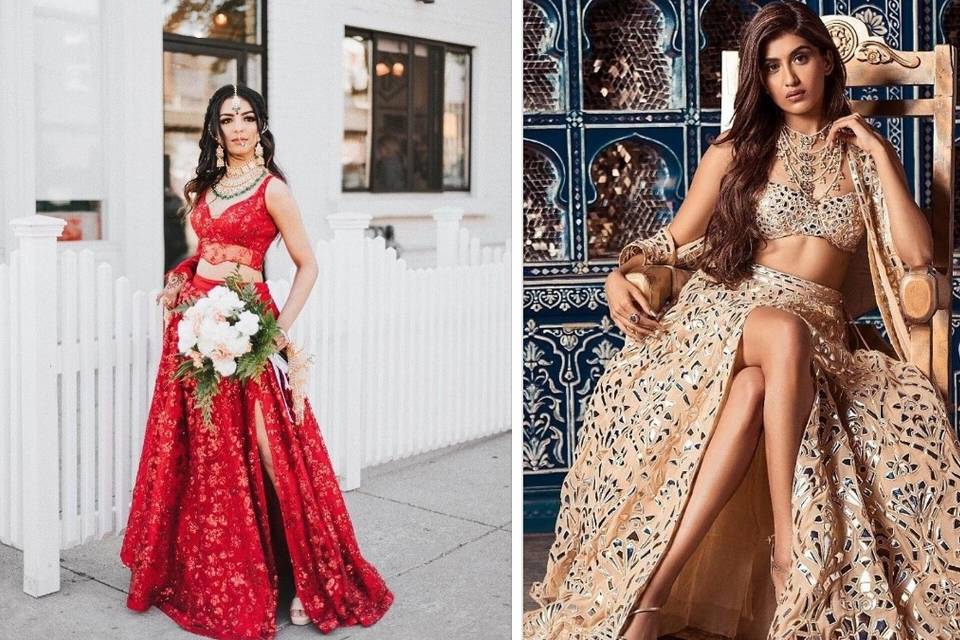 Image Courtesy: Dee Kapadiya (L), Abu Jani Sandeep Khosla (R)
Bridal outfits trend is that one thing which never fails to touch the base of vogue. Every day, the bar of wedding fashion quivers and drops new elements of the trend. Be it perfect colour or a flawless design, ladies, we know how important it is for you to pick that 'one' dreamy lehenga for your precious day. We are here to help you with a whole bunch of chic designs which are ruling the trend of fashion. Are you a millennial bride who wants everything on the top of the plate? Well, we have got your back!
To all the pretty brides-to-be planning to take a deep dip into the world of glitz and glam, toss the coin of style as thigh-high slit lehengas are here to grab the limelight. We have been noticing this classy collection in a bunch of designers, fashion magazines and even on social media. The concept of thigh-high-slit lehengas is uplifting the wardrobe of every spirited bride.
We have shortlisted some of the gorgeous thigh-high slit lehengas. Pull up the strings of sass and class while you go through trending slit lehenga designs. Have a look!
The Silk-Slit Mashup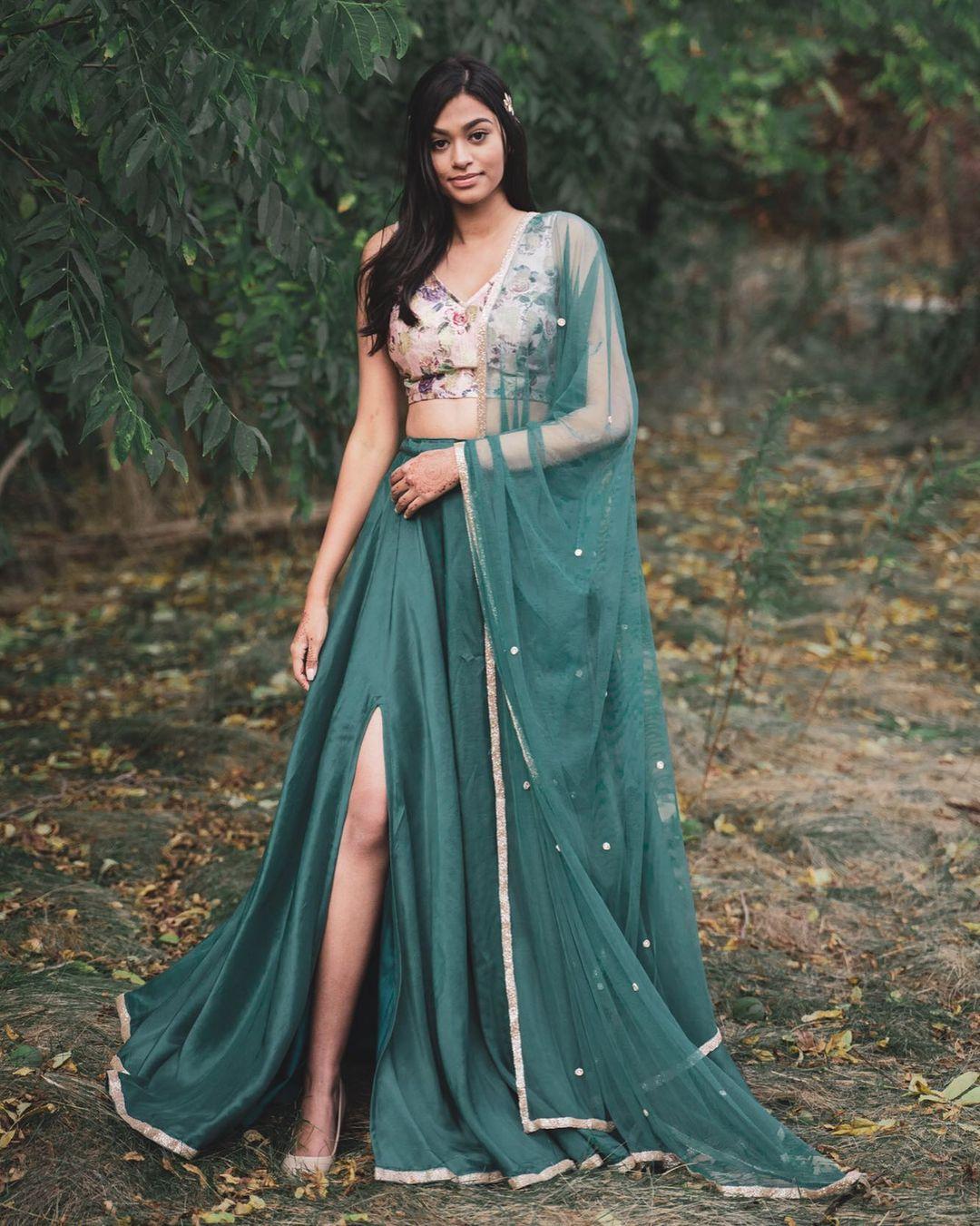 Image Courtesy: Dee Kapadiya Offical
What's not to love this beautiful and quintessential silk thigh-high slit lehenga from the house of Dee Kapadiya Offical. If you're looking for a perfect flair and twirl-worthy moment then this is an apt pick for you. The magnificent slit lehenga embellished with rose gold glass bead border gives the most elegant look. The floral blouse is a perfect top up with the slit lehenga!
SuperNova Slit Lehenga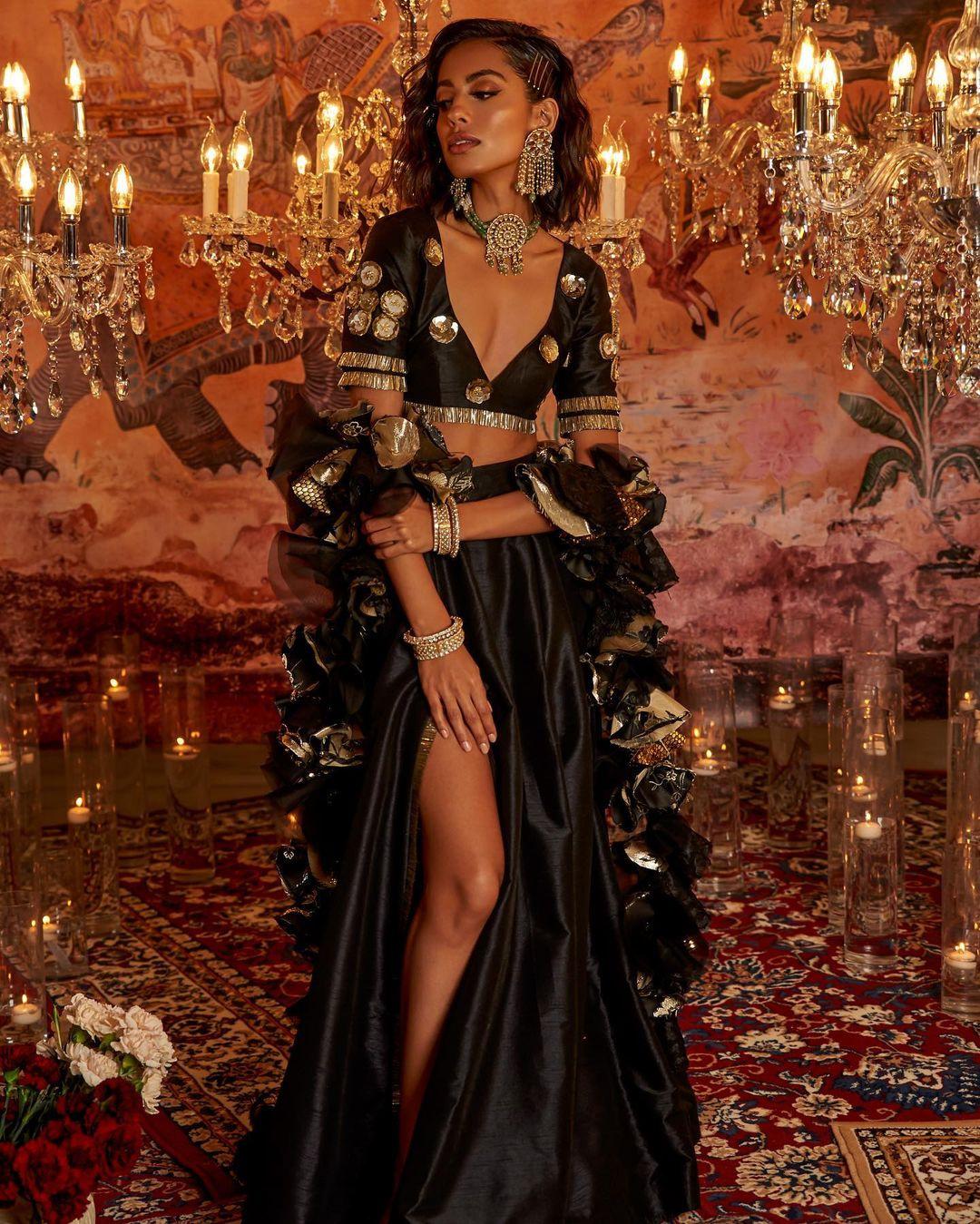 Image Courtesy: Mani K Jassal
Slits are classy, but a slit lehenga just adds a spark to the outfit! Make a stylish statement in this black beauty while you make a bunch of jolly memories with your cherished ones. The sweetheart neck blouse is well paired with a stylish thigh-high slit lehenga. If you are looking for a queening moment, then this outfit from Mani Jassal will slay to the fullest. The slits are well embellished with 'Jhallar' fringe detailing and the pom-pom dupatta is ruling over the royal look! Looking for a dress for your cocktail party? Your search ends here!
Printed Elegance

Image Courtesy: Punit Balana
If you have a thing for prints and love to be in style, this is it, ladies! This easy-breezy thigh-high slit lehenga from the collection of Punit Balana is perfect for a sundowner function. The composition of satin silk elevates the grace of the outfit and we are going gaga over the exquisite elated slit! This set makes an absolute statement for all the lovely brides.
For the Love Of Floral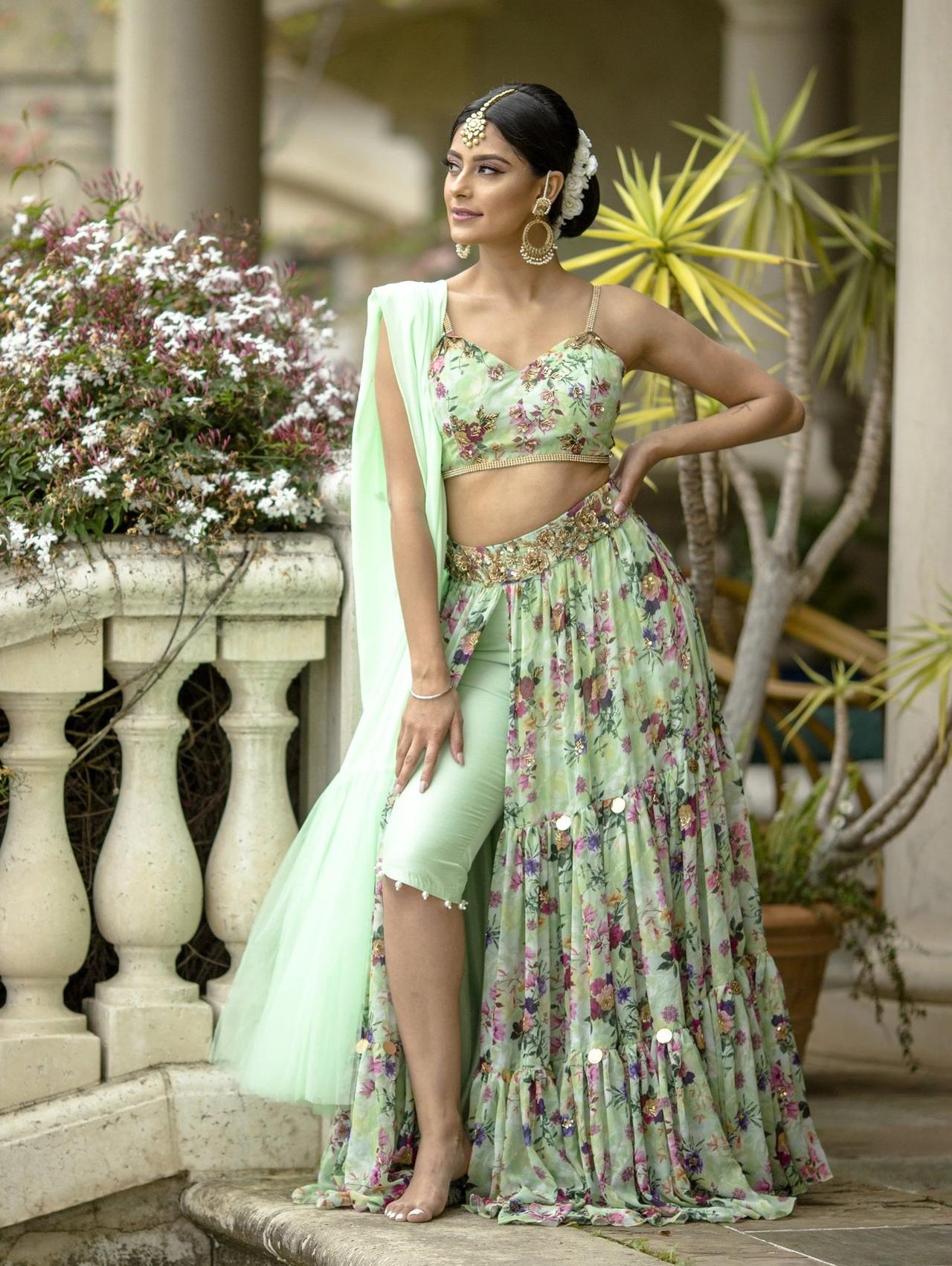 Image Courtesy: Banu Designs
Looking for an ultimate outfit for your mehndi ceremony? This outfit is going to be your saviour for the day. Bless up your pre-wedding functions in this mint green chiffon slit lehenga while you make a #Hatke entry and perform all the rituals and ceremonies with bliss. The best thing about this princess thigh-high slit lehenga is half pants underneath. The pants give a comfort level and add perfection to the mehndi look as well. The Zardosi embellished gold thread work on the belt elevates the fashion statement and gives a chic vibe! Opt this magnificent outfit from the collection of Banu Designs and commence your new beginnings with joy.
The Lovely Red Route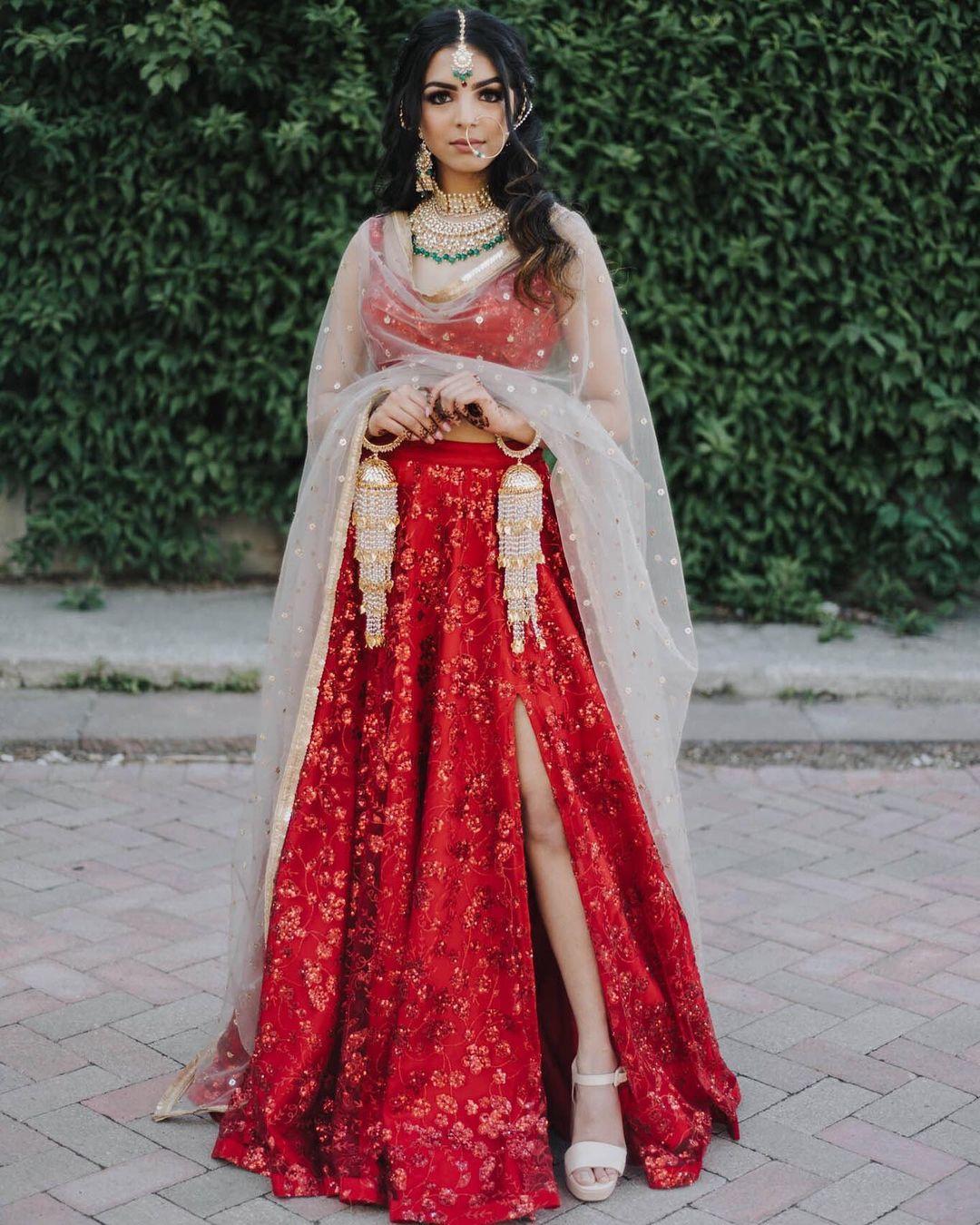 Image Courtesy: Dee Kapadiya Official
Red is the colour of love, and we give out our hearts-whenever it comes to charming red outfits! Planning to hit the wall of class on your wedding day? This thigh-high slit lehenga from Dee Kapadiya Official is bomb.com. The awesome shimmer work on the slit lehenga is totally swooning the look of the outfit and contrasting dupatta is just topping the look with grace. Opt for this bold and beautiful thigh-high slit lehenga if you really want to top your precious day with happiness and style!
Scoop Neck Meets Slit Lehenga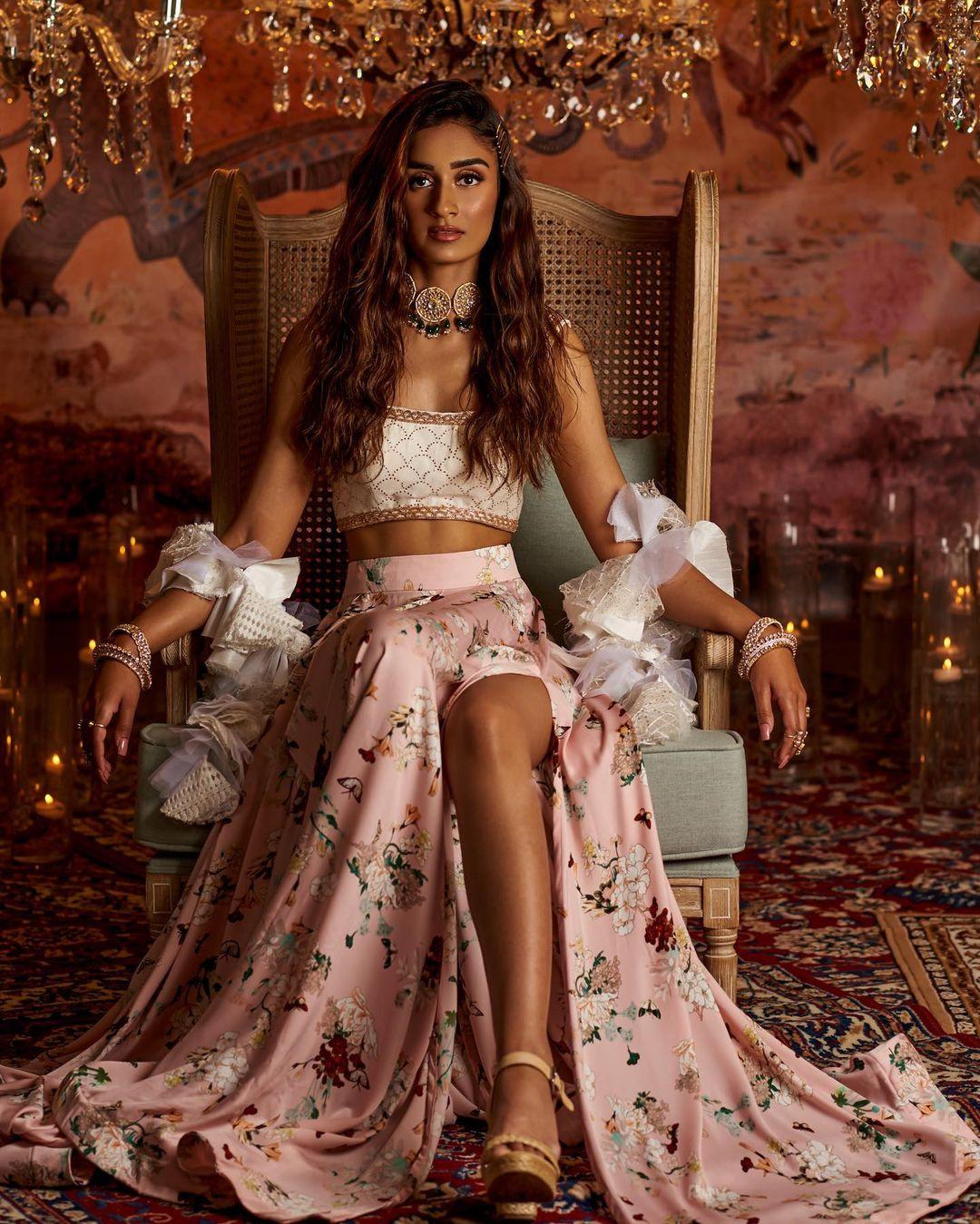 Image Courtesy: Mani K Jassal
How about marrying style with #DesiGirl vibe? This adorable scoop neck blouse capped with lightweight and pretty thigh-high slit lehenga is all you need to rock your merry wedding ceremonies. Mani Jassal makes sure to add a pinch of finesse in the dresses, and the pompom dupatta is slaying the look of the outfit like a boss!
Black and White Duo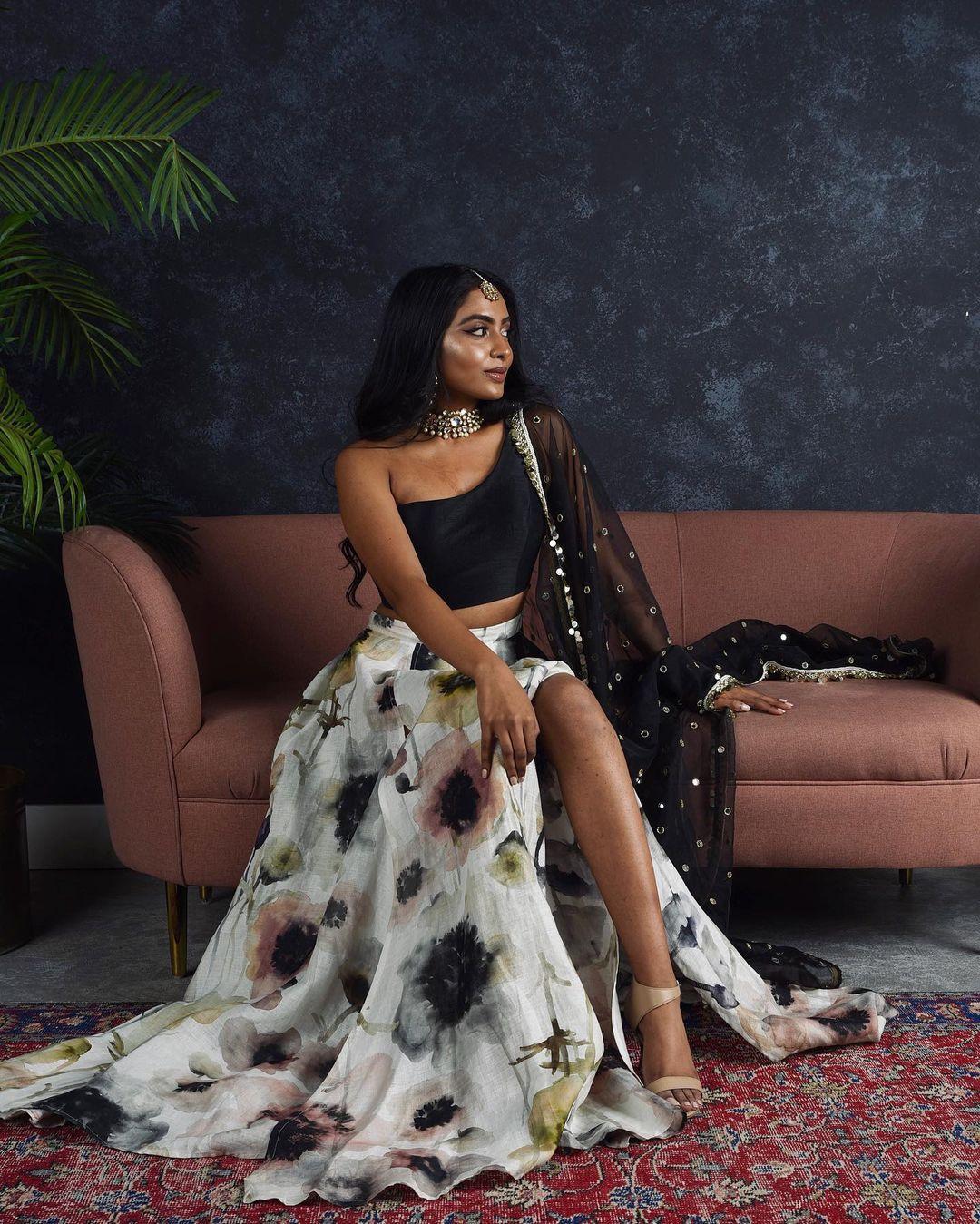 Image Courtesy: Mani K Jassal
Can we all take a moment and appreciate the beauty of this thigh-high slit lehenga! When it comes to acing a pretty outfit, slit and lehenga go arm in arm. The Tulum thigh-high skirt paired with one shoulder blouse is perfect for cocktail or mehndi function. If you truly want to stand out, this outfit from the wardrobe of Mani Jassal is an ultimate pick. Imagine how amazing it would be to groove on a love song with your partner while you flaunt the sassy look with charm?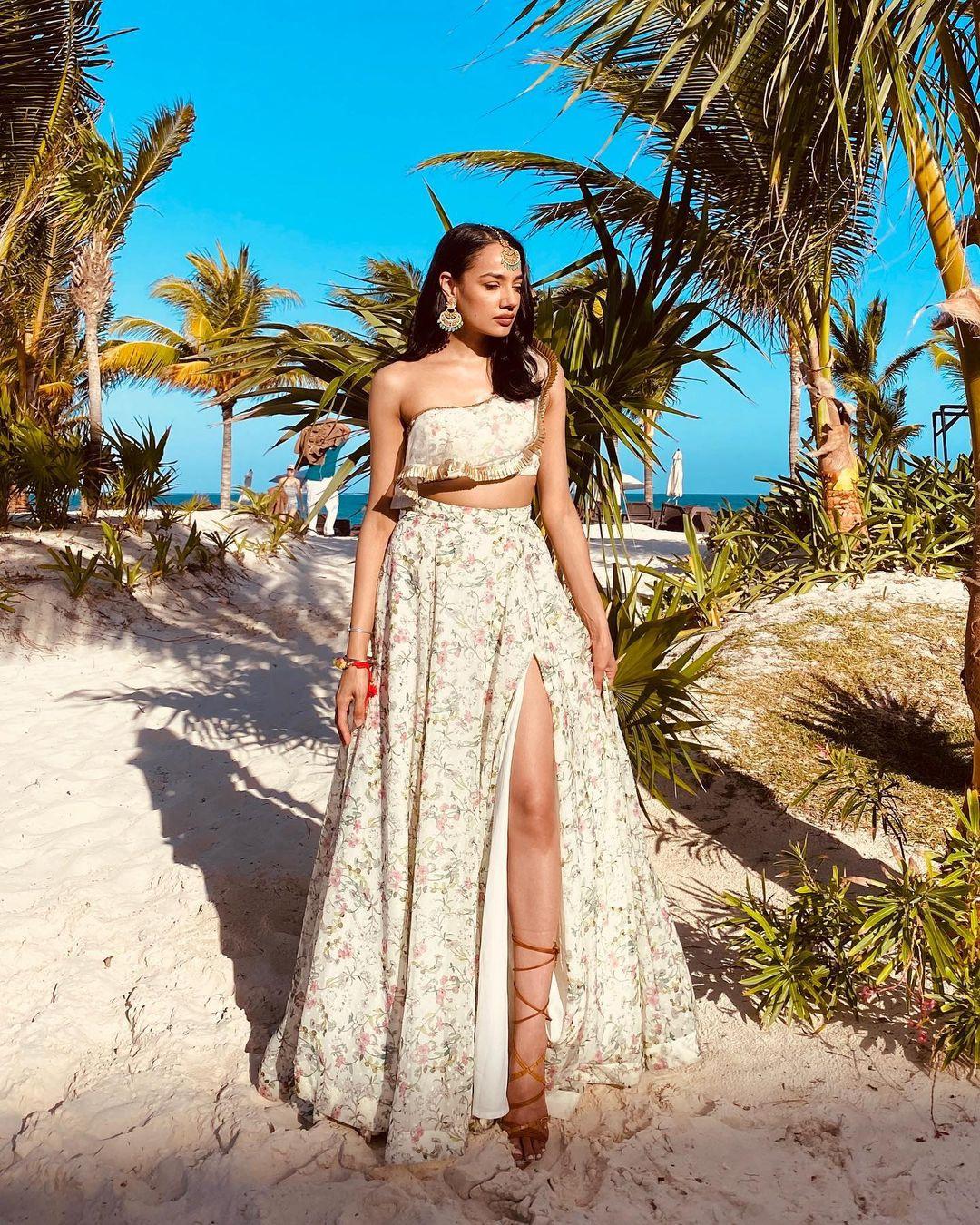 Image Courtesy: Mani K Jassal
Are we amazed or are we amazed? To all the modern brides looking for oh-so-happy outfits, these beautiful dresses are perfect for your pre-wedding and post-wedding ceremonies. The essence of thigh-high slit lehengas are trending, why not pick the most beautiful outfit and make your precious day a memorable one.
A Dip In The Bohemian Vibe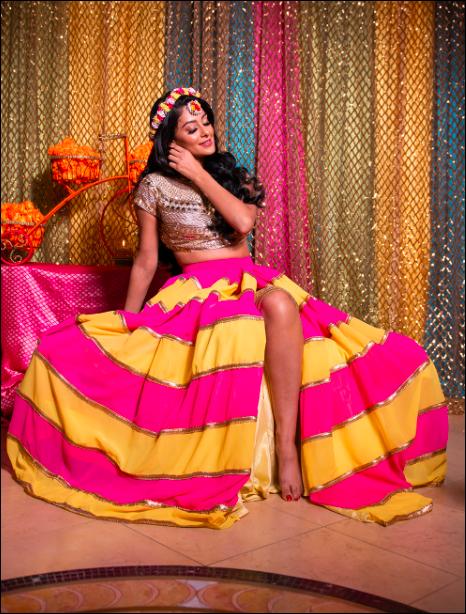 Image Courtesy: Banu Designs
The hues are always fascinating but the feeling of decking up in a multi-colour lehenga is out of the world. The thigh-high slit is taking over the look of this beautiful lehenga and if you are planning to hit the mehndi function with an elegant feel then this thigh-high slit lehenga from the collection of Banu Designs is an ideal pick for you. The intricate mirror work on the blouse paired with vibrant bohemian striped lehenga in hot pink and yellow stripes shouts joy through the colours. We agree, a dash of sass always works with a designer outfit!
Which slit lehenga did you like the most? Tell us under the comments section below!