Unique Engagement Rings For Couples Who Dare To Stand Out
Are you desperately looking for engagement rings for couples? Are you tired of seeing the same love bands over and over again? Here are some of the most hatke designs to your rescue!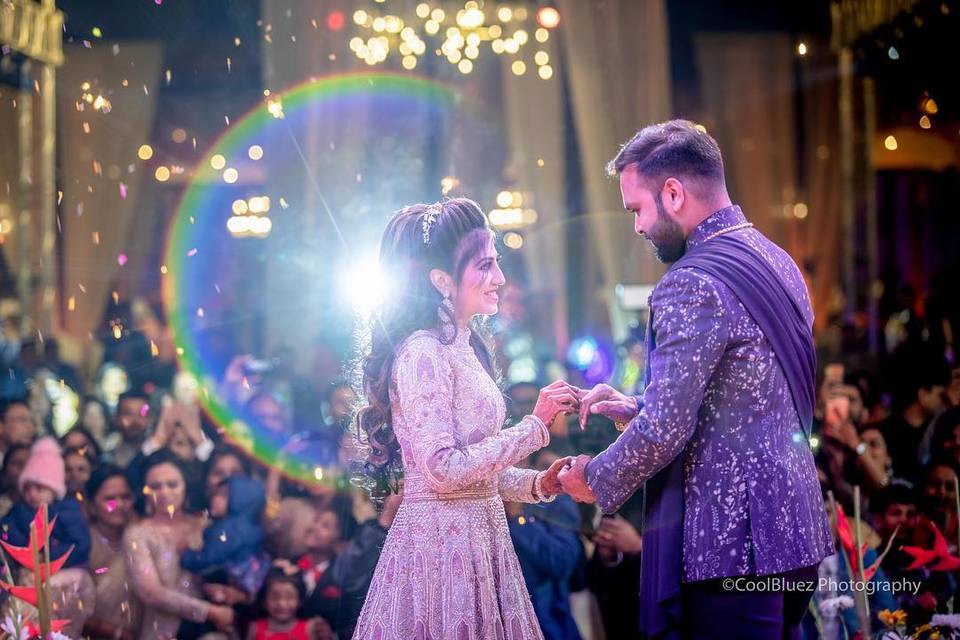 Is the partner (or the couple) reading this is looking for the most Hatke pairs of engagement rings for couples? Let me officially announce this to you that you, my friend(s), have been rescued! Below are some of the most fantastic designs for engagement rings which can help you give a direction to your search by getting inspired by such breathtaking rings which are no less than a piece of art. Now that we have pretty much laid a foundational ground here, let us move on to a briefing of the kind of designs you must expect to find below. All set?
As weird as it may sound, the list of engagement rings for couples below is a mix of various styles of couple ring designs which will suit a variety of couples. Whether you are a couple united by travel or even consider a shared interest as a foundational ground for your relationship, there is something for you.
If you are a lover of all things different, constantly hunting for ideas to break monotony and conventions, are fierce and unapologetic, here is definitely something (pretty much everything) for you. If you are a classy couple who wishes to get something classy or blingy yet really different for their engagement ceremony, you are not going to be disappointed either.
Even if you consider a fair percentage of a connection here then read on and you will know why.
The Exotic Trinity Bands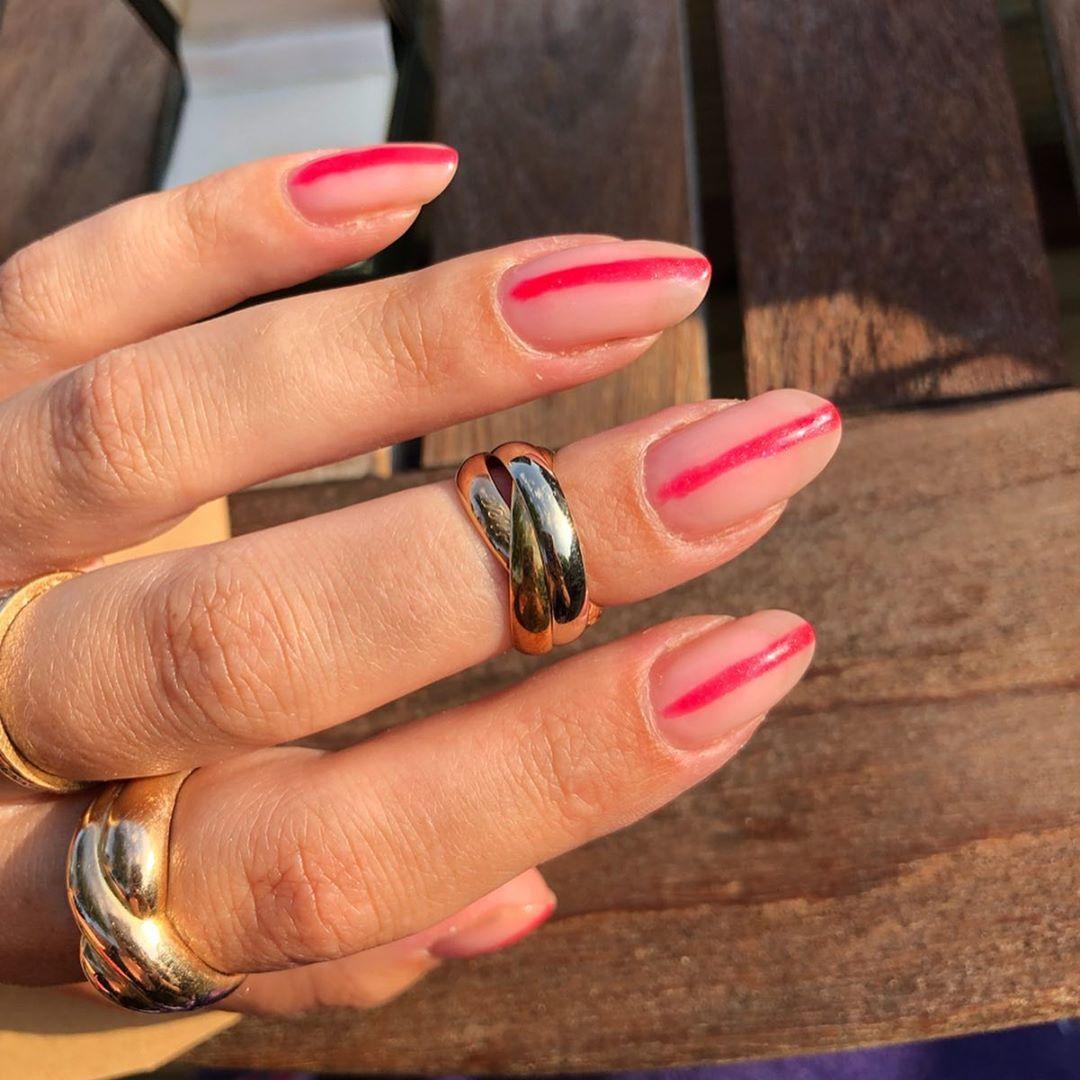 Image Courtesy: Gembank 1973's Instagram
A gorgeous trinity band to the rescue here. Trinity bands are the latest innovation in the wedding industry when it comes to choosing the right engagement ring. However, it is yet to become a sensation as not many people know about it. You can thank me later for letting you know right in time. First and foremost, you must be wondering that what exactly is a trinity band, isn't it?
Now, to answer your question and quench your curiosity, a trinity band is basically a love band made with three entwined rings together. Talking of sass, a trinity band (as the name suggests is formed by three rings. Basically, it is a stylish piece of a ring formed with one band (which we generally call as a Challa) inside the other and then the other. Once you wear it, each ring comes together right in place in order to give your ring an innovative setting on to your engagement finger and looks absolutely alluring.
The best part is that you can wear it on the upper part of the finger as well. Such engagement rings for couples go on to add grace and charm to your hands.
Antique Purple Possession
Image Courtesy: Gembank 1973's Instagram
Oh my my! Isn't this an absolutely breathtaking pair of engagement rings. I wouldn't be exaggerating even an inch if I said that such engagement rings for couples are out of this world. Such marvellous looking pair of antique rings are a fantastic choice for couples who live to challenge the world and its conventions. If you and your partner live to challenge everything mediocre or normative with your power of experimenting then this is just the right one among other engagement rings for couples for you. What do you think?
Choosing the colour of the precious stone adorning engagement rings for couples is always a hard choice to make. I hope you know that it would not suit every outfit or every occasion alike which you will be attending for the rest of your life. However, this also means that it will be capable of drawing attention towards itself for as long as it stays on your ring finger. Isn't that a lovely choice of engagement rings for couples. After all, the very idea behind exchanging rings is marking that your heart is taken, so what can be better than such an evident stamp?
For the Travel couple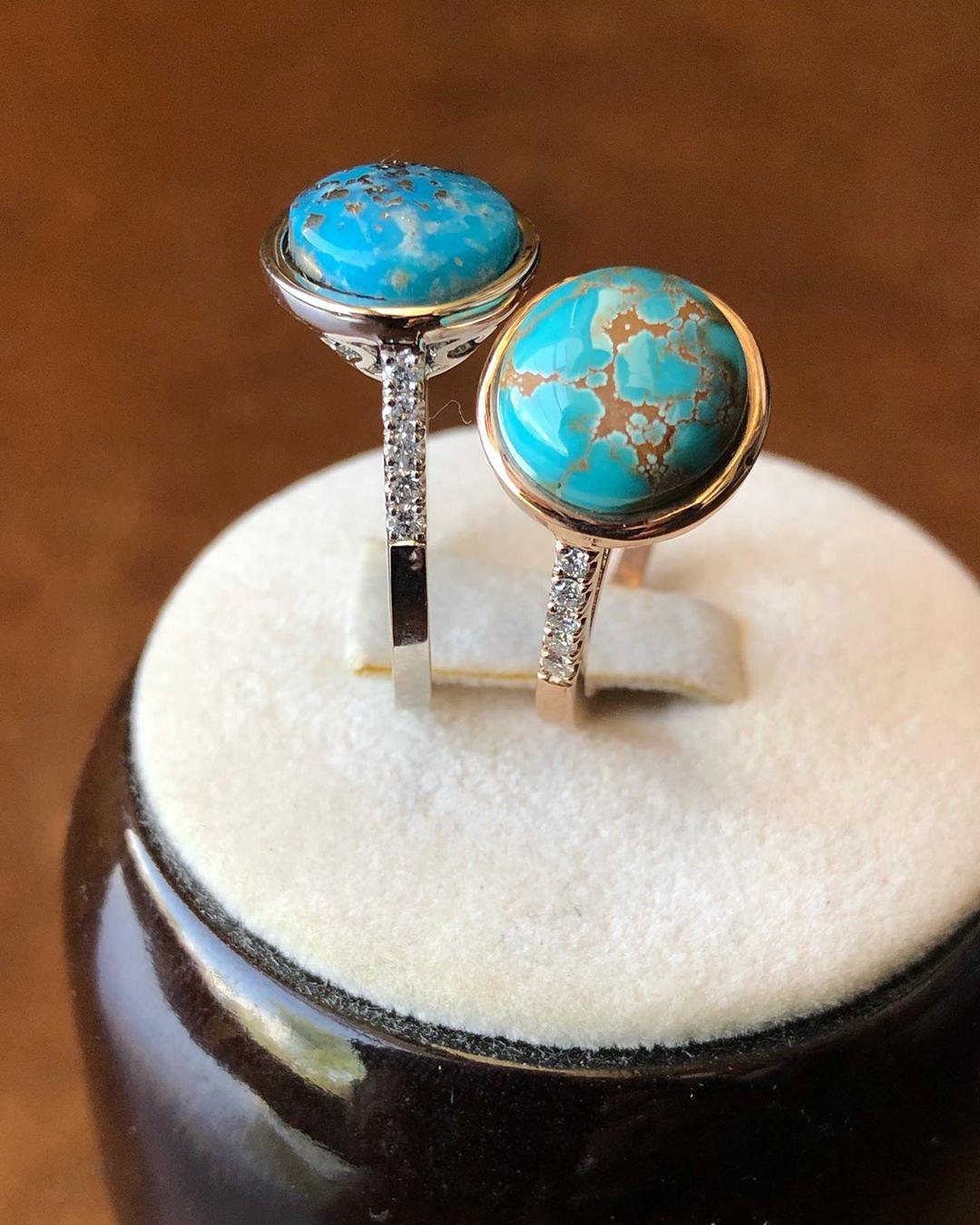 Image Courtesy: Blazing Fox Fine Jewelry's Instagram
When discussing engagement rings for couples, one must ponder upon the question of exactly what does an engagement ring symbolise? You must ask yourself that is it solely representative of being together? If yes, then why do you think so? If no, then what all can be a part of the entire process of choosing the right engagement rings for couples which can make a difference in the entire experience of wearing it and the thought that goes behind it.
One prominent thing that this ring set depicts here which work in our favour is that it represents the mutual love of the couple for travelling. Anything that a couple has in common, binds them together and help each other grow together while they explore that single interest mutually. Even though this isn't a globe really, just an exotic turquoise stone with texture and likes.
An antique gold polish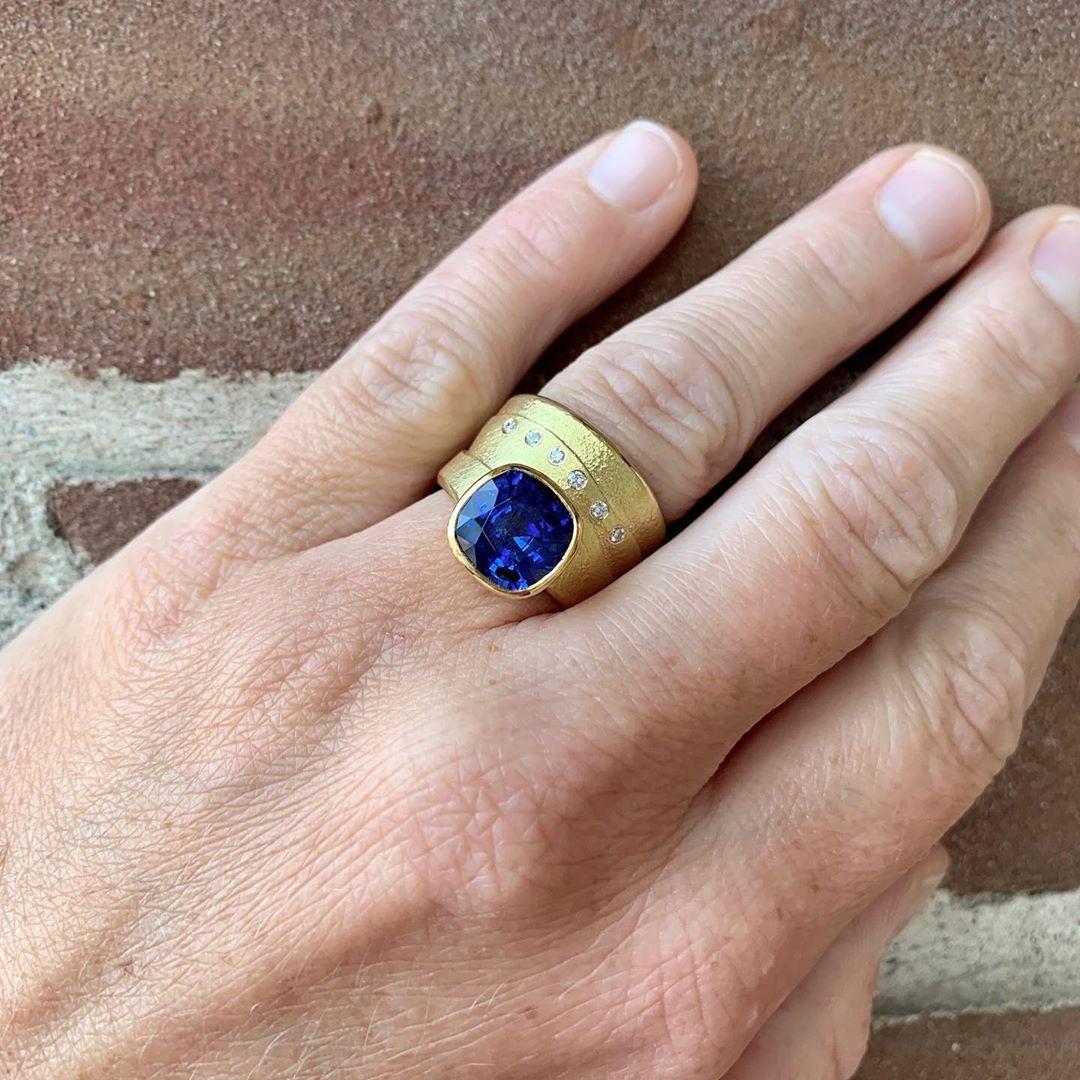 Image Courtesy: Vonbargens Instagram
What makes this unique pair in the list of engagement rings for couples so different and eye-catching is the antique texture that this old school gold polish gives it. When the polish is combined with bluestone or diamonds (or even a mix), the pair sets itself apart from the rest. One good tip that I would like to give here is that sometimes, it is not even necessary to go for a similar design in order to qualify for engagement rings for couples. Even though the making or the design of the rings don't match (not even 10%) yet they look like a good pair for the partners to be exchanged on their engagement day because of the similar gold polish which is unique in its own way.
There is no restriction about the fact that only the male partner should wear the thick band or emeralds would be too girly for the male. It is totally up to you both. It is your engagement ceremony, your commitment to each other and your respective individual personalities. Doesn't that sound like an empowering choice to you? I am totally loving it, are you? And yes, before I forget, I totally deserve a share of the praises you get once you exchange such marvellous rings on the auspicious day of your engagement ceremony.
Oh That Bling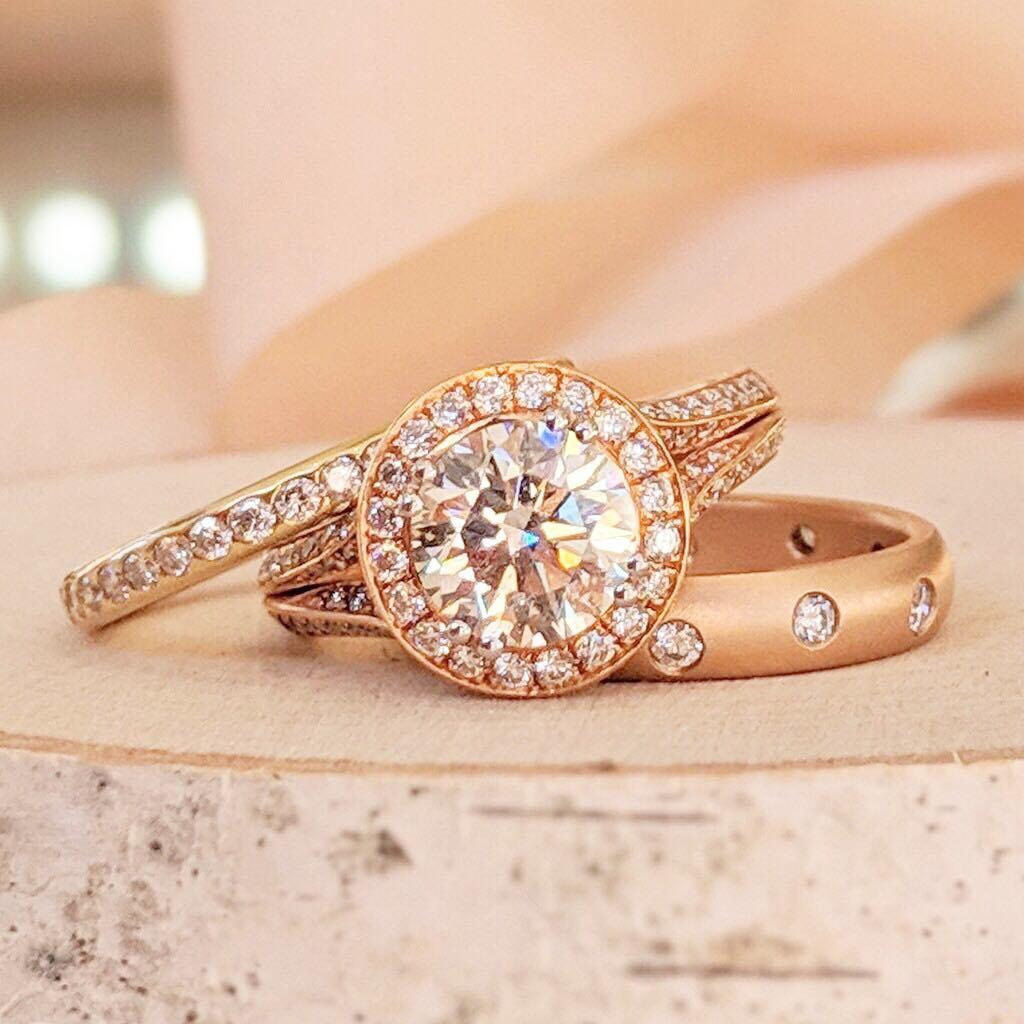 Image Courtesy: Vonbargens Instagram
Ah! What a stunning set of rings is this! Don't you think so? Out of all the engagement rings for couples listed above, this is probably the only one which shall be the most appealing one to the social couple in the house. If you are the partner looking for inspiration to how to satisfy your wife-to-be, who is a lover of all that bling and sparkle, here is your clear (sparkling enough to make you temporarily blind) visual answer to it.
If your engagement ceremony is going to be a grand affair with all the aunties and nosey guests dying to see the wedding rings, this is the one to go for. If your wife isn't the boho kind and likes to keep things simple by just wearing a few pieces of jewellery then this rock shall give her exactly what she expects. It is totally okay to go for a smaller diamond or get the design a little simplified, the basic idea remains to be the presence of the diamonds. No matter what density you choose, just keep it in the same shade for both the couple rings.
Pro Tip:
When it comes to choosing the most Hatke ones from other engagement rings for couples which qualifies for becoming a benchmark setter for all the unconventional couples out there, you will often come across coloured stones adding that distinct charm to your engagement ring. Not just precious stones but even rock-cut crystals and other semi-precious stones come with their rare colours.
When going for such classy pieces of engagement rings for couples, you must consider the quality associated with the colour. Say one of the engagement rings for couples in the list above has a purple stone. Purple as a colour stands for royalty and class which makes it a wonderful choice even if it looked a little out of the place to you before. Once you know the symbolic attributes associated with a colour, you will be able to connect with it better.
With such fantastic designs for engagement rings for couples listed above, I am sure you could finally lay eyes on at least one ring which quenches your desperate search for unconventional rings. Whether you are a social person, looking forward to flaunting your big rocks or you are a self-aware person who knows what his/her choices are, inspirations for you are right in the above list. Whether you both share an interest together and look forward to reminding that to each other or you are simply going through the list to get rid of the plain (and boring) love bands, I am really happy for you both because you guys couldn't be more sorted!
Congratulations and wish you best!
If you have any out-of-the-box idea for engagement rings for couples, we would love to read about it in the comments below.