Nail Art Designs - Latest & Simple Nail Art Design Ideas for Bride Wedding
Excited to flaunt your bridal bling? Get inspired by these latest nail art designs so you can snap some perfect ring selfies for the 'Gram!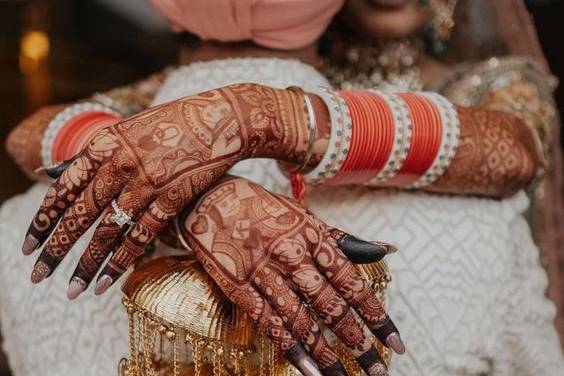 Image Credits - Pinterest
Between picking the wedding venue and buying the perfect lehenga, getting a manicure may be pushed way down your to-do list. But with that stunning rock on your finger, there's no doubt your hands and the latest nail art designs you choose are in the spotlight.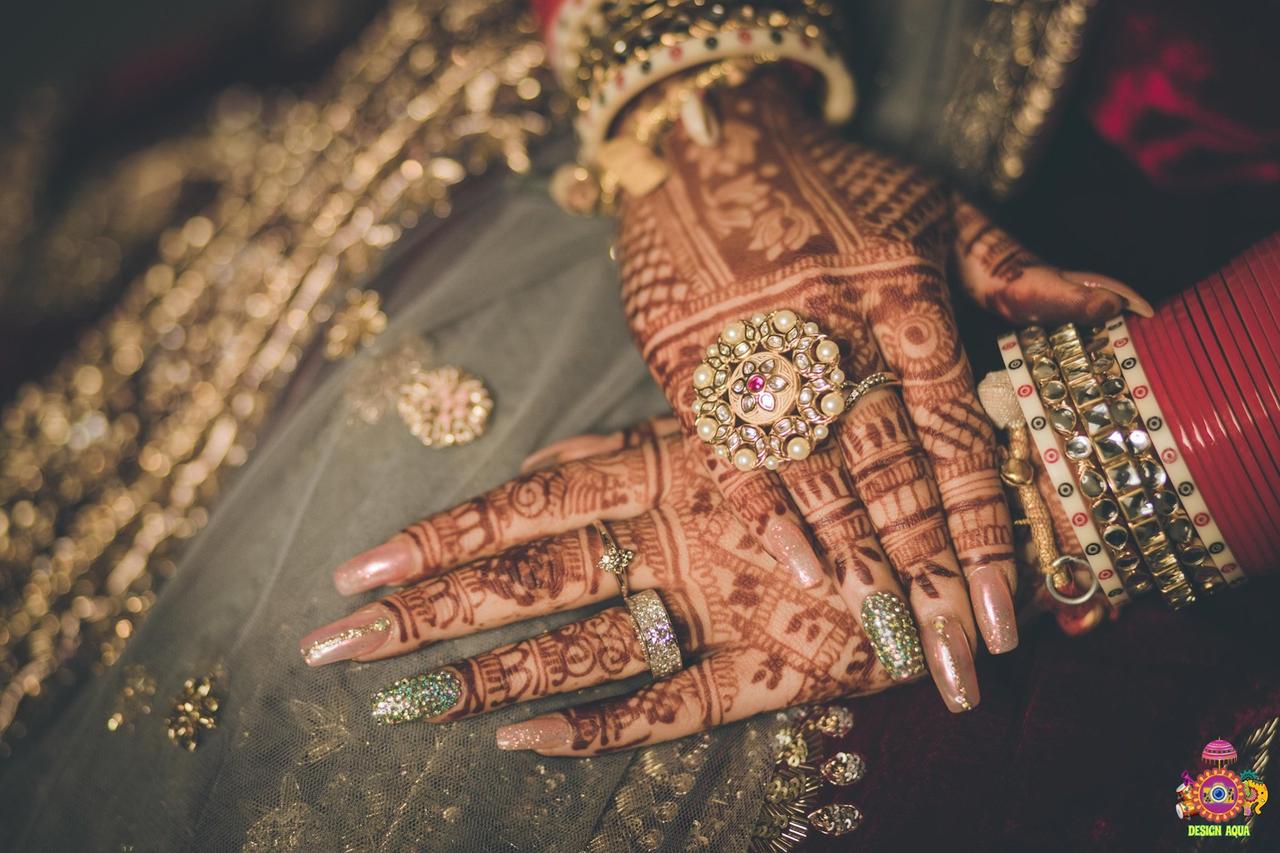 Hence, before you dive into the nitty-gritty of the wedding planning, a flawless manicure is a must-have so you can show off that ring. Given the number of nail designs, available these days, it can be hard to pick the right one. To help narrow down your options, we bring you the trending nail art designs of the season. Read on and get inspired!
Wedding Nail Art Designs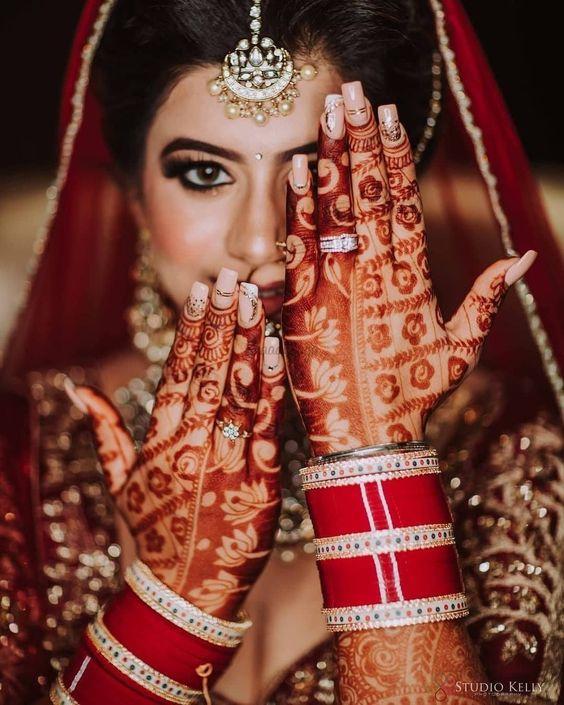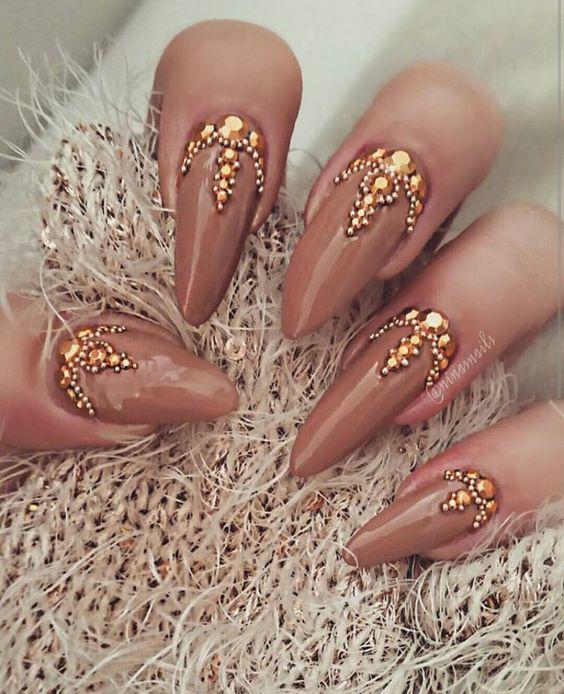 Image Credits - Pinterest
This bride has her nails done in a myriad of colours like red, pink and gold to name a few. If you're worried that your nails won't match all the outfits in the bridal trousseau, this manicure can put all your troubles to ease. These latest nail art designs with glittery vibes can help you draw just the right amount of attention. The stone embellished nail art also goes well with Indian wedding dresses.
Read More - Bridal Nail Art for Your Honeymoon According to Your Zodiac
Simple Nail Art Designs with Metalics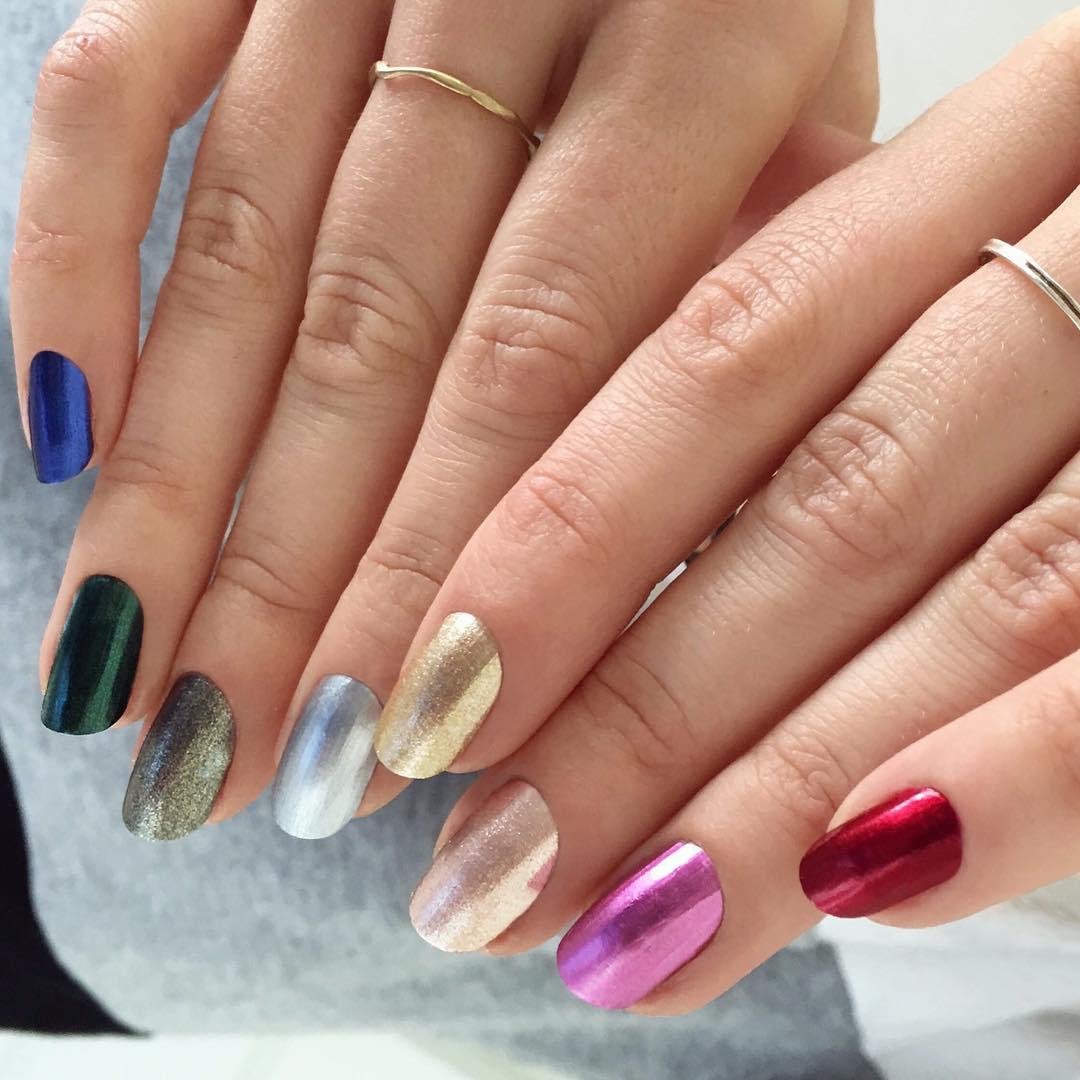 Image Courtesy: Jessica Washick's Instagram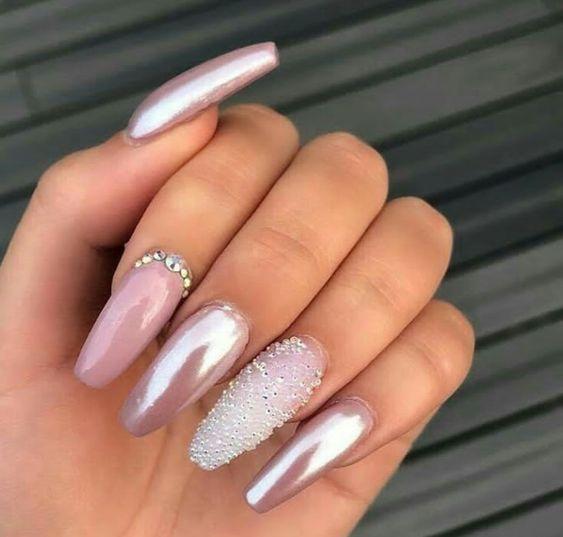 Image Credits - Pinterest
Indian Weddings are all about the bright colours so why not match your nails to this design aesthetic. Metallic nail colors are known for their sparkle and shine and can bode well with the vibrant colours in your outfit. While many brides stick to a single color palette for their nails, you can opt for a multi-colored metallic manicure.
Simple Art Designs with Powder-Dipped Nails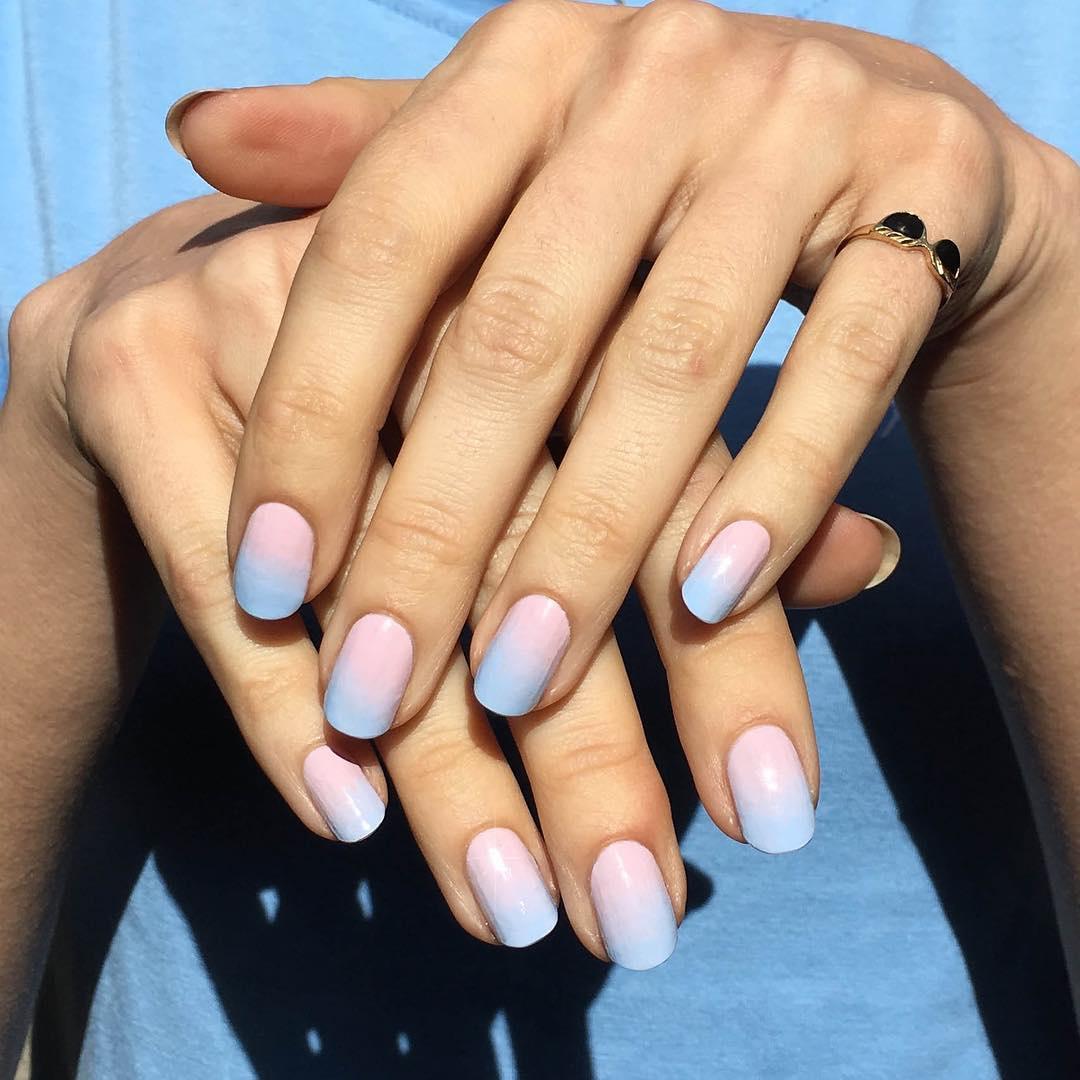 Image Courtesy: Jessica Washick's Instagram
One manicure trend that is taking over social media is the dip-powder trend. While this nail style has been around for a while, it is making a comeback for its effortless style. As the name suggests, this design involves dipping your nails in a powder to create a unique pattern. This is done in-between coats of nail-polish make sure the powder adheres to your nails.
The best part about these nails is that they require zero drying time and can make your bridal bling look amazing. If you are busy-bride who is looking for quick mani-fix then opt for these latest nail art designs to help you get those wedding-worthy nails in no time.
Read More - 12 Simple Nail Art Designs to Look Drop-dead Gorgeous
Easy Nail Art Designs with Glitter And Metallic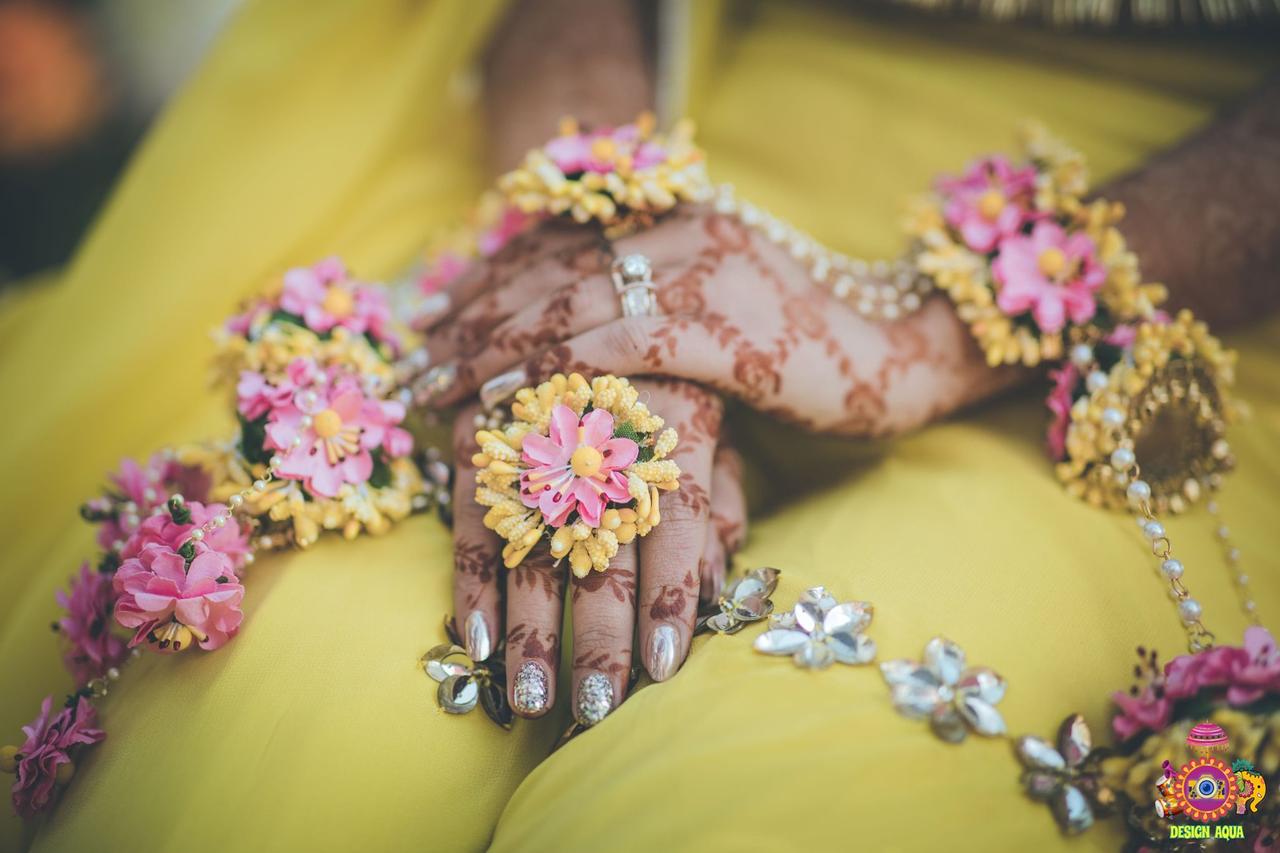 Glitter nails have been around for quite some time, but many brides have added a twist to this simple nail art look with different styles. In previous years, glitter nails were the mainstay in the manicure, but have now become an add-on to enhance the manicure.
This bride has opted for a mix of silver and metallic nails in sparkling silver. This bright colour accentuates the bride's bling and pairs well with an outfit of any colour. If you are looking for the latest nail art designs that are simple but bold, these silver nails are perfect!
Easy Nail Art Designs with Rhinestones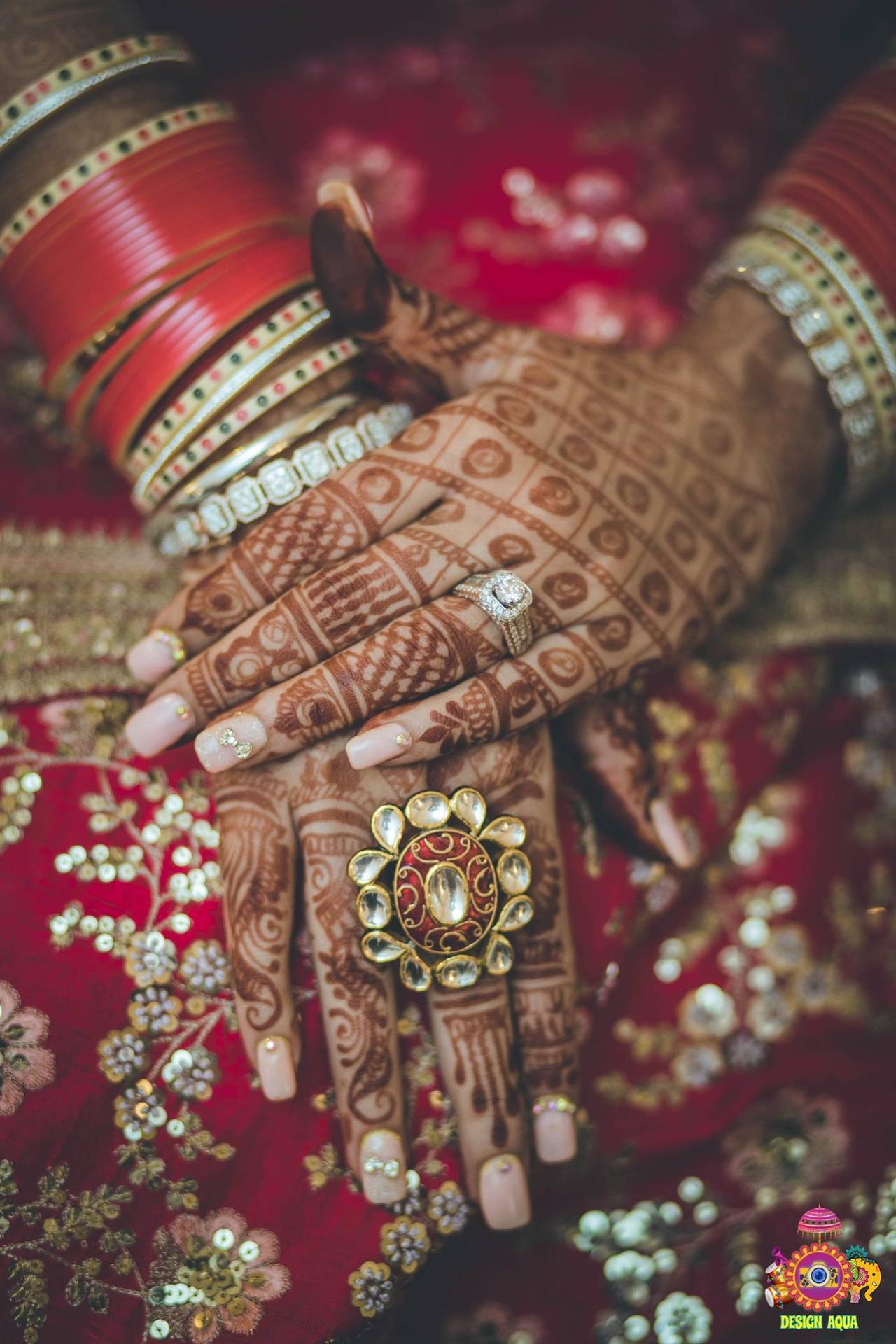 Brides who want to ditch the simple glitter and basic nail shades can enhance their bridal manicure with some rhinestones. Many believe that nail art is only for brides who want to go all out on their manicure but this is not always the case. With the right design and colour, your nail art doesn't need to be a distraction but can add the finishing touch to your bauble in a simple and understated way.
This bride has opted for a nude pink shade as the base colour and each finger is designed with a different rhinestone pattern. Some fingers feature a single stone while others have a bow or a curved pattern. Latest nail art designs like this one are ideal for the minimalist bride!
Summer Nail Art Designs with Jelly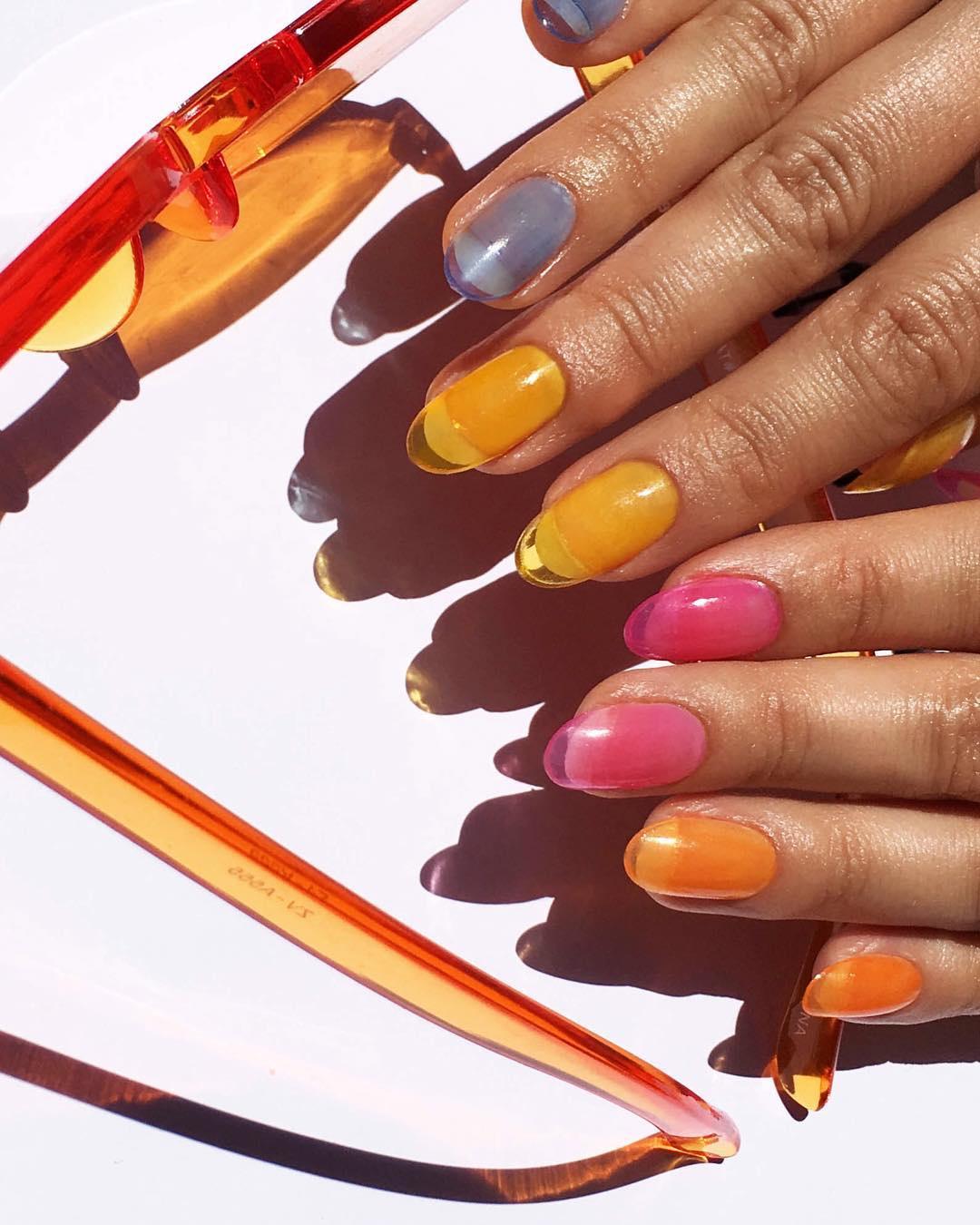 Image Courtesy: Jessica Washick's Instagram
Your wedding nails aren't just for the big day, we're certain you'll be rocking them well into your honeymoon as well. Hence, a manicure that can make a statement while looking stunning in those Insta-shots is a must-have. If you are looking to get some nail art done, check out these pink and orange nails.
The manicure features an iridescent colour that gives your nails the illusion of glass. Each nail is intricately designed with a jelly coat that can be accentuated with some white floral patterns for that summertime-fine manicure. Latest nail art designs like this one are incredibly quirky and can help your nails stand out from the crowd.
Artistic Classy Nail Art Designs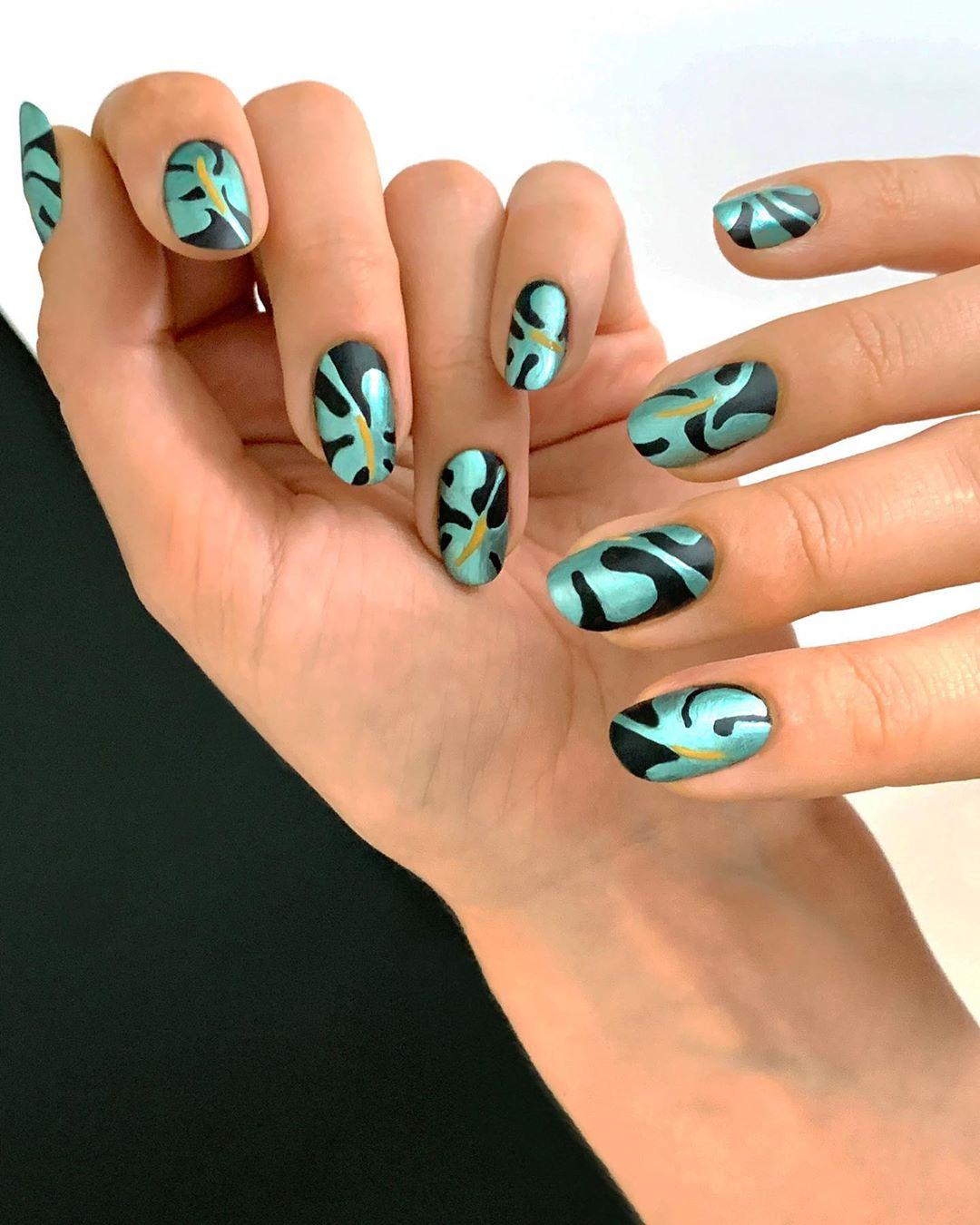 Image Courtesy: Jessica Washick's Instagram
While wedding colour palettes are usually defined by their pastel shades and light tones, you can venture out on to the road less travelled with a dark manicure. There's no better way to express your inner wild-child that with an eclectic manicure that's sure to keep all the attention on your fingers.
This bride's bold nails feature a black coat as the base with leaves etched on the nail in fluorescent green. The design is imprinted in an abstract manner to give the nails an extra flair. If you are a bride on the hunt for the latest nail art designs that are both edgy and chic, this nail art is just what you need.
Nail Art Designs with Chrome Patterns
Image Courtesy: Jessica Washick's Instagram
Winter weddings are truly magical and for the bride that's getting hitched in December, your wedding nails need to go with the theme and ambience of your wedding. The chilly weather emanates a romantic ambience so why shouldn't your nails reflect this as well. One nail style that has become a major trend is Chrome nails.
Latest Nail Art Design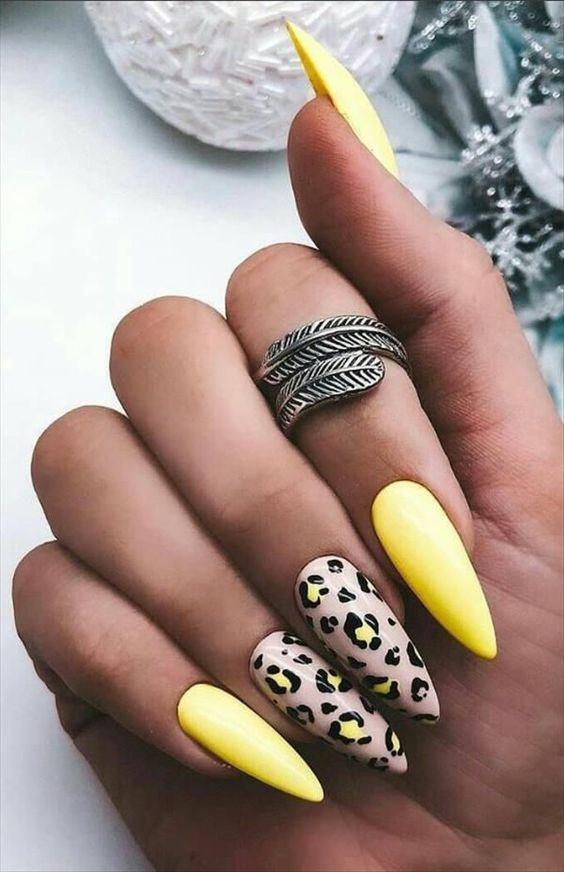 Image Credits - Pinterest
Defined by their iridescent shine to give your nails an enchanting appeal, these simple yet totally unique latest nail art designs have become a staple manicure style for many brides. Check these animal prints for some serious nail art inspirations.
Nail Art Designs for Short Nails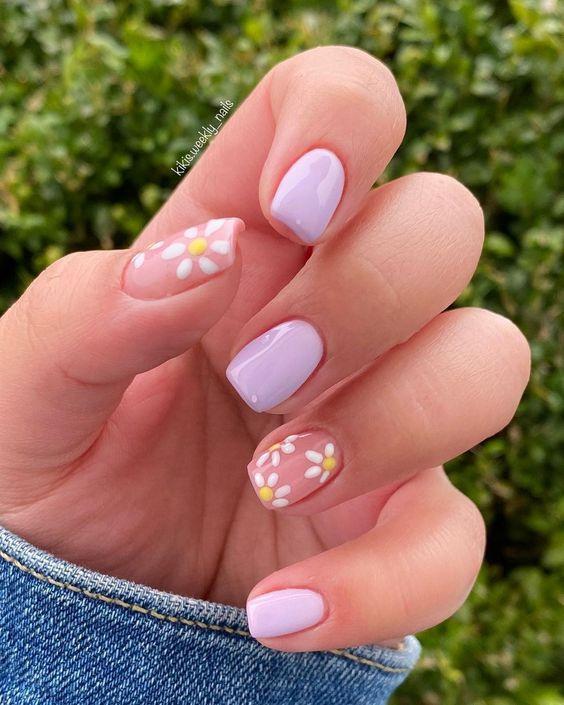 Image Credits - Pinterest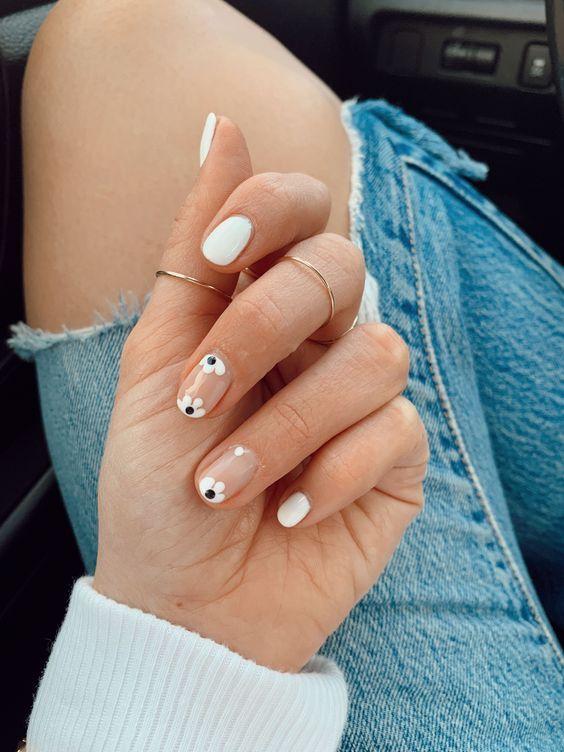 Image Credits - Pinterest
These nails feature flora; coated over them, making this design ideal for the millennial brides for short nail length. Nothing adds that glam factor to your wedding ring like a gorgeous manicure. These are two nail art designs for short nails for some trending inspiration.
Your nail designs can help you express your vibrant personality as you snap the perfect ring selfie. The manicure ideas shown above can help enhance your bridal look without overshadowing it. Moreover, a lot of these designs are DIY and don't always warrant the help of a manicurist. We hope this list of latest nail art designs can help you get those fabulous nails!
Love these latest nail art designs? Let us know your favourites in the comments below!
With words by Divya Premkumar