Looking for a Perfect Mandapam Decoration Idea? Well, Your Search Ends Here!
The wedding is just around the corner and you are not sure how to pull off your mandapam decoration? Fret not. From blooms and lights to colours, we share these ideas to help inspire you. Have a browse!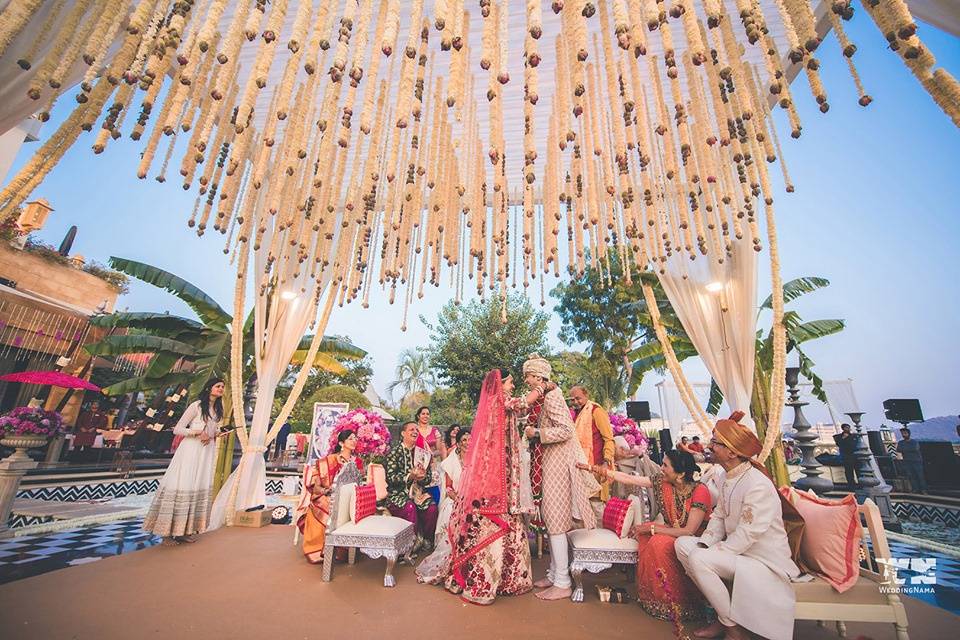 Having a perfect mandapam is every couple's dream. It is one of the most important elements of a wedding that they are probably going to see several times in their wedding album. Also, the main decor of the wedding is based on a mandapam. From using flowers, fairy lights, candles, to colourful drapes, there are a hundred ideas that you can try for adding that glam look to your mandapam. Let's take a look at some of the mandapam decoration ideas.
1. Stick to simplicity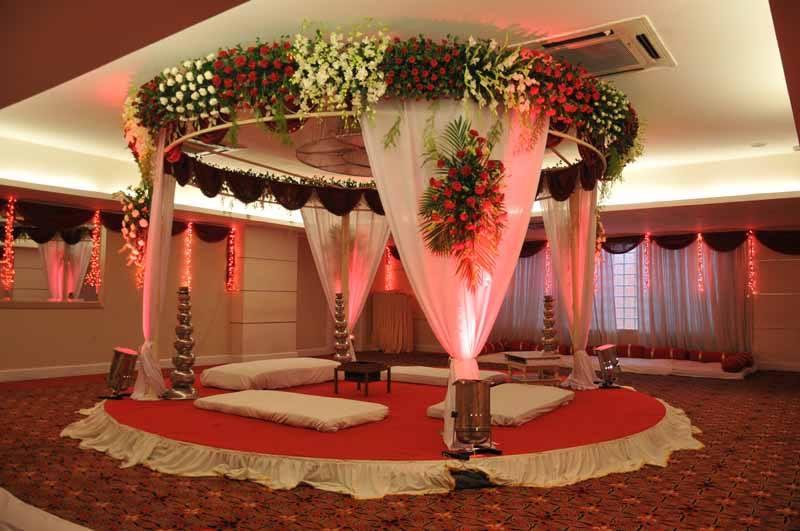 It's always simplicity that attracts attention. And it's no different for a Shaadi Ka Mandap. A golden rule to follow when planning for an elegant mandapam decoration is to stick to being simple, and experiment with pastels like beige, white or other softer shades. Adding too much shimmer or bling will definitely make your mandap look loud. Some ideas to try:
Use some flowers, a few wooden logs and silken drapes to lend a sophisticated touch.
Use a chandelier that will act as a focal point for your mandap.
If you are having an amphitheatre type of wedding decor, then, use lots of colourful drapes and some fairy lights.
2. Use Flowers for Mandapam Decoration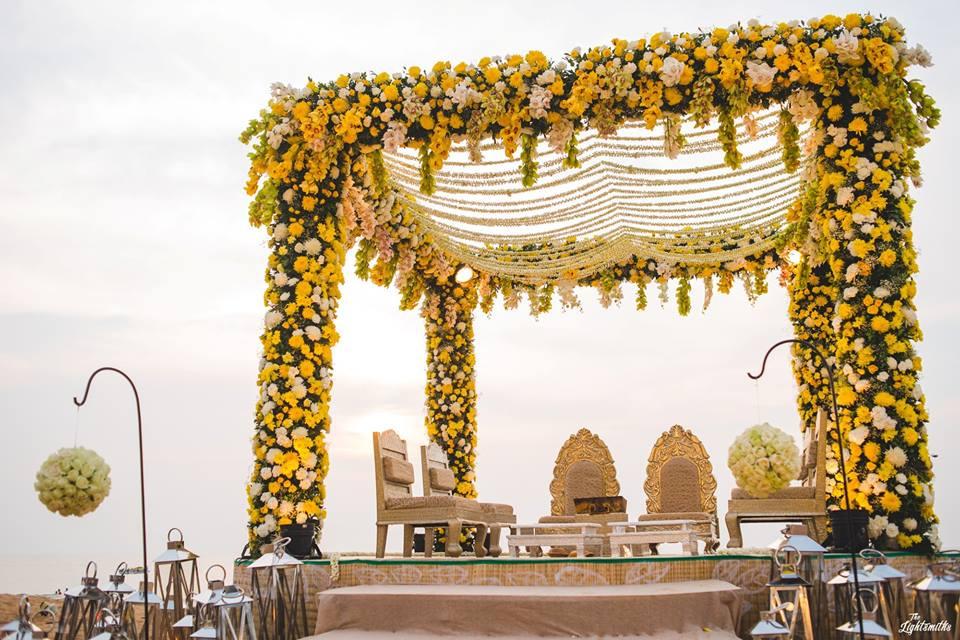 You cannot go wrong with flowers when decorating the mandapams. Flowers are the most loved accessory when wedding decoration is concerned. And when it comes to mandapams, nothing looks more appetising than fresh fragrant blooms. You must try out a few ideas like these:
Decorate the dome of your mandapam with fresh roses and hang floral strings or danglers from it.
For a beach wedding, get your gazebo styled mandap decked up with lilac coloured flowers and also hang a floral ceiling from above.
Make your mandapam fragrant with mogra steamers and danglers.
3. Go for poolside mandap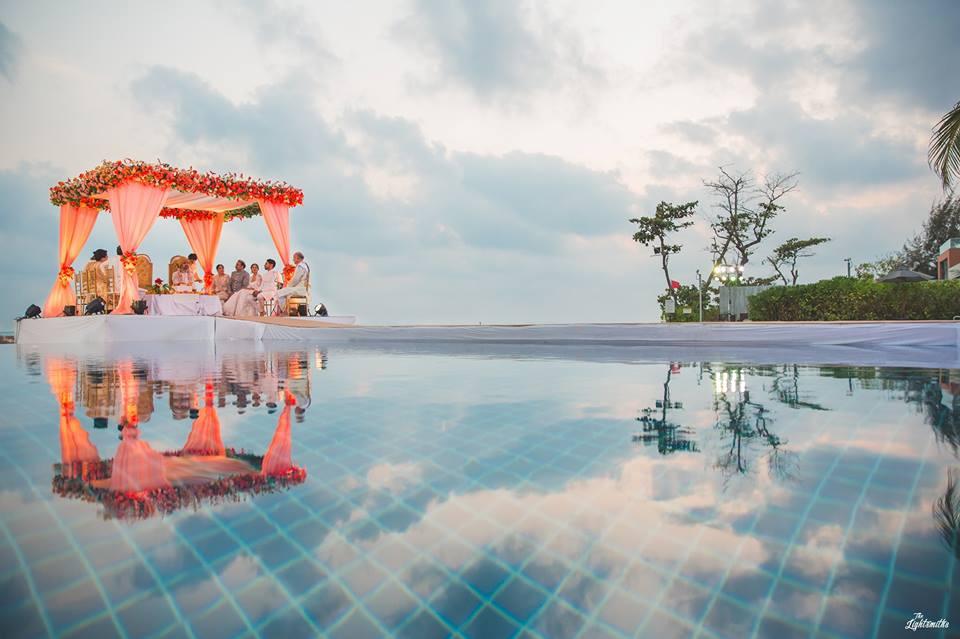 To have a poolside by your mandap is a dream come true for many souls. There is a unique charm in setting up a wedding mandap just next to the swimming pool as water in it lends the whole wedding ambience a magical touch. Look at these following ideas to get impressed!
Decorate the canopy with gorgeous danglers made out of flowers and hang drapes in various colours as suited to your theme. The mandap's reflection over the water of the pool will add to its gorgeousness.
Play with colours like yellow when having a poolside wedding mandapam as shades like this add brightness to the decor. When draping curtains, use white to play wonderfully with floral bouquets made of yellow flowers.
4. Have fun with colours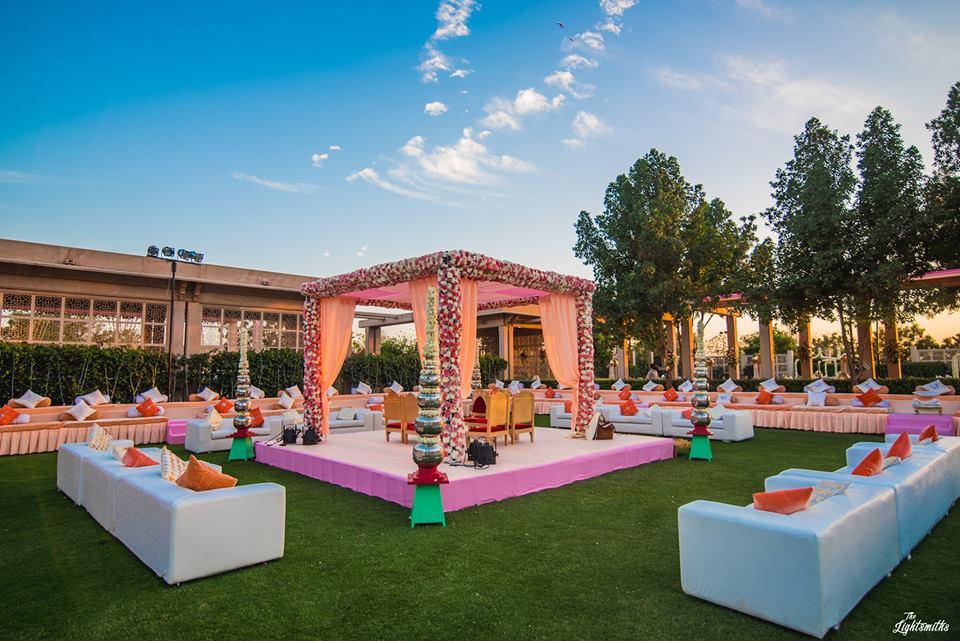 Where mandapam decoration is concerned, colours play a vital role. If you are a person that loves experimenting with colours, then theme your decoration on shades. But, whatever you do, your colour scheme must match with the rest of the other elements such as your wedding venue, your outfit, and the location. Some ideas to try:
Light pastels work wonders for a wedding that is held in the day. Colours like peach and pink go very well together, and you can deck up your mandapam based on these two awesome colours. Choose drapes and flowers in these shades and you are good to go!
Red is one of the most loved colours in wedding decor. You can have a display of red curtains to match with red toned cushions in the mandapam along with yellow marigold strings.
5. Decorate with fairy lights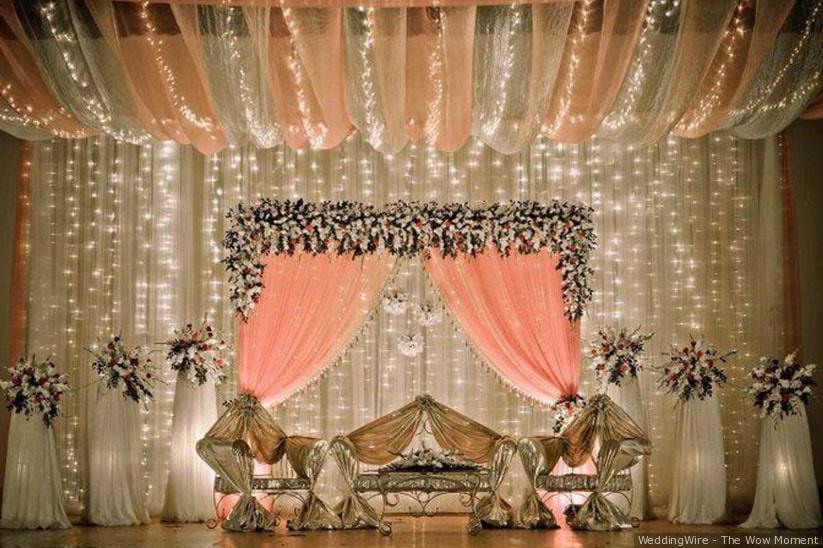 If there is one thing that can just add an instant zing to your mandapam decoration is fairy lighting. Yes, you can have a shimmering decor even with minimalist accessories. Some ideas are:
Have your decorator design a gazebo-shaped mandap, and then, decorate it with drapes, floral stings and danglers along with fairy lights. Such a type of decor works best during the night and for beach weddings.
Add fairy lights to a dome-shaped mandap along with white roses and ferns.
6. Marigold mandapam decor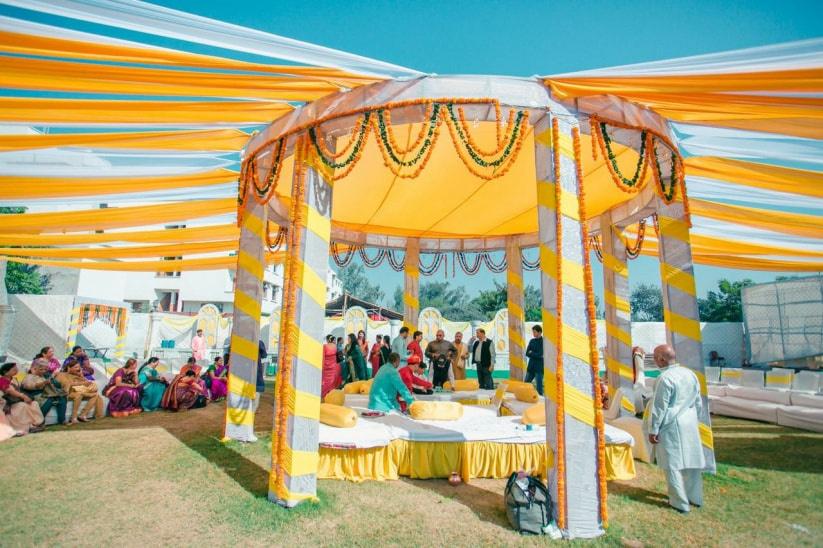 Mandapam decoration is incomplete without the traditional use of marigold, and there are umpteen ways to use these gorgeous flowers. These are:
Deck the pillars with marigold spirals.
Hang marigold chandelier from the ceiling or else hang strings of marigold at the backdrop of the mandap.
7. Mandapam decoration with Soft Hues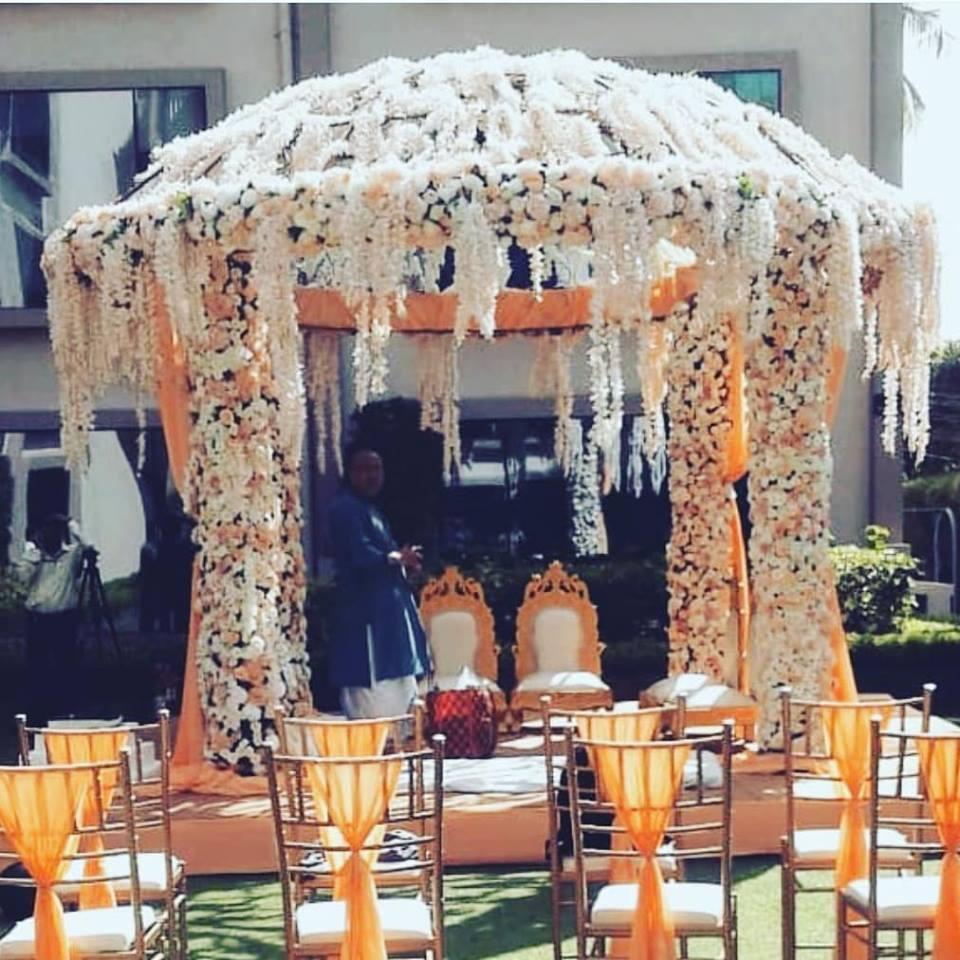 Want a subtle look for your mandap? Well, try using softer colours for dressing up your mandapam. Baby pinks and whites do a wonderful job here. A few ideas to look for are:
Have a mandap that is decorated in all white. Use white flowers and everything white.
Dress up your mandap's ceiling with white curtains and add floral danglers from above.
The style of mandapam decoration can be taken several notches up with these cool and creative ideas presented above. Do not shy away from trying anything that you feel looks fancy and suits your taste.
Have more mandapam decoration ideas? Let us know through comments.