Ring in Style! Get Some Inspirational Engagement Tray Ideas to Glam up the Custom
Simple is boring! So how about jazz up your Engagement tray a bit for some special effects? From traditional to contemporary - take a look at some of the popular and chic ideas to deck up the ring tray on your engagement.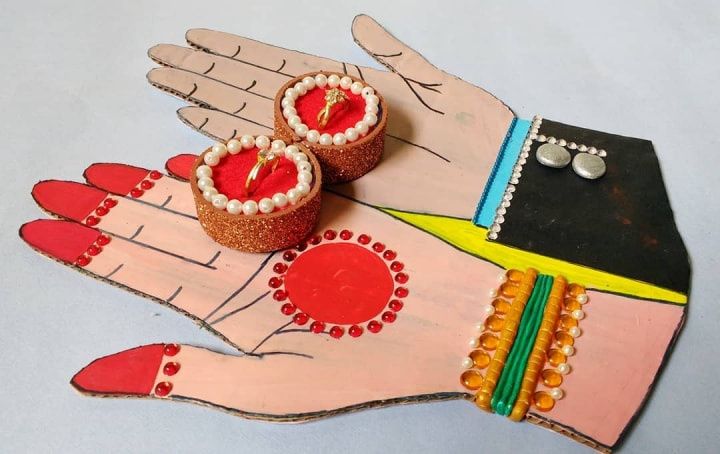 Image Courtesy: Punekar Sneha
If you've put so much time and effort to get the perfect Mandap decorations, stage decorations, even the salad decorations on your food spread. So why not style your engagement tray? After all, an engagement ceremony is the first official event to announce the big news to the world. It deserves some panache! And where's the excitement in simply bringing two rings together and putting them on each other's fingers? There has to be some drama; some aesthetic presentation! Now if you're getting intrigued to know about some fresh ideas on how to decorate your Engagement ring thaali, keep reading!
1. The LED Platter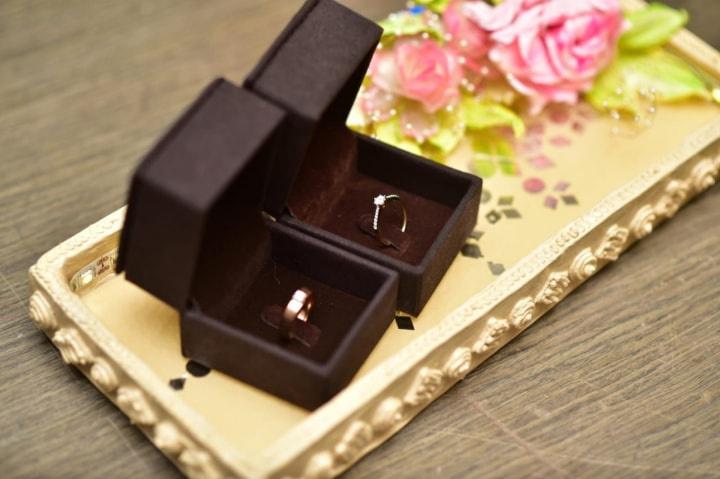 Let there be light! This is an ideal engagement tray idea if you're organising your event at night. An LED platter adds the perfect amount of drama in subtle amounts. It appears simple with a cream coloured tray holding two ring boxes. But when you look closely, there are tiny glowing LED lights that actually enhance the beauty of the tray. An excellent design by Adirag gift designers, here's something to take inspo from!
2. The Red Velvet Tray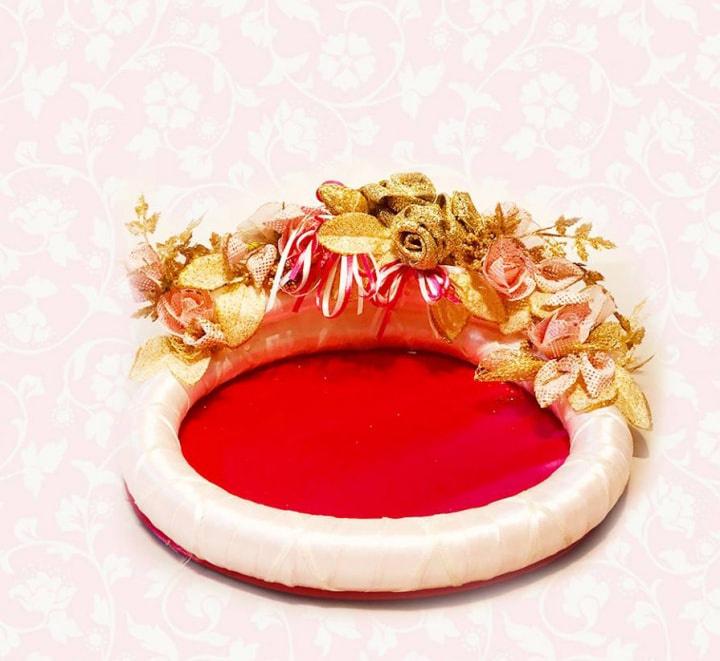 Because sometimes, a simple traditional touch is all you need to make it look gorgeous! A red velvet round engagement tray with white rims and golden glittering roses on the one side. Place your engagement rings on the red velvet base. You can place a few rose petals and kumkum on it to complete the look. Look for more such designs at Anubhuti if you're into the good old traditional ways of trousseau packing.
3. The Bride, the Groom & a Huge Heart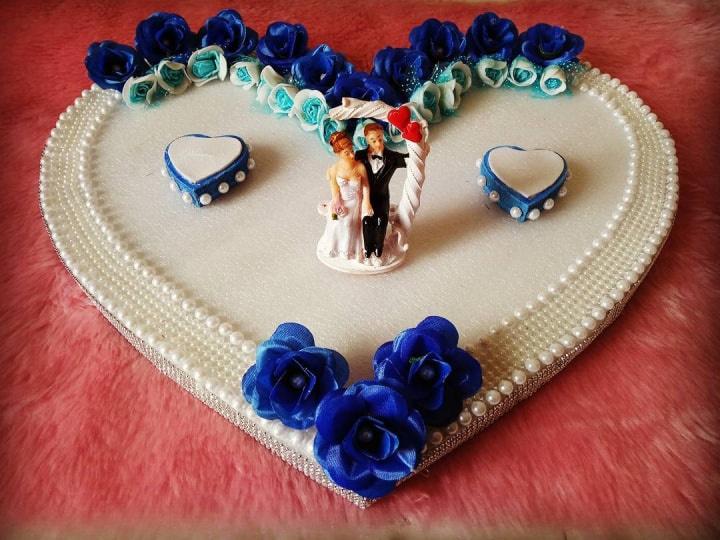 Image Courtesy: Crafty Arty Namy
A huge heart-shaped white tray with navy blue and white roses throughout the circumference; Place miniature dolls of the bride and the groom at the centre and cover the whole tray with broad borders around the rim with white pearls. Very popular engagement tray style especially in Christian weddings, you too can adopt this one if you're looking for a classy approach.
4. Pink Roses and Ring Cages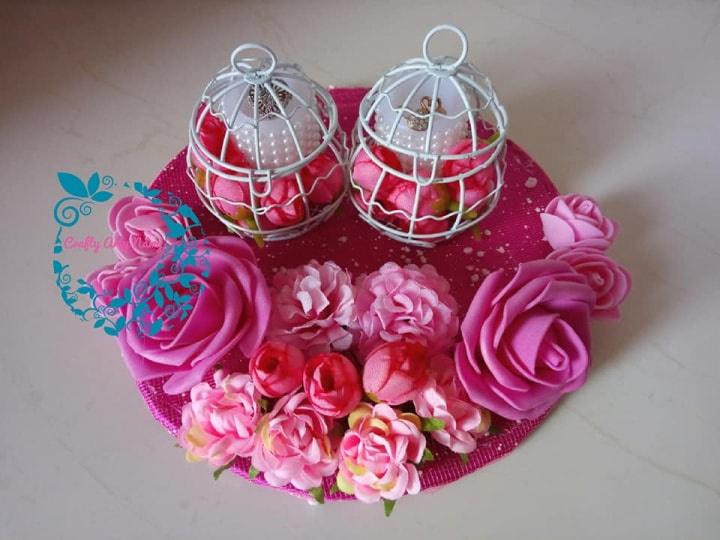 Image Courtesy: Crafty Arty Namy
Get ready for super cool DIY engagement tray idea! Choose any tray and wrap it up with a pink dupatta. Paste pink roses made of plastic or cloth all over the tray leaving two small areas for the rings. Now place the rings and cover them up with two tiny white cages. How simple is that? You can paste some glitters and confetti all over the tray to add some magical fairy tale touch!
5. A simple thaali with Peacock feathers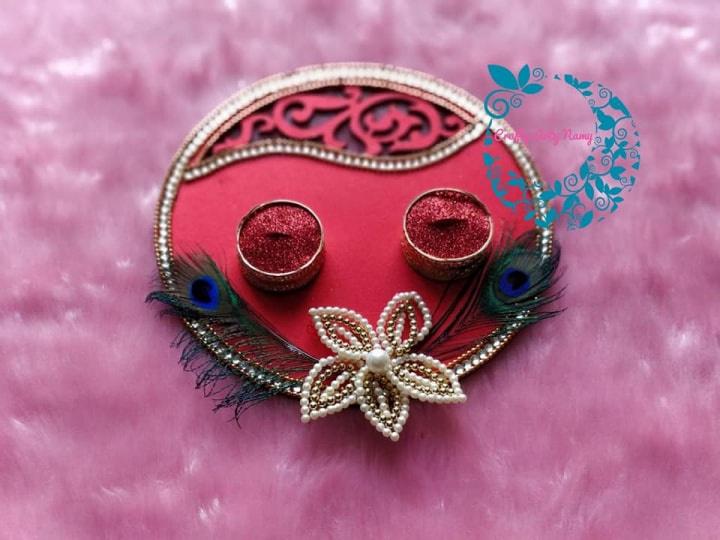 Image Courtesy: Crafty Arty Namy
So you're having a small homey ring ceremony among close friends and family...that doesn't mean you can't have a lovely engagement tray. Accessorise a simple Thaali with pearl strings and two peacock feathers. The sheer sight of Morpankh will amp up the beauty of your Thaali.
6. Let the Outfits hold the rings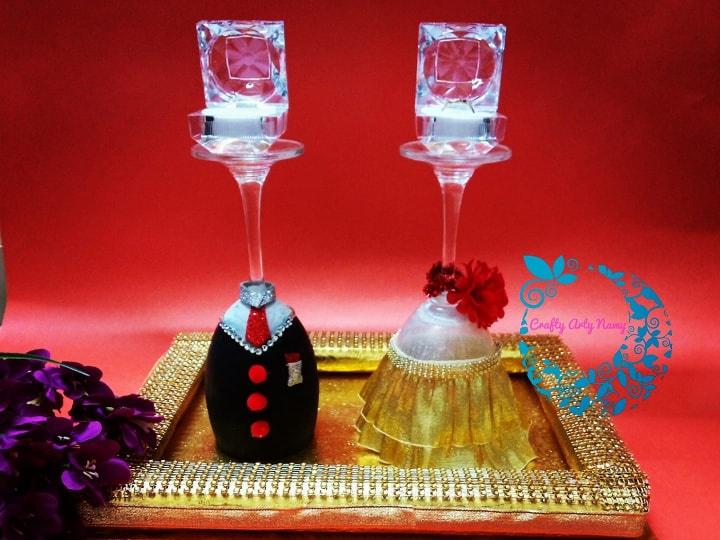 Image Courtesy: Crafty Arty Namy
Here's a fun engagement tray idea: dress up two wine glasses in bride's and groom's miniature outfits and place them on a tray upside down. Now keep the ring boxes (preferably transparent in colour) over the bases of the inverted glasses. Just imagine how dramatic and fun it would be to present your engagement rings on these trays!
7. The Classic Silver tray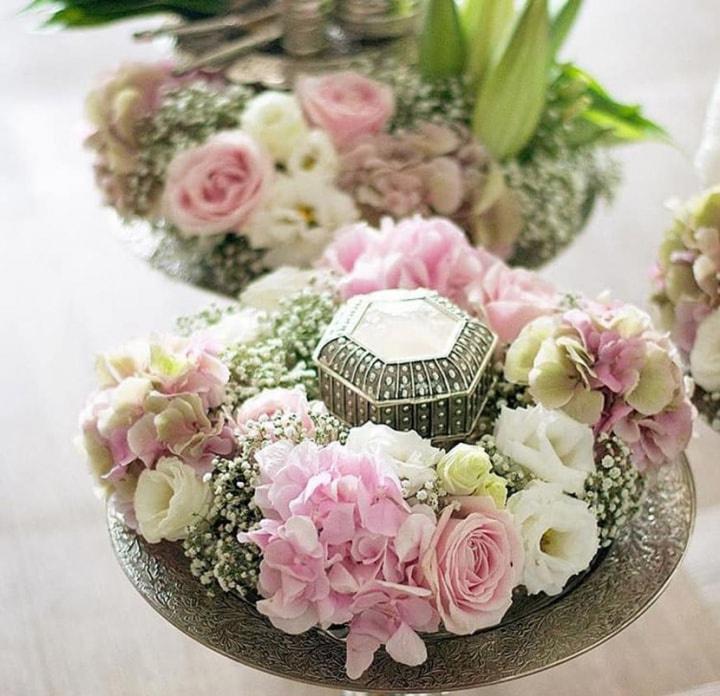 Image Courtesy: Crafty Arty Namy
Some things are never out of style. And a classic silver engagement tray is one of them. Decorate the silver tray with white and lilac roses along with little white daisies to match with the colours. Keep the rings in silver or oxidised boxes. When you're not too sure about which kind of tray to choose, this is the one that would always be a sure winner.
8. Hand-painted plates on a box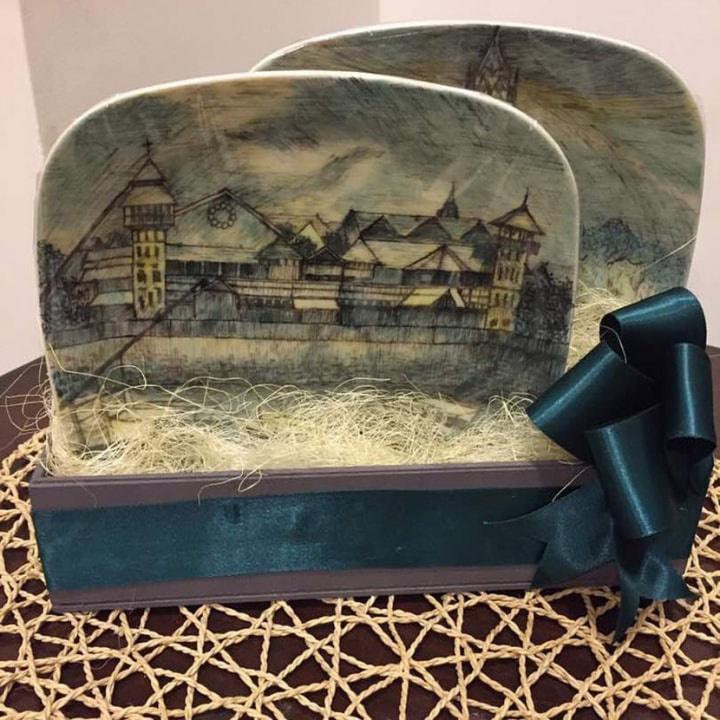 Do you have a knack to paint? Well, here's your chance to use your artistic forte on the engagement tray. Get hand-painted ceramic plates placed on wooden trays or boxes and keep the rings in the box. Use the plates as the lid and keep it open. You can also ditch the box completely and present the rings on your own created plates. When you have something so artistic and original, you don't need any other accessory with it. Or you could take a look at The Wrapping company for more ideas.
Get as creative as you want to. Use the couple's images or their favourite celebrity/comic character's photos printed on the engagement tray. Use old bangles and dupattas to make your own ring tray. Recycle old trays by hand-painting or accessorise them. Getting interesting concepts on decorating your tray doesn't always have to be an expensive affair. All you need is to put on your thinking hats and try something new and innovative. Doesn't matter if what you make isn't trendy. You can create something fresh and set your own trend!
Do you have more interesting ideas to decorate your wedding trousseau? Please share them with us in the comment section below.