Planning Your Wedding by Yourself? Here Are Some Stage Decoration Images That You Must Check!
So much goes into finalising a wedding including the stage decoration. We have curated a list of some trending stage decoration images to make your life a tad bit easier. Take a cue from these images for your big day and enjoy.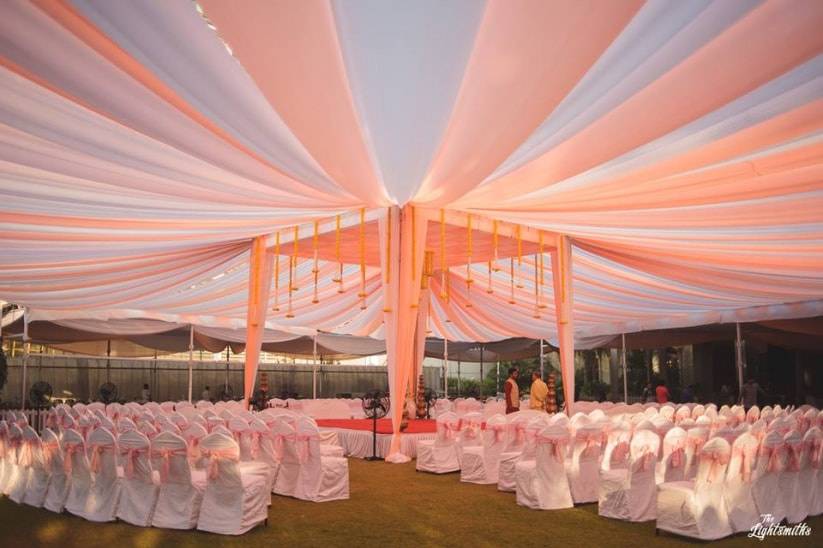 And so, your big day is soon to arrive. We are sure that the preparations are keeping you dead busy. Checking on the guest list, finalizing the menu, booking the salon appointment, countless visits to the clothing boutique for fittings; but have you yet finalised the stage decoration? We understand amidst all these chaotic to-do things how difficult it is getting for you to manage everything since you have decided to be your own wedding planner. Take a cue from these stage decoration images for your big day and get inspired to have your wedding planner and wedding decorator design one of the finest wedding setups of all times.
Fancy Stage Decoration: The Latest Trend
Yes, we know that the guests are going to pay a lot of attention to your wedding outfit but, their curious eyes are also going to inspect the stage where you will stand hand-in-hand with the love of your life. And, so, it is very essential for you to design a beautiful wedding stage.
The latest wedding trend spells "bold is beautiful", and going by the trend, the planners are doing every bit to make each aspect of your wedding, grand. Since you are your wedding planner, here are the gorgeous stage designs and ideas that you must swear by:
1. Botanical or Floral Décor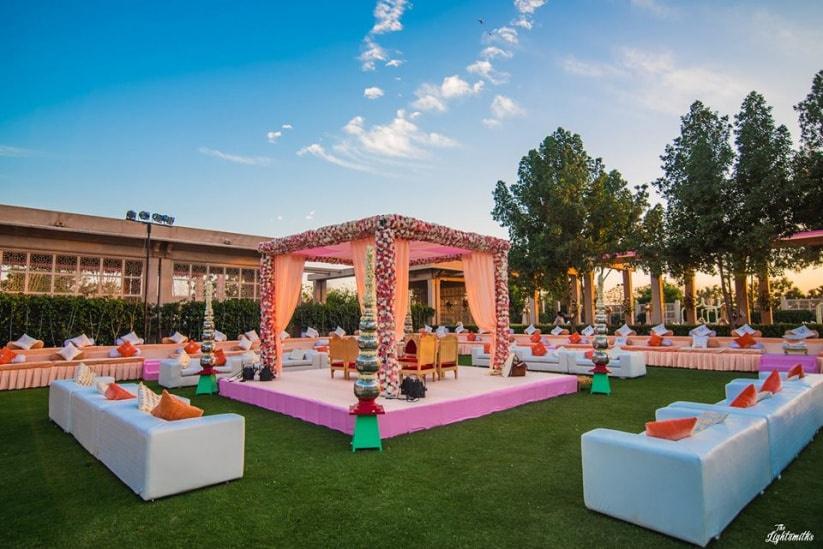 Floral décor is in trend these days. The stage laden with fresh flowers looks very elegant and appealing. When it comes to floral décor, there are many fantastic options to consider. Imagine a grand stage with a backdrop of gorgeous curtains and strings of flowers and lightings; enough to give you goosebumps.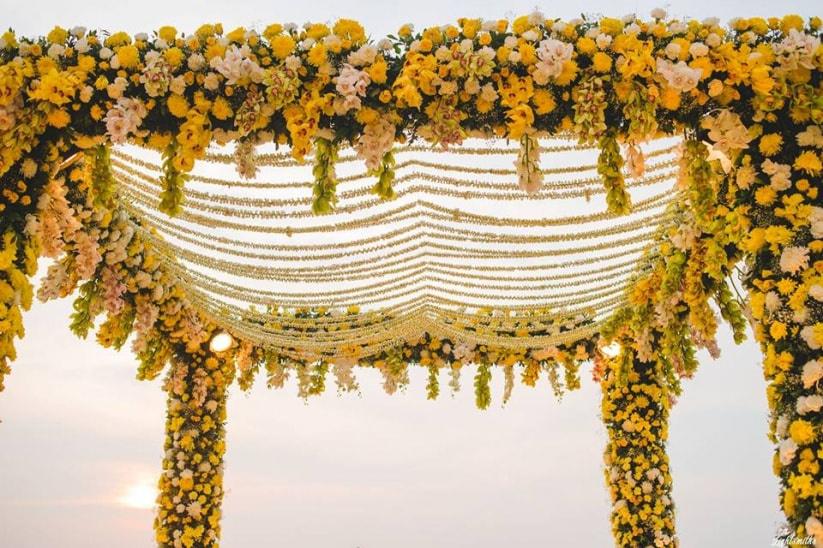 You can either opt for a complete floral backdrop or a roof decorated with elegant flowers. You can incorporate fresh flowers in every corner of the stage. Not just the backdrop, adorn the canopy with gorgeous flowers, hang floral strings everywhere, cover the staircase with fresh flowers, surround your seat with flowers, etc.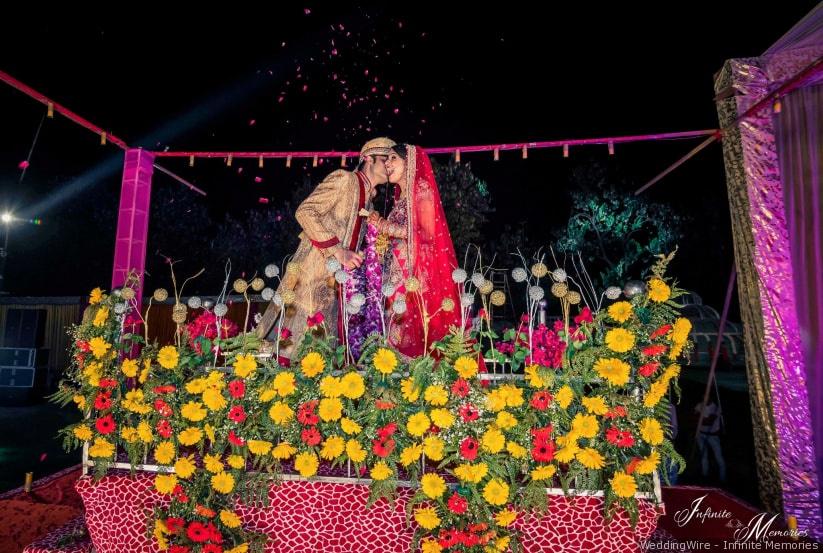 Flowers like rose, chrysanthemum, marigold, orchids, etc are the best picks for floral stage decoration. These stage decoration images happen to be some minimalistic designs which you can easily re-create to amp up your wedding decor.
2. Kitschy Appeal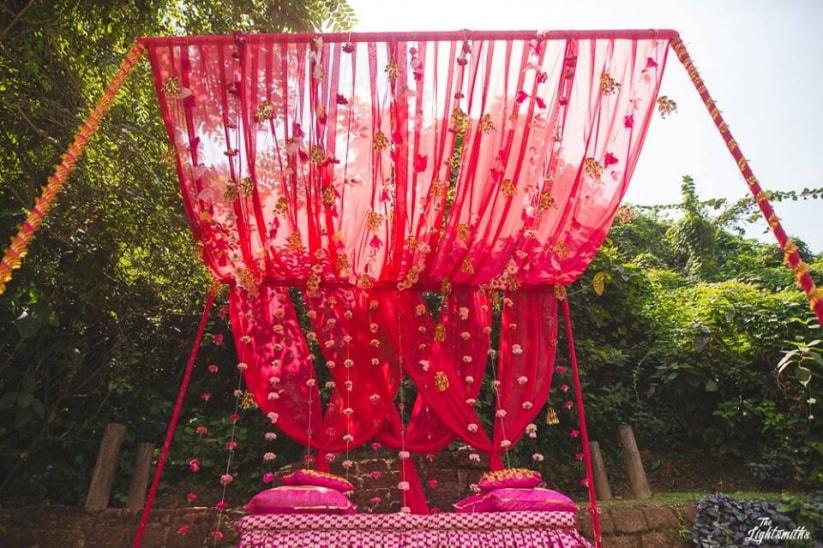 If you are a vibrant bride who does not shy away from trying something bold, you have a plethora of options to try out. Put your creative mind to good use. Let your creative juices flow and come up with something very different.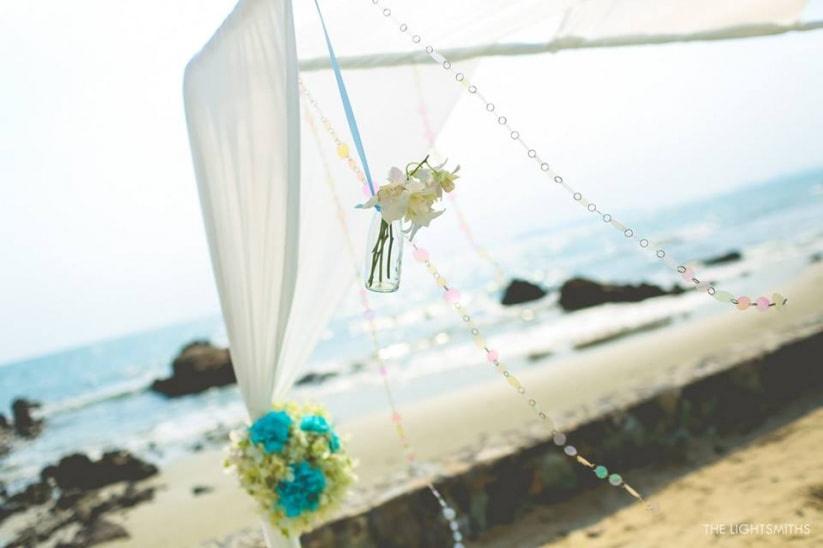 Adorn the stage with beautiful fabrics in vibrant colours. You can use printed or plain fabrics in different colours. Add some flowers to give it a fresh feel. You can further enhance the look by cool and quirky accessories like dreamcatchers, little hanging planters, bells, and other boho accessories. This décor will reflect your cool and quirky personality. Take can also draw some inspiration from our wedding props article. Our favourite thing about these two-stage decoration images is the light-weight element of decor. these two stage decoration images are a combination of exquisite drapery and ceiling hangings - both of which when combined will look spectacular as wedding stage decor inspiration.
3. Stage Effects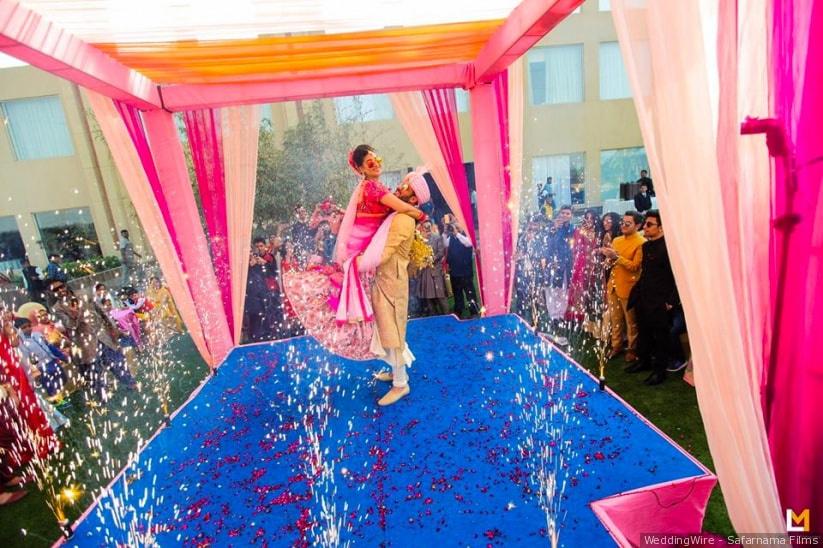 When there are many technological advances at your disposal, why go the old-school ways? The modern stage décor sees the use of an elevated stage, revolving stage, etc. Greet your guests standing on a floating stage and you will feel like you are on cloud nine, floating in the sky. Other options in this category include using light effects, sound effects, lightings, etc. These effects add a glam feel to the stage.
4. Standalone Bridal Seats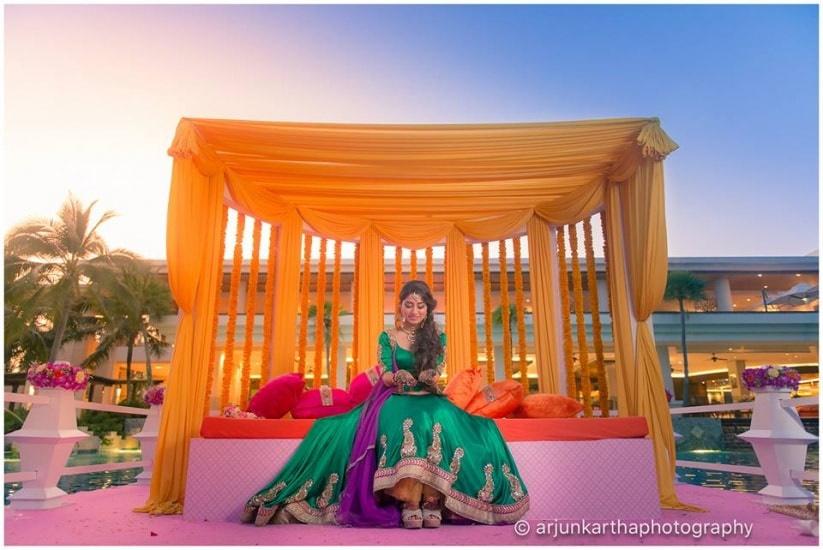 Instead of using a complete stage, you can also consider using standalone bridal seats. This is one of the most innovative stage ideas to consider. You can go with an elegant seat adorned with gorgeous flowers. Finish the entire area with beautiful lightings surrounding the seats. Use tall candle stands around the seat.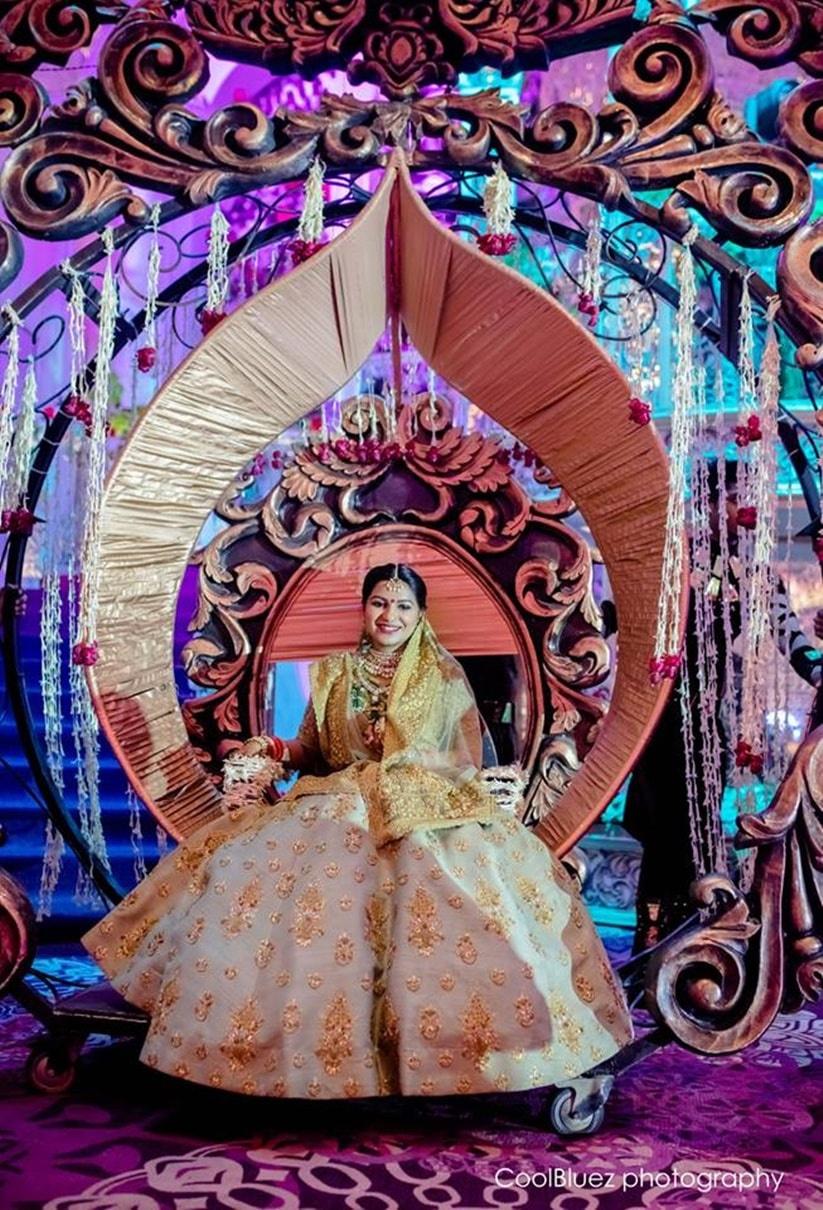 For a day function, take a cue from this stage decoration image. The bridal seal is adorned with beautiful curtains and flowers. The setting is simple but very elegant.
5. Location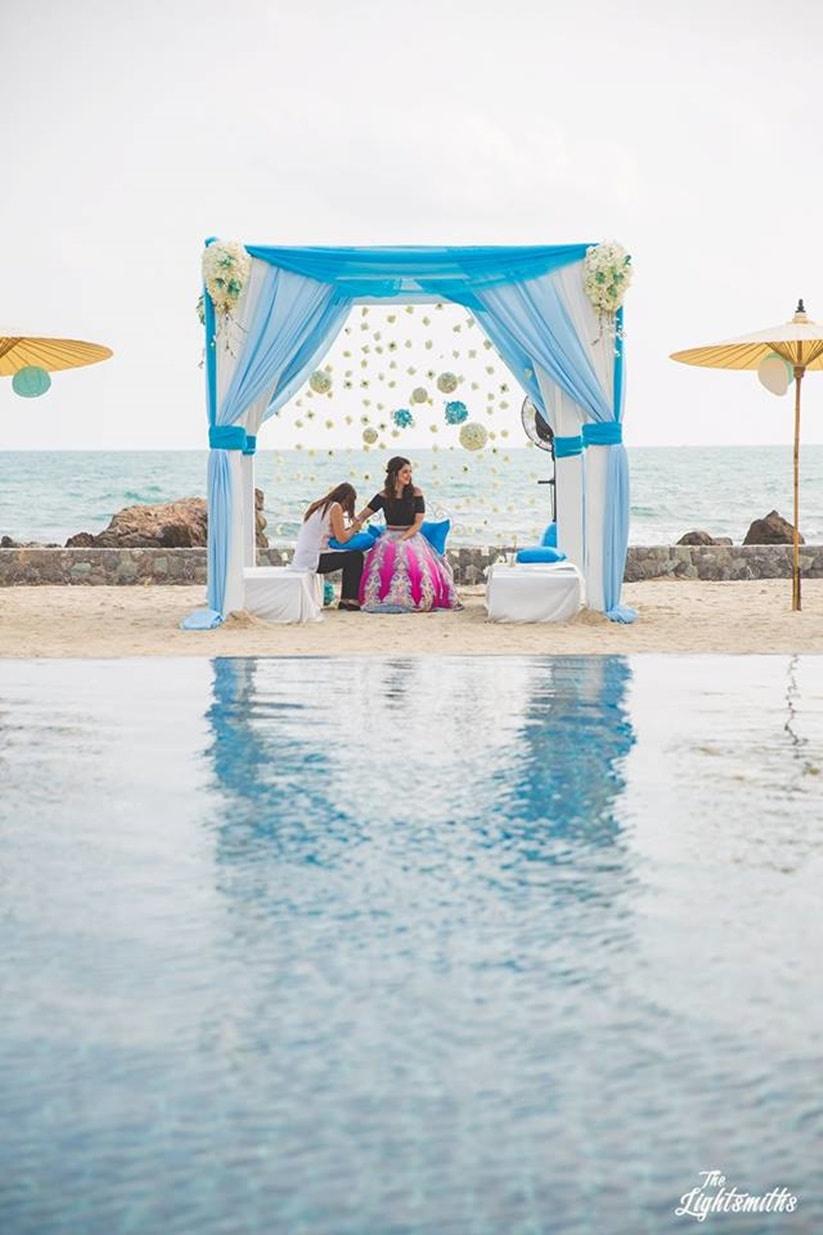 When it comes to locations, you are spoilt for choices. There are many exotic options ranging from secluded beaches to heritage sites. You can plan a beach wedding on a serene beach. Decorate your stage with beautiful white flowers and keep the entire tone neutral with white draperies, white crockery, etc. A combination of blue and white is the perfect option for a beach wedding. You can use beach accessories to add up to the look.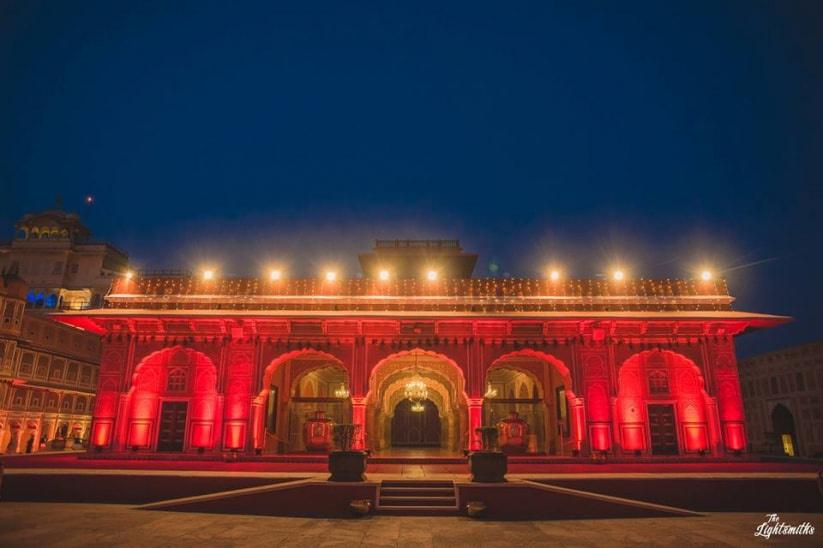 For a heritage location, you can go with a regal theme for the stage décor. Use velvet tapestries and draperies in rich tones to enhance the regal feel. Jewelled tones are perfect to add a luxe appeal. Use studded accessories to amplify the overall look of the stage. To give the décor, a regal feel, you can use tones like gold or silver with lots of shimmery items. Incorporate beautiful lightings to enhance the overall look.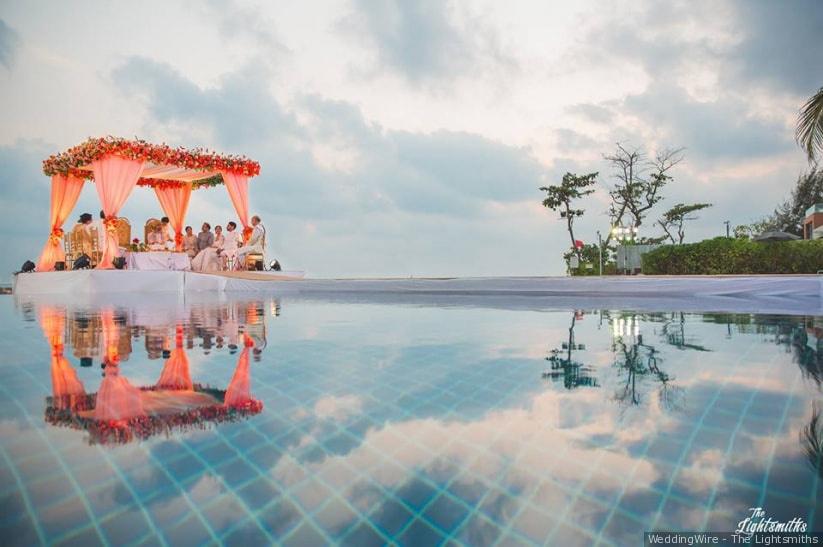 So now you have ample options to consider for stage decoration. You can take inspiration from one or two ideas and mix them up to add a personalised touch. There are many other stage décor options that you can use. These stage decoration images are easy to recreate and have a lot of room for improvisation. You can play around with the colour scheme and colour coding of the drapes with that of the flowers and ceiling hanging. Be it an outdoor decoration setting or an indoor decor inspiration - these stage decoration images are the correct dose of inspiration for the millennial couple who loves the taste of luxe and chic. If you happen to be one of those couples who want the best of everything at their wedding - then bookmarking these stage decoration images would be the first step forward in achieving that.
Select your preferred stage decoration images from the suggested collection and use one for your wedding decor.