13 Wedding Props Bound To Spice Up Your Wedding Decor And How!
Keen on making your function a roller coaster ride with fun-filled elements? Let your worries come to a standstill as we have some quirky wedding props for you.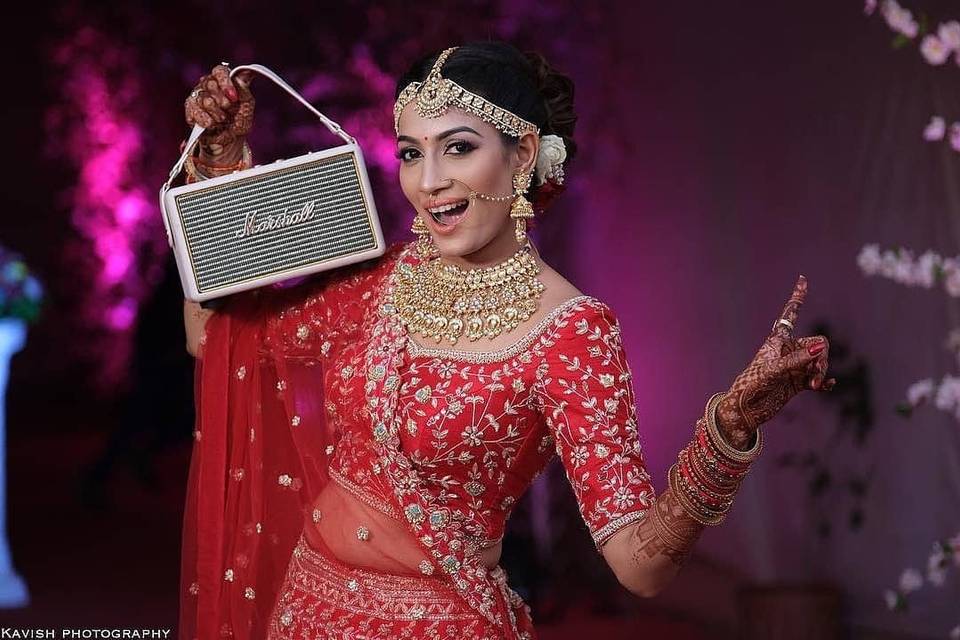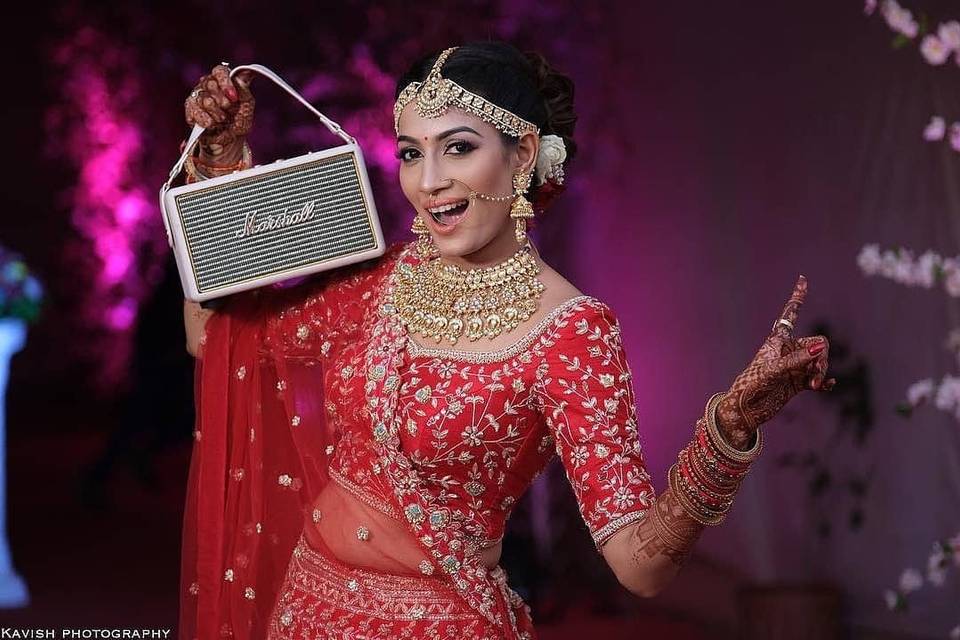 Image courtesy: Kavish Photography
From picking the theme of your function to finding the perfect set of wedding props for a memorable event, wedding decor takes a lot of planning. The list is endless. We put our heart and soul into making our function a one-of-a-kind event. You can take yours to the next level with these quirky and uber cool wedding props.
Wonder what these potential wedding props could be? We have narrowed down a list of props you can use in your functions to make your ceremony an entertaining affair.
Quirky wedding props for your engagement ceremony
Gain some quirk for your engagement ceremony with these wedding props:
1. Custom ring holders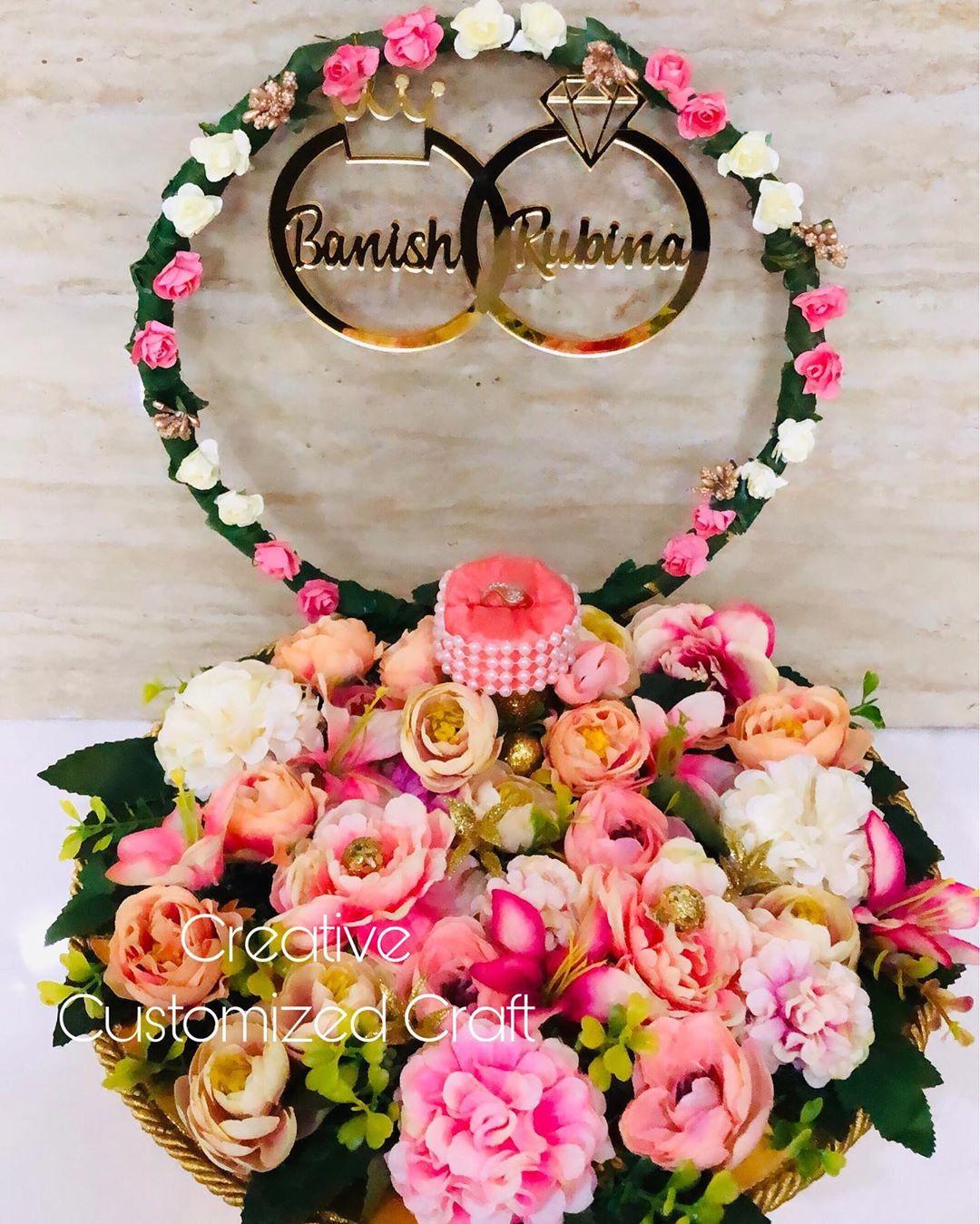 Image courtesy: Creative Customized Craft
Ditch traditional trays which have your engagement rings with customised ring holders. Engrave them with the initials of your better half. Keep them as a reminder of your love story, as you make your engagement ceremony more fun and a little out-of-the-box.
2. Dramatic dialogue cut-outs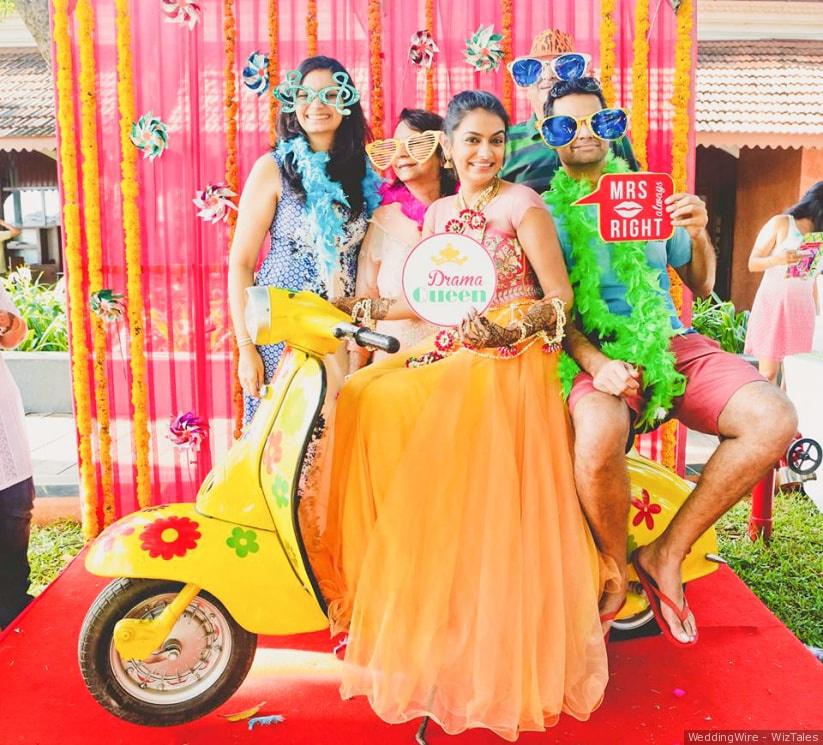 Create some dramatic dialogue cut-outs and caricatures. They could be lyrics of songs that tell your story as a couple or signages which say about-to-be-hitched for life. Use them as wedding props for a photobooth or background decor to personalise your event.
3. From wedding bands to coordinated engagement rings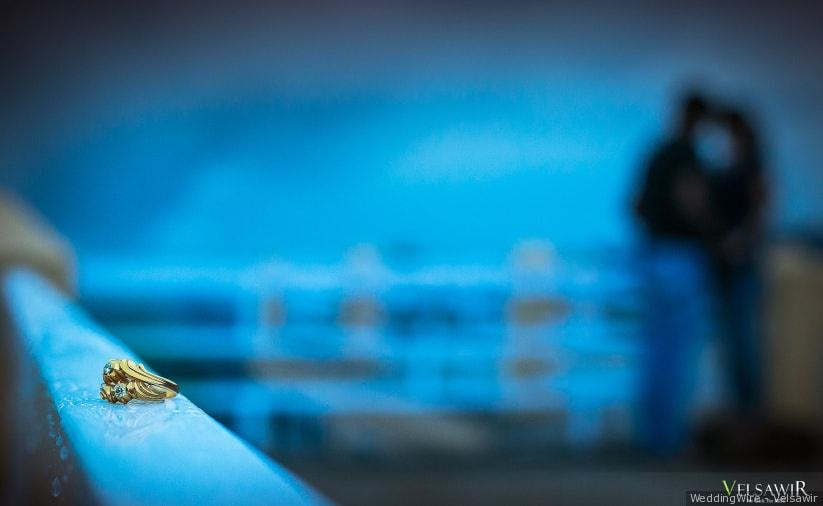 Image courtesy: Velsawjr
Even though diamond rings are all the rage but why not go for something trendier? A coordinated ring set with the initials of your spouse and your engagement date inscribed around it or rings with a phrase you both love the most.
Couples today get the name of their spouse tattooed across their ring finger as a symbol of love and commitment. This trend is picking up the pace and you can surely be one of those uber cool couples by becoming a part of this trending Nakhra. You can have a pre-wedding photoshoot which features these newer trends and have those pictures displayed at your function to personalise your event.
Wedding Props for the Big Day
Now, let's look at wedding props that would be handy for your big day:
4. Shower of petals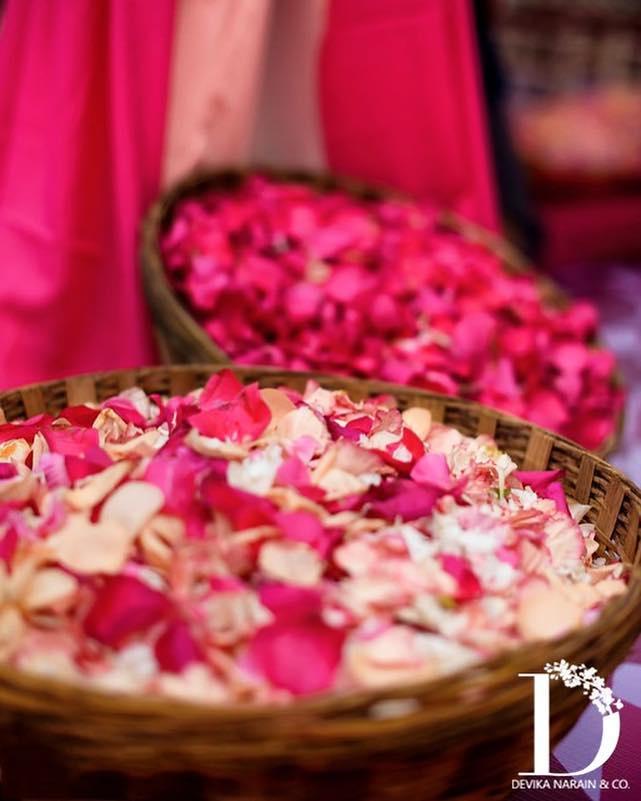 Get bunches, bags or even baskets full of petals for a literal shower of blooms at your wedding. This evergreen idea works well as the traditional confetti as well as a charge of refreshing floral fragrance during a hot summer wedding day.
5. Swings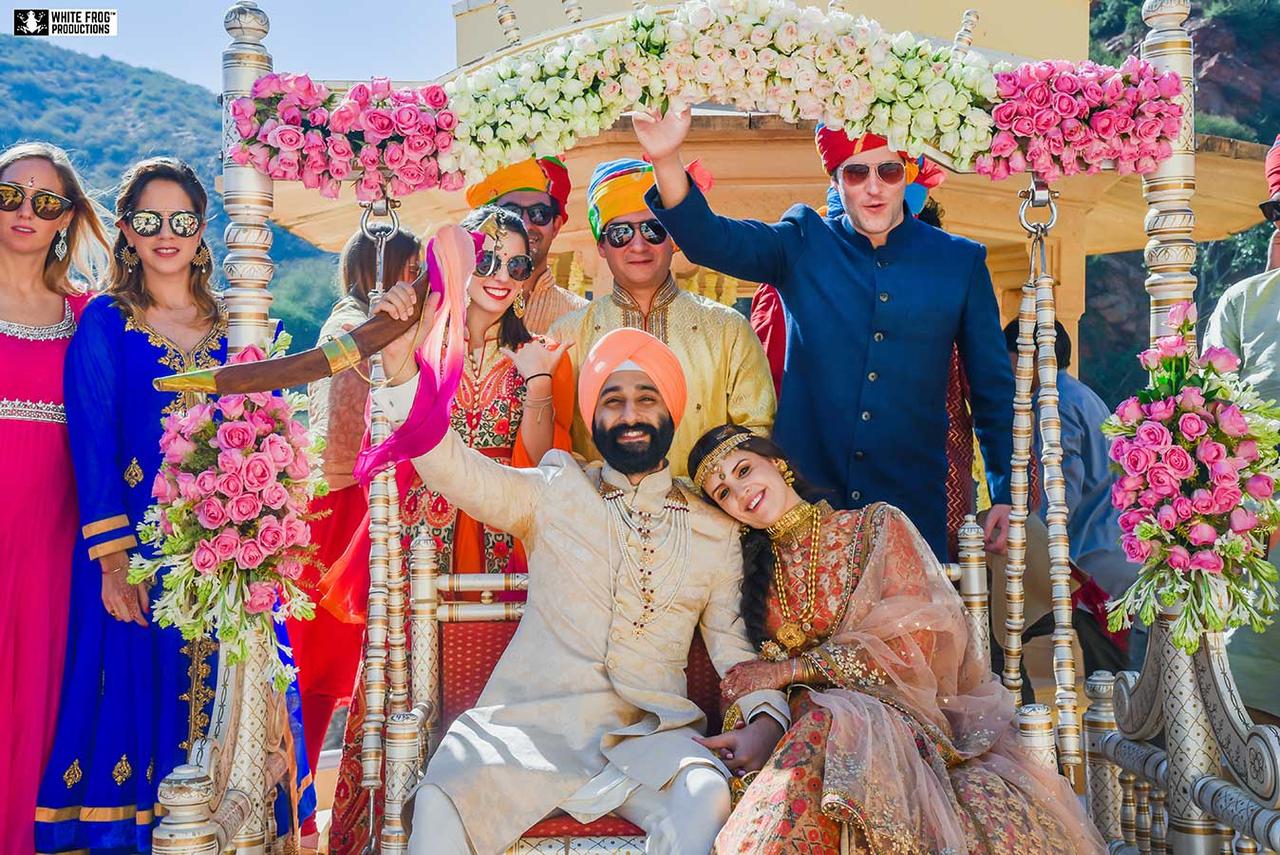 Gain the advantage of a mobile seat and some of your childhood fun with your special someone by opting for this classic wedding prop. The swing for the wedding couple can be any design that suits your fancy - a traditional Jhoola, a modern flowery seat or even a rustic contraption. Choose the one that best speaks to the two of you as a couple.
6. Balloons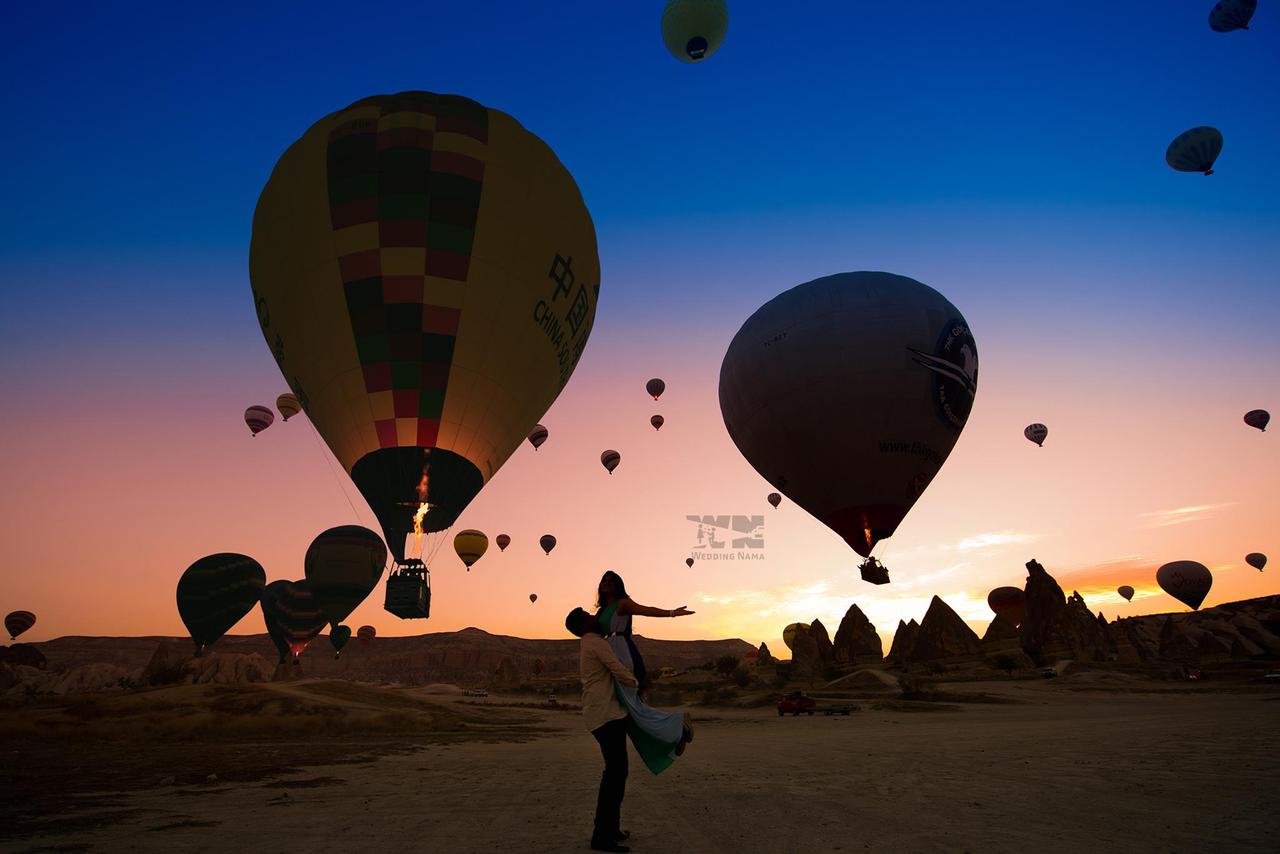 Gain a high perspective by adding balloons (either big or small) to your wedding props. These props can be conversation-starters, add-ons for wedding games, a release idea after your big ceremony or even landmarks and signboards for the different points across your wedding venue.
7. Umbrellas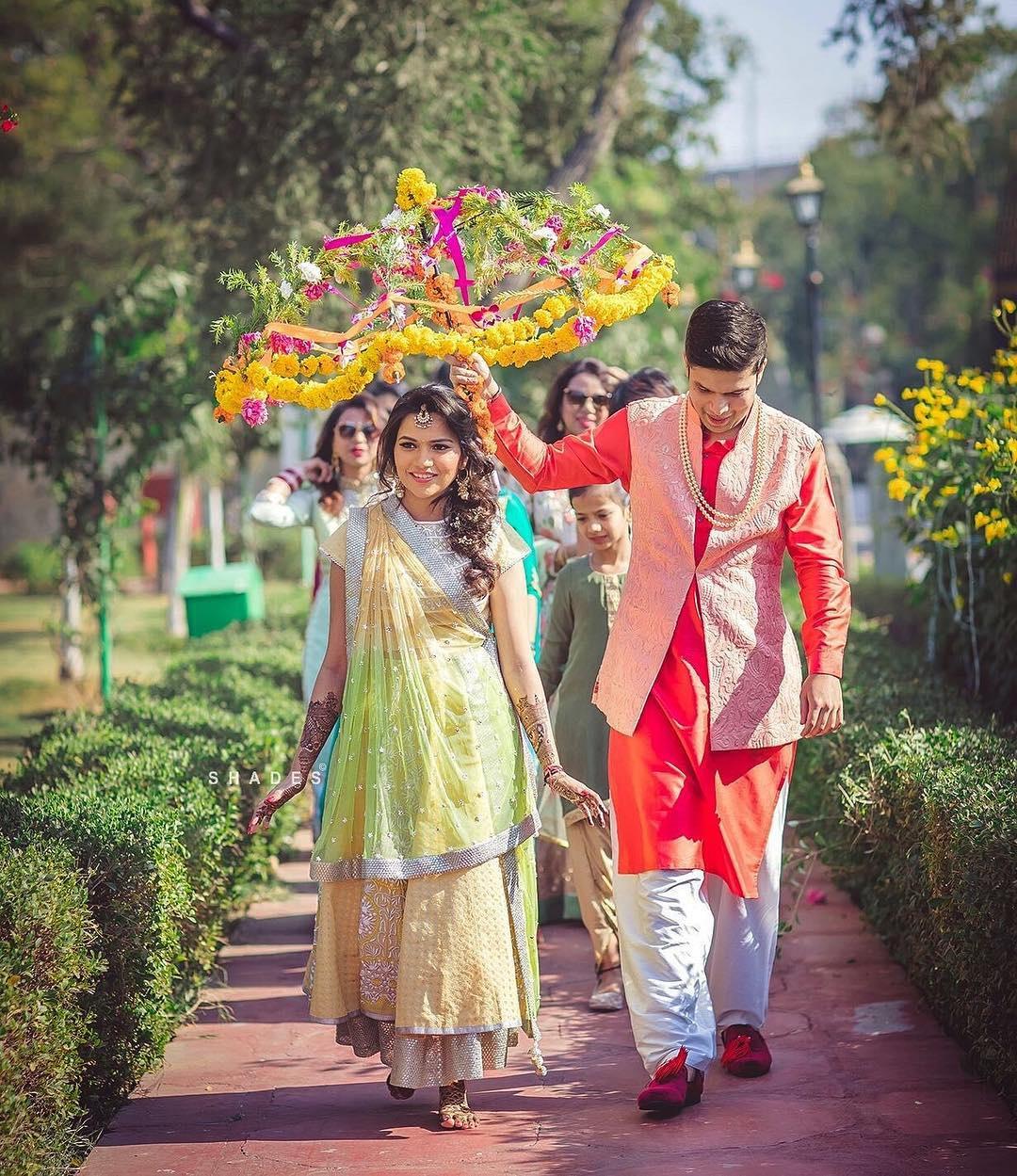 Add an umbrella to your set of wedding props and don't forget to pass it along for photo-ops for your friends. Your chosen umbrella could be a floral parasol or one fitted with a set of flashing lights. You can even opt for a grand shape (like a heart-shaped umbrella) as you walk under it for your bridal entry, pose pretty for the cameras or even exchange varmalas under one.
8. Floral walls as wedding props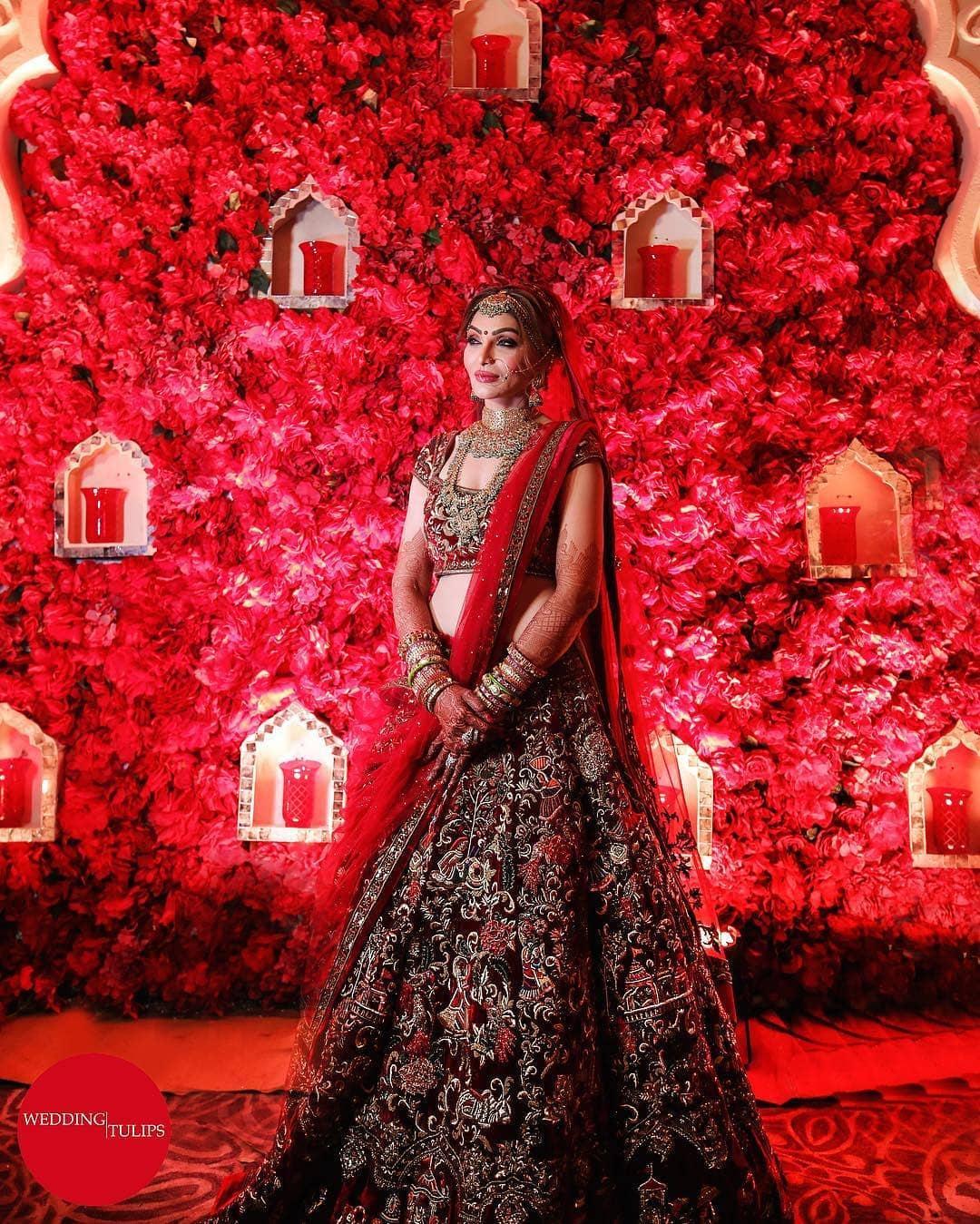 Floral walls are a sight for sore eyes. From star-studded weddings to big fat Indian weddings, floral backdrop with exotic flora serves as the perfect background for clicking your wedding portraits. So, pick flowers as per the theme of your wedding and make your wedding pictures more memorable.
9. Sparklers & colour bombs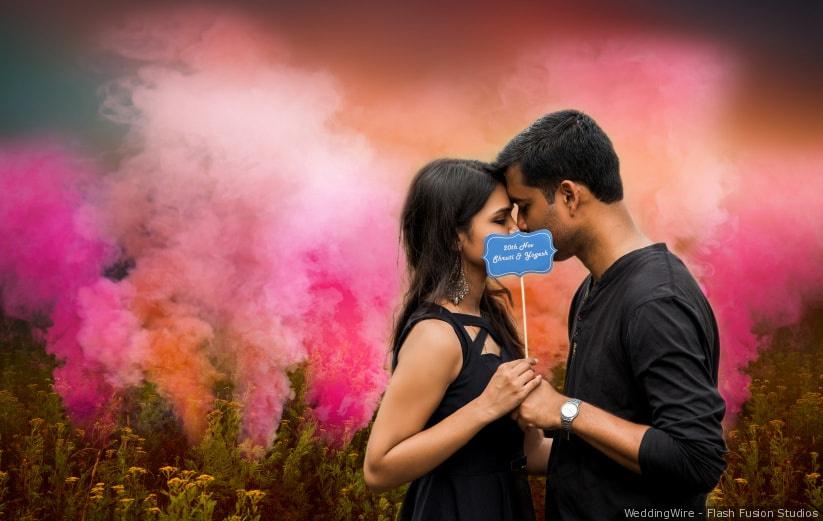 Wedding sparklers are the newest trends couples are incorporating in their functions. Photographers today are equipped with technology which creates a lighting trail with prolonged exposure while you and your spouse draw hearts in the air to provide the desired effect.
Imagine seeing a picture of your initials, glittering in the air creating the background for that perfect shot. If you are a fan of colours, then go for colour bombs and place them across your venue. The beauty of these props will be in how craftily they add colour to your decor and wedding setups. This wedding prop aesthetic will add life to your function with their colourful plumes.
10. Vintage cars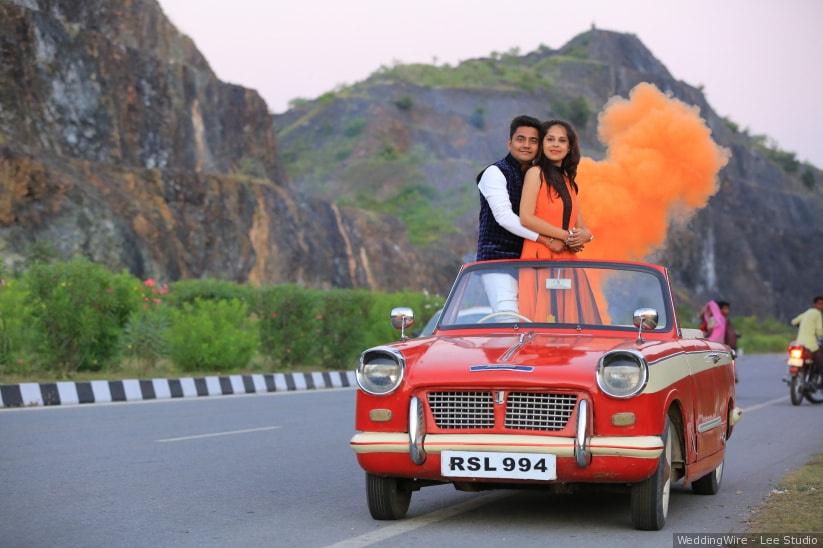 For grooms who are thinking of unique ways to make their grand entrance, replace the archetype horseback entry with a vintage car instead? You can rent out vintage cars like a classic Contessa or a convertible Chevrolet Impala to make your royal entrance.
Also, use these cars as a photoshoot prop to add a dash of awesomeness to your wedding pictures. Take inspiration on how these vintage cars can add glamour to your occasion otherwise as well.
11. Bullet Rani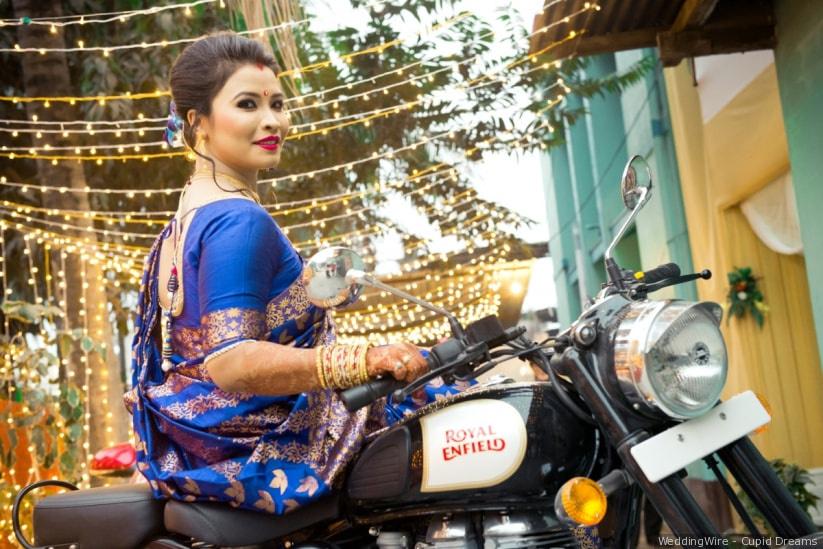 Like a boss, make your grand entrance on a bullet with a song of your choice playing in the backdrops. Replace 'Din Shagna' with 'Tareefan' if it's your current jam because you're the gen-next bride, one who is bold, confident and a boss woman. Let your bridesmaids follow the trail with starlit lanterns as they direct your way in through the crowds. Be the real Bullet Rani by following this wedding prop trend. Use these as a prop for your photo booth for some quirky, bold and candid shots.
12. Make a wish with lanterns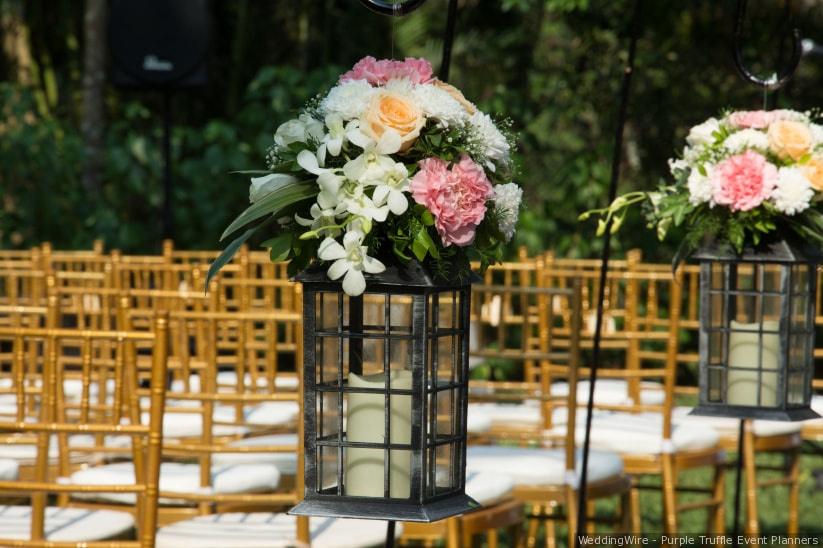 Keep a pack of notepads for your loved ones to write some customised messages on. Place them in a lantern and release them into the sky. This will make for an exquisite decor inspiration in the form of a starlit sky to illuminate your occasion. Also, you will be left with a threshold of personalised messages to hold on to forever in your heart.
13. Crates, boxes and letters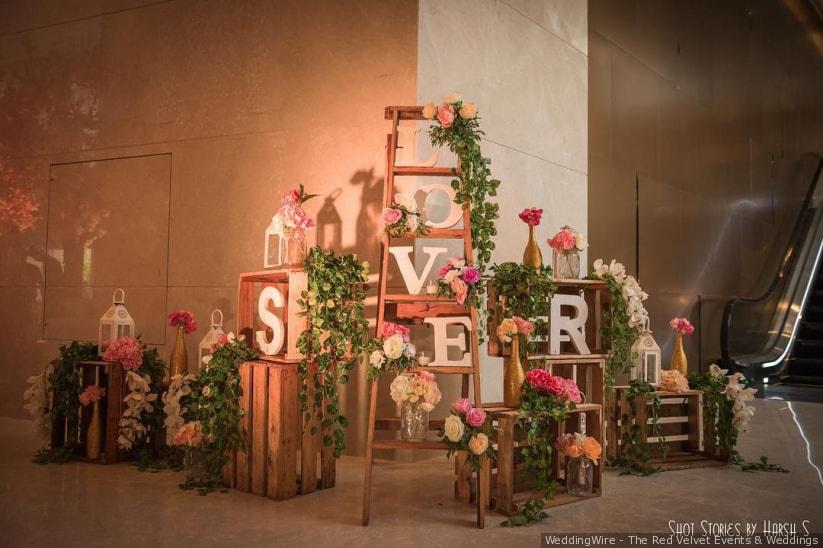 Consider a vintage corner installation, like this set of crates, ladders, lanterns, bouquets and letter. Let your creative juices rise and ask your guests to either take places within this deco photobooth style setup or around it. Believe me, this will add to your set of wedding pictures with each one receiving full permission to modify / edit or even pick-up select items as wedding props from this setup. In the end, do a group shot with your besties around it and you'd have the right click for your social profile.
14. Elephantine inspiration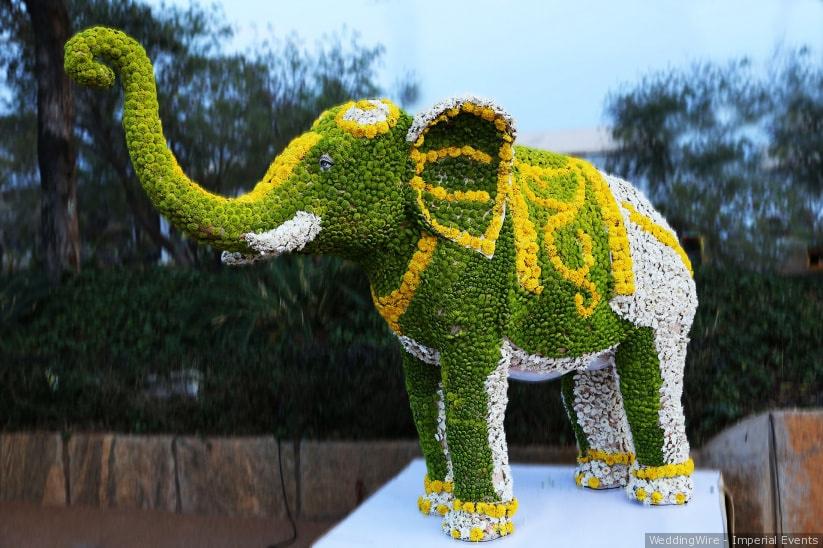 Need a mammoth inspiration as far as your wedding props are concerned. Then let's call in the big Gajaraj as a decor setup for your set. Floral elephants are an on-off rage and their serene presence adds to the scene like no other. You can have one in dark red roses and carnations or marigolds in varying shades.
These are some wedding props ideas that are trending and will surely make your wedding a memorable affair. Take your time, surf your options and curate the most unique list of wedding props to transform your wedding into a star-studded occasion. Now that you have gone through a set of wedding props that are trending these days, you have a long list of options to choose from. We hope that you found this selection inspiration-worthy. Remember to take a chance and ensure to enjoy your moment while it lasts.
Do you have any more interesting options to suggest? Do tell us in the comments below.