31 Pre-Wedding Props Which Will Breathe Romance into Your Pictures
Pre-wedding props add a pop of colour and a dash of drama; adding to the story the pictures tell. Here are some of the most unique pre-wedding props to inspire your photoshoot.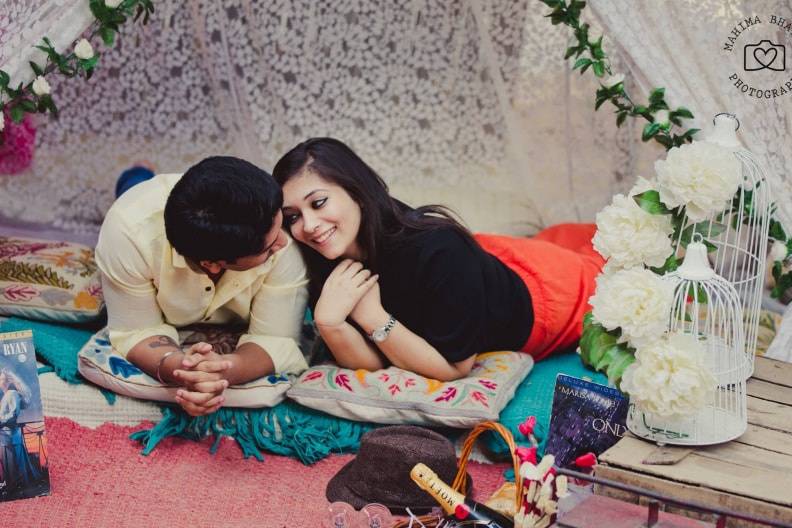 Pre-wedding props are reigning over the wedding photography industry. Couples today want their pre-wedding photography to tell a story rather than just be pretty and romantic. Doing that through a set of images can be done best by adding elements which enhance these ideas. We help with some unconventional and unique pre-wedding props to tell this narrative the way you want to.
Unique Pre-Wedding Props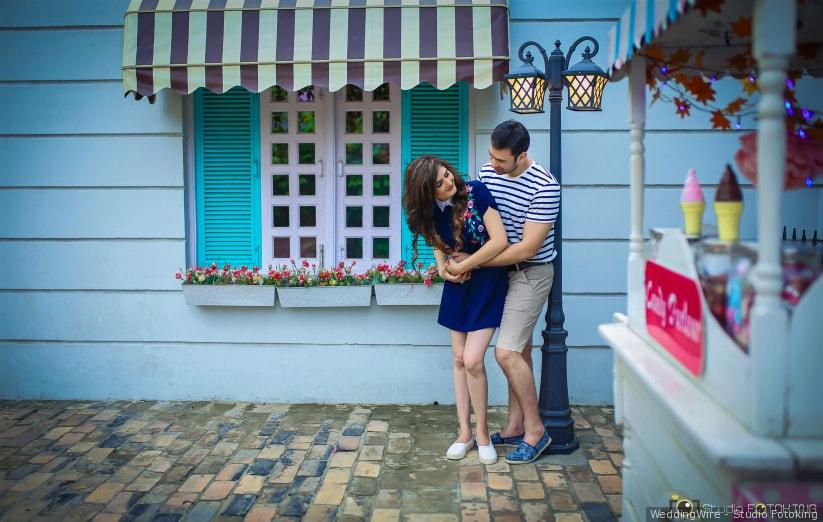 Apart from being a storytelling element, pre-wedding props also add a pop of colour, a dash of drama and oodles of fun and quirkiness. Here are 30 pre-wedding props to inspire your own pre-wedding photoshoot. And, yes these are just a handful, the right wedding photographer will be able to come up with a million other potential pre-wedding props. Let's start:
1. Piano/Gramophone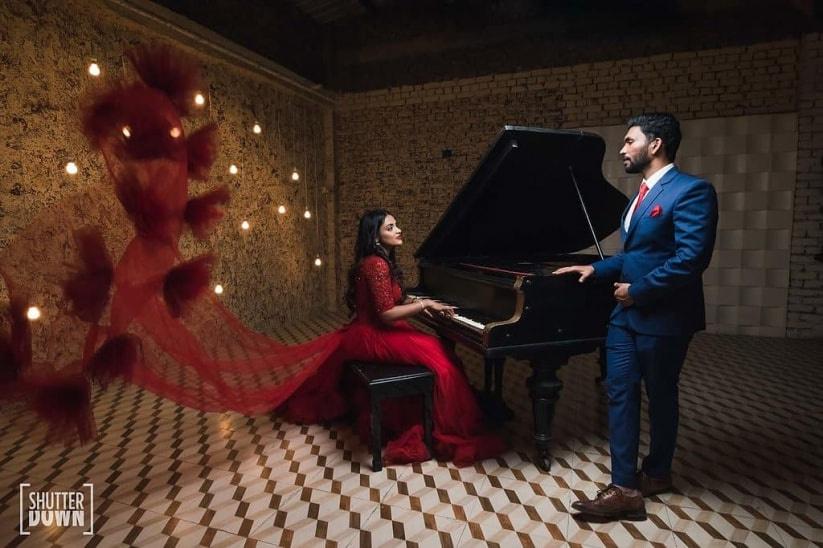 If life is a musical journey, marriage adds to the rhythm! Adding a piano, a gramophone or any musical instrument is a great way to add character to your pictures.
2. Balloons and Bicycles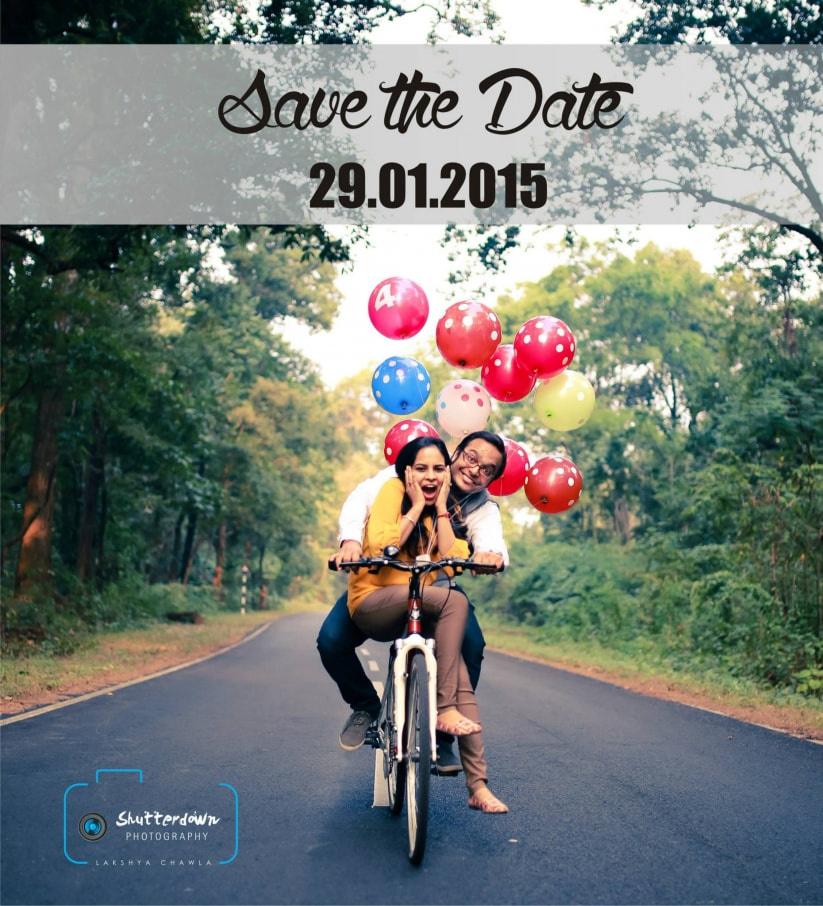 Balloons and bicycles add a fun, happy-go-lucky and a joyous element to the pre-wedding shoot. There are colours, quirkiness and the best of childlike emotions that add to the beauty of the pictures.
3. Umbrellas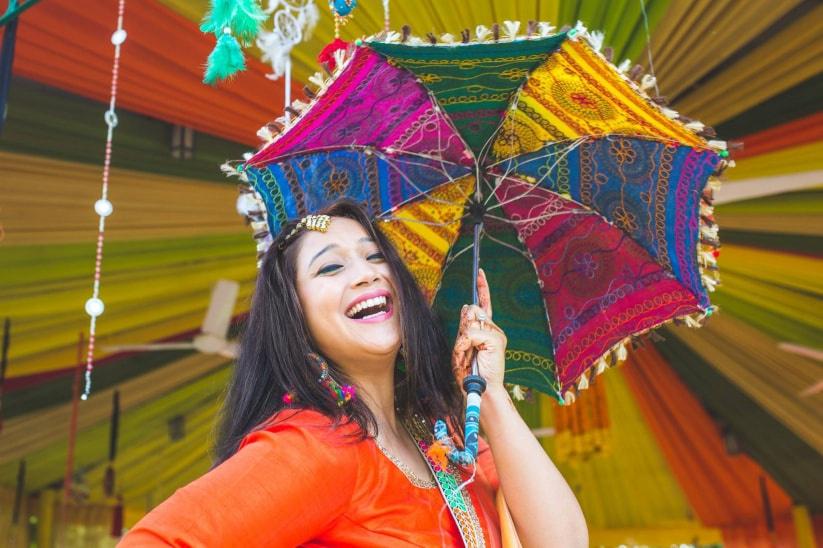 Be it the regular ones or crafty thread work umbrellas, these serve as great pre-wedding props. You can use it as a romantic element or a fun one; it's versatile and vibrant.
4. Lettering/Words/Quotes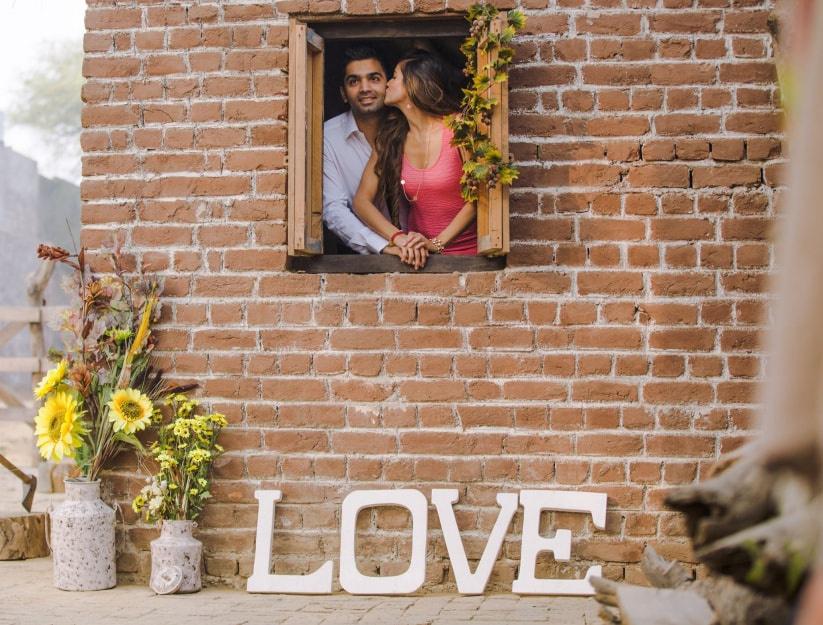 Cut-outs of letters to form words like 'love', 'us' or the initials, the wedding date etc. is a popular, and rightly so, pre-wedding prop. You can play around with letters, words or even quotes to speak out your mind.
5. Pets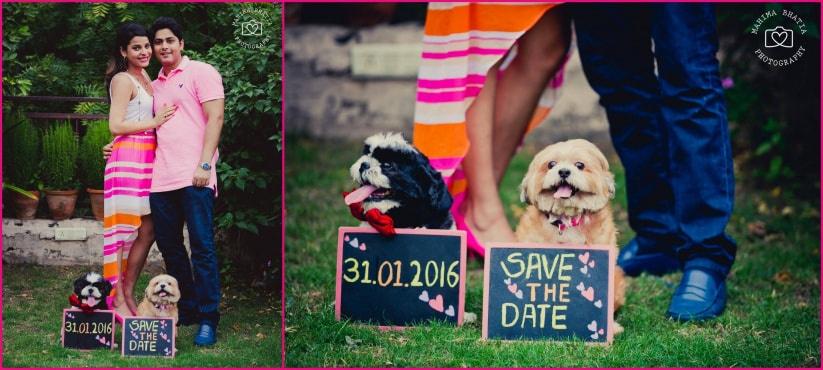 Love your pets and believe there is nothing as adorable as them? Well, invite them to your pre-wedding shoot and let their furry cuteness highlight your 'family' and love.
6. Vintage Cars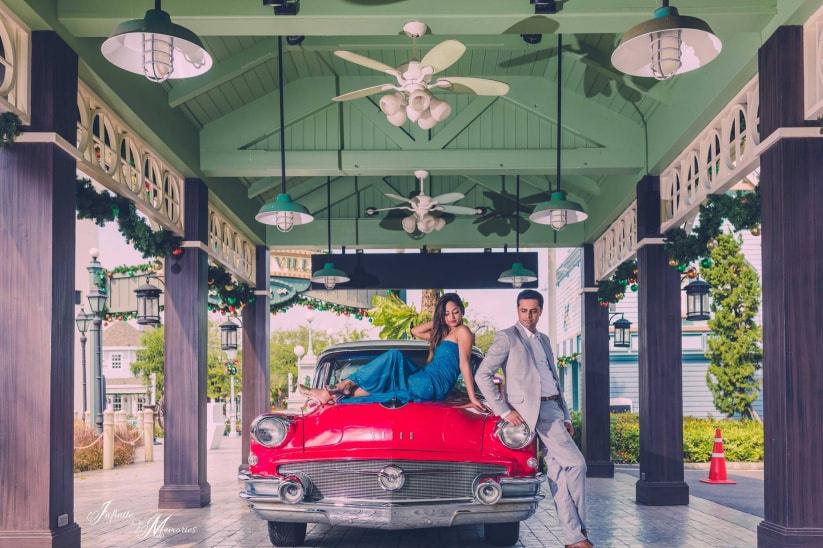 Be it a vintage car, a sports car or even a taxi; adding cars and automobiles as pre-wedding props is a great idea. Life is a journey and you have your co-driver for life right beside you- show it off!
7. The Wedding Ring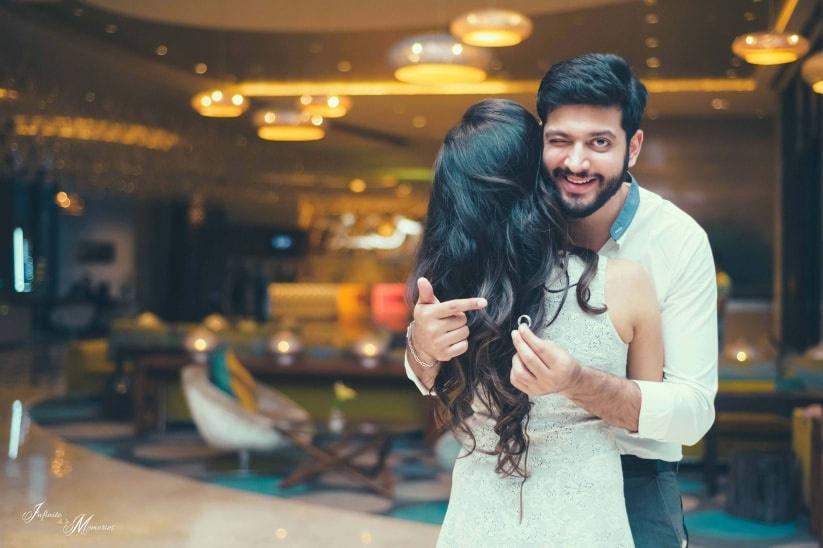 Use your wedding ring as a prop to recreate the 'I Do' and 'She Said Yes!' moments. It's an apt prop that beautifully signifies the circle of life and marriage.
8. Confetti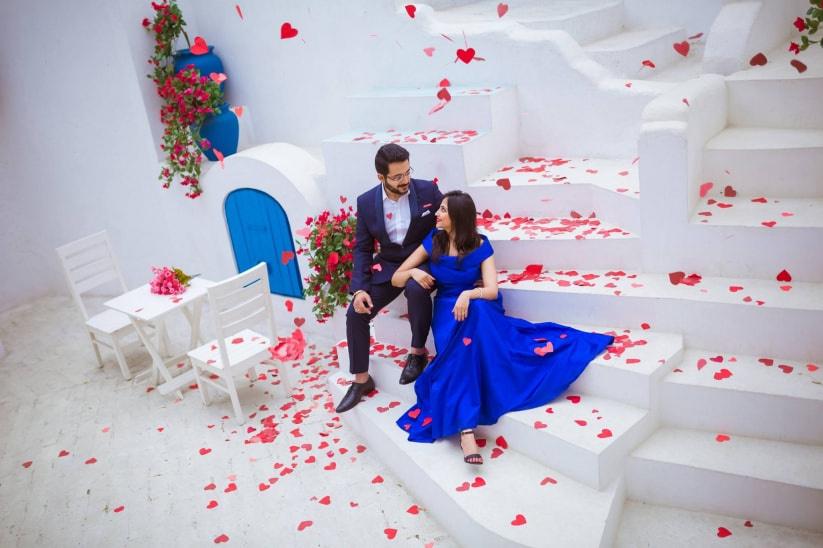 Heart shaped or just bright and colourful, confetti is a pre-wedding prop that always brings out the happiest and most joyful results.
9. Boats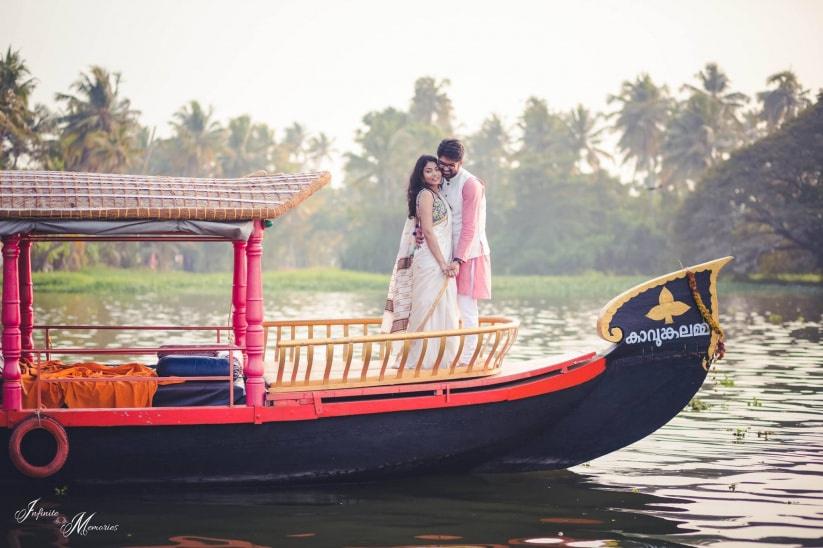 Boats or anything actually that is a part of the local culture or fervour of a location adds immense character to pictures. Houseboats in Kerala, a banana boat in Goa or just a fishing boat anywhere else will definitely pop up the pictures.
10. Bikes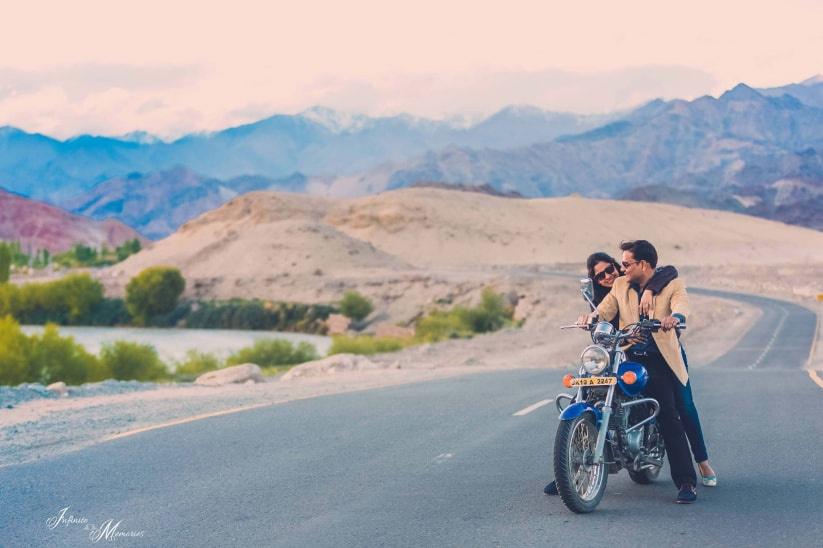 If you are a true blue biker, it has to ride into your pre-wedding shoot. Pre-wedding props that highlight your passions and your life story always make up for some great results.
11. Soap Bubbles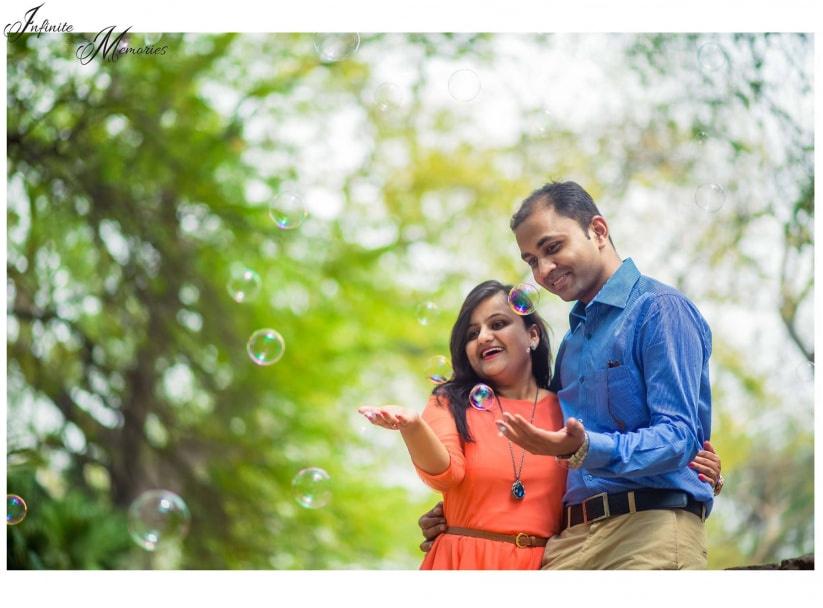 Let the kid inside you surface and be a kid! Play with soap bubbles and yes blow away the past and welcome the beautiful future that awaits you.
12. Frame Yourself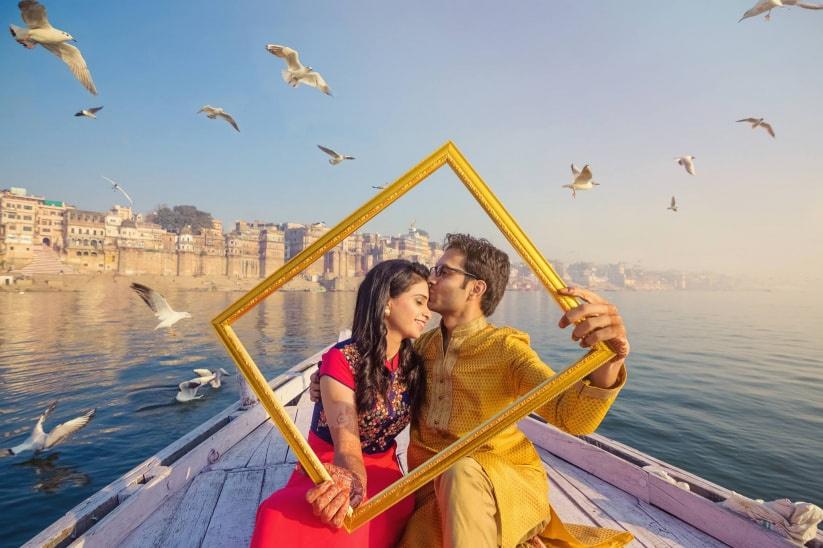 Using large frames; wooden, rustic, vintage, colourful or anything at all, are great pre-wedding props that look stunning out in the open. It can be a great frame within a frame for an interesting perspective to your pre-wedding photoshoot.
13. Horse Carriage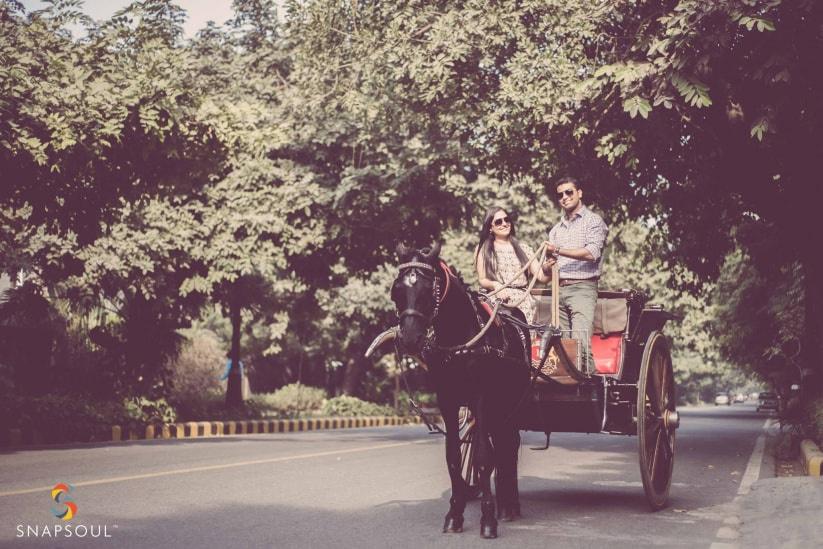 Horse carriages have been the epitome of a 'forever kinda' love' for decades. Most romantic movies include this beautiful element, so why shouldn't you?
14. Wine/Champagne Bottles and Glasses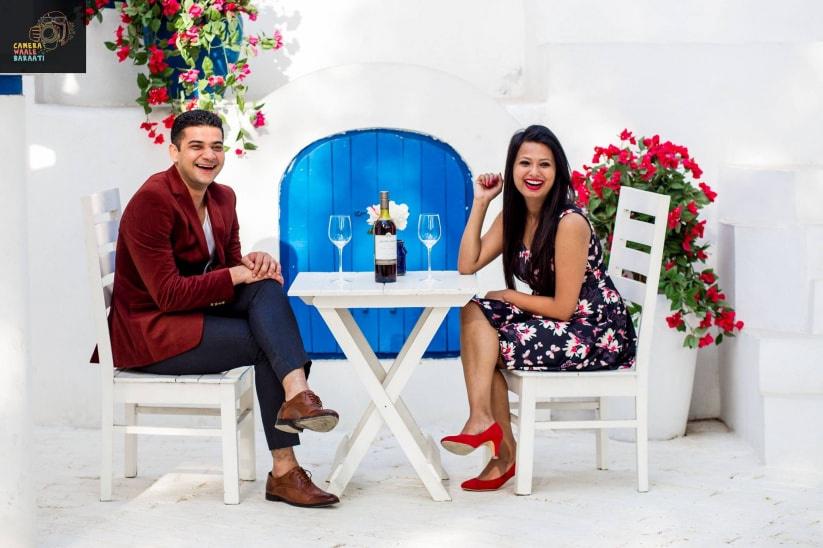 Wine and champagne are associated with celebrations and love, add them to your pre-wedding shoot to mark the biggest celebration of your life.
15. Scrabble Letters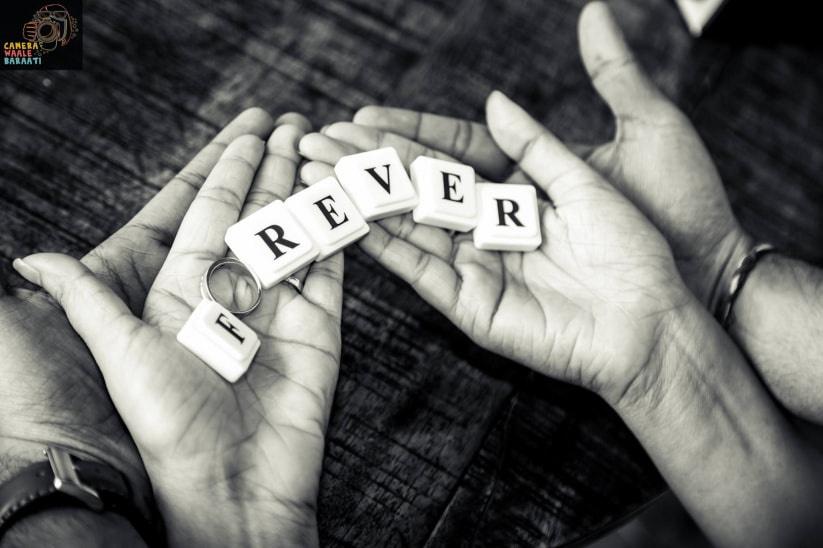 Scrabble letters to spell out your names, emotions or words that speak out your love story are great pre-wedding props.
16. A Picnic Setup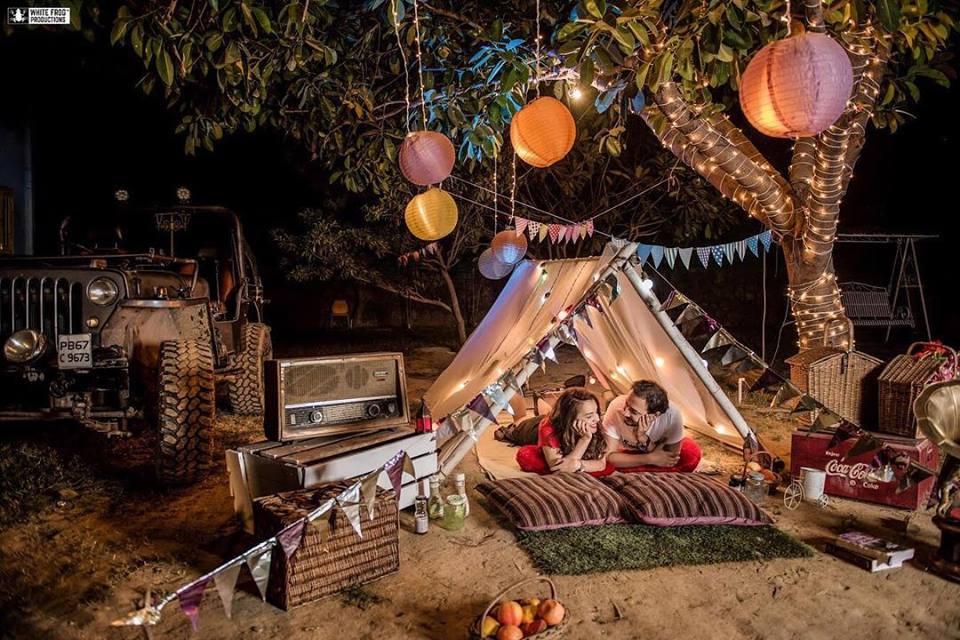 Go on a picnic with all the fancy works; a colourful rug, a picnic basket, and everything else that spells out fun for you.
17. Dupattas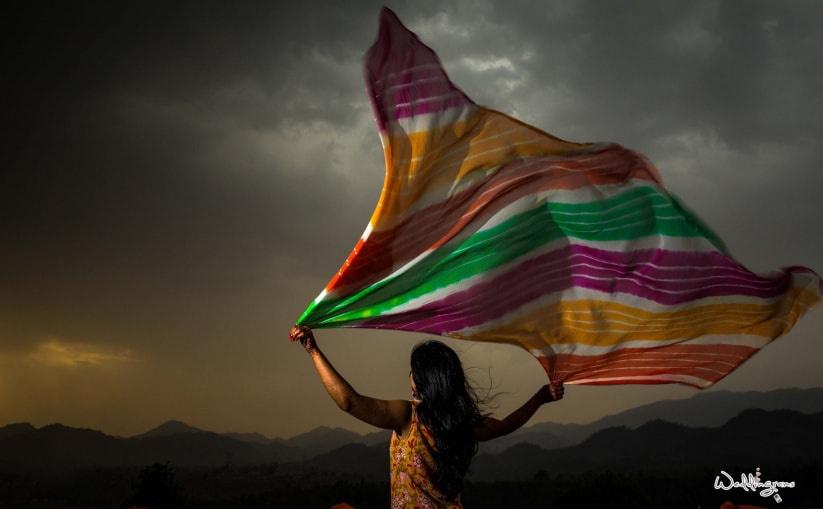 A bright and vibrant dupatta, flowing with the wind is a Bollywood-ish dreamy picture to portray.
18. Your Everyday Objects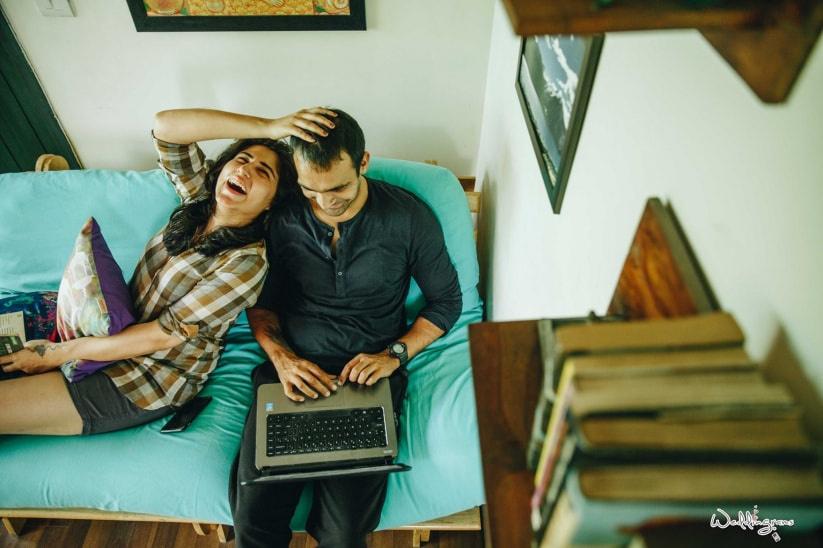 Your favourite couch at home, your TV, laptop, coffee mugs and all the other objects that come into your daily life and living are pre-wedding props that portray YOU and YOUR story.
19. Flower petals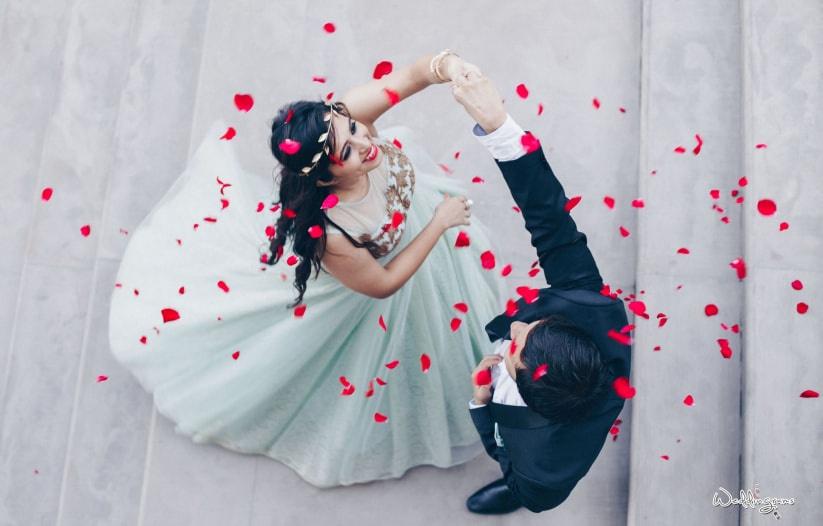 Do we need an explanation here? Flowers, love and romance go hand-in-hand so yes get yourself a flower shower.
20. Hot Air Balloons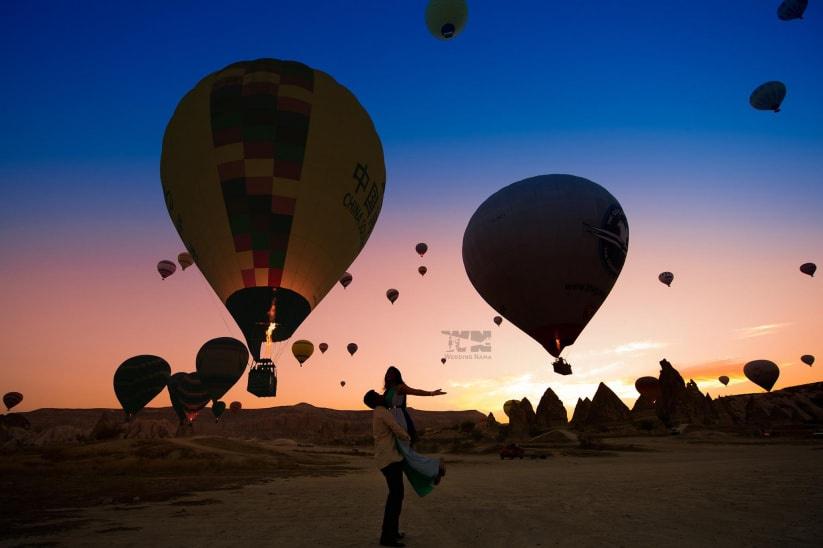 If this option is available in the location you are headed for, you definitely don't miss out on it. In a hot air balloon or as the perfect dreamy backdrop- it's just magical.
21. Placards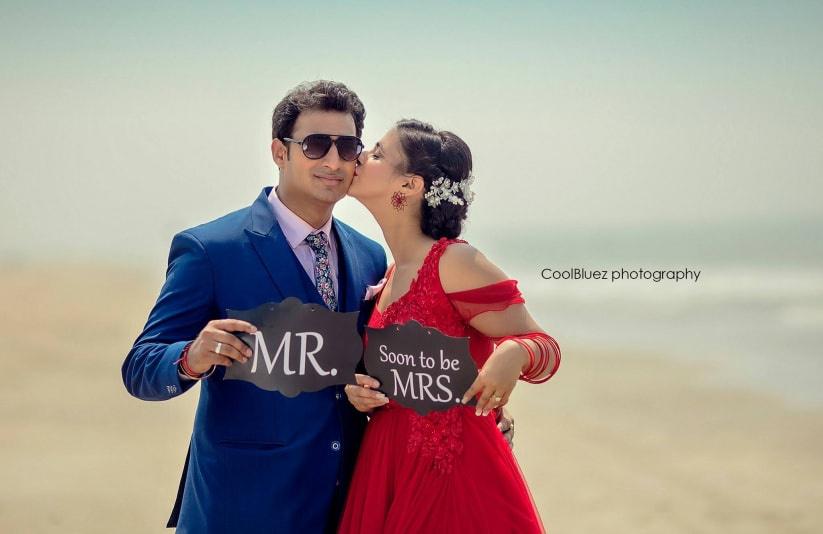 Hold placards, that show your relationship status or say something funny, romantic, true or interesting- just say it.
22. Swings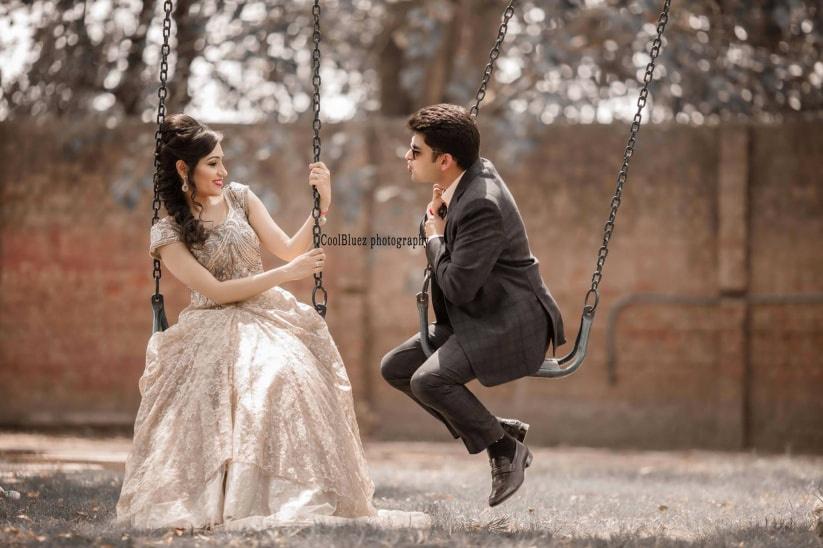 By now you can see how all things childlike add a fun character to wedding shoots; head to the park and use the swings as pre-wedding props and see the fun brew.
23. Lamps and lanterns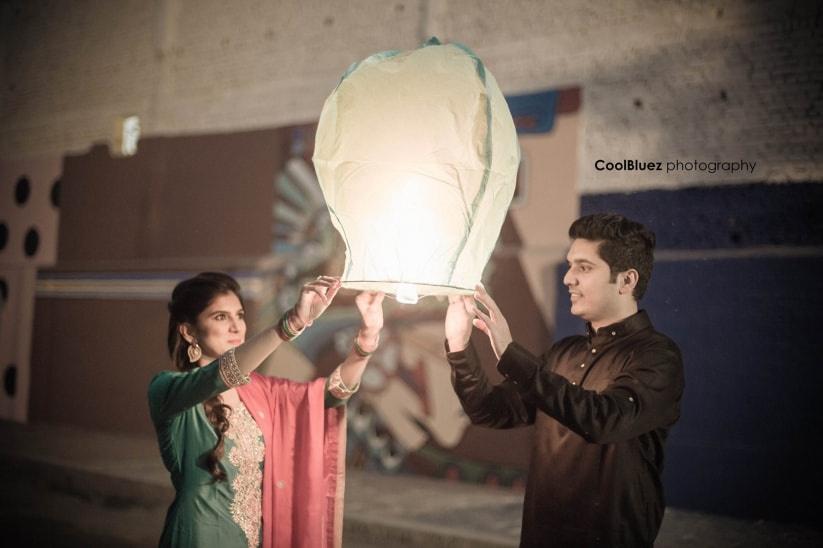 The Chinese wishing sky lanterns or rustic kerosene lanterns, or just lamps, are both interesting pre-wedding props that add light and laughter to the pictures.
24. Colour Spray Cans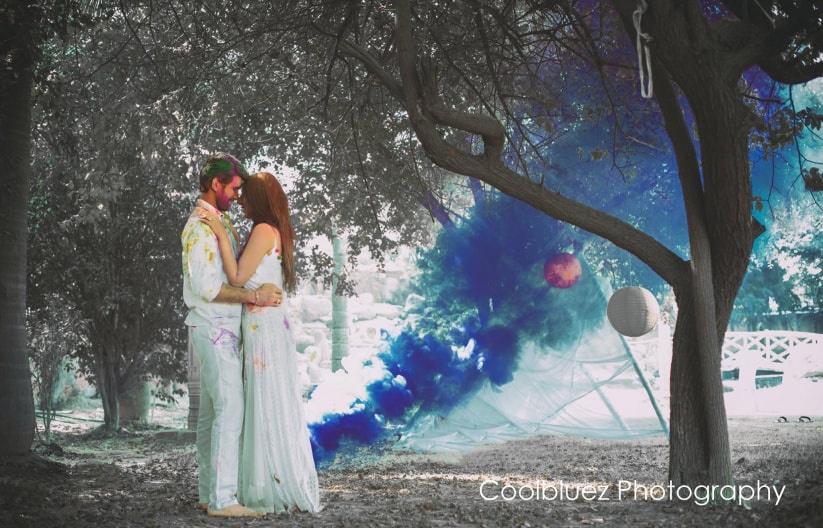 Use spray cans to add clouds of colour to your wedding pictures. When used in a natural setting like a hilltop or a forest, the vibrant colours add to the natural beauty.
25. Pillows and Fur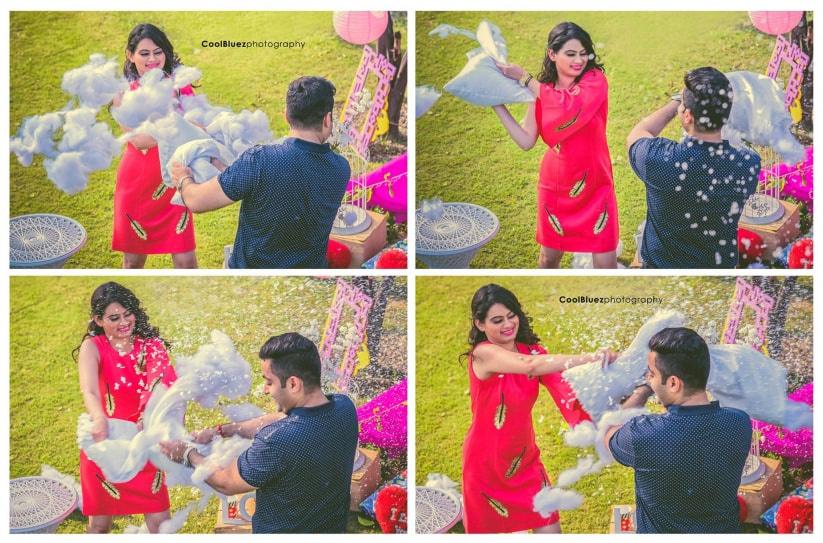 From pillow fights to pillow talk, use pillows and cushions in interesting ways to add a playful drama to your pictures.
26. Lights and Effects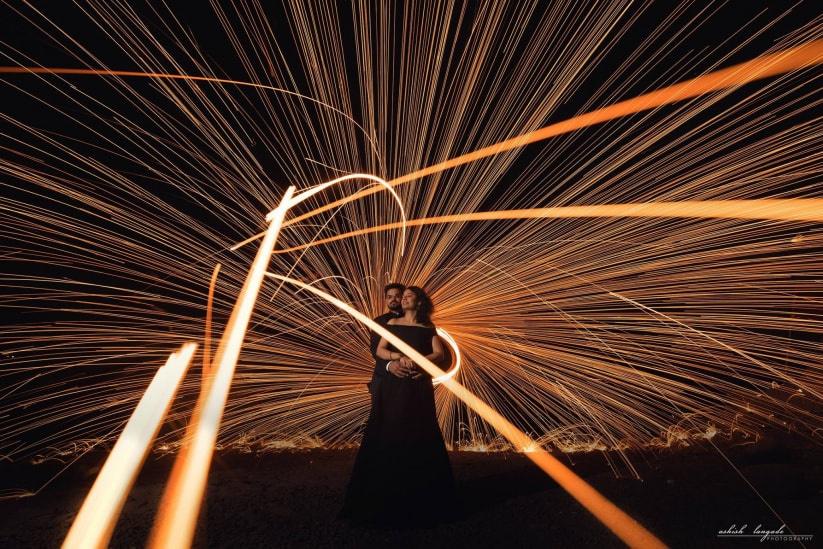 Wedding photographers today can use lights and add effects to bring out very modern and attractive results- make sure you add them too.
27. Guitar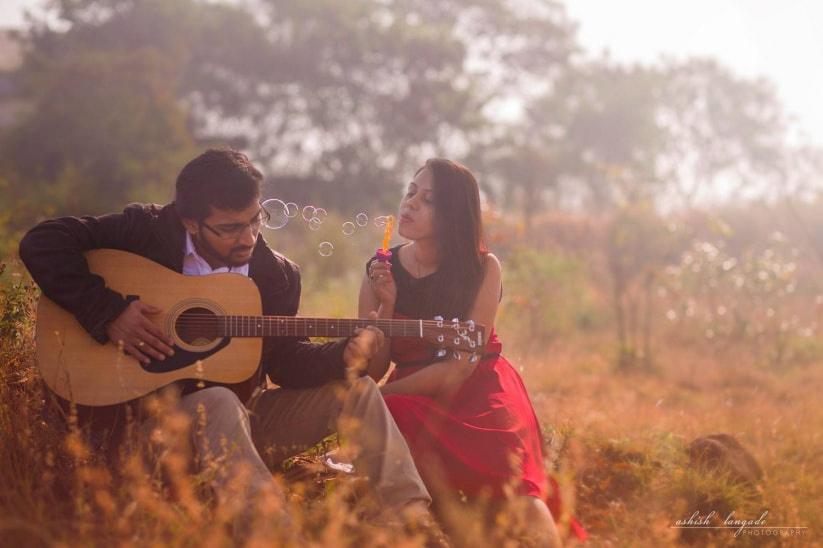 If you do play the guitar then you ought to add it, but if you don't- add it anyway! It's one of those pre-wedding props that adds that cheezy-cute look to pictures.
28. Drapes and Curtains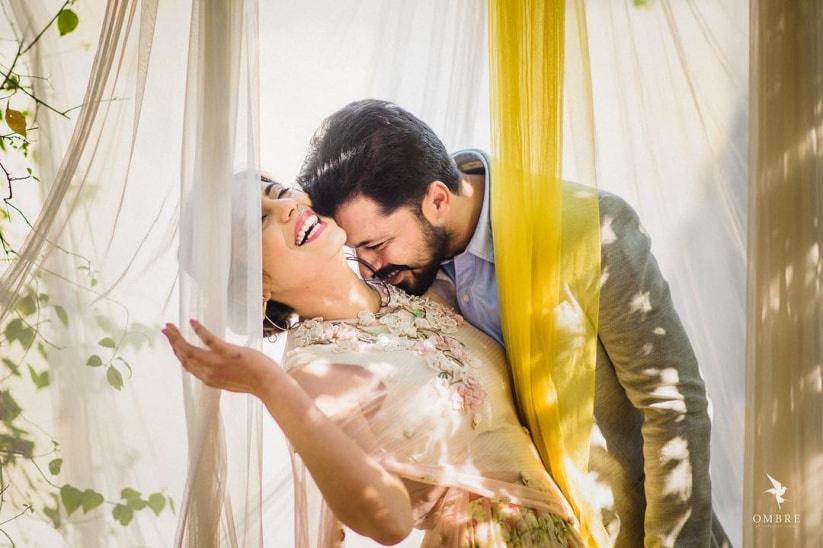 Flowy drapes and curtains can create stunning magic- use them.
29. Tubes and Floats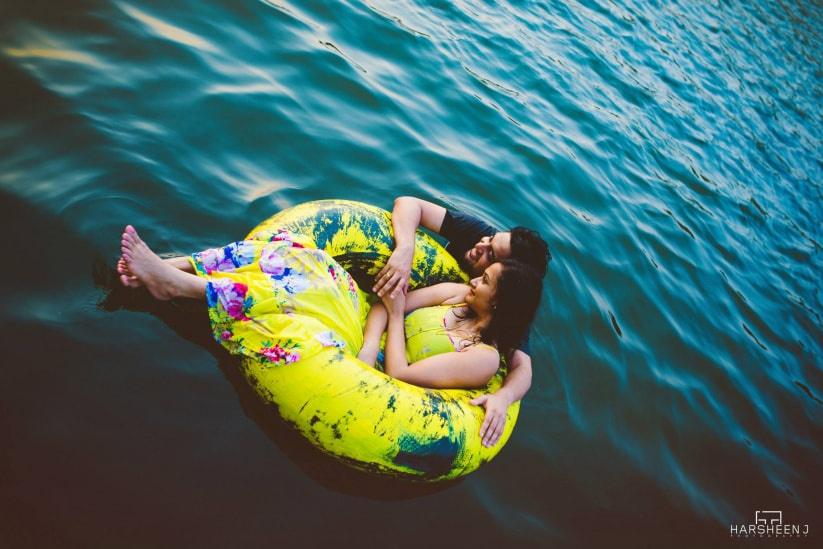 Jump into the pool and make sure you bring along bright and colourful tubes, floats and even floating toys to give your pictures an interesting perspective.
30. All Natural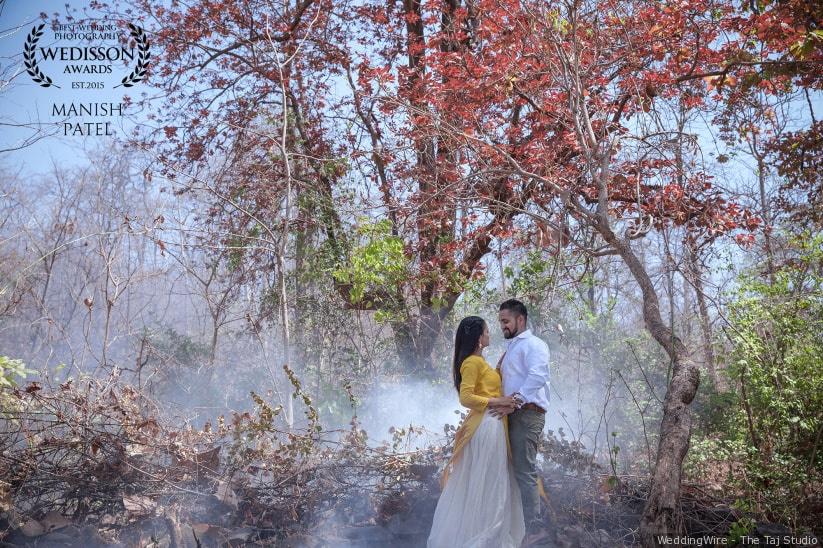 Go wander off into an all-natural setting, and let elements like the trees, leaves, stones and flowers be your pre-wedding props.
31. Your very own Eiffel Tower!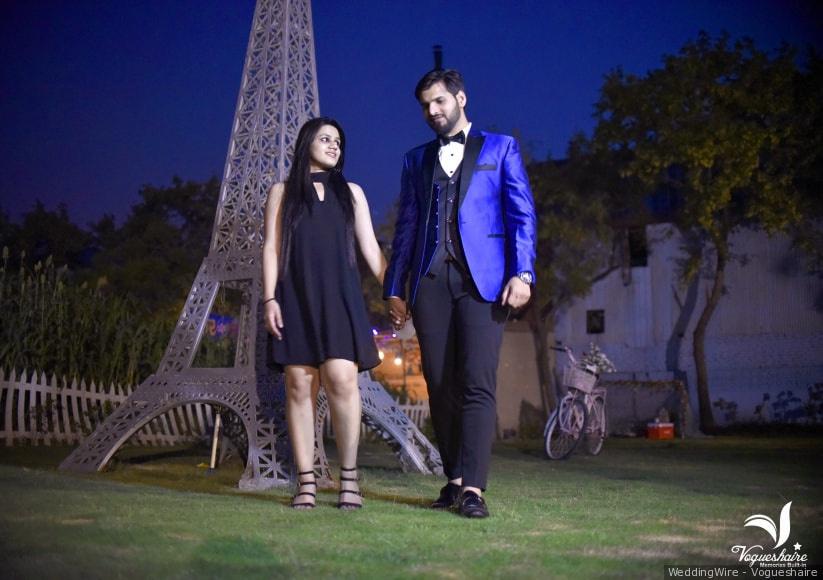 Don't we all dream of serenading with our better half in a romantic alley in Paris? We sure do! But, we know you must be crunched with a million things before the big day approaches. so, if you cannot make a round trip to the city of love then how about you conjure a romantic alley of Paris right at home? Get in touch with your wedding photographer and have him know about your dream of getting clicked amidst the glitz and glamour of the Eiffel tower. It won't get any better than this! Kickstart your Bloomsday love story on this sweet note.
These 31 wedding props are just what you need to put a fun and romantic spin to your pre-wedding album. Building on a scrapbook of pictures is a treasure trove of memories you'll get to hold on to for the rest of your life. So, make sure you put your heart and soul into doing all you can to make this photoshoot the best one there is. Get in touch with your wedding photographer and videographer, finalise the location, wear some stunning outfits and let that love flow.
Pre-wedding props are wide and extensive; ranging from classic romantic elements to modern versatile object, depending on your story idea and your discussions with your wedding photography. What will your pre-wedding props be?