10 Yellow Colour Combination Photos for Wedding Decor That Are Stunning, Picaresque and Totally Eye Catchy
Wouldn't it be easier if you had a pool of yellow colour combination photos to help you design your own wedding and related ceremonies? Look no more and start bookmarking these images for some quick inspiration and make your decor eye catchy.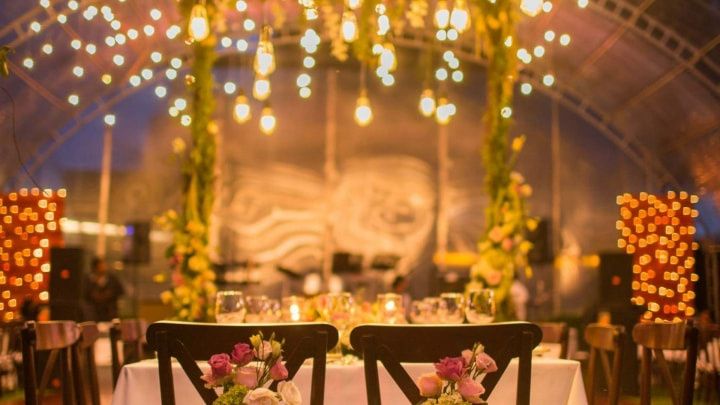 If you like the colour yellow and want it to be the main colour as you plan your wedding, then you will find this article most helpful in achieving the very same. From your Sangeet to your reception, there and end number of things one has to keep tabs on including your wedding decoration. We will help you use your favourite colour in almost every part of your wedding planning process. From yellow cushions to yellow flowers to yellow lights we will help you prepare for all. Take inspiration from this listicle of yellow colour combination ideas and incorporate the yellow colour combination to set your wedding theme and wedding decor.
10 Yellow Colour Combination Ideas to Inspire Your Wedding Decoration
Feast your eyes with these photographs that feature yellow colour combination and create a mood board of things you love for your own function.
1. Yellow colour Combination for Drapes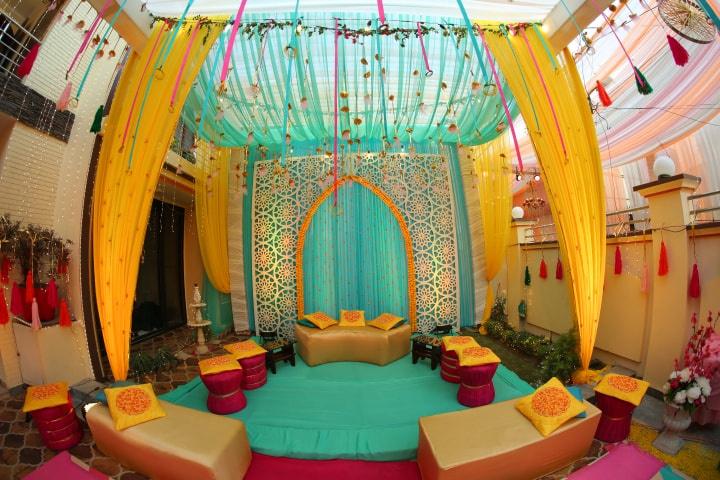 It's amazing what a little fabric can do. Draping is the next big thing that couples and wedding decorators now prefer to amp up a wedding function. With the plethora of available colours, the possibilities are endless. But, if you love yellow, then you should pick yellow drapes and contrast it with the colour of your choice and use both to elevate your wedding decor. Take this approach and give your wedding function a Baithak look with some handy cushions and floral vases.
2. The Light Yellow Canopy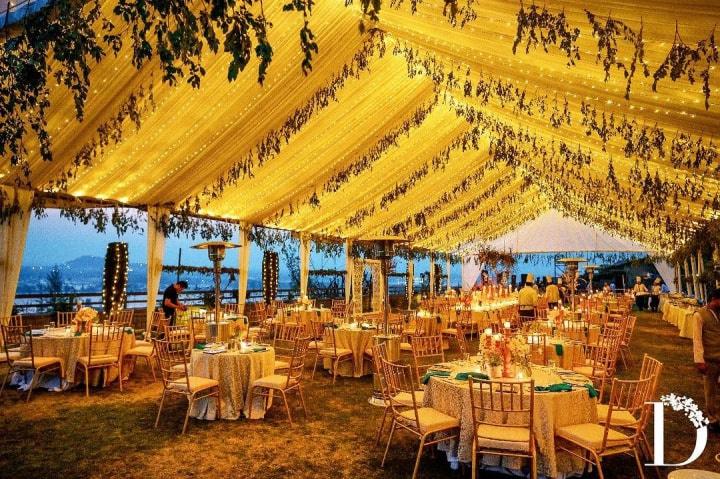 What better way to illuminate a golden and yellow colour combination wedding decor than this. The entire canopy of this venue is made up using flickering fairy lights and yellow drapes - both of which will guarantee a wow factor. This statement glowing lighting will make wedding unforgettable and look like a fairytale affair!
3. Shower Me With Yellow Flowers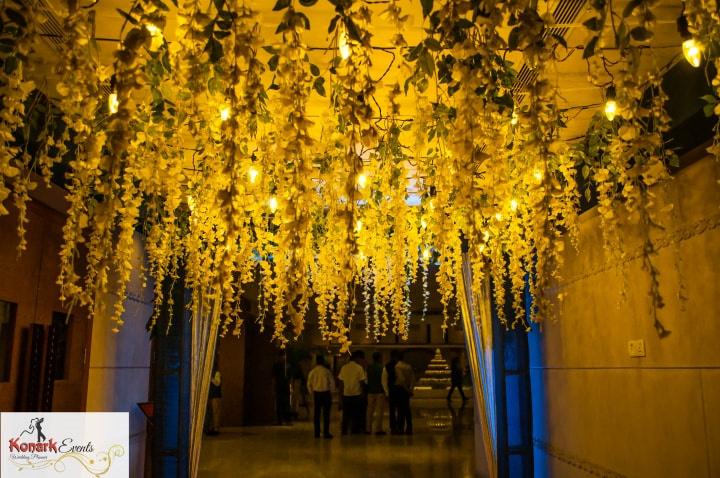 When you're getting married in a resort or a hotel, you're already blessed with high ceilings, grand interiors and lots of space which is a great thing since you will have a plethora of options in terms of decoration. Get in touch with your wedding decorator and wedding planner now and decorate your venue's ceiling with strings of high and low yellow colour combination flowers. By doing so, you will give your guests a chance to draw their eyes upwards and be mesmerised at the sheer beauty of your bespoke decor.
4. Lanterns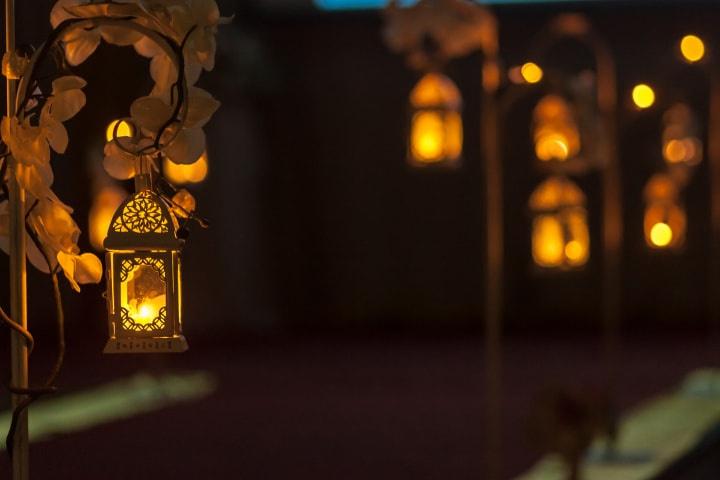 Light up your wedding venue with some lanterns! Yellow is the brightest shade which screams romance. If you have a lounge area in your reception space, then light it up with tea lights and lanterns. By doing so, you will have an instant yellow colour combination blessing your wedding and related functions!
5. The Brightest Shade of Yellow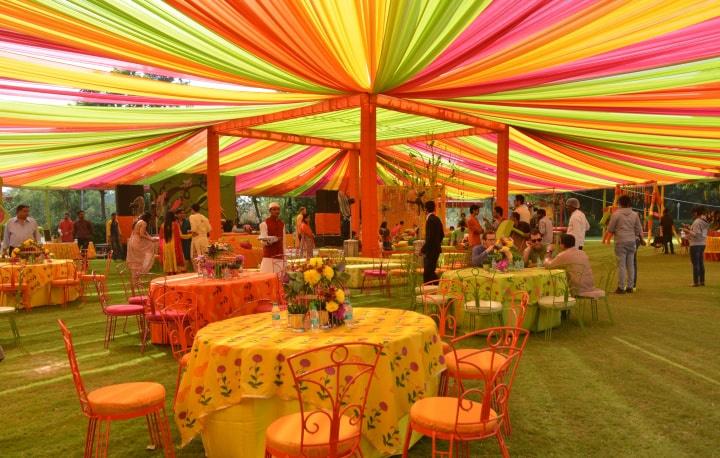 It's amazing what a little fabric, some lights and a lot of colour can do to a wedding. Doesn't this image make you happy? Add a fun and colourful vibe to your Haldi ceremony and Sangeet function, by opting for bright yellow and a few pastel shades for draping your wedding venue. To add more pop use colourful flowers and place them in the centre of the table for added beauty and fragrance.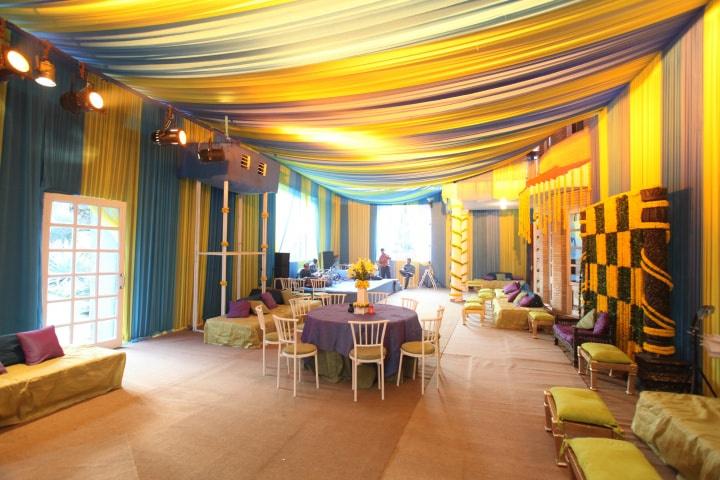 This yellow colour combination with a dash of blue s also a great way to complete your decor for wedding-related ceremonies. Some low floor stools and couches - and your boho-inspired decor is ready!
6. The Wall of Fame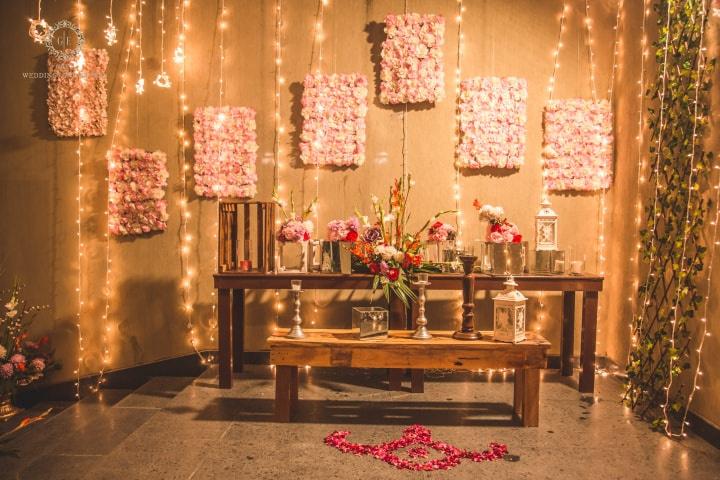 Dedicate a wall of fame inspired photoshoot corner that you and your guests can use to create some everlasting memories. The idea is to light it up like crackers that every picture comes out bright and happy. Go for a yellow colour combination as that will give off some natural light which is great for photographs.
7. Magical Gateway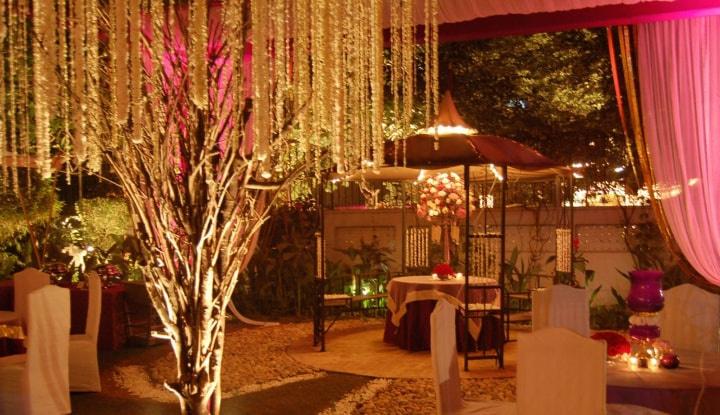 A sure-fire way to make your reception décor stand out is to go for suspended decoration hangings. From flowers to lights to ribbons to origami cutouts - you can have it all! The whole place will light up like a fireball!
8. Floral Chandeliers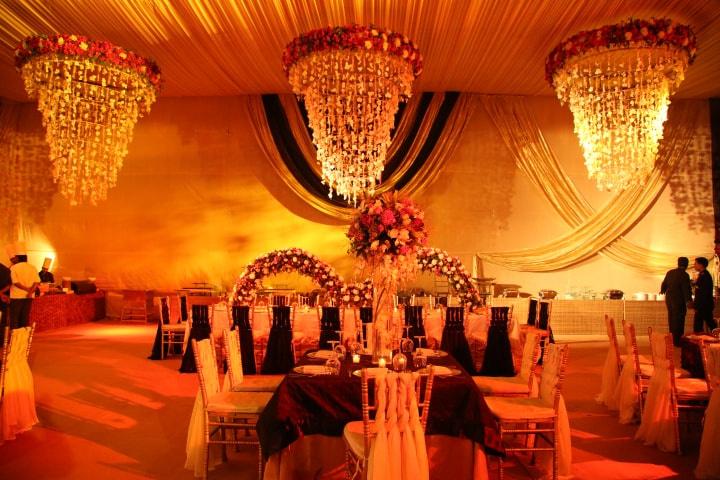 Hand them from the ceiling, why dont you! Different, unique and completely out-of-the-box, opt for floral chandeliers in a yellow colour combination and ditch the lights for once.
9. Marigold Magic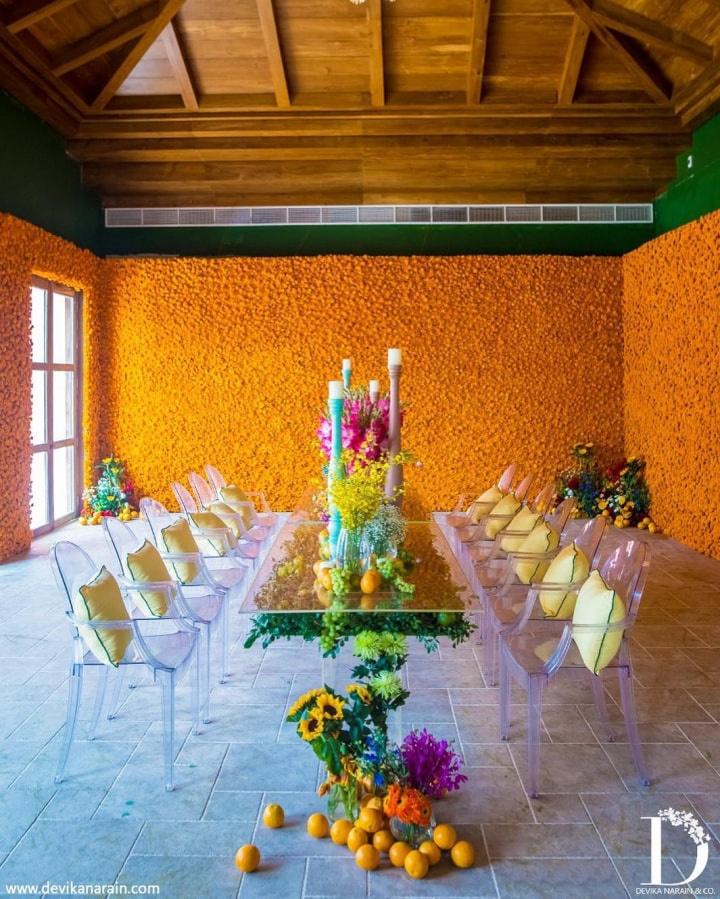 If you believe in the theory of less is more then this decoration idea is definitely the one for you. It is simple yet exquisite and chic! Layers of different colours and shapes will give your guests something to marvel at.
10. Dining Heaven!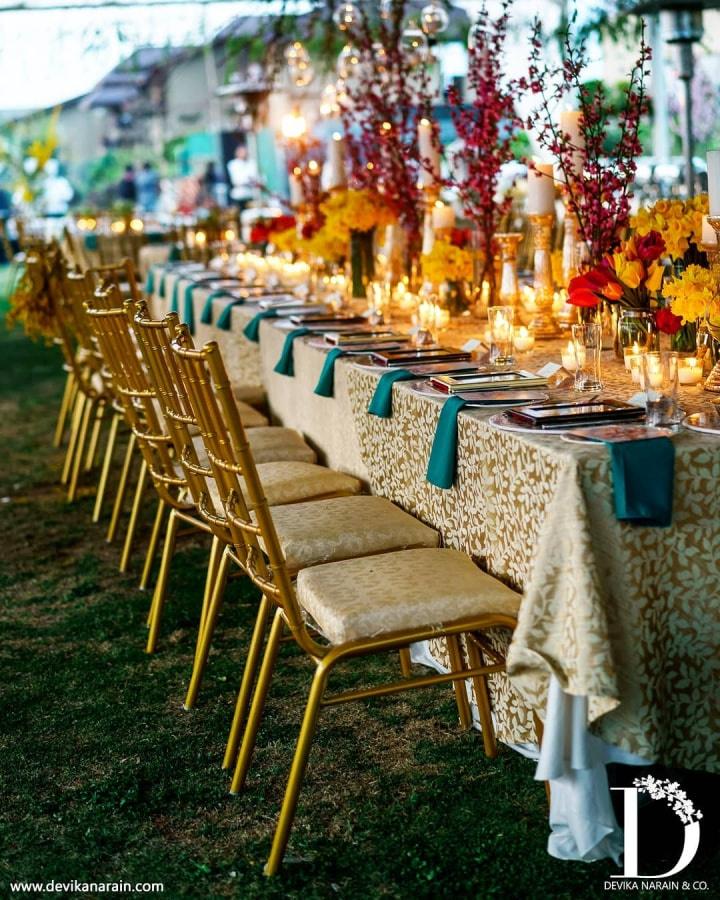 It doesn't get any fancier than this, quite literally! A combination of gold, yellow, blue and red - this wedding theme colour is to die for. When paired with some dramatic uplighting and fabrics, the addition of all of these elements will turn your space into a magnificent scene of a fairytale.
Each one of these yellow colour combination ideas is perfect for the couple who wants a once in a lifetime experience. A little search and lots of patience and the right decorator and planner will help you get one of these stunning wedding set ups.
Which yellow colour combination idea did you love most? Tell us through the comments!