10 Blue Colour Combination Photos That Put the 'Wow' in Weddings and 'Magic' in Magical
If you are on a hunt for some quick inspiration for your wedding decor, then read this blue colour combination listicle of ideas that put the 'magic' in magical! Beautiful, lovely and completely breathtaking, these photos are a breath of fresh air!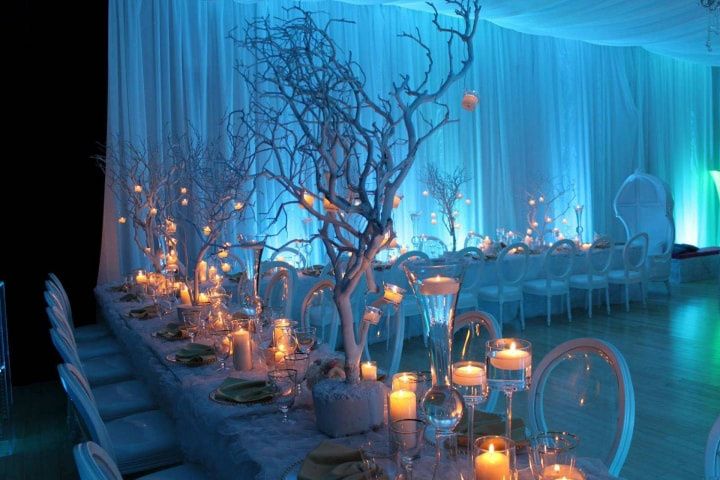 Say 'bye' to your wedding decoration blues by reading our spectacular blue colour combination ideas piece that will surely make your wedding totally one of a kind. From midnight blue to icy cold - there are 'n' number of combinations available to make your wedding decor an awe-inspiring spectacle! Blue is one of the most spectacular colours in the colour palette, perfect because it looks flattering under artificial, and natural light, both. Blue will put the wow in each and every element of your wedding. Read on and gorge your eyes on these blue colour combination decor photographs.
10 Blue Colour Combination Photos That Put the Wow in Weddings
1. When Your Blue Colour Combination Looks Nothing Less Than Dreamy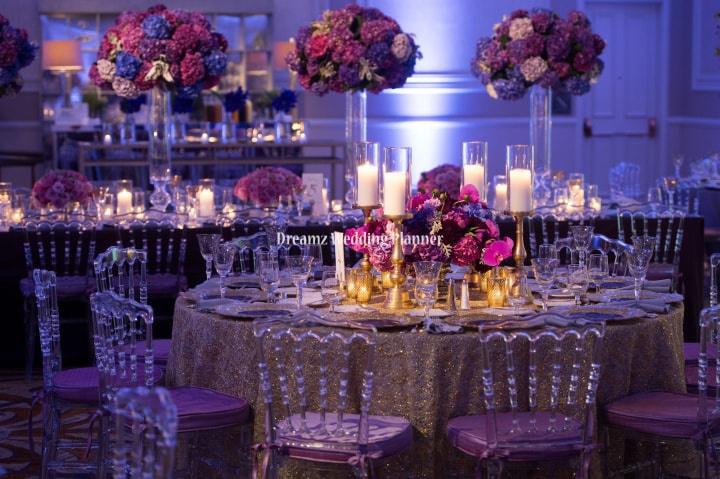 The wedding of your dream should be everything you imagined it to be. From the furniture to the light to the entire decor or the overall binding theme of your function, each element should be as per your wishes as it is the biggest day of your life. If you always wanted to have a blue colour combination decor, then this photograph should be the inspiration you were waiting for. From the flowers to the diffused blue and purple light, this decor photo is everything that dreams are made of. Trust your instinct and get in touch with your wedding decorator now!
2. Origami Cutwork in a Blue Colour Combination = a Sky Full of Magic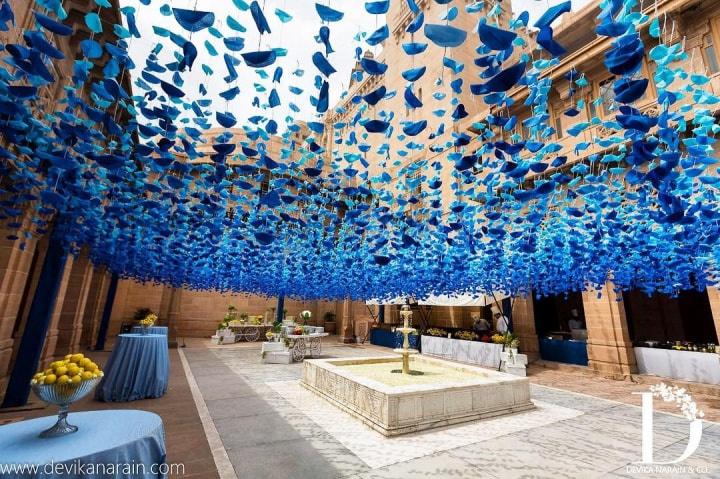 A heavenly sight for a couple who loves the colour blue. Easy to reciprocate and appropriate, this hanging decor idea is perfect for a couple who wants to get things done quickly. All your decorator needs to do to pull this one off is create origami shapes and figurines using blue paper, the better the quality the better the result. Suspend them from the ceiling for your wedding venue using transparent threads. And you will have a just full of dreams and possibilities!
3. The Bridge of Beauty in Blue Colour Combination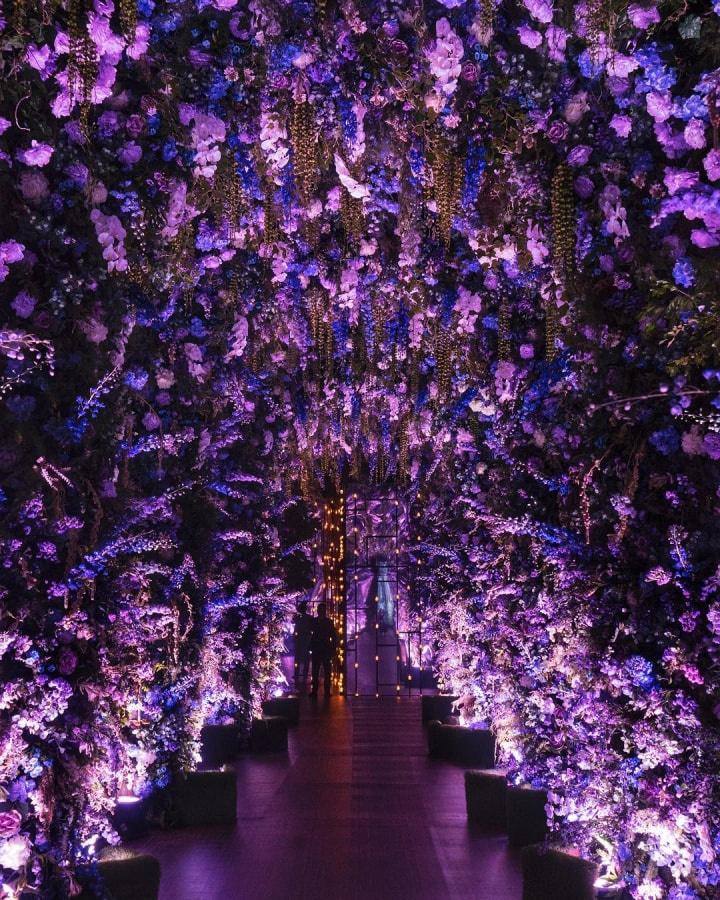 An all-time favourite when one talks about decoration. Use seasonal blooms, vines and artificial flowers and have it set up in the form of a canopy or an overarching bridge that covers the length of your wedding entrance. Suspend them from the ceiling using strings or fairy lights. Trust us, your wedding venue would look nothing less than the garden of Eden.
4. Sky Blue Colour Combination That Is Serene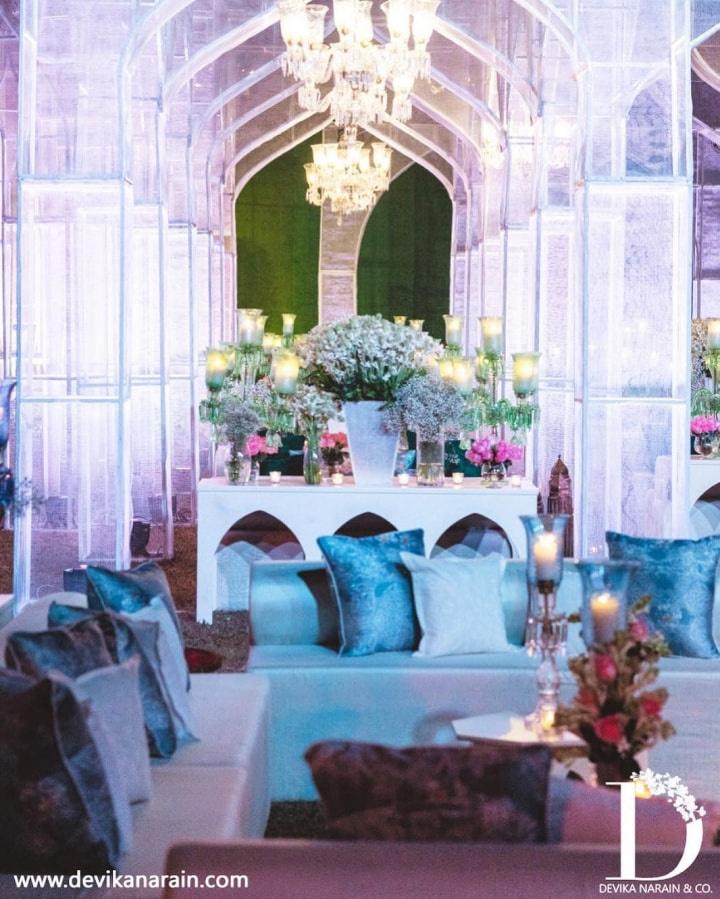 If you want blue and shades of mauve to be the colour combination of wedding, then there is no better way of doing so other than this. This decoration looks classic and will definitely make your wedding photos more lively and fresh. Also, you can only imagine how stunning all your photos would look if you got the shot right here, in this stunning corner!
5. Blue, Purple, Pink? We Say Lots of Blue!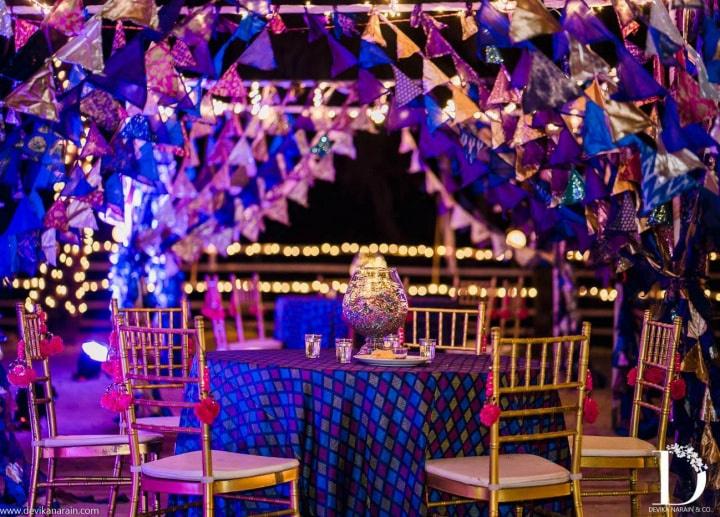 Use origami cutouts or caricatures to elevate your wedding decor. The best place to start would be by choosing a colour palette and then starting with the cutouts. Your wedding will surely be the talk of the town. In this case, the origami is simply cut in a triangular shape which is later held together using a string.
6. When All Is Blue yet Magnificent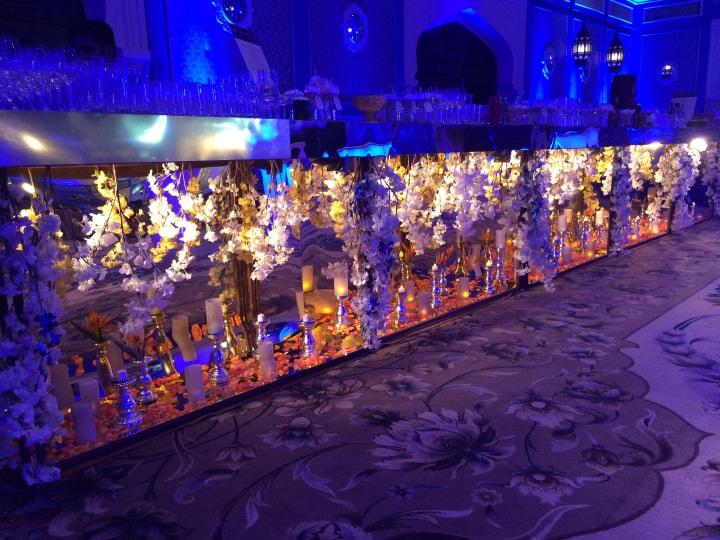 We would love for our weddings to have such a wonderful theme of blue colour combination. We've come across some stunning decoration photos this season and this one happens to be one of those rare picks that we couldn't take of off our minds. These flowers are placed upside down, which not only is unique but is looking absolutely spectacular. With an overall all blue colour combination, these pastel shades are looking epic.
7. Blue or Pink or Both?
Your wedding venue will gleam under the fluorescence of light and look nothing short of a vision. Hang lights from the ceiling and arrange them in a manner that they fall effortlessly. Decorate them using fairy lights or tea lights and some flora and fauna.
8. Blue or Pink or Both? We Say Yes!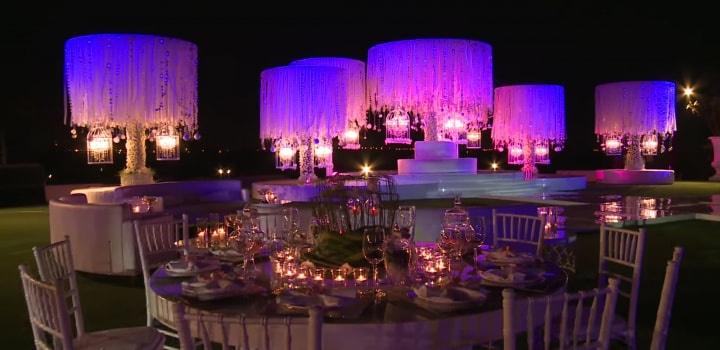 A different kind of trees which are missing the leaves but are laden with flowers. You can choose whether you want the flowers to be real or artificial, but whatever be the case, you will definitely find a dozen of your guests taking pictures right next to this decor inspiration.
9. When All Is in Sync with Your Blue Colour Combination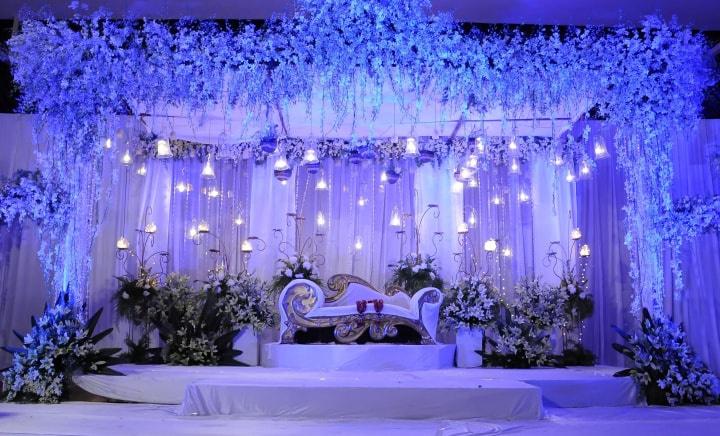 Flowers? Check. Furniture? Check. Lamps? Check. We literally couldn't think of even a single element that is missing from this design of what a perfect wedding stage looks like. Take inspiration from this decoration photo and have your wedding photographer freeze this moment as your swirl in your bridal gown.
10. Blue Colour Background That Is Pure Magic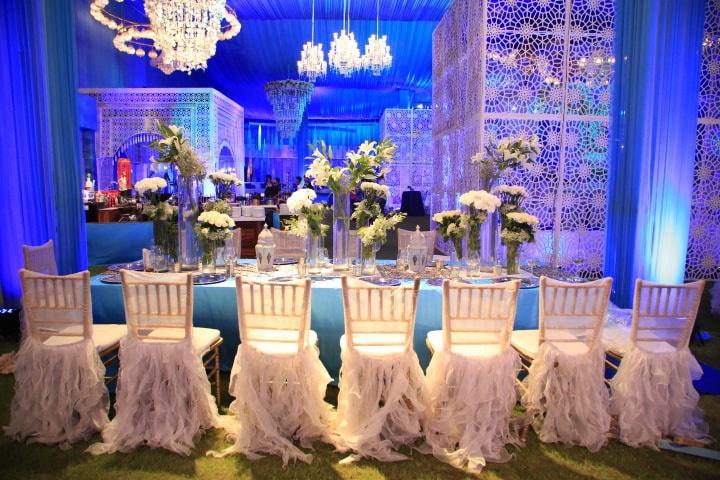 It doesn't get any fancier than this, quite literally! This photo is legit goals when we even begin to think of a table decoration. These chairs look like swans and who would have thought that a tiny piece of fabric could look so spectacular. Bookmark this image and show it to your decorator to have it at your very own reception ceremony.
Each one of these blue colour combination ideas is one of a kind and will make your wedding stand out in the crowd. We hope you found what you were looking for and are pumped up to get your wedding decor in place! Wait no more and work towards hosting the wedding you always dreamed of and the one your guests will never be able to forget!