10 Colour Combination for Wedding That Are Blazing, Picaresque and Totally Eye Catchy
Wish you had a pool of various colour combination for wedding photos to help you design your own wedding and related ceremonies? Look no more and start bookmarking these images for some quick inspiration and an awe-inspiring feast for your eyes.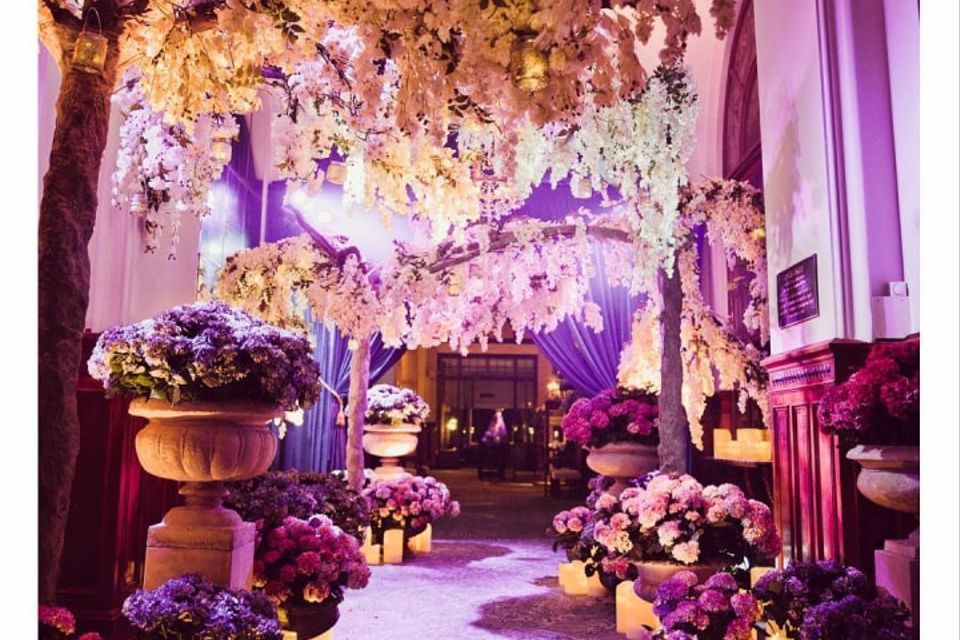 Congratulations on your big decision to tie the knot! We are sure you did not need any help in finding your would be but you will definitely need some help to come up with your very own colour combination for wedding. We have curated for you a galore of some colour combination for wedding photos that will give you the right dose of inspiration.
Each one of these colour combination for wedding ideas will give you the 'Insta wedding' appeal that you will gladly share on all your social media feeds. Read on and get inspired!
10 Colour Combination for Wedding Ideas to Elevate the Decor Quotient of Your Wedding
Sit back, relax and curate a mood board that makes your wedding planning process a hassle-free free experience!
1. Sky Blue Paradise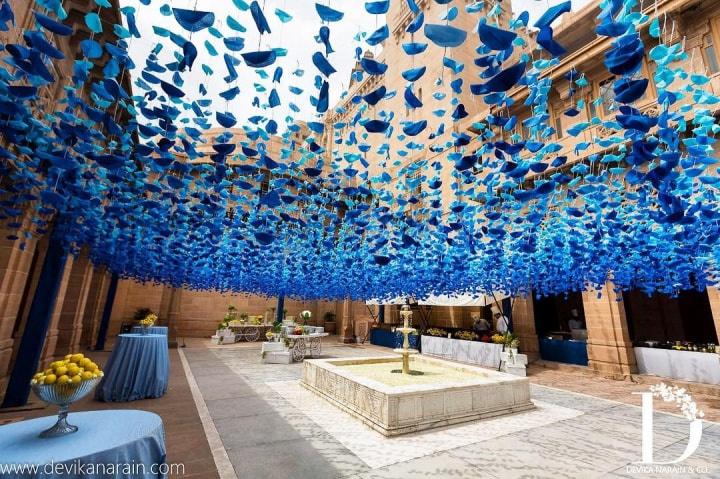 Give yourself and your wedding guests the much deserved wow factor and out to rest your Monday blues by using this colour combination for wedding decoration inspo! Perfect for a Mehndi ceremony or your Haldi function, this decor idea will not even burn a hole in your pocket.
Different Ways to Use This:
You can suspend blue fabric from the ceiling
You can opt for origami paperwork in colour blue and suspend them from the ceiling
Also, blue ribbons will also make for a stunning hanging decoration
2. The Floral Canopy and the Gateway to Heaven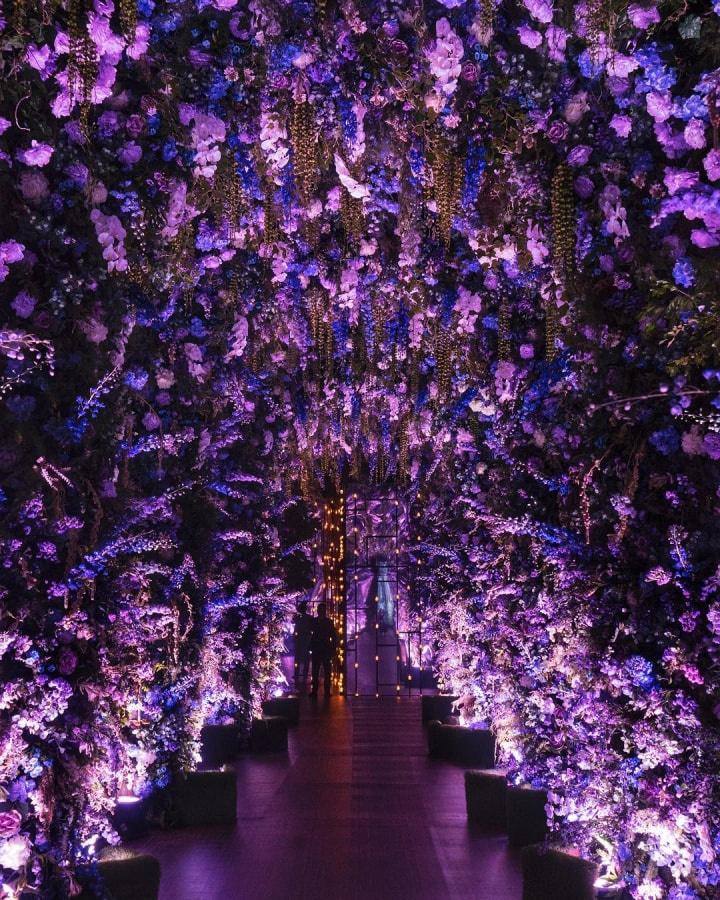 Our wedding happens to be one of the greatest days of our lives and therefore each one of us must do everything we can in our power to turn it into the most beautiful version of our lives. If you were always obsessed with the idea of hosting a fairytale inspired wedding, then this colour combination for wedding is the one for you. A little bit of purple with a dash of blue and a lot of lighting to make it look spectacular is all you require to have a wedding decor such as this one.
Different Ways to Use This:
You can use artificial flowers and suspend them through the ceiling
Hanging them at different heights to give your decor some variation and a 3D effect
Place purple lights right underneath the flowers to make it pop even more
Use a contrast of not more than two colours
3. Roses, Dahlias and Posies for Your Alice in the Wonderland Moment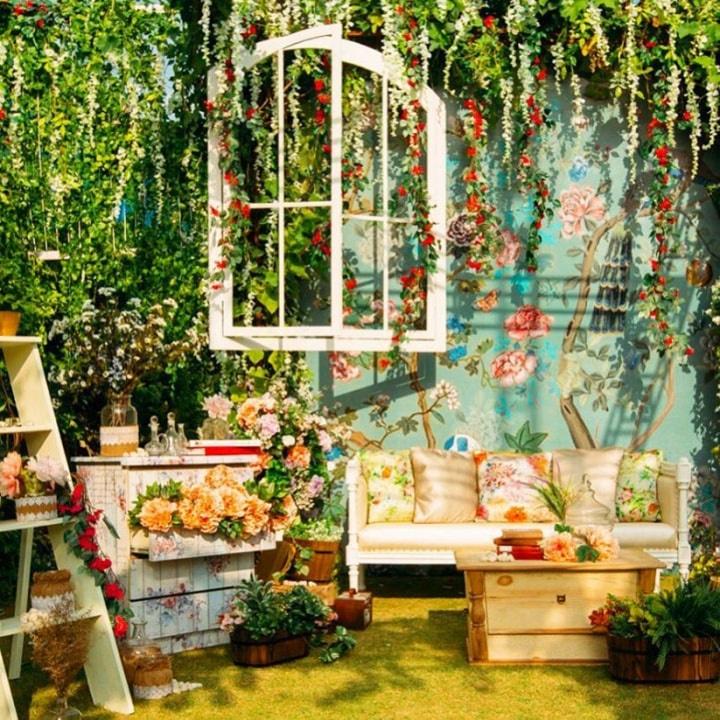 Are you obsessed with florals? So are we! Besides, who wouldn't want to have such a chic looking corner at their wedding, one that is perfect for a photoshoot. If you are getting married in Spring, then there is no better way than this to give your celebrations the flowery feels. This colour combination for wedding is a fix of flowers and pastel shades which is perfect for a day time function.
Different Ways to Use This:
Place some ornate and vintage looking furniture(prefer colours over beige and brown)
Use as many floral prints as you can in terms of the table runner, the carpet, rugs and cushion covers
Next, you should get a variety of flowers(real please) and place them in between the draws or right next to the sofa
You can even use different objects to create lanterns like mason jars, glass fish bowls, and empty bulbs
4. Tea Lights and More White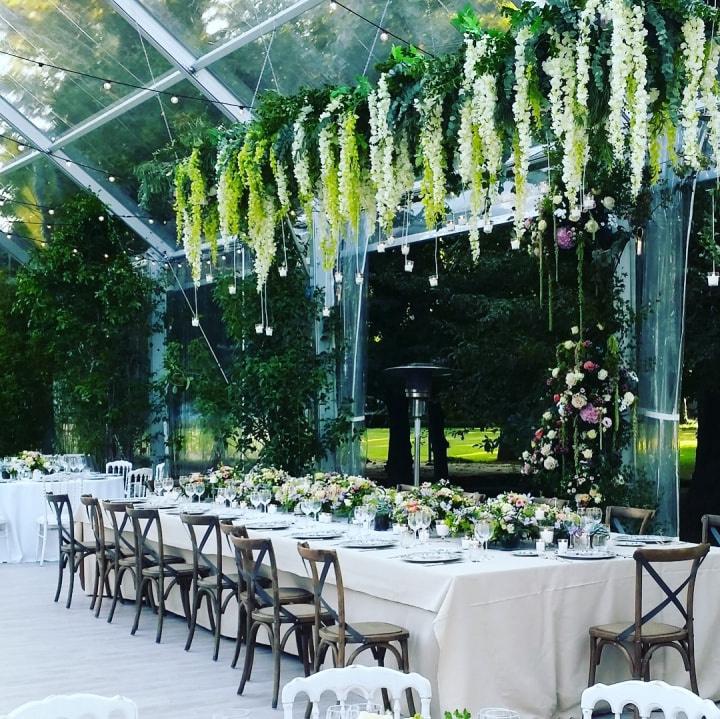 If you are hosting a pre-wedding dinner/lunch or a post-wedding celebratory meal, then this is how you prepare for it the right way. Just looking at this image wants us to be a part of this celebration and to sit across that stunning table decor. Table decoration is as important as your wedding mandap decor or reception stage decoration. The more the beauty the more will your guests remember it!
Different Ways to Use This:
Place vintage looking furniture
Use tea lights and suspend them from the ceiling for the added pop of lights
Ensure that the colour of the flowers match the table runner that you are choosing to set the dining table
Also, place scented candles in the centre of the table with some floral arrangements
5. The Red Siren and Blazing Fire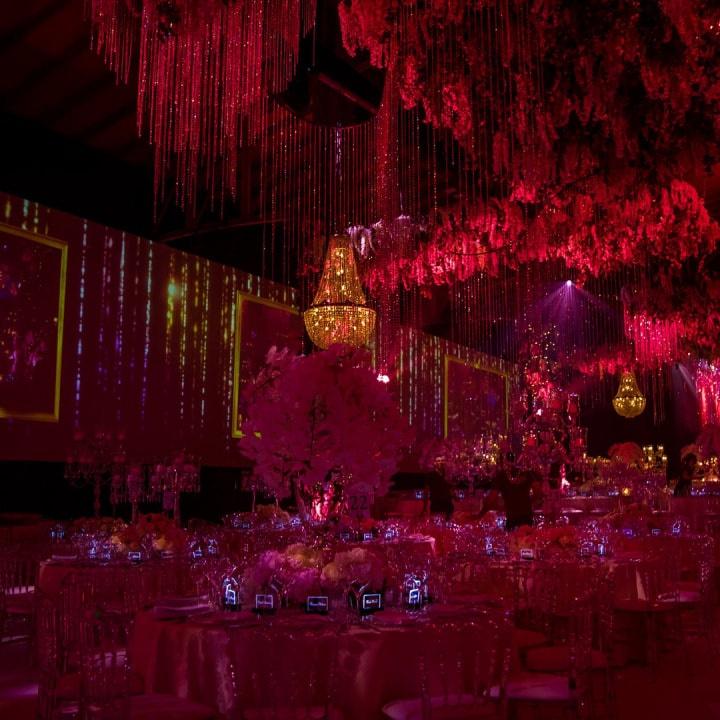 If hues of red and pink are on your mind, then put that thought into creating a bespoke environment for your wedding function as well. Perfect for a cocktail or Sangeet night, this colour combination for wedding is legit goals.
Different Ways to Use This:
Have your wedding decorator suspend red and pink flowers from the ceiling
Also, have him place red and pink lights in every possible corner of your wedding venue. Even if you are using white flowers, the light will make them look red and pink
Same goes for your table setting as well
From napkins to table clothes to the chair - let everything follow the same colour combination
6. Close to Mother Earth - the Green Wedding Decor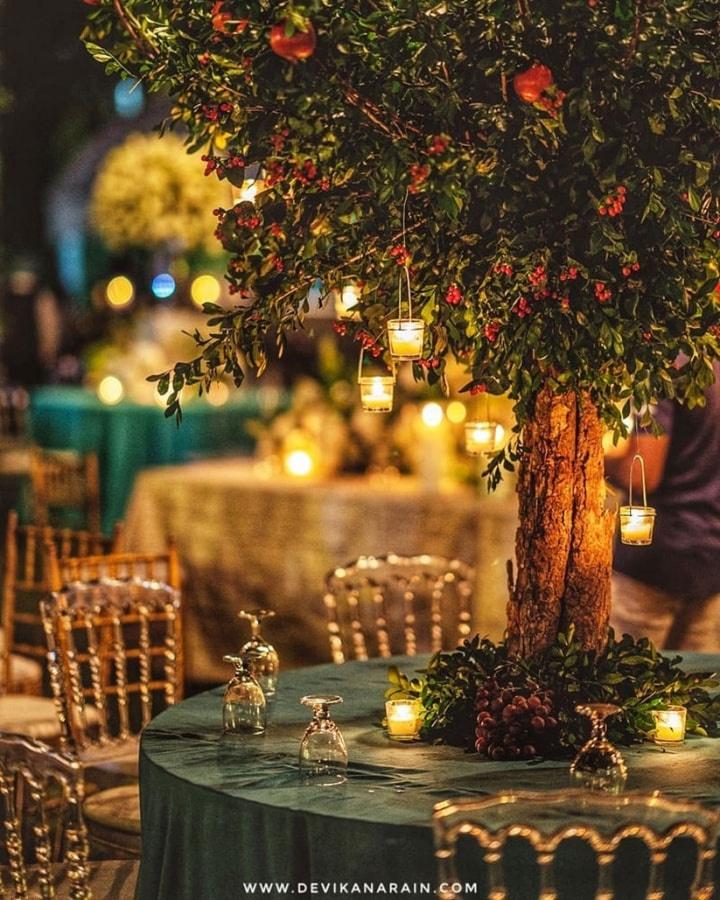 If you were planning to go for an eco-friendly wedding, then keeping elements that are closest to the mother Earth is the right way of getting things done. For a more natural and holistic wedding decoration, this colour combination for wedding of green and lights is the perfect fix for all your decor woes.
Different Ways to Use This:
Instead of going for floral vases, place plants at the centre on your table
Like the one shown above, you can choose fruit-bearing plants to bring that extra pop of colour
Illuminate the table with tea lights instead of fairy lights or spotlights
Even for your chairs, opt for crystal and wood ply chairs and they will glow under the natural light
7. Victorian High Tea Please?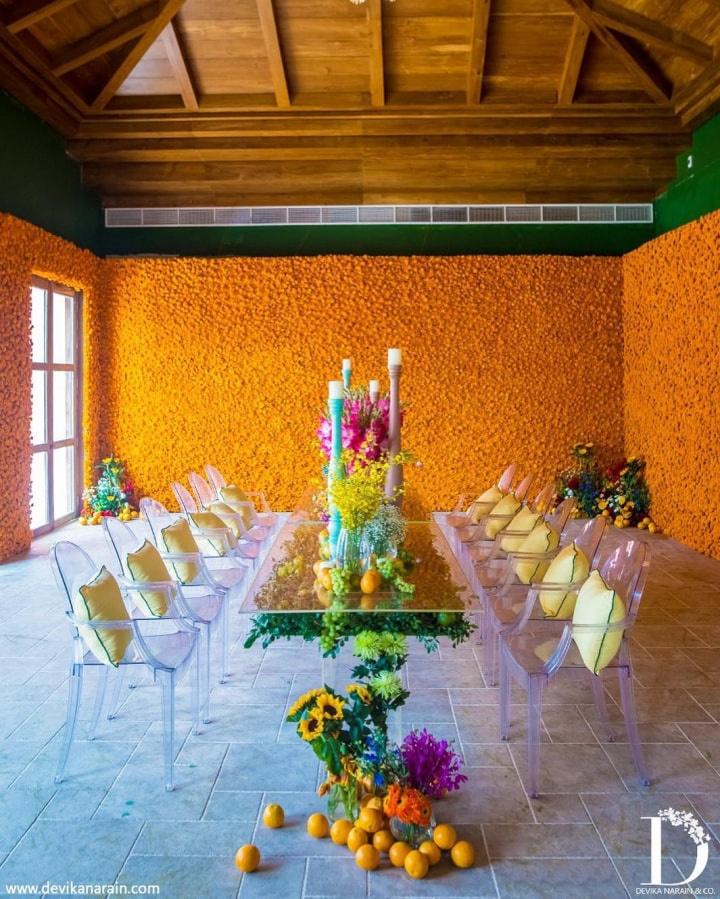 If you believe in the theory of less is more then this decoration idea is definitely the one for you. It is simple yet exquisite and chic!
Different Ways to Use This:
Place floral vases at every corner of your venue
A basket of some fresh fruits that your guests can help themselves with
Elevate a floral wall, preferably using marigold flowers as they are bright
And, some clear looking furniture and voila you're all set for your function
8. Bluest Blue - Sangeet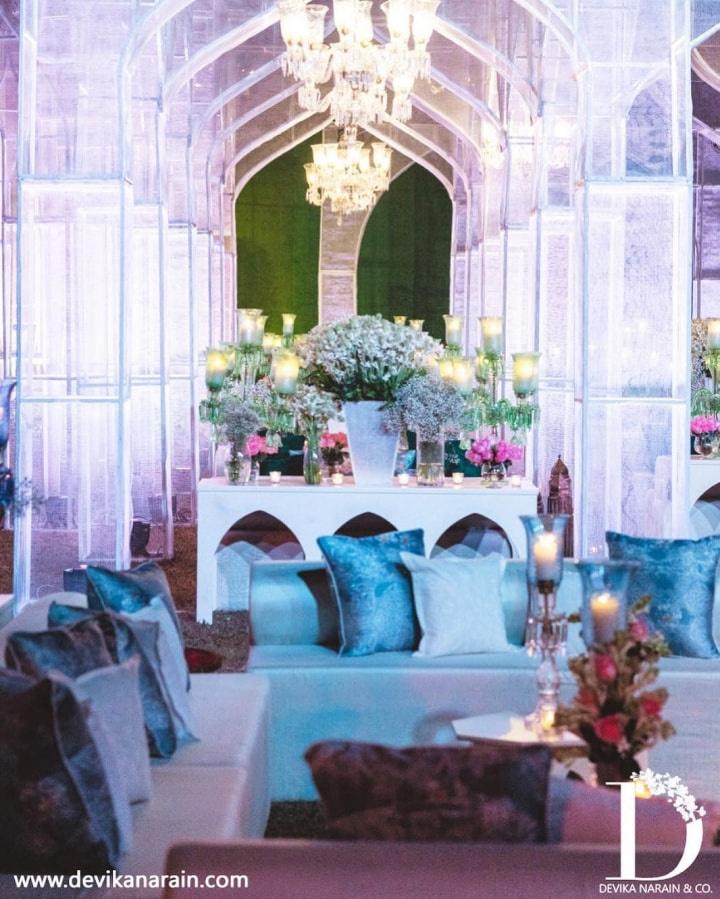 If you want blue and shades of mauve to be the colour combination of wedding, then there is no better way of doing so other than this. This decoration looks classic and will definitely make your wedding photos more lively and fresh.
Different Ways to Use This:
Source some cushion covers that match the theme of your wedding
As for the sofas, pick a pastel shade to keep up with the overall theme of your wedding
Even for flowers use a similar colour palette
And use lamps instead of tea lights in a similar colour palette
9. The Royal Wedding Table Setting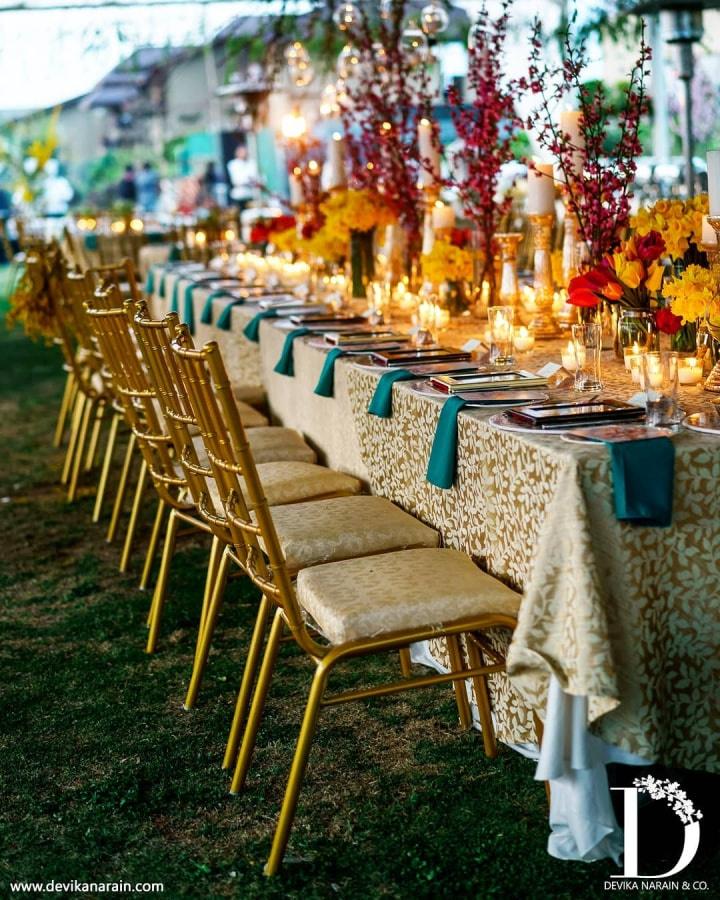 It doesn't get any fancier than this, quite literally! A combination of gold, yellow, blue and red - this wedding theme colour is to die for. From the way each of these napkins are placed to those floral vases, everything is spot on.
Different Ways to Use This:
Golden chairs
A matching table cloth and table runner
Tea lights with lots of flowers
Customised cutlery that matches the overall colour palette
10. Blazing Sun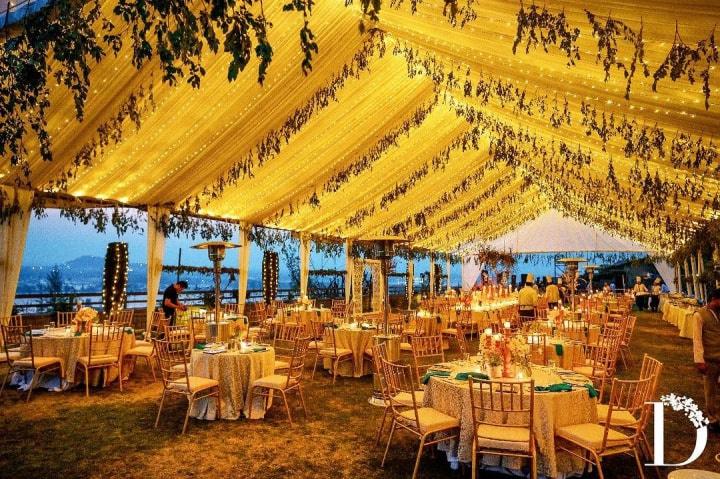 We are at a loss of words. This is another one of out-of-the-box wedding decoration ideas.
Different ways to create this:
Cover the entire ceiling with flowers and leaves to make it look like a floral cloud
Add strings of fairy lights after every string of florals
Keep up with the theme by incorporating every last element in hues of yellow and gold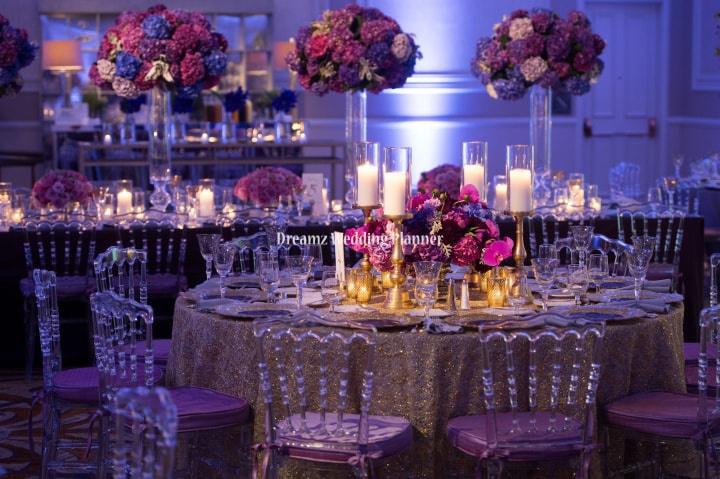 Each one of these colour combination for wedding ideas is one of a kind and will make your wedding stand out in the crowd. they are personalised, thoughtful and have a blend of some unique styling techniques - all of which will guarantee a stunning wedding decor = amazing photographs!
Which colour combination for wedding did you love most? Tell us through the comments!