Different Marriage Decoration Photos for Different Seasons! The Only Decor Gallery You Need
Décor is a big part of planning any wedding. Here are some marriage decoration photos to inspire you to plan your own.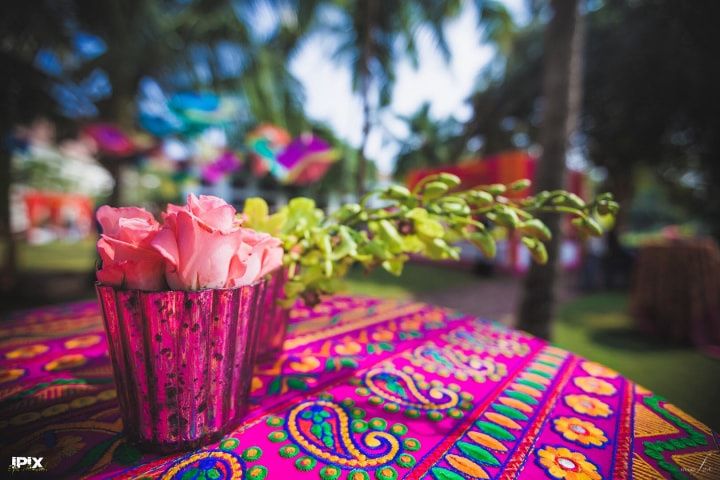 Weddings run year-round adding a spark of festivities through the days as the months go by. A stunning wedding décor makes these memorable times even more colourful and beautiful. The flowers, the lights, the vivid and vibrant colours all so mesmerising that they pep up your wedding spirit up for celebration.
We have curated a selection of awe-inspiring marriage decoration photos for every season so that you have your décor game on fleek whether there's a sunny breeze or a cold winter chill.
Spring and Summer
1. Love Birds in Paradise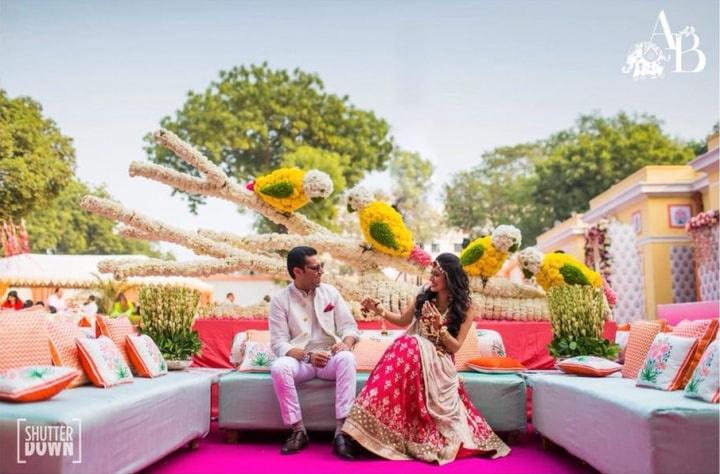 Floral lovebirds for the couple in love filling the air with smiles and romance. Put this at the top of your list of marriage decoration photos for a spring or a summer wedding. The pop of vibrant colours added with cushions and fabrics bring up the spirit of the entire event. Have the couple sit in front of the flower lovebirds for a great photoshoot session.
2. Blooming Lotus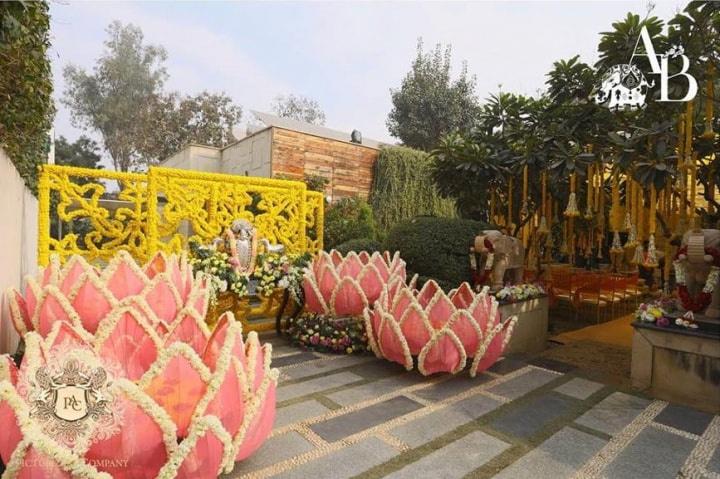 Blooming flowers mark the classic spring and summer season look for any occasion. Take this up a notch with an enormous pink lotus flowers it the prime of their bloom made entirely out of pink fabric and white flowers. Spread them around the venue and place a few surrounding the stage for the couple. You never want to miss a chance of getting great backgrounds for your pictures.
3. Floral waterfall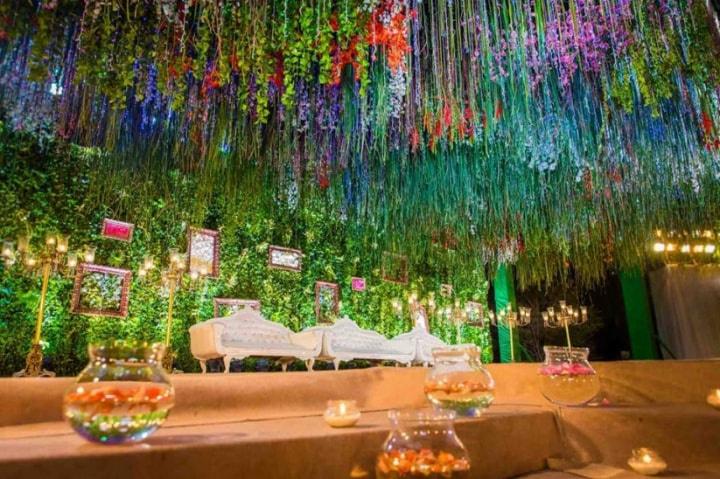 This is one of the most awe-striking marriage decoration images we have come across. Roses are a classic, but, there is something luxe and special about orchids. Have them falling from the top, swinging midair, sprinkling their joy under every person who stands under it. This orchid waterfall décor will surely be a head turner.
4. Triumph of Tassels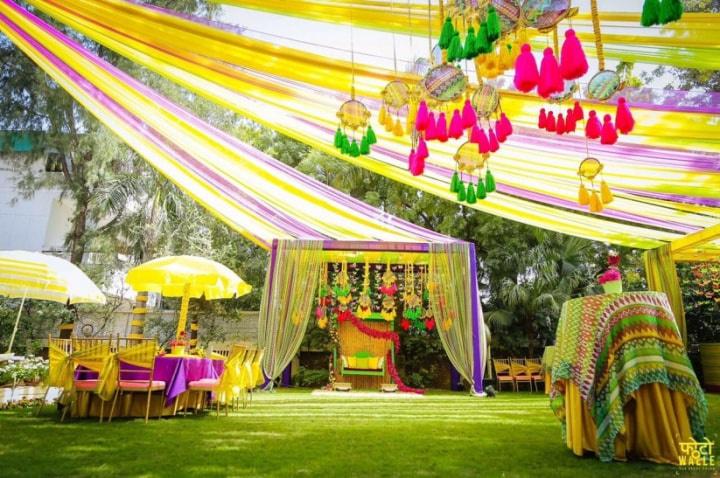 Tassels have been a trend for a while now and do not seem to fade away from the highlight. Including this trend in décor will make your theme truly unique and worthy to make the cut in your marriage decoration images. With their splash of vibrancy in striking colours, they complement the bright summer sun. The flowing tassels in the warm breeze will be a hit of the season and a treat to your eyes.
Autumn and Winter
1. Autumnal Indigo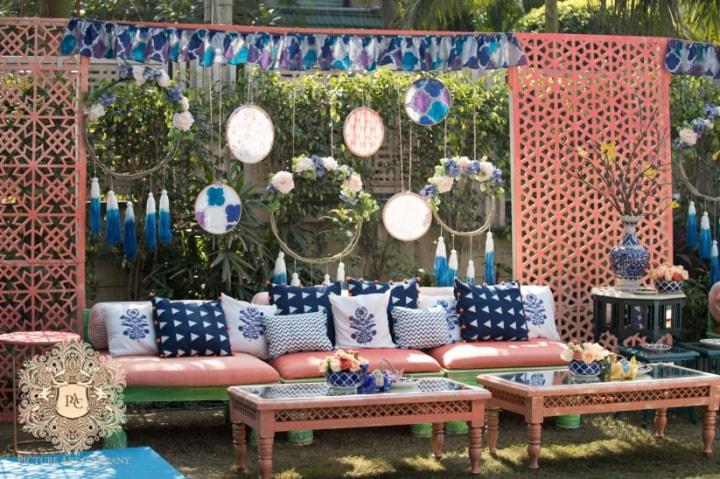 Fill the room with hues of purple and blues with a dash of orange accents for the toasty season of autumn weddings is around the corner. This colour scheme makes a perfect theme for the season because it is neither too warm nor too chilly that time of the year. The pleasant feels of this combination make it an apt fit for a list of marriage decoration photos. The earthiness and traditional touch that colour indigo adds in cherry on top!
2. It's a Hoot!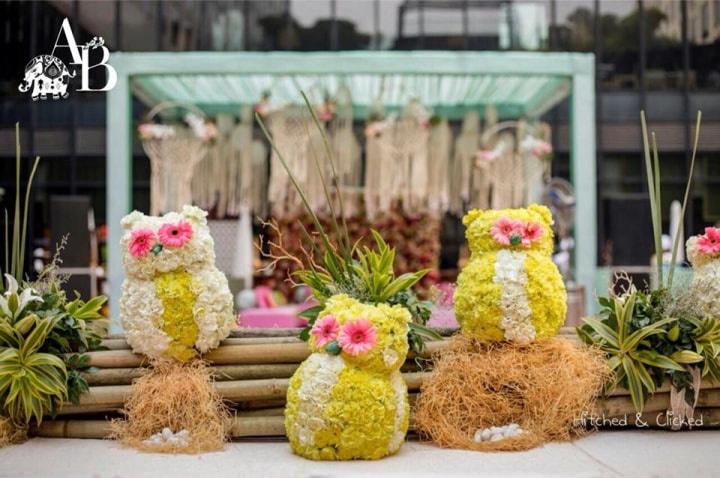 Not only are owls cute, cuddly and a symbol of wisdom, they also very appropriately represent the autumn season. Add a dash of quirk to your wedding décor by adding owls to your list of marriage decoration photos. The use of vibrant flowers to create these owls brightens the whole place and makes it a perfect choice for an autumn Mehndi function décor idea. Complete the theme by throwing in some fabric dreamcatchers in pastel colours for a dreamy effect.
3. Red Roses and Precious Pearls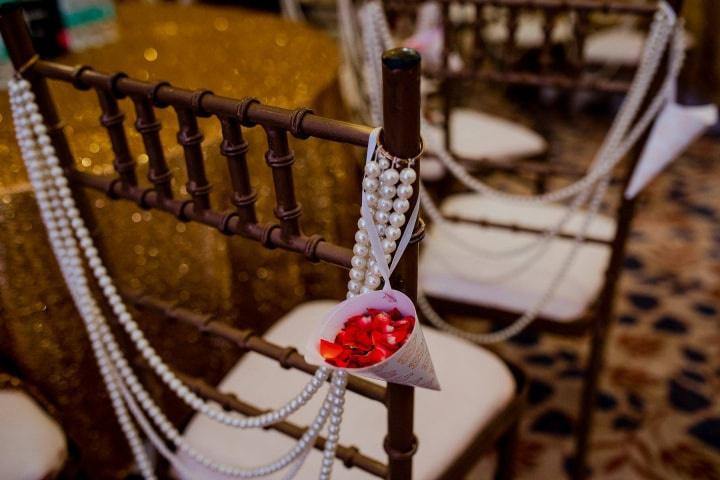 Set up the mood for an elegant evening event for a winter wedding by using romantic red roses and elegantly precious pearls in your décor. The touch of these elements will give the affair a royal and opulent outlook that is worthy of the divine bride on the biggest day of her life. A dangling string of pearl strands on the back of each chair that your guests seat themselves will also make them feel special. And of course, you can even imagine the number of images that will be taken next to it!
4. Magical Lanterns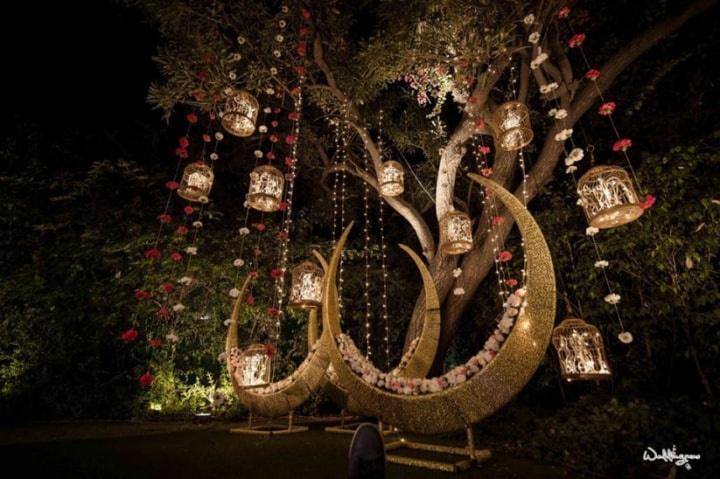 Mystical lights of a lantern on a winter evening look mesmerising and almost magical. Hang them off a tree and add props like crescent moons accentuated with real or faux flowers to complete the setup. Brighten up the place with the use of lanterns, fairy lights, and candles and add this inspiration to your list of marriage decoration photos for a winter wedding.
Wedding décor is the key element in setting up the mood for any event. Choose the themes carefully and plan well to ensure that the mood is as per what you seek. Wedding decoration is what builds up the theme for the entire wedding, so make sure that you select elements that reflect your style and emotion. Different times of the year call for different decoration colours, themes, and props. This article provides you with inspiring marriage decoration images for each season and time of the year.
Explore more stunning options and inspiring marriage decoration photos with expert wedding decoration vendors.