How to Ace the Marriage Stage Decoration Game: The Breakdown
Is there a wedding round the corner and you're still confused how to go ahead with the marriage stage decoration? Relax! We have simplified the some elements and assembled some ideas for you. Take a look!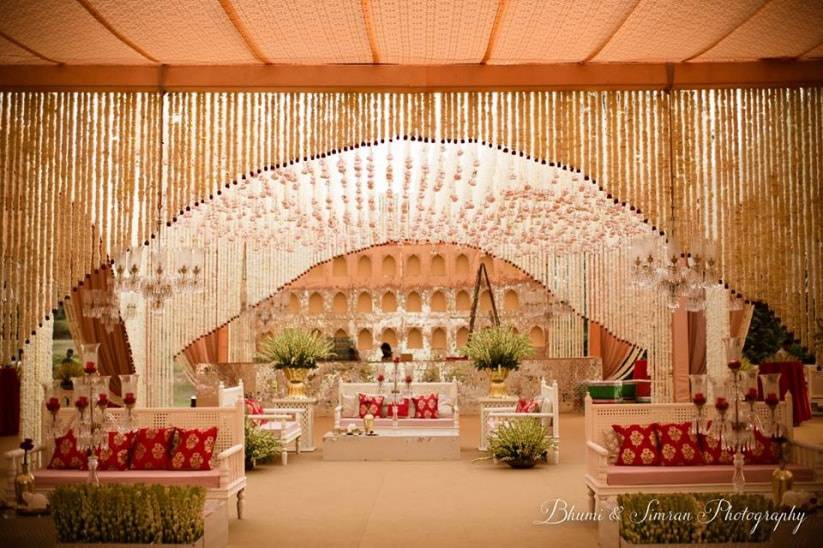 When is planning a wedding a cakewalk? From choosing the right wedding invitation card till planning the honeymoon, the list is almost never-ending, right? And a marriage stage decoration is an area where you can get a little confused. What are the different aspects of a stage decor? What theme would be best? How much would it cost me? If you are stressing about such questions, we're right here to help you. Read on to know more about stage decoration and you might just get all your answers!
Components of a stage decor
Before you go ahead with the whole marriage stage decoration, it's important you know the different elements of stage decor. You can pick your preferred style or theme once you've known what goes where.
1. The Entrance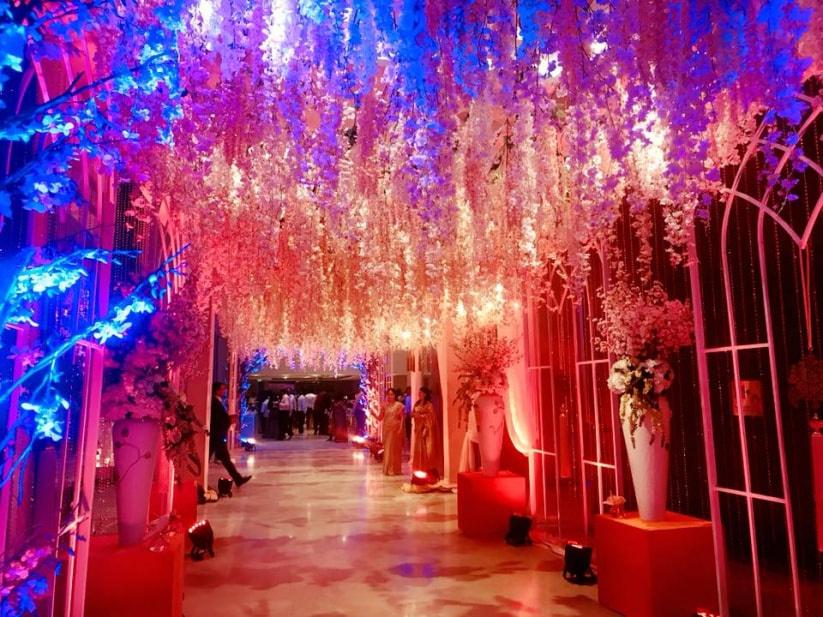 If you believe in "first impressions" you would know the importance of an entrance in a marriage stage decoration. Talk to your decorator and florists to beautify your wedding entrance creatively. Use flowers, lights, drapes, lanterns, streamers...choose your stage entrance according to the wedding theme and your taste. Make the bride's entry to the stage a grand one.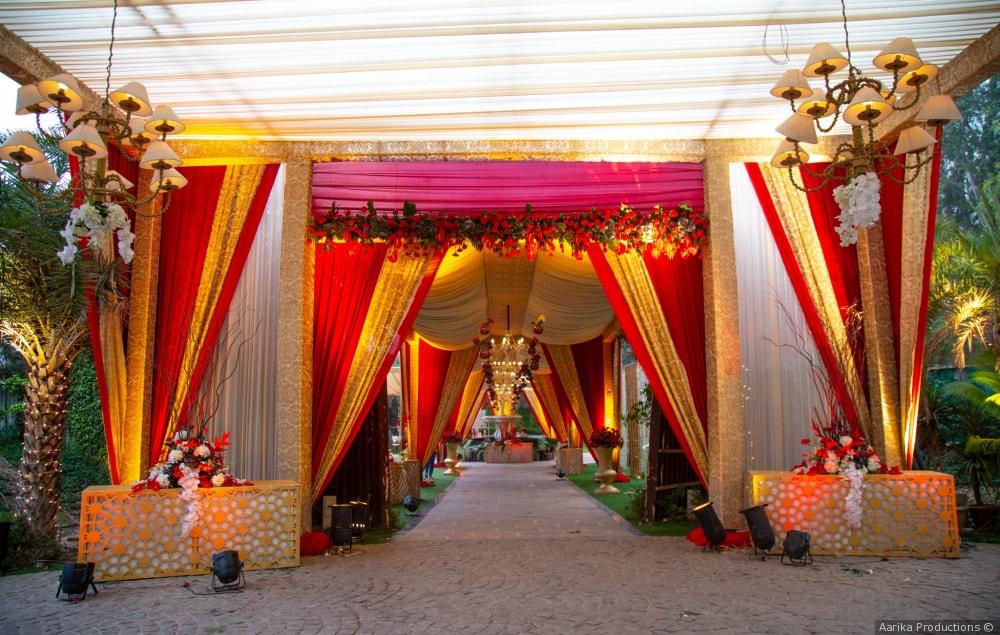 The wedding entrance is the first look of your wedding decor and holds a rather important role in making sure that your wedding is one of a kind. It is only the first time that you can make a grand impression which can be remembered for life.
2. The Stage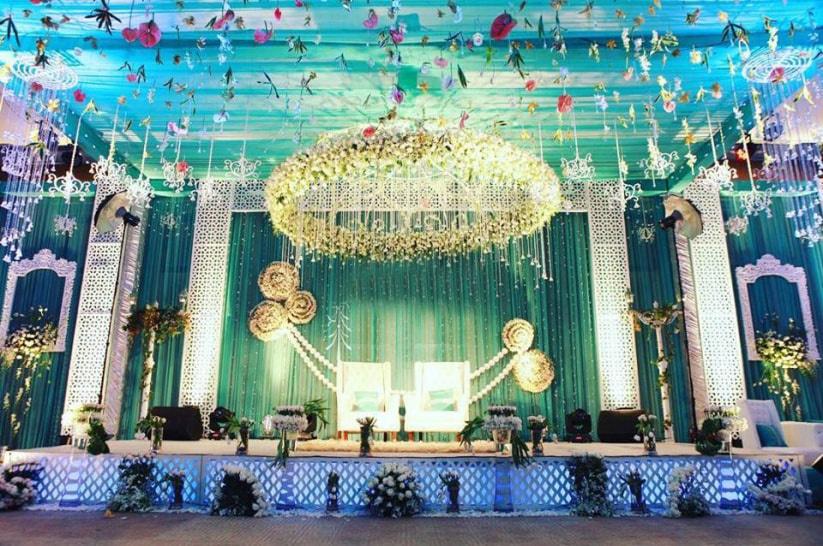 The stage is the "hero" of the whole wedding decor saga. Glamorise the platform using interesting colour schemes and flower arrangements. Make sure to check the size and sturdiness of the stage. This is an important part of a marriage stage decoration so have a word with the wedding venue for various options and possibilities.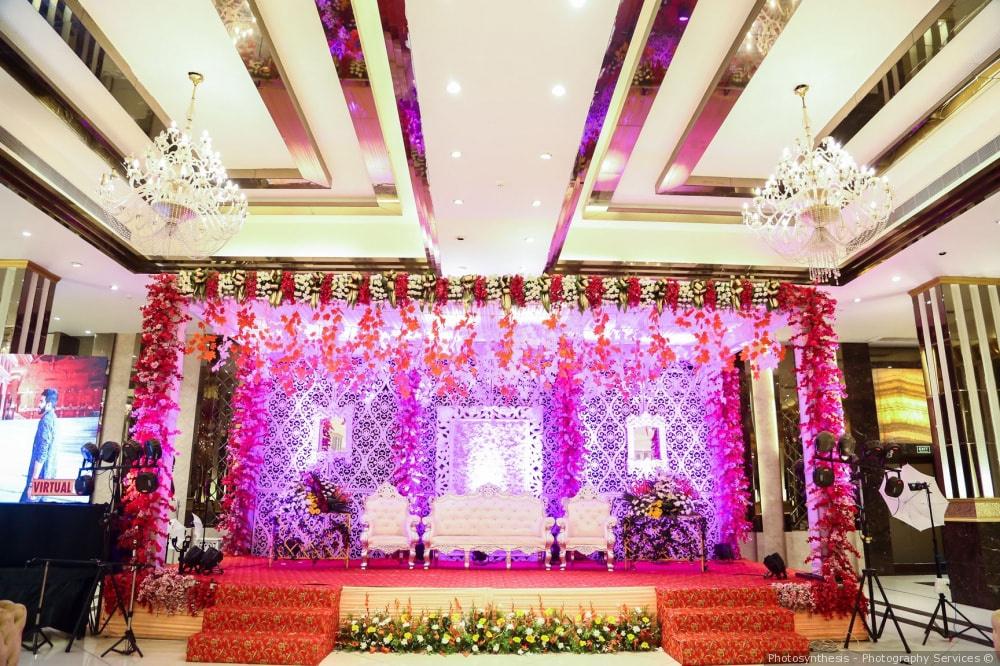 You can consider incorporating the stage setup provided by the venue in your marriage stage decoration or create your own personalised one. The stage is the main attraction of the wedding in the decor front and can be beautified in a variety of ways.
3. Bridal seat/couple seat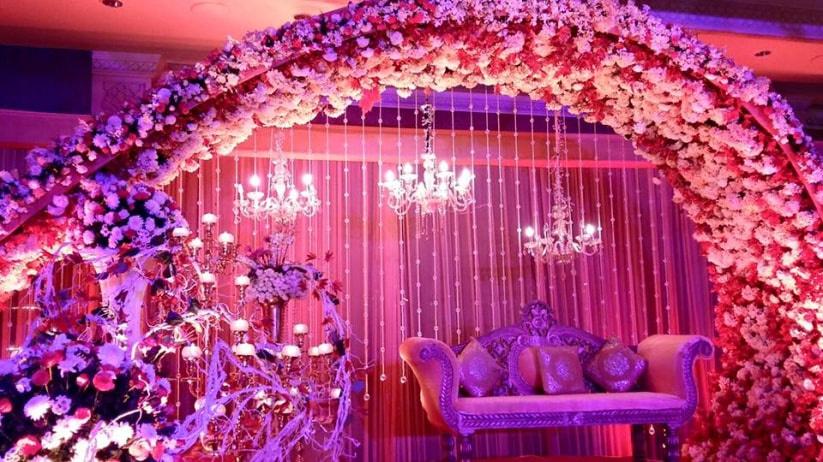 Another significant aspect in marriage stage decoration is the seating of the bride or couple. Whether you want a single couch, or chair or separate couches discuss your options and choose according to your convenience. Don't put too many chairs though, to avoid over-crowding the stage.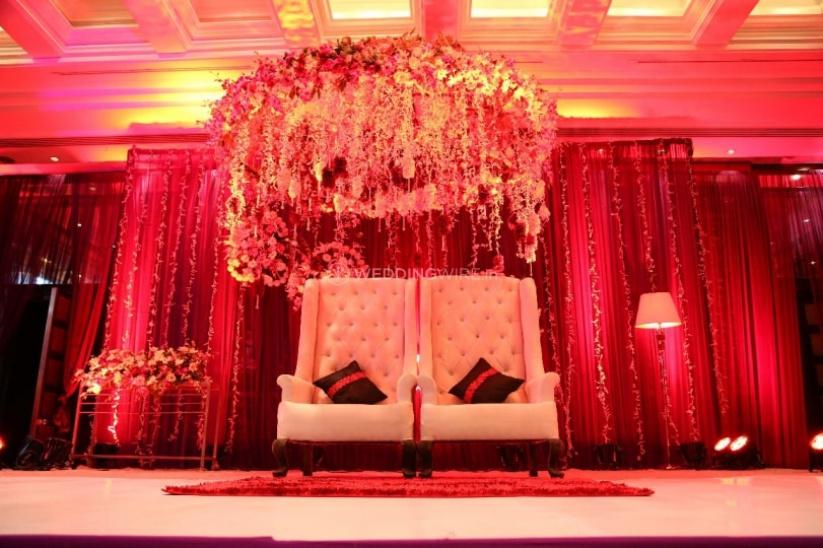 Couple seats on the stage are also the place where all the conventional wedding photographs are taken. If you are looking for something different and unique, try incorporating creative themes and ideas which can make your marriage stage decoration a class apart.
4. Lighting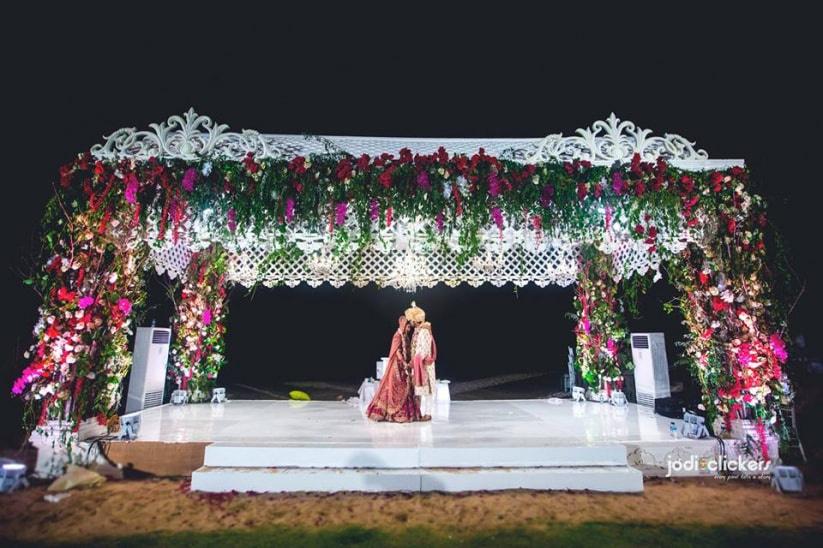 "Let there be light"...Because perfect lighting can rise up the whole mood of a marriage stage decoration. A little error in the lights can ruin the entire wedding decoration, wedding photography or the colour of your lovely lehenga! Talk to the experts for ideas on whether you want LED lighting, chandeliers, mirror reflections, earthen lamps or natural sunlight.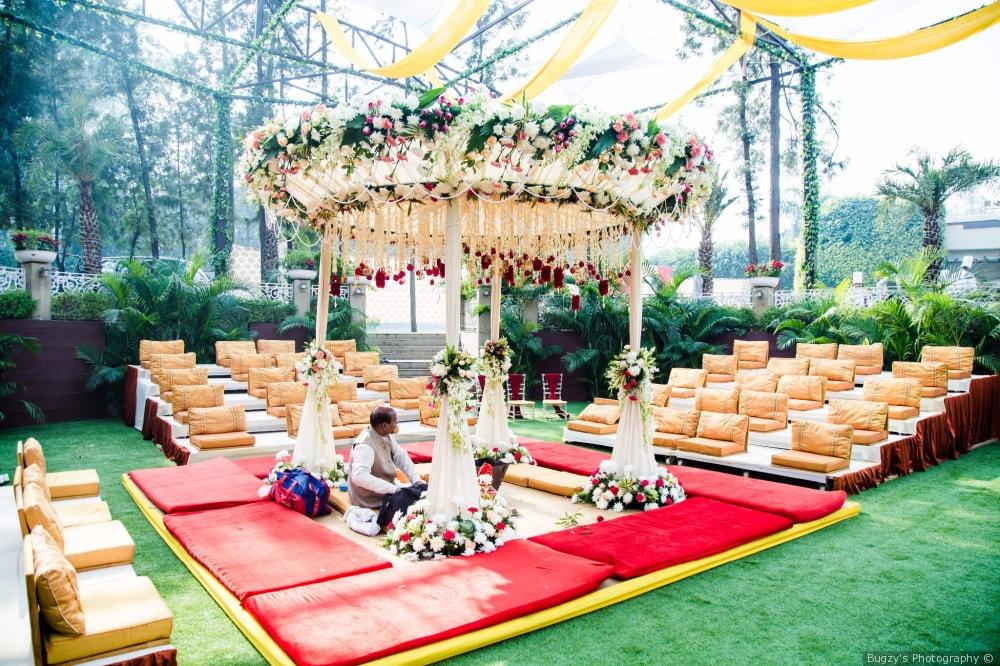 If you are hosting your wedding ceremonies in the day time, you can always go for open event spaces with natural lighting, provided the weather is in your favour. It would surely help you cut cost in the area of artificial lighting which you can put use to in other aspects of your wedding decorations. Events are nowadays often hosted in beautiful lawns with inspiring themes and decor.
5. Special Effects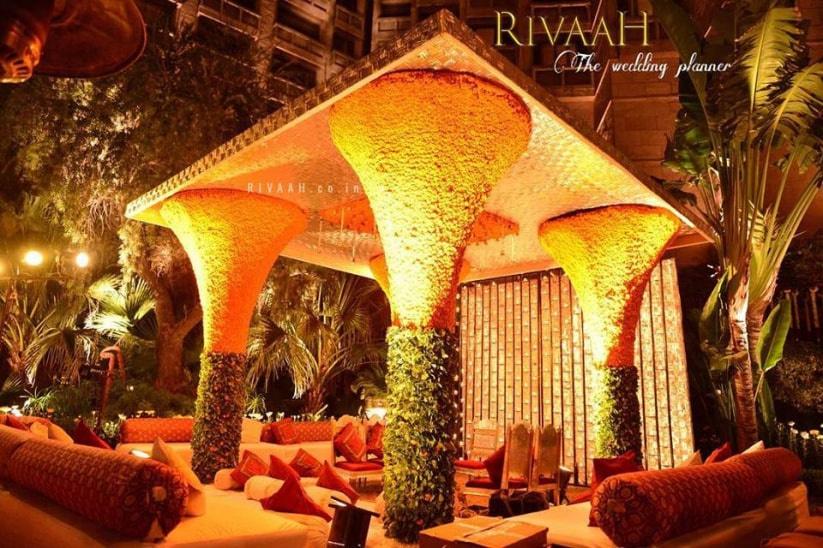 It's totally up to you how much drama you want to add to your marriage stage decoration. Revolving jaimala platforms, fireworks, floral shower, hydraulic stage or floating platforms- you can choose as much or as less as you want to suit your preference and budget. You can even add floral pedestals or an aisle for the bride to walk on. Ask your wedding planner for more creative notions.
Fireworks, flowers and your loved ones by your side is the perfect setup for a marriage stage decoration which would create an impression on all of your wedding guests that they would remember for the years to come. You can employ as much creativity in this area as possible.
6. Background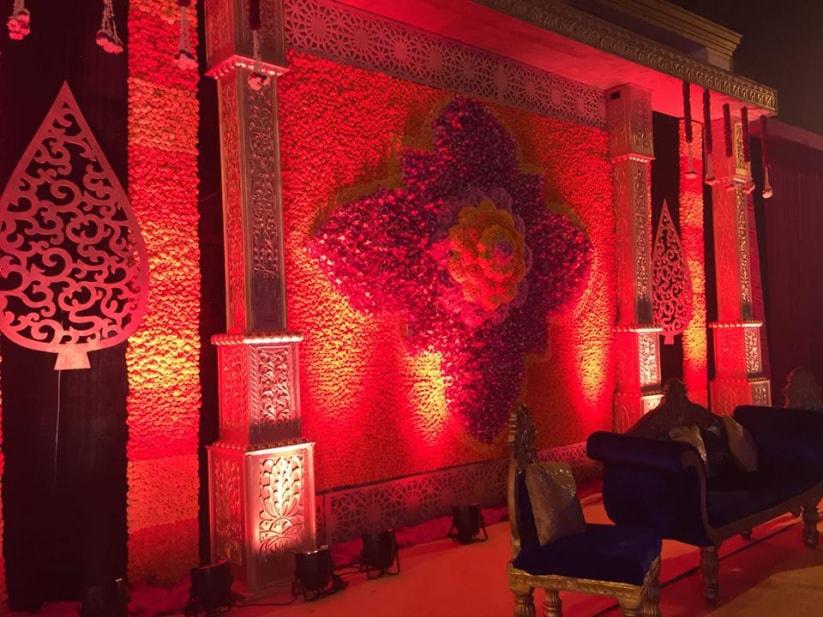 The background of a marriage stage decoration is an equally important aspect to be taken care of. You can go for flowers, lights, drapes or wallpapers depending on your theme of the wedding.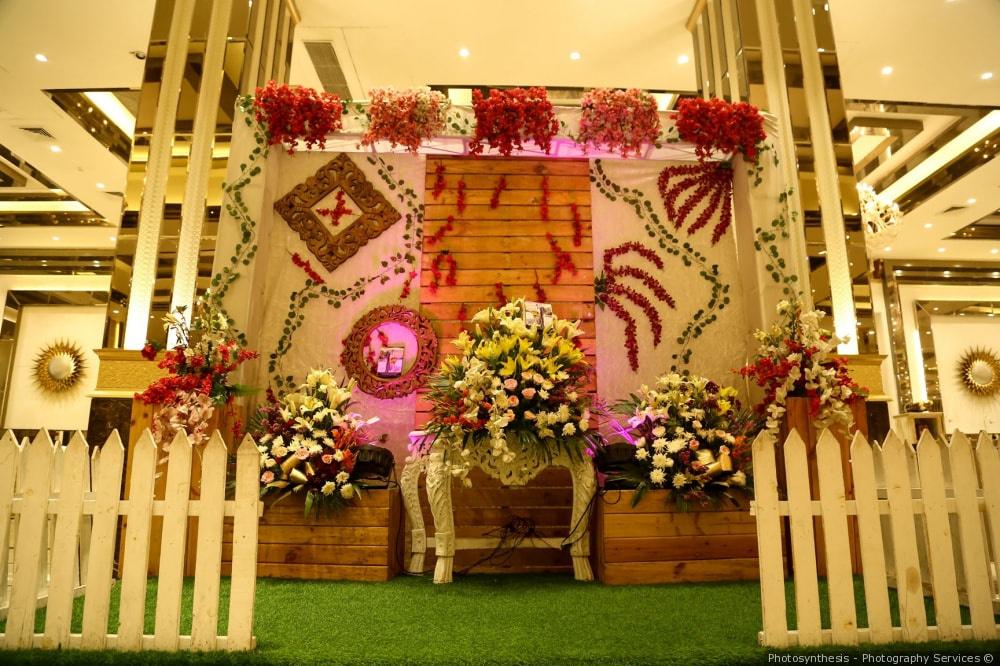 Or you can choose to include a pop of colours and flowers to create a specific and different background which can also work as a photo booth for your lasting memories and equally beautiful photographs. This kind of marriage stage decoration can be placed just beside the main stage.
Interesting themes to consider
Choosing a particular wedding theme for your marriage stage decoration is a popular trend among couples. Discuss with your partner and wedding planner before you pick one of the following themes that would define your wedding:
1. Royal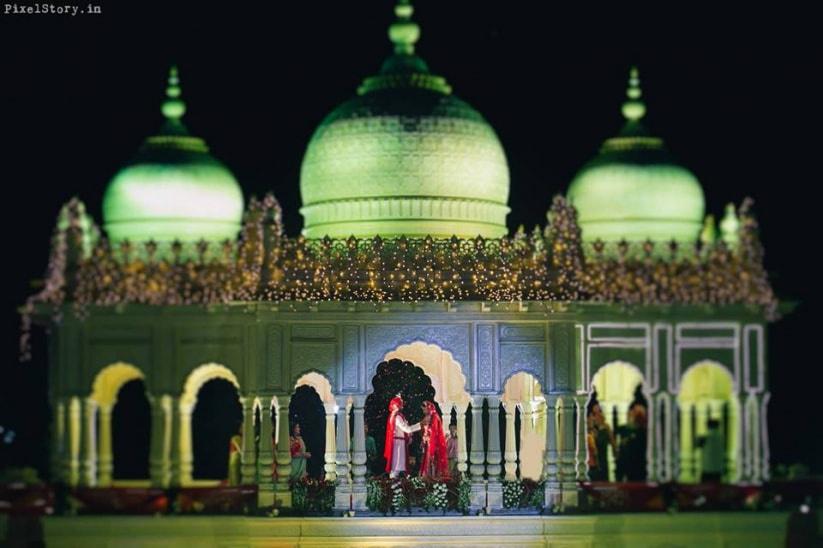 Think chandeliers, silk drapes, flower carpet and a majestic couch for your marriage stage decoration. Use bright colours, lights and fireworks for larger than life vibes. Take a look at:
Rivaah (starting price ₹200000)
Anupam Mandap decorators (starting price ₹50000).
2. Fairytale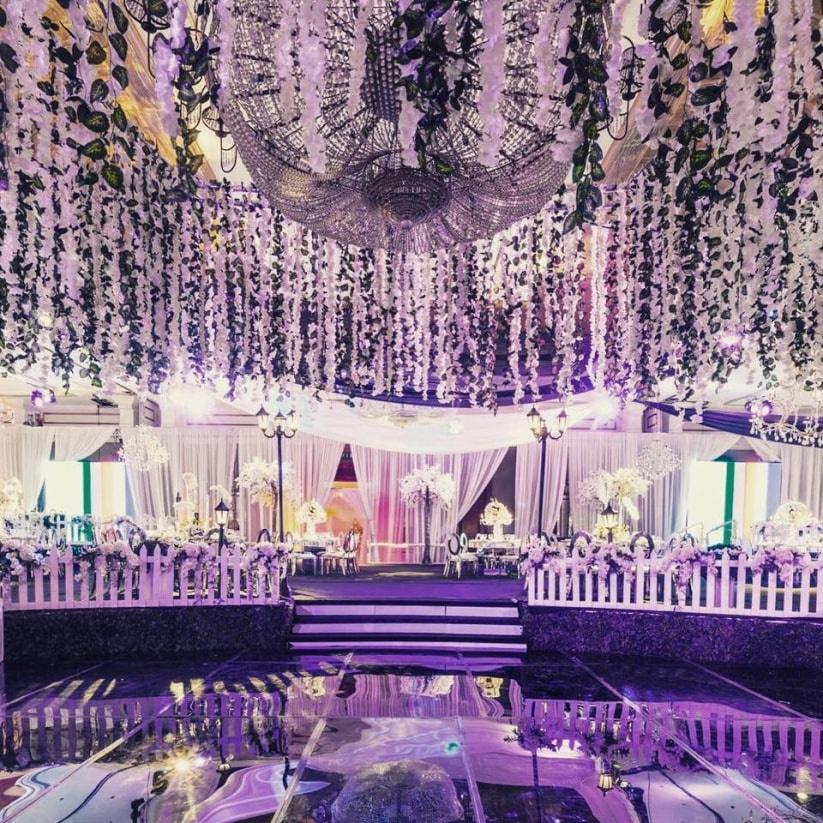 Use flowers and ferns as a major part of your marriage stage decoration. You can replace the chairs with floral swings for the bride. Go for soft pastels, blush pink and peaches as your theme colours. Take a look at:
Artis Events (starting price ₹75000)
Dolphin Funland entertainment (starting price ₹50000)
3. Minimalistic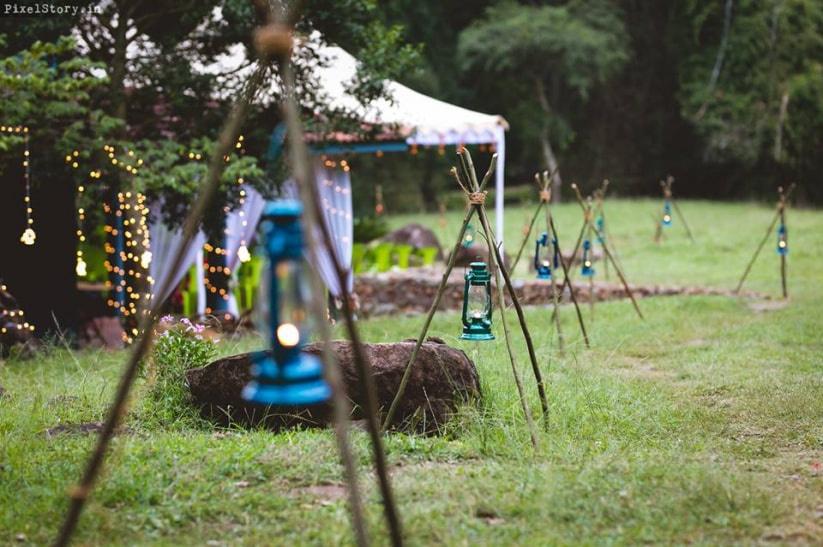 If you believe "less is more" go for a minimalistic theme while choosing your stage decor. Ditch the electric lights and opt for candles, diyas and mirror reflections instead. Use Rangoli and hand-painted wallpapers as a part of your marriage stage decoration. Take a look at:
Live Space India (starting price ₹175)
SK DJ & Decorator (starting price ₹5000)
4. Beach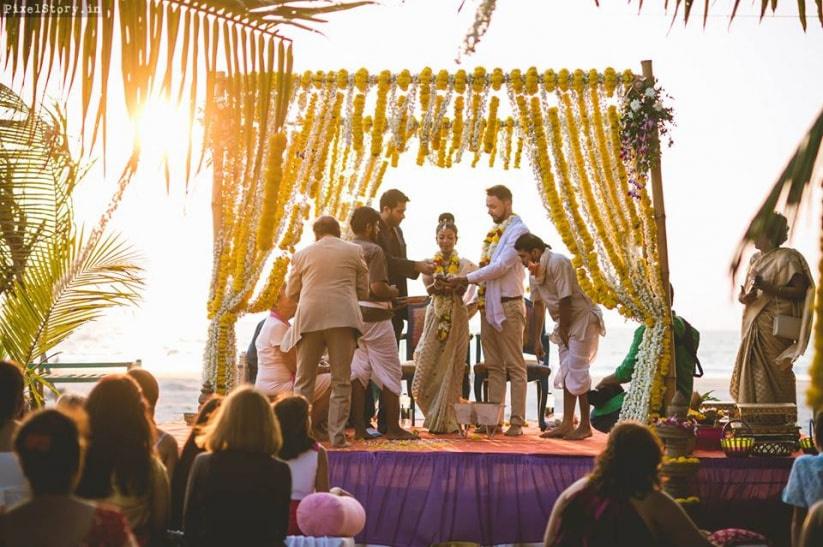 A destination beach wedding is among the most favourite themes of millennial couples. And so the marriage stage decoration in a beach wedding would be prominently different. Use natural light instead of artificial. Breezy colours like sea green, sky blue or white for drapes. You can choose Bohemian furniture to match with the theme. Hint: wooden chairs with pop colours or floor seating with cushions. Take a look at:
Maadhyam Events (starting price ₹450000)
Event Park (starting price ₹50000)
5. Vintage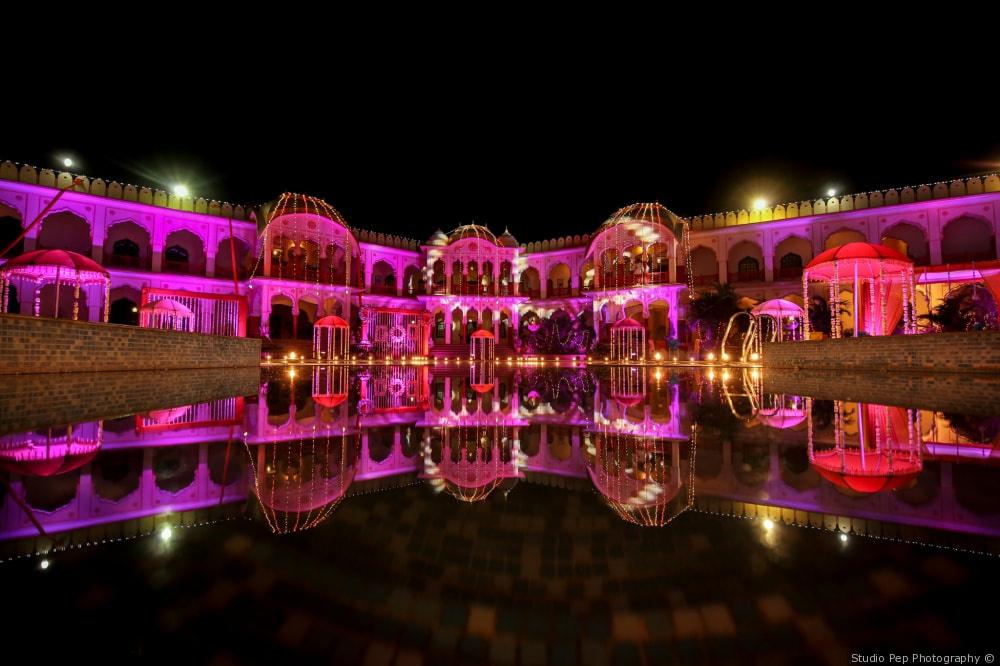 A stage decor that evokes regal and royal aura is the one that can make a lasting impression. If you wish to live your fairytale with grandeur than this is the marriage stage decoration theme for you. With rich and opulent decor, every detail around this decor would be splendid and awe-inspiring. For such beautiful decor, you can always go through:
Maadhyam Events (starting price ₹450000)
Rivaah (starting price ₹200000)
Wedding experts also suggest you go for separate themes and decor for separate wedding ceremonies. Take cues for more ideas on stage decor for different events. Whether you want to go over the top or stick to simple stage decoration, that's your call. Ensure you and your wedding vendors understand each other well when you select your marriage stage decoration for each wedding event. Your decorations should be a reflection of your entire wedding theme...and most importantly, you.
Get in touch with our vendors for top-notch wedding photography to bring out the best of your decorations. Also, tell us about your favourite wedding theme in the comment section.