Looking for Some Indian Wedding Invitation Cards? Here's the 6-step Guide to Help You Make That Decision
Wondering how to choose the perfect set of Indian wedding invitation cards? With so many options, it can be an exhausting process! The key lies in understanding the options and weighing them against what YOU really want. Let's take a look.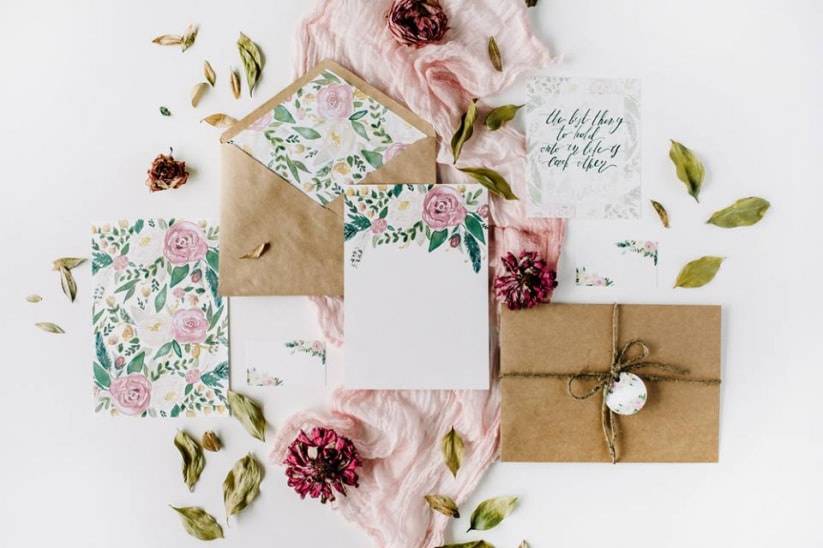 Indian wedding invitation cards come in all hues and shades, shapes and sizes. Today, a card can be as simple as a single leaflet, an opulent wedding card box with goodies or something quirky and fun. Better still, Indian wedding invitation cards have now also gone digital and tech-savvy. From videos and movie-like trailers to GIFs and Graphic images, it really is an endless world of possibilities.
Your wedding card is quite literally the first formal proclamation of your love that you make even before you start planning your forever after! So, for something as crucial as that, we wouldn't wish for you to have anything less than perfect. So, we thought it fit to come with a helpful take of Indian wedding invitation cards and what all things to keep in mind when headed out to get some printed for your wedding or that of someone you know.
So what's the perfect invite for your wedding? How will you choose the right Indian wedding invitation cards? Before you make that choice, let's understand and consider the key elements of making that decision, some crucial pointers that will make or break your thoughts on buying your very own set of Indian wedding invitation cards and how!
1. Paper Vs E-Invite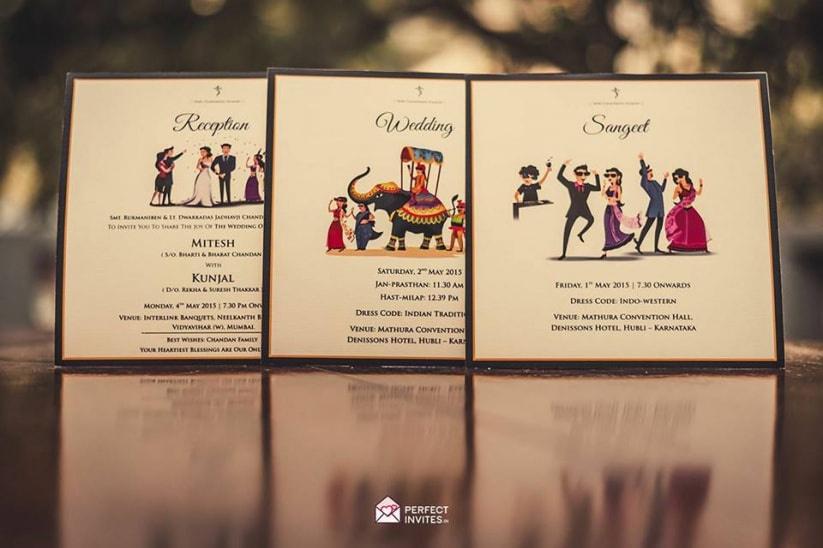 Looking at how everything is turning digital today, the very first decision to make is whether you want a Printed or paper invitation card, a digital one or both. Both have their own advantages and USPs and it's difficult to say which one is a better option. However, consider these points before you make that decision because it is better to know the pros and cons of things before walking straight into them:
Why A Printed/Paper Indian Invitation cards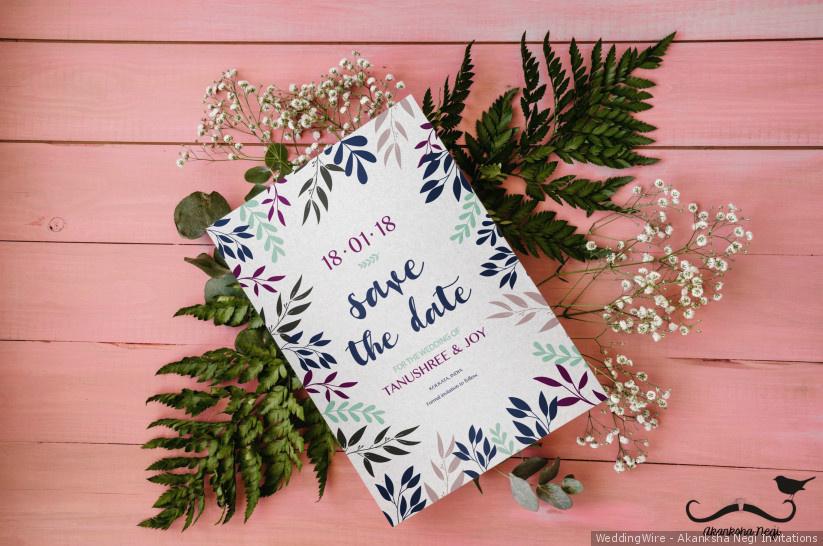 i) More personal
Even with the nth level of customisation, a digital wedding card lacks the warmth and personal that one gets with a hand-delivered or mailed, physical card. It's a perception and it stands through.
ii) Ideal for close friends/family
A printed, boxed invitation says you care enough for a physical copy. That's a strong message indeed. So, if you would rather have your wedding guests hold physical proof of your wedding card, then be it.
iii) Add a gift indeed:
A hand-delivered wedding invitation allows you to slip in wedding favours, sweets, wedding gifts or goodies with the invite, to sweeten the request. You could choose healthier options or even a set of chocolates(because no one can ever say no to a box of chocolates).
iv) Create a keepsake
With an invitation box, you can create a keepsake for eternity sake, be it as a hangover kit, an eclectic shaped card, a calendar or even a box! Choose your best idea for this task.
Why E-Invites work - let's find out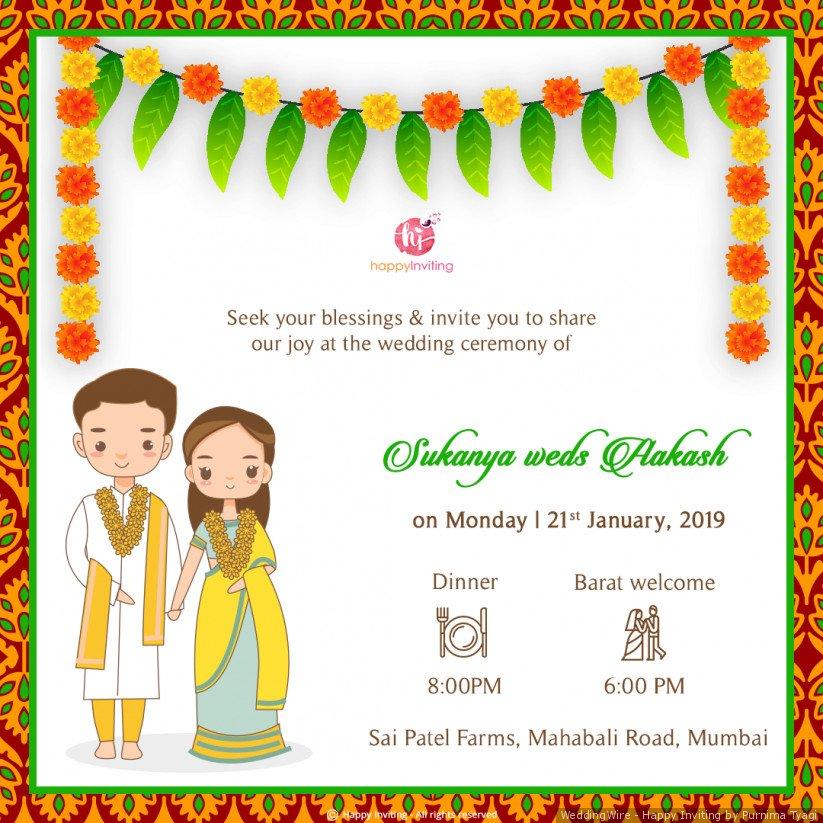 i) Cost-effective ways to narrow down expenses
They're a fraction of the cost than printed invitations and that's a fact. You can create Indian wedding invitation cards online for free, hire a digital invites designer or commission an e-invite at less than even a quarter of the price of a set of printed invites.
ii) No shipping/postal hassles - what a win-win
All you need are phone numbers (for Whatsapp wedding invitations), email addresses or even iCloud connects to get your invitations across. You don't need to worry about them getting lost in the mail or taking out the time to hand them over personally.
iii) Room for creativity - well, creativity is sacred
Think videos, think creative websites, think stop motion films. Everything's possible with a set of e-invites.
iv) Custom creations = love
You can customise each card to include the recipients' details, share addresses and directions at no major cost.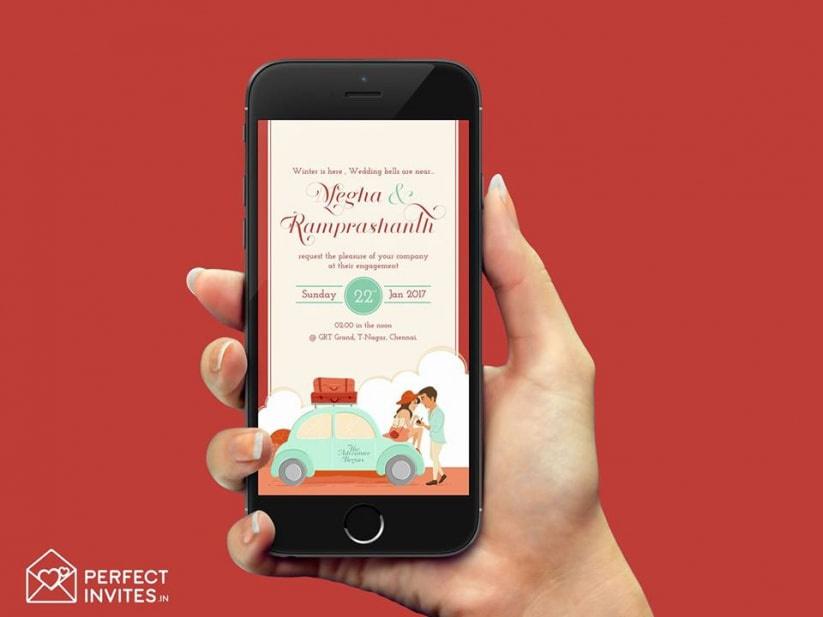 Final verdict?
It's best to go in for a combination of both Paper and E-invites as both have their own advantages. You'll be able to make close friends and family feel special and welcome with Paper/Printed cards and make sure everyone receives your invite, no matter where they are, with the digital invite.
2. Budget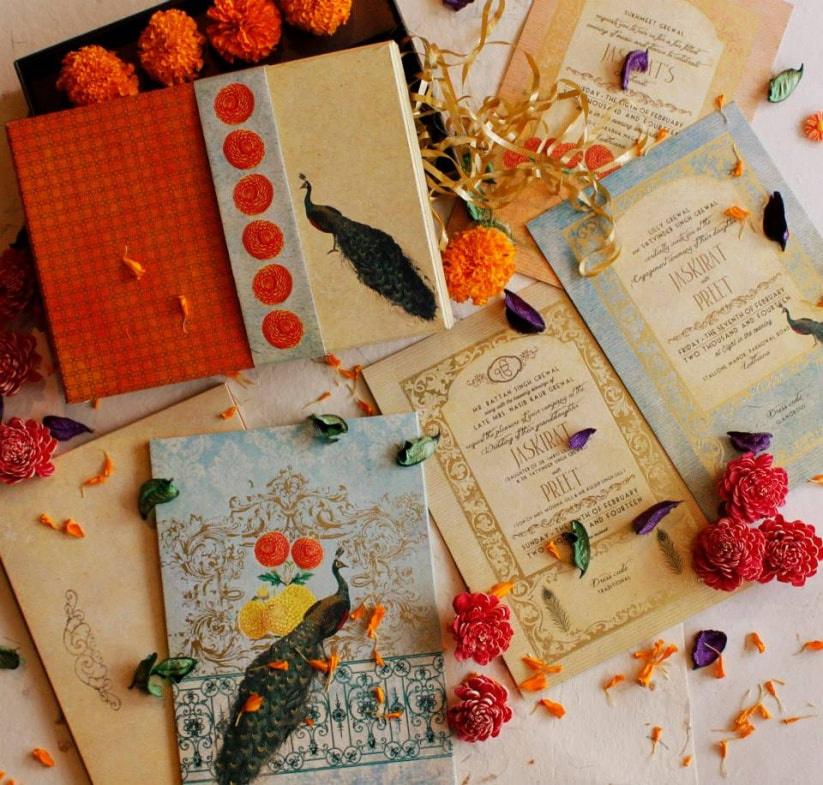 This one is an extremely important point to consider when choosing the right Indian wedding invitation cards for your big day. With so many options and possibilities also comes a huge price range. It all depends on who you work with, what kind of card you choose and what style or tone you go for.
The good news is, there are many and great options for every budget. Make sure you understand different wedding cards with price details so you end up paying well within your budget, without compromising on the perfect card.
Here is a scale for the budget for your Indian wedding invitation cards:
i) Digital invitations - Free to ₹9,000 for the core design
ii) Printed invitations - ₹5-10 to ₹500 per invite
iii) Boxed invitation - ₹250 to ₹5,000 per invite depending on the material used, the budget for favours and materials used
3. Video Vs Images Vs Words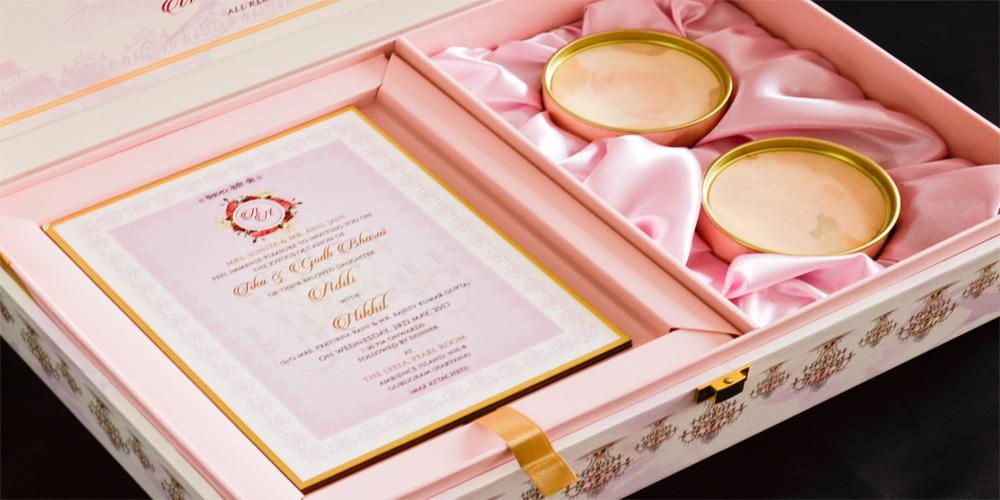 Image Courtesy: Indian Card Mall
The next point of consideration is the kind of content you want on your wedding card. Would you rather use heartfelt words, beautiful quotes, a video that shows it all or an image that depicts it all? Of course, the video option is only for digital invites, but everything makes a difference. Whatever form of expression you choose, make sure it captures the meaning that you want to send out. You can use all three or a combination of two too, but the main point is what does it say about you and your love story?
4. Indian Wedding Invitation Cards Styles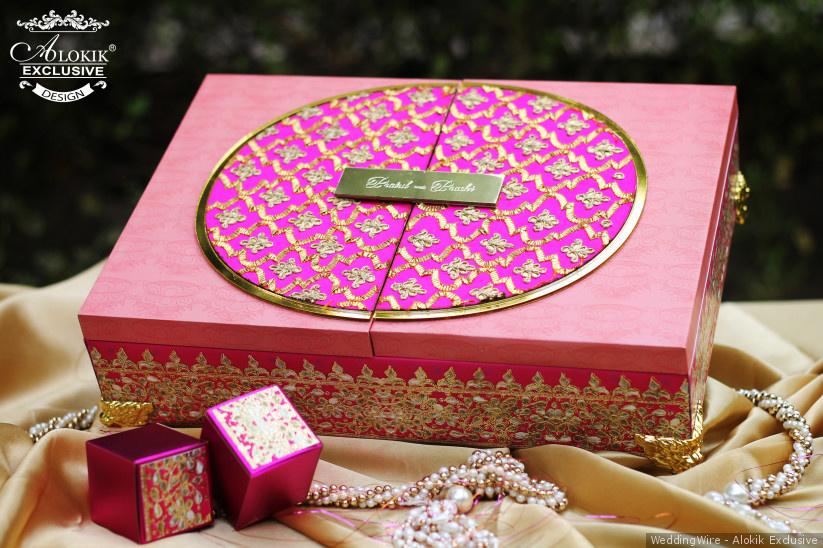 If you thought just the kind of card was enough of a decision, well you still have to choose the style of the card. There are different styles of Indian wedding invitation cards broadly categorised into:
Single Leaf Cards
Multiple Leaf Cards
Boxed cards
Cards with Giveaways/Goodies
Seal and Send Wedding Invitations
The Signature Collection
Laser Cut Wedding Invitations
Foil Wedding Invitations
Thermography Wedding Invitations
Letterpress Wedding Invitations
Pocket Wedding Invitations
Photo Wedding Invitations
5. Vendors for Indian Wedding Invitation Cards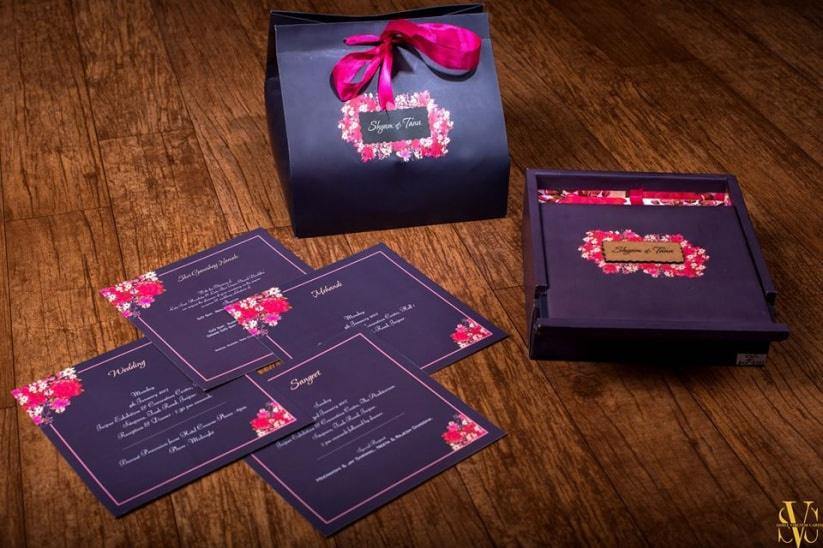 From freelance graphic designers to students working for an extra buck to professionals who have carved a niche in the wedding invitations space- your options are countless! Wedding invitations are a huge deal now and it's no surprise that many talented companies and individuals are offering customised, unique and exemplary invitation cards services.
Ask for recommendations from friends and family who may have worked with cards vendors and also do your own research to list possible options. Go through social media profiles to see the kind of work your shortlisted candidates offer, ask for quotes and profiles and suggestions to find that one vendor who gets you and all your requirements.
6. Wedding Photography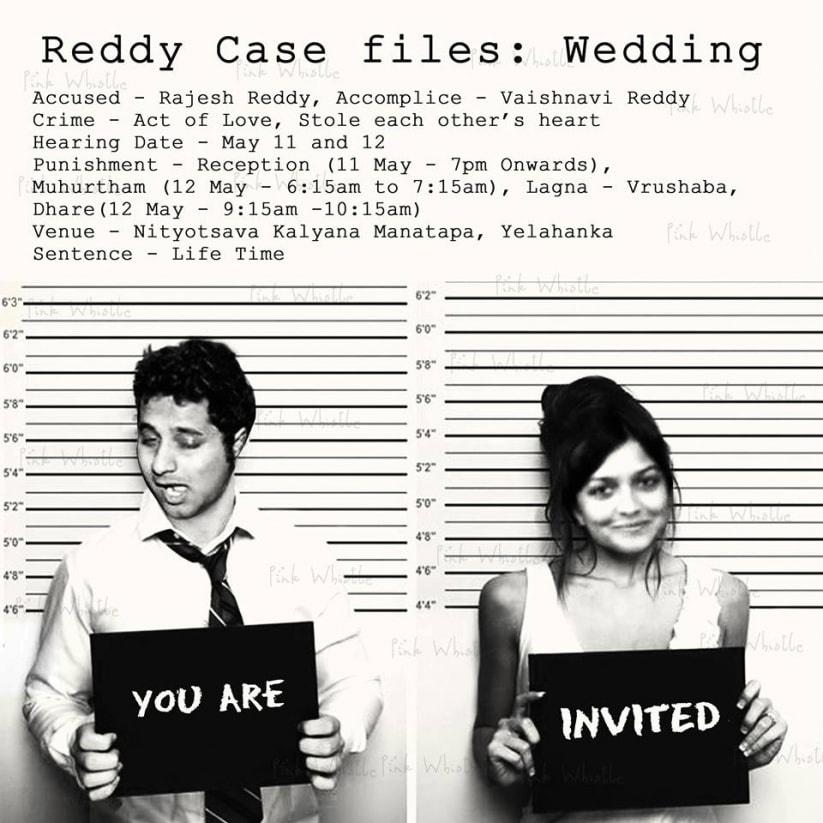 If you are planning a Save-The-Date wedding card or a pre-wedding shoot, loop in your wedding photographer to help you curate a personalised wedding card. Fun pictures that portray your couple love story could make for a brilliant and memorable Indian wedding invitation cards images.
Each of the points mentioned above are equally important to understand and consider when choosing the right Indian wedding invitation cards. A wedding card is an official and formal welcome for your loved ones to be a part of your special day; make sure it captures your love story, spreads the joy and excitement you share and shows people how much their presence and blessings mean to you.
Excited to start choosing your Indian wedding invitation cards? Share your thoughts with us in the comments section.