7 Funky Photo Booth Props to Create the Perfect Selfie Stations for Your Wedding Guests
Are you looking for ideas for your photobooth props? Look no more. Here's a carefully curated listicle of props that you can use according to your personality.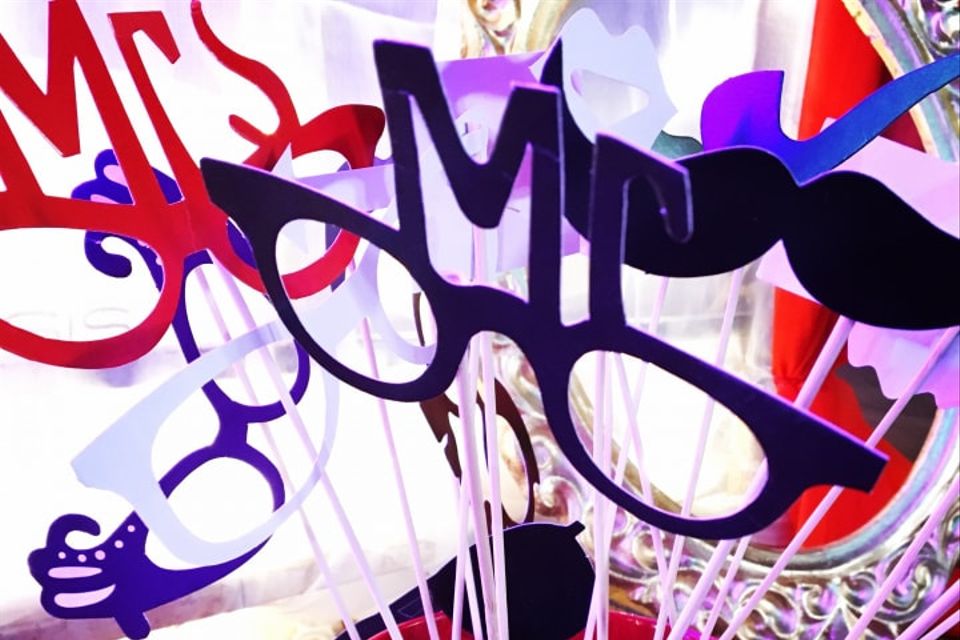 'But first, lemme take a selfie...' If you have friends that are big on capturing each and every moment so that you can reminisce those memories later, putting up a photo booth at your wedding festivities will surely be a big hit among them. You can place photo booth props at your wedding functions according to different personality traits. Read on to see which photobooth props go with which trait. So, head to the selfie section, grab a photobooth prop and strike a pose.
1. Mischevious
For a mischevious cousin, friend or even for your fun uncles, keep photobooth props like a banner saying...'I came here for the booze', 'One man down', A big beer bottle banner. You can also keep fake guns and hats for the cowboy look. A great photobooth prop would be a small DIY black- board with chalk where people can write their own quotes.
2. Quirky
A decorated cycle rickshaw, Instagram banners, Wanted banners like 'Wanted for being too cute', 'wanted for being too drunk' etc. To add a touch of quirkiness, you can also keep photo booth props like fake moustaches, big funky glasses, or banners saying 'Did it for the Gram'.
3. Romantic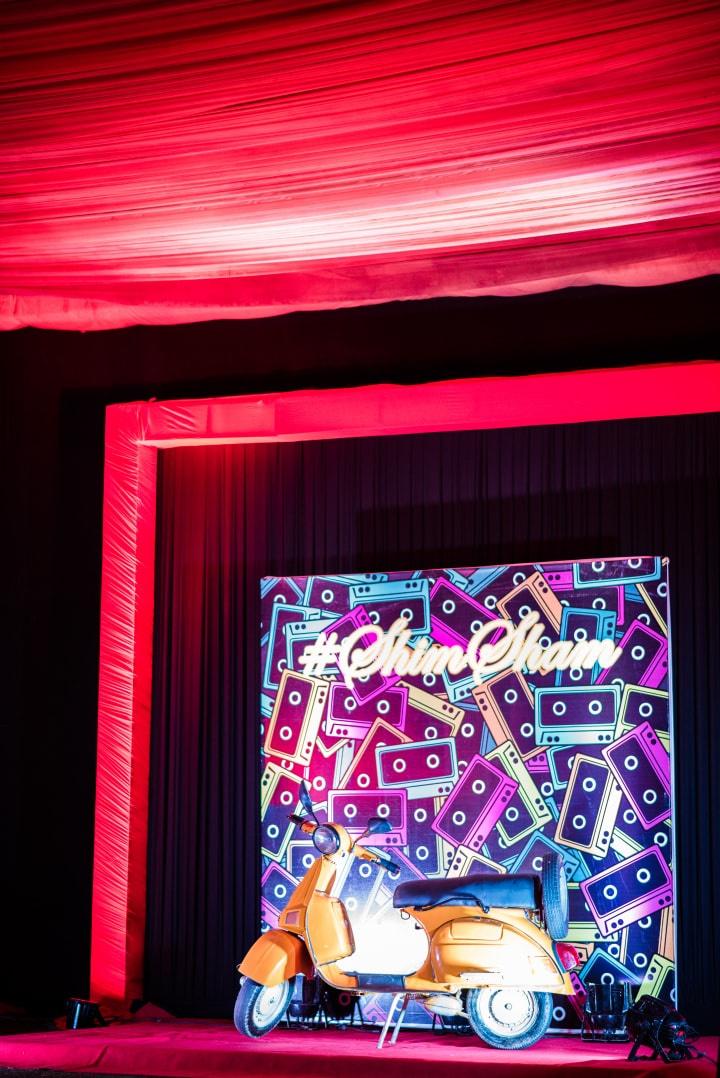 To add a touch of romance, add romantic photo booth props like an umbrella, under which couples can get their pictures clicked or props like 'Happily ever after', heart-shaped balloons, banners with love written on it, banners like 'In love', 'Smitten' will surely up your photo booth props game for couples who are deep in love.
4. Flirty
In the words of Ranbir Kapoor from the movie Yeh Jawani Hai Diwani, 'Flirting Sehat Ke Liye Achchi Hoti Hai, you know like yoga'. So, to put you in the mood and give you all the feels, you can use banners like 'Mere Paas Maal Hai', 'Single and ready to mingle'. You can also put up a separate space where there's a Kissing booth.
5. Dramatic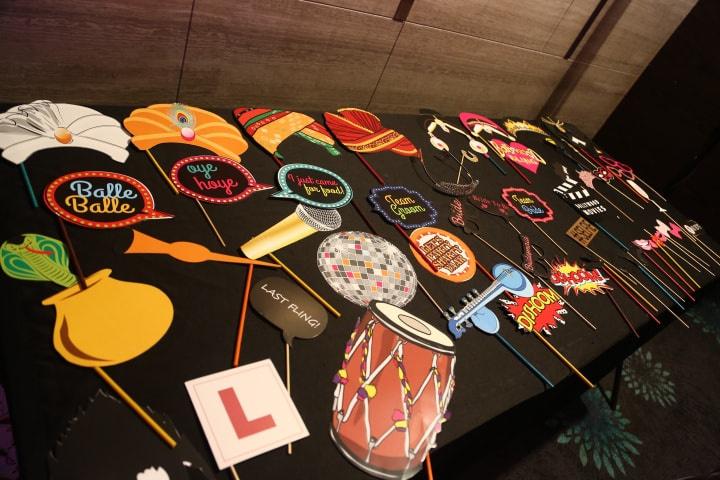 Masquerade eye masks with feathers would make for an excellent dramatic photobooth prop. For another dramatic and cool photobooth prop, you can put up giant vintage photo frames for a dramatic appeal. This will truly amp up the ambience and the outcome will be great photos. When you both are bored of posing in a traditional way for your wedding album in front of the elders, hop on to the photo section, grab a prop and make memories.
6. Funny
Put up funny photo booth props for yourselves as well as your guests to make your wedding festivities a memorable event. A funny photo booth picture would be the bride holding the banner 'happily ever after' and the groom holding a banner that says 'If you say so'. Banners like 'Chahe Koi Mujhe Jangli Kahe', a banner that reads out 'Abhi Toh Hum Jawaan Hai' for your elder guests will surely crack up your guests into laughter. 'Jamti Nahi Toh Peete Kyu Ho', 'Kabab Mei Haddi' banners are also a great fix to add a funny element to your photo booth props.
7. Filmy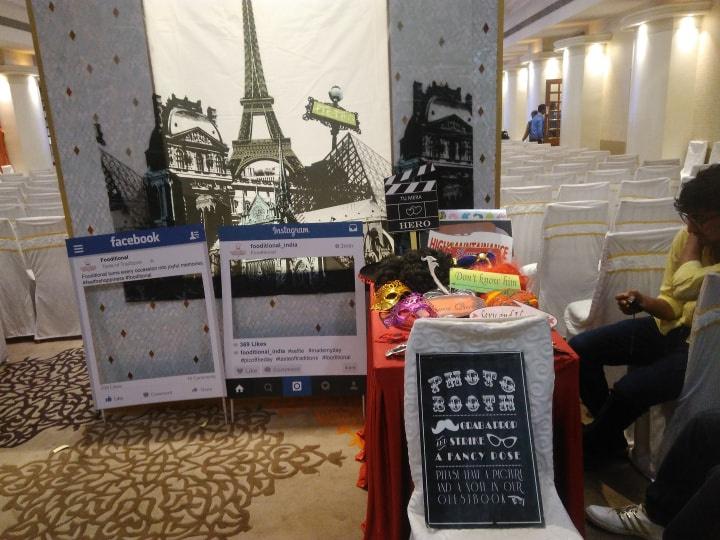 For your Bollywood buffs, add elements that reflect the true filmy side of your guests. Add masks of various actors, actresses, or add elements from iconic movies like the Basanti ka Tanga from Sholay at your selfie section, or the funky glasses from the movie Dabangg, the ukelele from Dilwale Dulhaniya Le Jayenge or the Boy-Girl caps from Hum Aapke Hai Kaun. These photo booth props will surely add a filmy touch to your photos.
The wedding photo booth has become a staple vendor to add to every wedding! It brings fun, excitement, and lots of laughter for you and your guests. So, there are a few points that you should keep in mind before putting it up at your wedding:
Don't be afraid to add an extra hour. There's no need to rush the guests to get in and out!
Confirm that your photo booth is bringing some type of digital copy, so that you have a backup if you want to make your own album and ask the right questions to make sure you know what you're getting.
ALWAYS add the scrapbook. The memories are priceless, and it blows away the "guest book".
Unlimited prints are a great option to keep the line moving and get pictures for all of your friends, every time. So, do not add a limit as to how many prints the photo booth can give out.
Make sure the photo booth brings wedding props, or even bring your own! Some photo booth companies give out props which are very generic like the Mr. and Mrs. sign, so you can bring your own props as well. You can get them online.
A quick, easy and trendy fix for wedding entertainment nowadays is the Photobooth section. Capture your memories in a trendy way with your friends and family and add a touch of spunk to your photos with these photobooth props.
Did you like these photobooth props ideas? let us know in the comment section below.