Punjabi Folk Songs to Make Your Dholki Night More Magical!
Punjabi folk songs play a crucial role in the wedding, with family members gathering together to sing them all. Check out these songs you'll definitely hear!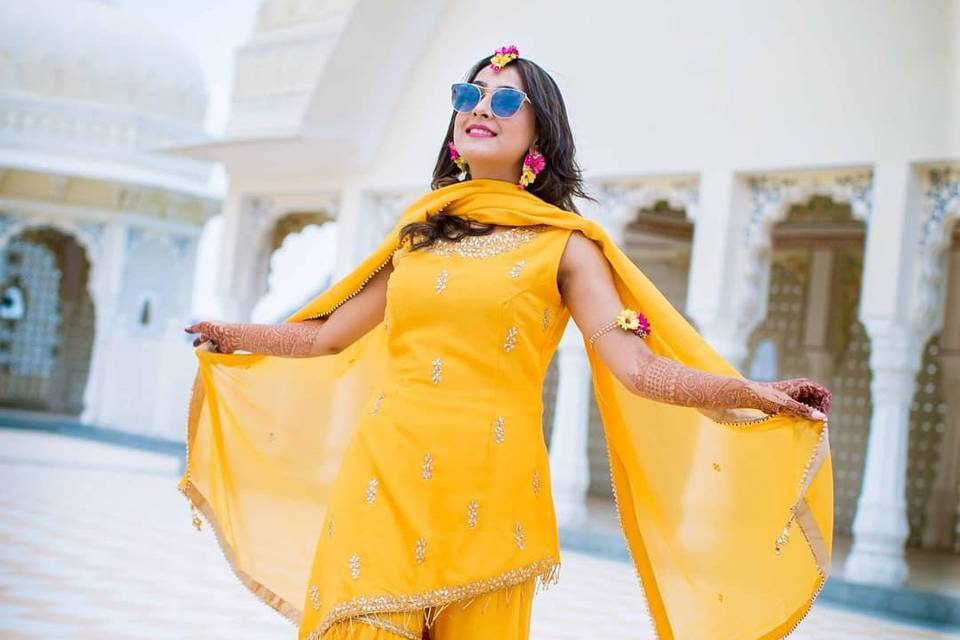 Punjabi folk songs are beautiful and timeless- so much so that modern rappers and musicians love picking up these old songs and make them more suited to the times. While these contemporary renditions have their place in your Sangeet night, you must play the original Punjabi folk songs on the Dholki night!
For those who aren't in the know, Punjabi weddings often have 'open nights' of sorts a week before the ceremonies begin. During this time, families get together for informal dinners and merriment at the bride and groom's homes, and this is where the Dholki night comes in. An aunt with a Dholak and a spoon beats out familiar songs while the family dances and teases the bride. It's a lovely prelude to the wedding ceremonies and a great way to get the family in the spirit of the Shaadi.
No matter how die-hard a Yo Yo Honey Singh fan the bride or groom maybe, you won't hear a single song from their tracklist! Instead, you'll hear these lovely Punjabi folk songs that speak to each member of the family:
1. Kaala Doriya – Surinder Kaur
No matter what year you're born in, if you're from a Punjabi family, there's no way that you don't know this classic song! Kaala Doriya is a staple at every Punjabi wedding, and is an easy one to play with the Dholak!
2. Chitta Kukkad – Musarrat Nazir
Have you ever wondered by Lamberghini by Doorbeen sounds so familiar? The popular song comes from one of the oldest and most popular Punjabi folk songs. You can use this to create a medley with the new song for a fantastic Sangeet dance performance!
3. Mera Laung Gawacha – Noor Jehan
This is another example of Punjabi folk songs that every Kudi knows, and not because of Nucleya! What's the bet that this will definitely be sung during your Dholki night?
4. Challa by Gurdas Mann
Often, when people talk about Punjabi folk songs, the conversation ends up moving towards Gurdas Mann and his music. From sad songs about goodbyes to excited ones about the future, this man's tracklist includes everything! This song is about a father's love for his son, and is an apt one for the groom's Dholki night.
5. Mirza – Kuldip Manak
Does this sound familiar? London Thumakda took a lot of its inspiration from this old Punjabi song and the opening strings are exactly the same! Nevertheless, it's a great song for the Dholki night at home!
6. Tera Yaar Bolda – Surjit Bindrakala
There has never been a Punjabi wedding where this song has not been played at least 10 times! It's a popular one for the Sangeet as well, so don't just limit it to the Dholki night! Bust a move to these old school beats and you'll have a ball!
7. Kala Sha Kala – Annamika (originally by Noor Jehan)
Honestly, listening to this makes one want to dance immediately. With its peppy beat and fun lyrics is a hot favourite on Dholki nights, with everyone wanting to be incharge of the spoon-banging! The original version by Noor Jehan is much slower, which is why we've included this one in the list instead.
8. Kali Teri Gut – Bally Sagoo (originally by Asa Singh Mastana)
Bally Sagoo was a huge part of the Punjabi music scene in the 90s, with Gur Naal Ishq Mitha being a song that's still loved by many (and ruined by Bollywood). This is another one of his Punjabi folk songs that you've got to play at the Dholki night!
9. Latthe di Chadar – Surinder Kaur
If you're looking for super old school Punjabi folk songs, it just does not get better than this one!
10. Dama dam Mast Kalandar – Nooran Sisters (originally by Wadali Brothers)
Dama Dam Mast Kalandar is another one of the Punjabi folk songs that you'll hear a lot during your wedding. Though this was originally by the Wadali Brothers, there are many versions of this song that have been made, with one by the Nooran sisters too.
11. Honourable mentions (that you won't find on youtube, but will hear during the Dholki!)
No Dholki night is complete without someone singing Wari Warsi Khatan Gaya Si and making everyone dance to the different verses that are related to them! Aloo Bare Karare is another Punjabi song that features during the Dholki night.
If you're gearing up for a rocking family event, you must learn the lyrics to all these songs so that you can sing along! Trust us, no matter how much you may like modern music, you'll find yourself singing all these Punjabi folk songs with great gusto!
For your Sangeet night, make sure the music is epic. Get in touch with these DJs!