12 Popular Bridal Entry Songs to Rock Your D-day Playlist
Although you're going to be the centre of attention the entire day, impress everyone from the very beginning of your grand ceremony with perfect bridal entry songs.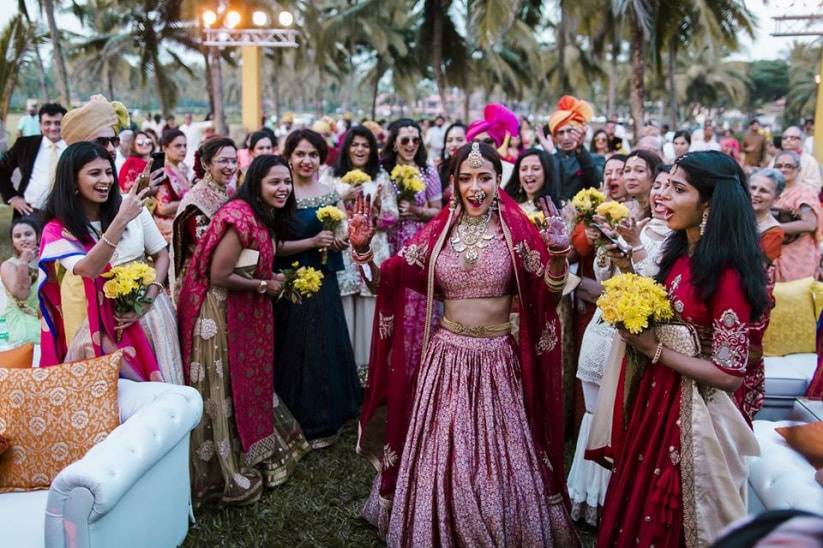 Your bridal entry is the moment when you have everyone's attention in the room, all eyes will be on you and your bridal entry songs speak your emotions and the mood that you want to set for the occasion. Of course, you want to make an impression with a serenading bridal entry that gets them talking.
The bridal entry songs are the new rage at the wedding that will be the element of fun and be remembered forever and associated with many "remember when..." stories. While you will be walking under the pretty phoolon ki chaadar, it is your bride entry song that will actually set the mood of the moment. Whichever style you may want to pick - a classic, a melodiously sentimental or a Rockstar entry - we have just the songs for you.
We have enlisted some of the most popular, trendy, all-time favourites and evergreen songs which you can choose from for that perfect bridal entry impression. Choose your pick from the list below.
Little Child, Now You've Become a Bride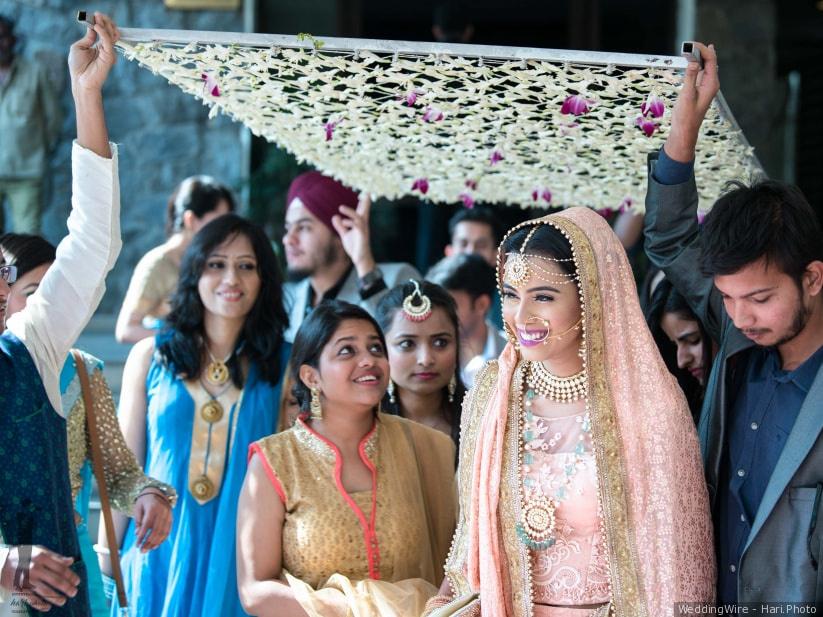 Like adorning the perfect outfit for her big day, the bride even wants her bridal entry to be equally beautiful and dreamy. It is the moment when the eyes of everyone, from the guests to the groom are glued to the bride to see her all dressed up in her bridal glory.
It is also a very intense and emotional moment for the parents of the bride when they realise that their little girl is now taking the biggest step of her life and embarking a journey to make a life of her own with someone. It is a bitter-sweet moment when their child has now become a beautiful bride and this requires a perfect bridal entry song that can encapsulate each of these emotions and feelings in a perfect manner.
Therefore the songs that become your background score for the significant moment like this, needs to be a special one just like the ones you choose for your first dance or maybe your first date. The bridal entry songs listed below will be special forever!
1. Din Shagna Da
You've heard this song at so many weddings yet it gives you goosebumps every time. This timeless classic is a perfect choice as the background song at the bridal entry. It now has two versions – From the film Phillauri by Jasleen Royal and the older version from Movie Dillagi by Jaspinder Narula, both of which are brilliant.
This song will always be related to the fairytale wedding of #Virushka and Anushka Sharma's entry to the wedding mandap dressed in gorgeous pastels and the flowery backdrop to enhance the emotions invested in the moment.
Mood: Sentimental
2. Madhaniya – Neha Bhasin
This Punjabi folk song is as melodious as it gets. You can hear Neha Bhasin's voice drenched with the emotions of a bride's journey. This song is sure to get your loved ones teary-eyed.
Mood: Sentimental
Love of My Life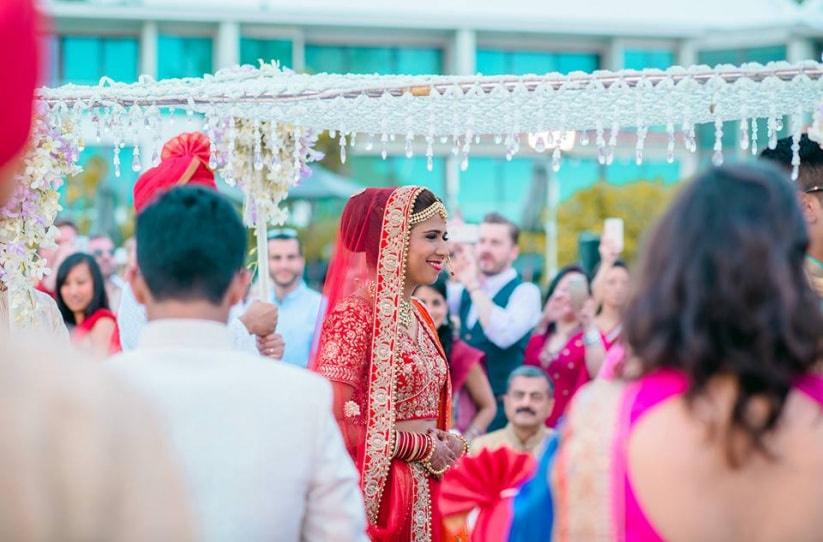 The first time the groom looks at the bride dressed in traditional wedding colours and decked up like a goddess in exquisite jewellery is an unexplainable feeling but what words might feel short of expressing, the songs might do the trick. The wedding day is the beginning of a new chapter of life for the bride and groom which they foresee as to be filled with immense love, care and respect.
For such a beautiful moment, there should be a song that can capture the emotions and feelings of love of the groom as well as the bride's parents as they see her taking her first steps as a bride.
3. Laadli by A.R. Rahaman and Lata Mangeshkar
Being the creation of two great artists, it is a soulful bridal entry song. Masoom Minawala a.k.a. Miss Style Fiesta chose this song for her bridal entry, you could too. While this song plays in the background, you can get everybody's eyes on you in one of the most beautiful ways by dimming all the lights and getting a spotlight on you.
Mood: Sentimental
4. Kabira Encore
Carrying the sentiments of all your close family members, this bridal entry song is laden with their good wishes for your married life. Get that beautiful smile out and bedazzle the venue!
Mood: Sentimental
5. Samjhawan Unplugged
Speaking directly to the groom, this bridal entry song will leave him awestruck as you make an entrance with this playing in the background. Hypnotise your guests with your stunning bridal look and this song as the background for your bridal entry.
Mood: Romantic
6. Afreen – Coke Studio version
Perfect background score that carries you into a fairytale as you walk towards the mandap is what this bridal entry song is. Any coy bride would want her emotions to be brought to life by the pretty voice of Momina Mustehsan.
Mood: Romantic
7. Nazam Nazam
As the newest addition to the list of bridal entry songs, this song will give your entrance a refreshing feel. With the groom's gaze hooked on to you, it will resonate with what both of you would be feeling in that moment.
Mood: Romantic
SHE is here!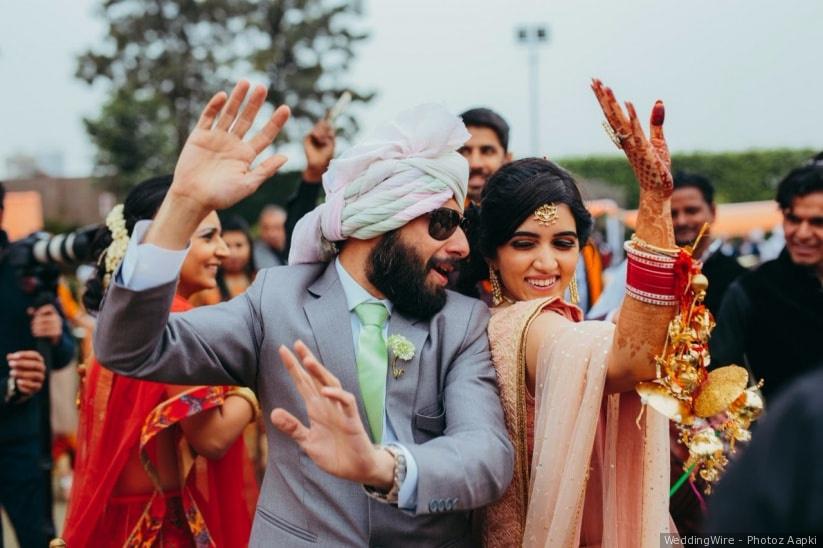 As they say, dancing brides are the prettiest. If you wish to create a lasting impression from your bridal entry, then dancing your way to glory is the way to do it. You can choose from sizzling and popular tracks which you are comfortable in or wake your inner dancer to tap the feet on the rhythm of dhol. This will surely create a wonderful aura with everyone enjoying with you to the peppy beats and making your wedding festivities one of a kind.
8. Ghoomar
As you lovingly begin to walk towards the mandap, display your excitement of finally getting married through this song at your entrance. If you're having Rajasthani destination wedding, this is one of the aptest bridal entry songs will amplify the ambience.
Mood: Peppy
9. Laung Gawacha – Neha Bhasin
This folk song is for teasing the groom for being crazy after you. Explain your love story to your loved ones by dancing on the songs that define your relationship with your better half. The fun in these bridal entry songs is immeasurable.
Mood: Peppy
10. Kaala Chashma
Got dancing skills? Display them with one of the top bridal entry songs of the season – Kala Chashma. Get your girls grooving as well, as you enter. With this song playing in the background, even your guests won't be able to stop themselves from tapping their feet
Mood: Peppy
11. Banno Tera Swagger
Don your swag for the bridal entry because, why not! Let your personality shine with full vigour as you make your way. It'll give your guests something to talk about for weeks to come. Your performance on one of the best bridal entry songs is surely going to get the hearts beat faster and a huge round of applause!
Mood: Peppy
12. Saiyyan Superstar
Make your entrance about the groom with peppy bridal entry songs. Dance your way to the stage telling him that you're an absolute fan of his. We're sure, you, him and all the guests will enjoy this performance.
Mood: Peppy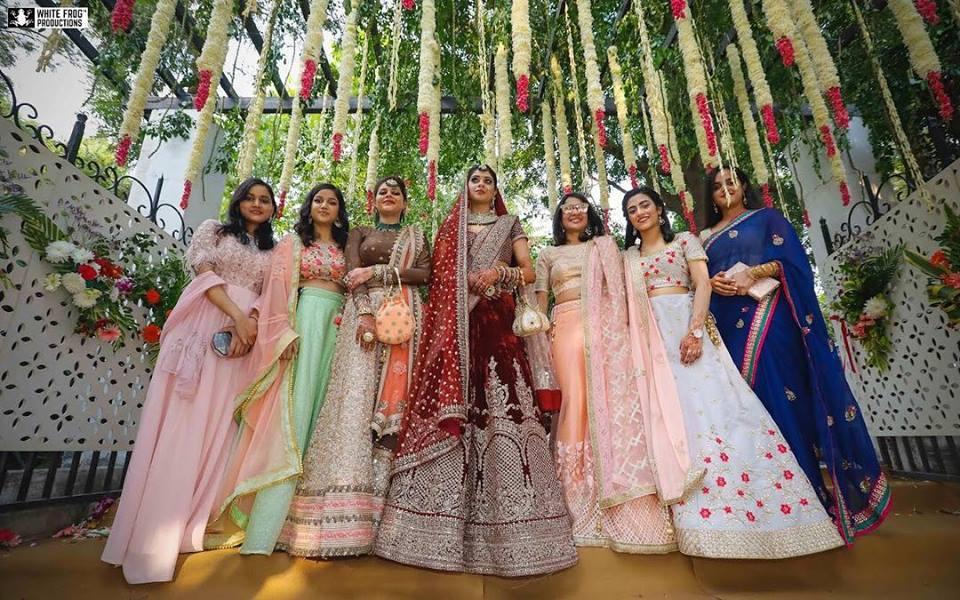 Remember to style your bridal entry and your bridal entry songs according to your personality and comfort, as the bridal lehenga will be quite heavy. You can turn your bridal entry into the highlight of your wedding video. In fact, the songs best-suited for your bridal entry will work wonderfully for the wedding video as well. So, shine on, the bride! (And don't forget to tell us your bridal entry song in the comments below.)
We hope you enjoyed reading about these bridal entry songs. Play around with your entry, enter with your gang of friends or with your dearest pooch and play one of these bridal entry songs in the background to reverberate your happiness and uplift everyone's mood. So, get to work and curate your very own bridal entry playlist now to keep things interesting and amped up.
Which of these bridal entry songs did you like best and which of these bridal entry ideas would you swear by on your big day? Tell us through the comments!