3 Real Couples Who Got Married on 14th Feb - Valentine's Day
14th of February is the day of love and what better date to get married on than Valentine's Day. Here are the stories of couples who got married on Valentine's Day for inspo!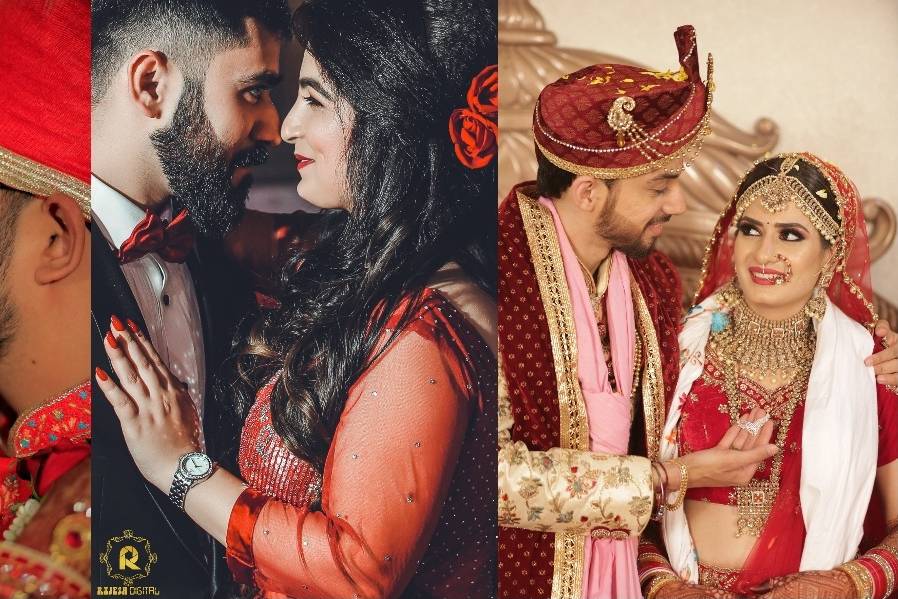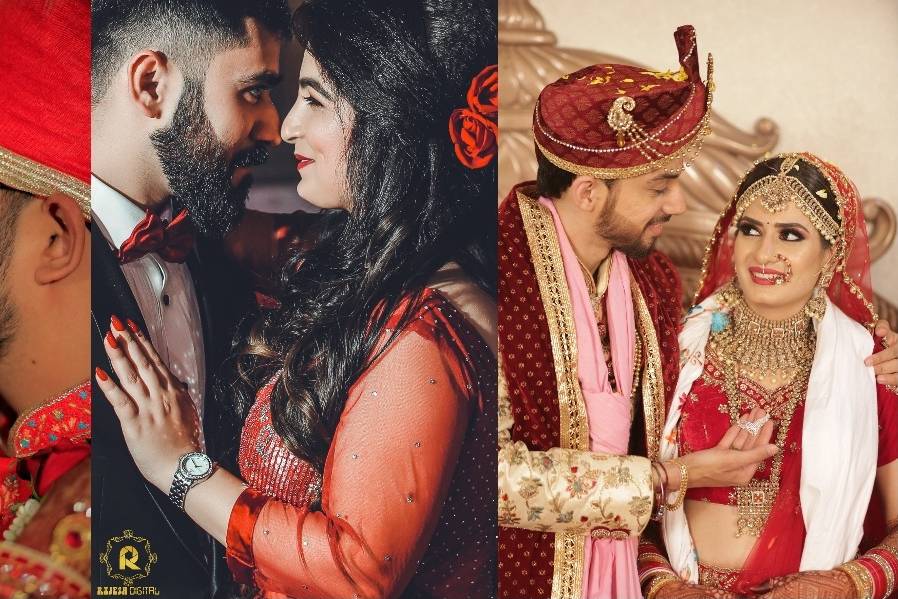 Image Courtesy: Shaunak Patel Photography(R), Rajesh Digital(Centre), The Framester Photography by Akshay(L)
14th February is that one day when the whole world celebrates love. There is no bigger celebration of love than getting married to the love of your life. Yes, you heard us right - what better day than Valentine's Day to tie the knot with your beloved in the presence of all your loved ones? While the world is busy buying roses, princess cut diamond rings and other perfect Valentine's Day gifts for him or gifts for her, you could be exchanging your vows. Now for most cultures in India 14th of February is a non-Saya date according to the traditional calendar meaning weddings usually do not happen during this time.
However, we think the 14th of February is a great time for couples to begin their forever stories by tying the knot. On the day when there are red balloons and rose petals all over with butterflies in your stomach, the wedding is going to be magical! Don't believe us? Here are three couples who have tied the knot on the 14th of February and they are here to share the story behind picking 14th of February for their wedding despite the fact that Valentine's Day is not a Saya date.
Read on to be inspired by the heartwarming stories and get ready to tie the knot on 14th of February!
Shraddha & Mohit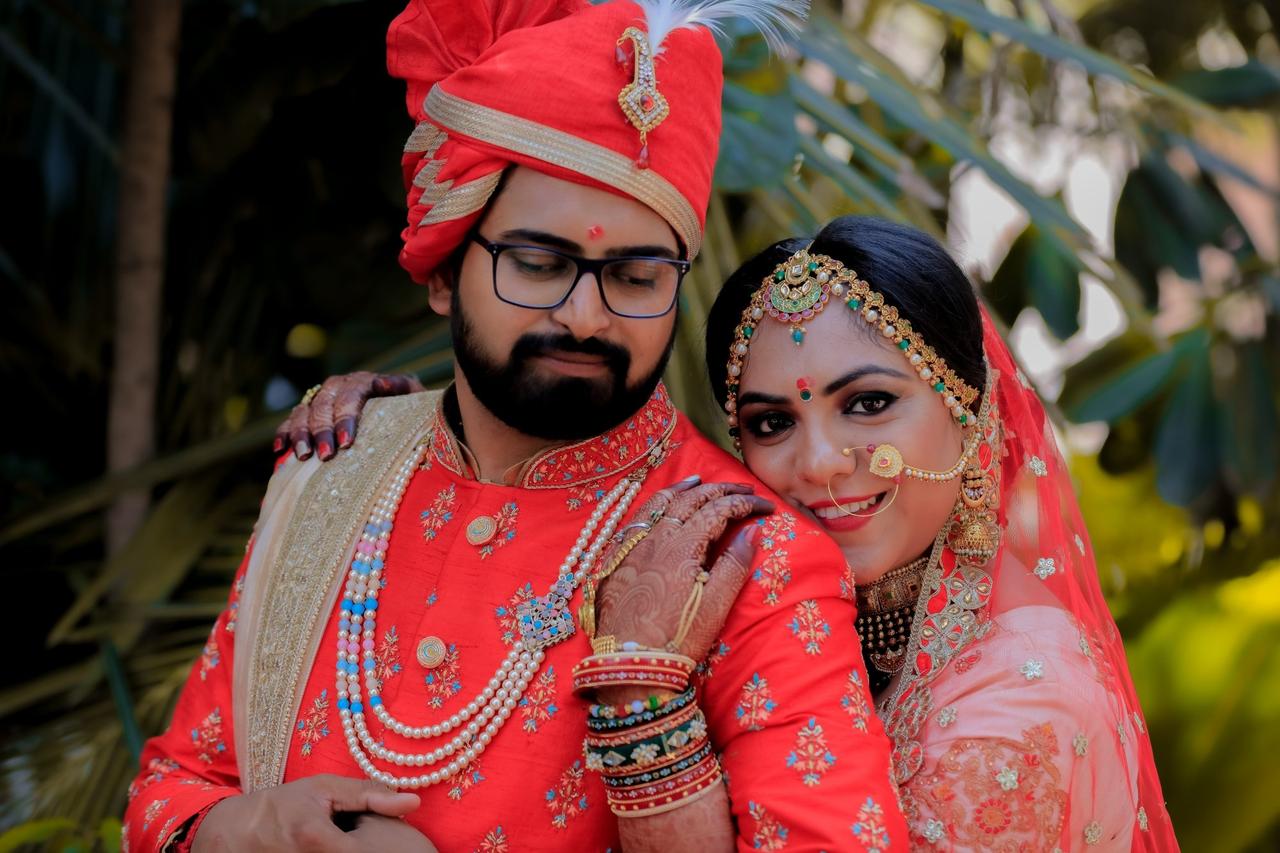 Why pick the 14th of February as the wedding date?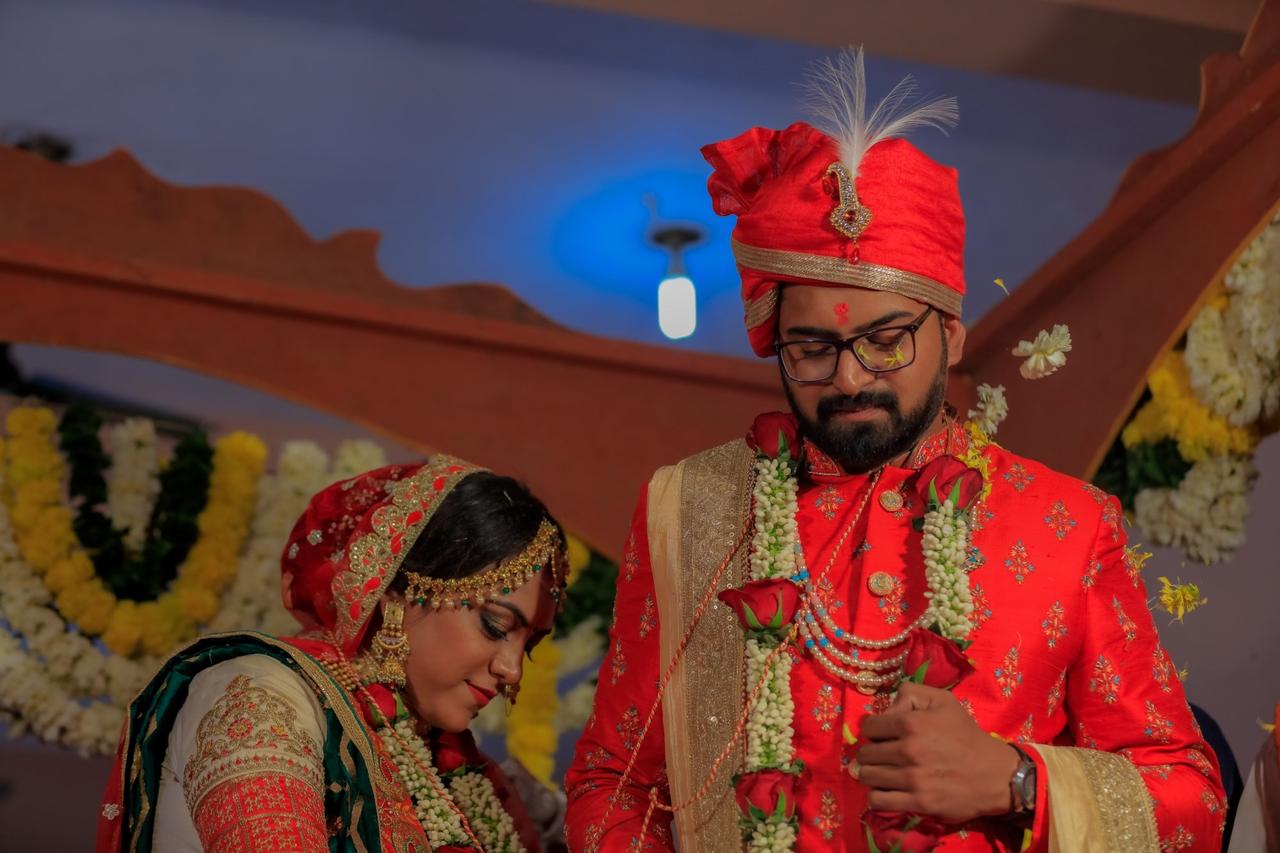 In a conversation with WeddingWire India, Mohit and Shraddha tell the story behind picking Valentine's Day as their wedding date. Shraddha says, "To be honest there are so many reasons behind choosing this date as our wedding day one of them is I want everyone is able to remember our wedding day including myself as I am not so good at remembering dates. Another one is this is going to be forever special for us to remember that we tied the knot on the valentine day itself so this will help us to grow old together. To add to that, we get to celebrate this with so many couples around the globe and when the world is busy celebrating Valentine's Day we get to celebrate for two things - that is Valentine's day and our wedding anniversary."
How They Met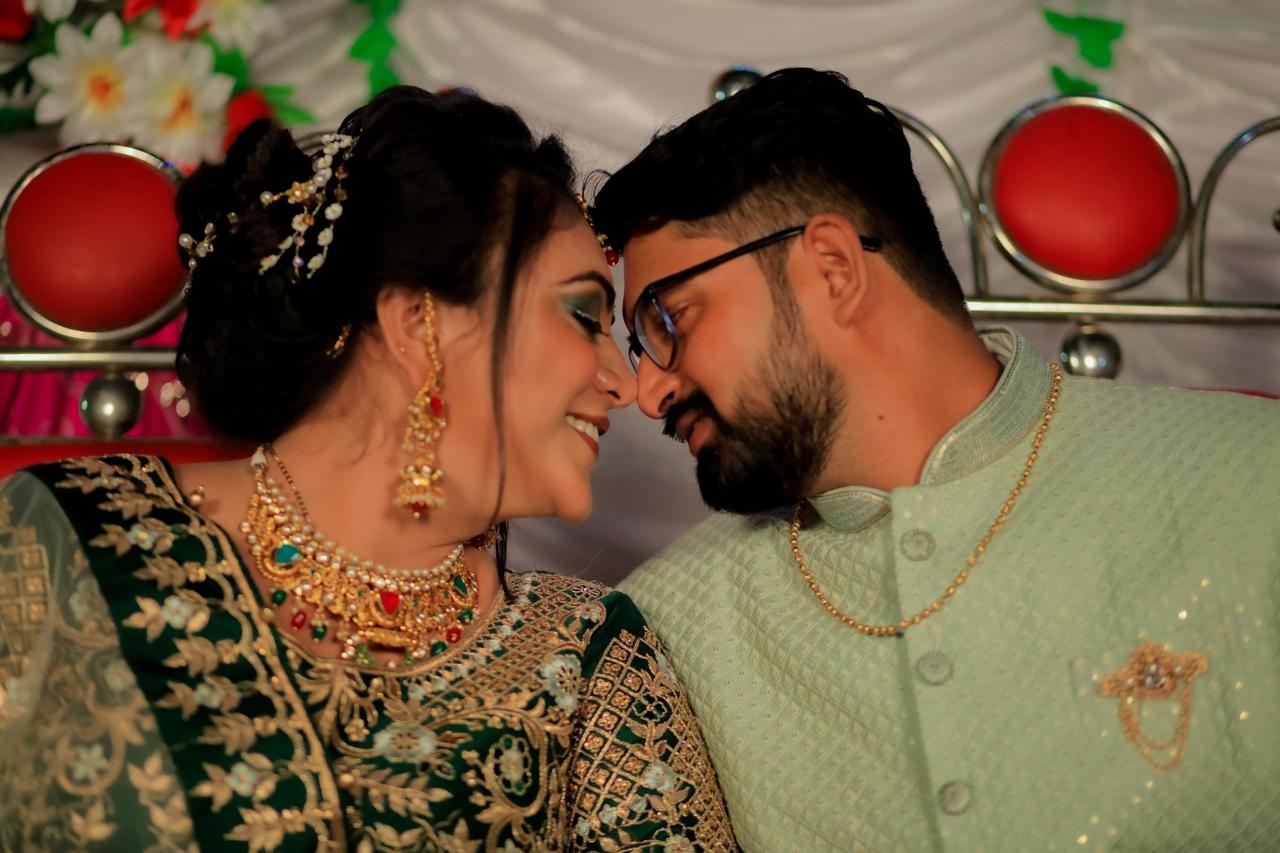 Recalling the story of how they met and how their love story started, Shraddha says, "Mohit happens to be my school senior, but we connected on a social media site years later. I still remember we started talking on my birthday when I replied to his message wishing me Happy Birthday. Since that day, we spoke a lot through messages, calls and so on despite the difference in timezone as he was in Australia and I was in India. In the later years, I got to know that he had fallen for me since day one of us talking but I took my time. But we took our time to figure out everything in life. Our families even wanted us to meet prospective people for marriage, but one day I played a prank on him when I mentioned going to meet a guy through an arranged marriage set up just to test how far he can go to prove that he wants to marry me but deep inside I was ready to say yes already. That is when he proposed and as I said I was ready to say yes!"
Their Story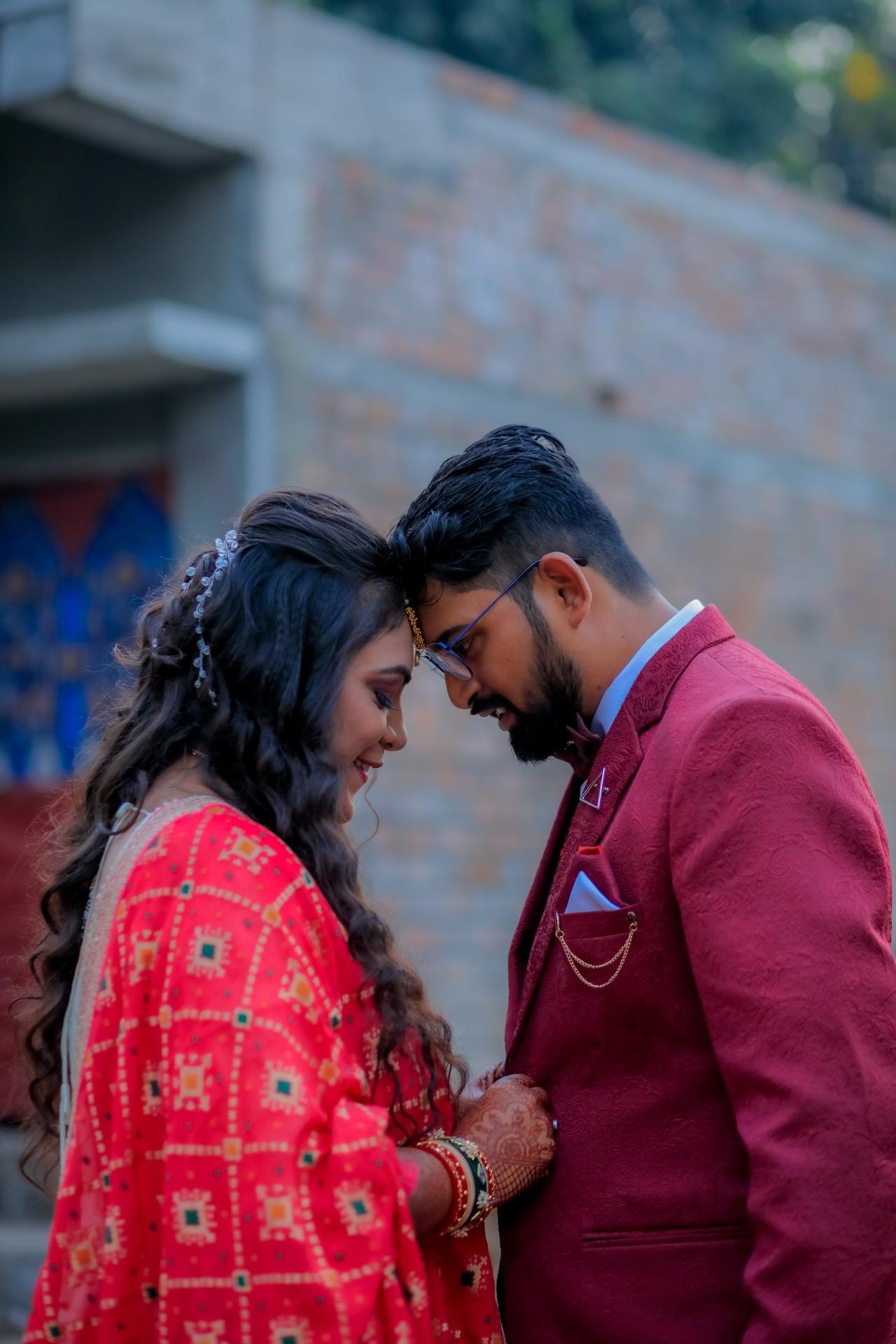 Shraddha says, "It was very weird even for us - this whole concept was so uncomfortable for both of us like how we were so friendly during the pre-wedding shoot, shopping and honeymoon even. We both wanted our wedding to be traditional Gujju wedding - simple and rustic kind without any extravagance. This is why we chose our farm and terrace, even the roads of our city and lakes to shoot our pre and post-wedding pictures. We also clicked pictures inside and outside the shopping mall so that when we visit these places again, we will be able to cherish those beautiful memories."
Bhawna & Nishant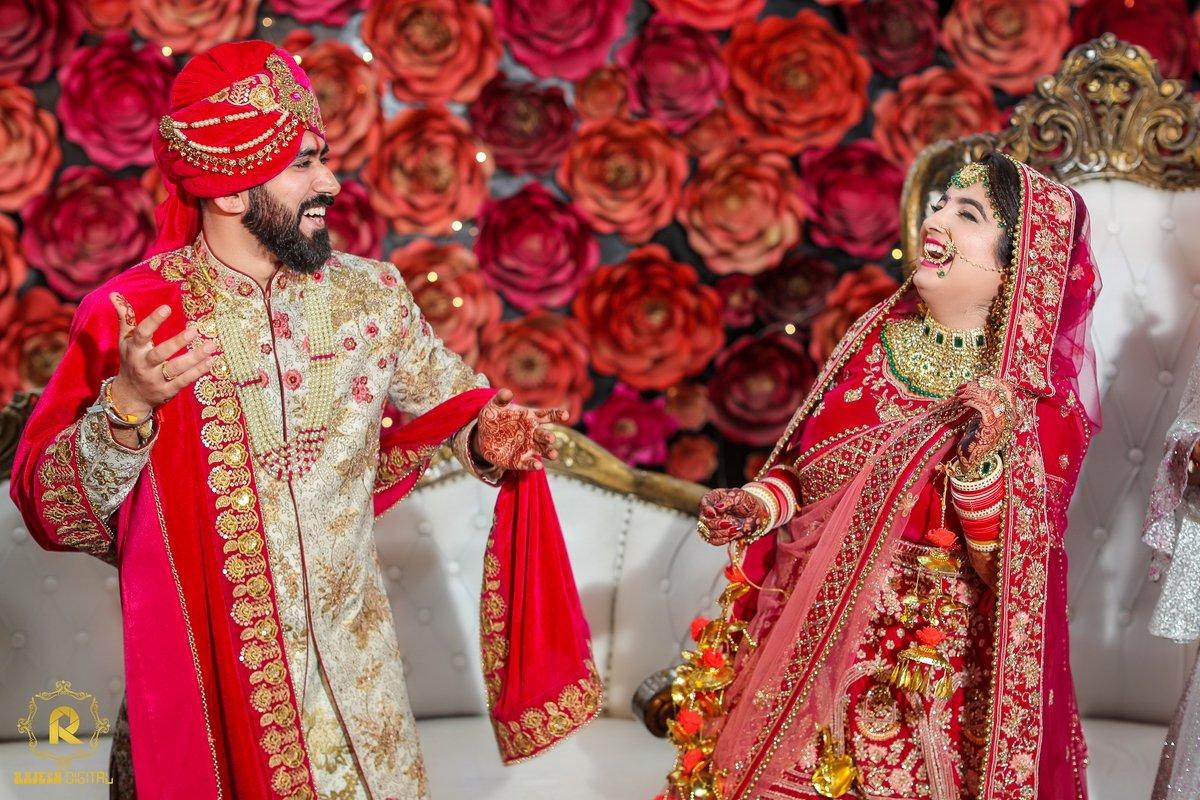 Why pick the 14th of February as the wedding date?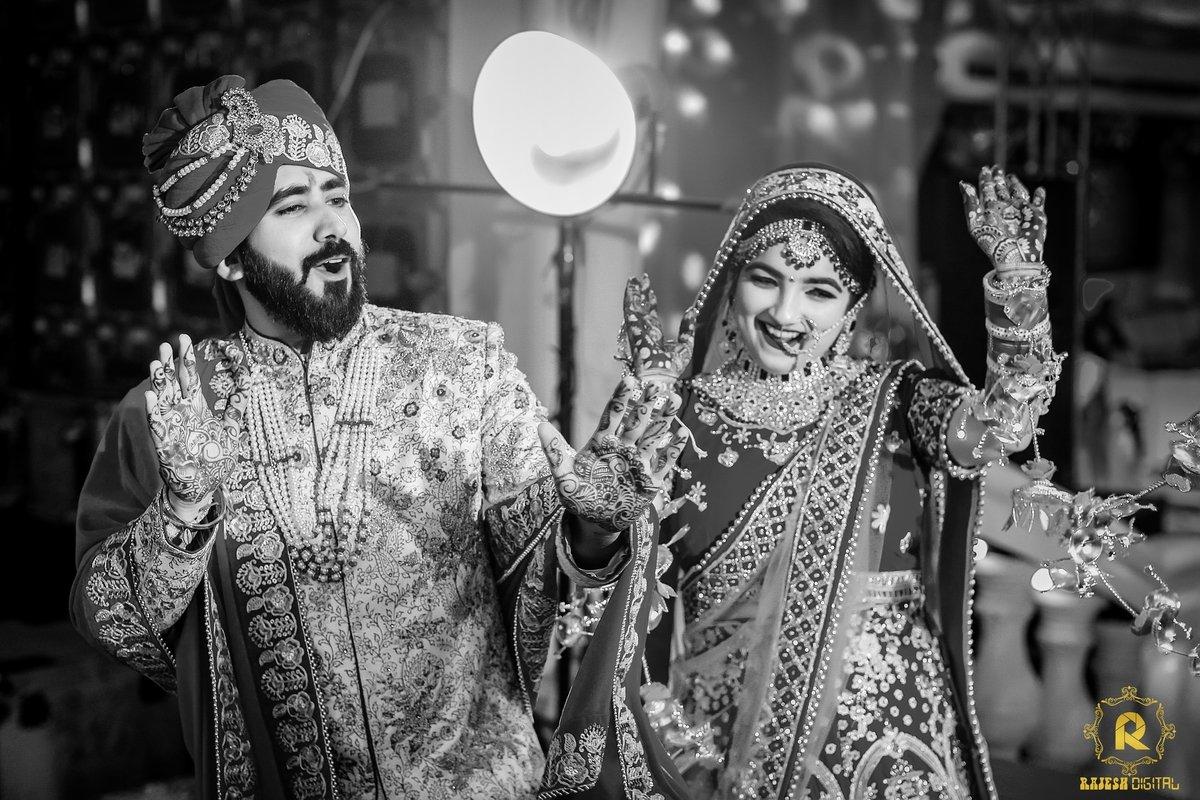 Bhawana says, "Our families met in October 2019 to decide the dates of our wedding. We were dating for 8 years then. I don't think our families knew that fact! Nishant was at his home having biscuits with Chai with both the families where they were discussing the dates. My nana-Naani, mama-Maami, papa-Mumma and Daadi had already discussed a few dates with the Pandit Ji. We were totally unaware of those dates. The nearest date was 2nd December so everyone decided that 2nd of December will be the wedding date and told Nishant to call me and confirm the dates. He nodded along but he was not willing to marry so early...haha... as he was working in Dubai. He then video called me and to check the dates. He mentioned 14th February is also one of those dates and he wanted to marry on Valentine's Day. He said the date is so special that he would not have to remember our anniversary every year. He also mentioned that this way he would not have to spend money twice - Valentine's Day and anniversary. We laughed till tears in eyes and those were tears coming out of happiness!! So we decided to marry on 14th Feb over a video call. We told everyone and they also laughed at the fact that no one will ever be able to forget our anniversaries."
How They Met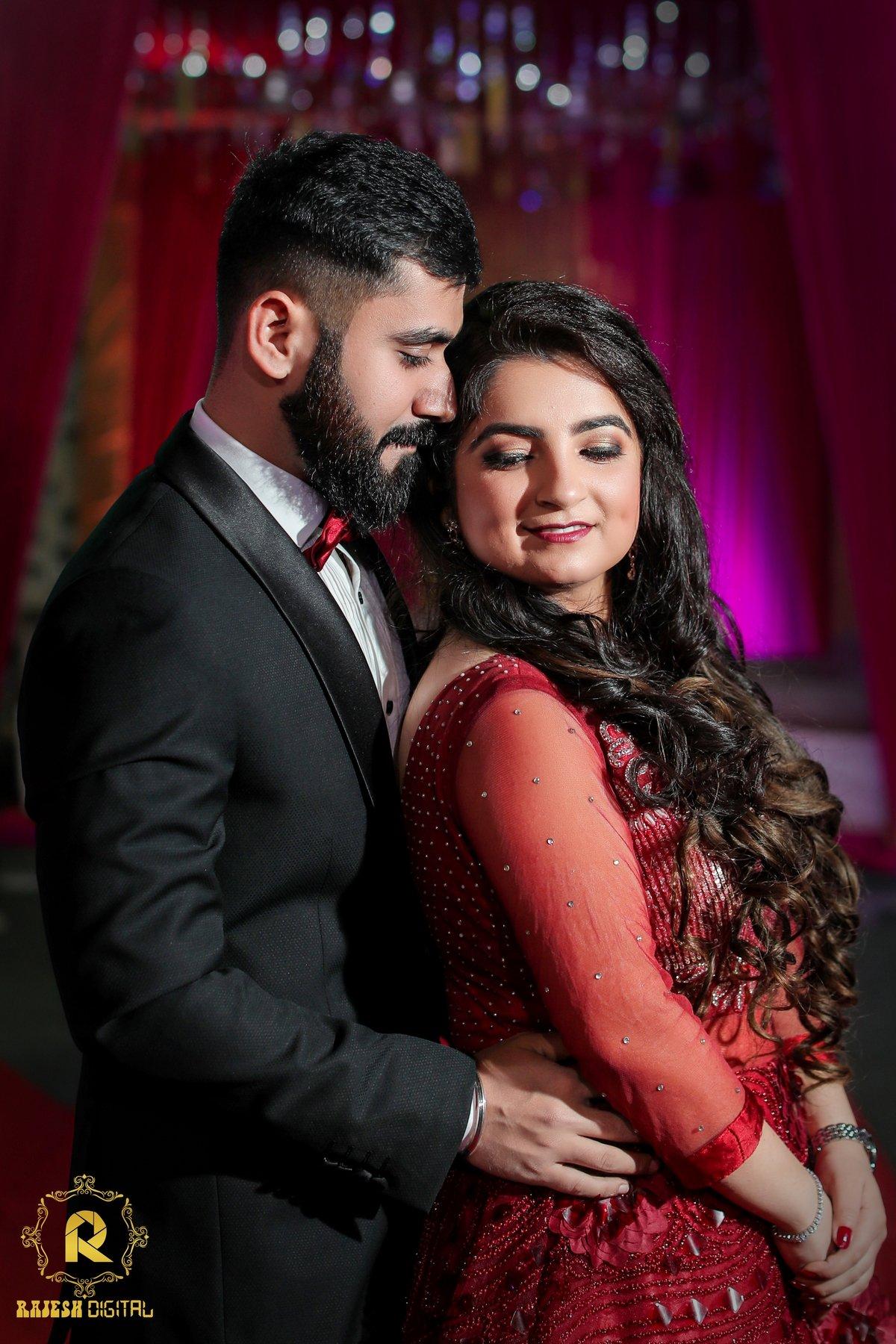 Recalling the story of how they met, Bhawna says, "It was long back 9 years ago, somewhere in the middle of summer 2009. We came out of our school and entered college with all those expectations of finding a companion, a friend, or a partner. Thanks to bad AIEEE ranks after school - that's why we choose Lingaya's University, Faridabad as our college. Nishant used to commute to college daily and I used to live in the college hostel. Nishant's friend was my roommate. She introduced us. Thereafter, whenever we used to pass through corridors or cafeteria, we wave or gave a smile to each other. Gradually, we exchanged numbers and started texting. We both were a part of the college 'Folk Dance Bhangra' team. Sometimes, we used to perform on stage as partners. Our friends used to pull our legs calling us "Pati Patni" all the time as we used to spend most of the college time with each other. Although we were in different sections but as soon as our lecture got over one used to come around each other's section, just to have a glance at other people. Soon we both became the Creative head of Folk Dance Bhangra team in our final year. Those late stays of college cultural fest, dancing, leading, and laughing together is when it all started. Since then, we are dancing eating and making memories together. Honestly, while writing this email, we realised we never proposed to each other as we are friends and partners more than typical lovers."
Their Story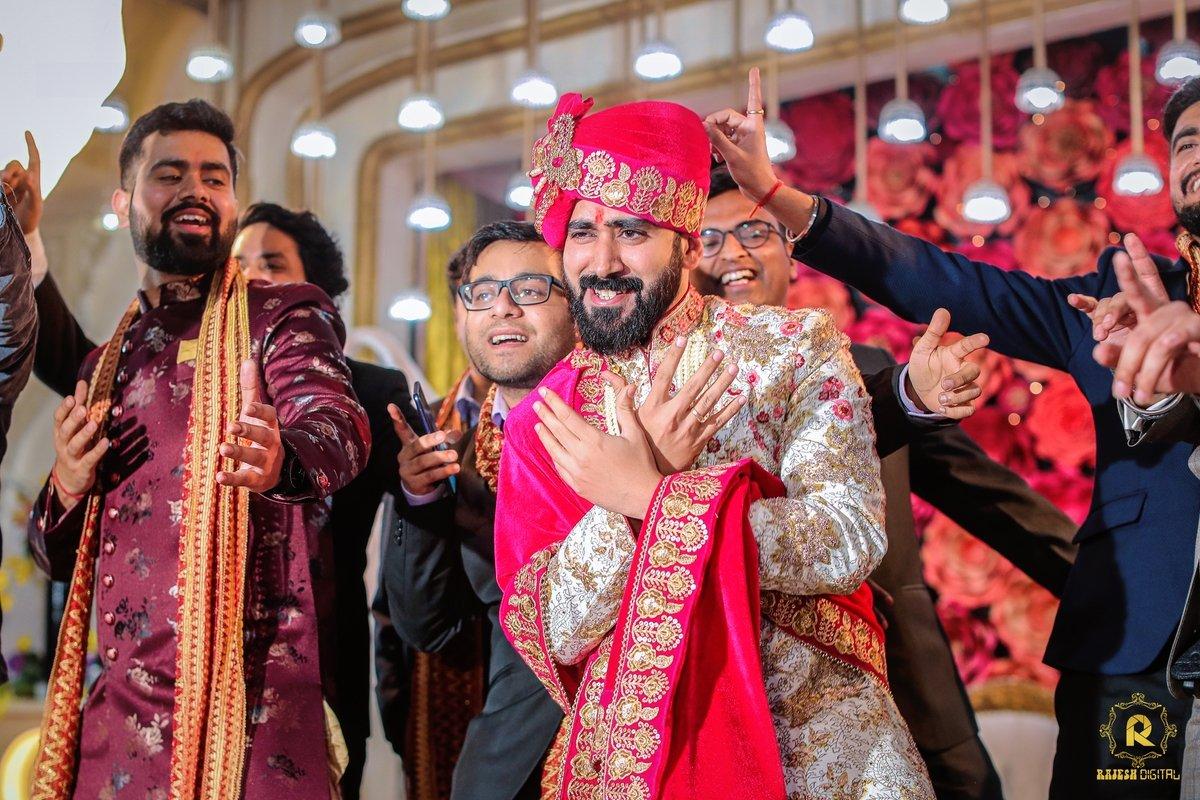 Recalling the memories of her wedding, Bhawna adds, "One more thing I wanted to add is that generally, people don't enjoy their own wedding. But we had a blast at our own wedding. We danced like no one is watching us. We enjoyed our wedding. We did Bhangra on our Engagement Ceremony and we were the one enjoying the most in our own wedding."
Manisha & Dheeraj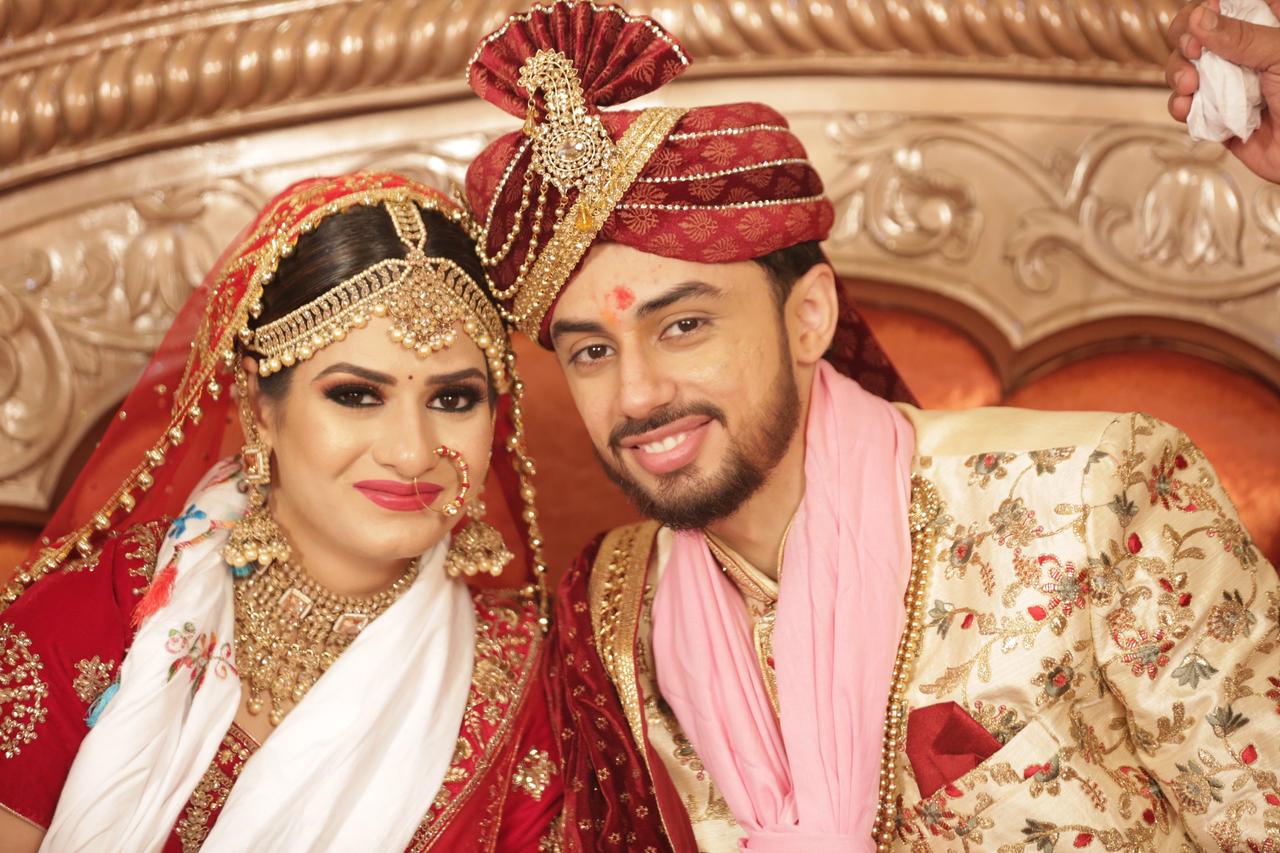 Why pick the 14th of February as the wedding date?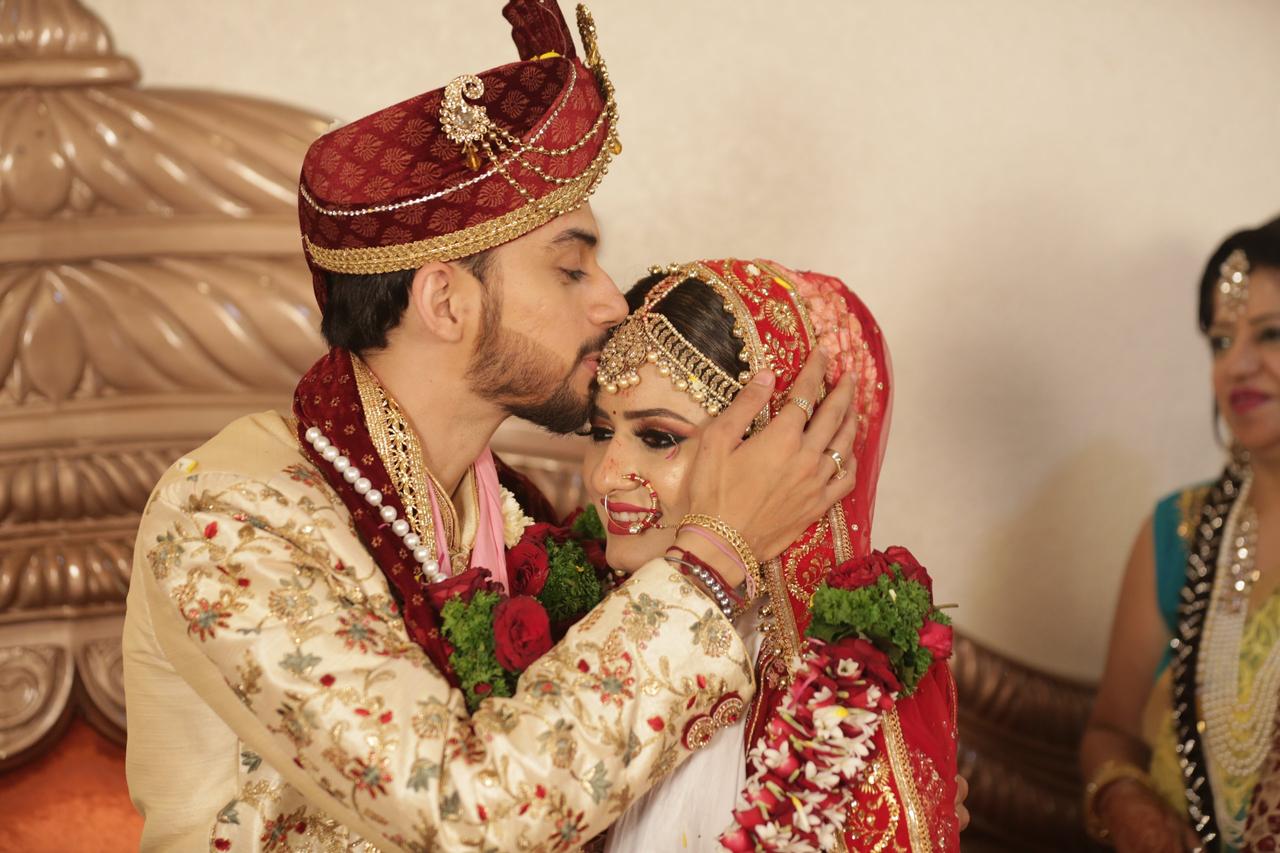 Manisha and Dheeraj picked their wedding date as the 14th of February, Manisha says, "We got engaged in June 2019 and we wanted to get married in 2020 so we thought since we have never celebrated Valentine's day ever before and this is the day of love - so why not make this day as our big day and have a dual celebration together for the rest of the life."
How They Met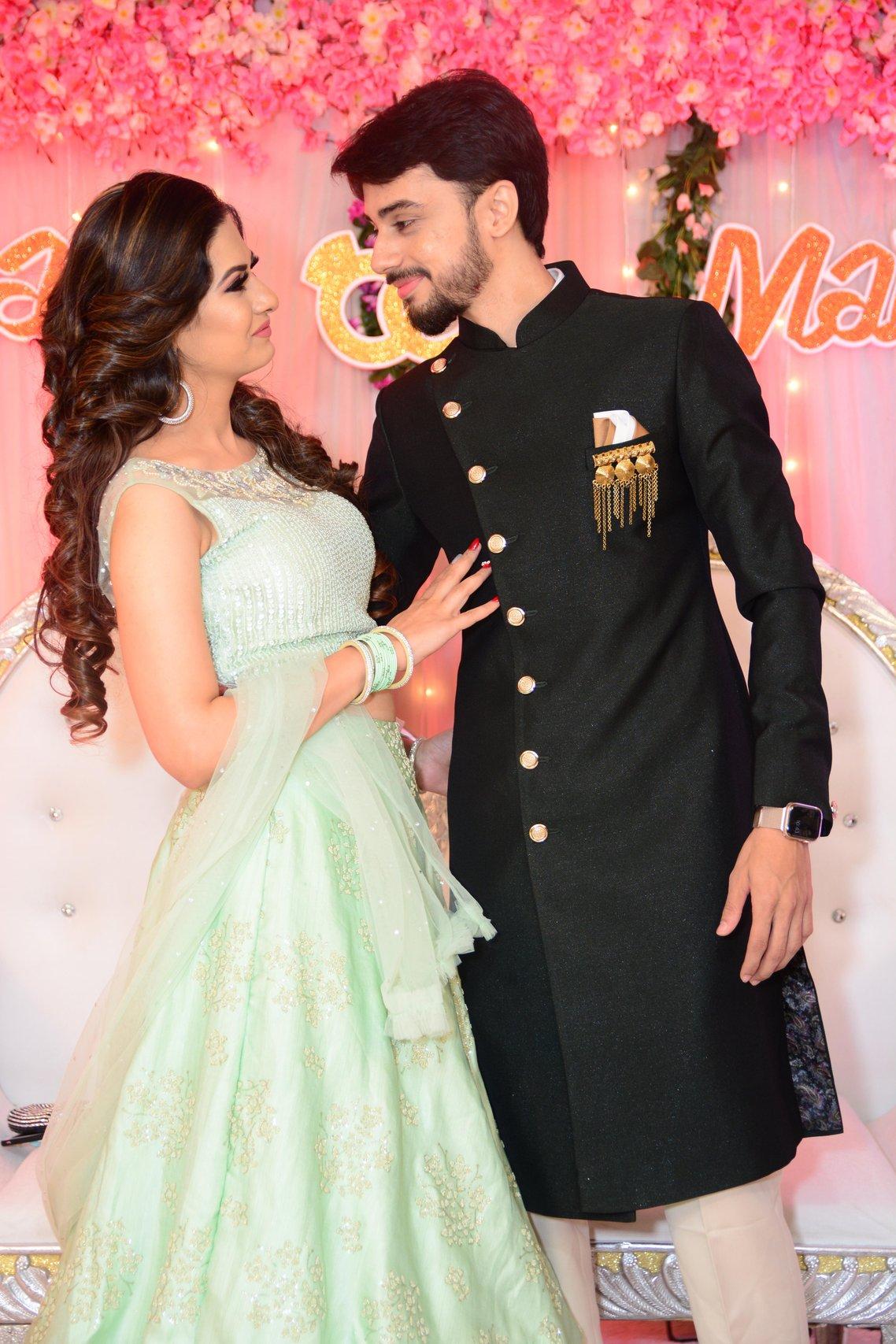 Recalling the beginning of their adorable story, Manisha says, "I still remember the day we met...it was 28th July 2010...It was monsoon and I was walking on the road holding an umbrella to catch rickshaw for my classes. He was standing under his building cleaning his Activa. We just looked at each other for seconds. He looked very shy innocent and cute. Although he has seen me before in classes and wanted to approach me for friendship, he didn't tell me upfront as he was shy and told me through one of our mutual friends. Our friendship started and we became best friends, studied together, got settled in our careers. Then the day came which comes in everyone's life. My parents wanted me to get married. He thought that he can't leave me just like that and we knew that we share such a beautiful bond together that we both won't be able to settle anywhere away from each other. Our journey started as friends - days, months and years passed and our friendship started growing stronger and deeper. We have shared our laughter, fun, worries together. Nothing can explain our friendship and now it's like the lovely pearls deep in the sea, those treasures do not mean as much our friendship means to us. And now we embark on the journey of love and we hope our love for each other will grow stronger with every passing day."
Their Story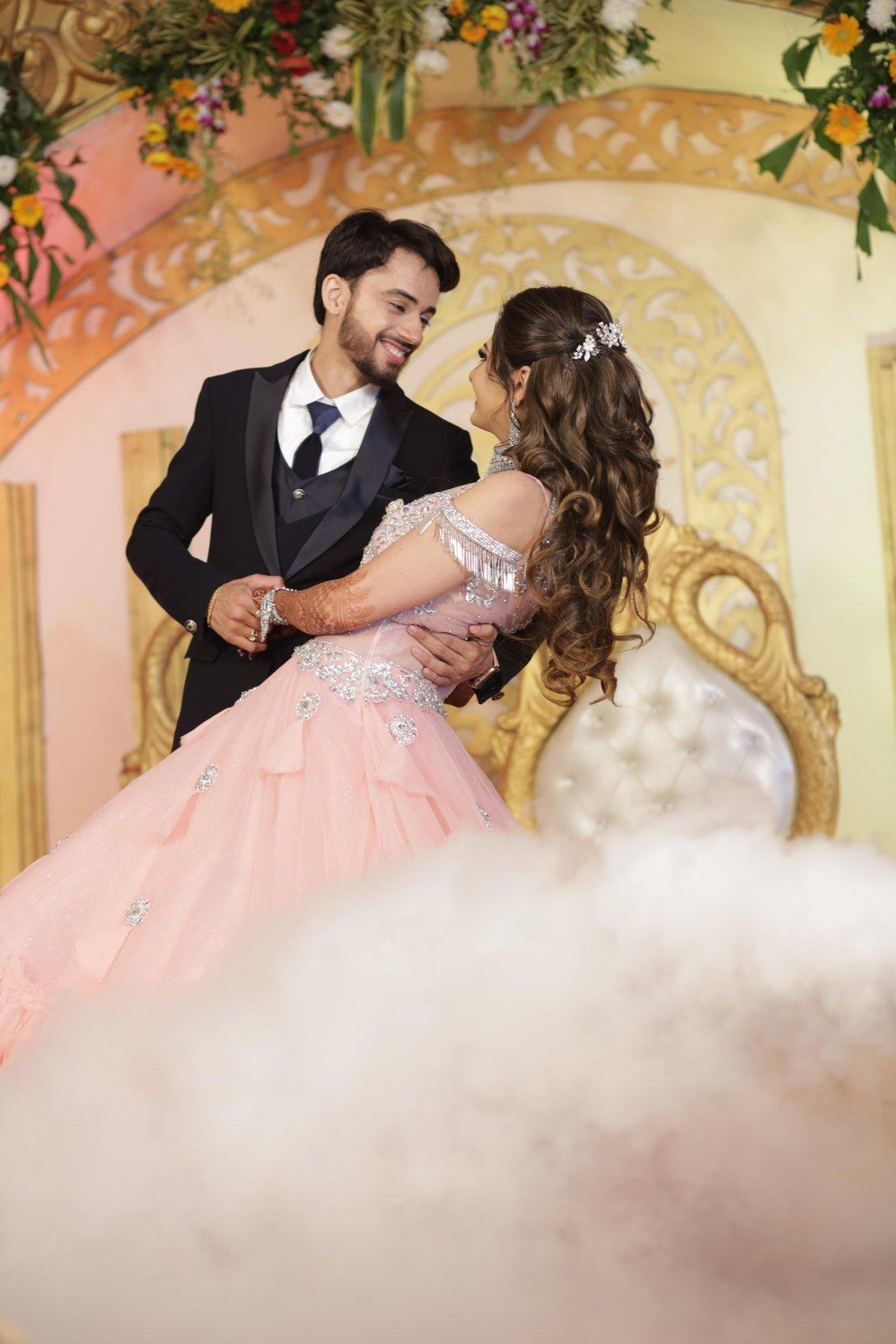 Their story is indeed heart-melting but talking about their memories from the journey, Manisha says, "This is the best thing that happened to me was meeting his parents. He thought that he will tell his parents about me, and while he was coming from office his mom opened the door and he was smiling and his mom told him the way he was smiling was like when a guy smiles when he is in love. He told his mother to sit as he wanted to tell you something. He told his mother and father about me but didn't tell me about it. After a week on Sunday, he told me to come for a dinner and asked me to wear a nice dress. I was like why and where are we going. He said it's just a nice place so let's explore. I said ok and when we reached there his parents were standing in the lobby."
If you want to get married on the 14th of February but it is not an auspicious date according to your calendar, don't worry. Here is the WeddingWire India calendar of recommended dates for you to get married on special days, even when the cultural calendar says otherwise!
If you have picked your wedding date already and need help planning your big day, get in touch with the professional wedding planners on board to make it an unforgettable one!