5 Fool-proof Ways to Not Let the Flu Ruin Your D-day
The flu season can turn your wedding day into a nightmare if you don't take proper care of yourself. We can help you with a few ways to keep the flu from ruining your D-day. Read on to know.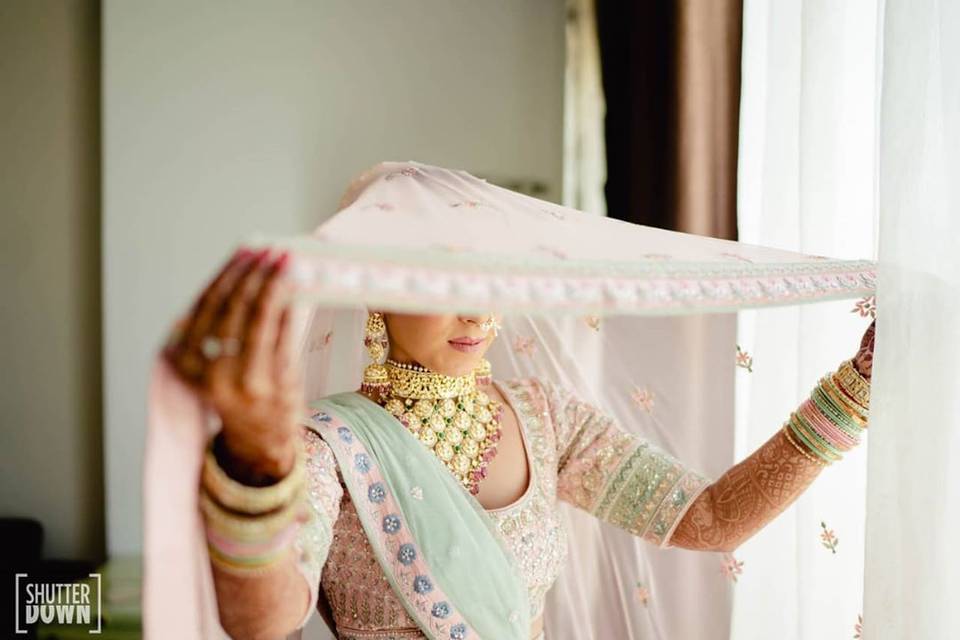 While you are trying to make sure everything goes just as planned at your wedding, certain things will always run haywire and most of the time it's your health. With the flu that is doing its rounds post-pandemic and the Saya dates approaching at a great pace - you HAVE to make sure you stay safe and healthy. The cough, fever, headache and other such symptoms might sound like it isn't a big deal, but somewhere down the line, they have the potential to obstruct a perfectly planned wedding for you. Now that we are moving towards winters in almost all regions in India, the changing temperatures in the country cannot be overlooked, and therefore the possibilities of you getting under the weather are quite high. This calls for extra precautions because it is no news that the past few months or almost a year, the weddings could not be celebrated to the best of our capacities owing to the pandemic that shrouded the world and therefore this year is going to see a lot of weddings.
With the ever-changing climatic conditions, we're all prone to falling sick some time or the other. When you're a soon-to-be-married couple under these hovering conditions, remember, there's more than just love in the air. It's the wedding blues, excessive stress, changed eating habits, improper sleeping patterns. And believe it or not, all of these factors affect your immune system negatively making it a perfect environment for the seasonal flu and viruses to enter and breed. Self-care is prime at all times and especially when nearing your wedding date.
But, even if after taking all the necessary precautions, the flu somehow manages to enter your system making you fall sick during your wedding celebrations or on the day of your wedding, fret not! We're here to help you out.
Consult your doctor
It is possible that you usually self-medicate when you're under seasonal or viral flu by intaking your regular flu medicines or the most-effective home remedies which are tried & tested before. However, we suggest you give self-medication a break if you fall sick around your wedding day. It is best to consult your general physician before consuming any sort of medicines. Your doctor is most likely to suggest the best possible medicine to help you run through the day without feeling drowsy, sleepy or sluggish. This is easily possible in the case of self-medication because you're only trying to keep the temperature under control without thinking about other factors that could turn your wedding day into a fiasco.
Double up on Sanitation
Your living surroundings decide the duration of your ill health. If you're staying in optimum sanitation, you're likely to recover faster than those who don't. Frequent washing of hands and mouth and changing the towels and bed linens more than usual will help you stay in the pink of your health during your wedding celebrations. Double up on your sanitation by washing your hands with soap for a good 30-40 seconds. Use warm water to avoid getting chills. If you're running errands, keep your alcohol-based hand gel handy and make frequent use of it. This will also prevent you from passing on the flu to your family members or to-be spouse. The wedding celebrations call for endless fun and frolic and no flu deserves to take that away from you. So, beat the flu blues with bang-on sanitation and the day is yours to live to the fullest.
Stay Active
It is true that you need to take proper rest in order to help your body recover naturally, but given you have a wedding of your own, over-resting can turn the tables around, making you feel more lethargic and drowsy throughout the day. Exercising indeed is a secret remedy to recover from the flu faster than usual. Staying active reduces prolonged wedding planning stress as it releases happy endorphins, making one feel energetic and refreshed, resulting in a better and healthier immune system.
But Sleep Well too
The journey that leads to the wedding day has seen a lot of sleepless and restless nights, which is why you'll probably be down with the flu. We can't emphasise enough on the fact that sleeping well is the most precious thing you give yourself in order to maintain your sanity and look ravishing as ever on your D-day. The minute you feel you're turning blue with cold, cough or flu, ensure you get at least 7-9 hours of restful sleep. If you're restless and having a hard time dozing off, you can try sipping on some chamomile tea before going to bed, practise meditation or try deep-breathing exercises. Counting backwards is a fool-proof way to get some bear-like sleep.
Also Read: Questions Every Wedding Expert Must Address Post the Second Wave of COVID-19
Load up on Good Foods
You are what you eat and eating clean is the only option when you're down with the flu. Resist your curb to gulp down those gol gappas, bars of dark chocolate or packets of potato chips. Fatty foods, sugar and a heavy-carb diet can lower your immune system making you more susceptible to falling sick. Give your diet a dose of immunity-boosting superfoods and see it do wonders to your ill health. Make sure you indulge in a diet rich in Vitamin C, K, E, A & D to help you recover from the annoying flu. Remember to keep your gut healthy with food that has good bacteria which is a powerful deterrent to bad bacteria or viruses.
The wedding day is the most important day of your life and a mere flu cannot be ruining any bit of it. So pull up your socks, make a little shift in your lifestyle habits, take the necessary precautions, and gear up to live your D-day with absolute zeal and excitement.
If you have any queries or need help with planning your wedding, you can leave a comment below and we can get back to you ASAP!
Read More -
Mehndi Design | Proposal Lines | Simple Finger Mehndi Design | Arabic Mehndi Design | Propose Day Quotes for Boyfriend | Wedding Anniversary Wishes for Sister | Change Aadhar Card Name after Marriage | Tamil Wedding Calendar | Simple Mehndi Design | Pre Wedding Quotes | Engagement Anniversary Wishes | Funny Wedding Wishes for Bestfriend | Blouse Design | Rangoli Design | First Night Tips for Bride | Wedding Anniversary Wishes
- With words by Anwesha Das