Pop the Question With a Princess-cut Diamond Ring to Woo Your Lady-love
Planning to pop the question? Know everything about the most sought after ring style as we decode the what's what for every budget!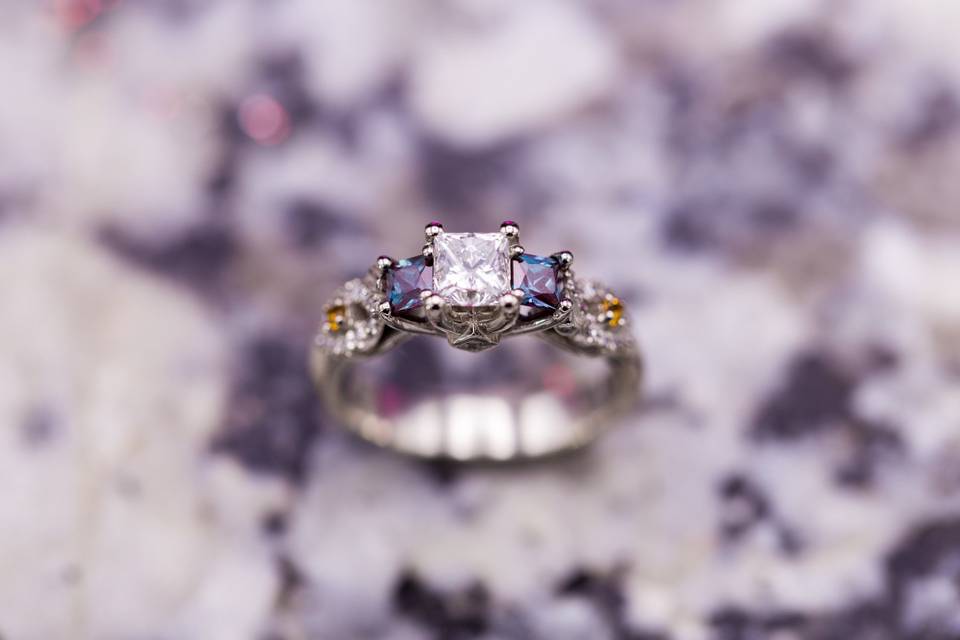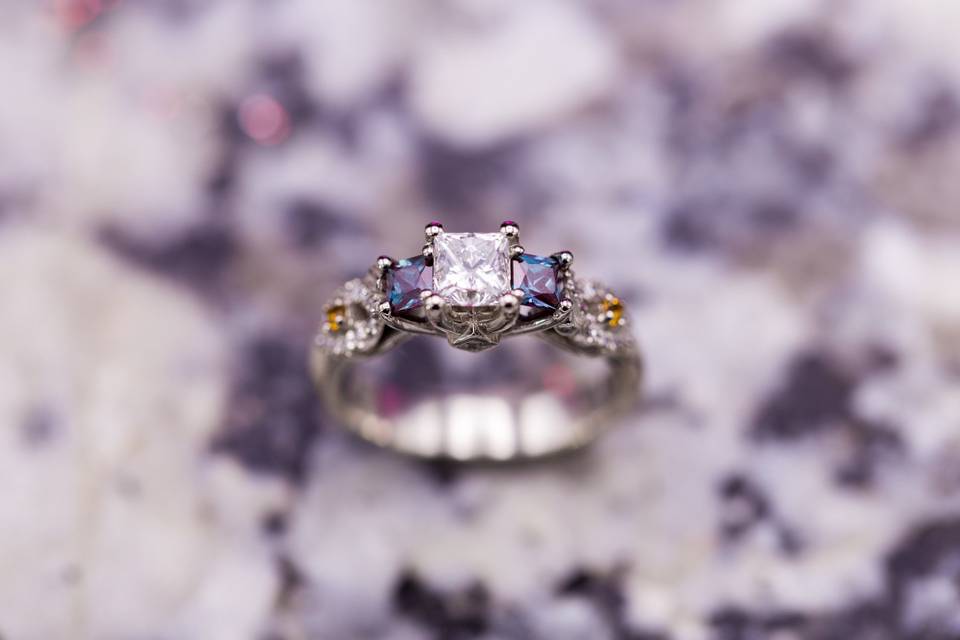 Image Courtesy: International Gem Society
A Princess-cut diamond is traditionally a square diamond with stunning brilliance, unlike the round cut diamonds. One of the most loved and beautiful diamond cuts, a princess-cut engagement ring not only has a dreamy feel to it but also looks incredibly striking. Known to combine the brilliance of a round cut diamond with a rectangular or square shape, this style of engagement ring has always been quite a rage.
If you are looking for a sparkler for your lady-love, a princess cut diamond ring will most likely win their heart! While a round cut single diamond might be the most expensive due to its reflecting properties, a princess-cut diamond ring will look more radiant because of several smaller diamonds lining the centre stone.
We've curated a list of top 10 trending princess-cut diamond ring styles in yellow and white gold, for you to bookmark!
Scallop diamond engagement ring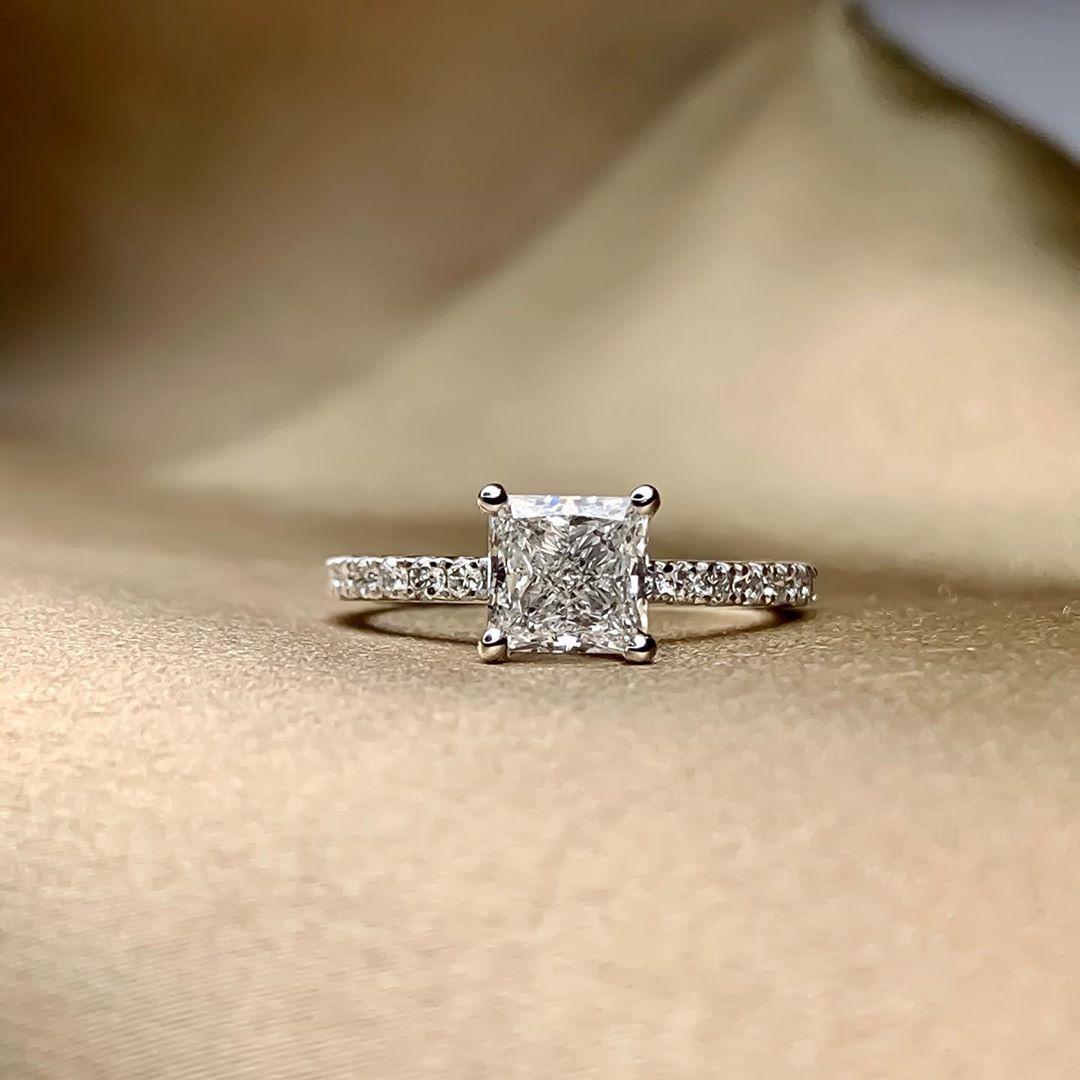 This white gold diamond engagement ring setting has several round-cut diamonds set up in a pavé setting. The scallop design elevates the side diamonds to create maximum brilliance; held by prongs, the centre diamond in unison with the band makes for a stunning princess cut diamond ring.
Vintage-inspired double halo ring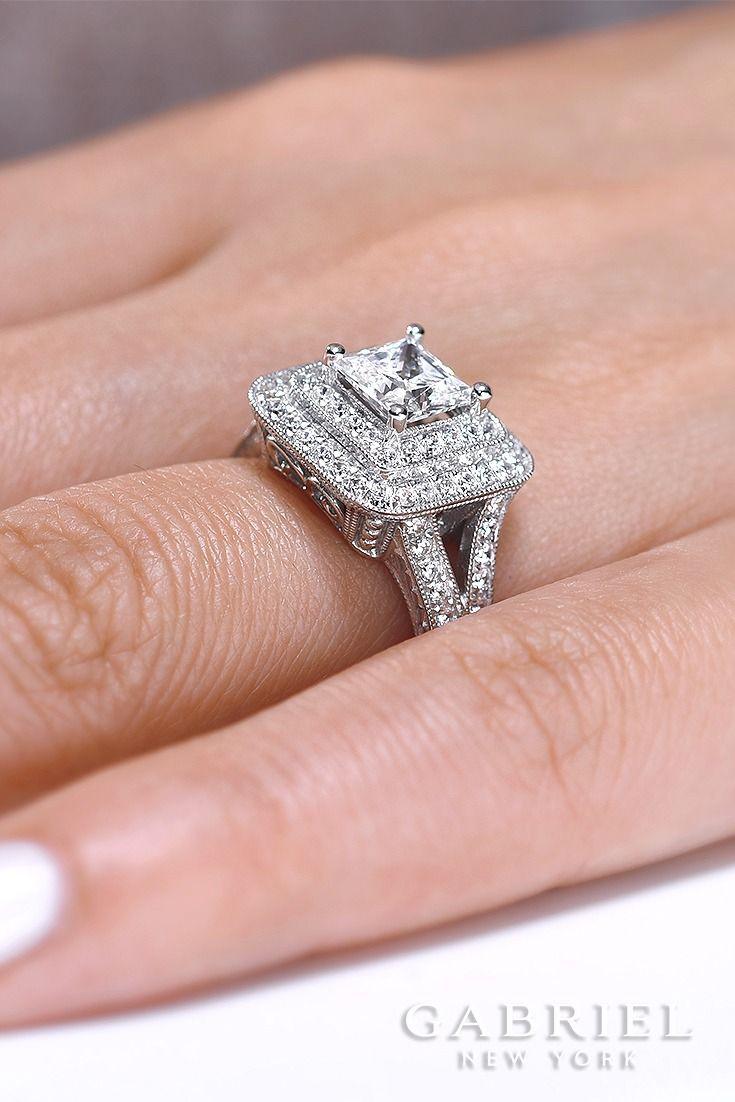 Image Courtesy: Gabriel New York
A split shank band coupled with a princess cut double halo makes this stunning engagement ring an ideal choice for those who would love an extravagant engagement ring. The vintage-inspired ring has closely set diamonds lined across the band and a double-halo surrounds the centre stone. If you'd love to see your beloved in a sparkler that has an old-world charm, go for a style like this!
Cathedral setting gold engagement ring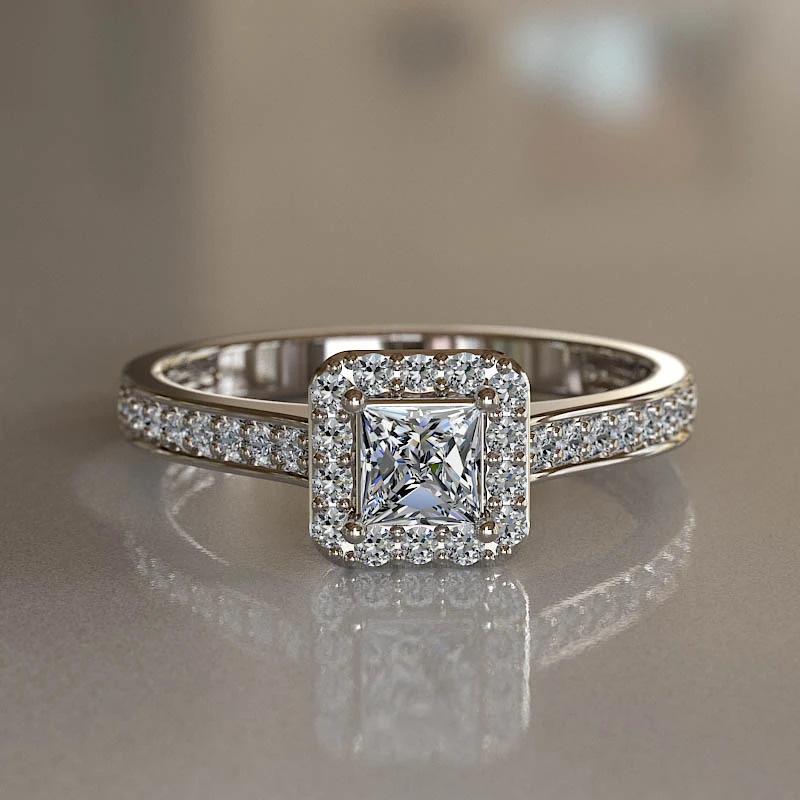 Image Courtesy: Varitsa Jewellers
If you are looking for an elegant princess-cut diamond ring that is a little sturdier, take a look at this cathedral style ring featuring a band that slopes up to the edge of the centre diamond lined with other diamonds set in a channel setting. Set in gold, the band has a more secure border with diamonds in a channel setting lined inside.
Eternity band style engagement ring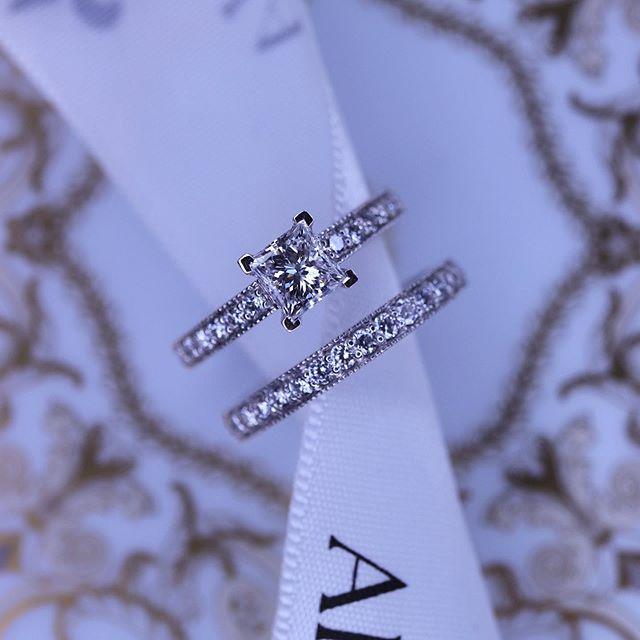 Image Courtesy: Artelia
For those of you who believe in 'more the merrier', a sparkling eternity band coupled with a princess-cut diamond ring is also a great choice. An eternity band stacked together makes this princess cut diamond ring all the more alluring. A simple understated princess-cut ring can be coupled with these bands or a larger OTT kind. Either way, the style will look stunning!
Flanked by trapezoid-shaped side stones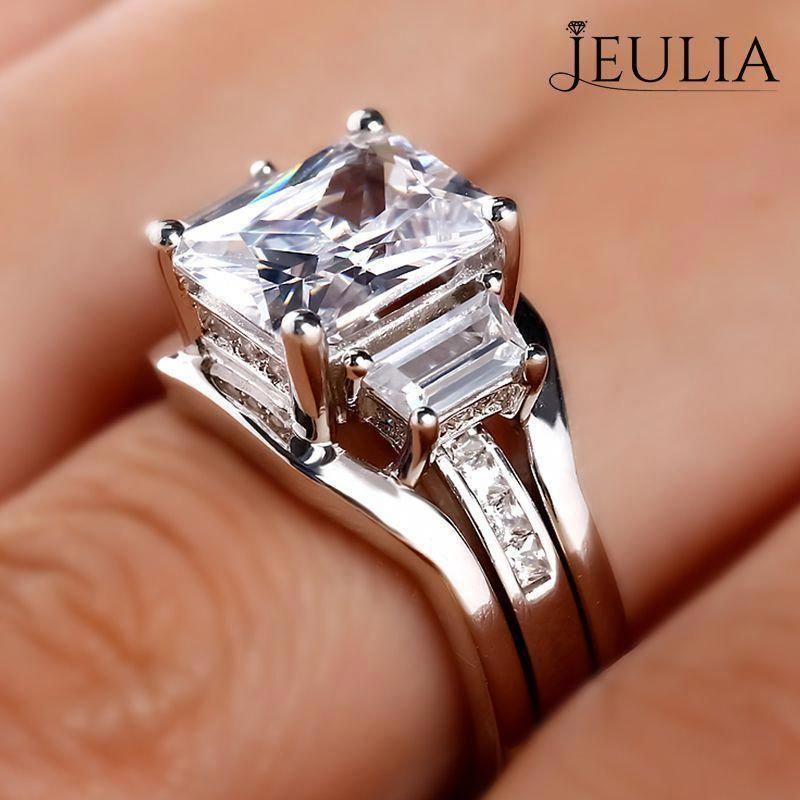 Image Courtesy: Jeulia
Looking for something very different from its counterparts? Pick out a princess-cut ring with trapezoid-shaped side stones holding together the centre diamond. If you don't want to go with a single diamond, make the cut a little more unique by opting for a style like this. Not only is this style extravagant, but it also is a unique pick on the classic princess-cut diamond ring.
Pavé-set diamond ring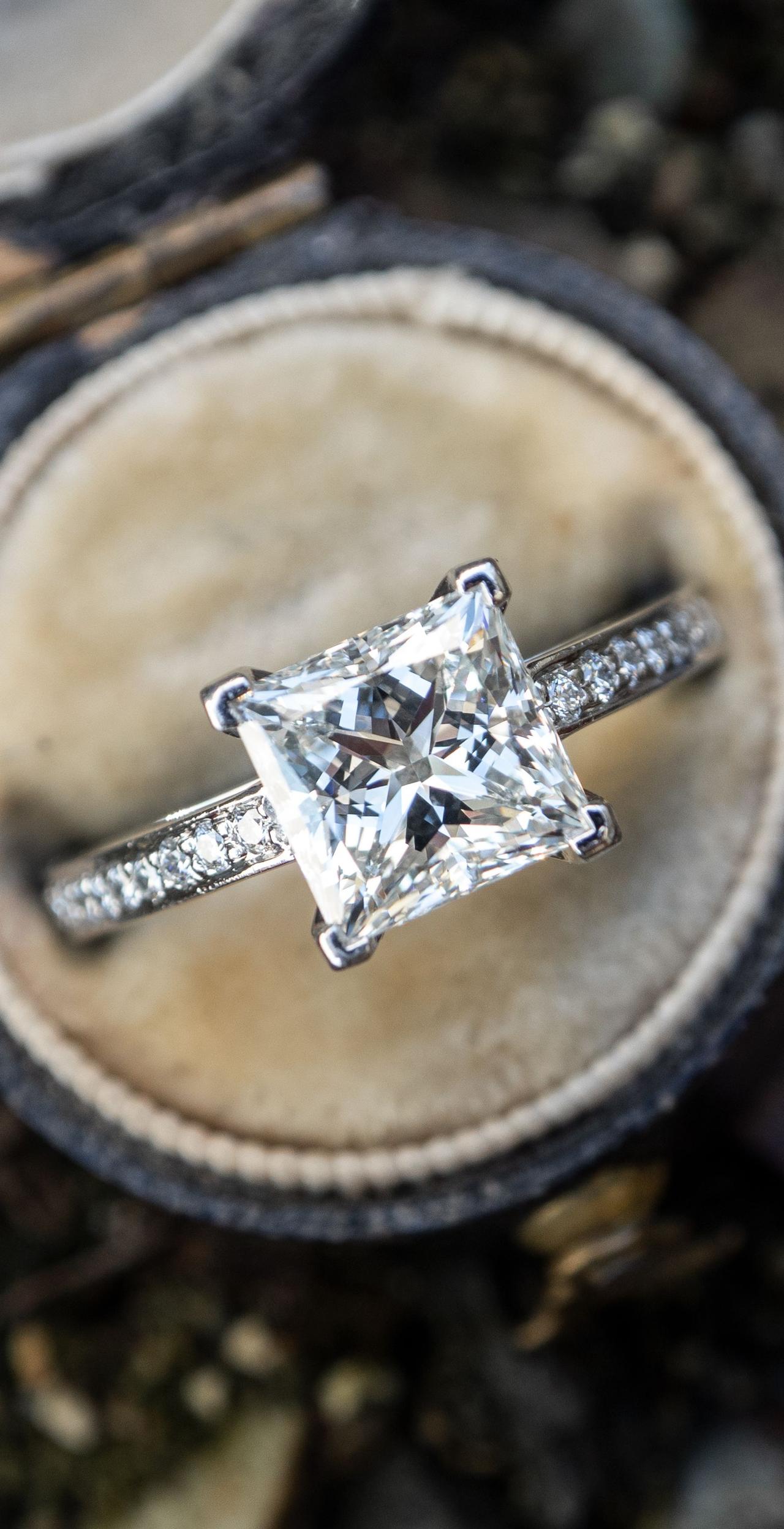 Image Courtesy: Tiffany & Co.
Featuring clean, contemporary lines, the princess-cut centre diamond on this ring is secured with four slim prongs. Micro-pavé-set diamonds line the slender band giving the ring a feminine appeal and a romantic touch.
Heart-shaped argyle pink diamond engagement ring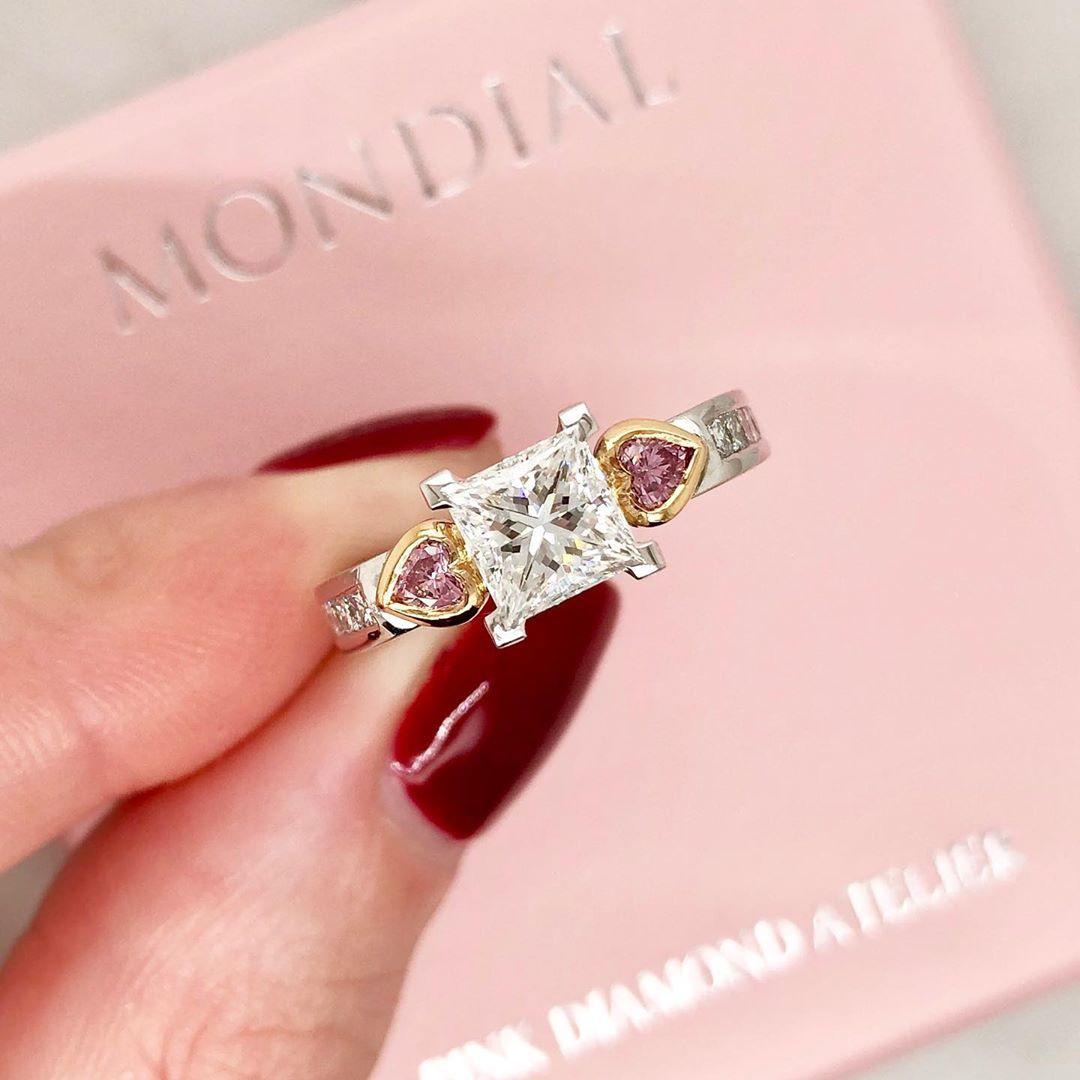 Image Courtesy: Mondial
For those of you who love coloured gemstones, a rare pink diamond could be a possible choice. Known to be more expensive than the traditional diamonds, these Argyle pink rare diamonds in a princess-cut ring, are for those who love to pick out the extraordinary.
Minimalist solitaire princess-cut ring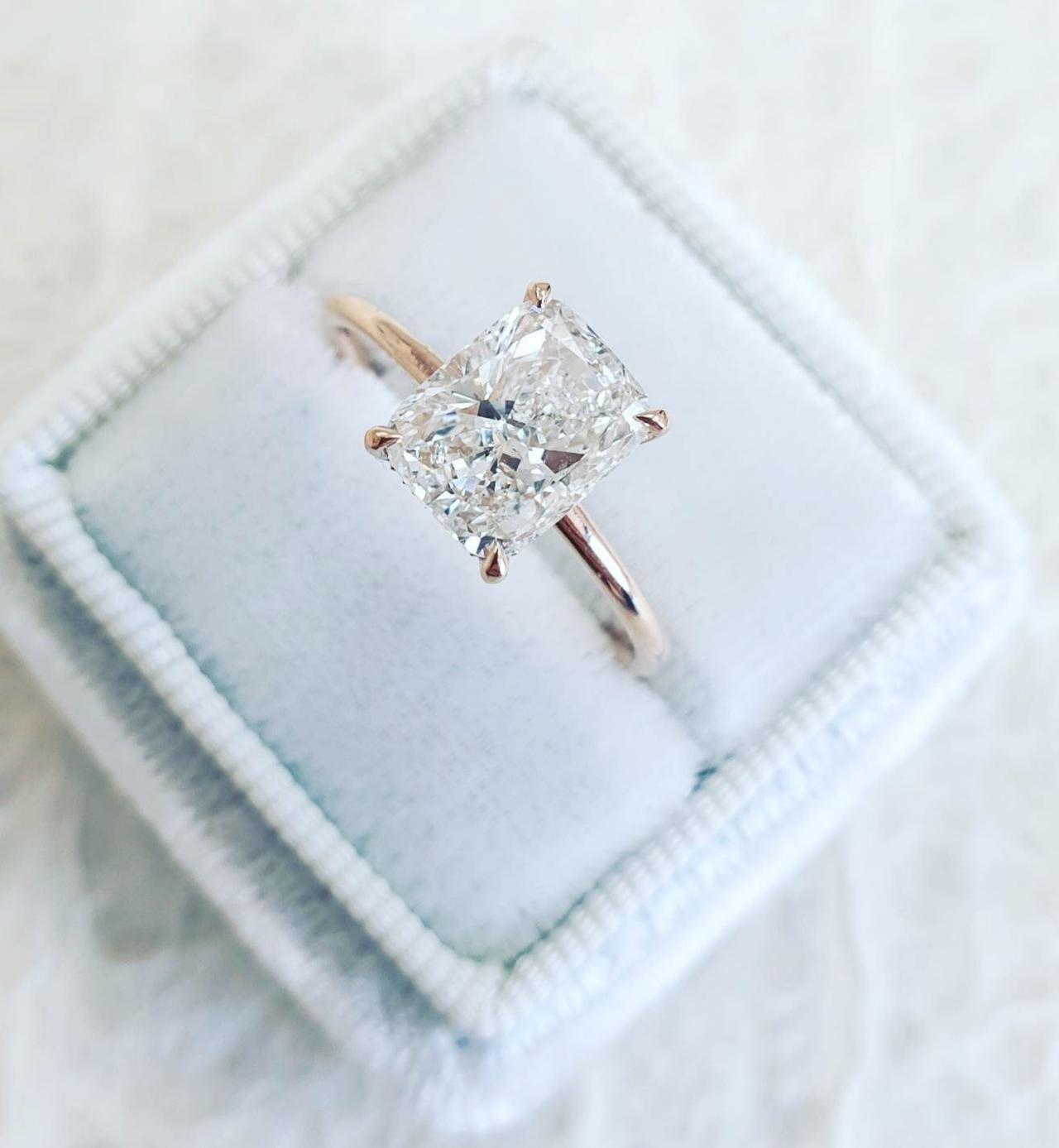 Image Courtesy: Pinterest
If you are the minimalist kind who loves the idea of yellow gold, this yellow solitaire engagement ring might be the one for you. A simple band with prongs securing the centre diamond makes this a simple yet stunning choice for a princess style engagement ring.
Three-diamond engagement ring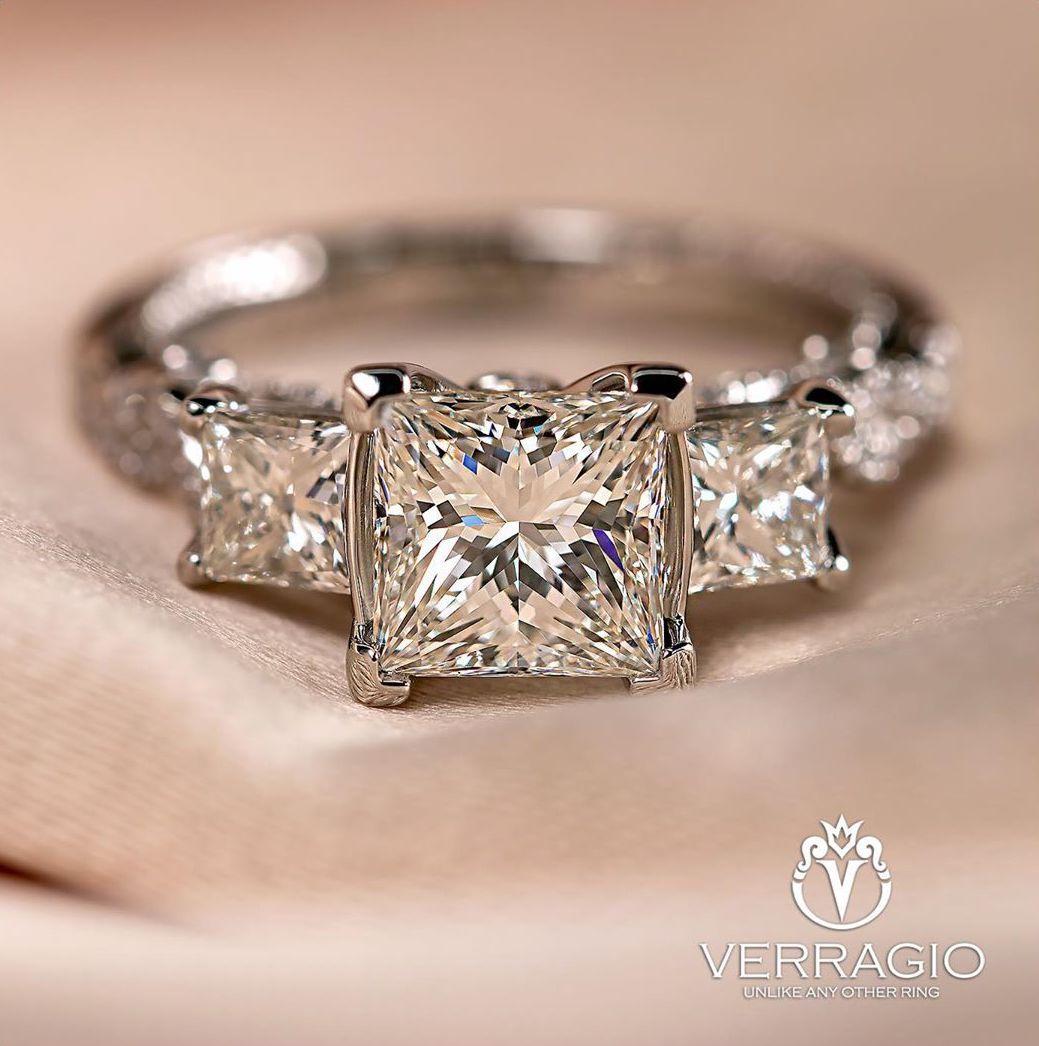 Image Courtesy: Verragio
Accenting the centre diamond, two perfectly matched square-cut diamonds match the elegance of this brilliantly cut diamond engagement ring. Each cut-cornered diamond on a ring like this is secured with prongs to maximize the light-reflecting property of the diamonds.
Rose gold ring with a pavé-set diamond band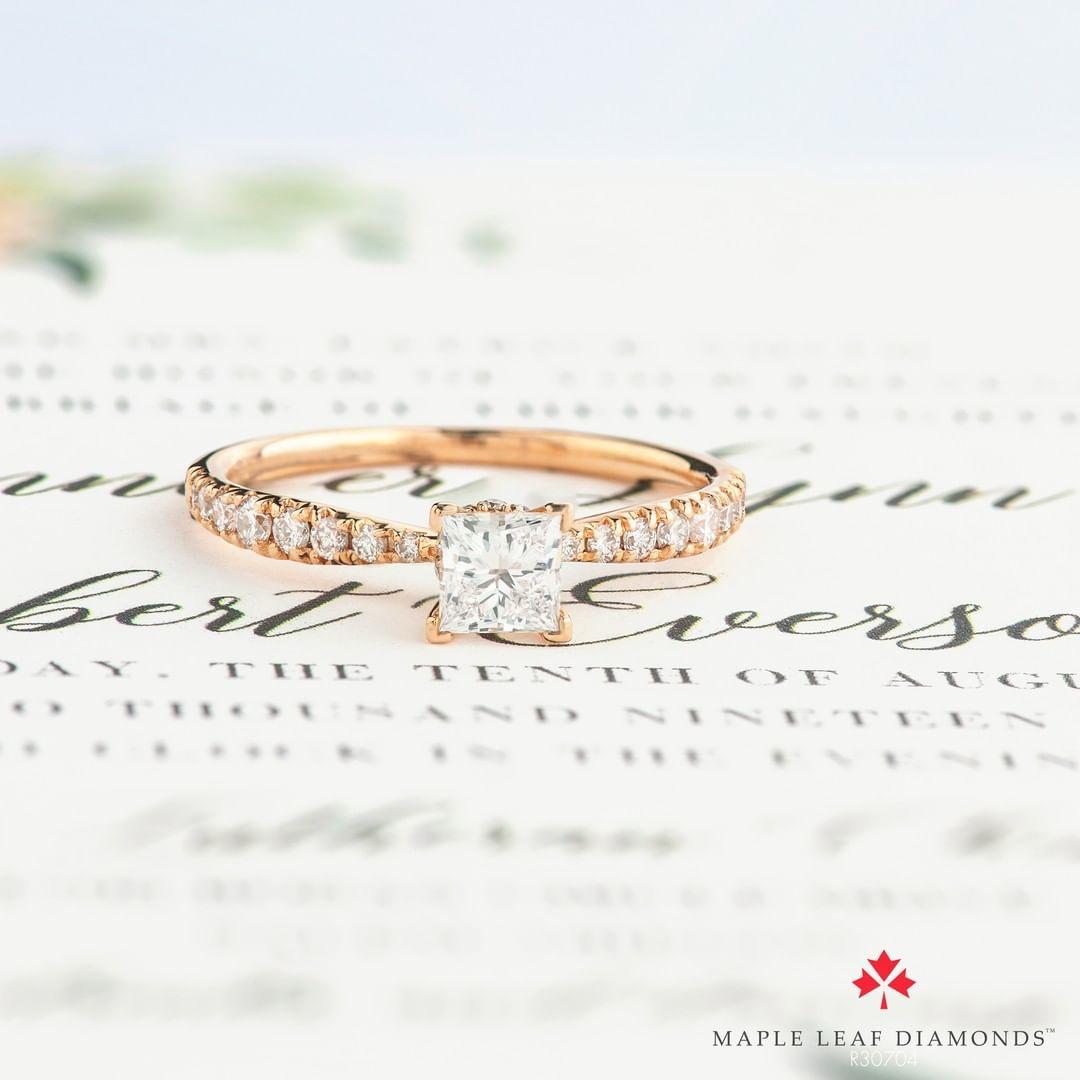 Image Courtesy: Mapel Leaf Diamonds
The princess-cut centre diamond with chevron-like waves is set between slim prongs giving it a feminine touch, with a tapering band lining the centre diamond. The rose gold just brings out the appeal of this classic princess-cut diamond ring, making it an ideal choice for those who want to pick beside white gold or platinum.
Whether you are a to-be-bride on a hunt for best princess-cut engagement rings to dream about, or someone who wants to pick out the best for their wife-to-be, a cut like this is popular and classic. We hope you have found some inspiration to match your and the future missus' taste!
Which is your favourite setting in a princess-cut diamond ring style? Comment below!