Best Engagement Ring Styles to Know of Before Going Down on One Knee
From the extravagant Pavé style to the understated Flush setting, know about the 10 best engagement ring styles that will never go out of fashion!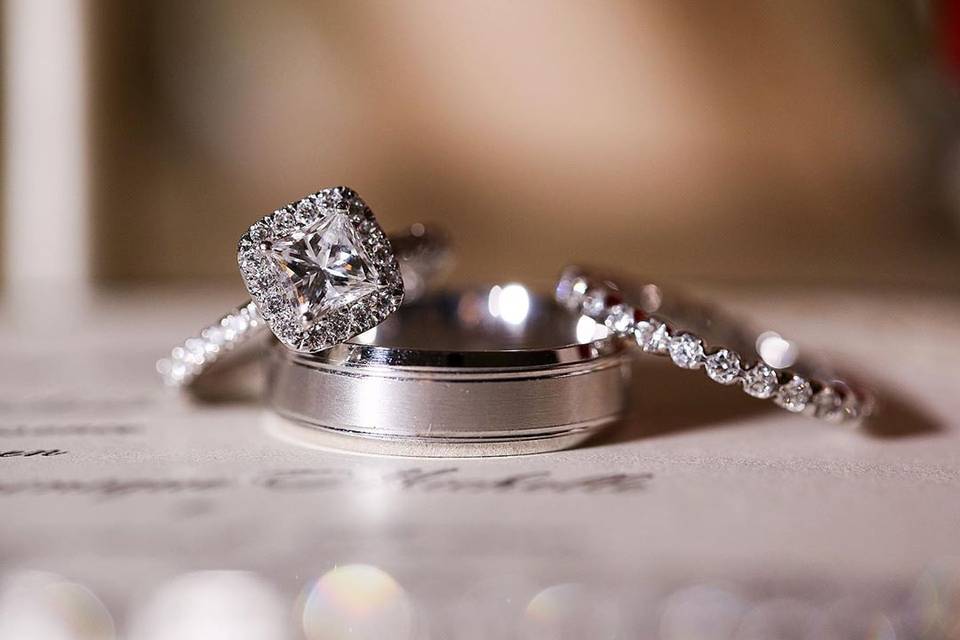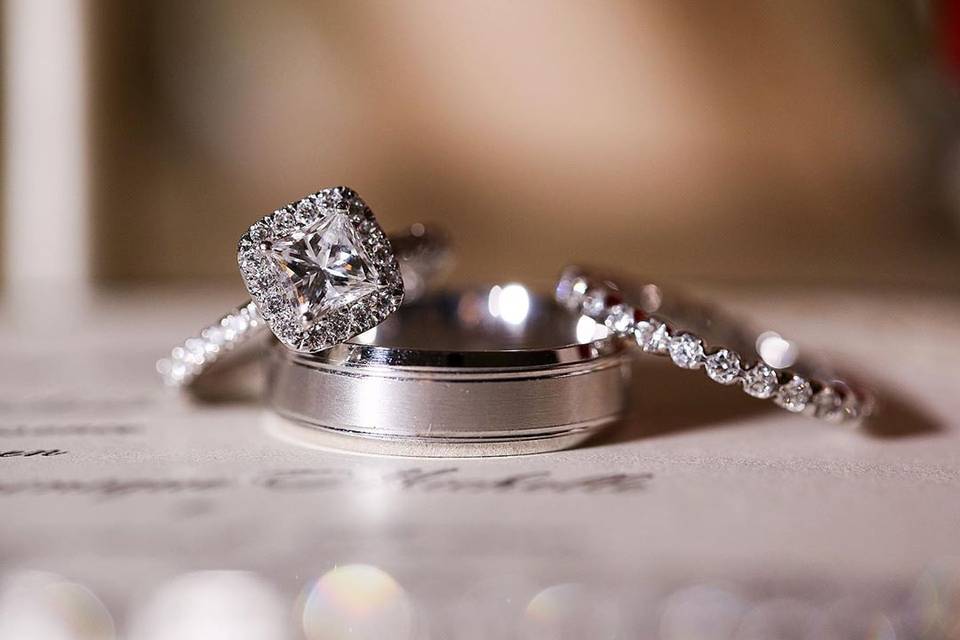 Image Courtesy: PMP Photo & Video
Getting engaged to the person you love is one of the best feelings in the world. What's better? The engagement ring that comes with it! With the kind of styles available today, it might get a little overwhelming to choose one. However, it is very important to pick out a style that reflects your personality and taste.
If you are planning to propose or just want to have pre-hand information on the best, trending engagement rings that never go out of fashion, we have curated a list just for you! There is a sparkler for every budget, so sit back as we reveal the most searched for, most loved engagement ring styles that will give you a clearer idea of what's what!
Whether you are someone who likes their diamonds in tune with their larger than life appeal or the modern-day minimalist who loves all things modest, here is a list of 10 styles for you to bookmark!
Halo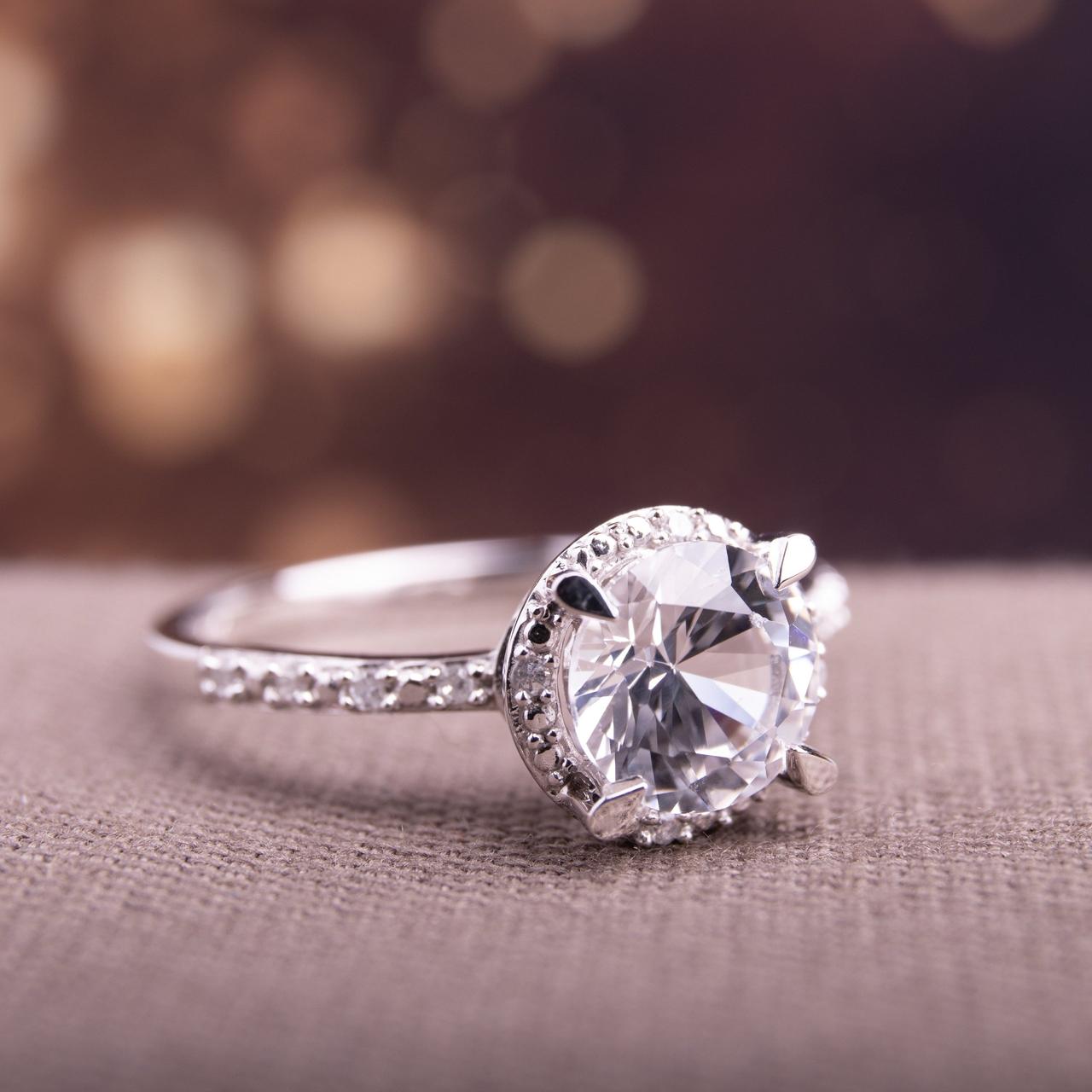 Image Courtesy: Miadora
Known as one of the most popular engagement ring styles, the main stone takes the centre stage in an engagement style like this. The border is made up of smaller Pavé-set diamonds that create a halo. These halo stones reflect light on the centre stone making it all the more sparkly! Some people choose to go with coloured gemstones for the centre-stone, giving it a gorgeous contrast.
Split-Shank
Image Courtesy: Brilliant Earth
One can customise an engagement ring by altering the shank or the band of the ring. One of the most popular designs is the split-shank. The band, in such a style, divides into two halves, on either side of the centre-stone, leaving a symmetrical gap. A smaller split makes the centre gemstone look larger, while a larger split gives the ring an antique look!
Cluster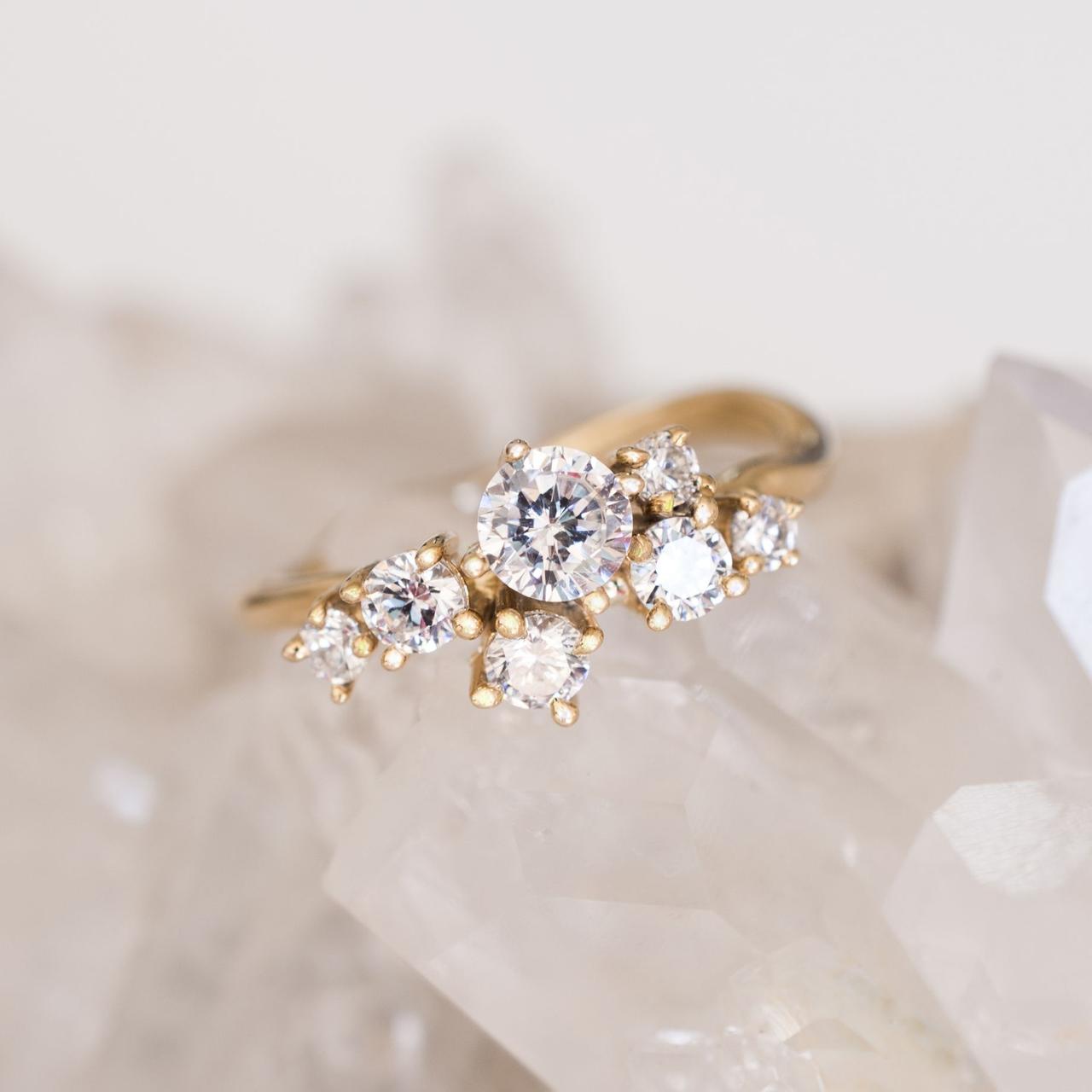 Image Courtesy: Pinterest
Synonymous to its name, a cluster engagement ring is all about diamond clusters huddled in a group to create the effect of a larger diamond. It is an affordable option to the traditional single diamond kind. Modern cluster rings offer more asymmetrical patterns and are perfect for those looking for a trendy, affordable diamond ring.
Pavé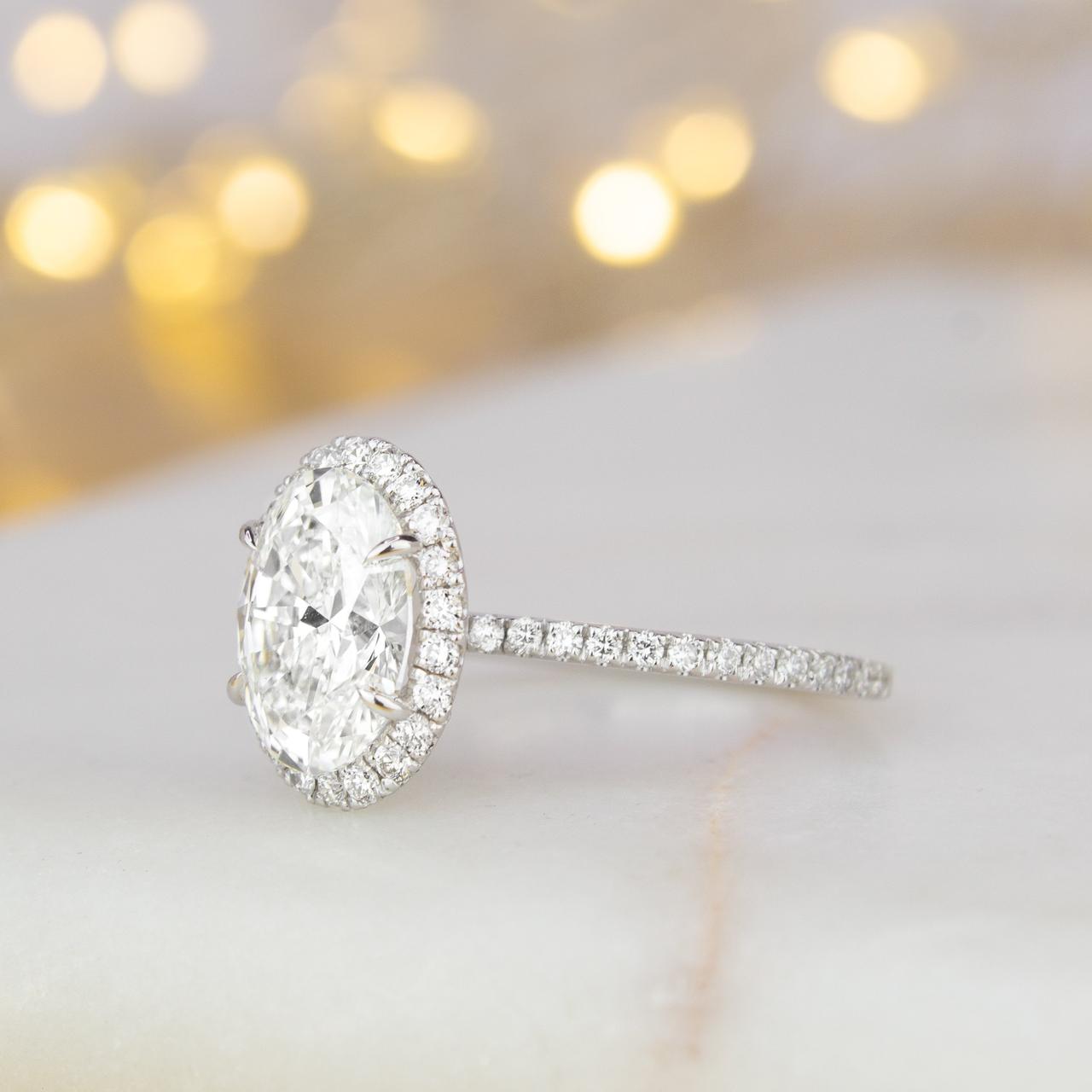 Image Courtesy: Brilliant Earth
Lined with several tiny diamonds (or other gemstones), a Pavé style engagement ring offers a more feminine look. One can personalise an engagement ring with a Pavé setting; such rings catch more light owing to diamonds set together in a row. Pavé remains a popular choice for most women, and rightly so!
Cathedral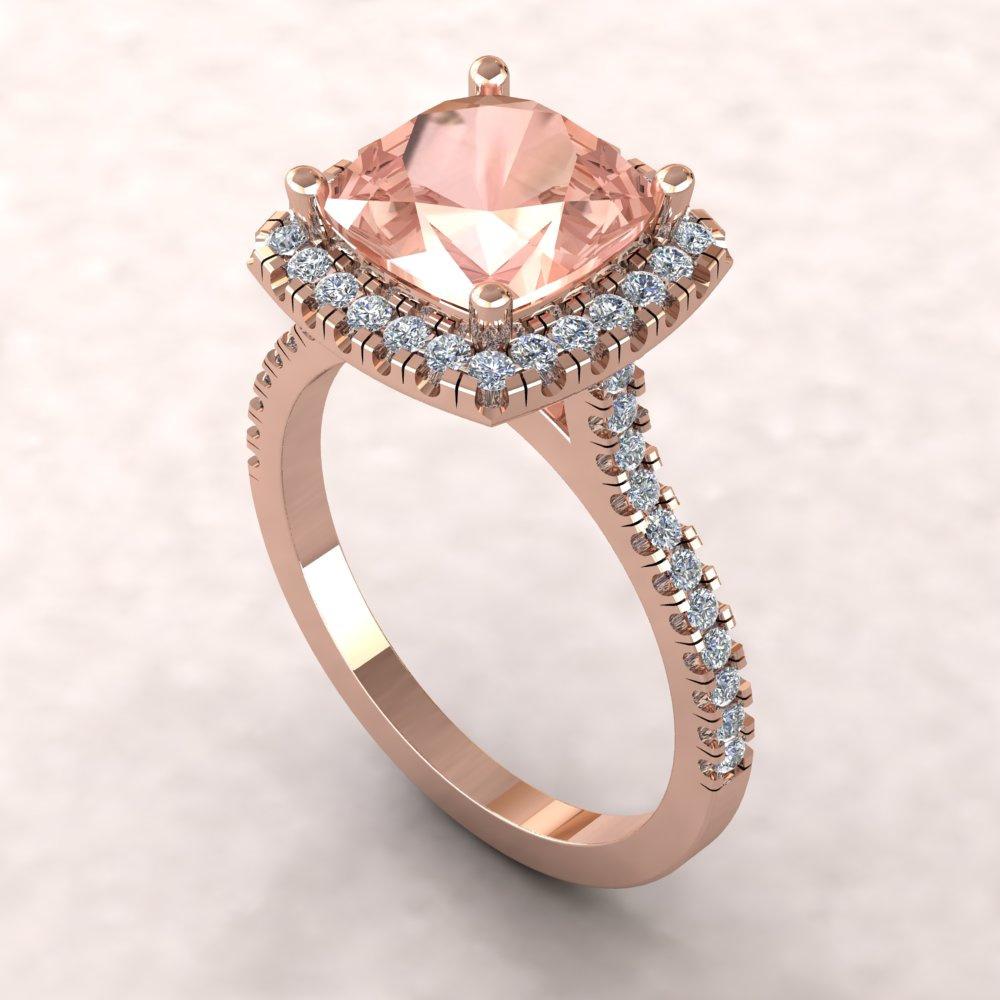 Image Courtesy: Laurie Sarah Designs
Known for its traditional, elegant style, a cathedral style ring features a band that slopes up to the same level as the edge of the main diamond in the centre. Like you see in the picture, the curves look like the arches of a cathedral. One can set this style of ring with Pavé diamonds or leave it as is.
Bezel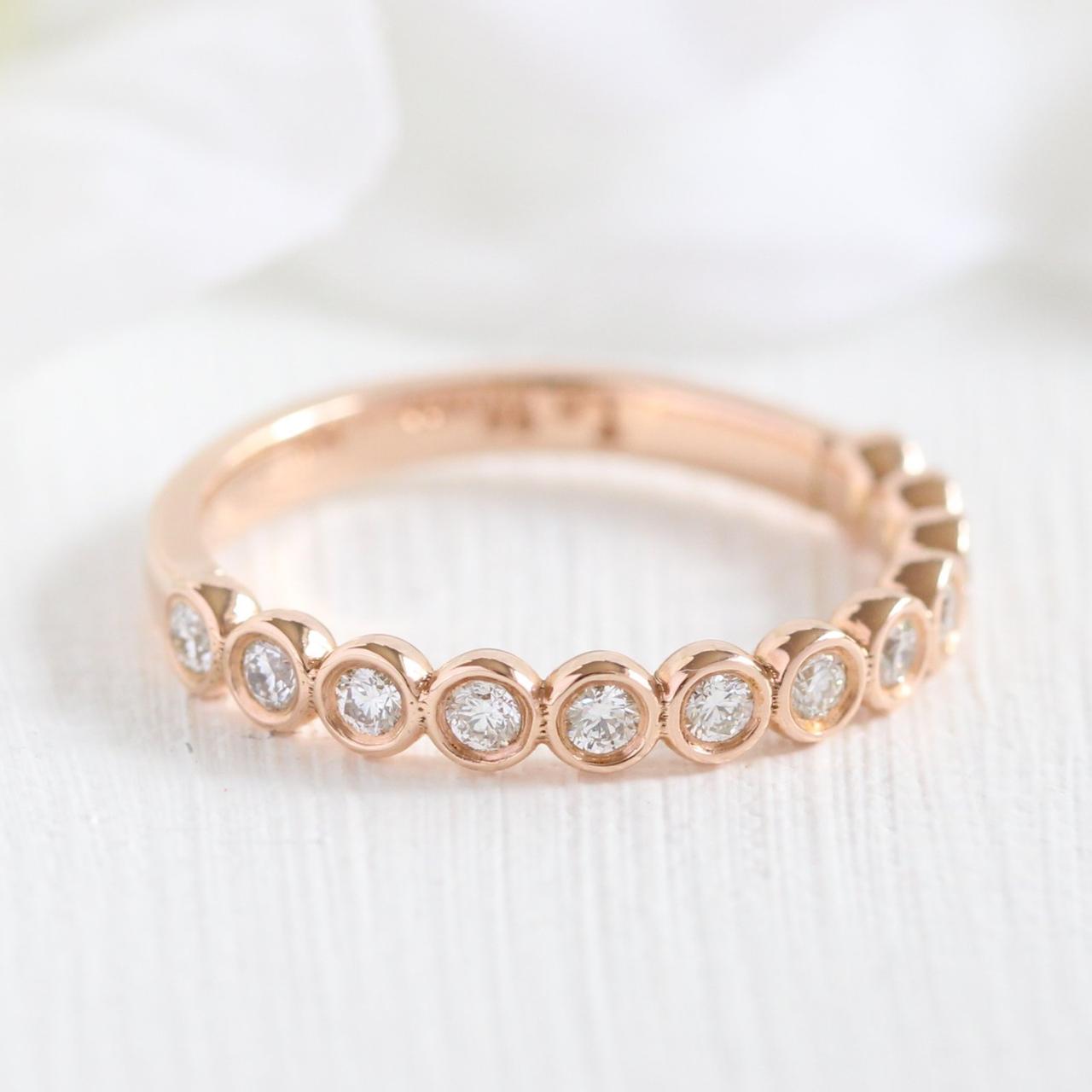 Image Courtesy: Lamore Designs
Known as one of the most secure and understated ring designs, a bezel engagement ring has the gemstone anchored in place with a metal border instead of pongs holding it in place. These rings do not require as much maintenance as the prong-set styles do. If you are someone who likes minimalist design, the bezel style is perfect for its low-key maintenance and lesser light reflection.
Eternity Bands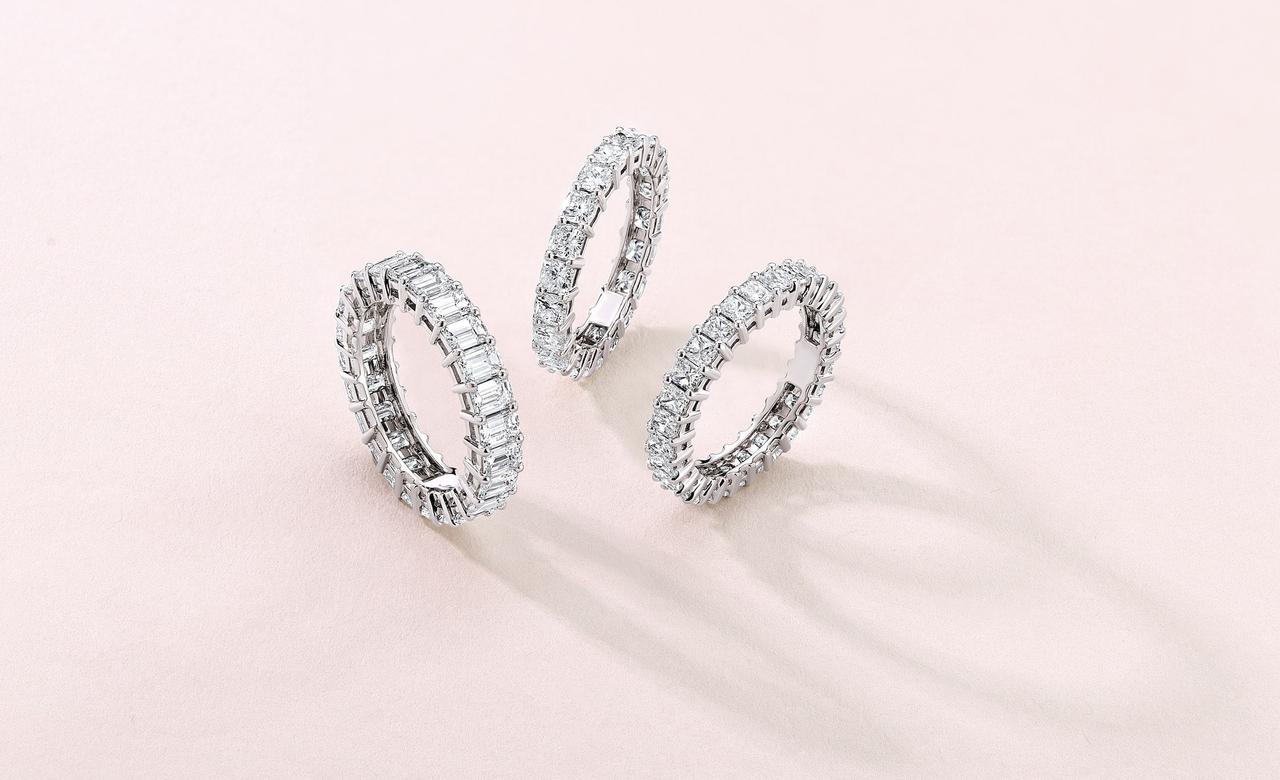 Image Courtesy: PMP Photo & Video
Eternity bands connect the chain of diamonds together which is spread all around the ring. The design on these could be Pavé, channel, or the kind one particularly likes. More often than not, women love to upgrade their eternity bands with a separate diamond ring. Symbolising eternal, never-ending love, eternity bands are quite the rage.
Flush Setting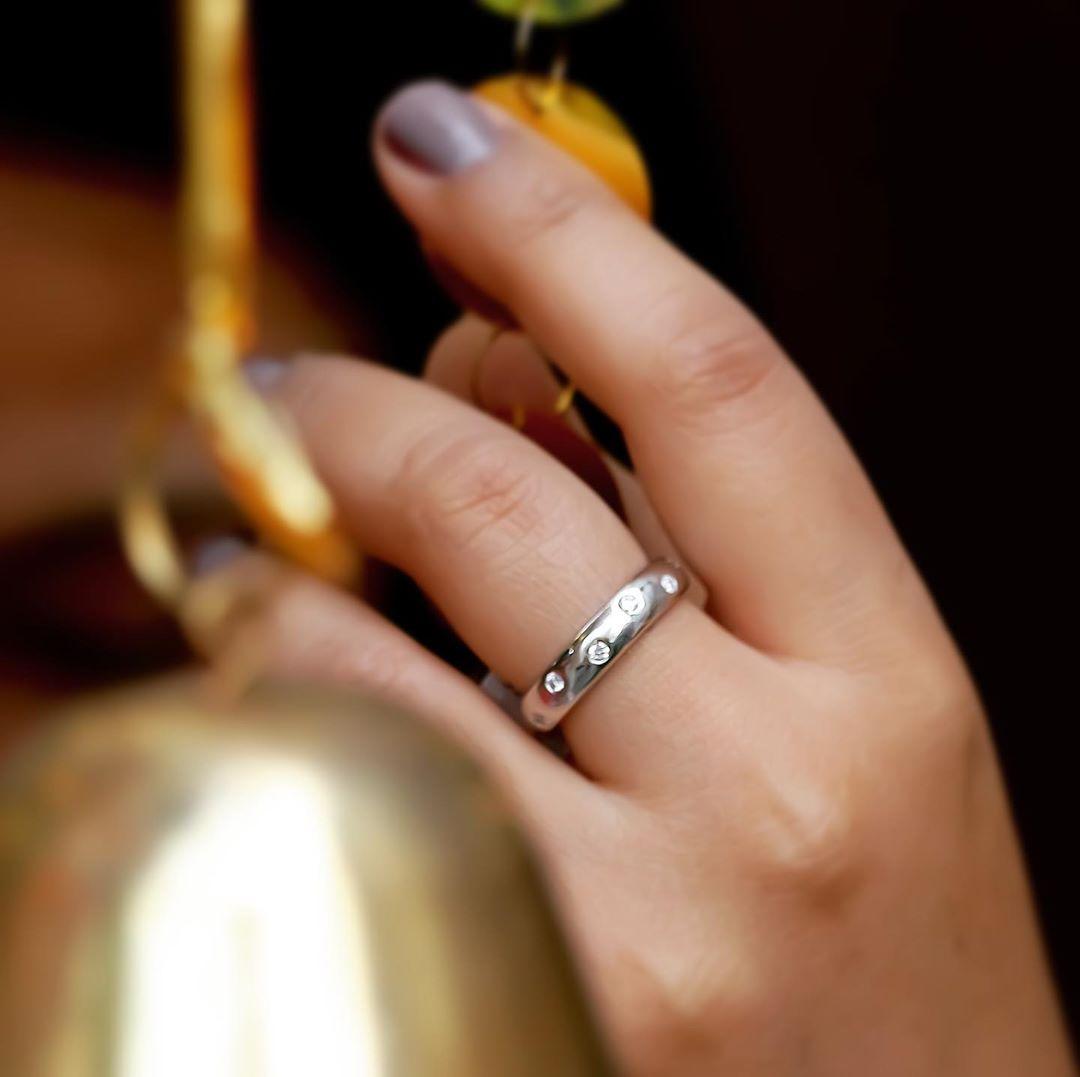 This style of engagement ring is super sleek. The main diamond is set inside the band, which makes it not bulge out. The diamond is hammered in place, thereby making it super secure. For women who love an understated sense of style, this would be an ideal pick. Also popular for men, the flush setting style makes for a great engagement ring choice.
Channel Setting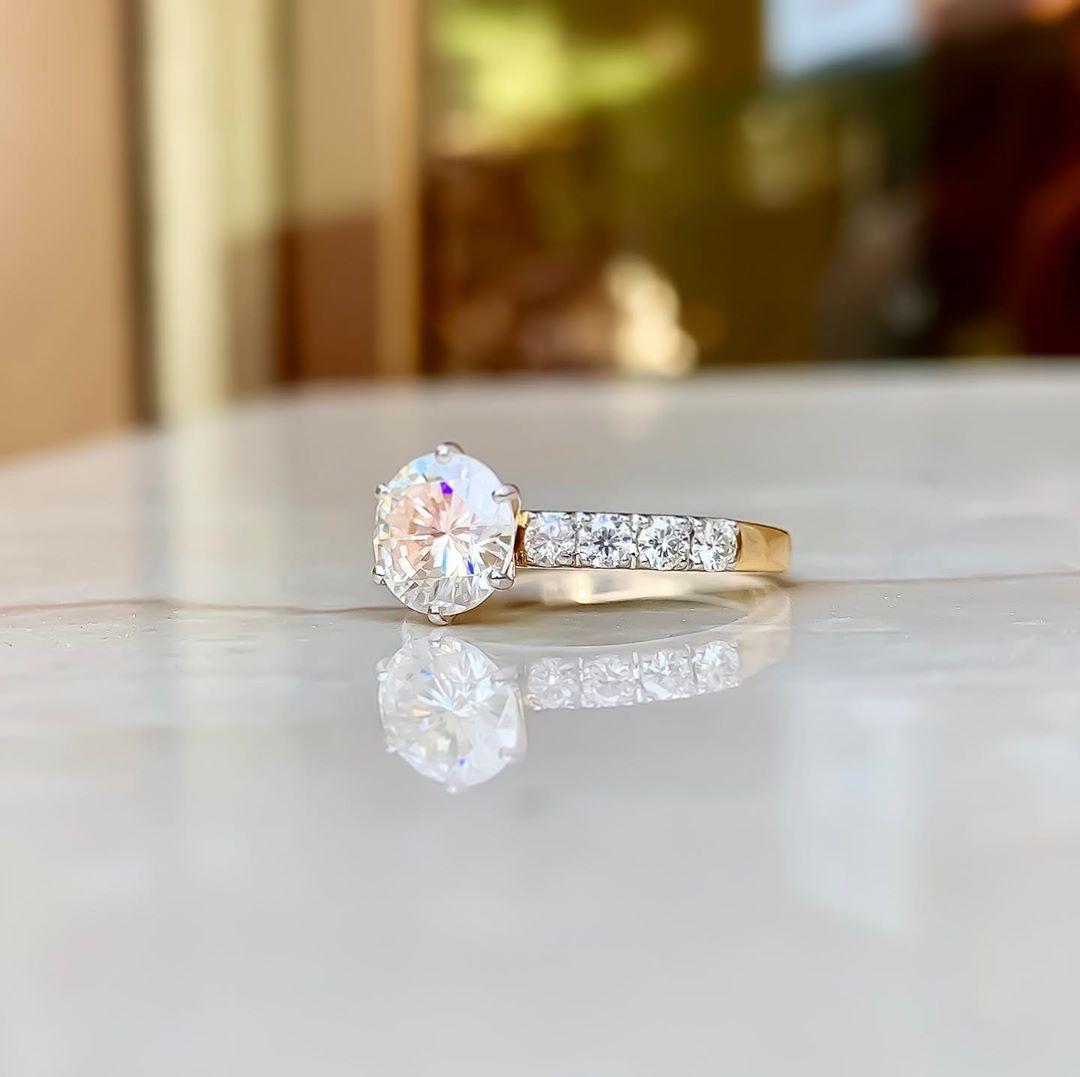 Just like the Pavé setting, a channel set engagement ring is about smaller diamonds decorating the band. However, each stone is set into the base metal individually, thereby creating a groove. The diamonds are placed next to each other and the centre stone draws all the attention. A little trickier to clean, a channel setting style diamond ring also has a very secure mould.
Vintage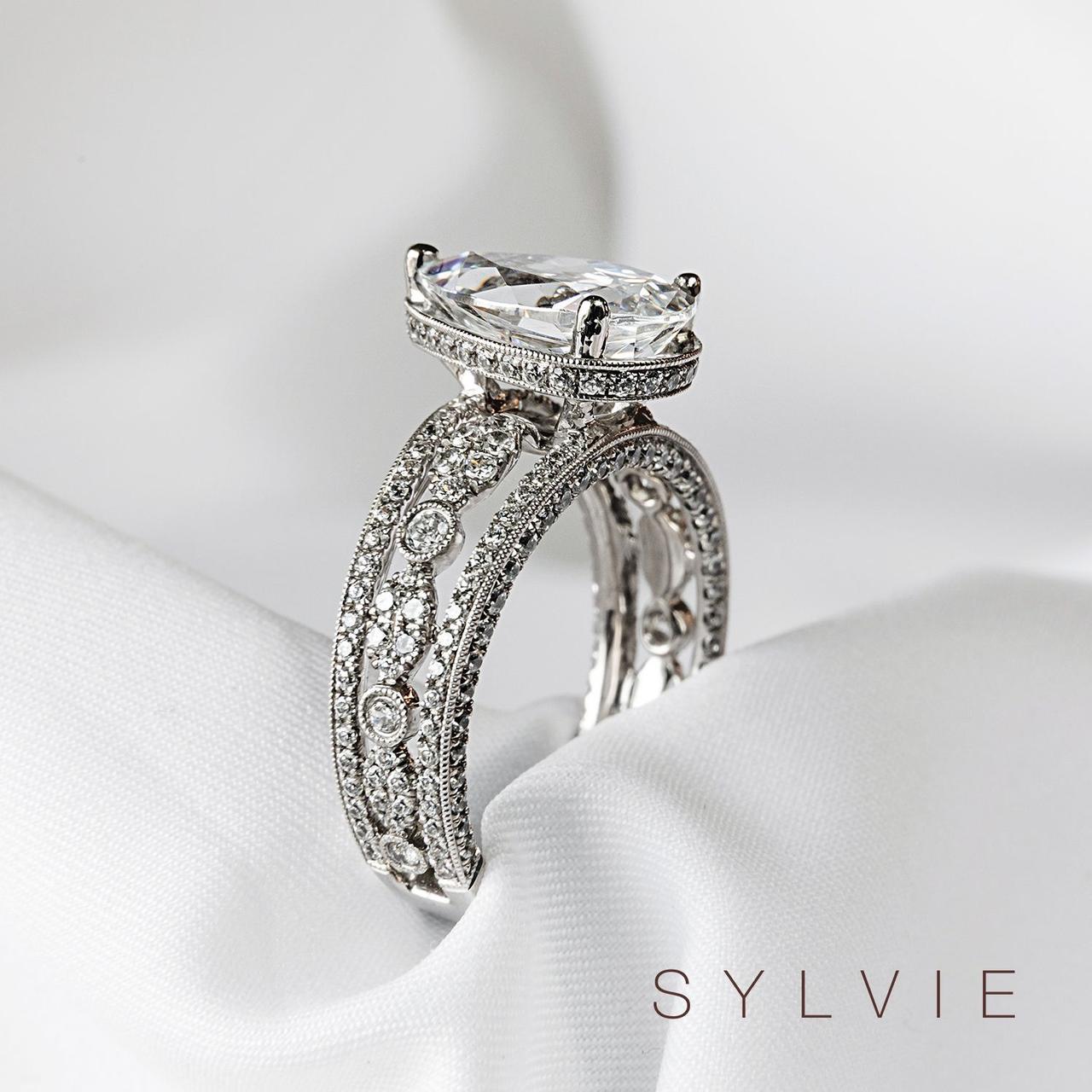 Image Courtesy: Sylvie
Known for the art décor era they existed in, vintage engagement rings are more than two decades old. These classic pieces have stood the test of time and are usually passed on in the family. Most of these designs are bold, geometric, and a lot more dramatic than their modern counterparts. If you like the vintage glamour, you would love to adorn a vintage style diamond engagement ring.
Engagement rings can be customised as per your taste and style or bought from a verified store in one piece. Whichever way you choose, modern-day ring designs are endless. We hope we could help ease your woes and you could take away some statistics on the subject.
Which engagement ring style are you opting for? Tell us in the comments below!