Eye-grabbing Ideas to Ace Intimate Ceremony Setting for Pheras & Vows
Fetching for micro-wedding decor ideas can get a little daunting, but you're lucky–we're here for you. Listed below are some top-notch designs of Intimate Ceremony setting for Pheras & vows.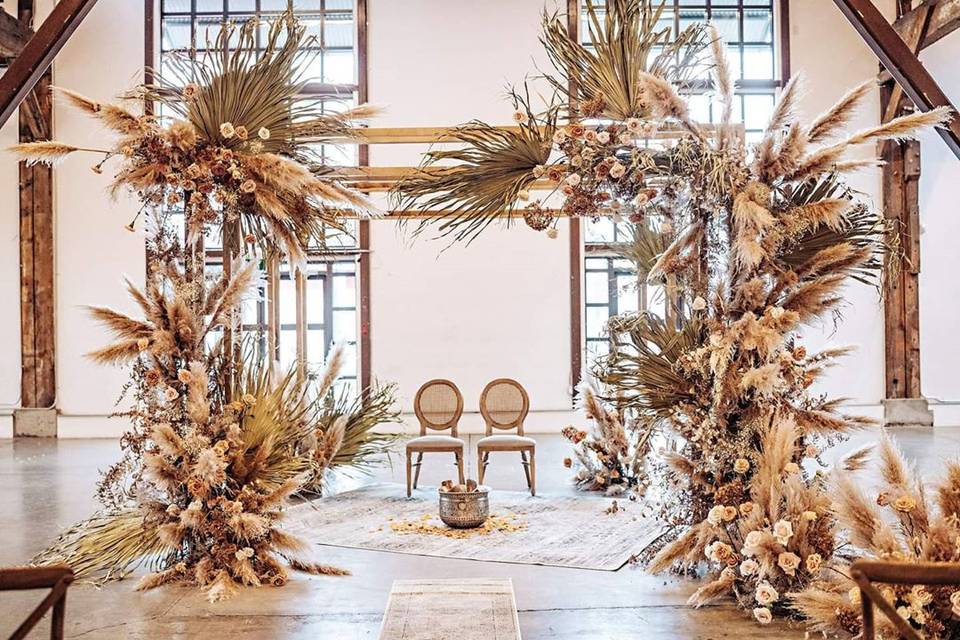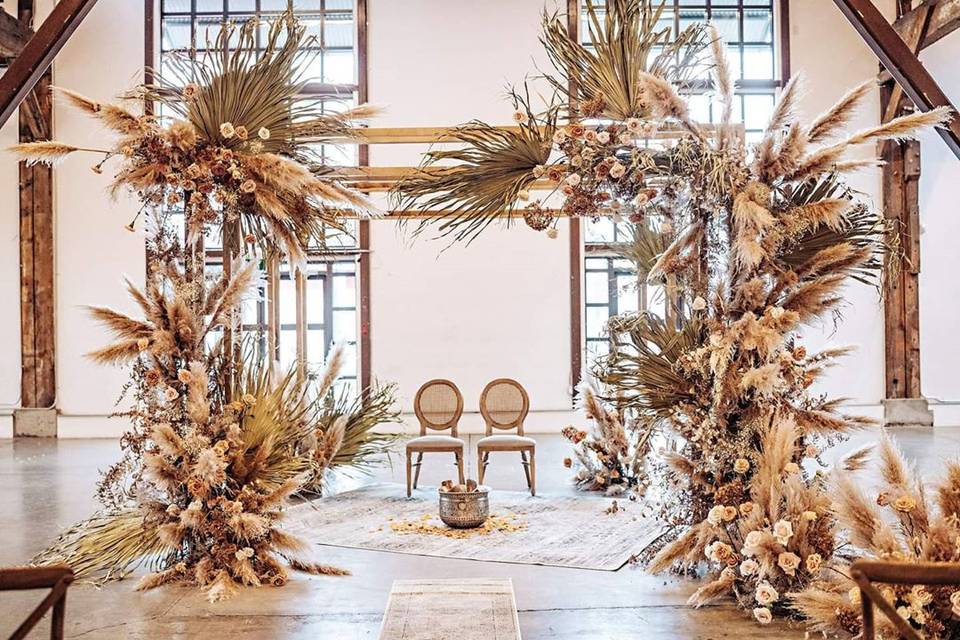 Image Courtesy: Polina Babina, DA FIORI DESIGN
We'll be a hundred per cent honest with you. After witnessing a plentiful of micro-weddings, we are sold to their everlasting charm–be it at home or any wedding venue where you can host these intimate weddings. How could we not? The understated allure of Intimate weddings is truly a testament of 'less is more". It might have taken a pandemic to get Indians acquainted with small-scale weddings, but we're so glad it is now an emerging trend in the Indian wedding landscape. We hope this trend stays with us even after the pandemic dwindles because what's not to love about quaint, dreamy weddings with a handful of people you love. Nothing, right?
While intimate weddings are such wholesome events, planning for one can be little intimidating, given that everyone is learning to accept and work with the "new normal". Right from how to ensure all safety regulations to choosing the right decor, every little element of your micro-wedding needs end-to-end planning to make it a success–especially for your D-day. Since there's already so much to do and plan, we thought of taking care of shortlisting some decor ideas for your wedding day.
So whether you're taking the pheras or reading your vows, we've got you small ceremony setting covered. We've skimmed some flattering ideas for your intimate ceremony setting for Pheras & vows you'll instantly fall in love with.
For the Pheras
In the lap of nature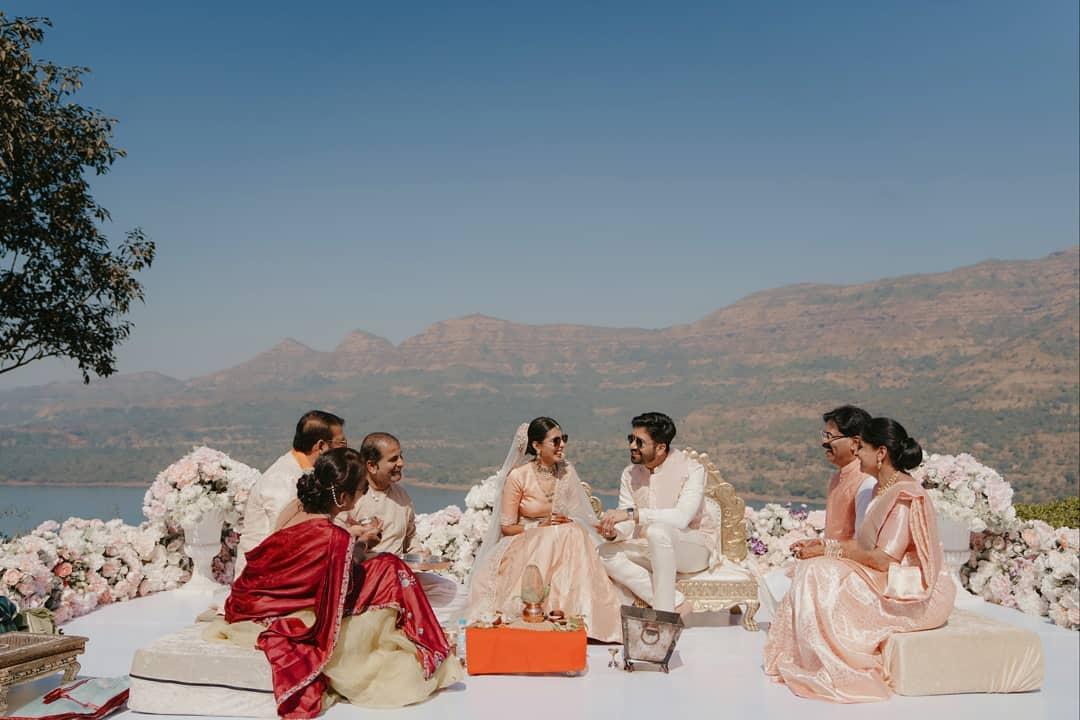 Mountain facing lakes and a spot to take the pheras, sounds idyllic, right? It indeed is. This intimate ceremony phera setting created in the lap of nature with an all-white theme only makes us wonder–would heaven be envious to witness this paradise on earth?
Burnished woodlands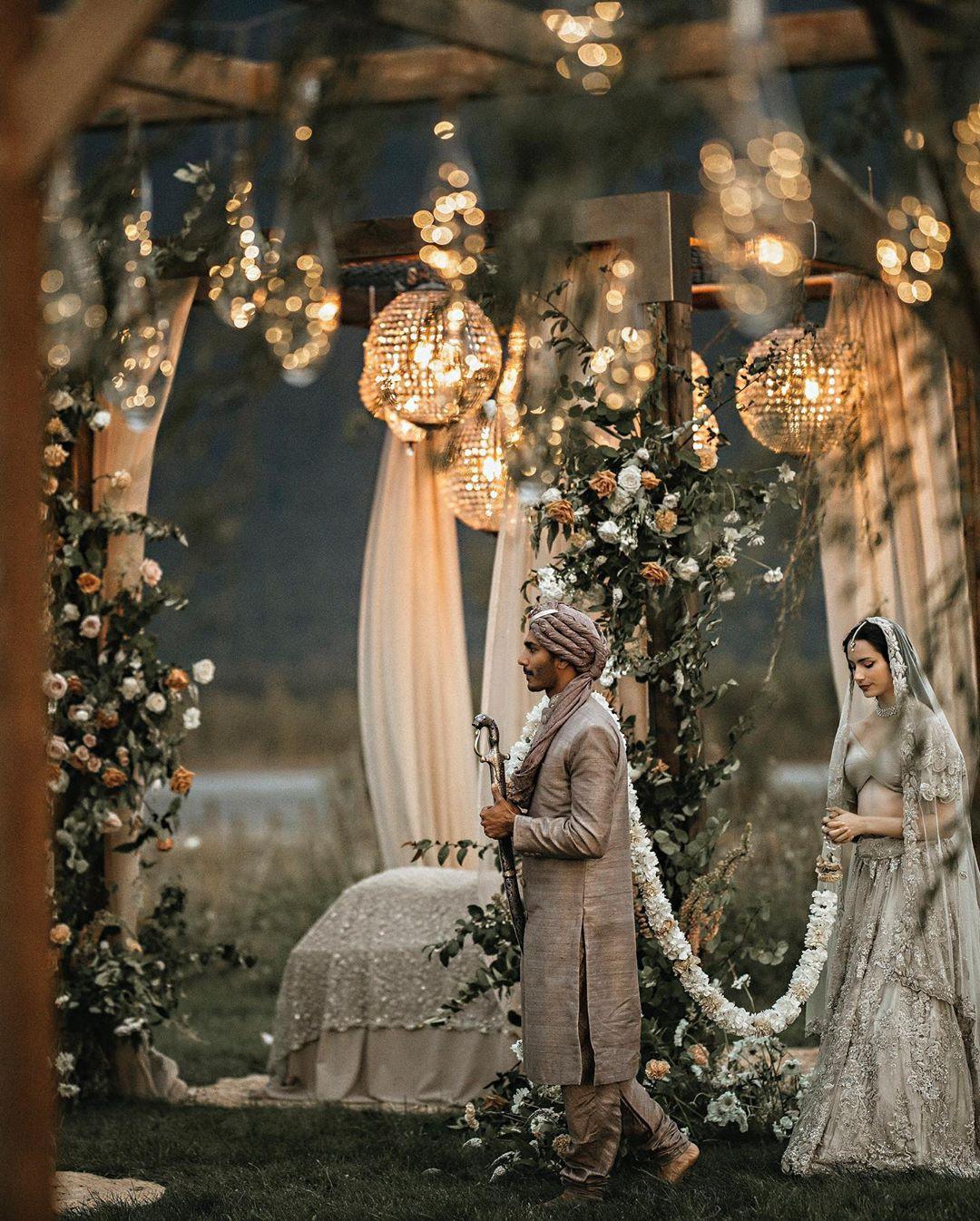 Image Courtesy: Finesse Decor Company
You don't see Anand Karaj pheras happening in the woods every day. Amidst dusky woodlands and uncovered burnished ceiling lies absolute tranquillity and unworldly charm. If you have access to the woodlands around the country-side, this is your cue to turn them into dreamland for your pheras.
Backyard renaissance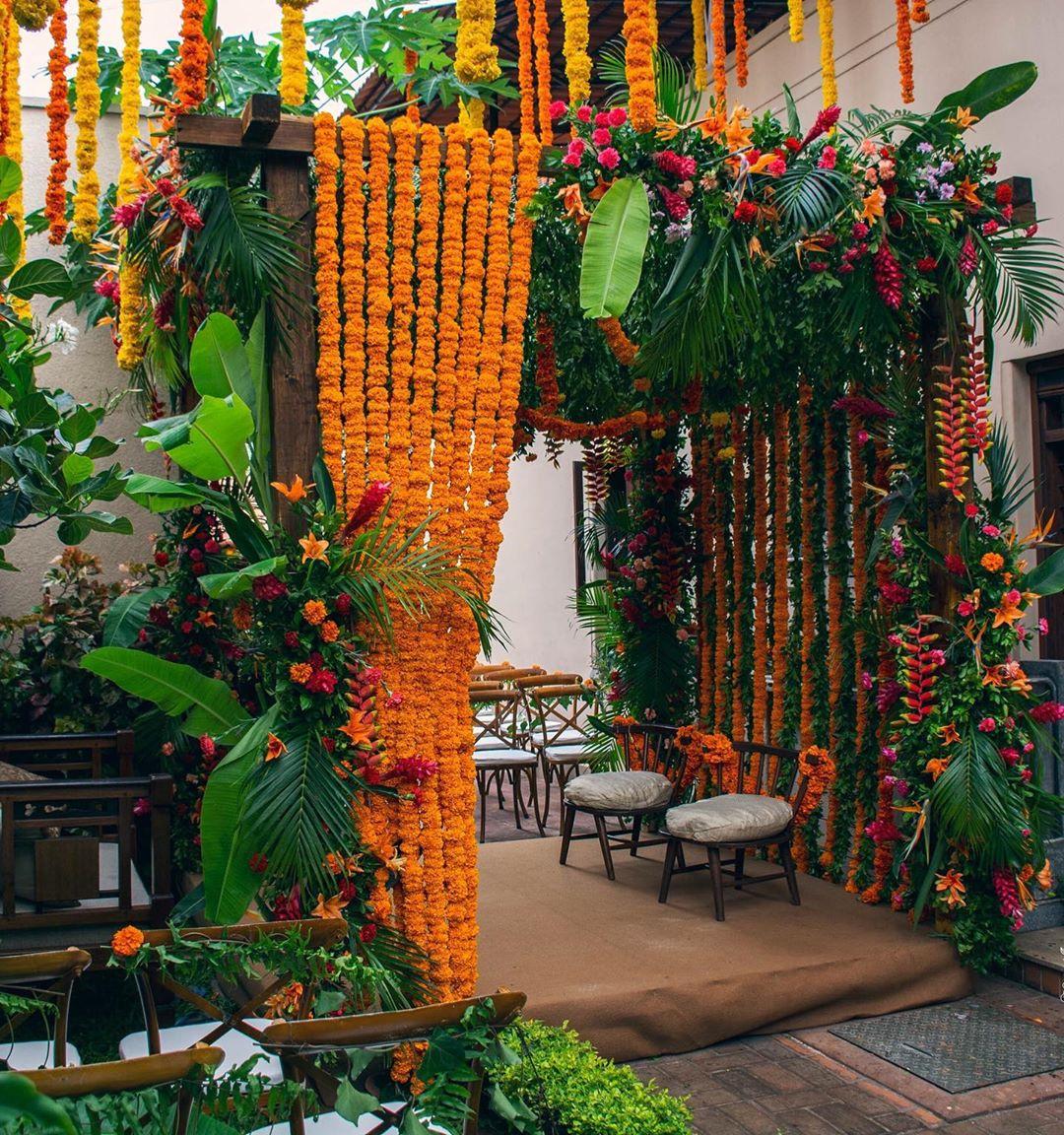 Decked up with the timelessness of genda phool, banana leaves, ferns and an assortment of blooms; this mandap setup is love at first sight. Constructed quaintly in the backyard using wooden swivel stool chairs covered in earthy upholstery is liking bringing in the indoors outside.
Under-the-tree nuptials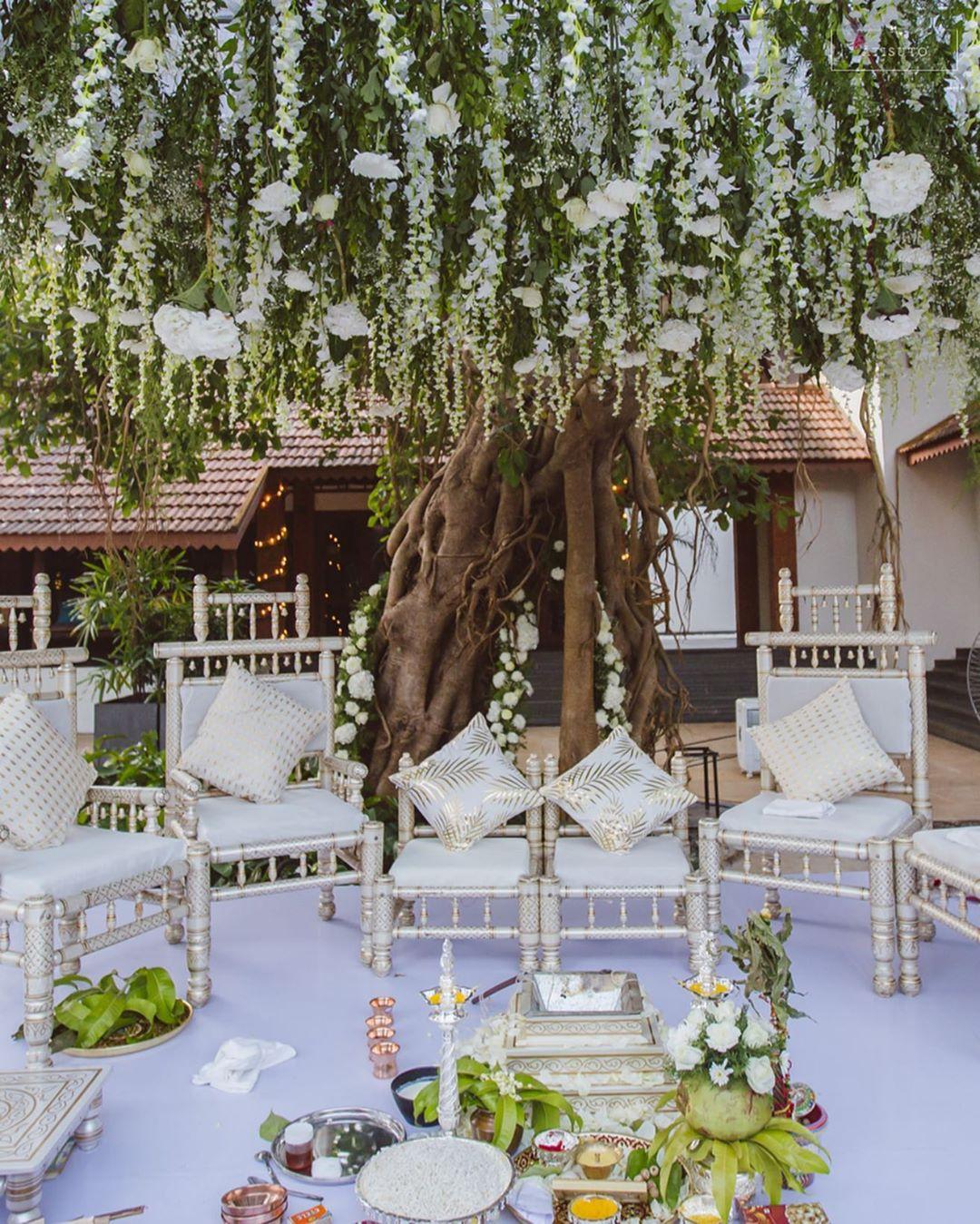 Cascading with full-blooming white hydrangeas, carnations and strings of wisteria along with the benevolence of the banyan tree; this phera setting cannot be competed with. The muted tones of white and green with hints of gold, truly resonate with the piousness of the Indian rituals.
Blooming enchanted garden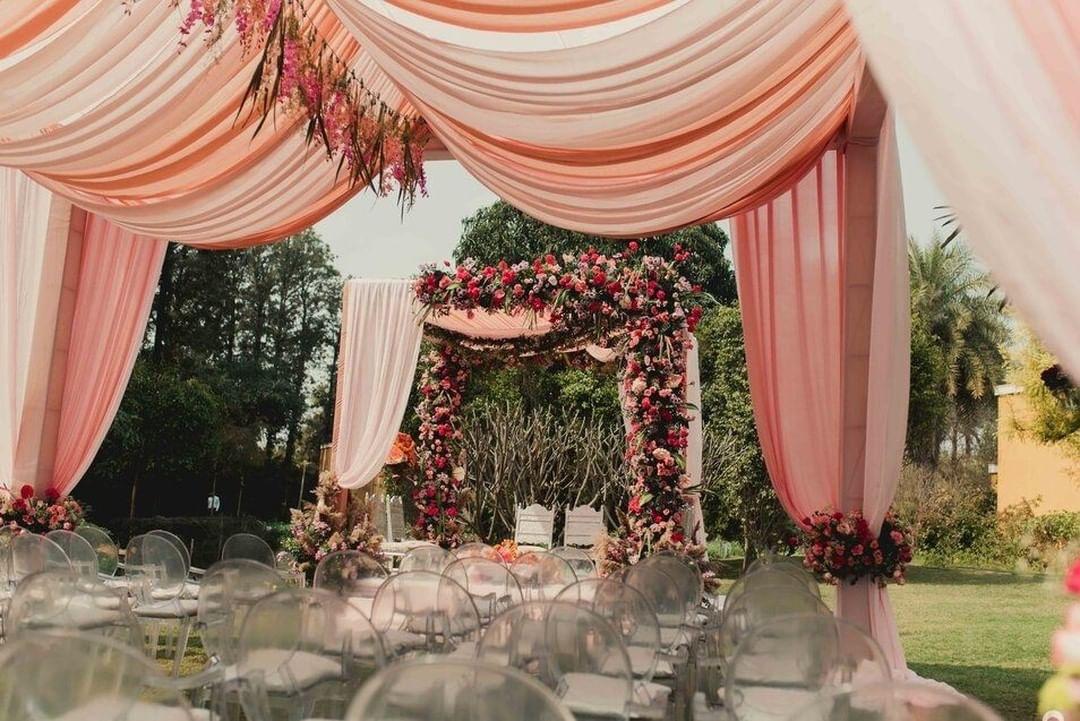 Image Courtesy: Vivaah Wedding Decor Stylist
When thinking of a gardenia wedding, there's nothing better than the combination of drapes and fresh florals to take your pheras around. The gilded details of gathered drapes, descending florals with hints of twigs and transparent ghost chairs only screams the sheer bewitchment, this intimate ceremony expels.
Urbane aesthetics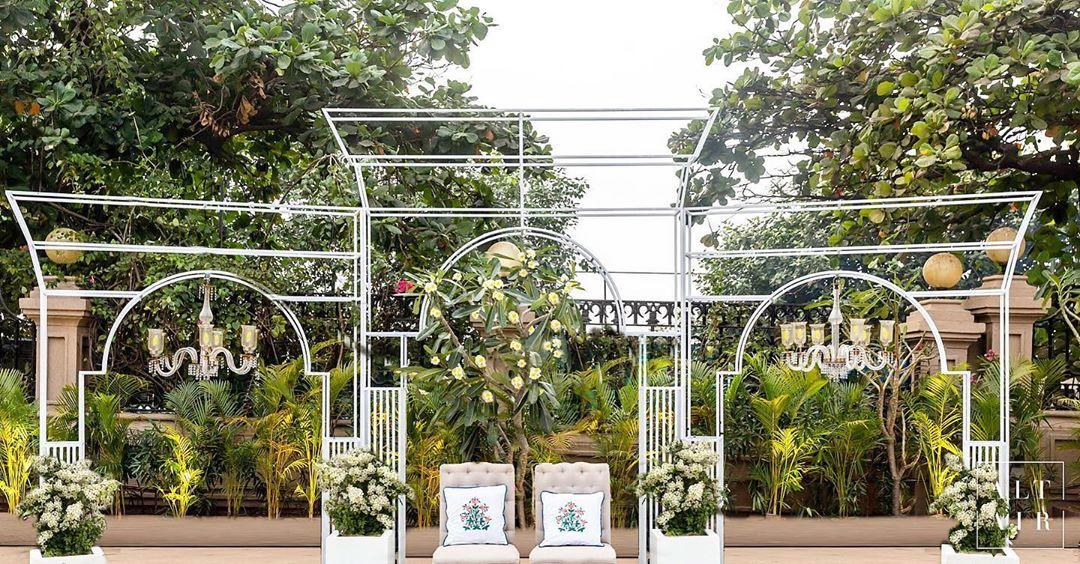 Image Courtesy: Altair
An uncomplicated 3D iron-structured mandap laden with tonnes of greens and shamadan chandeliers makes for a sophisticated setting for your intimate nuptials in the open. Besieged by the beauty of cordoned palms, this fanciful decor brings the majestic vibes of any darbar hall right into your front yard.
For the Vows
Riverside rustique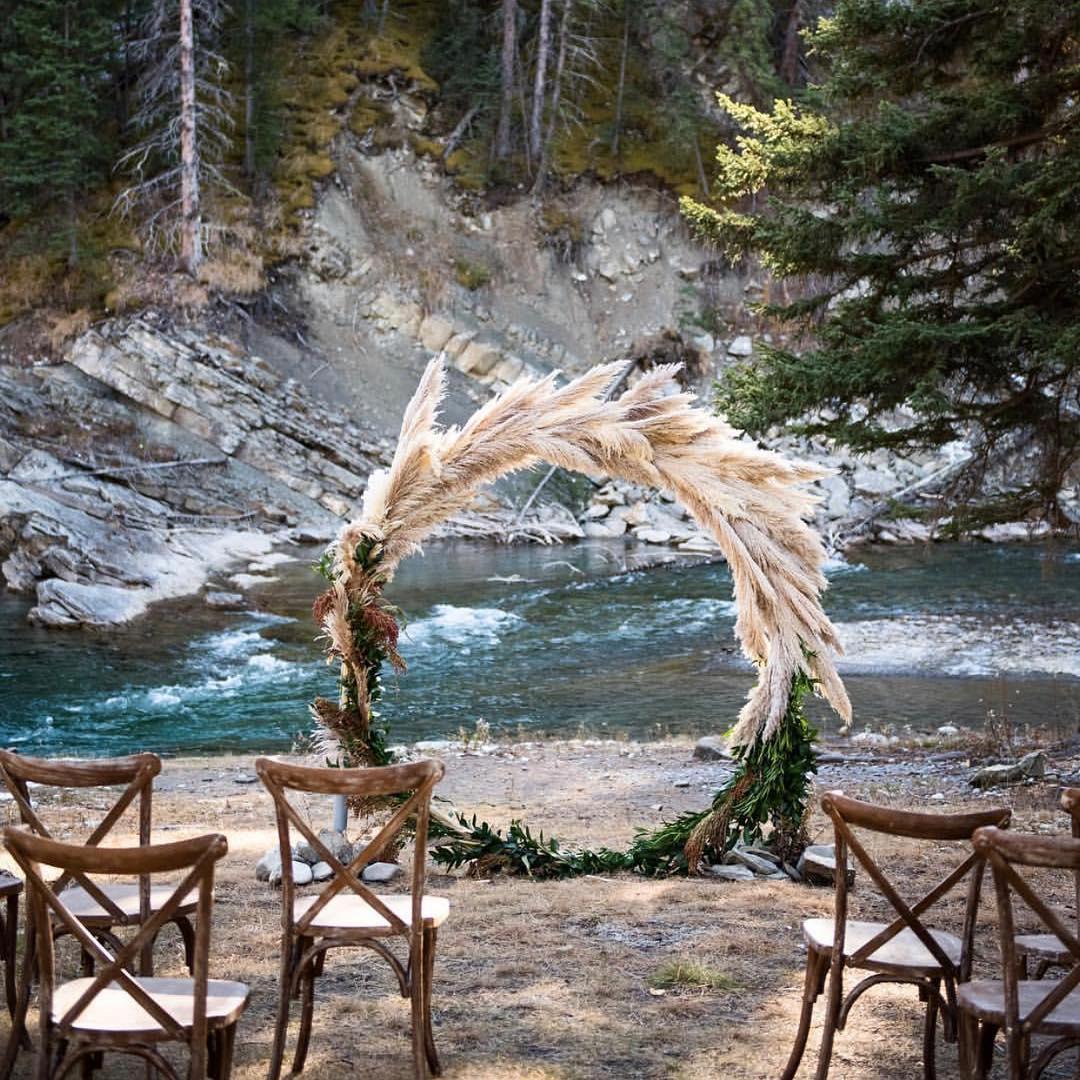 Image Courtesy: Finesse Decor Company
Encompassed by the teal-tinged river flowing in the background, we cannot think of a good enough reason why one mustn't exchange their Christian vows amid this rustic setting. A wreath arranged with pampas grass and foliage compliments the wilderness of this vow setting flawlessly.
Earthy union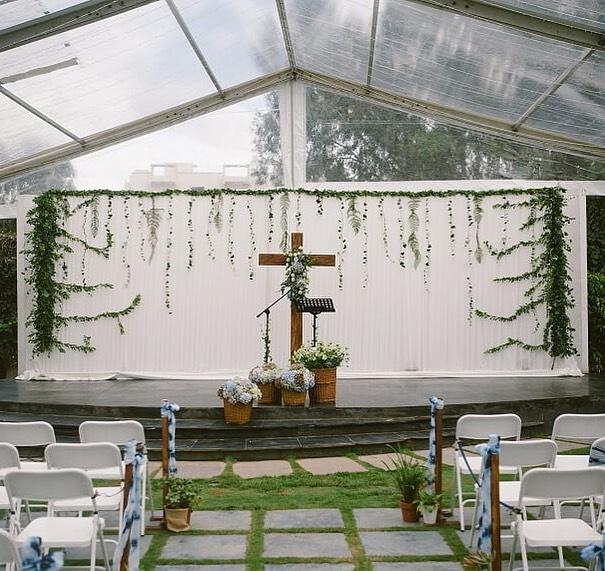 Set in a barn-like structure, decorated with ferns, foliage, buckets of assorted hydrangeas and accents of shibori fabric–we're in total awe with the details of this decor. The sheer simplicity poured into weaving a perfect setting for your intimate ceremony, the recital of the wedding vows couldn't have been more mystifying.
Historic symbolism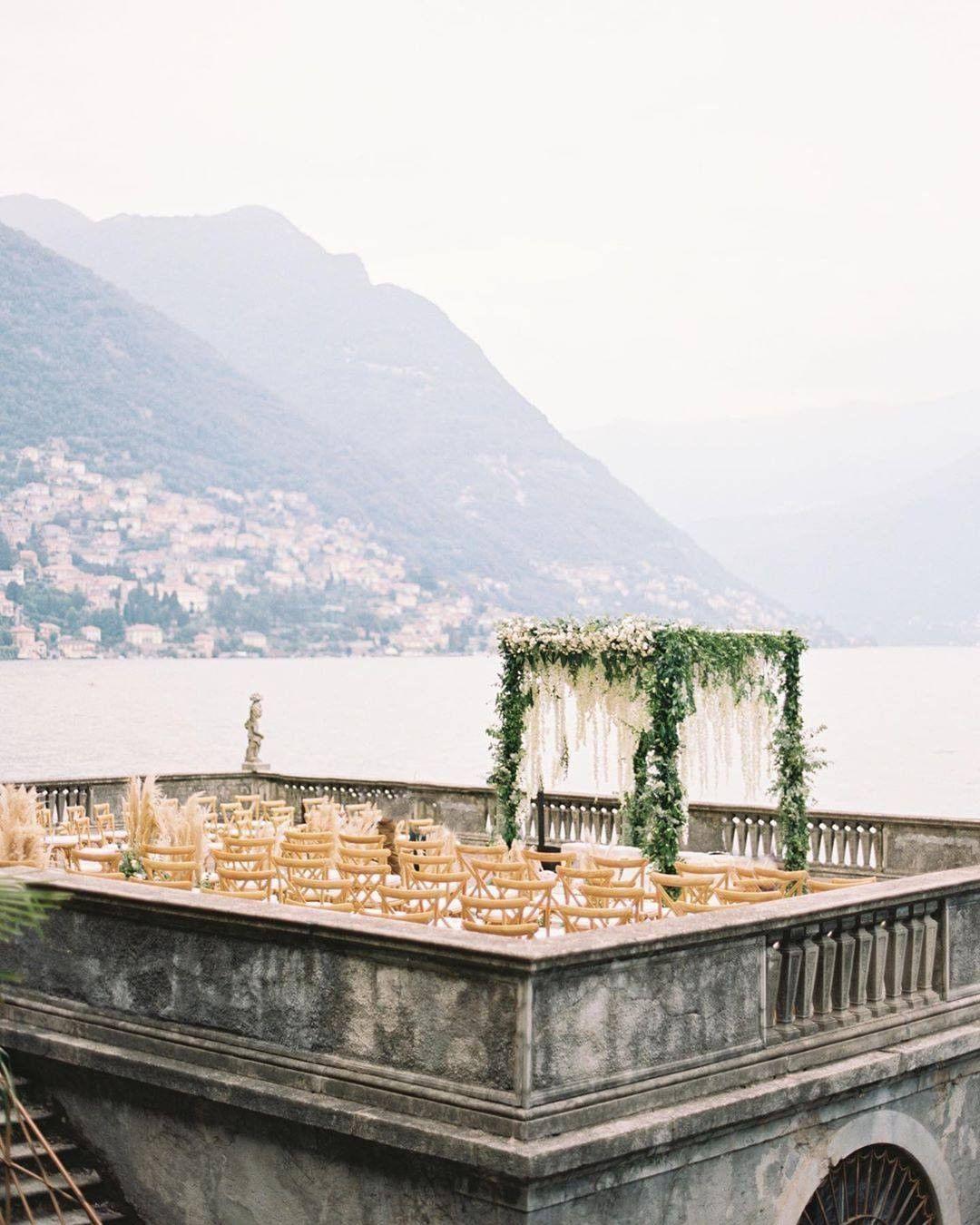 Image Courtesy: Katie Grant Photo
Bring the old-worldliness into your intimate ceremony by choosing a historic setting, to say your vows. Isolated amidst the romantic scene created by the lake and overlooking mountains, let the swinging strings of white wisteria shower their musky fragrance over your sacred union of marriage.
Seashore bliss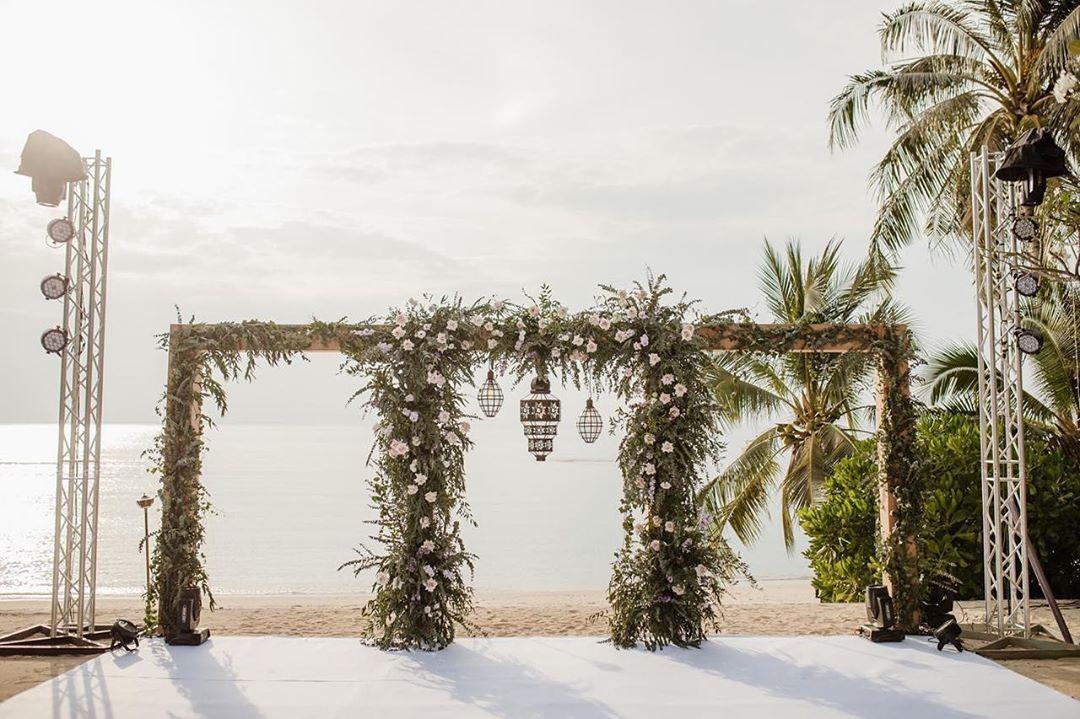 Image Courtesy: Shaadi Squad
Take your vows amidst the untroubled sound of the crawling waves hitting the seashore and whooshing air carrying an iota of sand. Constructed with ferns and hints of blooms with vintage lanterns, we're falling short of words to describe the bewitchment of this beach wedding setting for the holy vows.
A victorian episode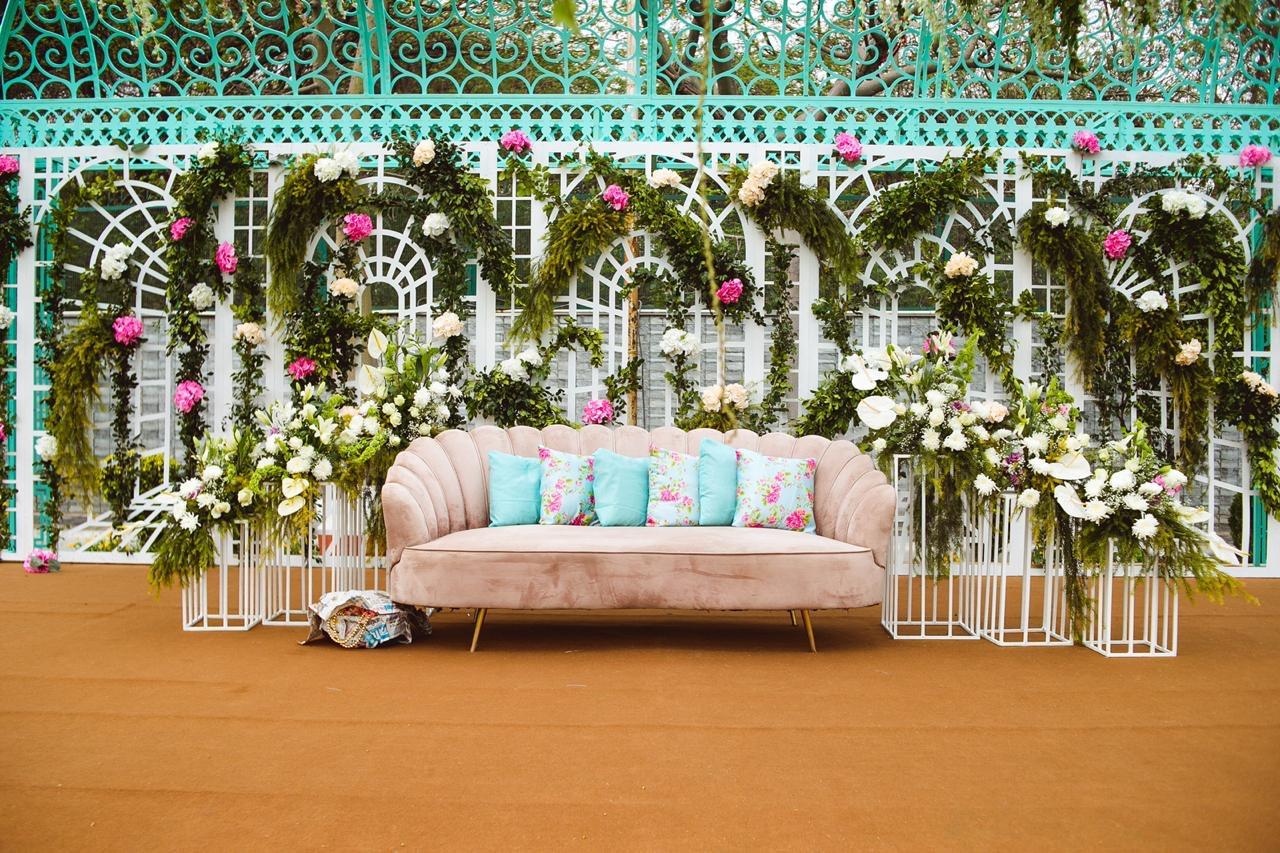 Image Courtesy: Shaadi Squad
Ornated with assorted blooms, ferns and foliage; this victorian setting is an idealistic choice when thinking of exchanging vows in the patio. Beautified with contrasting elements like a shell-shaped couch and printed cushions, this intimate ceremony setting for your vows couldn't get any dreamier.
Whether you're having a pandit recite the saat vachchan or the minister officiate your wedding vows, the decor for your intimate ceremony must stand out. Even though a ballroom full of people came down to only a roomful of them, your D-day decor mustn't be anything less than a fairytale come true.
Did you pin your favourite design, already? Now leave your worries in the hands of the magic-makers and book top-notch wedding designers for your intimate wedding without further ado!