5 Easy Steps to Create the Wedding Teaser for Your D-day
Inspired by the trending fad of wedding teasers and plan to have one for your wedding? We'll help you create the idea and concept for one, right from scratch. So read on and learn.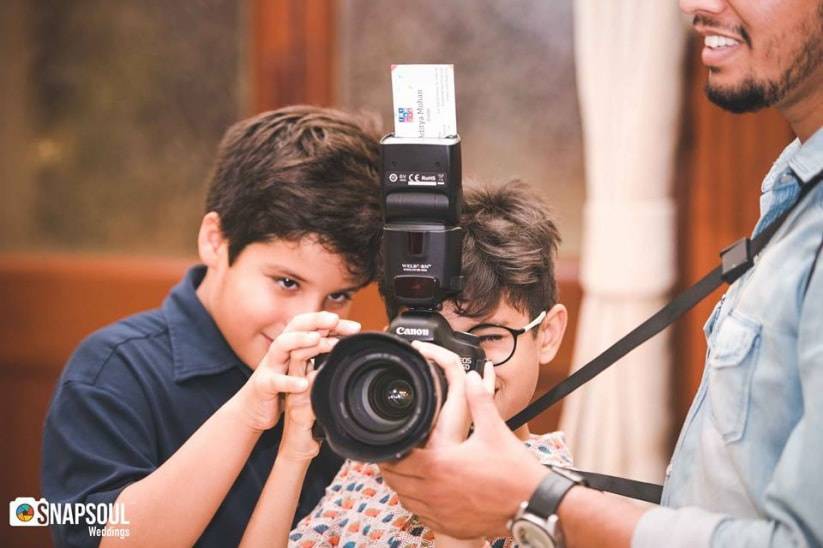 Do you know about the latest buzz in the wedding biz? It's the wedding teasers. They usually are a minute or two long and bear proofs of all that has happened at your wedding ceremonies. All your joys, your emotional moments, the family interactions and fun with friends is captured in them. Watching a wedding teaser makes you grateful for all those annoying times your wedding videographer kept following you all around. It is a short and brisk walk down the memory lane that will keep you wanting for more and that is why there are videos and photos to follow. The wedding teaser is a great way to revisit the fantastic moments from the fairytale that you lived on your D-day and they are also a good clip to send it to your friends and family members.
After all, videos are closer to life than pictures, and hence have the power to make you sentimental even if you are watching it for the 'nth time. So what all goes into creating a perfectly crafted one? And how do you make sure that your wedding teaser stands out from the sea of trailers available online?
1. Research
Video courtesy: CoolBluez Photography
Before you hop onto the bandwagon of you want this and you want that, pause, and research. There are constant innovations in the field of videography and animation. When you have that conversation with your videographer about what you want in your wedding teaser, you should be well-informed. Look at teasers from other weddings and see what stands out to you. The wedding teaser can be picked by you and which scenes you want in it and how you want them places. It is a fun video that will give the viewers a gist of what your D-day looked like and the videographers or photographers mostly provide it to you before they give you the photos and videos.
Whether you want some particular sunlight effects in your video or a frame with both your family and your in-laws but as mirror images or inversions, observe the trends before you make a choice. After watching a few wedding teasers, the effects that initially wowed you might start looking quite normal now. Always bookmark the ones you like to refer later or to show your wedding videographer.
2. Choose an approach
Video courtesy: Lumiere Wedding Company
Would you like to have a stop-motion teaser or a lip dub one? Choose an approach while you are researching.
For those who don't know, stop-motion comprises of individually photographed images played fast in a sequence so that it gives an illusion of motion, but not perfect motion. And lip dub is a video that superimposes an audio dubbing on a lip sync video so that the people in the video appear to be singing.
For the couples full of life and like to take the comic way out of everything, you can even take a stand-up comedy approach where the whole teaser is shot like a stand-up act filled with jokes and punches.
3. Choose what you want to highlight
Video courtesy: CoolBluez Photography
What you choose to highlight in your wedding teaser is a personal choice for everyone, but we would like to give you some suggestions, to begin with. The most basic wedding teaser will show a highlight of all the events and ceremonies, their bird's eye view, their details and the like.
You can also turn it into a small interview segment of your love story or an introduction of your family Kyunki Saas Bhi Kabhi Bahu Thi style. You can choose a combination of styles - emotional elements, in the beginning, fun moments in the middle and ending with a harmonious and happy vibe. It can be your own personalised videographic representation of your wedding and you can be the princess to the handsome prince. So what's your style going to be?
4. Playlist
Even a silent movie needs music. So your wedding teaser should definitely have some soul-stirring or foot-tapping background sound. You can even showcase your love for a particular genre in your wedding teaser. Choose the kind of music that speaks to you, whether it is your regional music or electric violin, for that matter.
Inform your videographer to place recording devices near your wedding DJ if that's how you intend to include those special tracks at your wedding. Think beyond the ordinary.
5. Location
Your wedding teaser needn't necessarily be shot wholly at the wedding venue. If you plan ahead, you can include some shots of your home, some of your favourite date spots, of your school and other childhood places. If you have been a family that has lived in several cities due to transfers(like the army kids), you can even visit all those cities and compile a 1-second video diary of them to amp the nostalgia up a notch. You can also pick out phases from the pre-wedding shoot moments and put it together for an adorable teaser.
At a destination wedding, you can exploit the scenery to the fullest. But before you start having any outlandish ideas, do keep your wedding budget in mind. The photographers and videographers will might charge separately for the teaser or sometimes it is already included in the package.
You should ideally release the wedding teaser a week or two after your wedding. Send it to all those who attended and to those who couldn't attend due to some reason or the other. It will be a warm gesture to give them an insight into what your wedding was like even though they couldn't be there. Share it on common video platforms like Youtube or IGTV so that trying to watch it does not become a hassle.
Now, if you haven't decided on a wedding videographer yet, choose from hundreds of experts listed on our platform.